Traveling around Japan this finals season? Missing the echo of the siren, the hoarse-throated banter and the smell of a pie? Don't despair! Even though you can't be home for the Granny, there are still plenty of places to catch the game in Tokyo, Kyoto, Osaka and beyond. Read on for our guide on where to watch the AFL Grand Final in Japan. 
Where to watch the AFL Grand Final in Tokyo
Legends Sports Bar, Roppongi
These guys are the godfather of Tokyo Sports Bars. With 8 screens, Aussie beers and even a parma on the menu, what more could you want? They show the game live every year (as well as a bunch of other sports around the clock) so head on down for a guaranteed pearler. Check their Website or Facebook for more details.  
Hobgoblin, Roppongi
Right next door to Legends is Hobgoblin, the British Pub chain with another branch in Shibuya. All year, these guys show footy, cricket, rugby and more. As usual, both locations will be screening the game live from 12pm. As it turns out, Hobgoblin are sponsors of the local JAFL team, the Tokyo Goannas, who will be having their 2019 Grand Final bash at the Roppongi pub. Capacity is limited, but it looks to be ¥2,000 for adults and ¥1,000 for students, including raffle tickets and two drinks. Check their website or Facebook page for event details. 
Hobgoblin, Shibuya
If you're in the Shibuya area, however, Hobgoblin British Pub is a sure-fire AFL-friendly venue. Head upstairs to catch the game live from 12pm on two screens. The interior, like the Roppongi branch, is timber accented, laid-back and cosy. If you're feeling like a taste of home, they've got Aussie beers and pub classics ready to go. Getting there is easy, it's only 2 minutes' walk from Shibuya Station and surrounded by plenty of great places for kick-ons. 
Bar Quest, Roppongi
Quest is Roppongi's premier Aussie bar, so you'd better believe they're showing the game. Usually night owls, Quest will be open from noon for kick off. In addition to the down-under decor, there will also be a lovely range of hot pies and cold drinks. Nice and close to exit 3 of Roppongi Station. Check out their Facebook for details.  
Tokyo Sports Cafe & Bar, Roppongi 
Tokyo Sports Cafe is opening up in a brand new location, just in time for the 2019 Grand Final. Not only are there 15 big screens dedicated to sport, there is also complimentary pool and darts for those looking for some off-screen entertainment. Add to that plenty of drinks and snacks to see you through the match and you've got a winner. Check their Facebook page for event details.    
Golden Ball Cafe, Roppongi
Another Roppongi location for catching the live game! Only 1 minute walk from Roppongi Station, Golden Ball Cafe have all the drinks and snacks to accompany your viewing. Check their Facebook page for details.  
Man in the Moon, Shimbashi
If you're in the Shimbashi area, pop your head into Man in the Moon. At the time of writing there was no scheduled 2019 event but they did show the game live in 2018. Check their Facebook or Website for updates. With plenty of drinks and three screens showing sports, it would make for a nice little afternoon. 

Where to watch the AFL Grand Final in Kyoto
Pig and Whistle, Higashiyama
How'd you like to watch sporting history unfold in Kyoto's first ever pub? Well, you can! These stalwarts of the Kyoto pub scene show the Granny every year, as well as a variety of other sports throughout the year. There's a nice, big space to spread out in and plenty of the menu for all tastes. Easy to find, the Pig is located on Sanjo dori, just a couple of minutes' walk from Sanjo Subway Station. Check their Facebook Page or website for more information.  
Where to watch the AFL Grand Final in Osaka
Coolabah Sports Cafe, Nishi Shinsaibashi
Osaka's premiere Australian/New Zealand themed pub; this place has been celebrating the Grand Final for over 15 years! According to last year's event, doors open at 12pm and you can expect only the finest in baked and fried goods; meat pies, sausage rolls, pasties, chicken pies, chicken parmigiana, fish & chips and more. To drink, you're looking at Australian beer, wine and Bundy rum to name a few. As you can imagine, it gets quite packed, so come early for a good pozzy. To get there, take exit 25 of Namba Station, cross the Dotonbori River and turn left at Don Quijote. Check their Website and Facebook for more details. 
Murphy's Irish Bar, Shinsaibashi
Murphy's Irish bar will be showing the game live from 12pm. While you're watching, you can get yourself a Coopers or a Pure Blonde to wash down the taste of victory (or defeat). Their menu is vast, with something for all tastes, including Aussie pies! Easy to find, just a few blocks from Shinsaibashi, Nagahoribashi or Yotsubashi Stations. Check their Facebook for more details. 
Look out people, the Osaka Dingoes are in town! The local JAFL footy team, that is. These footy playing expats will be celebrating the 2019 Grand Final here, same as last year. Think Aussie beers, games of two-up and plenty of food. And of course, the main event, live on screen. 5 minutes walk from exit 6 of Shinsaibashi Station. Stay tuned for event details on the Dingoes Facebook page.  
Where to watch the AFL Grand Final in Nagoya
The Rock, Sakae
Get a live broadcast of the AFL Grand Final at The Rock in Nagoya's Sakae. There is an impressive selection of food and drink available; think juicy parmies, steak and Guinness pies and Kangaroo burgers. Also, all that cheering and eating can really take it out of you, so you'll need to think about a refreshment. We all know that a hard earned thirst needs a big, cold beer. And the best cold beer is Vic—which just so happens to be available. The Rock is easy to find, too—just 3 minutes from Sakae Station. Check their website for more details.      
Coat of Arms Sports Bar
This Commonwealth pub states that they will show any and all major games live where possible. Plus, they take requests if you are looking to watch something in particular. So while it's a safe bet they'll be showing the game, check their website just in case. They've got a tasty looking menu and a comfy looking space, head on down for a winner!
Where to watch the AFL Grand Final in Kobe
The Rock, Hyogo
For those in Kobe, try for The Rock Aussie Sports Bar. If their Nagoya counterpart is anything to go by, there'll be Aussie beers flowing, parmas frying and the game, live on screen. Check their website for updates. 
Averys Irish Pub, Hyogo
This cosy, Irish Pub is just a two minute walk from Sannomiya Station with plenty of food and drink to keep you happy. As an added bonus, Guinness is on tap! There are a lot of sports shown here throughout the year so there's a good chance you'll catch the game here. At the time of writing, the schedule hadn't been announced so check out their Facebook closer to the date.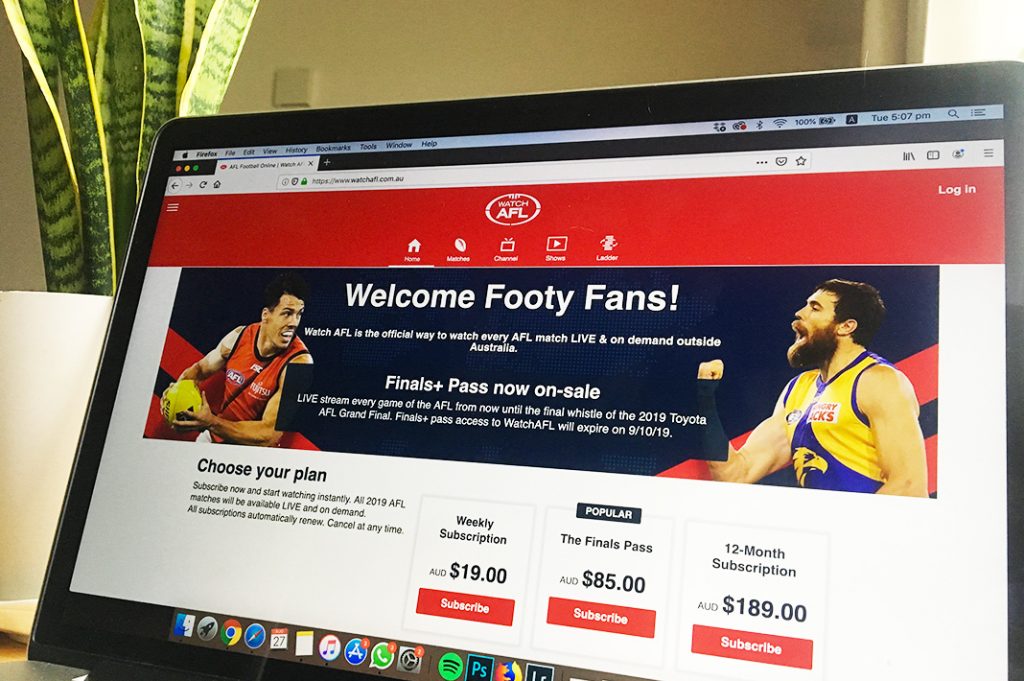 Watch the AFL Grand Final in Japan…Online
If you're more of an introverted type, or had too much fun the night before, you can always watch the AFL Grand Final in Japan online with 'Watch AFL'. Stock up at 7-11 and kick back with your iPad.  
If you know of another place to watch the AFL Grand Final in Japan, please email us!