For Disney fans, the happiest place in Japan isn't Tokyo Disneyland, but next door at DisneySea. This park is themed after myths and legends of the sea and features many of the water adjacent Disney classics like The Little Mermaid and Finding Nemo. Best of all, it's the only one of its kind in the whole world, making it a must for Mickey Mouse aficionados. Read on for everything you need to know about visiting Tokyo DisneySea.
DisneySea: what's the difference?
Like its neighbour, DisneySea has a great variety of attractions, shows and food, as well as the beloved flavoured popcorn. There are a few differences between the parks, but most notably, DisneySea is more adult-focused with a greater variety of table service restaurants. Good news for the less-than-enthusiastic park chaperones: DisneySea is licensed to serve alcohol, unlike Disneyland. 
As the different lands are all "ports", there is much more water than Disneyland, and the floating parade sprays onlookers with water. Needless to say, it's great in summer! In terms of getting around, and getting off your feet, there are a range of fun transport methods in the park including steamship, gondola, tram/trolley and car.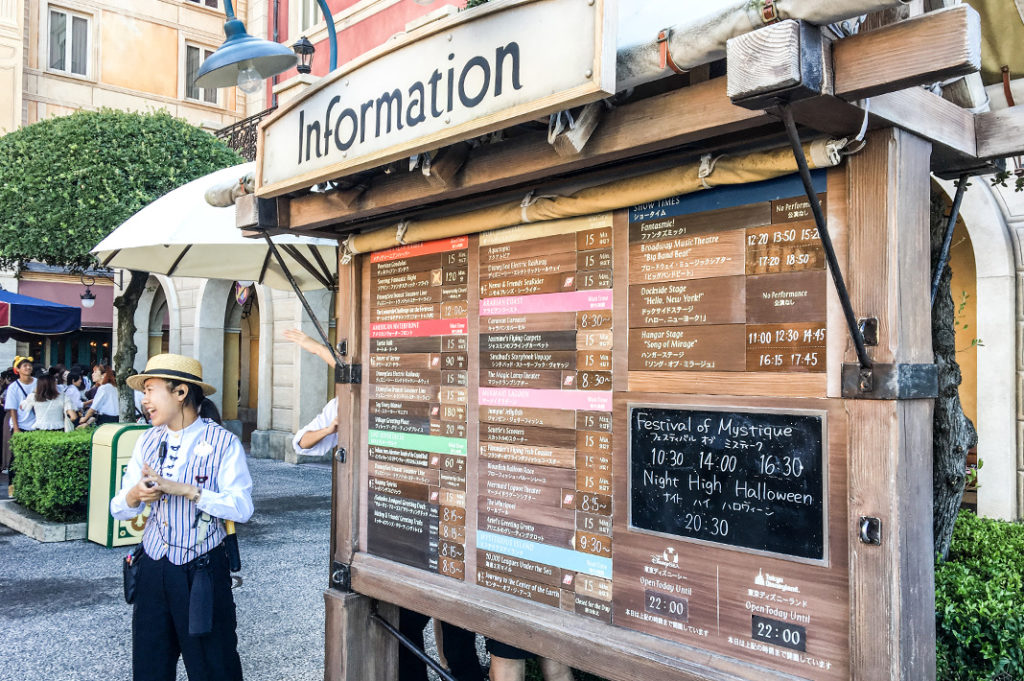 Unique to DisneySea
Many Disney fans absolutely love to check out the subtle (and not so) differences between the parks. Here are just a few unique aspects of DisneySea.
Lands: Mermaid Lagoon.
Attractions: Sindbad's Storybook Voyage, Journey to the Center of the Earth, Nemo and Friends SeaRider, Venetian Gondolas, Raging Spirits, 20,000 Leagues Under the Sea, Aquatopia, Tower of Terror (storyline).
Food: The Chandu Curry Bun, potato churros.
Popcorn flavours: strawberry, shrimp and garlic, black pepper.
Characters: Duffy and Friends, Prince Eric.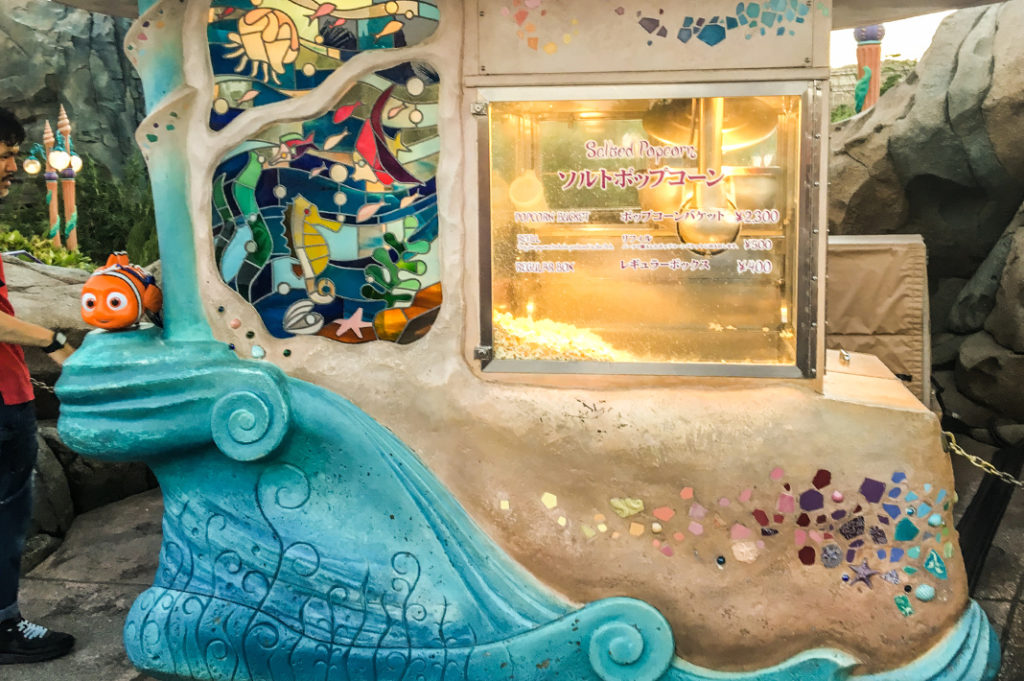 Lands within DisneySea
Mediterranean Harbour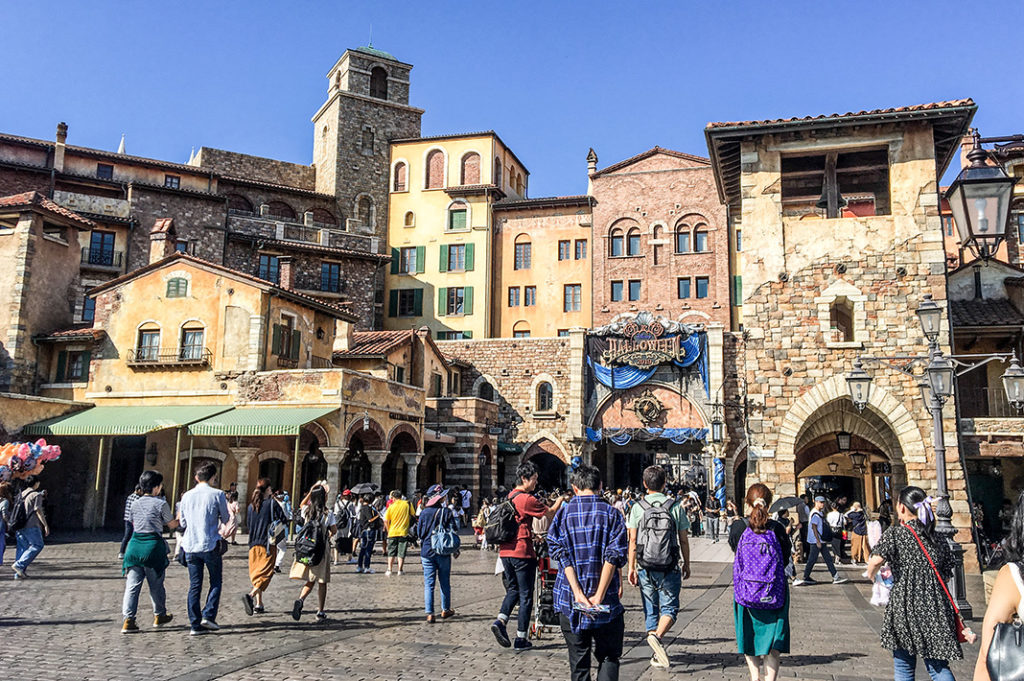 The Mediterranean Harbor is the first land you encounter at DisneySea. This charming waterfront is styled after the city of Venice, right down to the gondola rides on the canal! Unlike many other false-fronted structures in the parks, the hodge-podge buildings you see in the Mediterranean Harbor are, in fact, the facade of Hotel MiraCosta—the only hotel actually inside one of the Tokyo Disney Resort parks. Guests looking down from balconies adds to the illusion of being in a real city.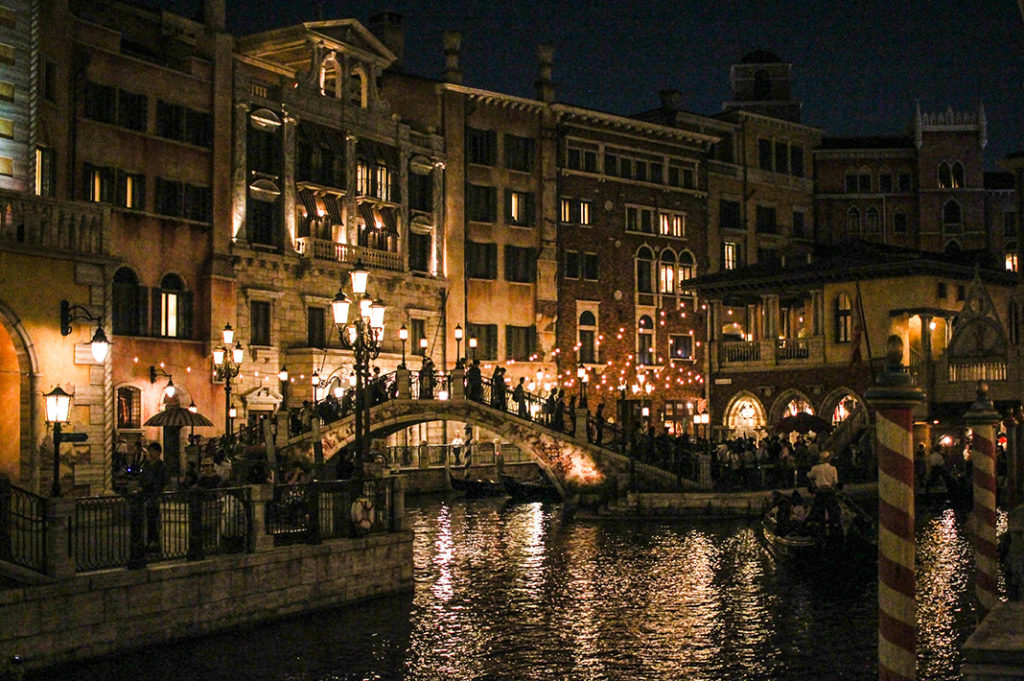 Here, you can ride a steamboat, a gondola, walk through the Fortress Explorations or take part in the Soarin' flight simulator.
There are a number of eateries offering things like pizza, pasta, rotisserie chicken, turkey legs, sweets and coffee, as well as a few fine dining restaurants.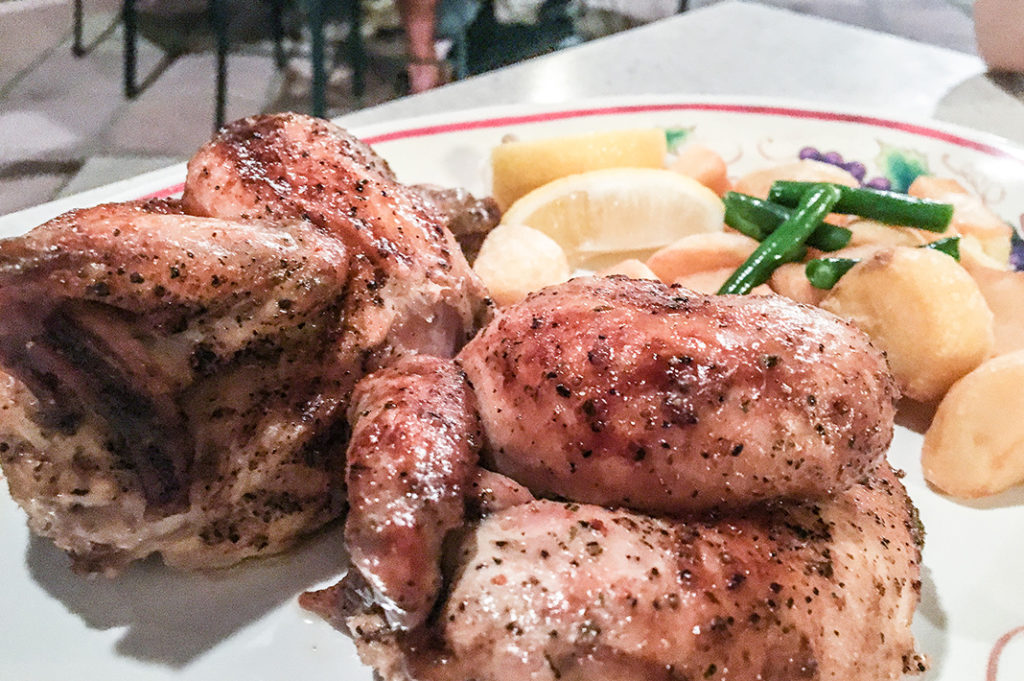 This is also where you will find the show lottery kiosks, inside "Biglietteria", near Gondolier Snacks. Check out our post on Disney hacks to find out more about booking restaurants and entering the show lottery. 
Arabian Coast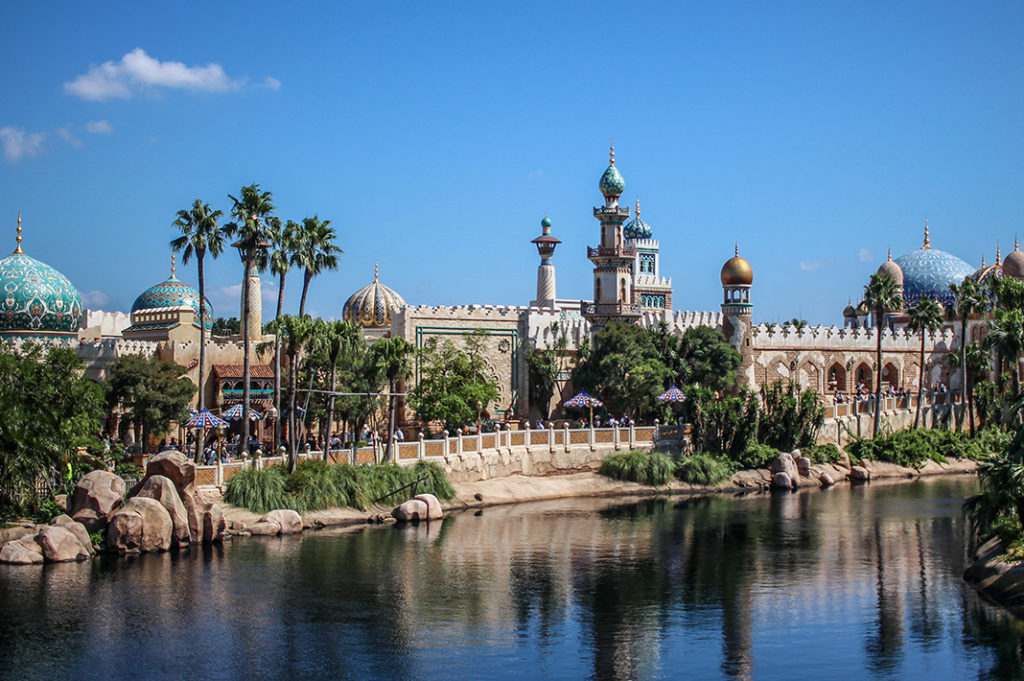 The Arabian coast is a Middle Eastern inspired harbor town which borrows from Aladdin's hometown of Agrabah and the world of 1001 Arabian Nights.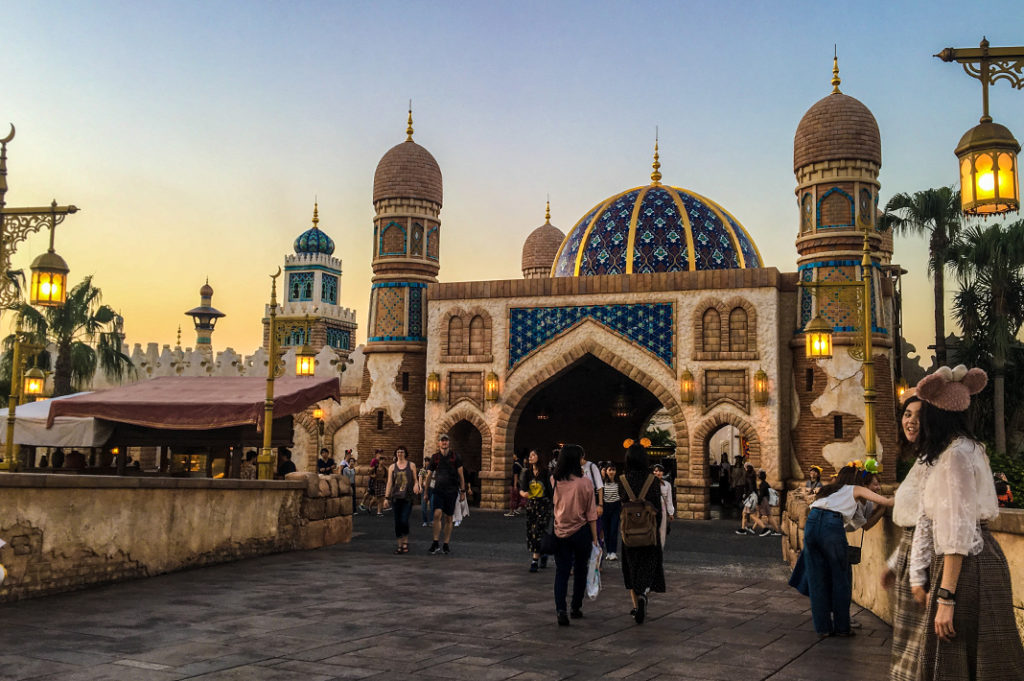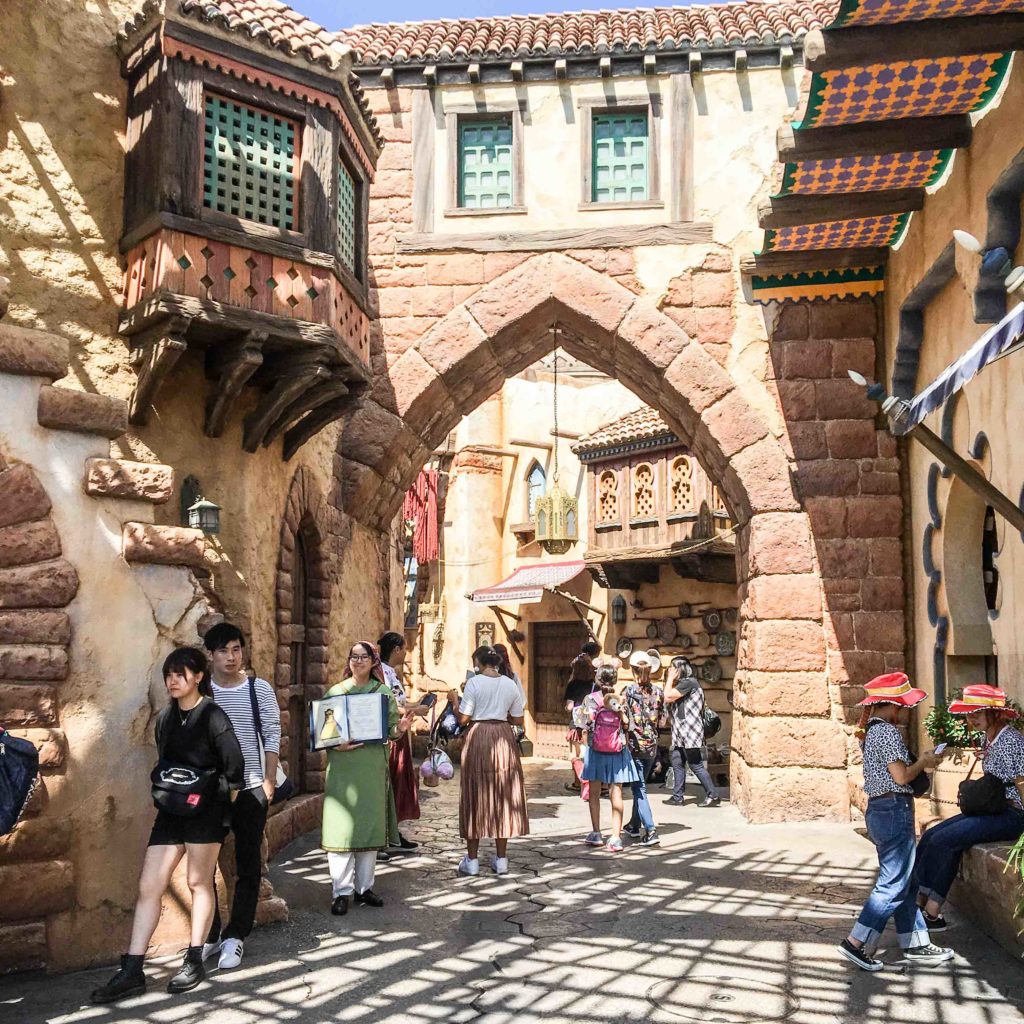 It's a charming, glittering desert oasis where you can ride the Caravan Carousel or hop a carpet and fly on Jasmine's spinning carpet ride. There is also 'Sinbad's Storybook Voyage', a dark boat ride, and the Magic Lamp Theatre where you can hear great Japanese language versions of your favourite Aladdin characters.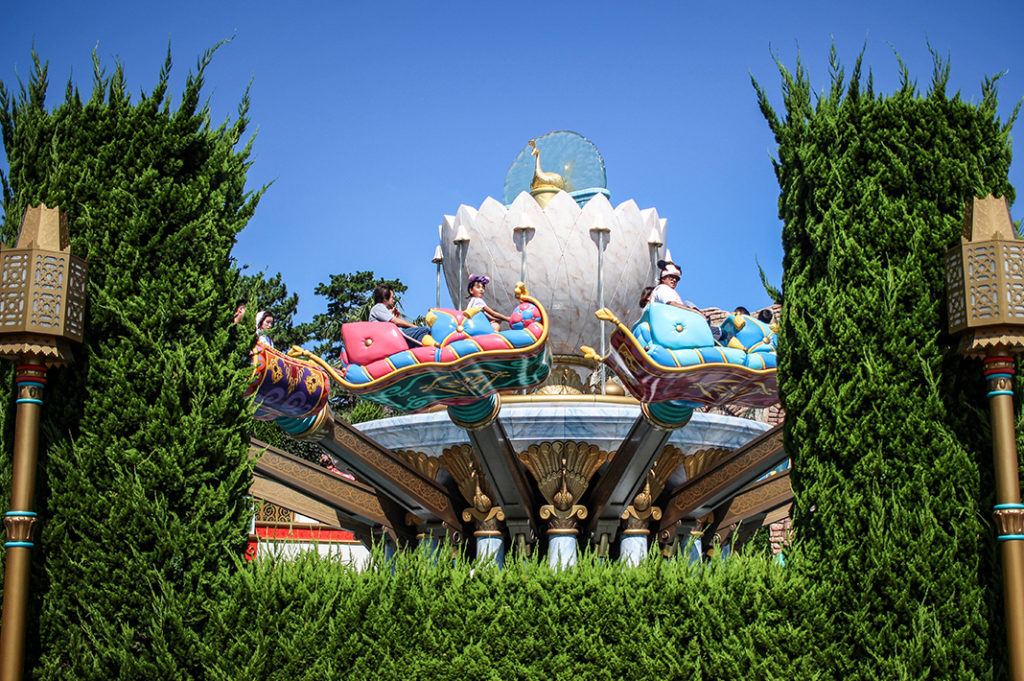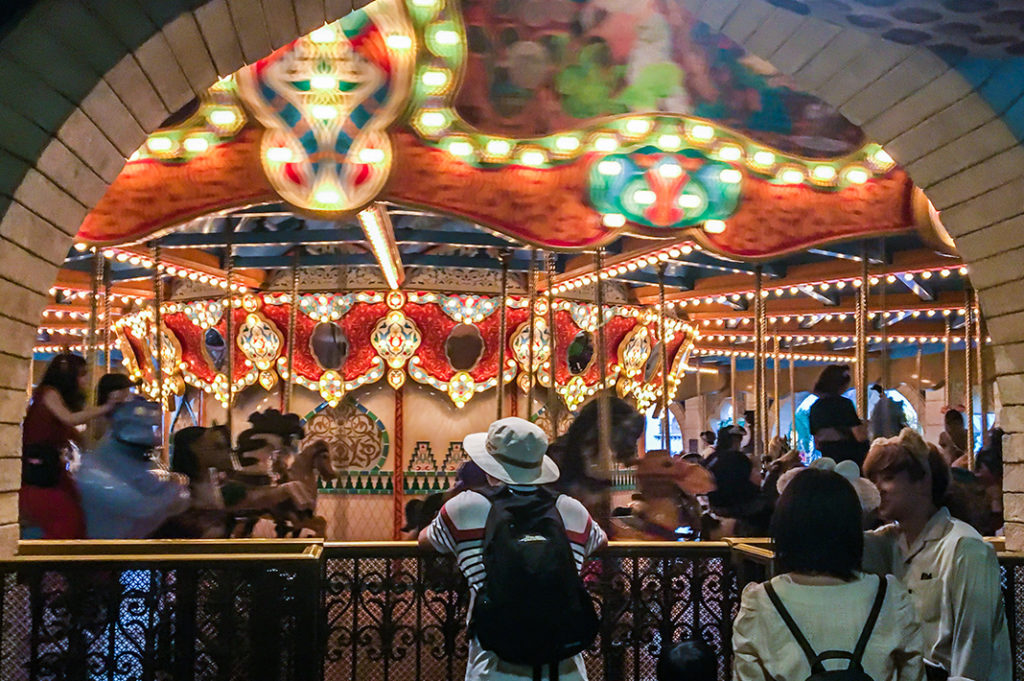 If you're hungry, you can head to the Casbah Food Court for curry, Open Sesame for churros, or Sultan's Oasis for Monsters, Inc. inspired pork buns.
Mermaid Lagoon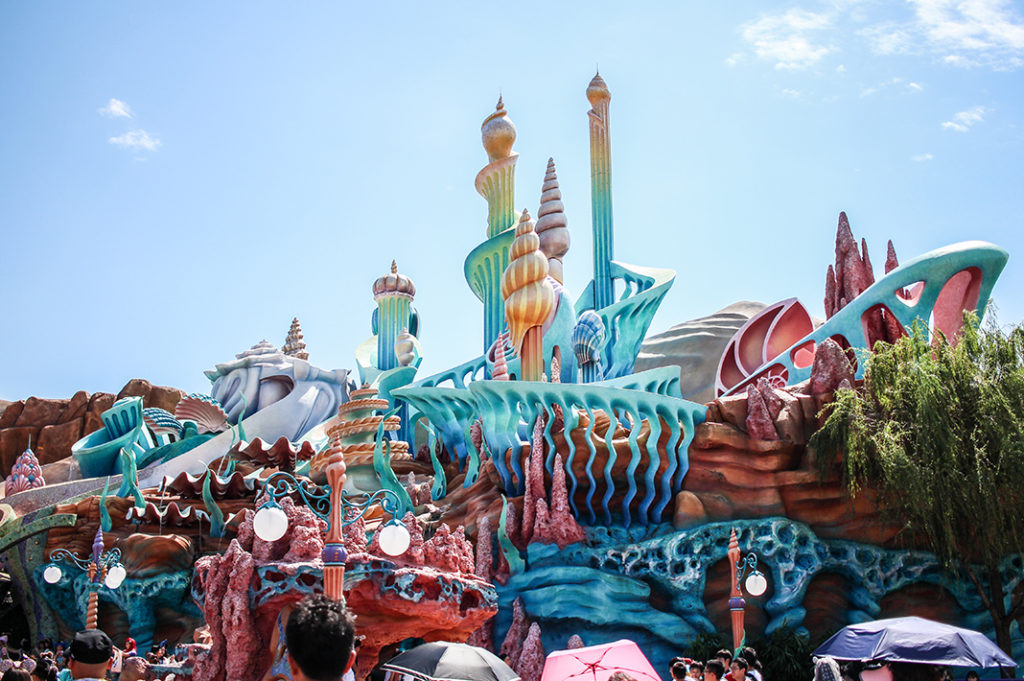 The wonderful Mermaid Lagoon is all about The Little Mermaid, with a colourful seashell and mosaic facade modelled after King Triton's palace. It is currently the only such land in any of the parks, which makes it a must-see!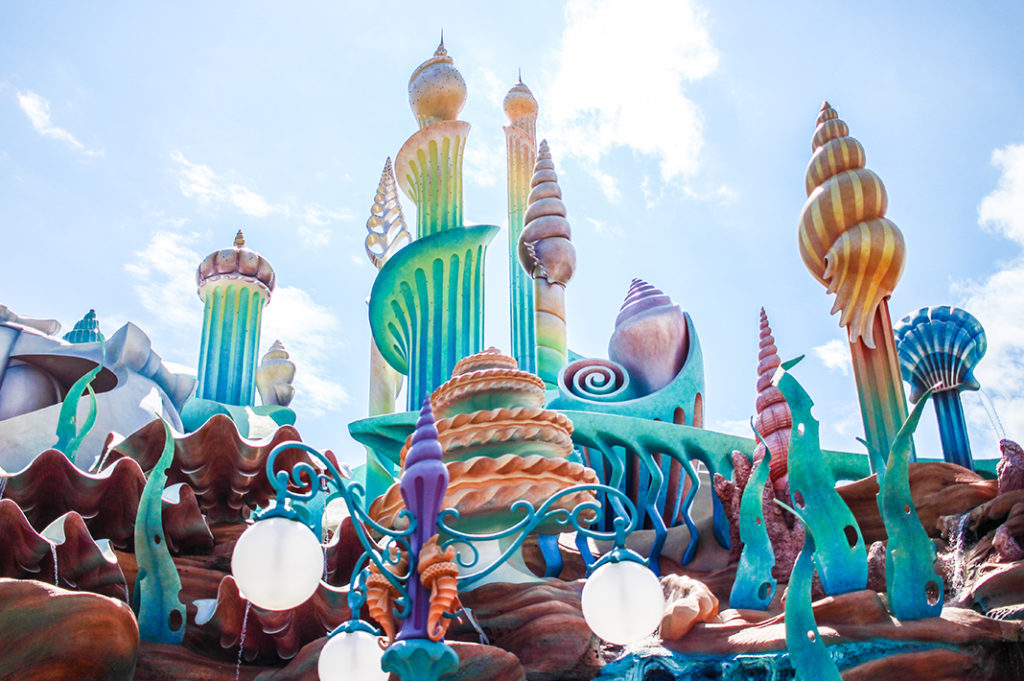 Interestingly, most of this land is 'under the sea' (i.e. indoors). Landlubbers make their way down into a dark, magical seascape which features many rides and play areas suitable for kids.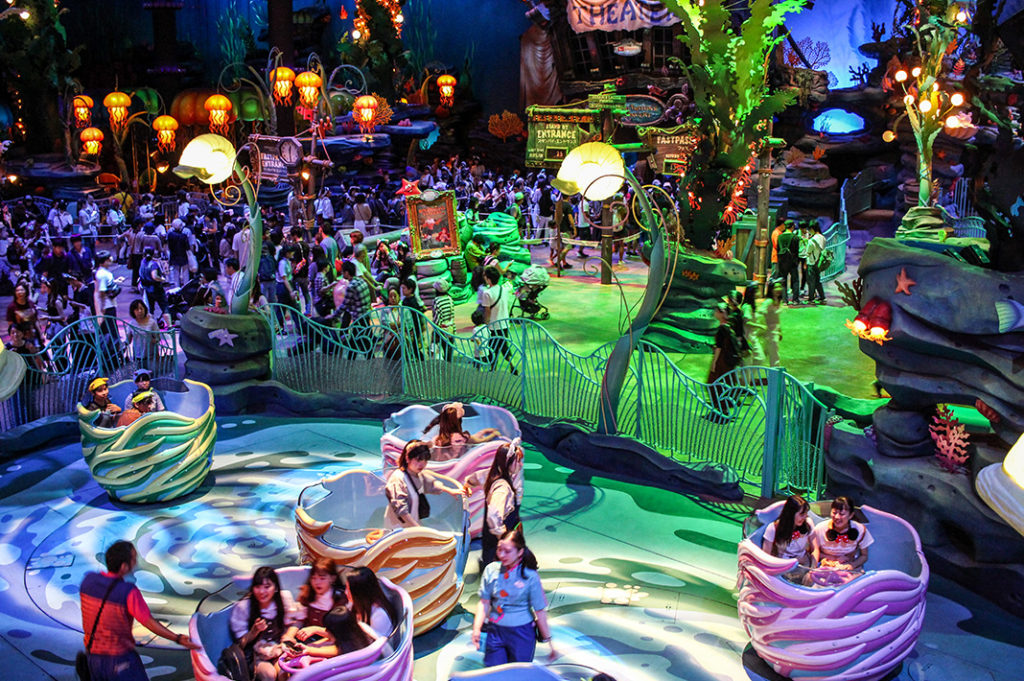 But the big kids will no doubt enjoy the deep-sea atmosphere, and exploring 'Ariel's Playground' where you'll find the treasure trove complete with a Prince Eric statue.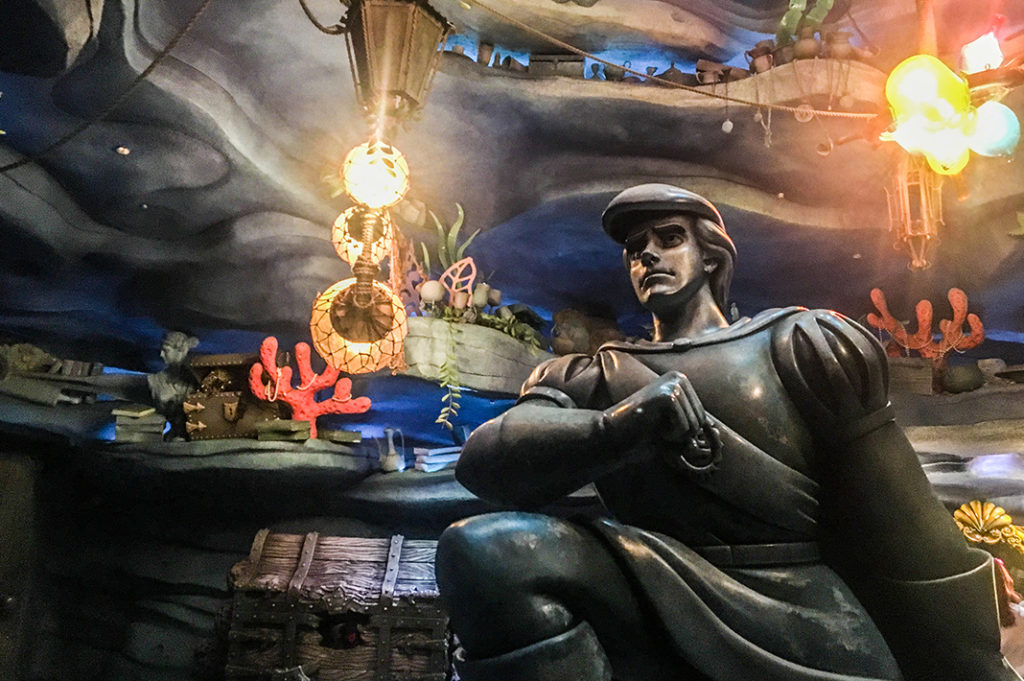 King Triton's Concert is a fabulous show where Ariel and friends perform the classics 'Under the Sea' and 'Kiss the Girl' (in Japanese). The venue and seating is circular and the actors are suspended from wires and zoom around overhead as though swimming. It's a lot of fun! Oh, and it's possible to get a FastPass ticket for this show.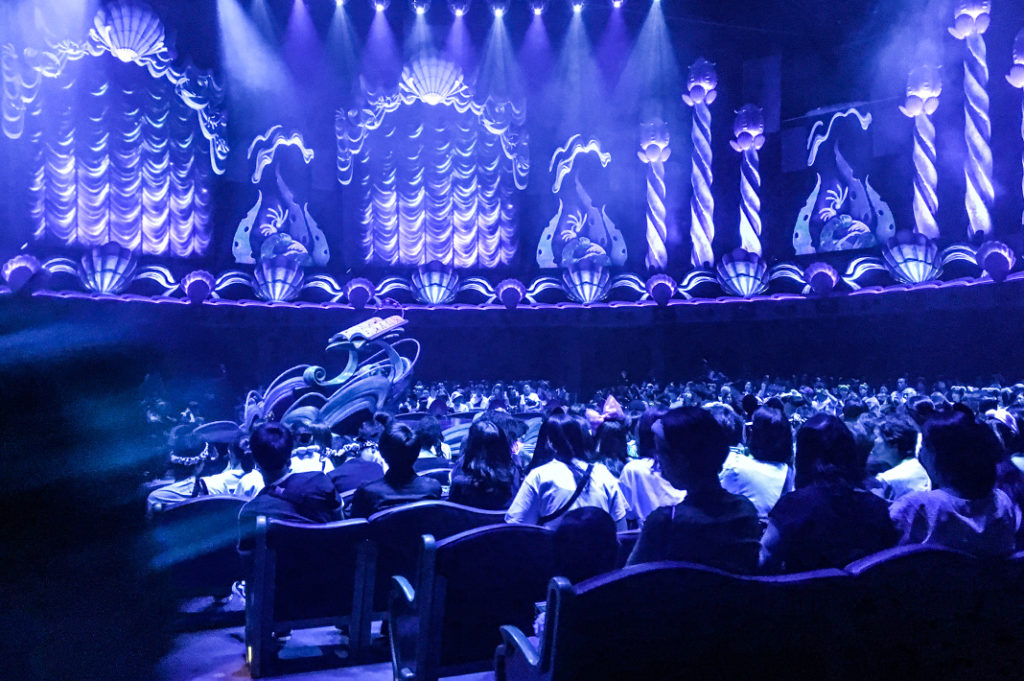 The only eatery inside Mermaid Lagoon is 'Sebastian's Calypso Kitchen' which serves Pizza and seafood snacks.
American Waterfront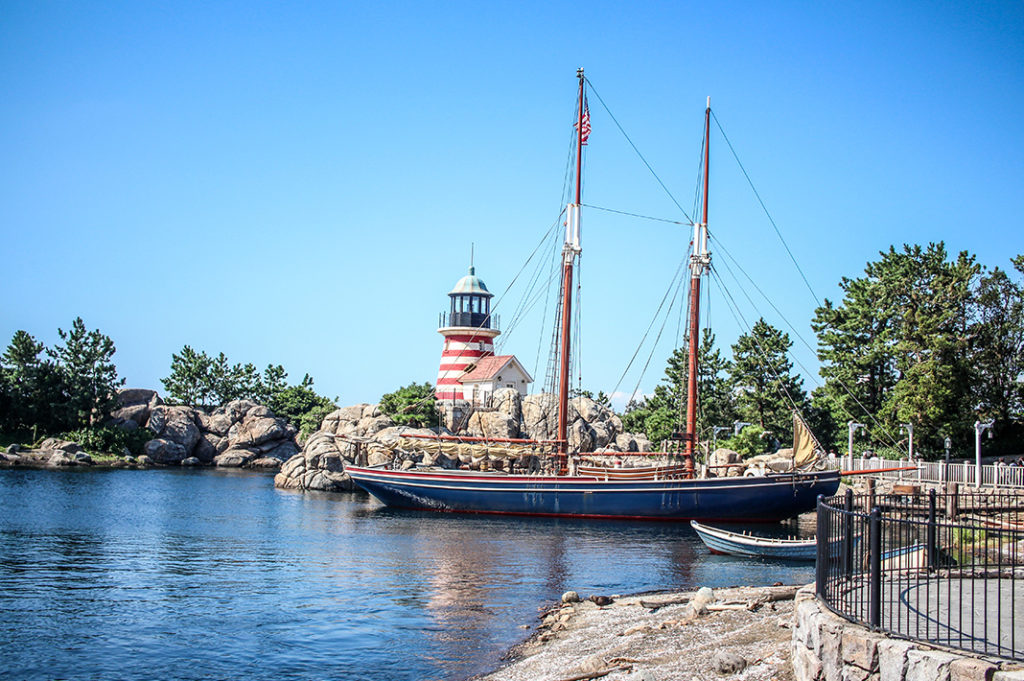 This land is styled after early 20th Century harbour towns in New York and New England. The old-timey streets feature a railway and the coastlines are all about boating and fishing. There is even a large steam liner that houses restaurants such as "SS Columbia Dining Room".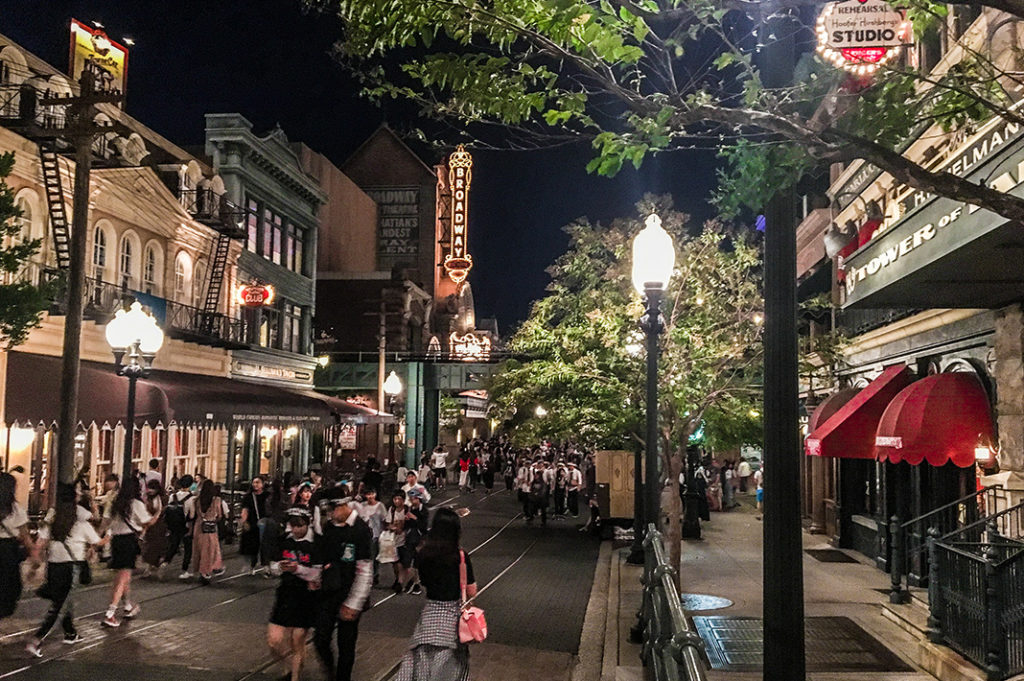 American Waterfront is home to some of the most popular attractions in the park: Toy Story Mania! and Tower of Terror. Another popular attraction, Turtle Talk, features a Japanese speaking, CGI "Crush" from Finding Nemo, who banters with the audience with the aid of a staff member running around with a microphone.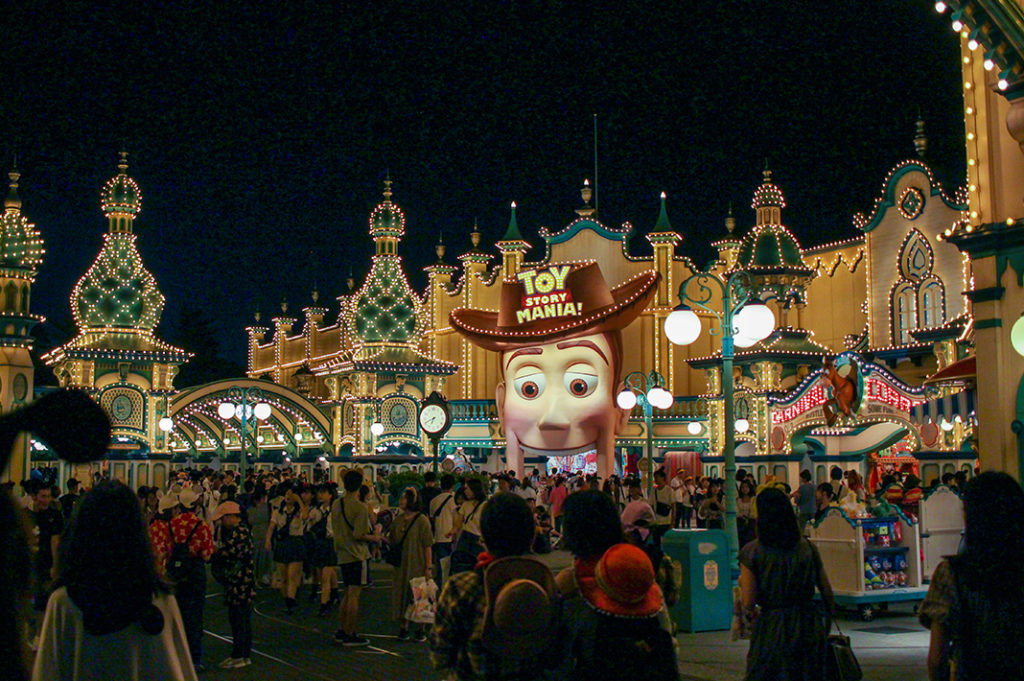 There are three great shows in this part of DisneySea, and it's also where you'll see a high concentration of Duffy and friends.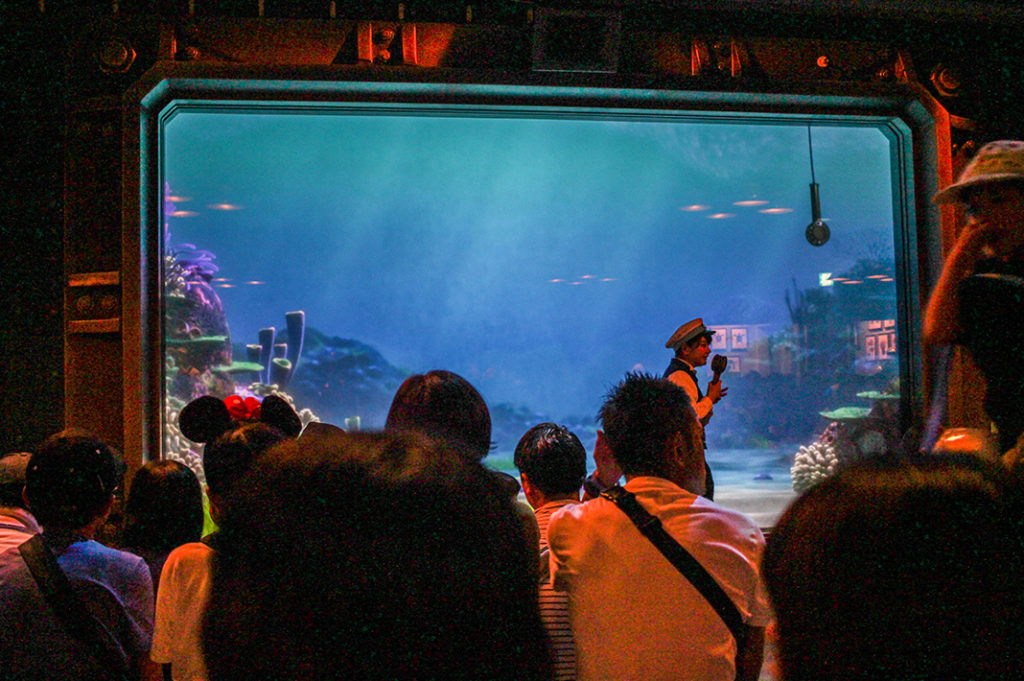 Food-wise, aside from the fine dining restaurants, you're looking at hot dogs, churros, burgers, baked potatoes, tempura, sandwiches, fried chicken, beer and sweets.
Port Discovery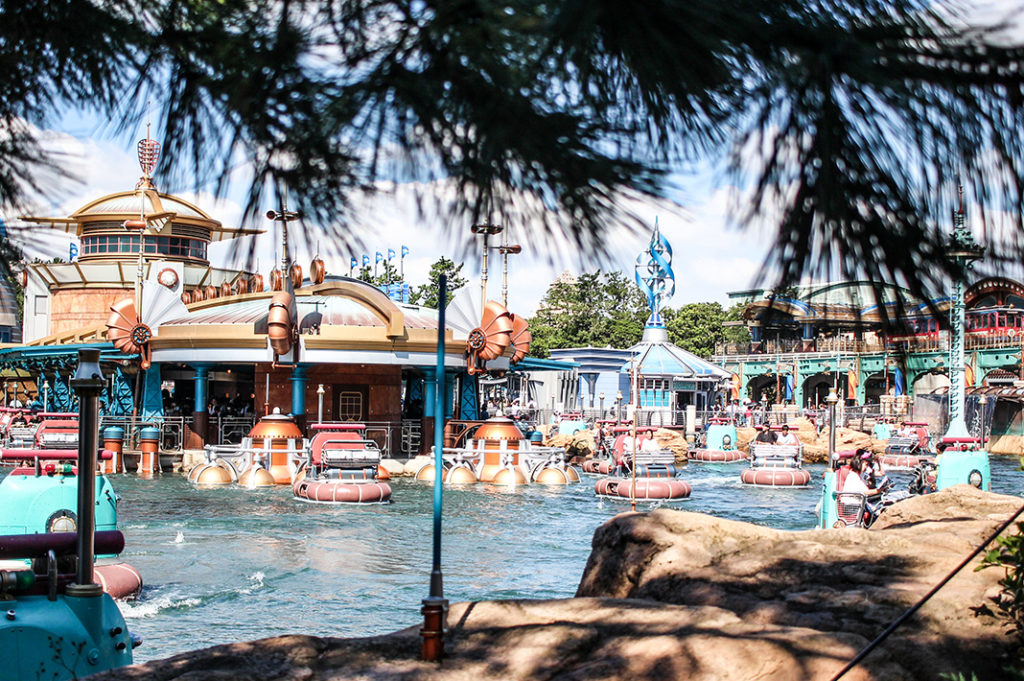 Take the electric railway from American Waterfront into the futuristic Port Discovery marina. Here, you can zip around in the water on Aquatopia or enjoy the Nemo and Friends SeaRider simulation ride through the ocean(s).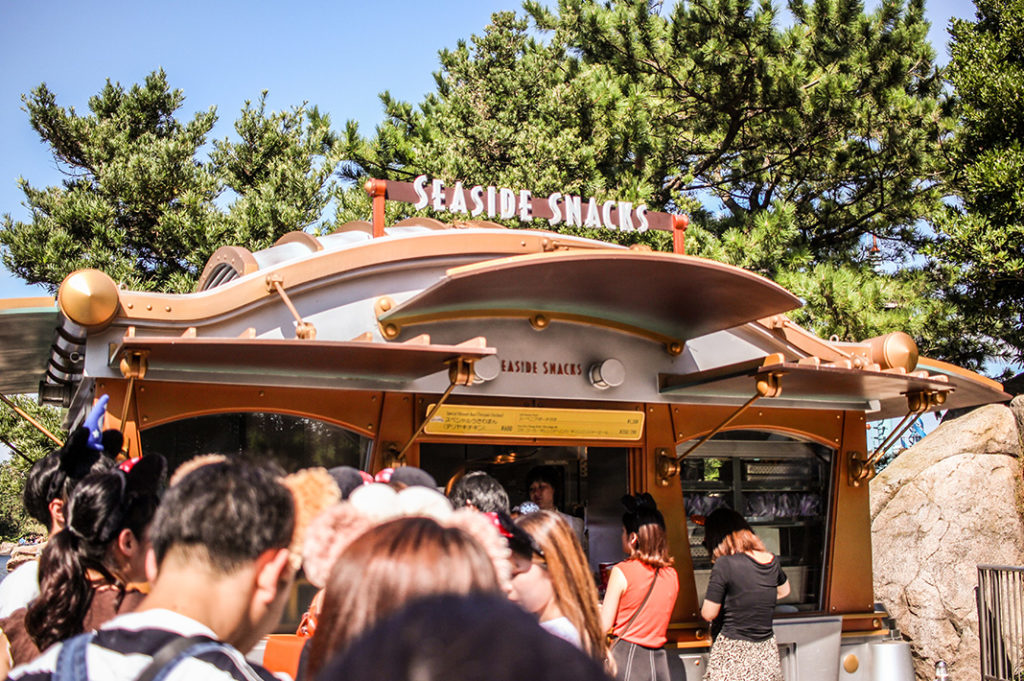 If you're hungry, head to Seaside Snacks for life-preserver shaped steamed pork buns, Breezeway Bites for pizza pockets or Bayside Snacks for sushi and Nemo-themed churros.
Mysterious Island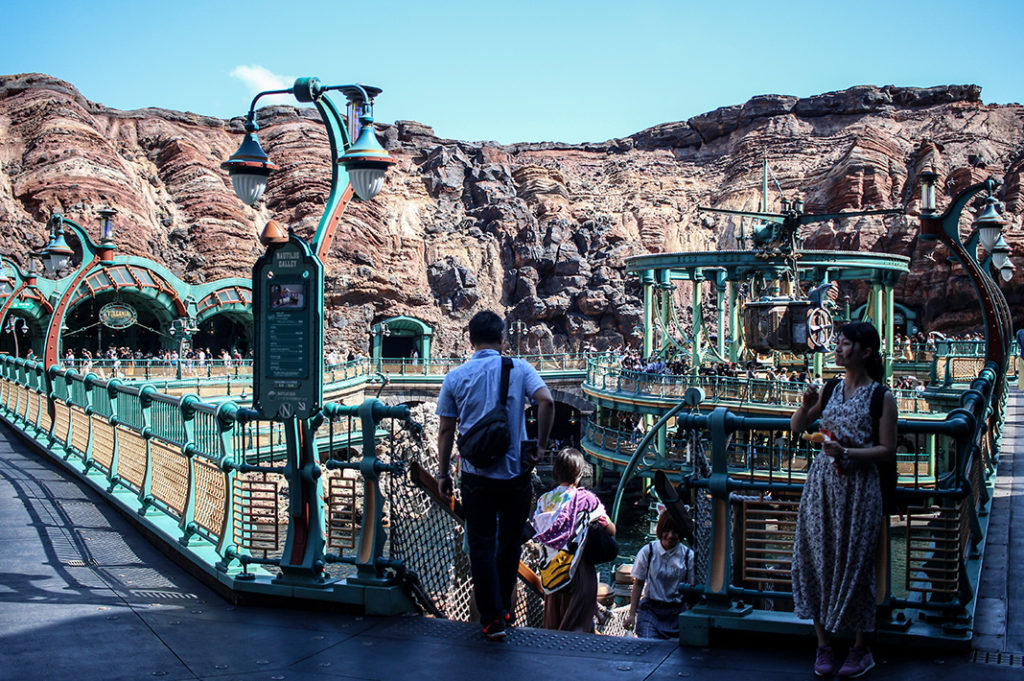 Mysterious Island is the steaming, hissing volcanic land that pays homage to the sci-fi writings of Jules Verne. It's home to two popular attractions: Journey to the Center of the Earth and 20,000 Leagues Under The Sea, which are both unique to Tokyo DisneySea. These titles perfectly summarise the design theme; rocky, barren underground research meets deep sea exploration.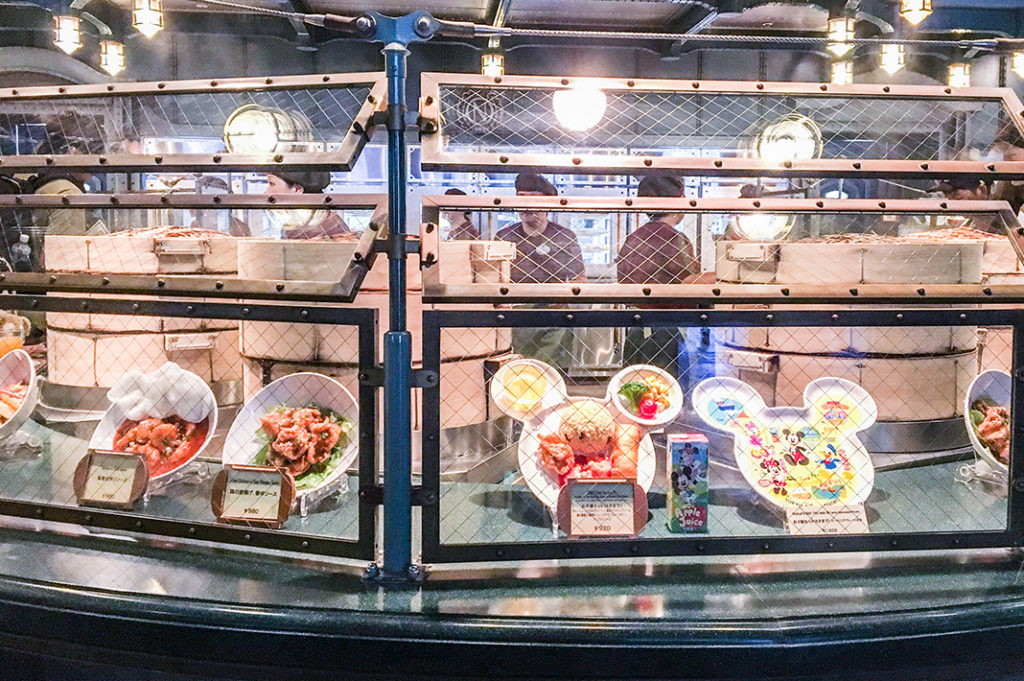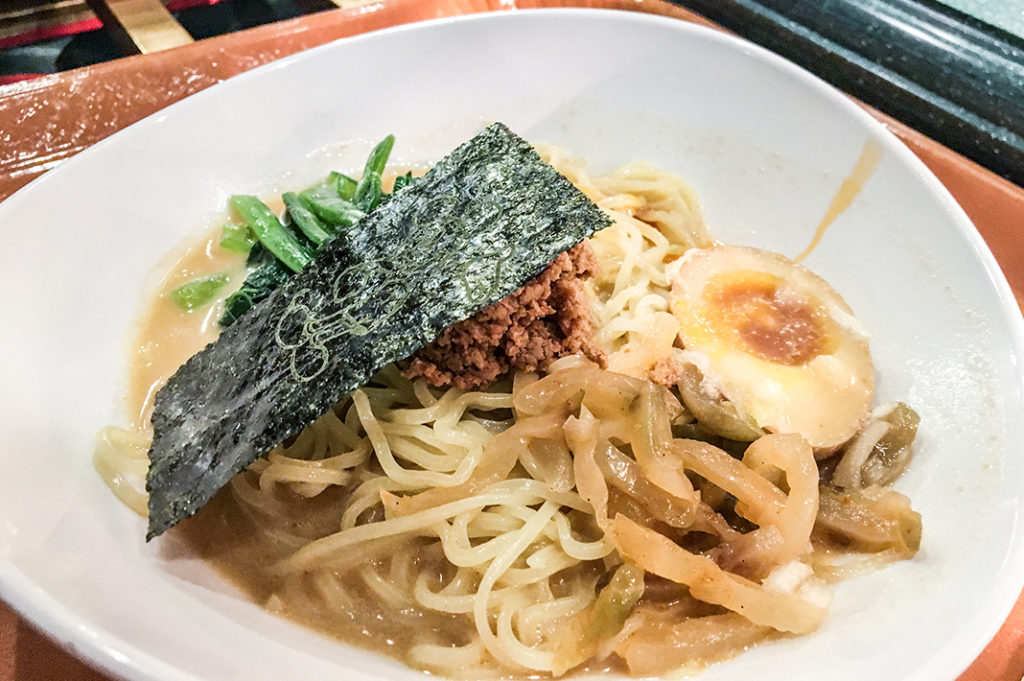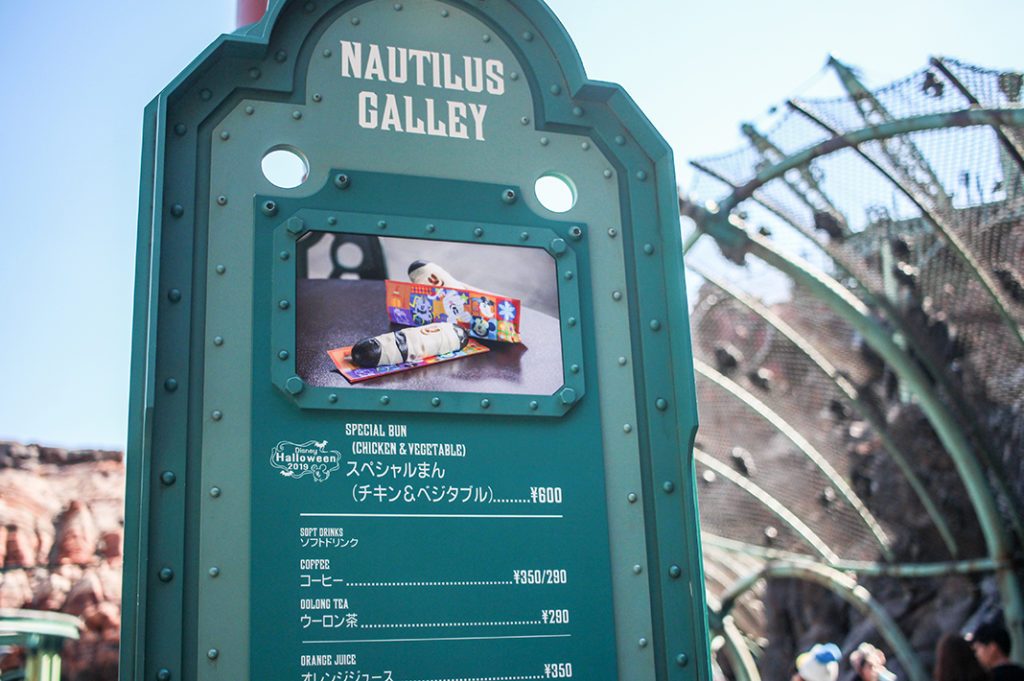 You can find Chinese food at the cafeteria style Vulcania Restaurant, gyoza dogs at Nautilus Galley or grab a churros from the wagon.
Lost River Delta
The Lost River Delta represents an archaeological site in the depths of the Central American rainforest. It's home to two popular attractions: 'Indiana Jones Adventure: Temple of the Crystal Skull' and 'Raging Spirits', the latter of which is unique to DisneySea. You can also ride the river steamer which connects to American Waterfront and Mediterranean Harbor.
For the peckish, there are quite a few options: hot dogs, pizza pastries, chicken legs, grilled meats and Mexican food.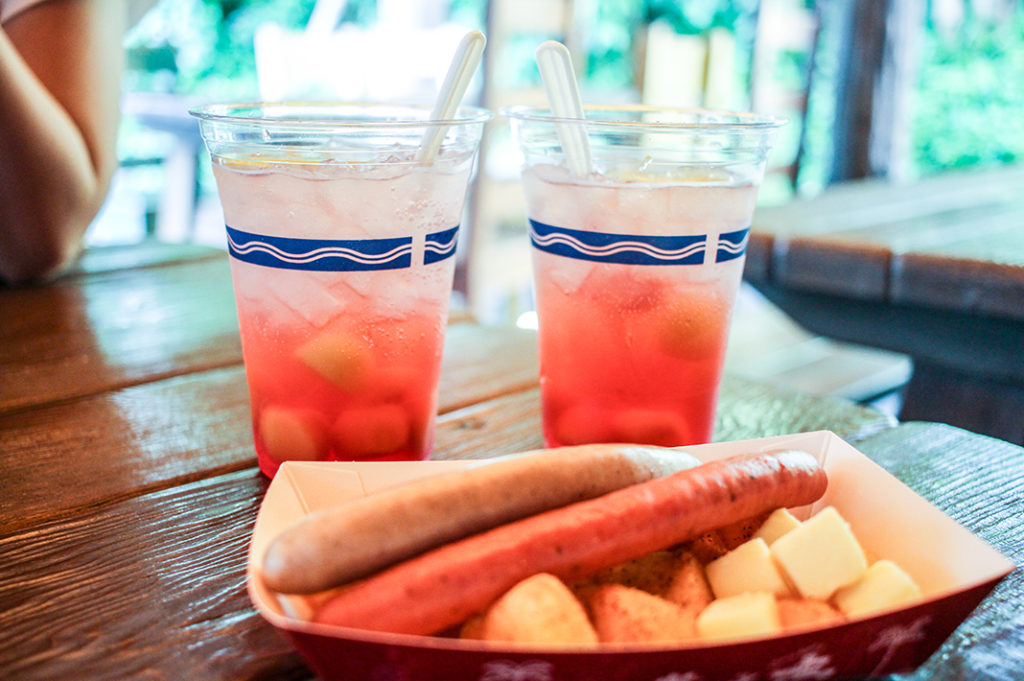 This article can only give you an idea of what you can do at DisneySea. There is so, so much more! To experience the true magic and charm, you'll have to take a walk through the lands yourself.
Getting to DisneySea
Firstly, you'll need to get to Maihama Station—around 40 minutes from Shinjuku Station area or 15 minutes from Tokyo Station.
Once at Maihama Station, simply take the Disney Resort Monorail to Tokyo DisneySea Station (10 minutes, 260 yen). If you want to get in even more steps, it's possible to walk to the park from Maihama Station in roughly 20 minutes.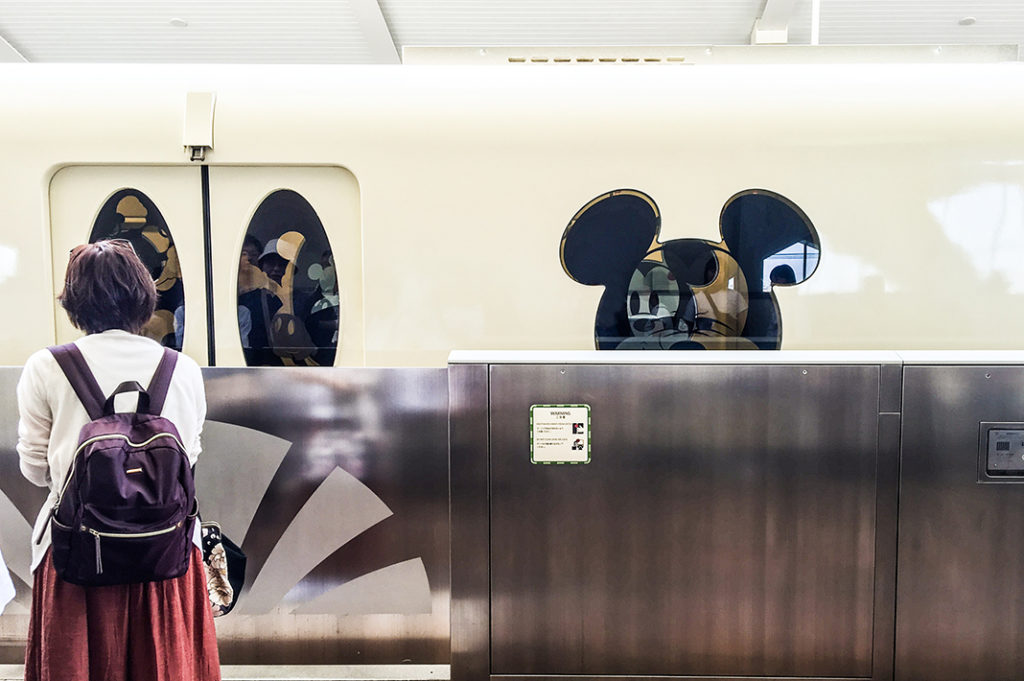 Amusement Park Name: Tokyo DisneySea
Address: 1-13 Maihama, Urayasu, Chiba 279-0031 (link)
Open: usually 8:00am until 10:00pm
URL: link
Post by Japan Journeys.