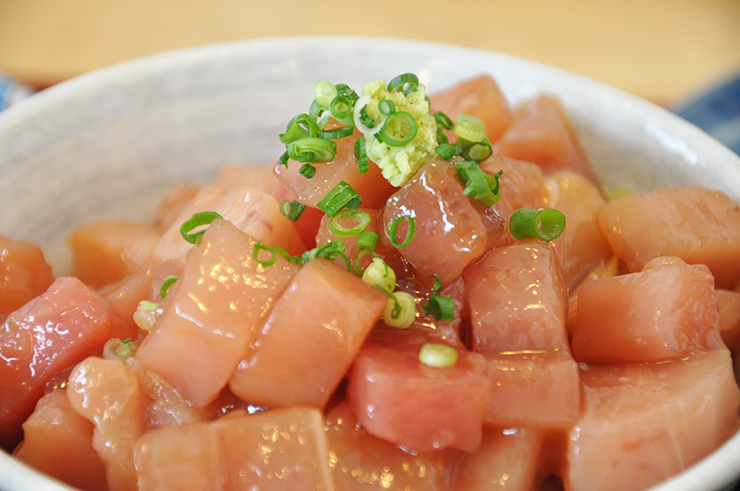 Tuna, or 'maguro' in Japanese, is a heavyweight of the sushi and sashimi arena. It is a delicious fish with a reputation that precedes it. For example, take the famous tuna auctions of Tsukiji and Toyosu Markets. Tourists arrive at the crack of dawn to watch the gigantic fish auctioned off to the highest bidder. Maguro has long been a staple of Japanese food, which is why Japan are the highest consuming country of landed tuna in the world. Shizuoka tuna, that is.
Shizuoka – the city of tuna
To bring the microscope a little closer, Shizuoka Prefecture are doing their part to keep this record so high. Not only do they land the most tuna here, according to statistics, Shizuoka's citizens are the largest consumers of tuna, in both expenditure and volume. It truly is tuna-town.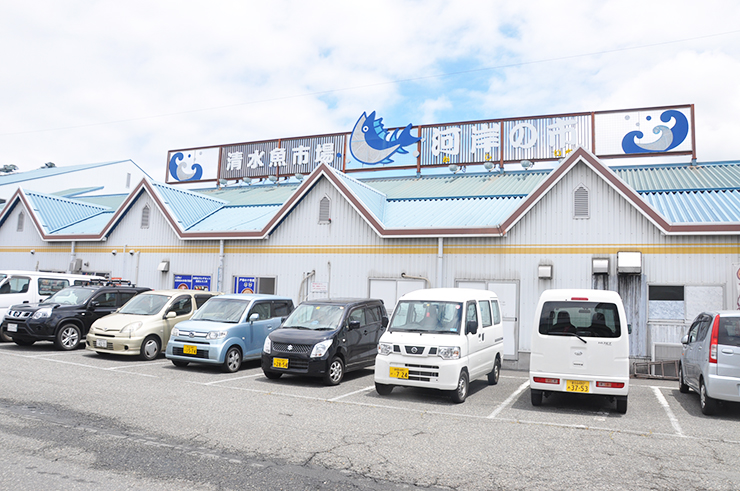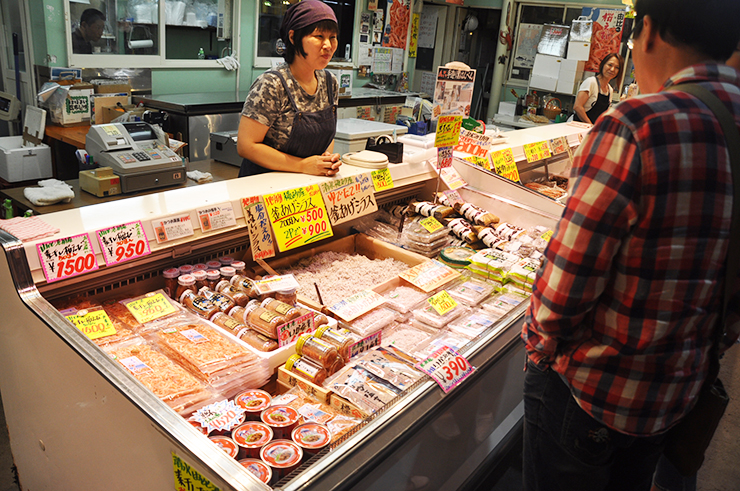 Kashi-no-Ichi Fish Market
Like any port-town worth their salt, Shimizu has a local fish market. Inside the vibrant 'Kashi no ichi', discerning middle traders sell fresh seafood below retail price to the general public. It was the first place in Japan to start trading this way, and it seems the people of Shizuoka grabbed a shopping basket and never looked back.
The market attracts more than a million visitors per year and is a great place to wander around, grab some groceries or down one of the freshest tuna meals of your life.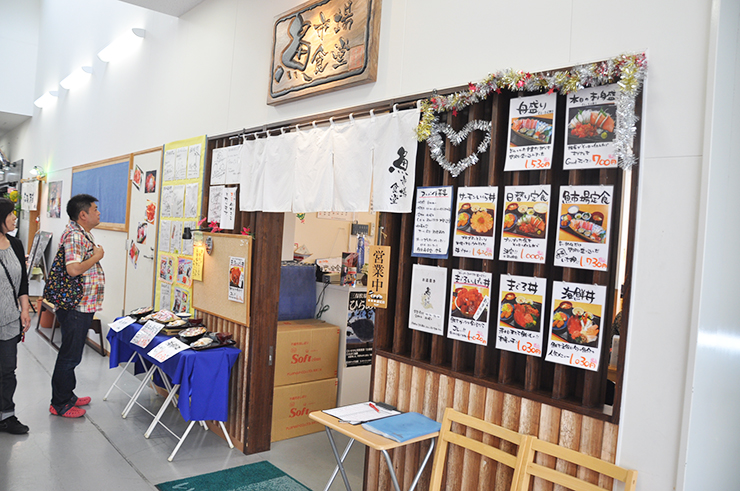 Uoichiba Shokudo in Maguro-Kan
The 'Magurokan' (tuna building) houses many restaurants who transform their high quality tuna into tasty dishes daily. Head up to the second floor to the popular 'Uoichiba Shokudo' for an all-you-can-eat experience.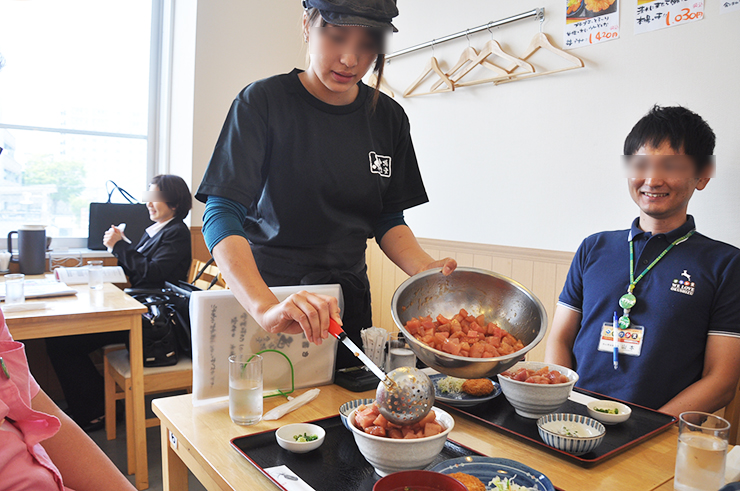 Some of the best tuna in Shizuoka
Uoichiba Shokudo is well known for its marinated tuna bowls. However, due to the popularity, quantities are limited.
A staff member will spoon marinated tuna onto your rice until you say 'stop' or it overflows. They advertise that you can eat as much as you like, however the acceptable amount is actually 3 or 4 scoops. This allows for a good balance of tuna and rice and means other customers can enjoy the dish too.
Each piece of marinated tuna is well-sized and meltingly delicious. Combined with the vinegared rice, you have a superb lunch.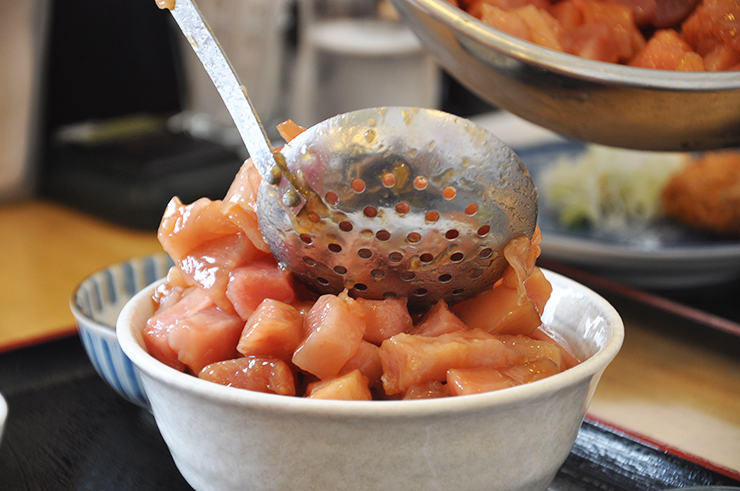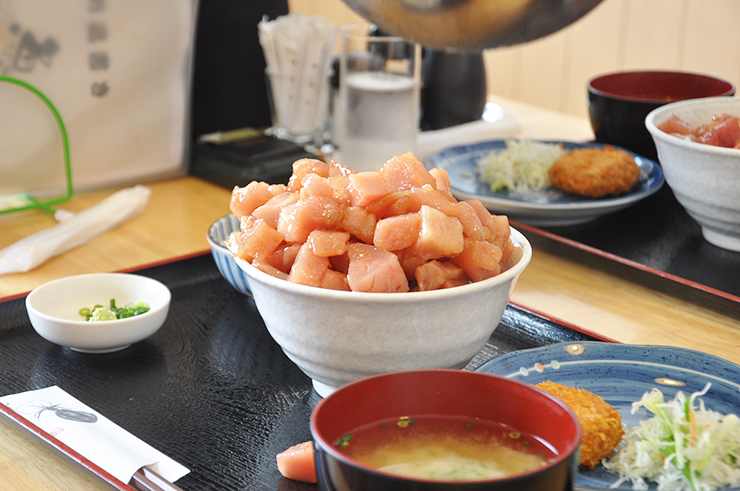 The Shimizu Port Tuna Festival runs every October and sounds like a lot of fun. It features food (of course), tuna carving performances and a sushi eating contest.
Shizuoka City is a fantastic opportunity to enjoy some tuna. Tuna lovers, it may be the mecca you are looking for!
Name: Uoichiba Shokudo
Address: Shinkan Magurokan 2F, 149 Shimazaki-cho, Shimizu-ku, Shizuoka
Transport: 3 minutes walk from JR Shimizu Station
Open: Mon, Tue, Thu, Fri: 10:30 – 17:00
Sat, Sun, National holidays: 10:30 – 18:00
Closed on Wednesdays
Website: http://kashinoichi.com/
Post by Japan Journeys.