Just a short ferry ride from Hiroshima, Miyajima island is a paradise for nature-lovers. Within minutes, a seaside stroll with the local deer can become a serene walk through the densely forested, sacred mountains. And although this island has much to offer year round, Autumn is quite a spectacular sight. Miyajima is in fact one of the most popular spots to enjoy koyo, or red leaves, in all of Japan. You can catch maples and other autumn colours all over the island, but the undisputed best place to see them is at Momijidani Park.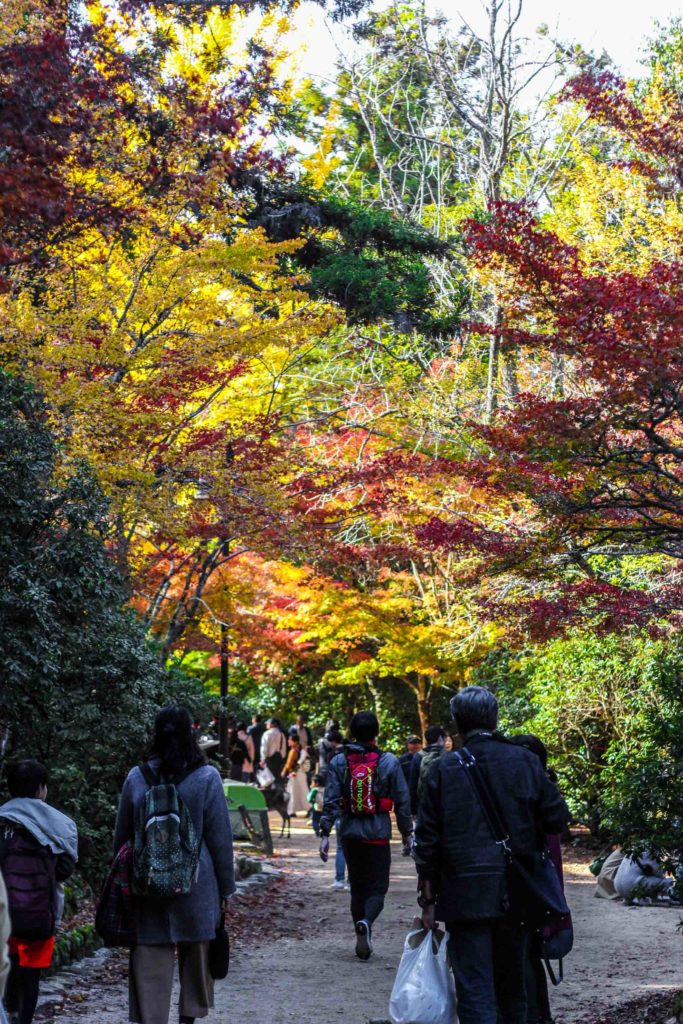 The Maple Valley
Momijidani park sits at the base of Mt. Misen, just inland from the famous Itsukushima Shrine. A small river trickles through on its way out to sea and deer quietly roam the paths. Though it feels quite natural, it's actually a man-made "erosion control" forest, planted after a 1945 typhoon levelled this part of the island. These days, it's lush and colourful and has been named a 'National Natural Monument'.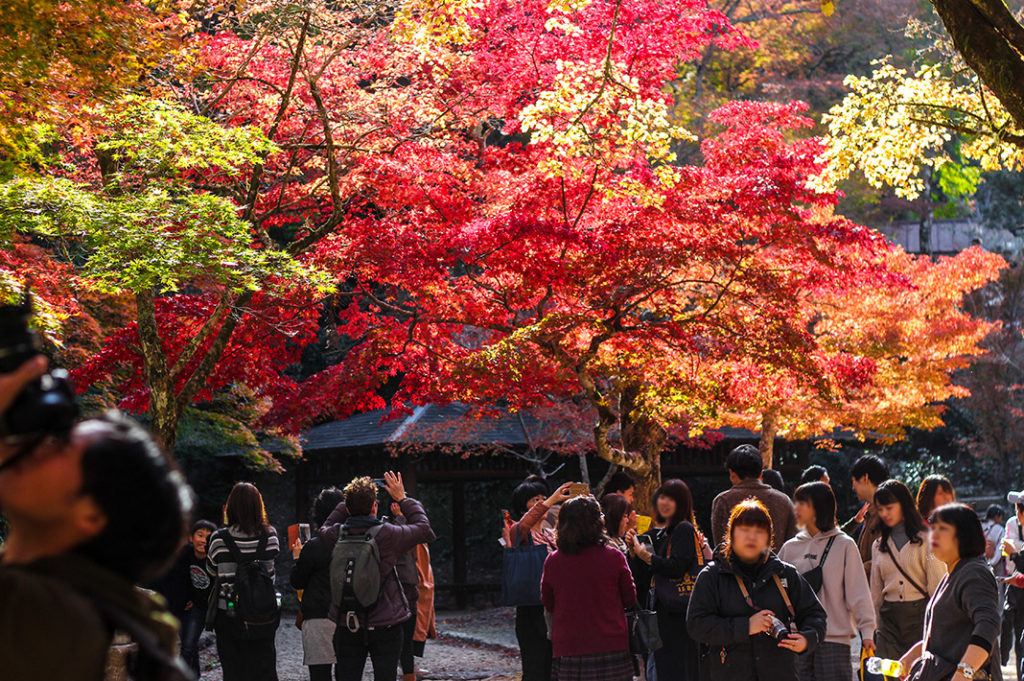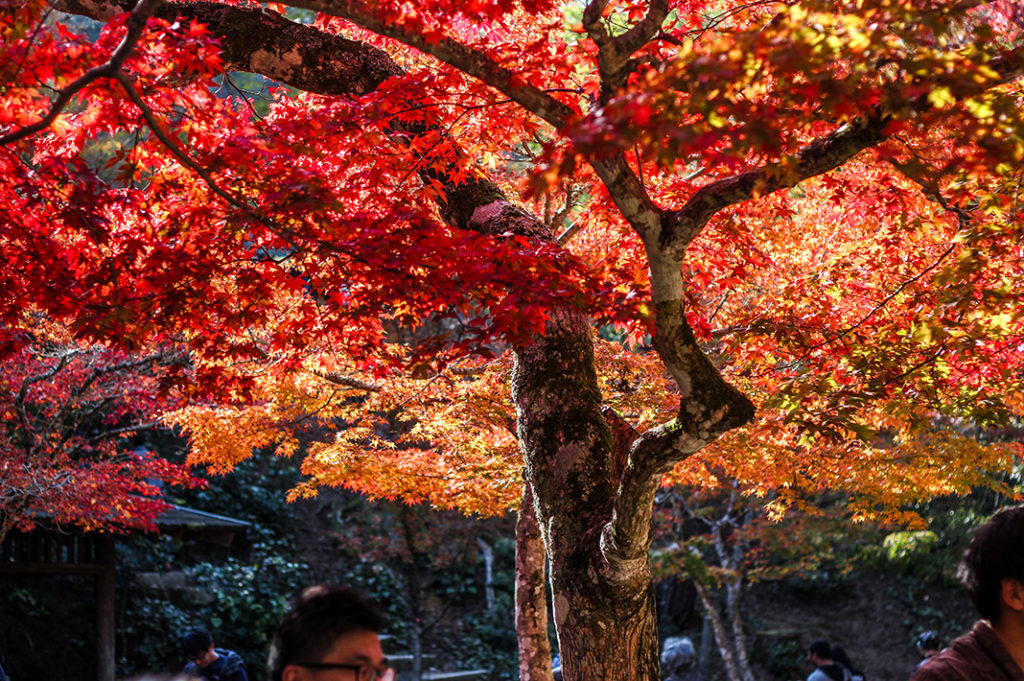 The park contains hundreds of stunning maple trees of various sizes and species. So it comes as no surprise to learn that its name literally means "maple viewing valley park". If you time your visit right, you are guaranteed a wonderful show of autumn colour. A mid-late November visit is the best time to see the full palette of reds, yellows and oranges in fiery contrast to the surrounding evergreens.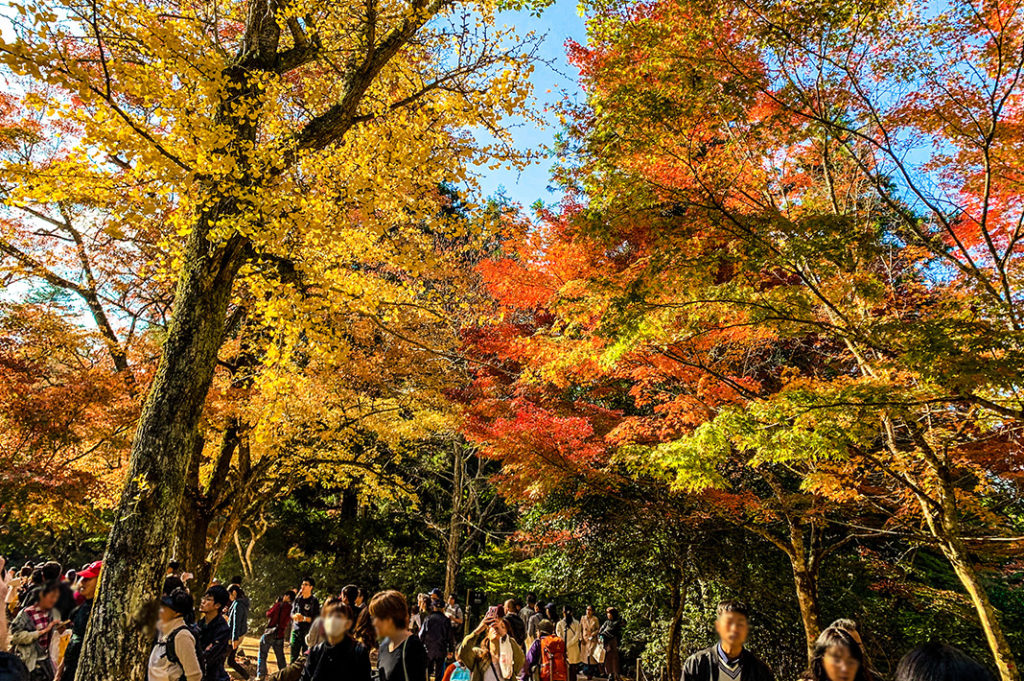 I visited in mid-November and was treated to some of the deepest reds I'd ever seen. It's so dreamy to stand beneath the trees and watch the light filtering through the foliage.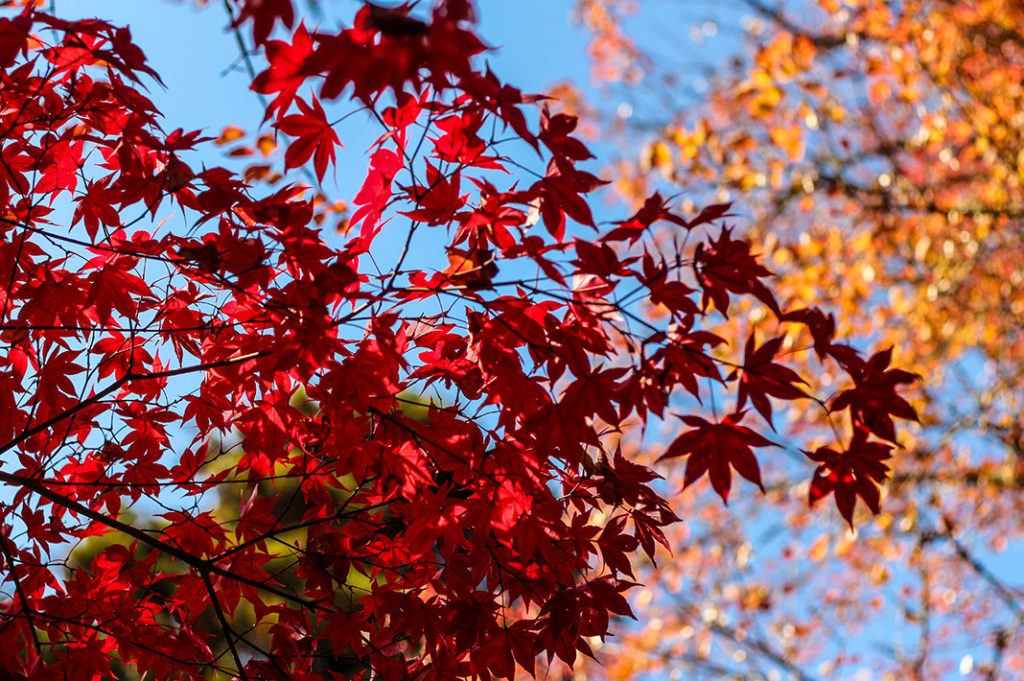 Even though our afternoon visit was during a peak time, I was still enchanted by the beautiful natural surroundings. One local man was so moved and so focused that he sat and painted landscapes as the crowds flowed around him.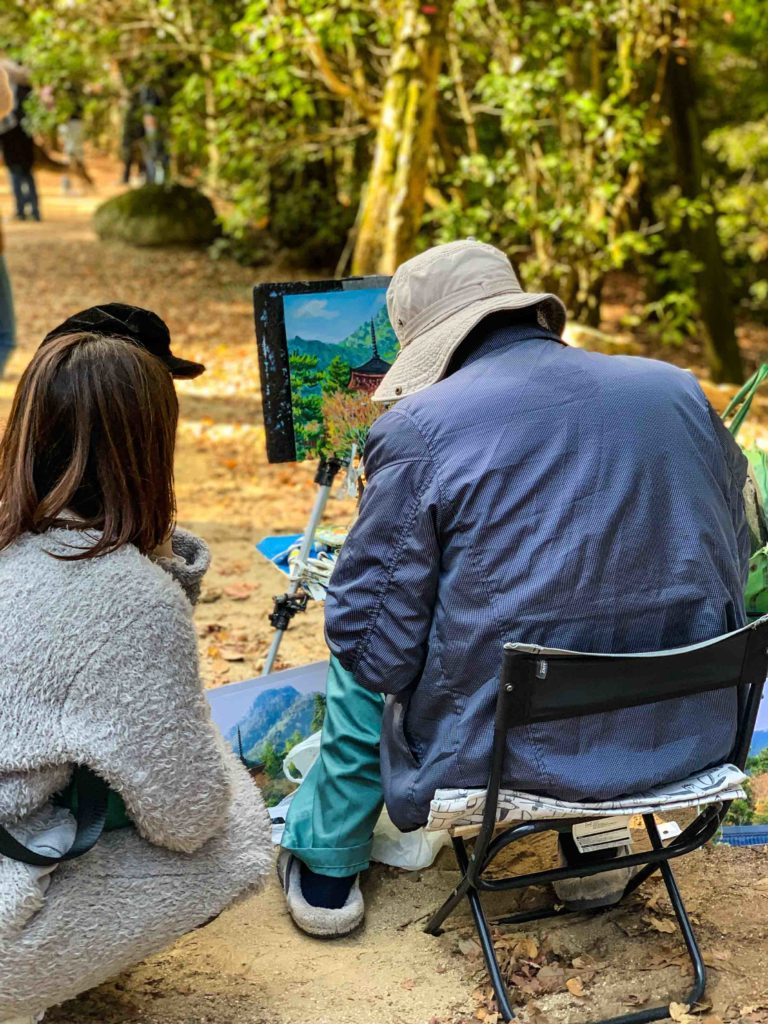 If you're looking for smaller crowds, a morning visit would be your best bet. Imagine it: just you, the trees and the local birds. Perfection.
Continue Uphill
There are many trails criss-crossing the forests of Miyajima. If you take the trail heading uphill, you will arrive at Momijidani ropeway station, where a cable car can take you up to the peak of Mt Misen.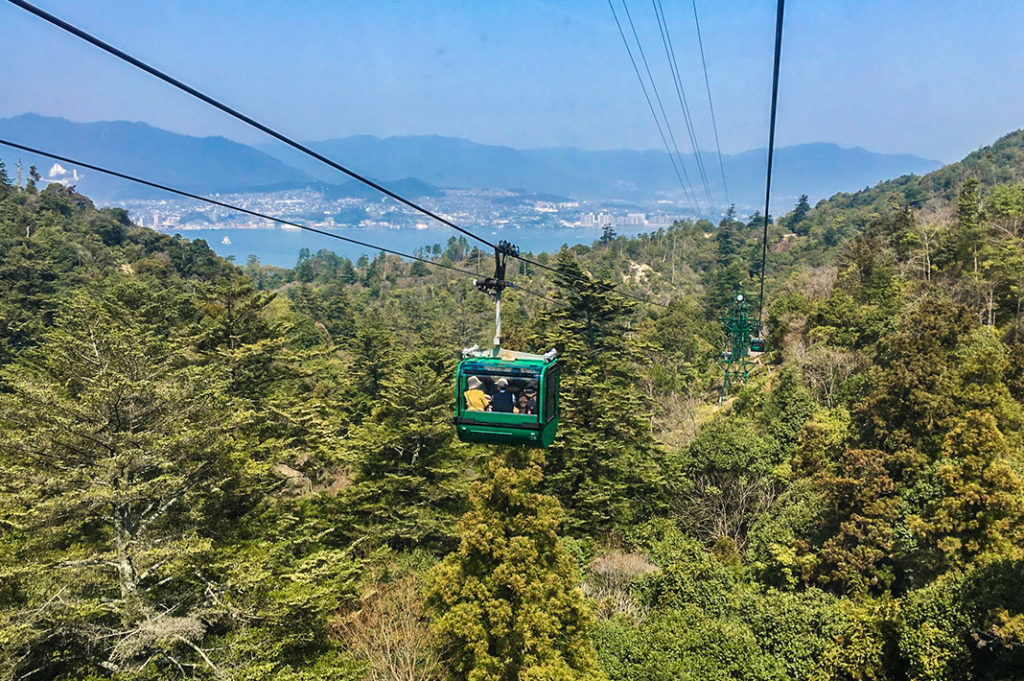 Where else to see Autumn Foliage on Miyajima
If you arrive to a sea of fallen leaves, don't worry. You could try one of the other parks on the island that are known to peak a week or so later; Oku-momijidani, just further uphill, or Omoto Park, further around the bay.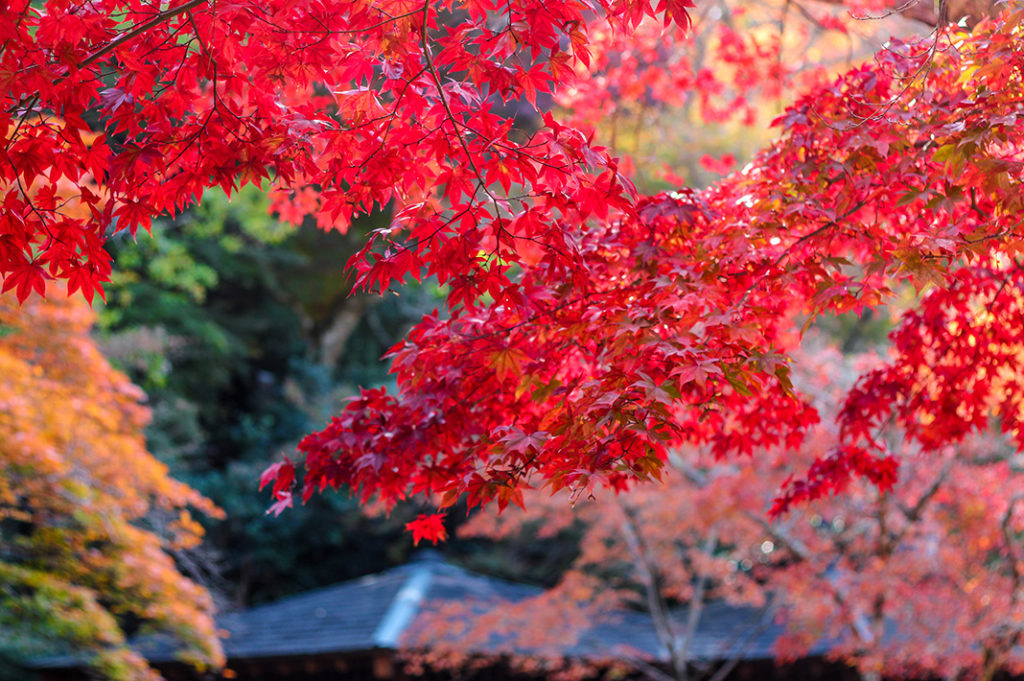 Maples everywhere.
Maples are so synonymous with the island that Miyajima even has a famous snack called 'Momiji Manju'. These pancakey sweets consist of a batter, stuffed with any number of delicious fillings and cooked in a maple leaf shaped mould. Anko—red bean paste—is the typical filling but you can also find flavours like cheese, pumpkin, chestnut, chocolate and custard.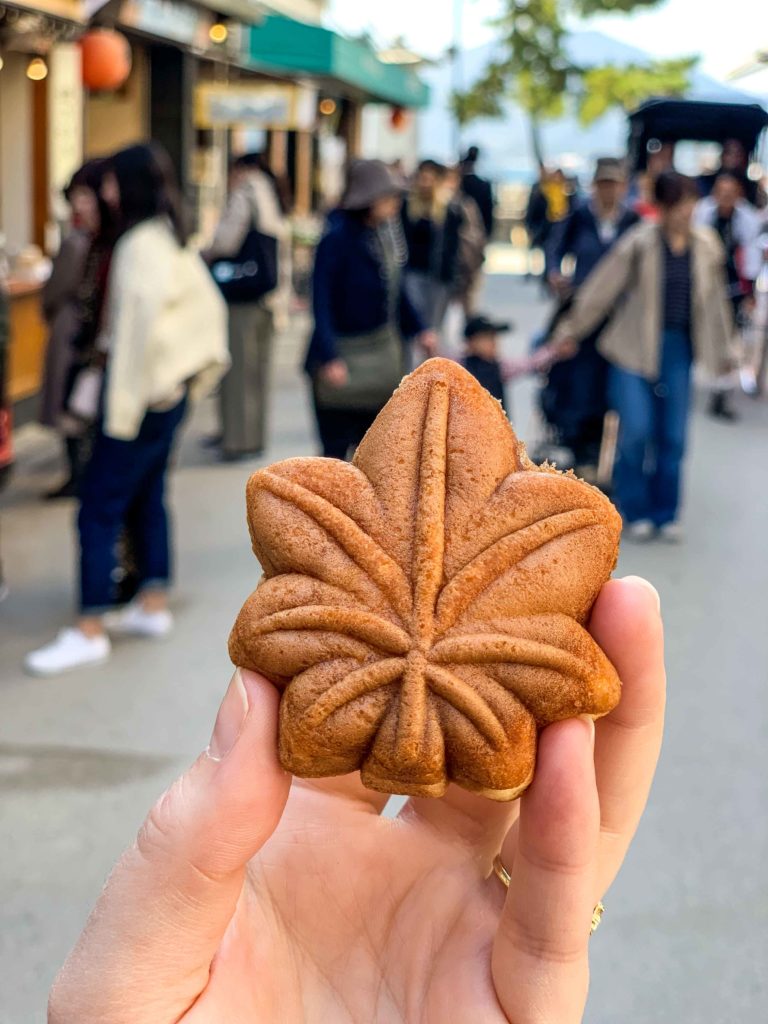 Miyajima vendors have been making manju for over 100 years. In fact, it is rumoured that they originated in the 1800s at the Iwaso Ryokan which still stands today near the entrance to Momijidani Park. History with every bite!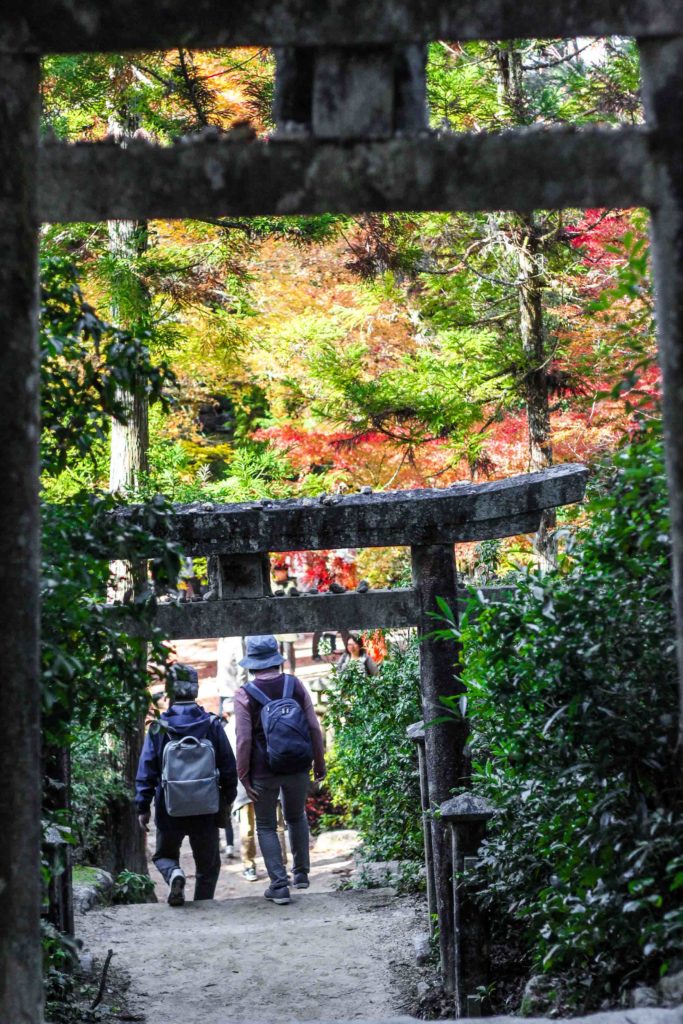 Getting to Momijidani Park
Momijidani Park is a 20 minute walk from the Miyajima pier (add extra time for deer photography). Follow the crowds out of the ferry terminal to the right and you'll pass through the stone torii gate into Itsukushima Shrine. Follow the road along the coast and past the shrine. As you round the corner after the fire station, follow the 'Momijidani Park' street sign to the left.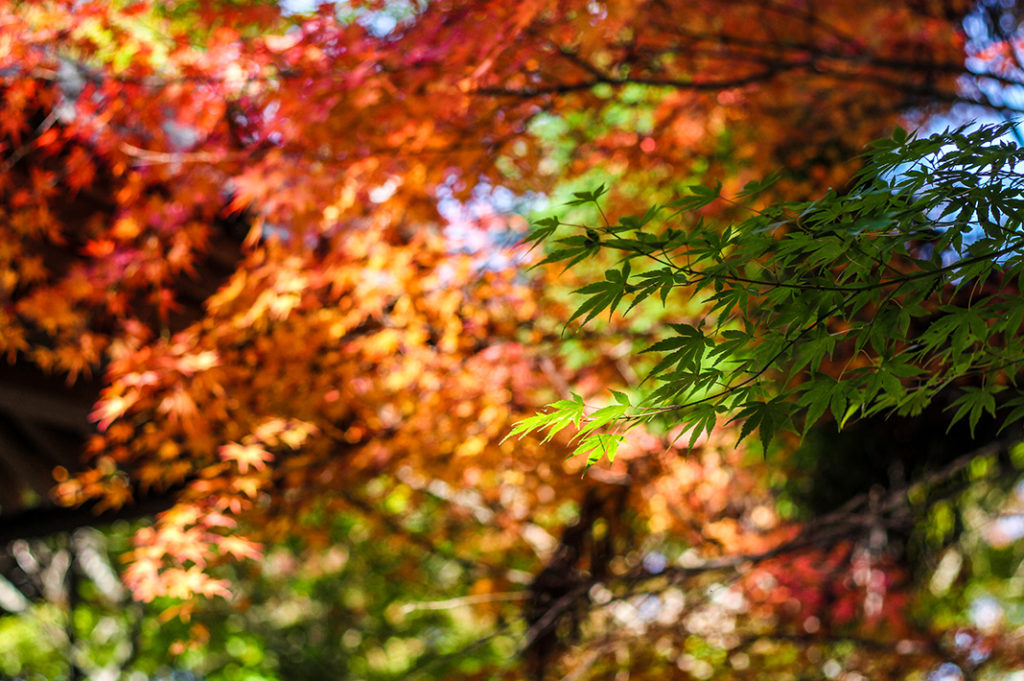 From Hiroshima
The cheapest way to get to Miyajima from Hiroshima Station is to catch the JR San-yo train (30 min, ¥260) toward the island followed by the 10 minute JR Miyajima ferry from Miyajima-guchi port (¥180). Both are covered by the JR Pass.
On a nearby dock, you'll also spot another ferry company called the 'Miyajima Matsudai Kisen'. This costs the same amount but is not covered by the JR Pass. If you plan to ride the Miyajima Ropeway, you can package this with your ferry ticket to get a discount.
However, if you're in the Peace Park area and don't mind splashing out, the Aquanet boat is a ¥4,000 round trip. It sails past the A-bomb dome and out into the bay, taking 45 minutes each way. Make sure you book your return ticket time as soon as you alight at Miyajima, as things can get busy.
Name: Momijidani Park
Address: link
Open: 24hrs
URL: https://www.city.hatsukaichi.hiroshima.jp/map/15043.html
Post by Japan Journeys.