One simply cannot go to Kanazawa without visiting Kenrokuen Garden. Besides being among the top things to do in Kanazawa, Kenrokuen is one of the best gardens in all of Japan. What makes this garden so special? According to ancient Chinese gardening principles, there are six different qualities that all gardens should aspire to: spaciousness and seclusion, artifice and antiquity, water-courses and panoramas. Most gardens have three or four of these aspirational qualities, but Kenrokuen has all six. In fact, the name Kenrokuen literally means "garden that combines six characteristics".
Kenrokuen was designed as a strolling garden; around every idyllic bend lies yet another breathtaking sight. Think ponds and waterfalls, flowers and gnarled old trees, and landmarks such as the iconic two-meter tall Kotojitoro lantern. Open 365 days a year with special events and seasonal delights strewn throughout, it's a garden for all seasons. Check out the following to know what to look forward to during your visit.
Spring: A Sakura Wonderland
The highlight of spring in Japan is the sakura season, and Kenrokuen Garden has no shortage of cherry blossoms. It feels like the fluffy blooms are everywhere in the garden, especially around the walkways by the large pond. Even better, the garden is free of charge (normally ¥320) during sakura season—but everybody knows it! It's best to go on a weekday during this time to avoid the crowds. The garden also contains a plum orchard; their bloom can be viewed in early spring—just before the cherry blossoms.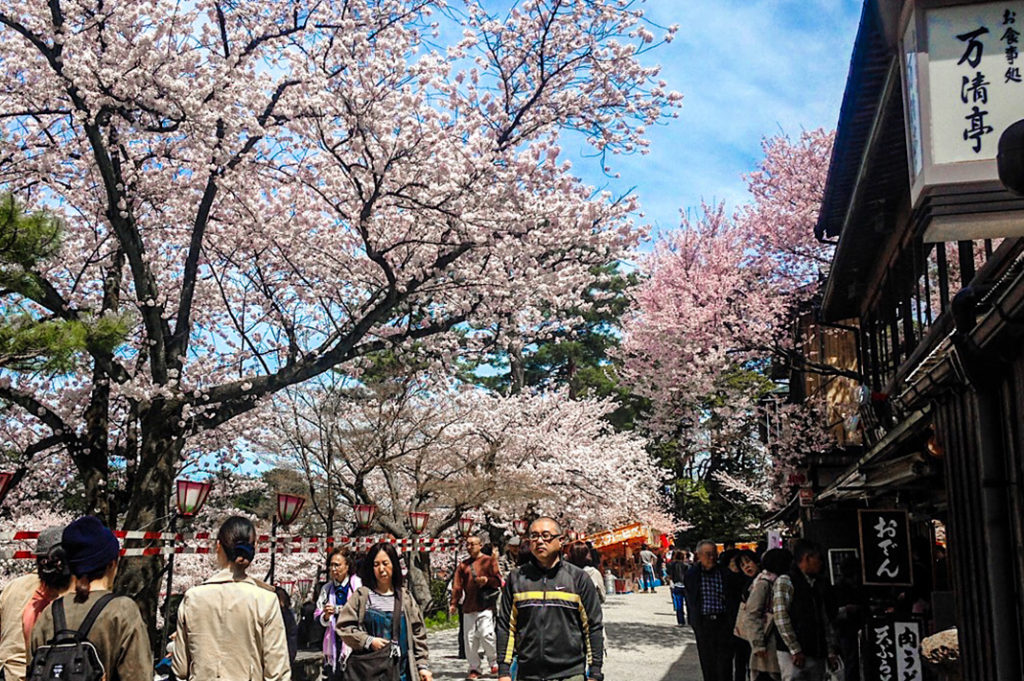 Summer: Fireflies Cast Their Spell
The heat of summer may not make for as pleasant of a stroll, but come July and there are some night-time delights to be found in Kenrokuen. The muggy and still air leads to perfect conditions for fireflies, and the ponds and foliage of Kenrokuen are the perfect place to spy these delightful creatures. Just after sunset, head to the garden, park yourself near a water feature, and get ready for some magic. Weekend evenings during firefly season are free of charge.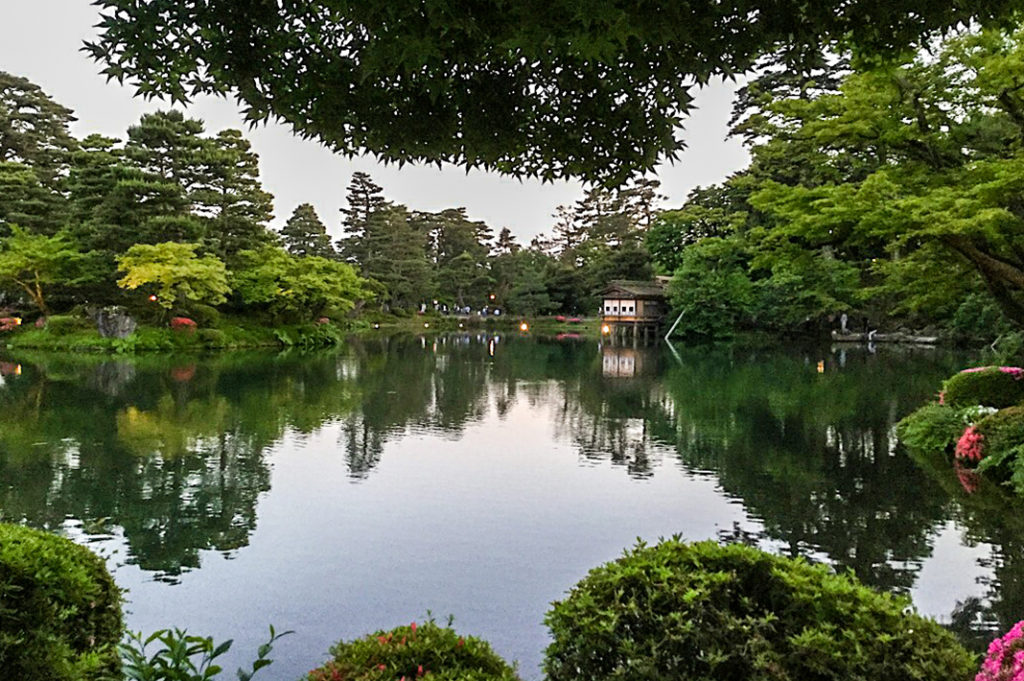 Autumn: A Riot of Color
Just as spring is sakura madness in Kenrokuen, autumn is koyo madness. This is when you can spy vibrant colored leaves throughout the garden.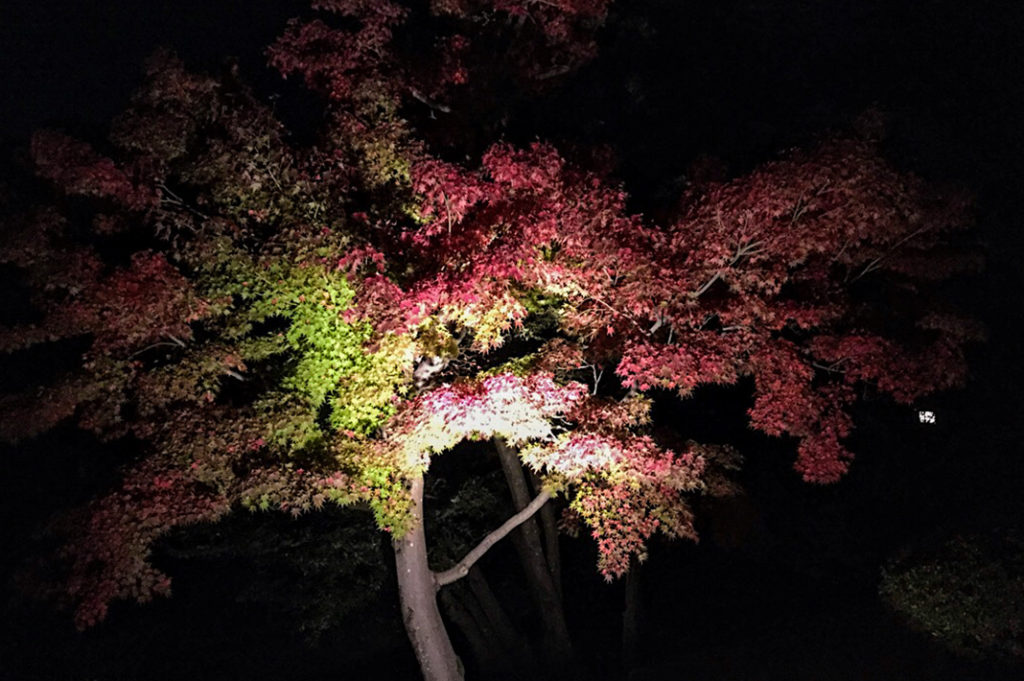 Come during the day to take in the colors, or in the evening during the seasonal illumination to experience the trees artfully lit up.
The illumination occurs for about three weeks during each season, but autumn is an especially cool time to check it out. As with other seasonal events, this illumination is free of charge.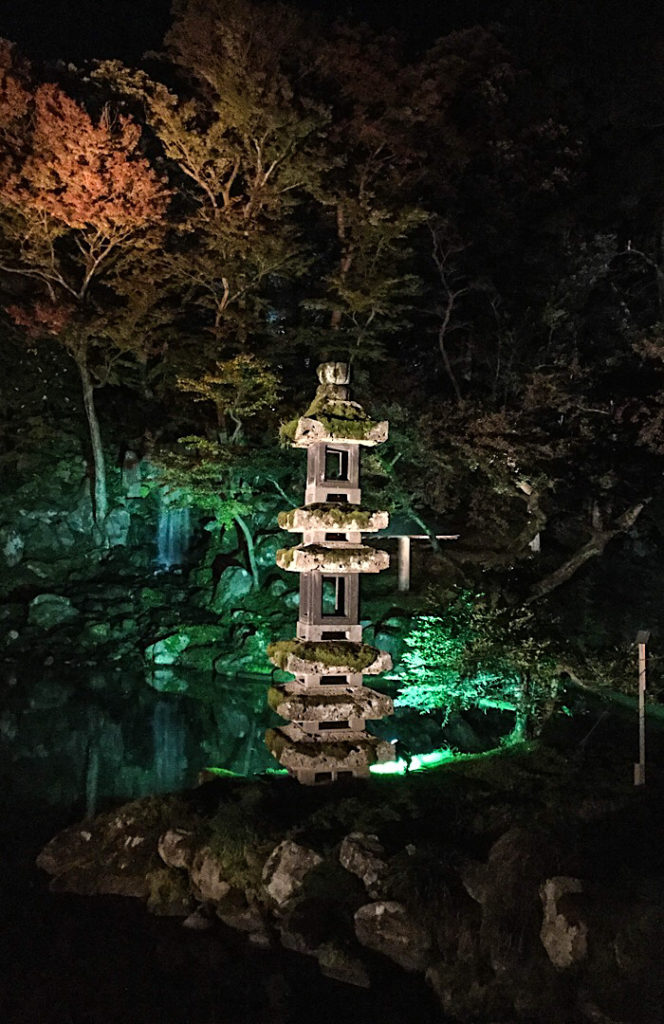 Winter: Promenade in the Snow
Winter may sound like a cold, depressing time to take a walk in a garden, but winter in Kenrokuen is sublime. Kanazawa can experience heavy snowfalls, and so to combat this, tent-like rope supports called yukitsuri are tied to support the delicate pine trees and protect their branches from the weight of the snow.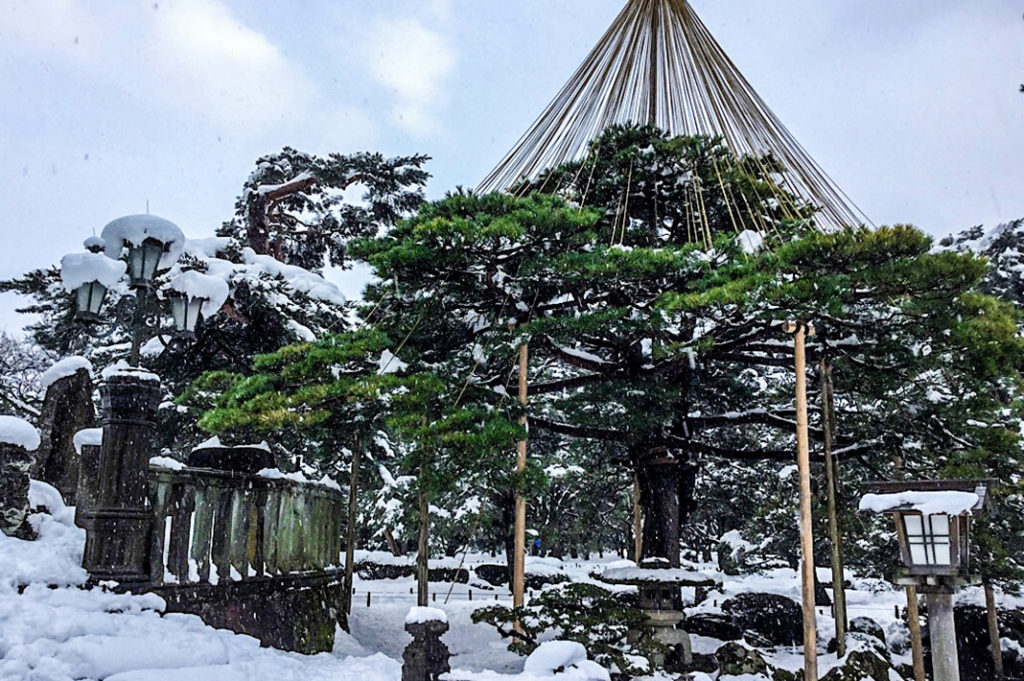 The Karasaki Pine tree is the first in the whole city to have this support put in place; this kicks off the winter season. The yukitsuri are functional, completely created by hand, and the result is quite beautiful.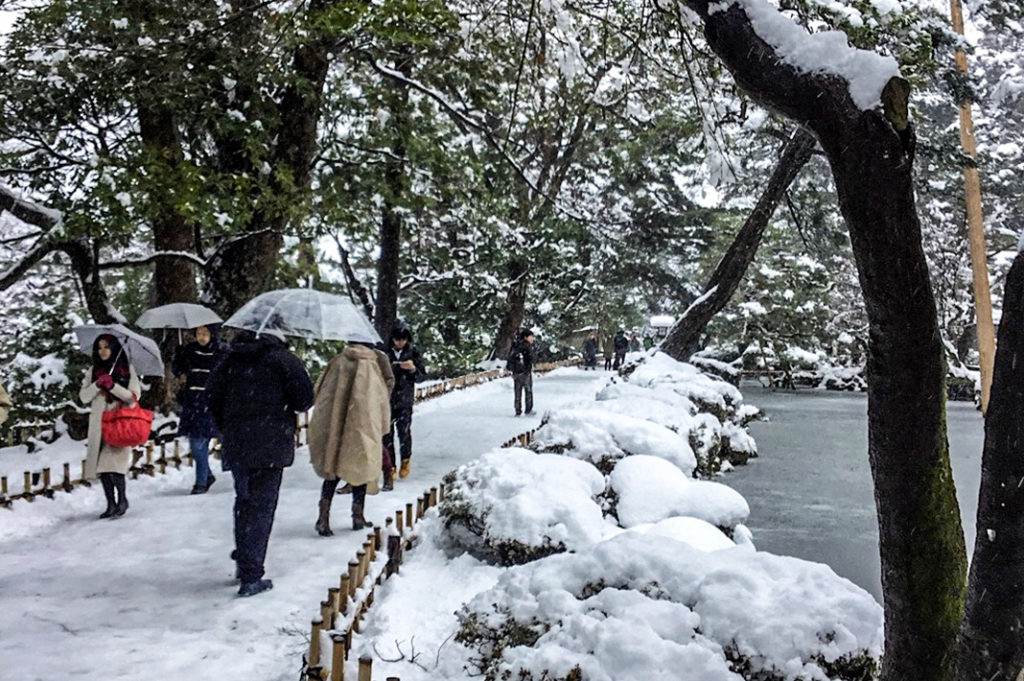 If you think a winter day in Kenrokuen sounds surprisingly pleasant, it's also well worth going back in the evening during the seasonal illumination. Seeing the garden lit at night presents a completely different world from the daytime, one that is more magical, mysterious, and other-worldly. Especially photogenic are the glassy, frozen ponds that reflect the lit-up pine trees.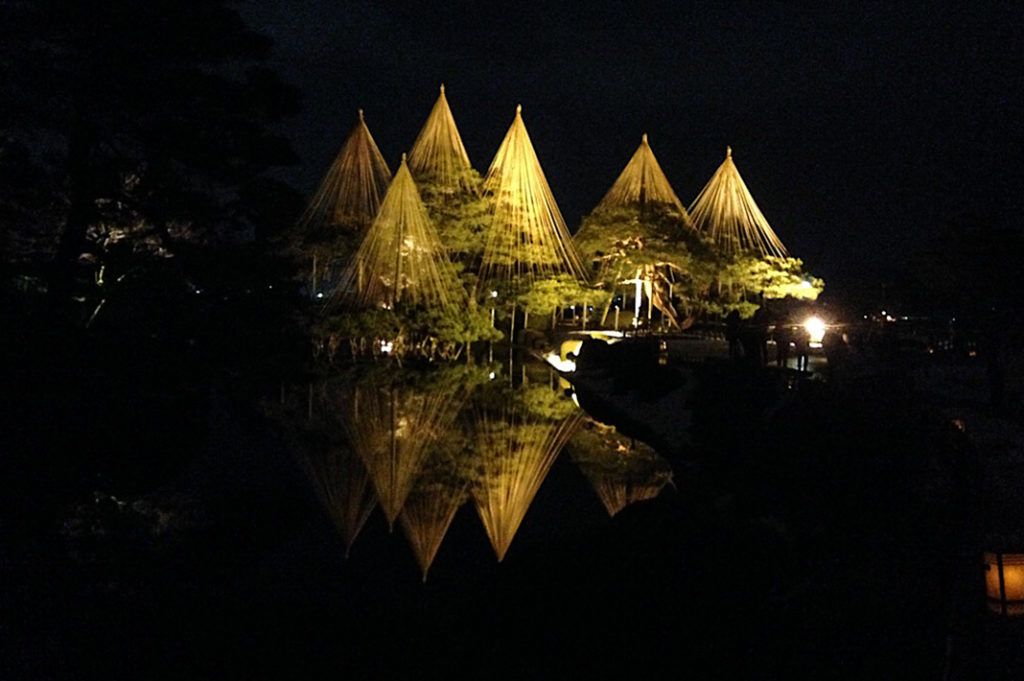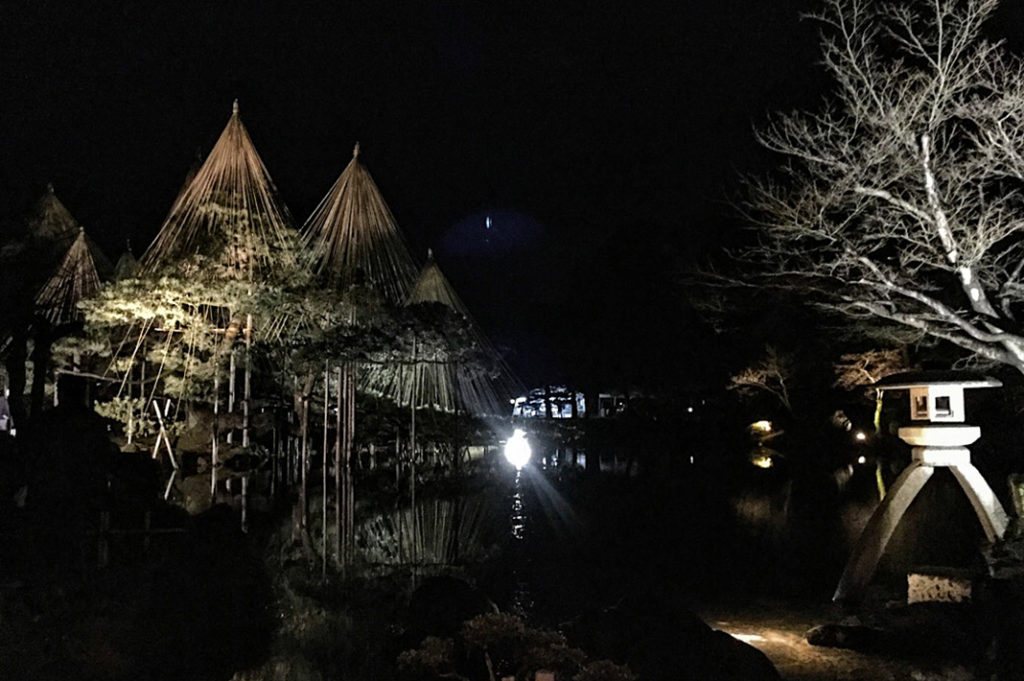 Name: Kenrokuen Garden
Address: 1 Kenrokumachi, Kanazawa, Ishikawa.
Open: 7:00-18:00 (8:00-17:00 Oct. 16–end Feb; check for seasonal hours)
URL: https://visitkanazawa.jp/mustgoplace/touristspot/area1/1