Picture this: you're a feudal lord (daimyo) with land, money and power within your community. You live hundreds of kilometres from the Nation's capital and presumably fly under the radar. In your opinion, they've been in charge long enough and you could do a better job. A little planning, a little muscle—they'd never see an uprising coming. Your scheming comes to a halt when your family are suddenly taken to live in said capital in an expensive home you must pay for. You're also required to visit them regularly…on foot, at your own expense, with a showy entourage and at the whim of the rulers. Suddenly time and money are a distant memory and you join the many others trekking the Nakasendo Trail.
Looking back
Today, I'm standing in the same spot as countless travellers of yesteryear, though I couldn't be further away from that life. I'm off the beaten track and deep in the mountains in a quaint storybook town called Magome. The buildings here retain the facade of a bygone era, but contain businesses geared toward the modern-day traveller.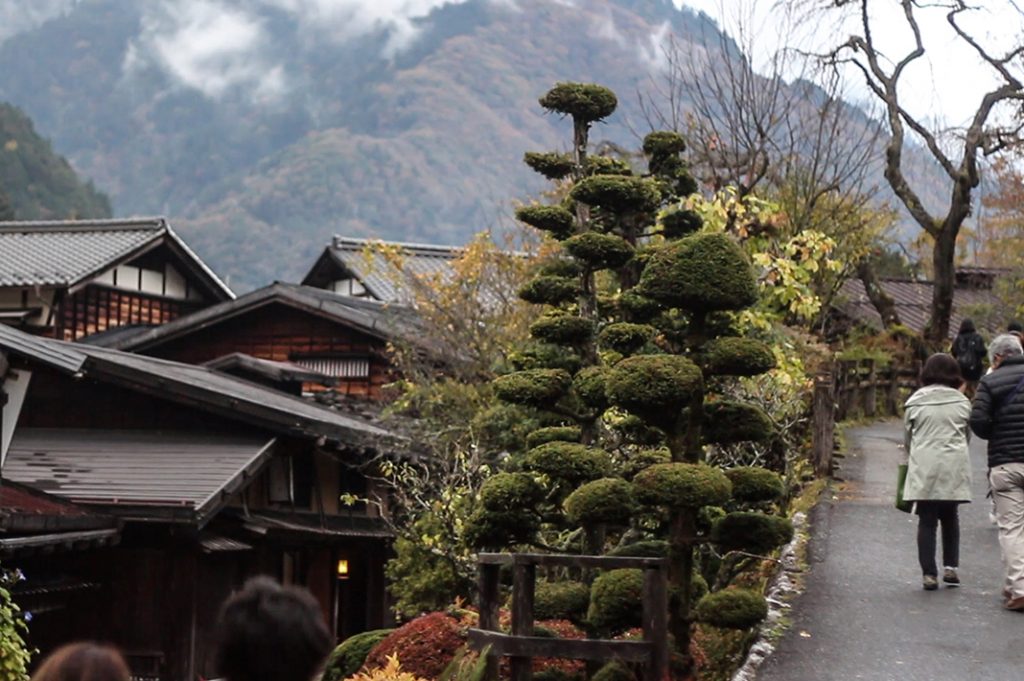 As I hold my skinny latte, bought from the surprisingly hip Hillbilly Coffee, I close my eyes and try to picture the ancient feudal lords and their ostentatious entourage marching by on their way to the capital.
The route they're taking is the Nakasendo Trail (中山道 Central Mountain Route) which once spanned the mountainous 540km between Kyoto and Tokyo. This was one of the five centrally controlled highways of the Edo Period (1603-1868) in a time when travelling was done on foot or by horse. These long routes all connected the capital of Edo (Tokyo) to distant prefectures and were travelled by all sorts; feudal lords (i.e. daimyo), royalty, samurai, priests, poets, merchants and commoners like me.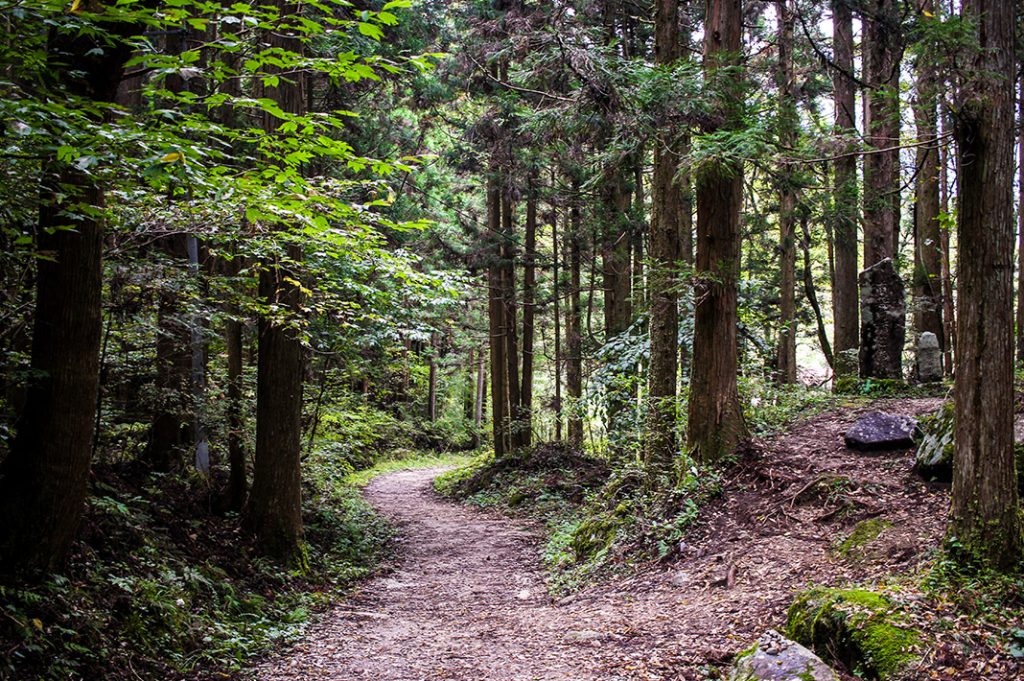 The rise and fall of a town
Towns in close proximity to these busy highways naturally became prosperous due to the heavy traffic. Those in need of food, shelter and other services helped the hospitality industry to grow exponentially. Of course, after Japan's leadership changed and the modernisation era began, trains and cars were introduced and these trails ceased to be used. The towns slowly fell into disrepair, and of the sixty-nine post towns along the Nakasendo Trail, only a few decided to undertake preservation efforts. Magome is one of these towns and it's where I begin my journey. 
Starting out from Magome-juku
As the imaginary entourage saddle up and set off, I can't help but notice the parallels to the modern-day. Back then, porters were hired to ferry the daimyo's luggage; these days the local Tourism Office will ship yours to the next town for a few hundred yen. All around me I see accommodation and restaurants catering to those walking the trail, serving the same function as they have for centuries. 
Unlike the ancient entourage, our journey is to be a relatively short one. While it's possible to walk longer sections of the Nakasendo trail—some tour companies even offer guided walks that span over a week—we are limiting our experience to the popular 8km trail between the preserved towns of Magome and Tsumago. 
On the road
On the way out of the quaint, hilly village, we stop at a huge wooden structure. This is a replica of the noticeboards erected by the ruling Tokugawa Clan which outlined the rules and regulations for all visitors. Think 'no cutting down hinoki pine' and 'no Christianity' to name a few. We take in the views of the surrounding area and begin the walk.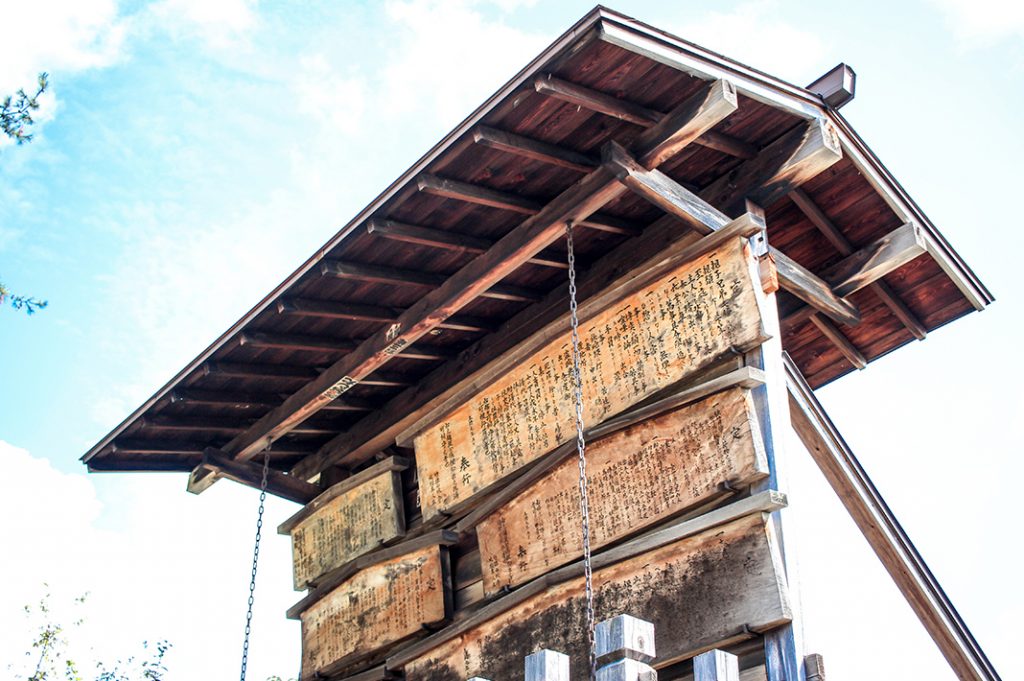 The scenery that unfolds around us is diverse; dense forests with leaf-strewn paths, rushing streams and towering trees; small farms on the valley floor, seemingly deserted with local produce hanging out to dry; and various bridges crossing over wide rivers. The walk is meditative, quiet and beautiful. 
Aside from the natural sights, there is plenty to see along the trail. Small stone statues, piles of stacked rocks and English signposts offering information.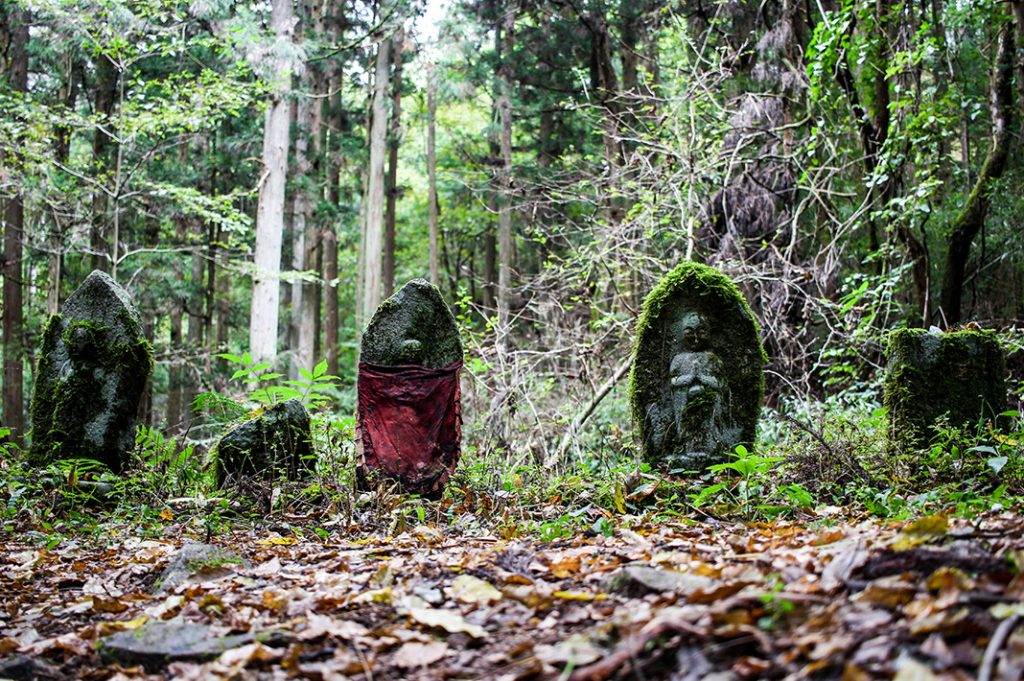 Every so often, we hear the jingling approach of other hikers who wear bear bells to alert the furred neighbours to their presence. These gentle bells are no match for the official bear bells along the trail—big, brass and loud. It's a lot of fun to give them a good ring, but tough on the ears when standing right beside one.  
The 'easy to moderate' path occasionally intersects with the road, meaning you must tread along asphalt for short portions. It's no problem to keep an eye out for cars, but it certainly pulls you out of your ancient Japan imaginings.
Stopping for tea
Eventually, we arrive at a tea house run by volunteers. This traditional building is just like the places our ancient entourage would have stopped to rest in. Wooden, cool inside with a traditional irori sunken hearth.
The friendly volunteers will pour you tea, offer you sweets and perhaps even sing you a traditional folk song. They love to know where visitors are from, so don't be surprised if you get a paper questionnaire. It was raining during our visit, so this was a wonderful place to wait out the weather. We had to leave eventually, though, and one of the men gave me a big plastic umbrella to use for the rest of the hike. No such luck for the daimyo and his posse.  
Tsumago-juku
After a little more walking, we arrived in Tsumago, another well-preserved post town. In fact, this was the first Japanese town to ever become a national architectural preservation site, in 1968. The cobbled main street is off-limits to cars, so the Edo-era atmosphere remains intact. There are more shops, accommodation options and attractions to explore here, too.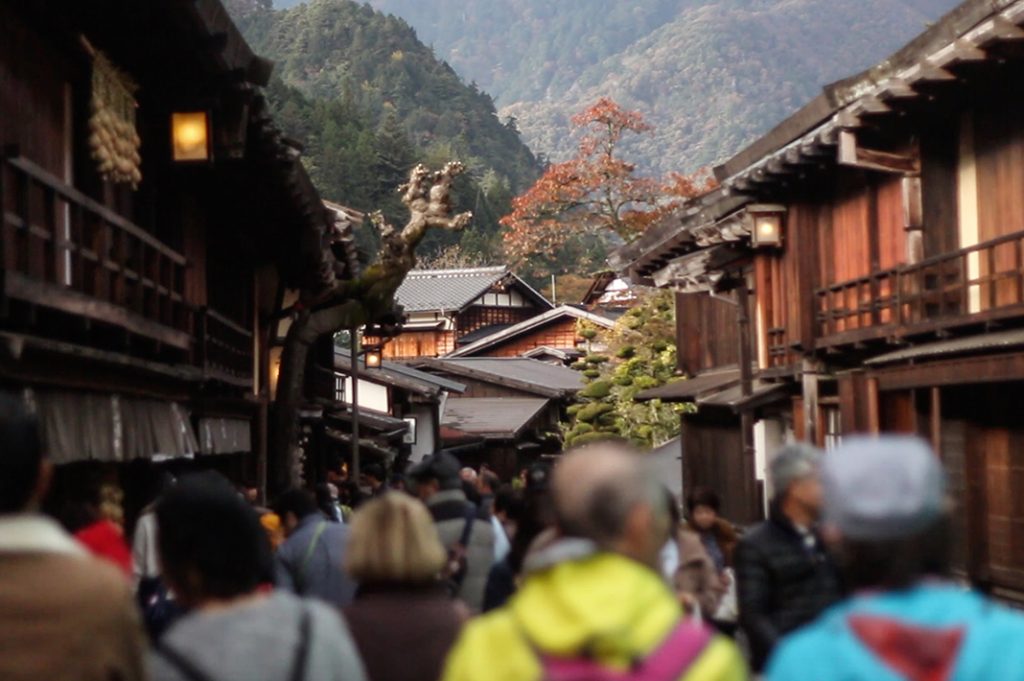 After a few hours of walking, we couldn't resist a visit to wachinoya (わちのや) for some local fare. This store specialises in oyaki, steamed buns with savoury fillings. Think minced pork, eggplant, pickled greens or bean paste. This steaming hot snack was the perfect way to end the hike.
We make our way back to the bus so we can enjoy a nice hot bath at our accommodation in Kiso Fukushima. However, it is possible to explore the nearby preserved town of Narai-juku from this point. 
Saying Farewell to the Entourage
The next day, after a restful sleep, we decide to round out our Nakasendo experience by exploring the Kiso Fukushima Checkpoint museum. This was one of a handful of security checkpoints surrounding Tokyo that would screen all travellers. The guards were on the lookout for people trying to smuggle weapons into Tokyo or women and children out. As I look at all the old confiscated weapons and read about the forms of punishment, I hope that my imaginary daimyo and his entourage weren't up to any mischief. 
When it's time for me to head back to Tokyo, I step onto a lighting-fast bullet train in favour of walking the rest of the way. As the bullet train pulls into the city, I try to imagine the entourage walking through this modern version of the capital. The juxtaposition is staggering, it would make a great whacky, historical comedy flick.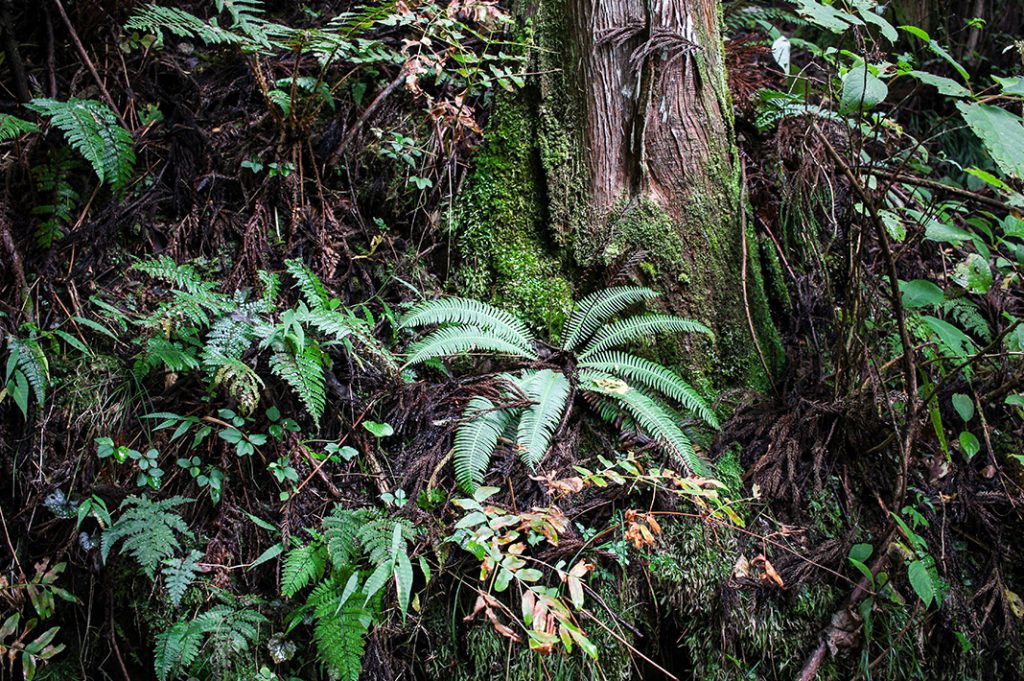 Things to know about hiking Magome to Tsumago
It takes around three hours to complete this portion of the hike at a leisurely pace—an hour if you rush.
Hiking from Magome to Tsumago involves less uphill walking than the opposite direction. For those travelling with baggage, the tourist information centres of both Tsumago and Magome offer a 500yen per item luggage forwarding service between the towns. Simply drop your luggage at either information centre between 8:30 am and 11:30 am then pick it up at the other town's information centre after 1 pm. 
You will be able to find lunch in both Magome and Tsumago, but places tend to close up around 4:30 pm.
Getting there:
While in the area, we stayed at the nearby town of Kiso Fukushima; 3.5 hours from Tokyo by train, 2.5 hours from Kyoto and 1.5 hours from Nagoya. To get there, take the JR Chuo Main Line to JR Kiso Fukushima Station (木曽福島). 
To get to the walk from Kiso Fukushima station, take the train to Nakatsugawa followed by a bus to Magome. There is English signage at the stations, but the staff can help you, too.
Post by Japan Journeys.