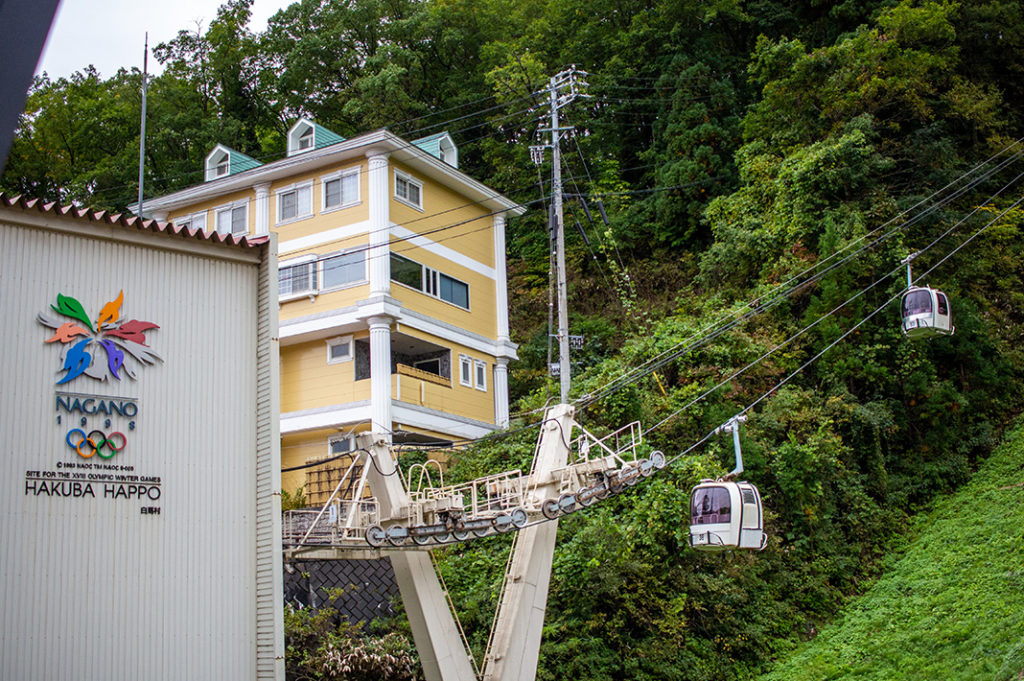 Looking to stretch our legs on a recent trip to Hakuba, we weighed up the options available to us in October (hiking, mountain biking, kayaking, rafting) and settled on the Happo One 'Nature Trail' hike. There, we'd take the lift up to 1830m and walk to the Happo Ike Pond at 2060m to enjoy panoramic views of the Northern Alps and some fresh, albeit slightly thin, air. However, as luck would have it, the best weather day of our trip was still cloudy, meaning the crystal clear views and reflective lakes we desired were replaced by moody and misty scenes, beautiful in their own way.
This particular hike is possible from late May to late October and takes roughly 3 hours return—with a longer version available. The ascent begins with a series of lifts from Happo-eki Gondola Station. As we were staying in the nearby Echoland area, we took a shortcut through the trees on advice from our host, hoping we were heading in the right direction. We luckily avoided all the horror film scenarios we nervously discussed and made it out unscathed and on track. Approaching the gondola station, the landscape transformed into a charming streetscape full of restaurants and accommodation. For those coming to Hakuba from out of town, check the end of this post for directions.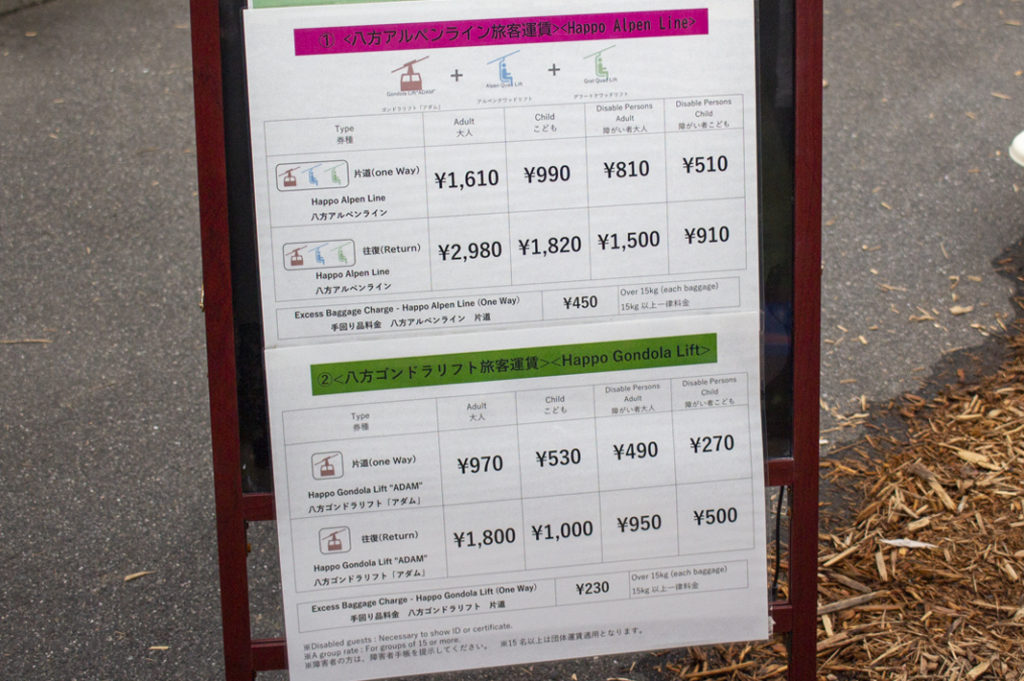 Take the Happo Alpen Line
As the hike begins at 1830m, you will need to take a gondola and two quad lifts to reach the start point—allow 30 minutes with toilet and photo stops. The 'Happo Alpen Line' ticket covers all three lifts and costs almost ¥3,000 return per adult. However, if you're not one for walking and just want to enjoy lunch with a view, just take Gondola 'Adam' one stop to the Usagidaira Terrace where you can enjoy the facilities and views.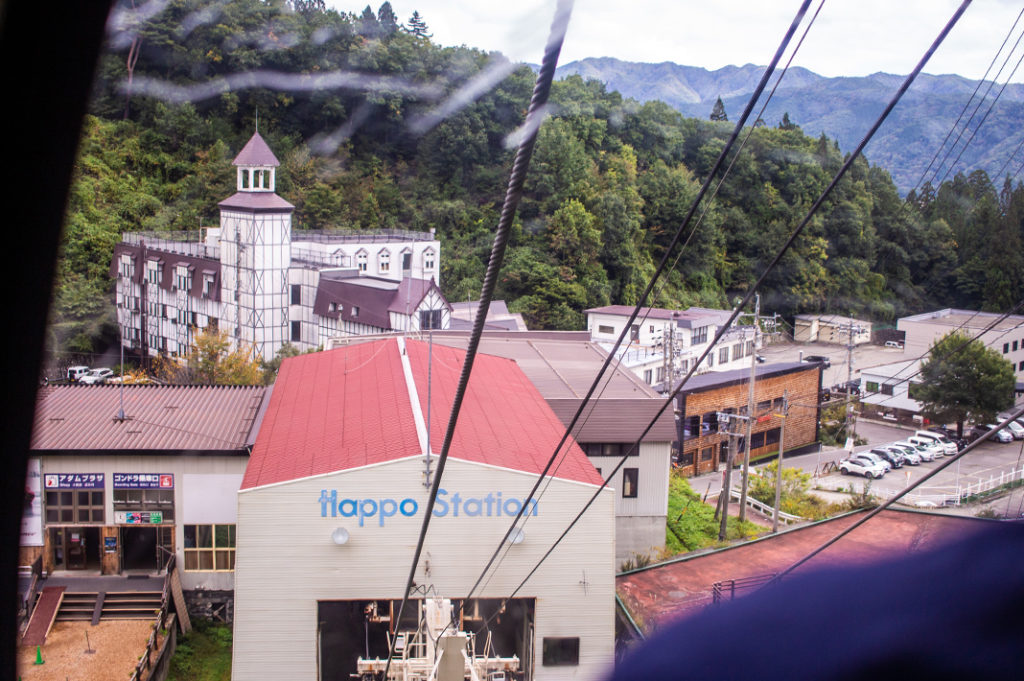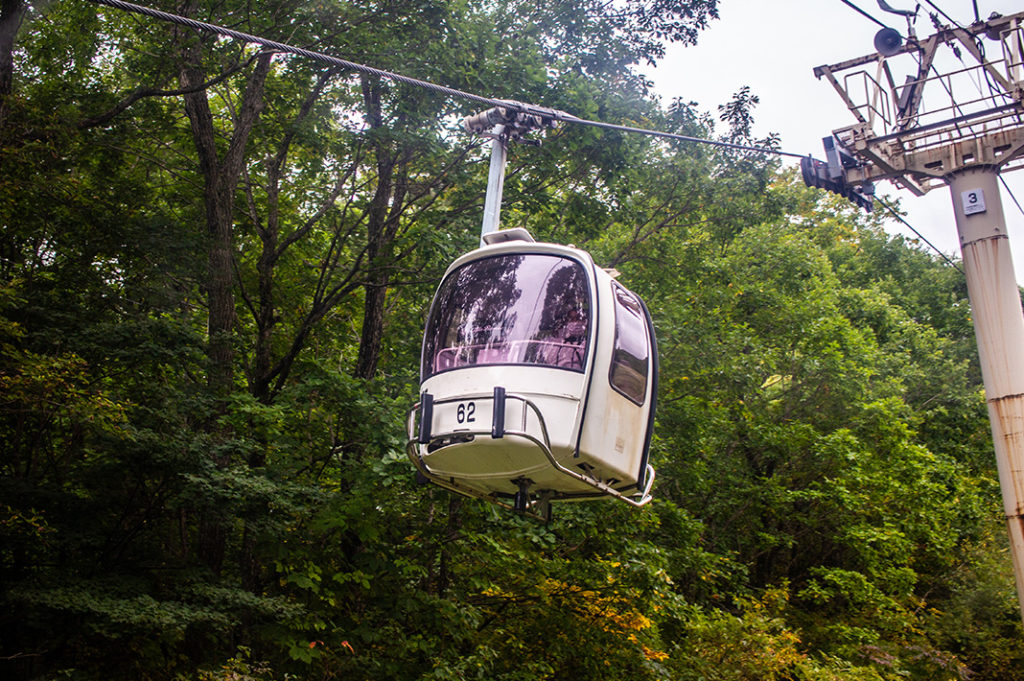 Riding high
'Gondola Adam' seats six per carriage, and it takes roughly eight minutes to reach the Usagidaira Station at 1400m. Here, you can enjoy the Usagidaira Terrace building with restaurants, bathrooms and views from the 'Open Terrace' seating area. If you're lucky, you might even witness some paragliders taking off into the skies.
Continuing the ascent, wander over to the 'Alpen Quad' chairlift. This seats four people and takes seven minutes to reach Kurobishi Daira (1680m). The lift rides fairly close to the ground so some of the longer growth was kissing our feet as we glided along. You can also play lost property bingo on this portion; we saw an umbrella, hat, ski poles, water bottle and a lift ticket. BINGO!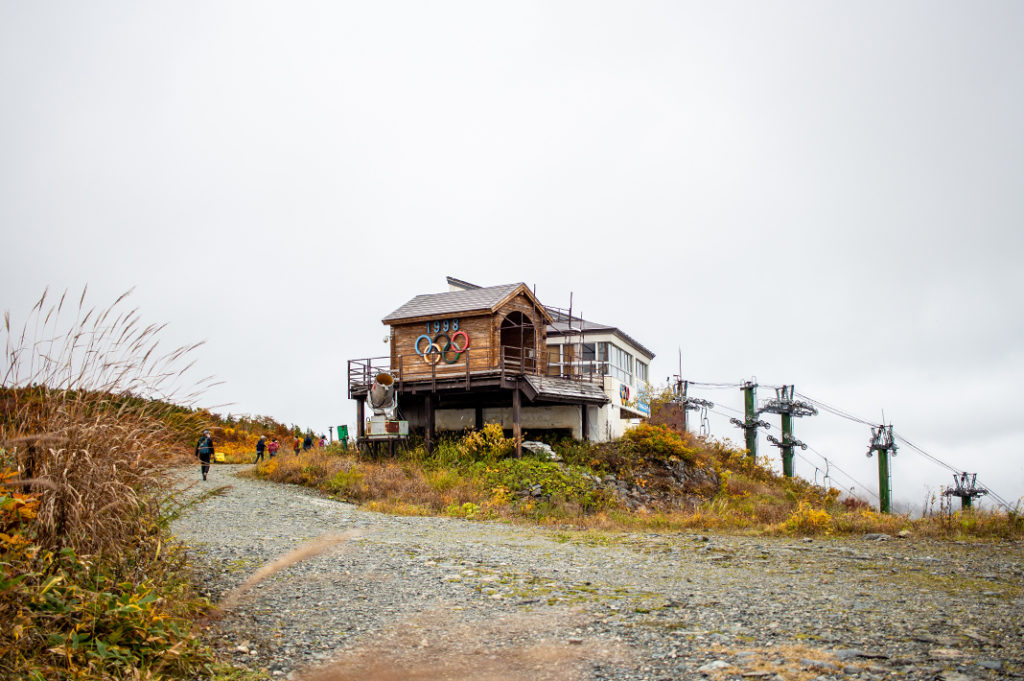 At Kurobishi-daira, everyone seems to meander about taking photos before moving on. There are some nice views at this level, particularly from the 'Unkai Deck' of a morning.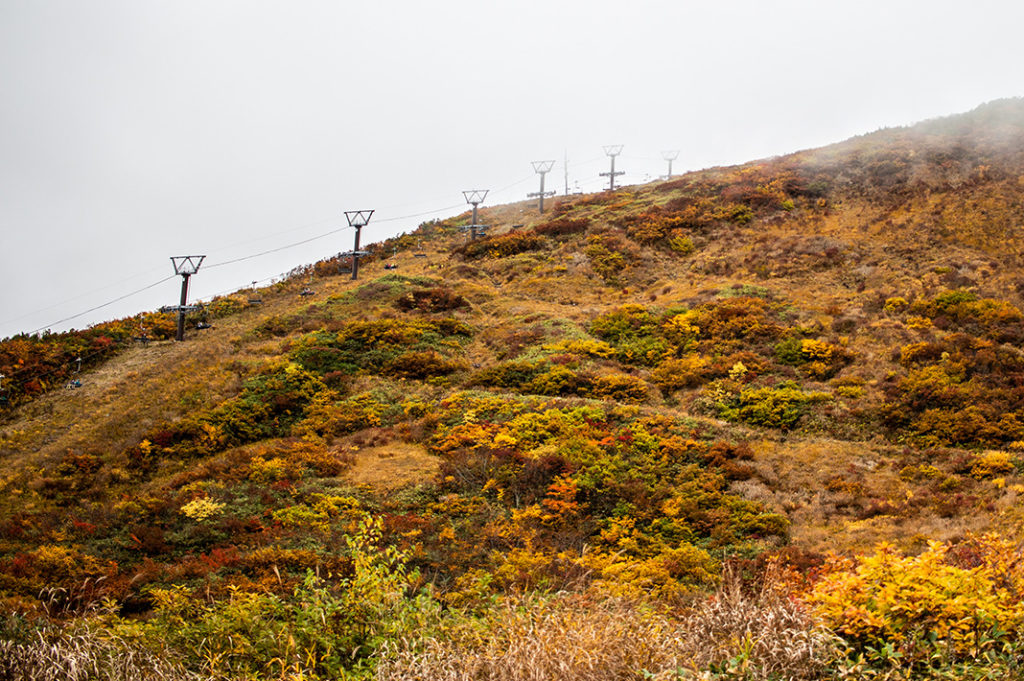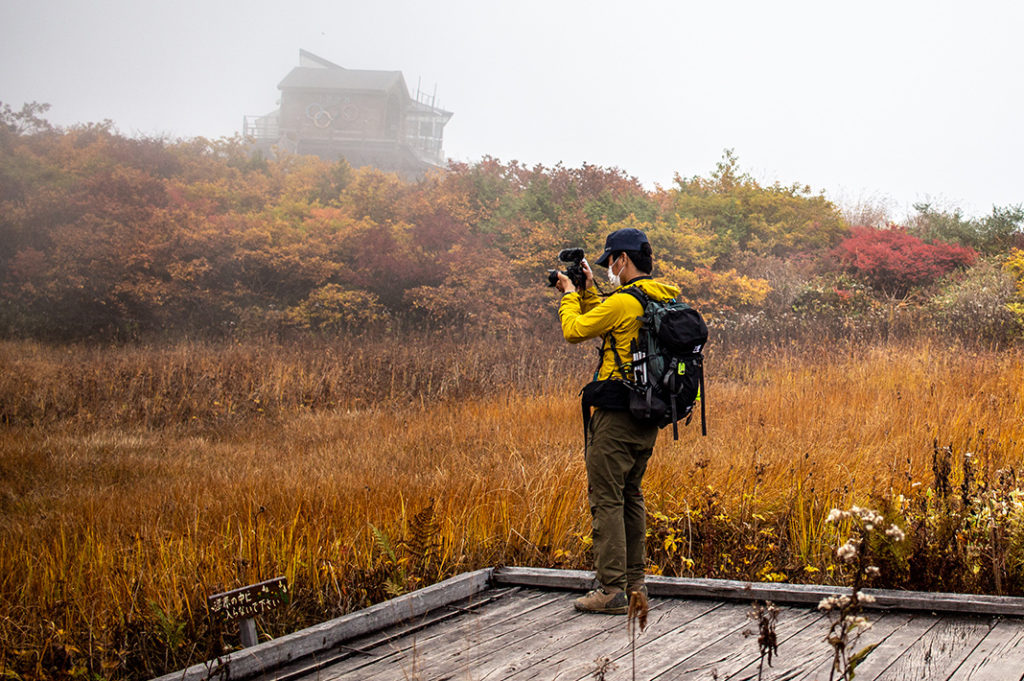 The final lift is the 'Grat Quad' which also seats four and takes five minutes to reach Happo Ike Sanso Lodge—the start of the hike—at 1830m. There are toilets at all of the lift stations, dining available at Usagi daira and Kurobishi daira but snacks and souvenirs only at the top and bottom lift stations.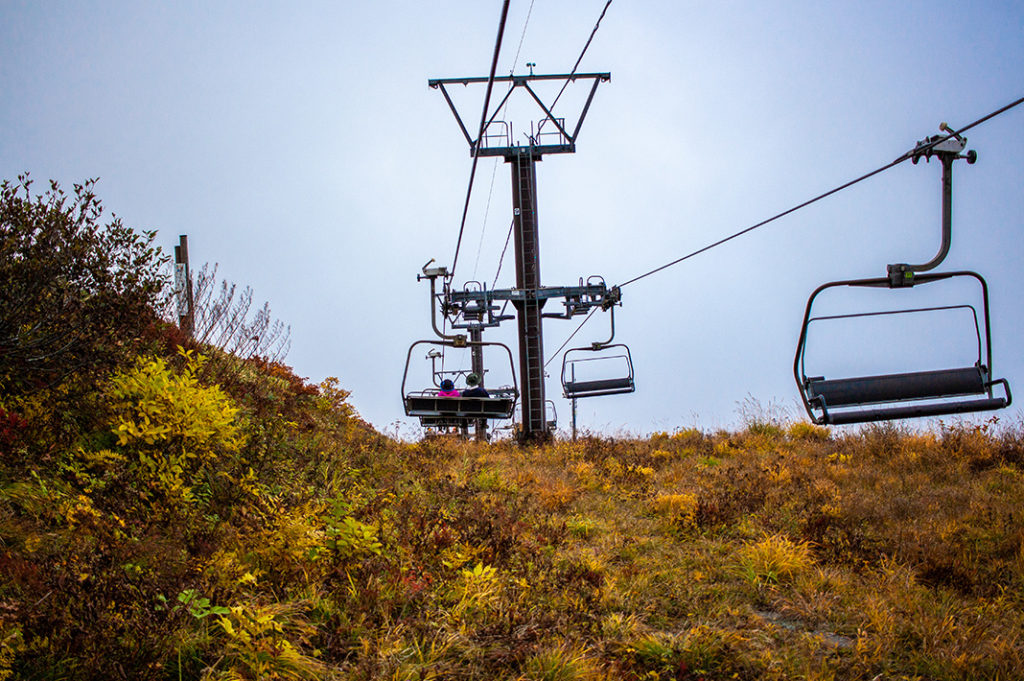 The Hike
As we step off the 'Grat' lift, we join the other hikers milling around. This is the last chance for a drink and potentially the last toilet stop, too. The map indicates that the hike is an elevation gain of 230m over 1.5 km which should take 90 minutes.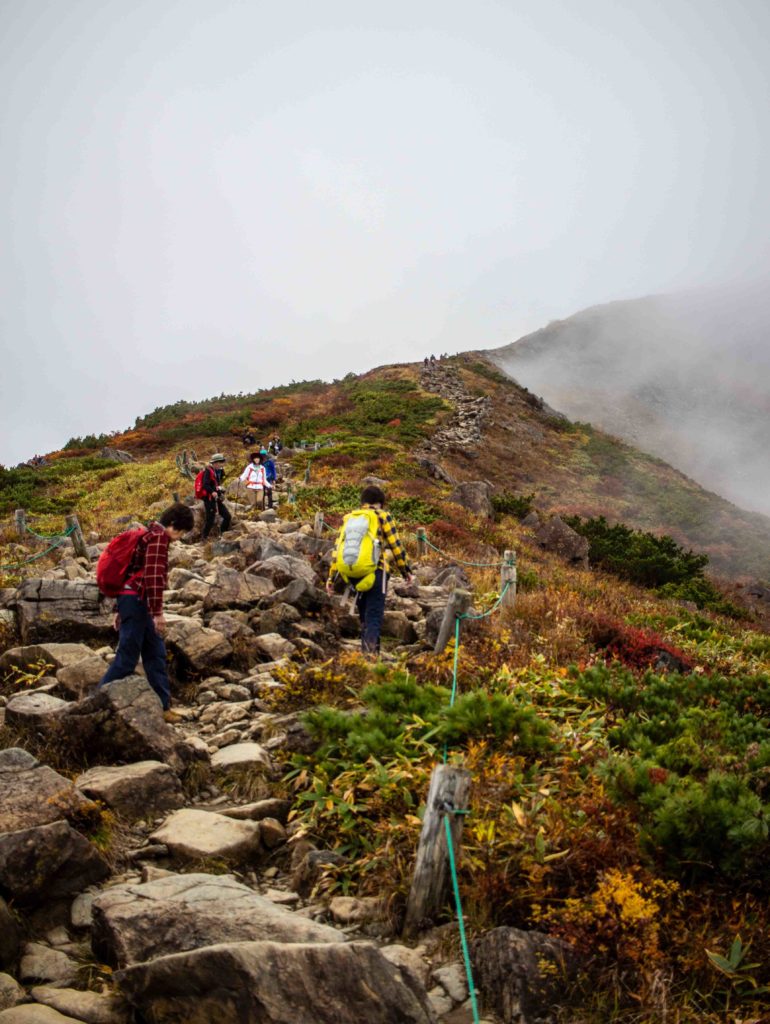 The first section of the trail is covered in loose rocks, so it's a bit of a scramble at first. These exposed 'serpentinite' rocks, so-called due to their resemblance to snakeskin, can get a bit slippery when wet, so tread carefully! After this section, the trail changes to a combination of wooden boardwalk and a lightly rocky path.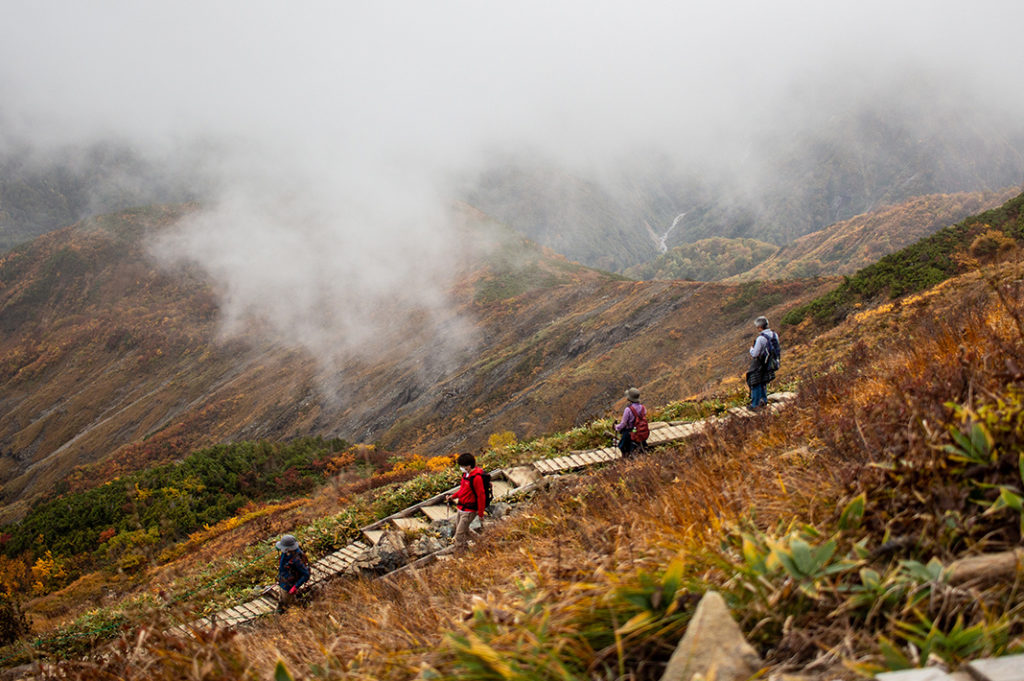 Views along the way
Along the way, you will pass four rocky 'cairns' which act as trail markers and viewpoints. There is also plenty of alpine flora and fauna to witness, too. In summer, the ridges are covered in green plants and an incredible 347 species of flowers. In October, as you'll see, it's a blanket of warm autumn colours.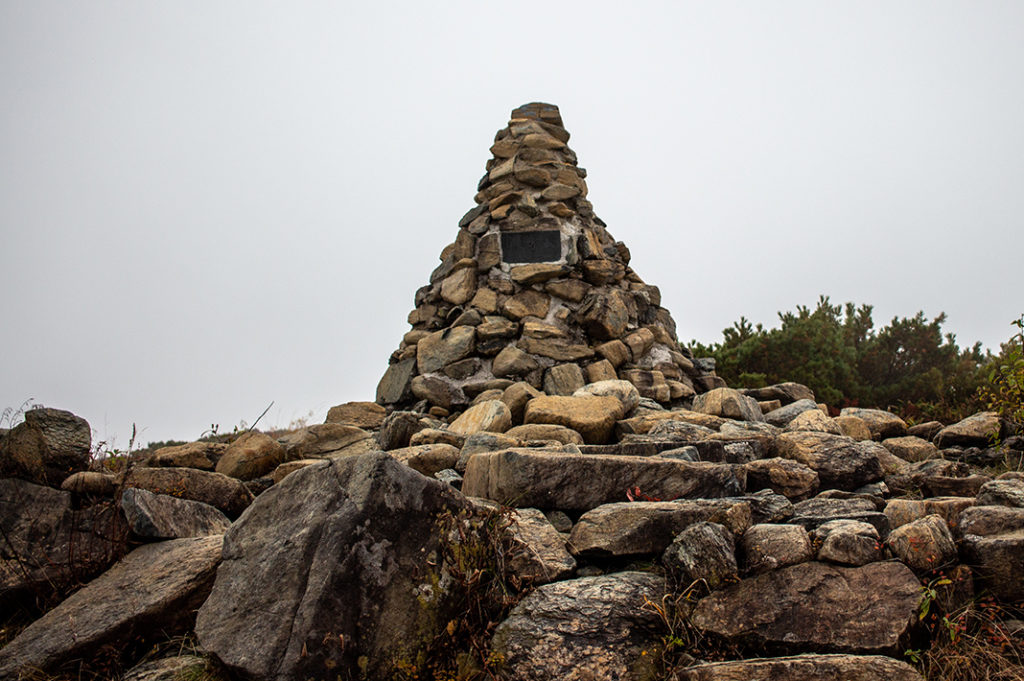 Happo Ike Pond
After many puffed-out 'konnichiwa's, we finally reach the Happo Ike Pond. When it's clear, the pond's surface acts as a mirror, reflecting the Hakuba sanzan (three mountains)—Mount Shirouma, Mount Yari and Mount Shakushi. Our misty weather, on the other hand, presents a spooky, barren scene. All we can see are the reflections of the people across the pond, its as though they're on the edge of the world.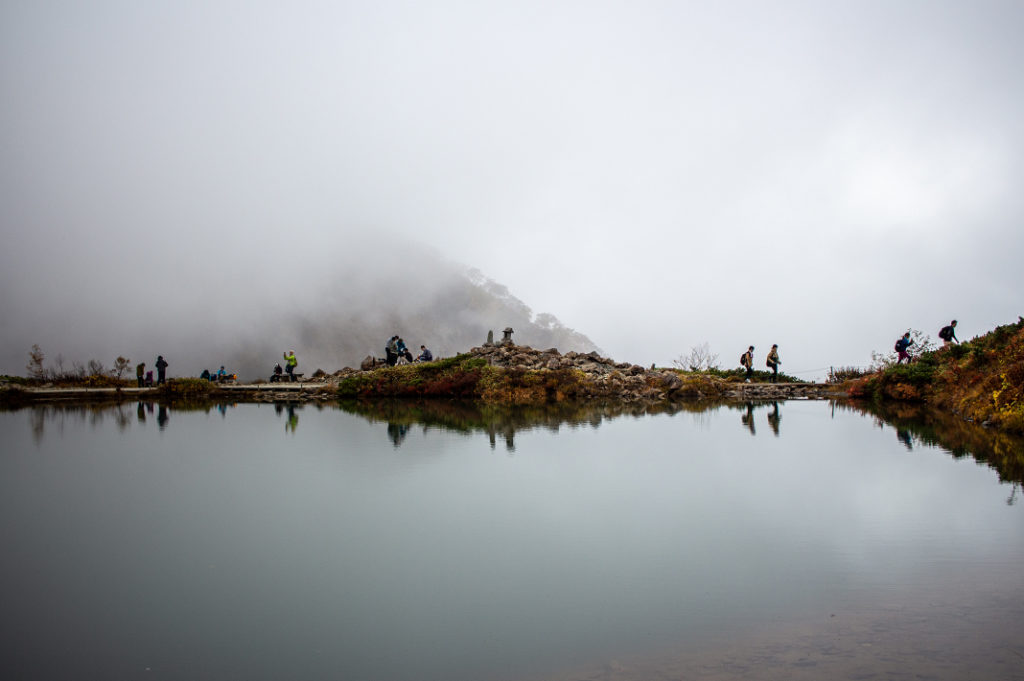 Within a few minutes, the breeze blows away some of the clouds, allowing us to see more of the area.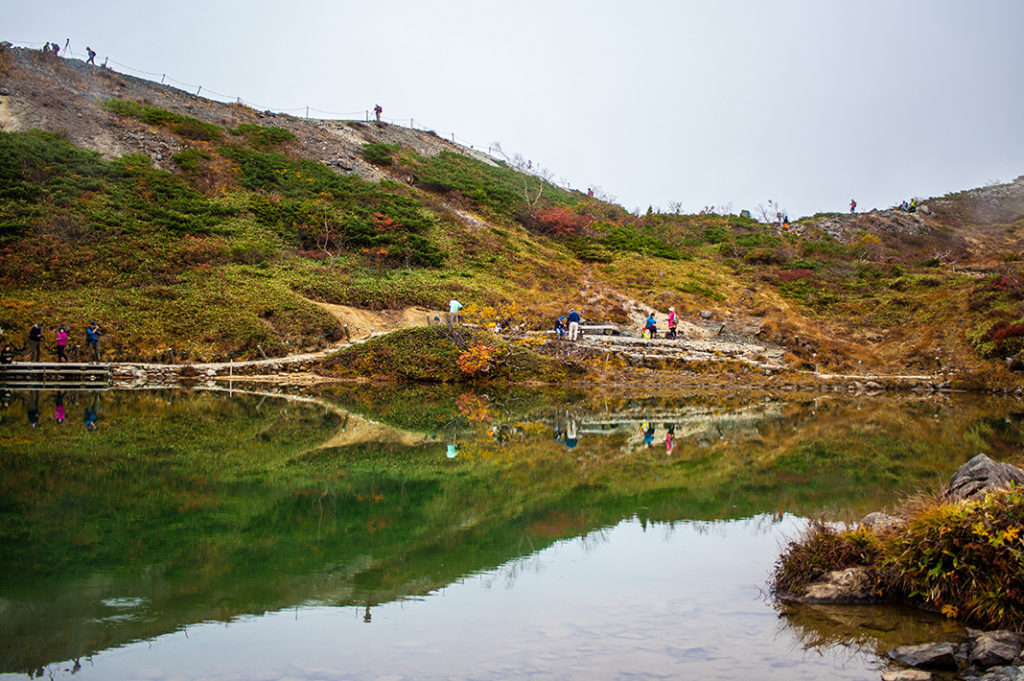 We take a short break along with many other hikers to watch the landscape perpetually transform with the breeze. It's the perfect time to remember that the journey is just as important as the destination. Though at this point, we're getting hungry and wanted our journey to wrap up so we could feast.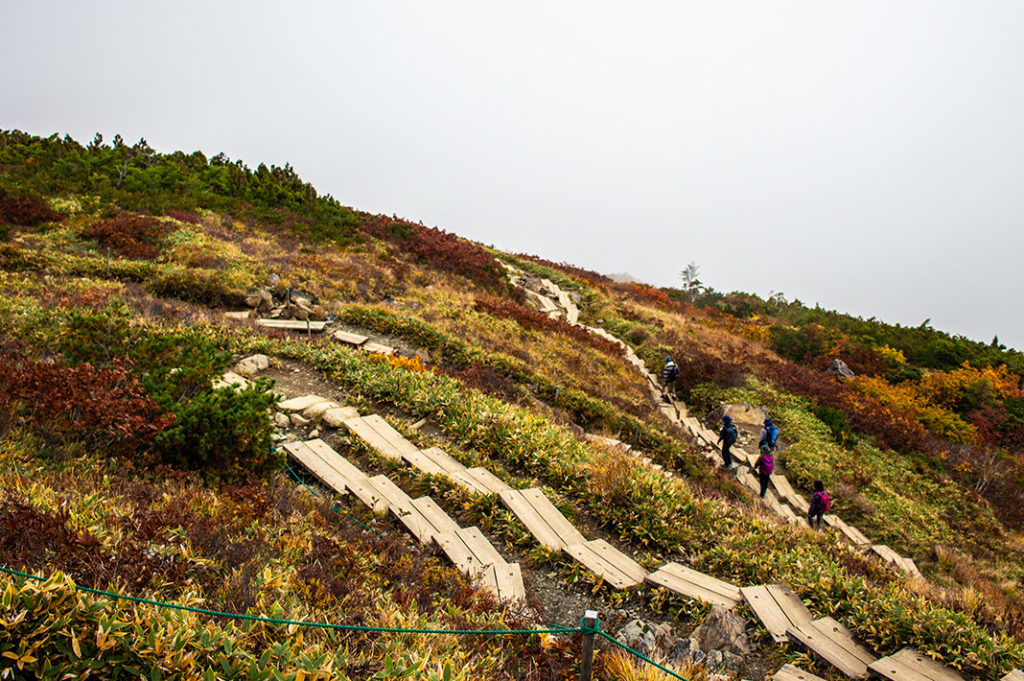 Supersize your Hakuba hike
Your Hakuba hike doesn't have to end here, though. For those who want a longer walk, it's possible to proceed from the pond up to Mount Karamatsudake at 2696m. This section would take an additional 2.5 hours each way and may require mountaineering equipment depending on the weather and your skill level. ie. plan ahead and allow 7 hours or so (the chairlifts run from 08:00–17:00). If you're just going to the pond and back, allow 3 hours for the round trip.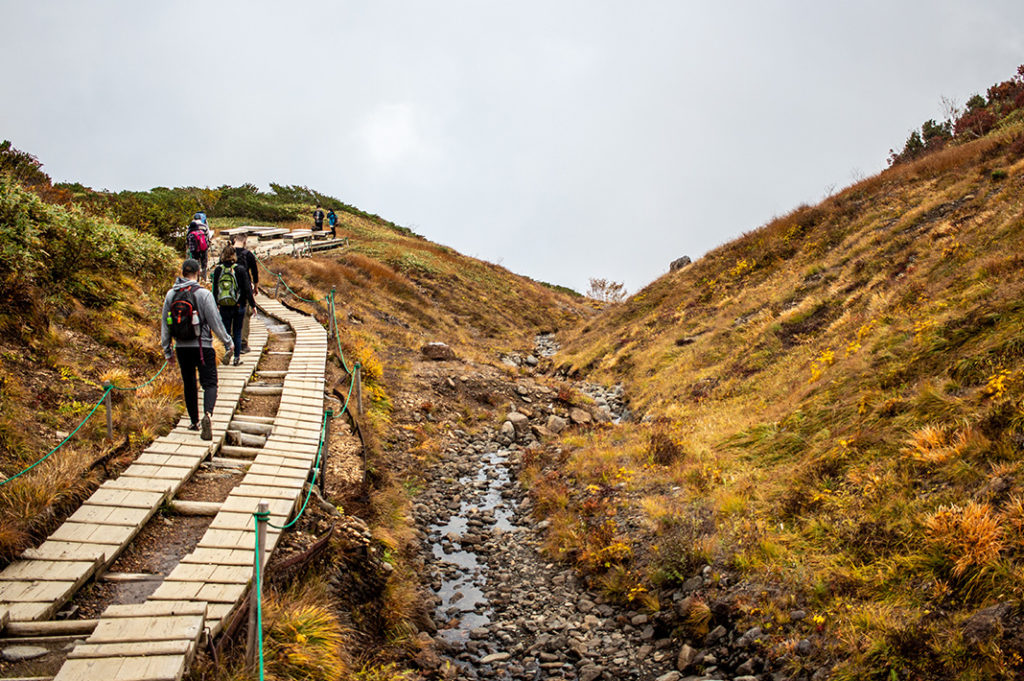 Heading back
We make our descent via an alternate gentler path which affords some different views than we'd enjoyed so far. Sadly, we just miss the lunch window at Usagi-daira but end up having a great feast at Uncle Steven's Mexican just after the bottom gondola station. This bright and cosy restaurant has a broad menu that even caters to our gluten-free and vegetarian pals.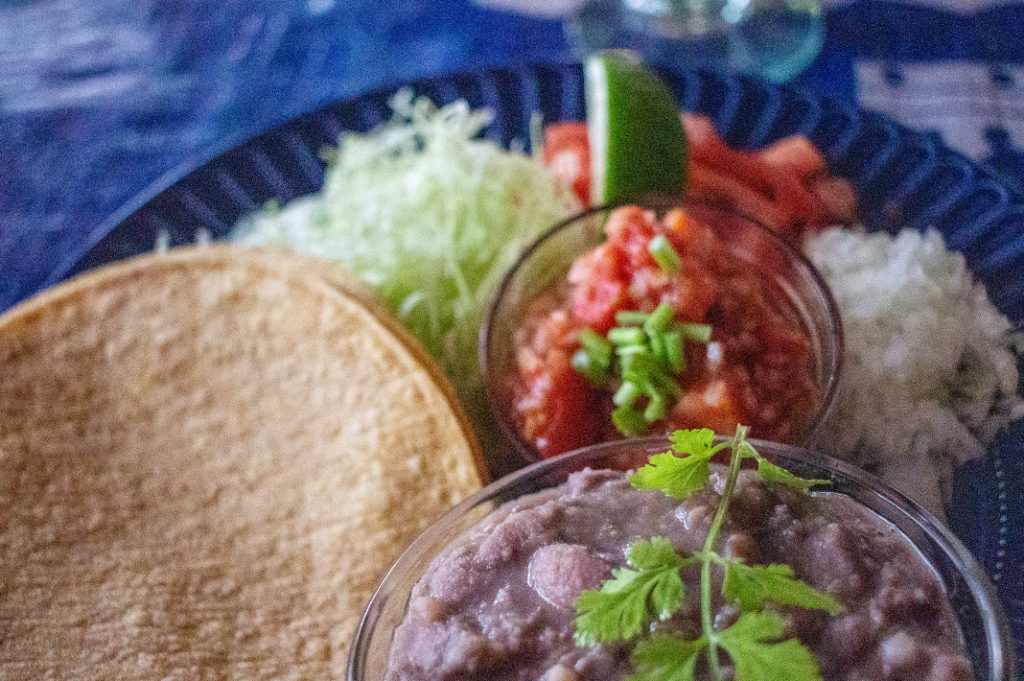 Even though we didn't see the picture-postcard alpine scenes we'd hoped for, we found a lot of fun and beauty on that misty mountain. With jalapeno margaritas in hand, we cheers to returning in winter for some skiing.
Accessing Happo One
By Train/Bus:
First, make your way to JR Nagano Station. From Tokyo or Ueno Station, this takes roughly 1.5 hours on the Hokuriku Shinkansen. From here, you will need to catch the Alpico highway bus 70 minutes to Hakuba Station or 75mins to Happo One Bus Terminal. Check the timetable here.
From Hakuba Station, it's a straightforward 30-minute walk or 8-minute taxi to the Gondola. However, if you ride the highway bus to Happo One Bus Terminal, it's just 10 minutes' walk to the Gondola.
By Bus:
If you don't mind long bus rides and want to save a few yen, it's possible to get highway buses from other major cities too. The Alpico highway buses also run from Tokyo, Osaka and Kyoto to Hakuba / Happo One. Check the timetables here.
Happo One official website: here
Post by Japan Journeys.