A popular tourist destination in Japan is Itsukushima, a small island near Hiroshima City. Known colloquially as Miyajima, its claim to fame is the iconic giant torii gate that seems to float when the tide comes in and submerges the base of the torii in seawater. But I think there's more that's worth appreciating on Miyajima than these gates. For instance, I absolutely love the adorable knitted hats you'll find on Miyajima!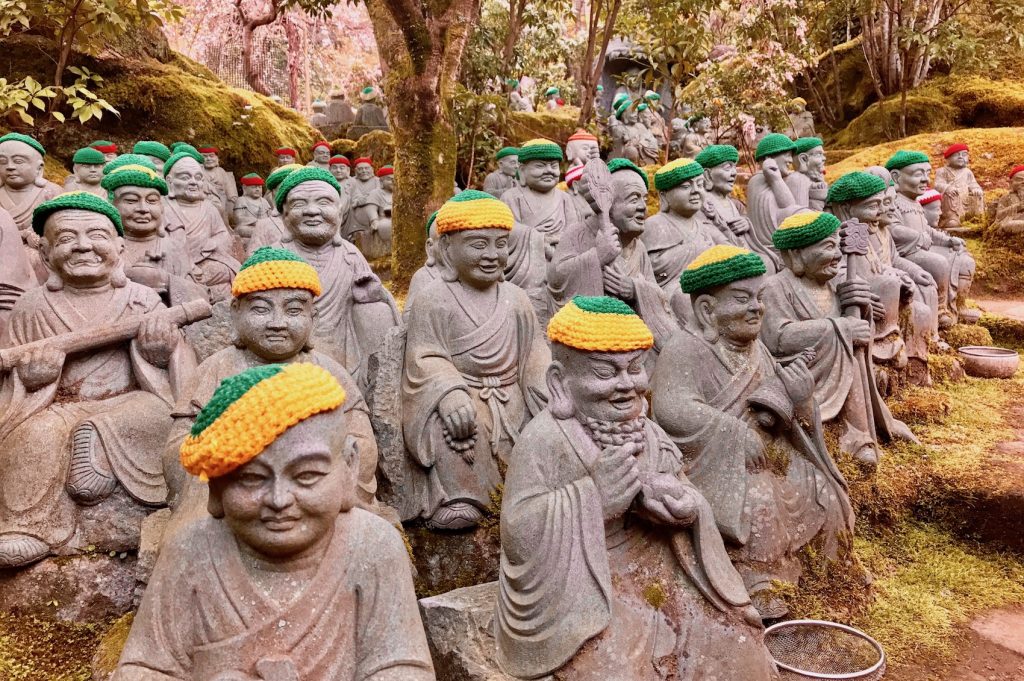 What's the deal with the knitted hats?
When you visit the Daisho-in temple complex on Miyajima, there's a little pathway up to the main buildings filled with 500 statues. These represent the first 500 disciples of the historical Buddha Shakyamuni. All of them are individually carved, wearing an array of different facial expressions. They're also all dressed in wool hats and scarves! These are usually knitted by local residents and patrons to the temple, and renewed each year as offerings to the statues.
Though it's noteworthy to see so many hats on statues in a single place, the practice of knitting or crocheting wool hats for statues isn't entirely unique to Miyajima.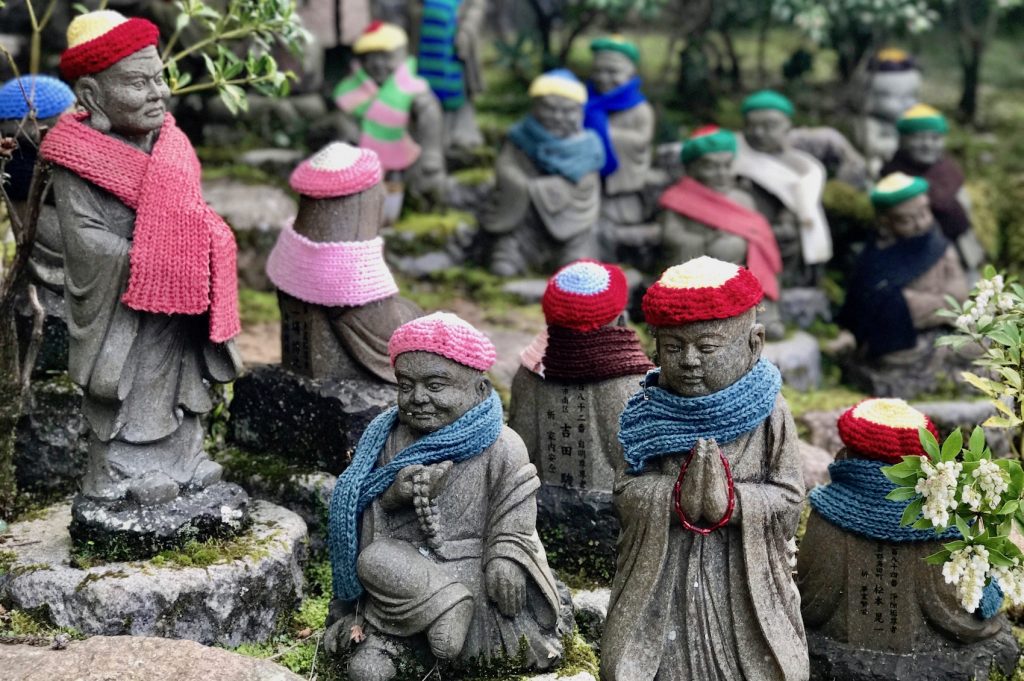 A possible origin for this practice comes from Kasajizō, a Japanese children's story. The story tells of a kind, elderly couple who make hats to sell, and place some on the Jizō statues in their neighbourhood to keep them warm. To repay their kindness, the Jizō statues come to life and gift the elderly couple of food. Traditionally, the kasa is a traditional Japanese hat made of straw; the wool hats appear to be a fun and colorful modern twist on tradition!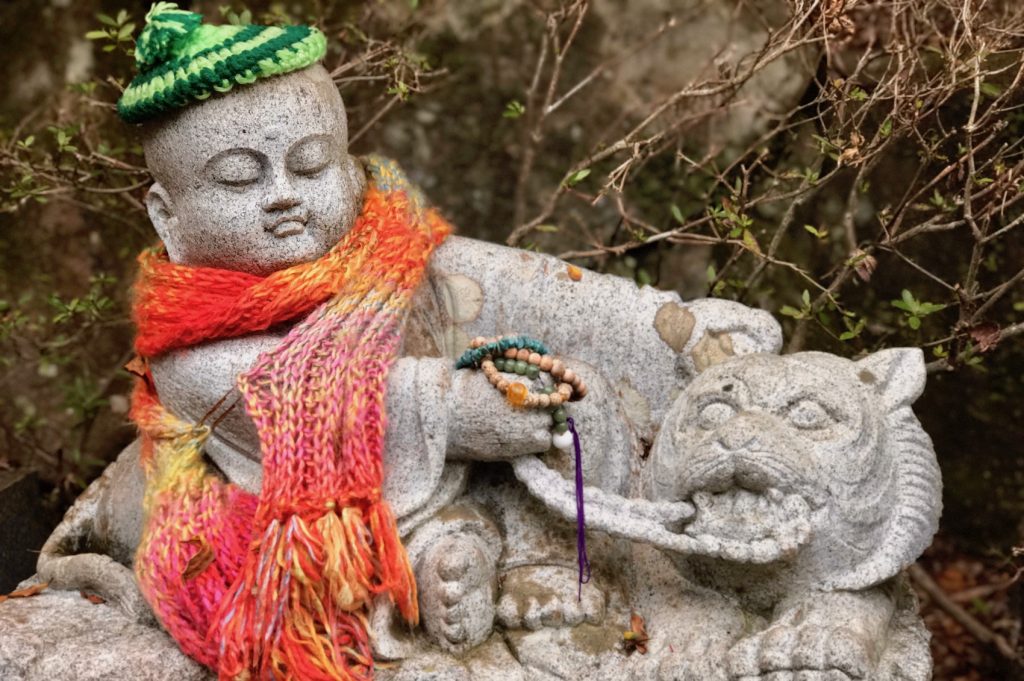 Who and what is a Jizō?
It's also helpful to know what the Jizō are before you visit the temple, as you'll see many representations of them around. They are protectors of travelers, but also of children who have died young or in childbirth. Jizō guards and escorts the souls of these children into the afterlife, protecting them from any harm that might befall them along the way.
There's a lovely connection between the way people care for young children and the Jizō statues on Miyajima—keeping both warm with clothes and hats! In a way, these handmade hats act as offerings to the Jizō as well, as a way of asking them to protect the souls of their children both alive and deceased. It is perhaps also a way of grieving. But it is also true that the hats are simply quite charming to look at for visitors.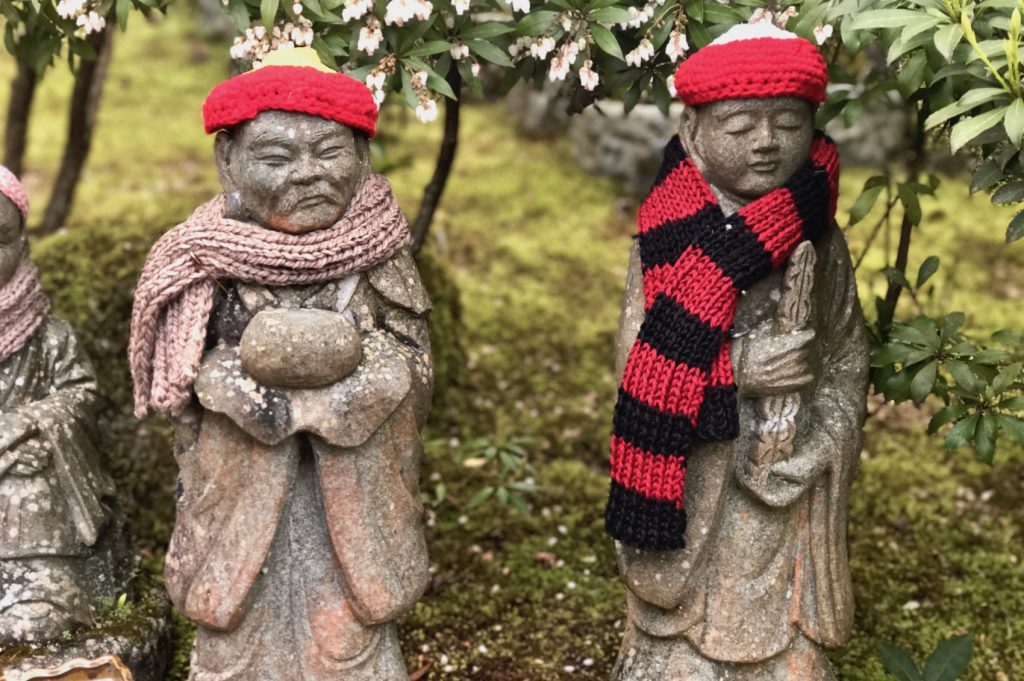 Where can I find these statues?
Once you're on Miyajima, you'll need to find your way to the Daisho-in Temple complex. This is a 5-minute walk from Itsukushima Shrine, up a gentle slope. Entering the temple complex usually takes you up a moderately steep flight of stairs. However, if you turn off to the left side at the foot of the staircase, you'll find a winding, meandering set of steps with hundreds of statues on either side. These are the rakan, or disciples of Buddha.
Don't forget to look out around the temple complex for smaller, chubby, youthful-looking statues. These are sometimes (but not always) representations of Jizō, and they will usually be wearing scarves and hats too.
How to get here
Temple: Daisho-in
Address: 210 Miyajimacho, Hatsukaichi, Hiroshima 739-0592
Open: 8am–5pm
Post by Japan Journeys.