Not far from Fukuoka's Naka River, the Sumiyoshi Shrine sits as it has for centuries, shaded by old, leafy trees and bearing witness to countless prayers from countless worshippers. Though the buildings date back to 1623, the history of the shrine can be traced back over 1,800 years and it's believed that Sumiyoshi Shrine is one of the oldest shinto shrines in Kyushu. In its early days, Sumiyoshi Shrine was frequented by sailors bound for China and Korea who would pray to the gods of fishing and the sea for safe passage. These days, there are thousands more Sumiyoshi shrines in the network, with the head shrine, Sumiyoshi Taisha, located in Osaka. We think the heritage of the Fukuoka location, as well as a few extra surprises, make a visit to this attraction well worth it.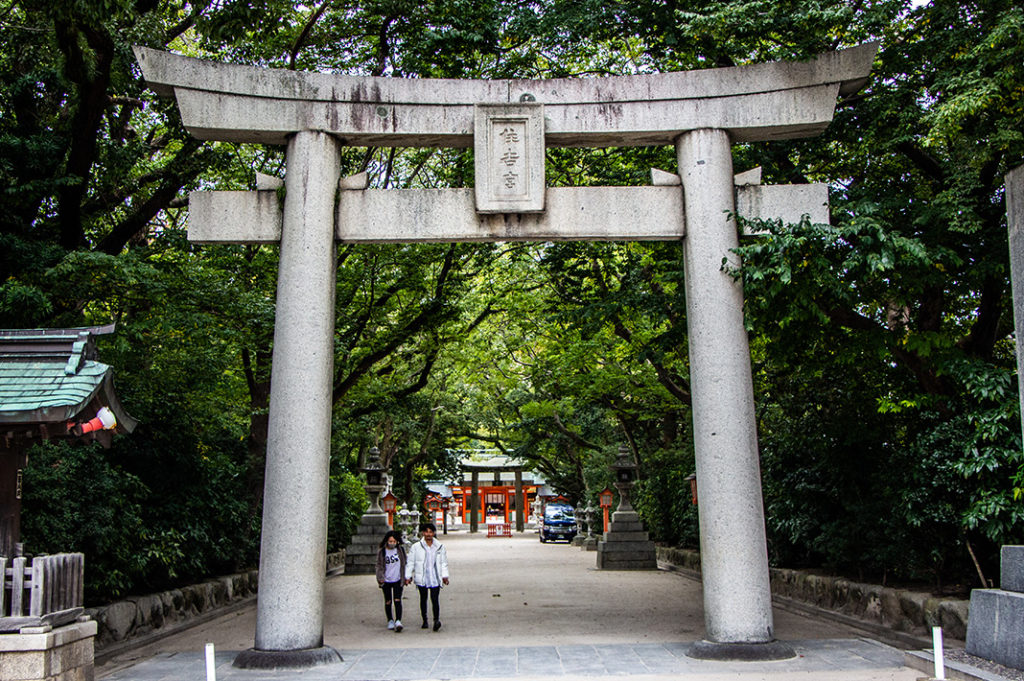 Visiting Sumiyoshi Shrine
Sumiyoshi Shrine is located within a sprawling, leafy complex in central Fukuoka and is a popular local spot for weddings, events and general worship. After bowing at the stone torii gate, visitors make their way through to the chozuya to purify their hands and mouth. The wide, gravel path leading towards the main hall is decorated with stone lanterns and shaded by old trees, providing a real sense of calm.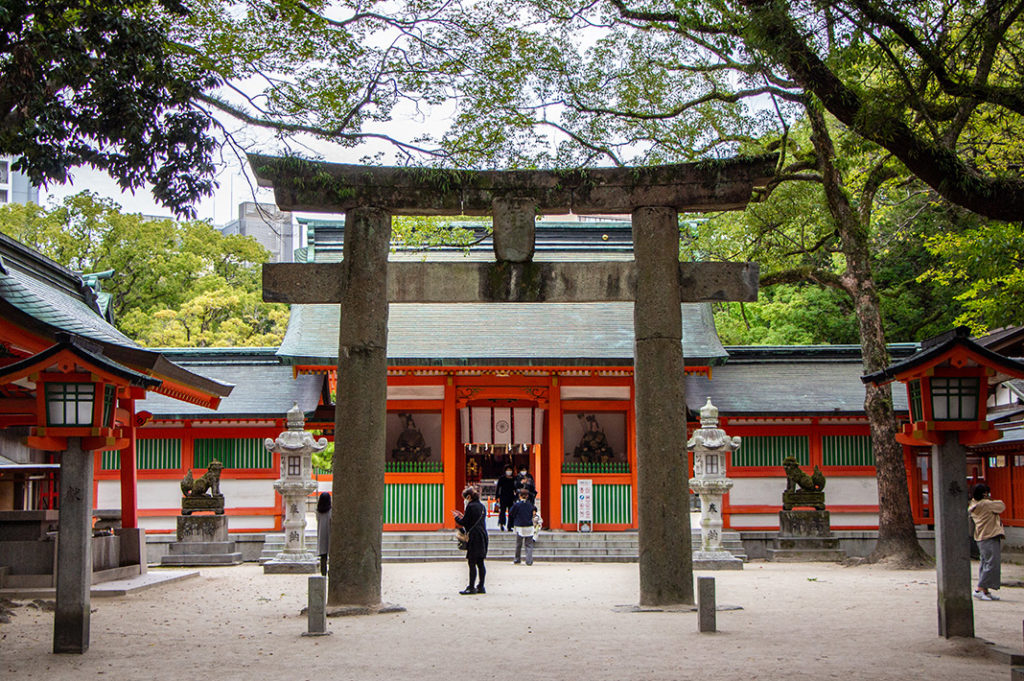 The Main Hall itself is a National Important Cultural Property and displays some examples of sumiyoshi-zukuri, one of the oldest styles of Shinto architecture. This style is considered purely Japanese because there was no foreign influence at the time of its design. What we see today is a little different from the original design, but you may notice a few interesting elements, such as the crossed finials on the roof.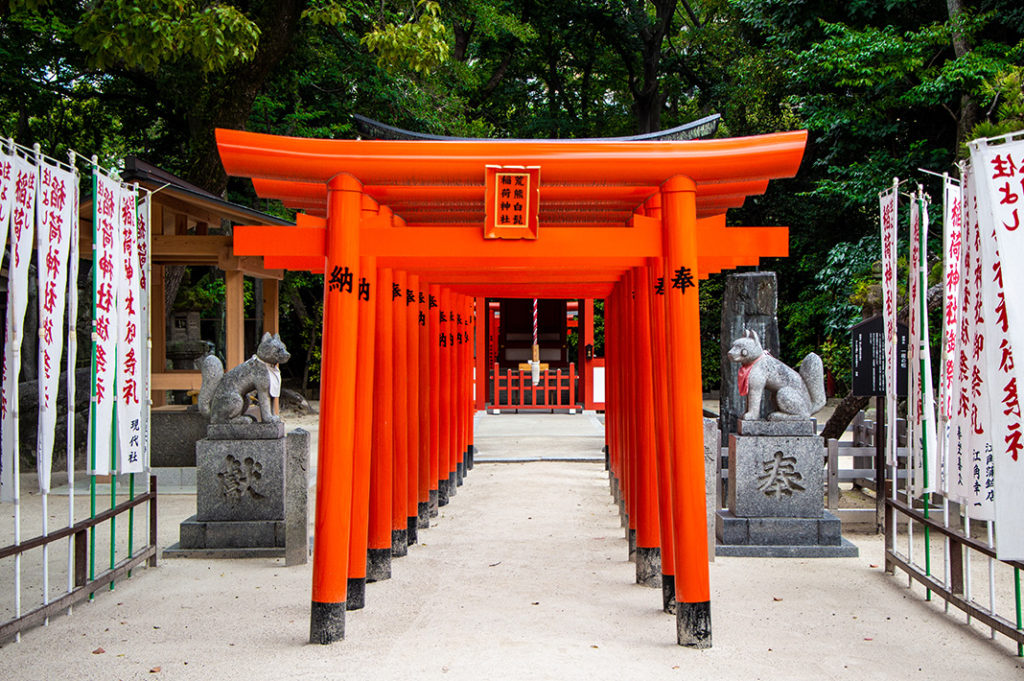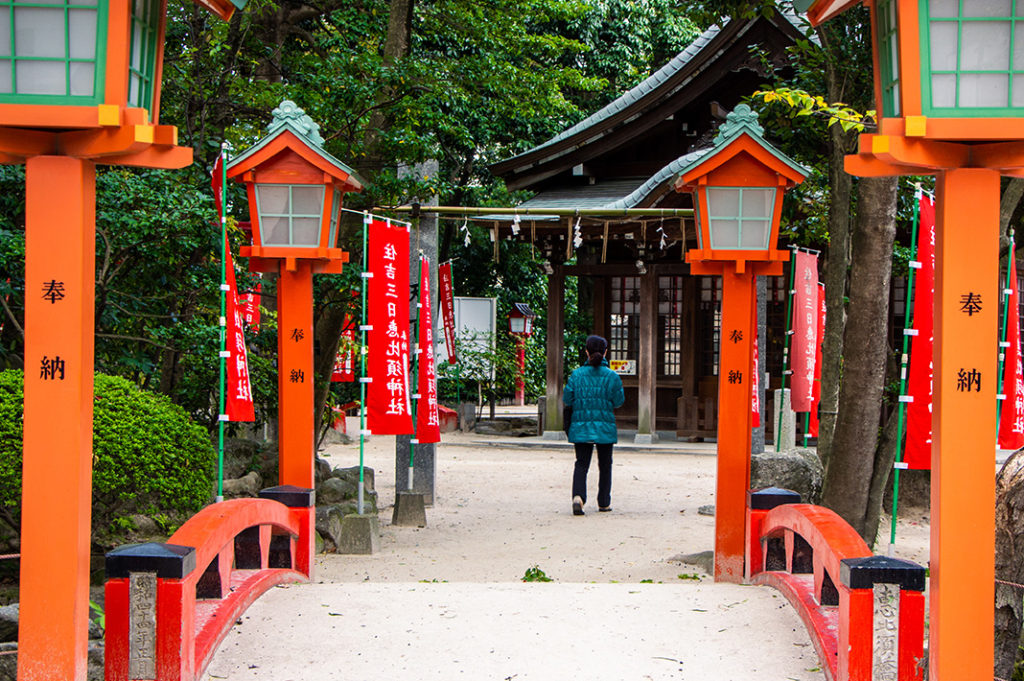 Wandering the grounds
The statues, lanterns and smaller shrines throughout the grounds make the visit so much richer. There's a lot to see and a story behind every element. Tucked away in one of the buildings is a very special Noh stage, from 1938, which survived World War 2. It can be hired for performances or anything really, provided you wear white socks while on the sacred platform.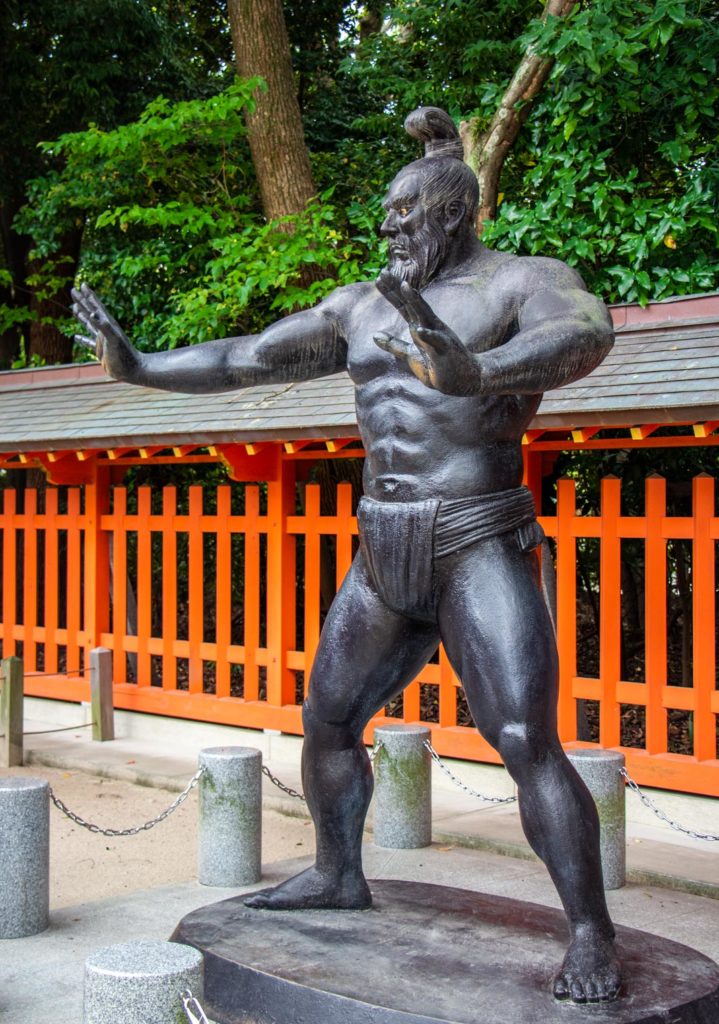 Touch the sumo for power
Beside the Main Hall stands a statue of an ancient rikishi, or sumo wrestler who looks quite different to the sumo san we see today.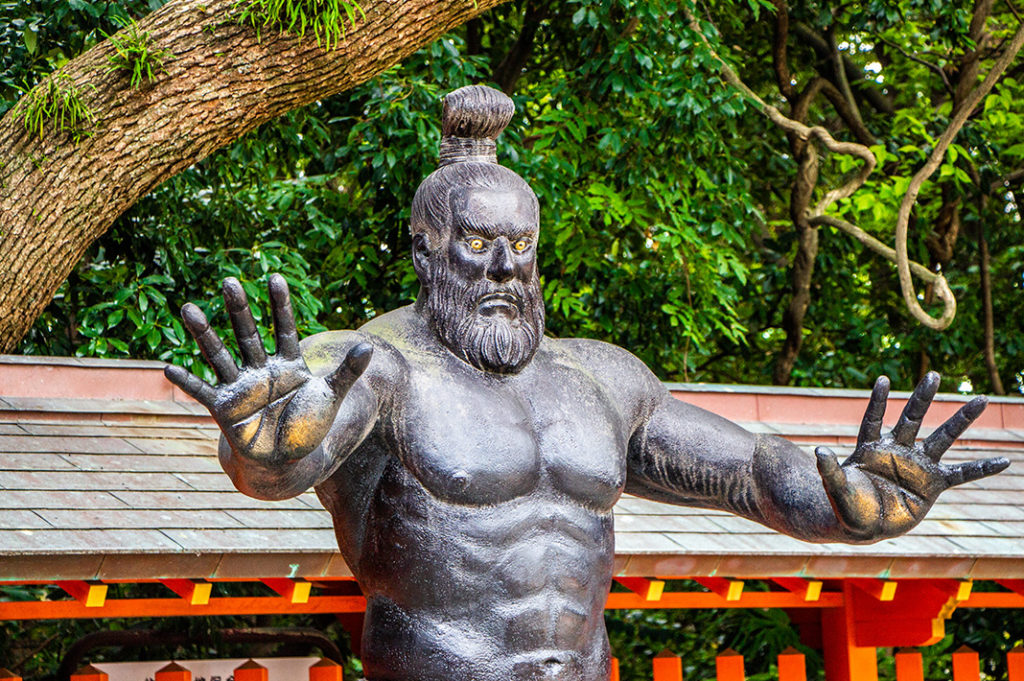 With his arresting gold eyes and chiselled six-pack, he exudes power. But nowhere more so than from his hands; the lines of his palm are thought to resemble the kanji symbol for power, so it's become a tradition to rub his hands for strength. It's the equivalent of rubbing a Buddha's belly for good luck. Now that I look back at the photos, his abs do look like they've been rubbed a little, too!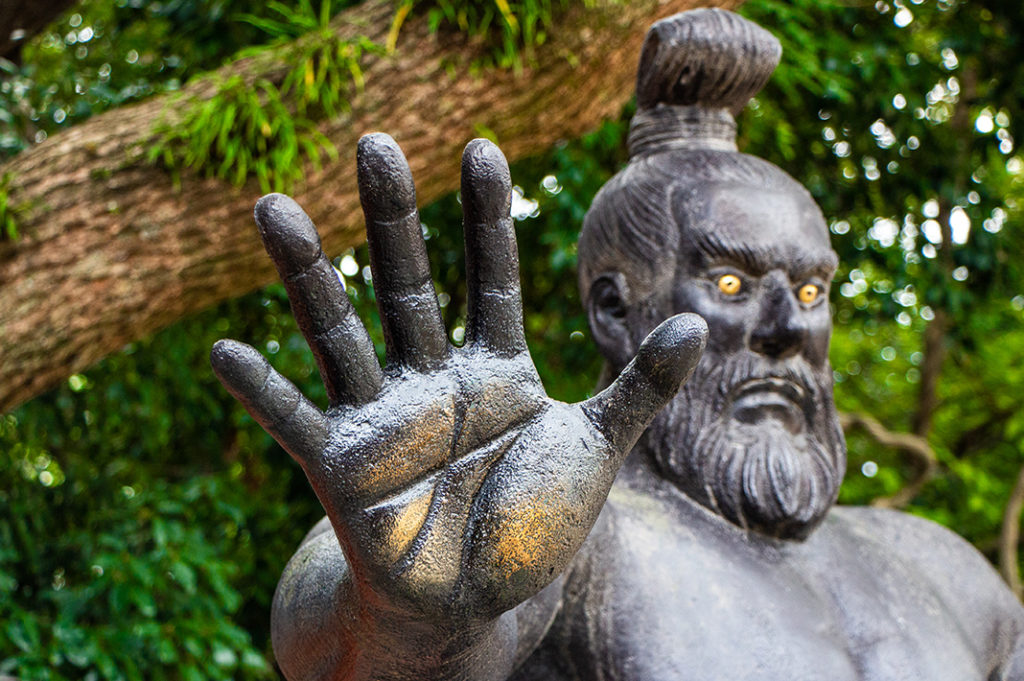 Events at Sumiyoshi Shrine
Events are held every month at Sumiyoshi Shrine, so check ahead to see what's on. July 30th to August 1st is the Nagoshi Grand Festival. Many people come to take part in the festivities, part of which involves walking through a giant thatched ring—that looks a little like a prehistoric Stargate portal—to ward off illness.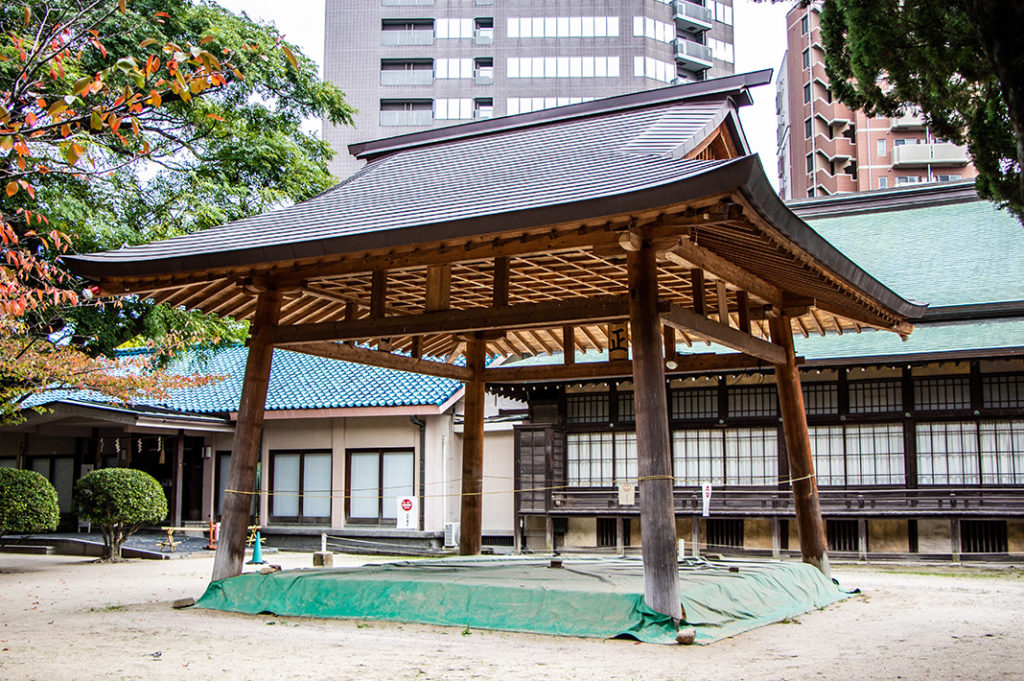 Between October 12-14, five local elementary schools participate in a sumo tournament held in the shrine's sumo ring. There's also a display of traditional horseback archery to see. Things get even more kawaii for September's "Entering the baby's bales" (Akachan no dohyōiri) event which involves sumo wrestlers holding babies in the ring to wish for their healthy growth.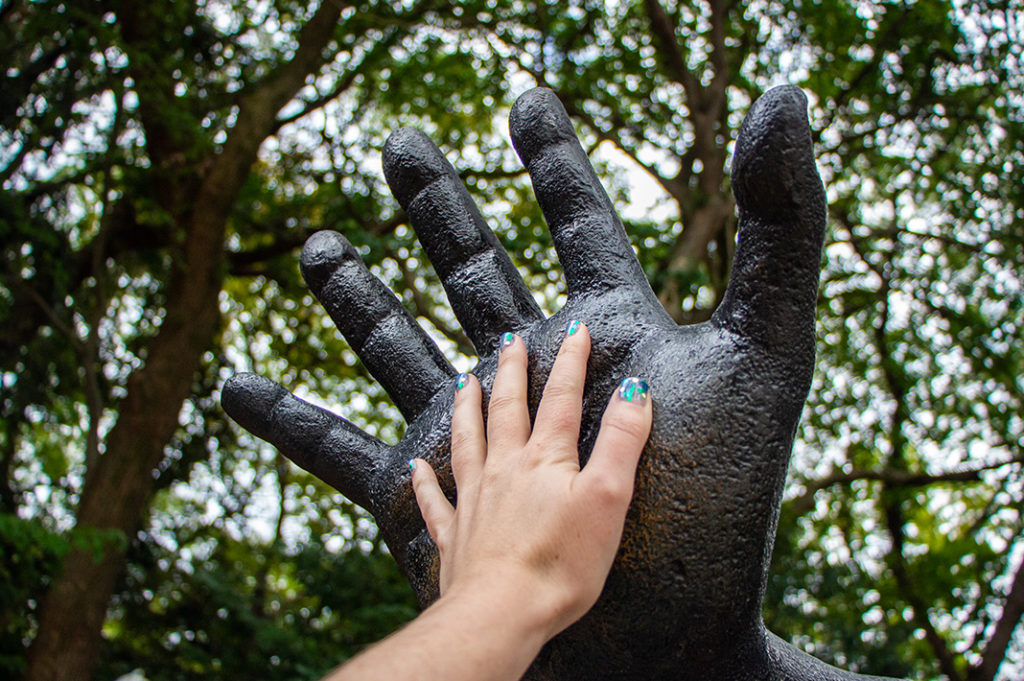 So if you ever find yourself in Fukuoka in need of a little extra strength, go and high-five the sumo san and soak in the power of this special shrine.
Access
The Chikuzen Sumiyoshi Shrine is located roughly 10 minutes on foot from JR Hakata Station.
Name: Chikuzen Sumiyoshi Shrine Fukuoka (Sumiyoshi Jinja)
Address: 3-1-51, Sumiyoshi, Hakata-ku, Fukuoka (google map)
Open: 9:00 am – 5:00 pm
URL: website here
Post by Japan Journeys.