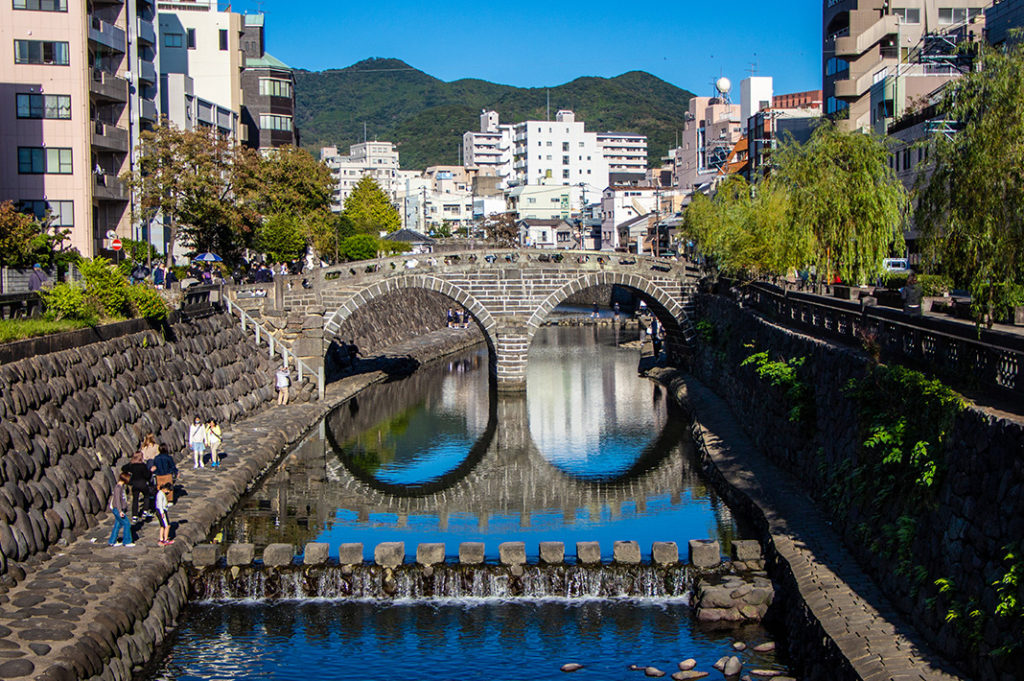 Nagasaki is a city of interesting architecture, hilly streets and top-notch views. In other words: a joy to explore. If you're a fan of this brand of urban charm, one spot you won't want to miss is Meganebashi (Megane Bridge). You'll find it stradling the Nakashima River in the city's east, one of a series of stone bridges connecting the banks. The point of difference between this and others is somewhat of an…optical illusion. The bridge's double arch design, when reflected on the river below, gives the appearance of a pair of circular eye-glasses, hence the nickname 'Spectacles Bridge.'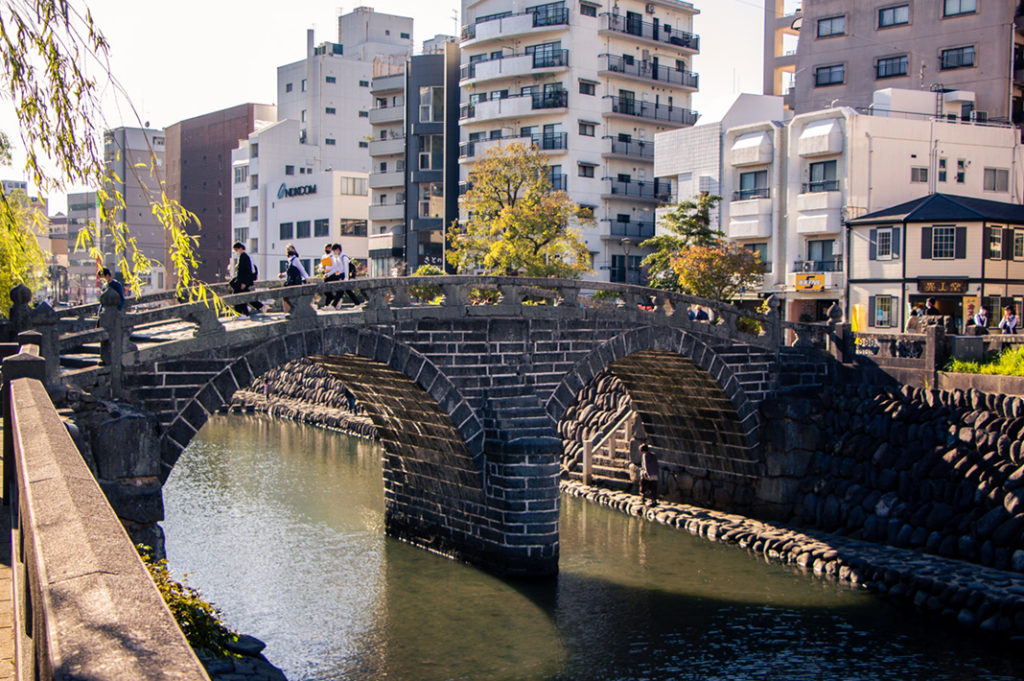 One of the oldest stone bridges in Japan
Dating back to 1634, this stone bridge is said to be one of the oldest of its kind in Japan and, as such, has been designated an important cultural property. However, it hasn't all been smooth sailing for Meganebashi. In 1647, a mere decade after its completion, it was completely destroyed in a flood and rebuilt the following year. A few centuries later, in 1982, another terrible storm hit Nagasaki washing away six of the ten stone bridges in a flood and badly damaging Meganebashi. The original stones were recovered from the water and it was once again rebuilt to its former glory.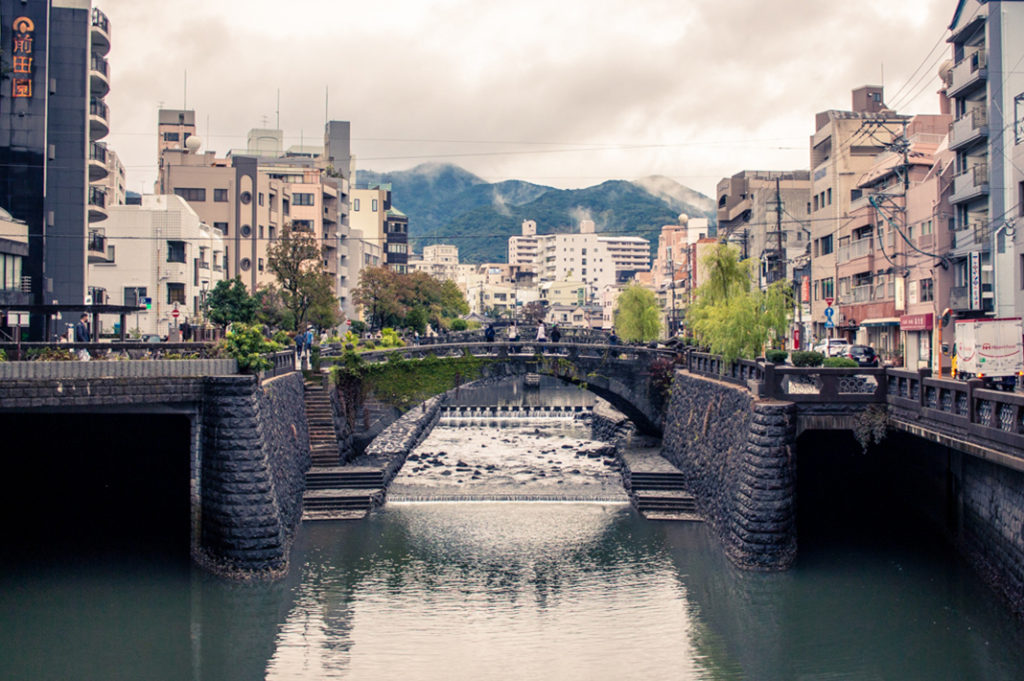 How to view Meganebashi
While you can cross Meganebashi, it's best observed from afar. This way, you can see its unique spectacle reflection. If you're coming from downriver, you'll arrive at Fukurobashi first, a mere 100m before Meganebashi. This is a favourite photography spot due to the hilly backdrop. Weeping willow trees drape down over the water and people mill about trying for the best angle. Luckily, these bridges are pedestrian-only, so you can take your time and not have to worry about dodging vehicles.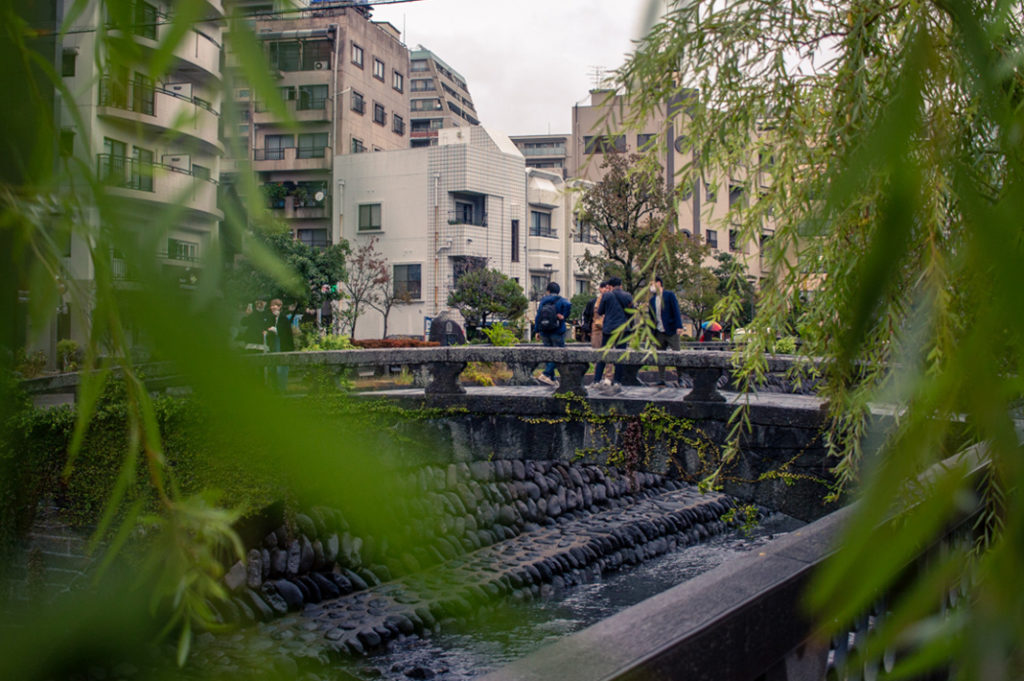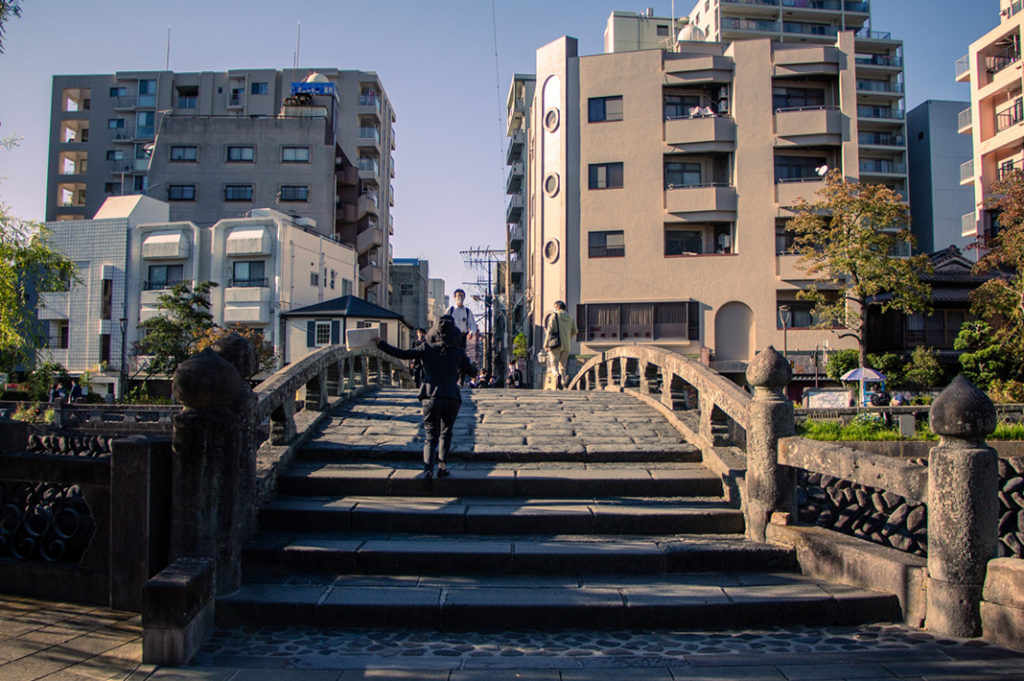 Just beside the Fukurobashi, you can take the stone steps down to the water to explore from a different angle. Many people head down here for photos, or just to be in the cool shade of the embankments.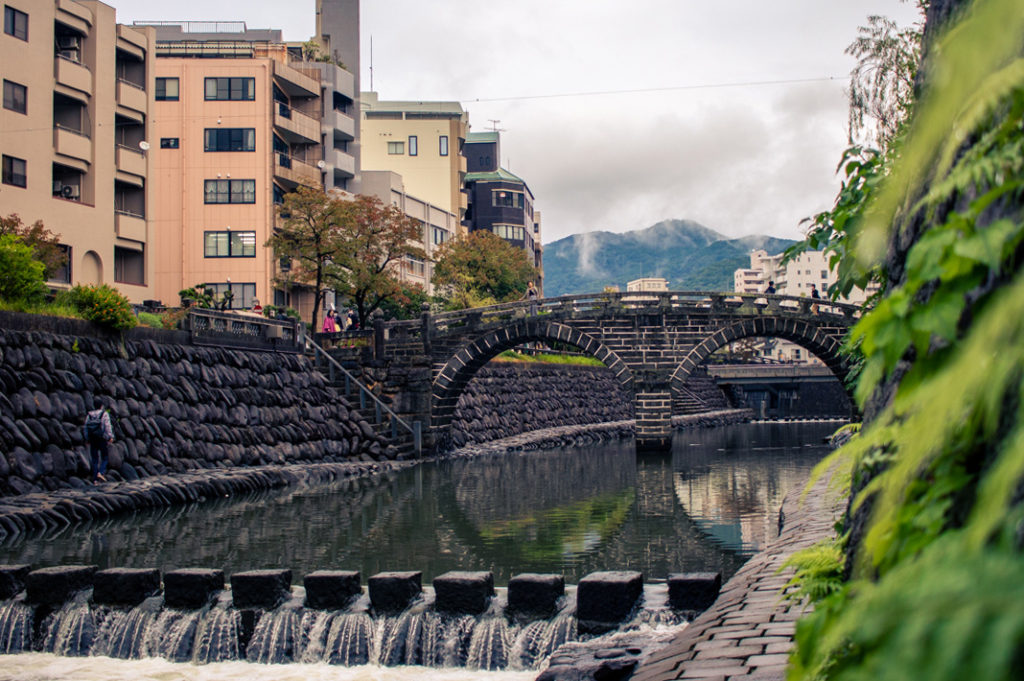 A series of stepping stones act as a point of crossing, not to mention a great photo spot.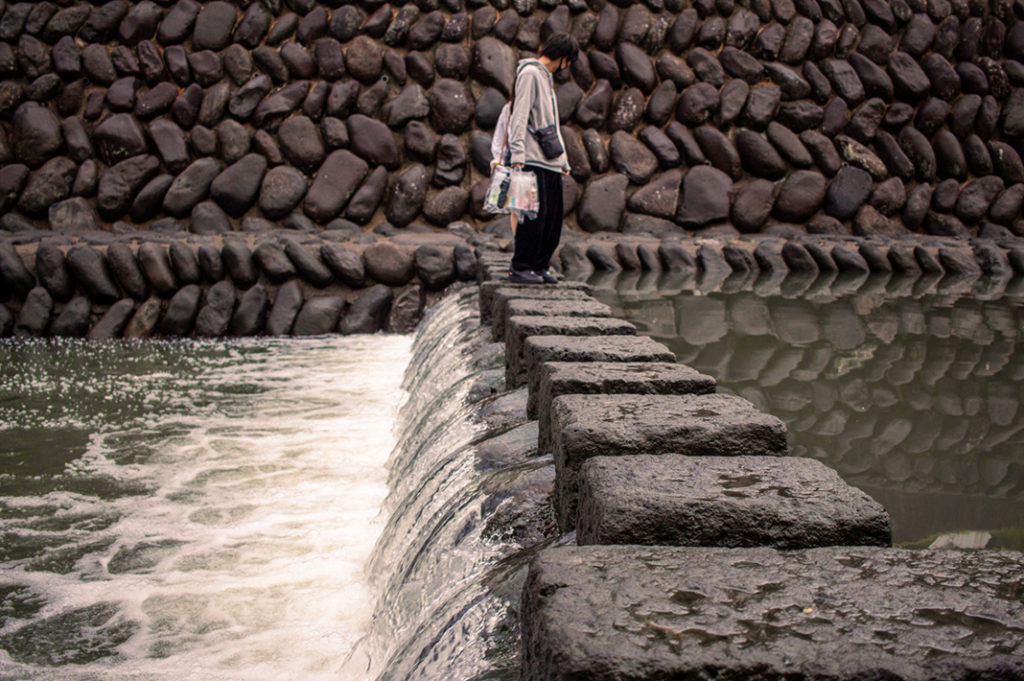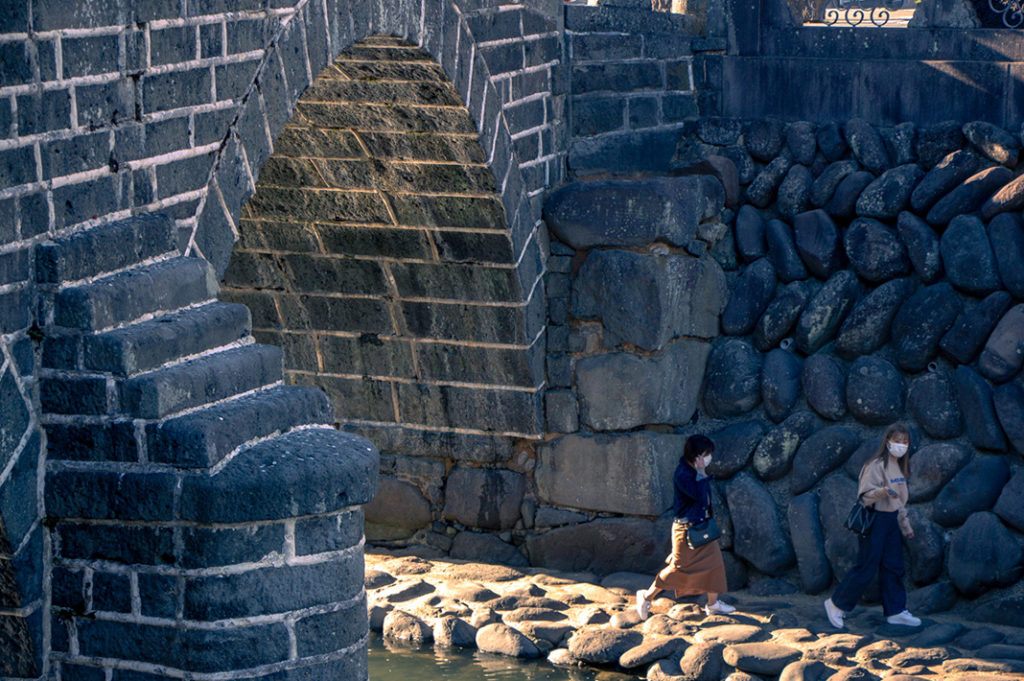 I wear my eyeglasses at night
Meganebashi is fun to see and photograph in the daytime, but it's also beautiful—and much quieter—at night. With the soft lighting and the trees dancing in the night air, it's all very romantic.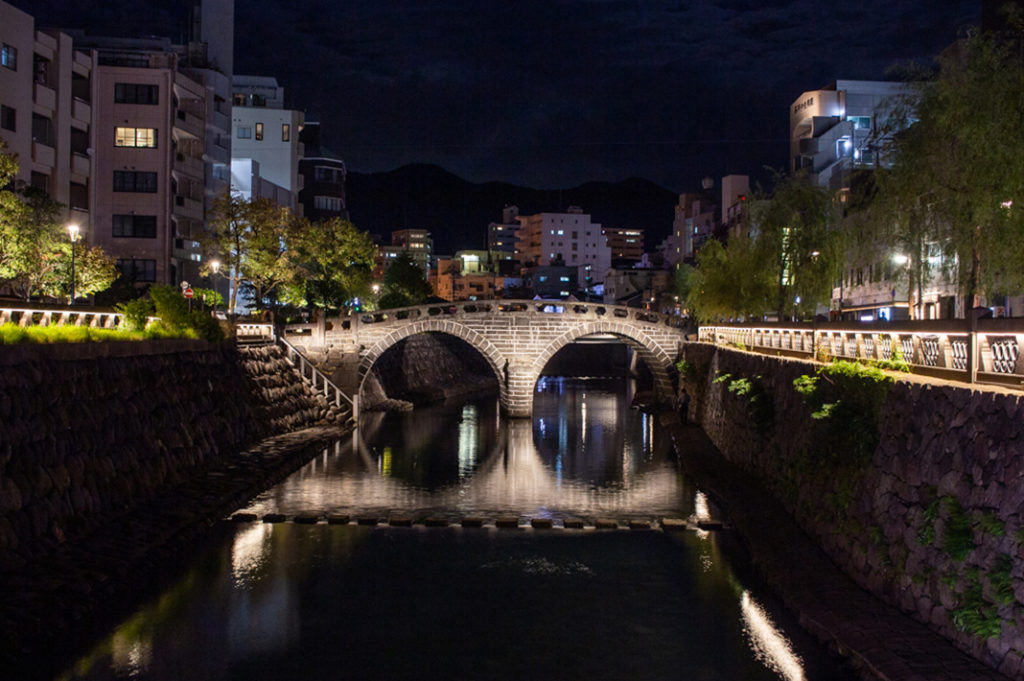 What's it near?
Meganebashi Bridge is surrounded by a mixture of residential and commercial buildings that are great fun to explore. If you're in the mood for a snack, head across the street to Manjun, a pastry shop founded in 1884 for some Chinese sweets such as yori yori. And if you're in the mood for some shopping, take a stroll through the Hamamachi area.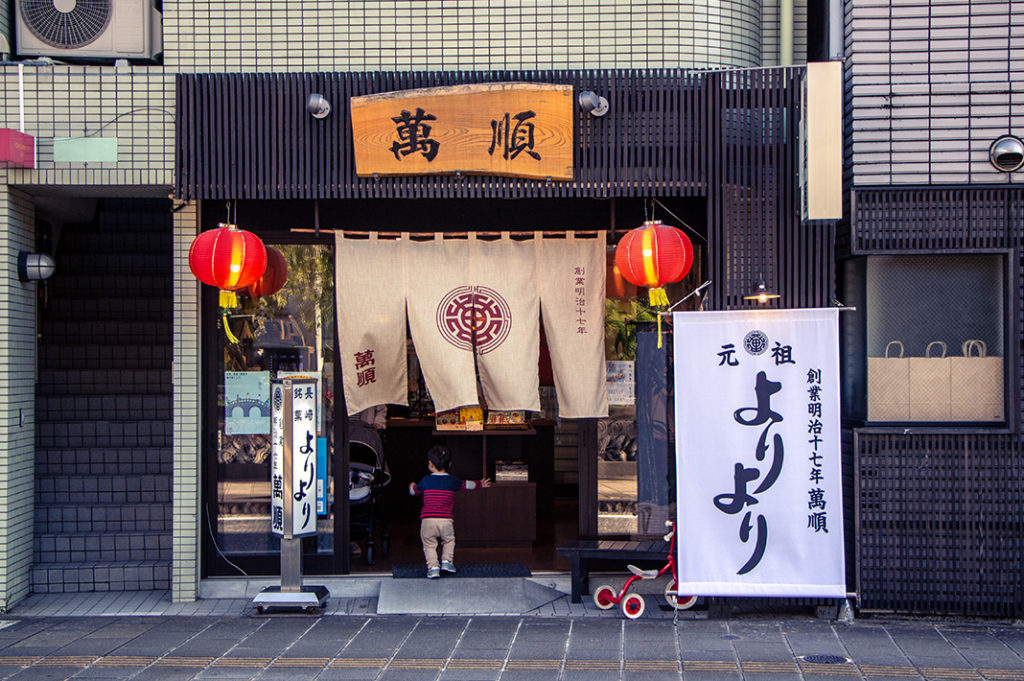 Accessing Meganebashi
There are two tram stops close-by: 'Meganebashi Bridge' and 'Civic Hall'—both serviced by tram lines 2, 4 and 5. Read more about Nagasaki's tram system here. If you prefer to walk, it's 15 minutes from Nagasaki station or 10 from Chinatown.
Name: Megane Bridge (Meganebashi)
Address: Google maps link
Open: 24 hours
URL: website
Post by Japan Journeys.