Walking past long queues in front of shops and restaurants, my herd mentality has no choice but to pay attention. But, as I dislike queuing so much, I'll usually tell myself that there's probably some false hype at play. "Keep walking," I'll say, "you're not missing out on anything." Then I'll go to some empty place, enjoy an average experience and have nothing better to compare it to. On a recent trip to Kyoto, I decided to test my hype theory by visiting Menya Inoichi Hanare. One of Kyoto's Bib Gourmand (affordable Michelin) ramen restaurants, there's always a queue of hungry diners. It was time to suck it up and join the herd. 
Menya Inoichi Hanare
Menya Inoichi Hanare is located in a quiet backstreet not too far from Karasuma and Shijo Stations. Its reputation and Bib Gourmand status guarantee a permanent queue. Luckily, I arrived just after 9 pm and was pleased to see no-one waiting. My experiment was going better than expected, so far.
Stepping inside, I was greeted by the enticing aroma of bonito and a soundtrack of funky tribal jazz. The smiling, tenugui headband-wearing staff welcomed me warmly into the dining space.
The space was light, bright and open with a large, spotless kitchen. There was room for 10 people at the tables and 10 at the counter. No photos allowed, though; you'll have to take my word for it.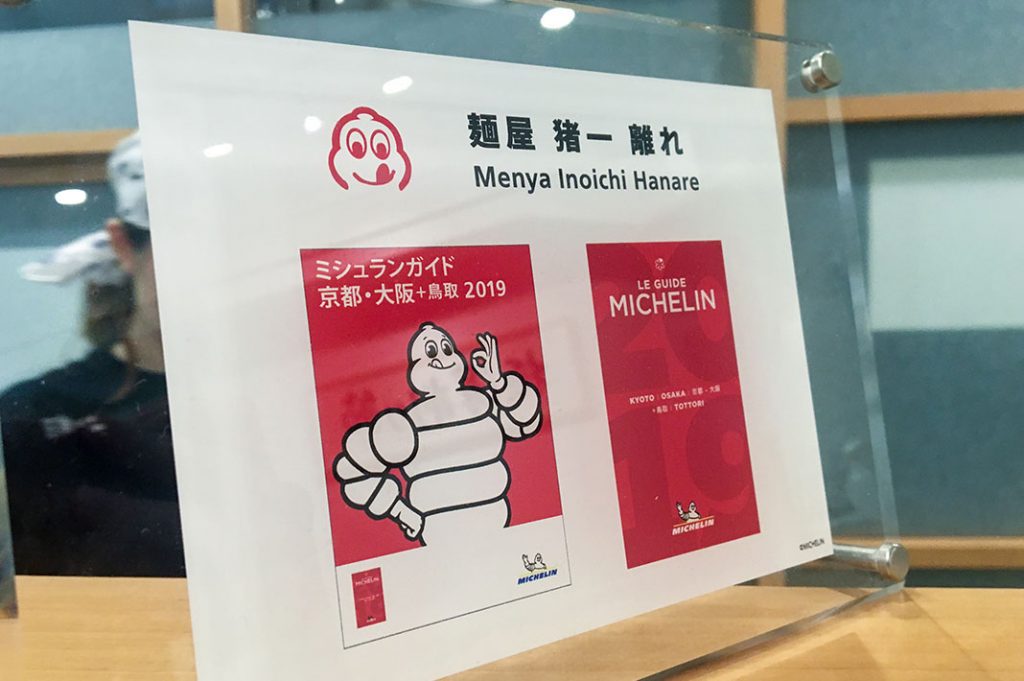 English menu
The staff walked me through the English menu while I enjoyed a carefully poured beer in a stylish hammered copper cup. There is a selection of ramen, rice dishes and small sides like salad and dumplings. Note that every customer must order one bowl of ramen—that's why you're there, after all.
There are two choices when it comes to the broth: bonito and white soy or mackerel and dark soy. The noodles are preservative-free soba (made from buckwheat). Topping-wise, there's a choice of roasted pork, pork and chicken or grilled A4 wagyu beef.
There's also hippari soba for the hard cores; it's grilled mackerel, bonito, raw egg, spinach, green onion, natto and seaweed. You can order extra noodles if you're hungry and even change to rice noodles for a few hundred yen if you prefer.
The Otoshi
The otoshi (service appetizer) was delicious; braised and char-grilled pork belly sprinkled with spring onion. The chef was all smiles when he presented it to me with a warning: "Be careful, it's hot!"
It was sweet and smoky and fatty—i.e. delicious. I can only imagine how tasty this would be as a ramen topping. I'd have to keep wondering, though, because I chose wagyu beef topping for my ramen.
The Condiments
Extra condiments are typical at ramen restaurants, but these ones are a little fancier than usual. There's sansho pepper, seven spice, 'cayenne Japanese pepper' and a very spicy 'black seven spice' which has a nice mixed citrus flavour. A small wooden box to my right advertised tororo konbu (shredded kelp). The staff explained to use it sparingly until I reached the desired amount of flavour in my soup.
The Ramen
My ramen came served on a wooden tray; the main bowl sat alongside small sides of wagyu beef and fresh sudachi shavings. The staff explained that I should also add these sparingly to adjust the flavour. The ramen toppings included a half-boiled egg, sheet of nori, bamboo shoot wedge, shredded leek, spring onion and bonito shavings.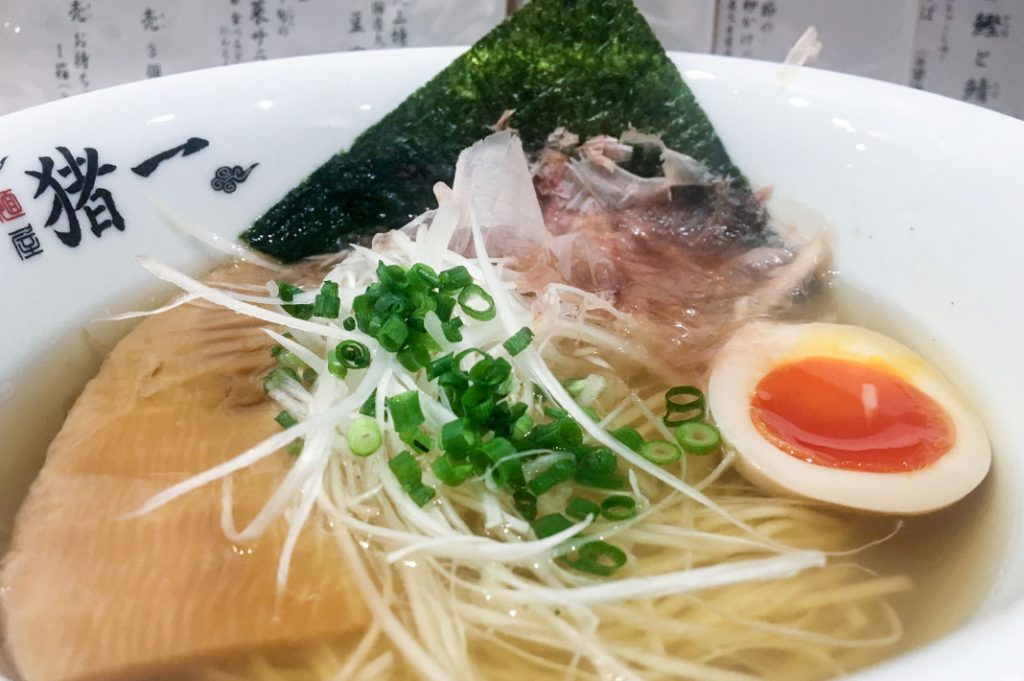 As is customary, I tried the broth first. It was light yet rich, bursting with umami but not fishy.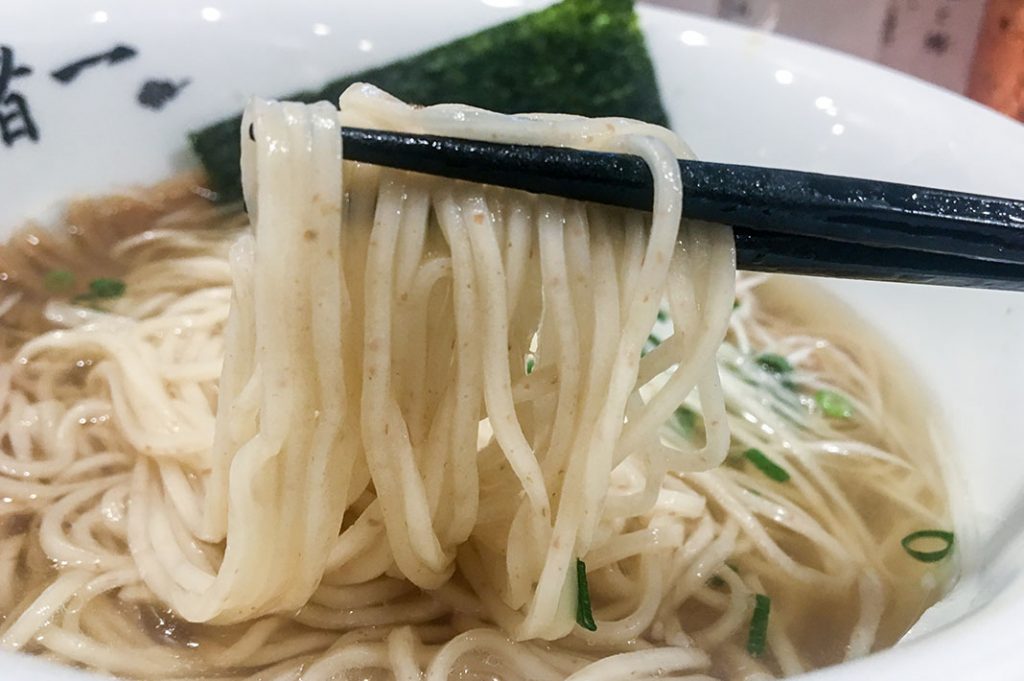 The noodles and bamboo shoot were perfectly cooked and carried the flavour of the soup nicely. The seasoned egg was gooey yolk perfection. It was a perfect combination of ingredients, or so I thought.
Once I added the sudachi peel and wagyu beef into the mix, I'd truly achieved perfection. The delicious wagyu fat swirled in the mouth, then the citrusy sudachi cut right through like a blade of freshness.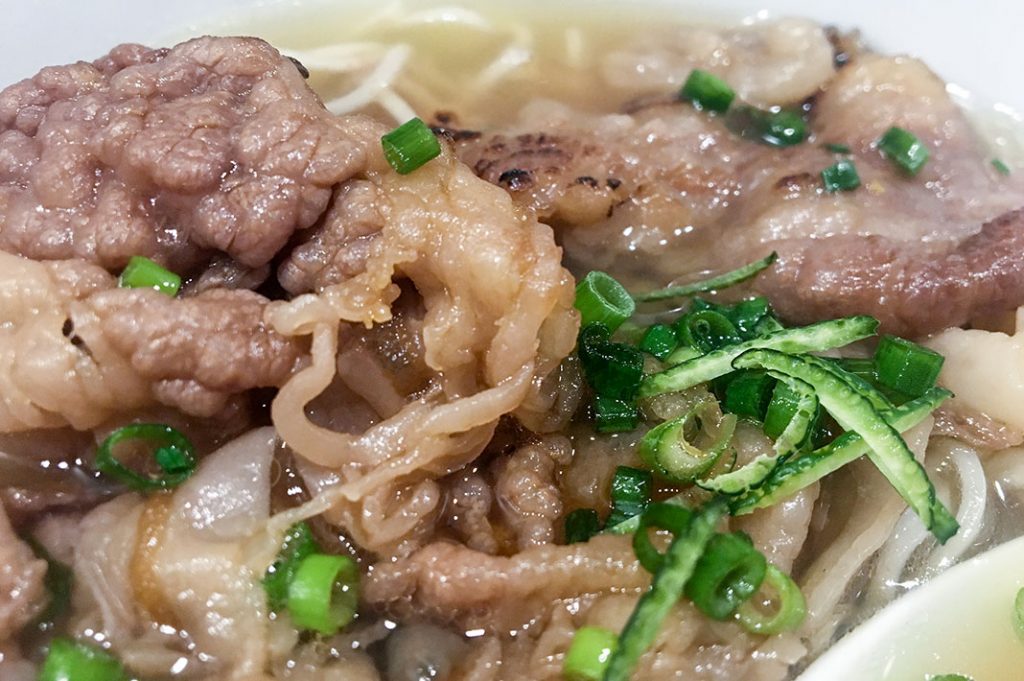 Before I finished, I wanted to try the tororo konbu (shredded kelp). On its own, the appearance and springy texture was a bizarre spiderwebby bonito. Taste-wise, it was sweet, salty and umami with a hint of citrus. It's not super fishy but definitely brings the dish closer to the ocean. Though it's powdery at first, it turns gelatinous when it hits the broth.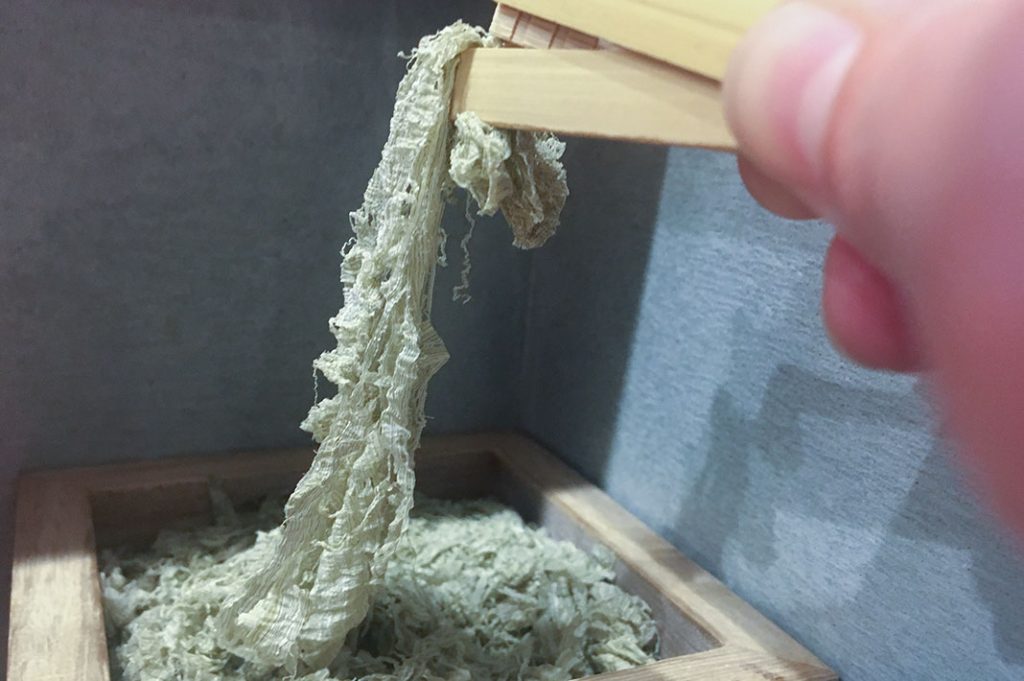 It was clear to see that this was indeed a special ramen restaurant, well deserving of its Bib Gourmand status. Every element was considered and high quality, including the service. This experience has even made me reconsider my aversion to lines, as I would queue to have this again.
Details
Name: Menya Inoichi Hanare
Address: 463 Senshojicho, Shimogyo, Kyoto
Open: Tues–Sun 11:30am—2:00pm and 6:00pm–10:00pm (Closes 9pm Sundays and closed Mondays)  
Web: https://gm.gnavi.co.jp/shop/0419012502/
Post by Japan Journeys.