The historical city of Kyoto was the capital of Japan during the nation's most prolific period of cultural growth and refinement. In 1868, Kyoto lost its capital city status when Japan's imperial family decamped northeast to Edo (now Tokyo). Edo had become the centre of a more modern style of government (constructed by the Bakufu, Japan's military Shogunate). However, Kyoto has always been and will always remain Japan's 'City of Culture.' Best of all, this Kyoto walking tour will allow you to enjoy lesser-known parts of the city at a slower pace. Enjoy!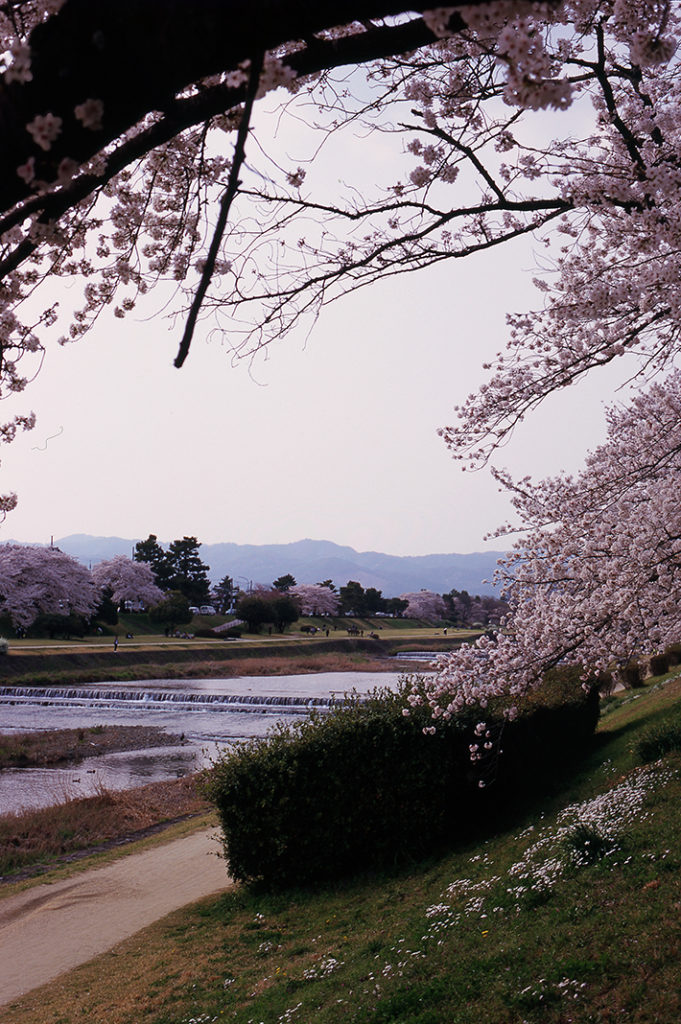 Naturally, as a national treasure bursting at the seams with UNESCO world heritage sites, Kyoto has recently become popular. Arguably, a little too popular. Busloads of tourists arrive at sites such as Nijo Castle and Kiyomizu-dera in their thousands. However, these centuries-old sites were built not for tourist buses, but pedestrian pilgrims. As such, the roads leading to these sites are unbelievably overcrowded, thick with tourists jammed onto tiny sidewalks. If you're sick of overtourism, selfie-stick injuries and the loss of local authenticity, we're here to help. This "Kyoto, Like A Local" walking tour will take you far from the crowds, through quaint backstreets via lesser-known sites. There will always be amazing coffee and something fantastic to eat at journey's end.
First on your walking tour: Nanzen-ji.
Without a doubt, Nanzen-ji offers the perfect location to start your wandering. Year-round, the blackened ochre of the temple pillars are framed by incense smoke rising from a stone urn. The maple trees turn from bare to verdant green and finally a deep lacquer red. Nanzen-ji [南-southern 禅-zen 寺-temple] has for many years been more popular with Japanese visitors than with foreign tourists. Recently, this trend is changing, but it's still an absolute must-visit in eastern Kyoto. With so many temples available, "temple fatigue" can quickly become detrimental to your overall experience. As such, it's essential to choose your temples wisely. Nanzen-ji holds a perfect balance of exteriors (below, the majestic San-mon Gate), interiors and gardens.
This walking tour features Nanzen-ji's Hojo (Abbot's rooms) and their gardens. However, if you prefer to spend all morning here, you could also visit the San-mon gate or the adjoining Nanzen-in villa. Alternatively, you could delve into the timeless and tranquil Tenju-an gardens. If you're wanting to be spirited away, you can even visit the secluded and mysterious Oku-no-in.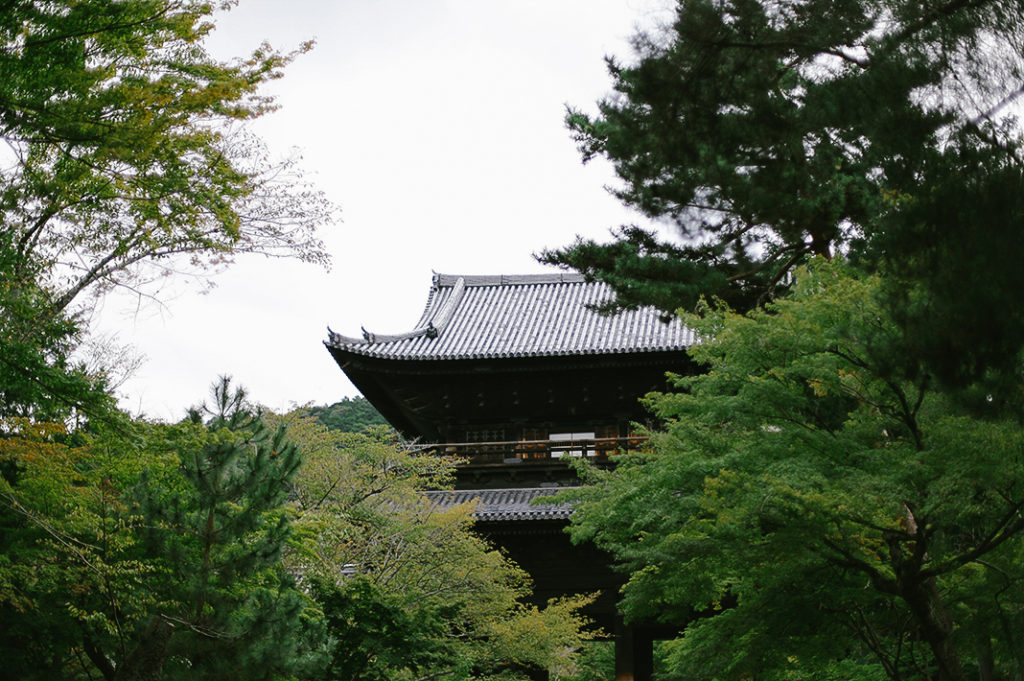 Access to Nanzen-ji.
The nearest subway station to Nanzen-ji is "Keage" (Kay-ah-geh) on the Kyoto City Tozai Line. As you exit the station and head north to Nanzen-ji, you pass through the temple's many sub-buildings. The sub-temples remain from a time when many of Kyoto's Buddhist temples functioned more like entire villages. You can also access Nanzen-ji via Kyoto City Bus number 5, alighting at Nanzenji-Eikando-michi bus stop. From here, it's a 10-minute walk to the temple.
Entering the compound, take time to wander through the towering maple trees along the central path. From here, follow the pathway towards the central Hondo (worship hall). You are welcome to purchase incense sticks; just drop ¥100 into the coin box, take three sticks and insert them into the ash-bowl. They should be lit by the adjacent candle, if possible. Finally, walk to the top of the Hondo's concrete steps and put your face close to the wooden door bars, gazing upwards. Here, an enormous, coiling dragon will be staring back at you from the ceiling of the temple.
Keep pace with slow mornings in the temple.
From here, wind around to the left of the Hondo, cross the small road and visit the highly peculiar aqueduct that intersects the temple grounds before looping back around into the Hojo. Entry fees are a modest ¥500. Remove your shoes and place them into the carrier bag required before following the natural flow of pathways through the Hojo. Lovingly crafted dry stone (karé-sansui) gardens frame the outer perimeter of the building. As such, it's best to enjoy the experience in an unhurried manner. Take time to sit and view the inner gardens, or listen to the sound of nearby water flowing.
Nanzen-ji officially opens to visitors at 08:45. As such, you can easily spend just over an hour here, peacefully taking your time in the tranquil surroundings. Something essential to consider is that Blue Bottle Coffee is a two-minute walk from the front gate of the temple. Naturally, you'll want to stop here for Blue Bottle's famously delicious coffee. Better yet, try some of their Kyoto-made mini-cakes, which go perfectly with coffee.
Onward, to Okazaki Jinja.
Once you've spent a while enjoying the excellent coffee and beautiful architecture of Blue Bottle Coffee, it's time steer your walking tour to Okazaki Jinja. The small, secluded shrine is only a ten-minute walk from Nanzen-ji (around 1km in distance). This pleasant amble takes you through leafy, peaceful backstreets that intersect the remnants of the historical Nanzen-ji precinct.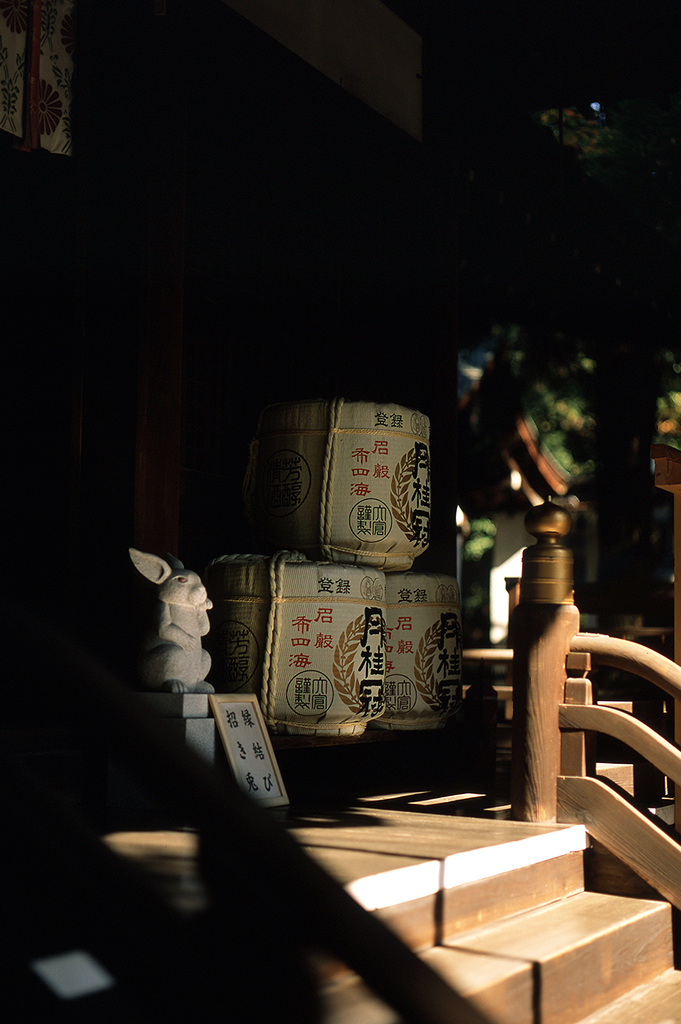 Okazaki Jinja is a small Shinto shrine, surrounded by trees and always peaceful. There are plenty of seating areas to stop and rest while listening to the breeze sway the trees in the courtyard. Okazaki Jinja is also a great place to stock up on 'o-mamori' – small charms and talismans, unique to each site. Much of the shrine's 'souvenir' paraphernalia is white rabbit themed, in tribute to Okazaki's patron animal guardian.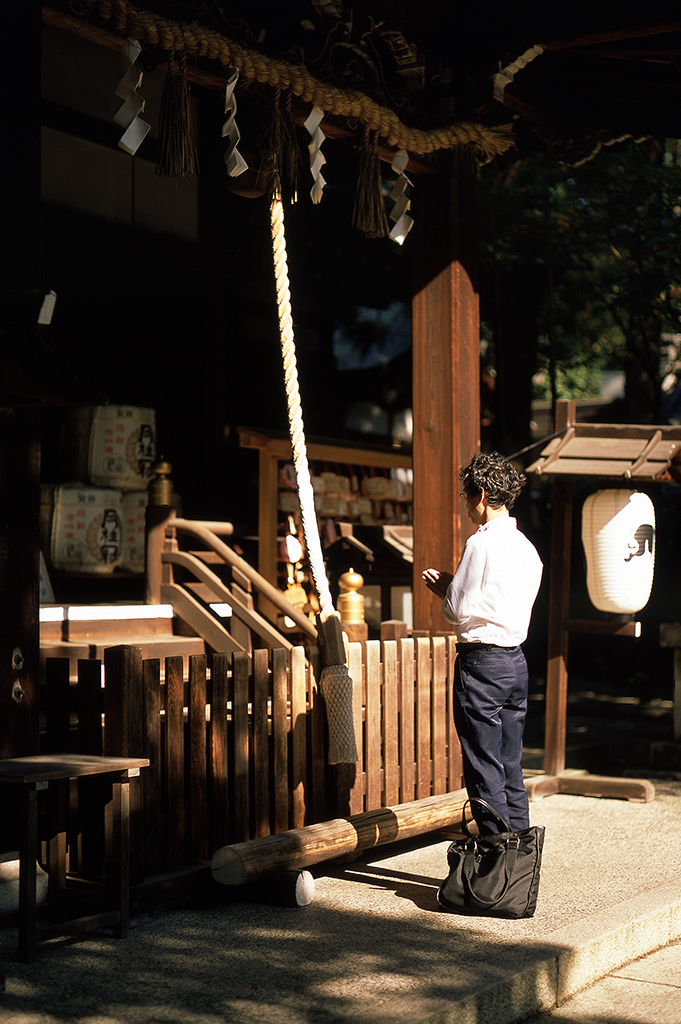 Onward, to Heian-jingu.
Luckily, the walk from Okazaki Shrine to Heian-jingu takes only 5-10 minutes (800m distance) along only two roads. Heian-jingu itself consists of a central courtyard and buildings (free to enter) and an expansive strolling garden (¥600 entry). The gardens are vast and look amazing through all seasons. Best of all, the centrally located pond is filled with koi carp and turtles. For ¥50, you can buy turtle and fish feed from store boxes in the central bridge that stretches over the pond. Try placing bets on which pond resident will capture the food first!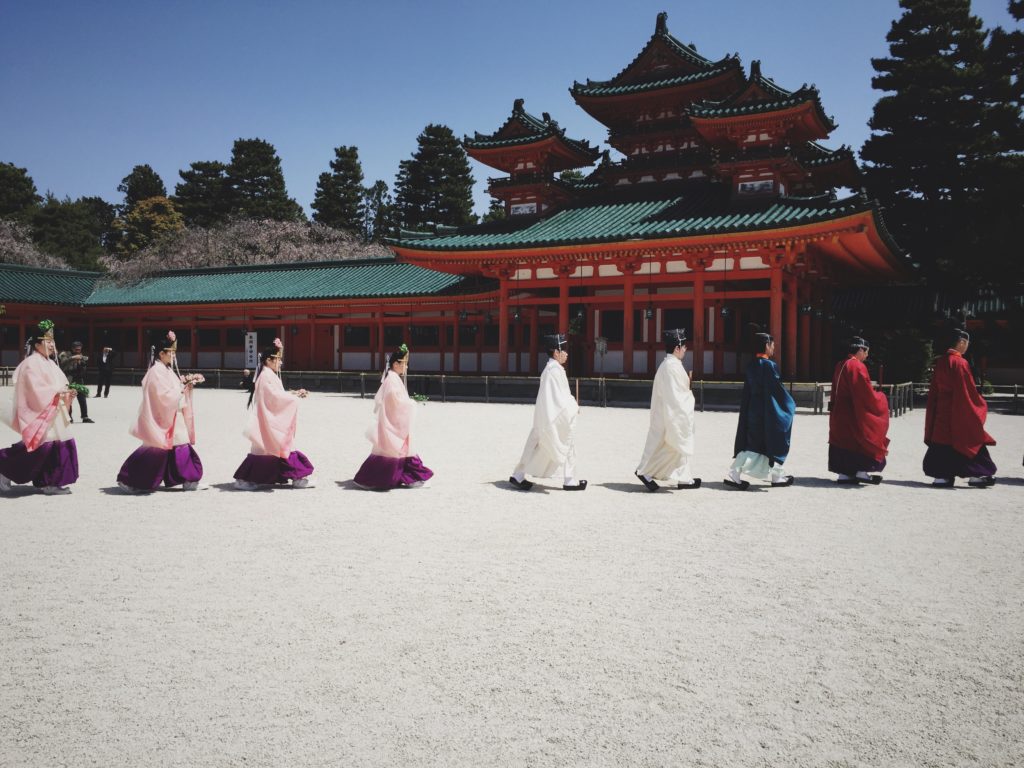 Heian-jingu is something of an anomaly amongst Kyoto's temples and shrines. It was built in 1895 and is a 5/8ths scale model of Kyoto's original Imperial Palace. It exists to commemorate the 1100th anniversary of 'Heian-kyo' – the historical name for Kyoto. Keen-eyed architects will notice that the style of the building reflects the archetypes of Tang Dynasty China. Actually, much of ancient China's city layouts influenced the north-south grid styles of Heian-kyo and even Naniwa-kyo (now Osaka city)!
Feeling lucky?
Before you leave, visit the 'omikuji' stand at the western side of the central building. There will be pots full of numbered sticks that serve as fortune-telling conduits. Shake one of the pots up and down until a numbered stick appears at the bottom, then take it to the miko-san (shrine maiden) at the counter. She'll give you a paper scroll with your fortune written in Japanese. There are yet more o-mamori charms to buy from this counter. Thematically, many of them relate to the Japanese Zodiac (do you know your birth animal?).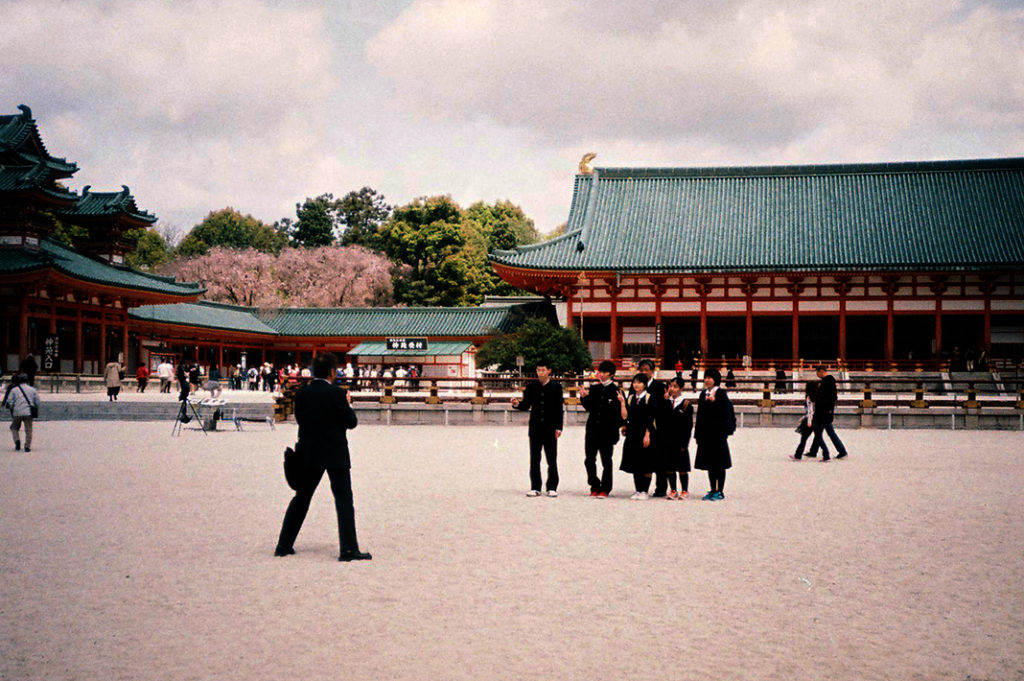 Read all about it!
You're no doubt feeling a heady mixture of exhaustion and intellectual stimulation by the time you leave Heian-jingu! Luckily, this walking tour saves the best for last: books, food and more coffee!
Only two minutes' walk from Heian-jingu, under the shrine's immense Torii gate is Kyoto's world-class ROHM Theatre. Attached to this set of buildings is a highly specialised branch of Japan's beloved Tsutaya bookstores. It stocks an extensive range of English-language books on the topics of Japan and Japanese culture. These titles are often extremely hard to track down, but the perfect curation has been selected for this store. Additionally, this branch stocks a wide range of unique Kyoto handicrafts – most definitely not to be missed!
If you're in the mood for a sophisticated end to your morning, lunch at the upstairs Kyoto Modern Terrace is the perfect solution. The restaurant has a sumptuous, well-designed interior and serves delicious food and coffee. If you're in the mood for something more laid-back, the Tsutaya bookstore adjoins to a Starbucks coffee with indoor and outdoor seating.
Post by Japan Journeys.