Ah, Kamakura. The historic seaside town brimming with ancient wonder. Though it's perhaps best known for the Giant Buddha (Daibutsu) at Kōtoku-in, there are plenty of other impressive attractions in Kamakura. For example, the Hasedera Temple, only minutes away, perched on a forested hillside overlooking the bay, is a decidedly delightful way to spend an hour. After visiting Kōtoku-in, we didn't imagine the Buddha could be beat, but he certainly got a run for his money here. 
Hasedera Temple Lore
Legend has it that back in 721 in Nara, two eleven-headed Kannon statues were carved from the same gigantic camphor tree. The smaller statue is said to be that of Hasedera Temple in Nara, while the other was thrown into the sea. The story goes that it washed up fifteen years later on this peninsula, leading to the temple's construction. This 9.18m gilded wooden statue is the main drawcard for visitors, but there is much more in store at Hasedera.  
A Tour Of The Lower Level
It's an easy ten minute stroll to Hasedera from Kōtoku-in. We arrived high on Buddha-love (and matcha) and ready for more. The wooden entrance gate is the first thing you see, and an excellent specimen at that—the fourth largest of its kind in Kamakura, no big deal.
After paying the few hundred yen entrance fee, you can head through and explore the lower level. That's right—this temple is built on a hillside so there's a unique multi-level design, with pockets of beauty everywhere you turn or climb.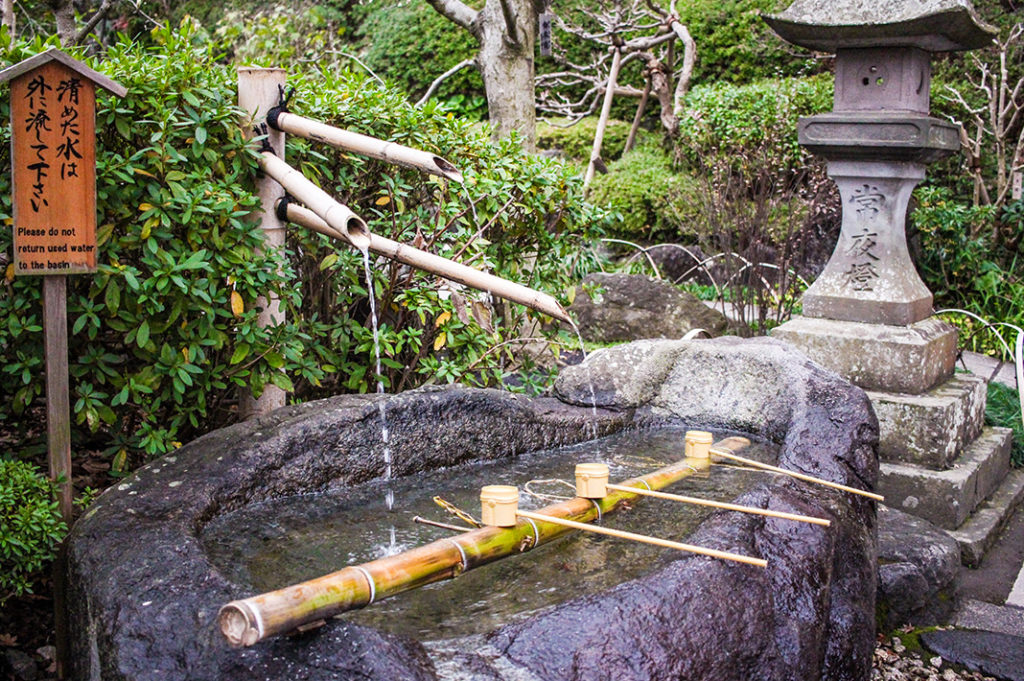 First up are the ponds. Dozens of koi carp lazily swim as the seasons change around them. From plum and cherry blossoms to hydrangeas, water lilies and more, there's always something beautiful growing here. We were lucky to catch the end of the momiji autumn leaves during our mid-December visit. You can check their site ahead of your visit to see which seasonal plants to look out for.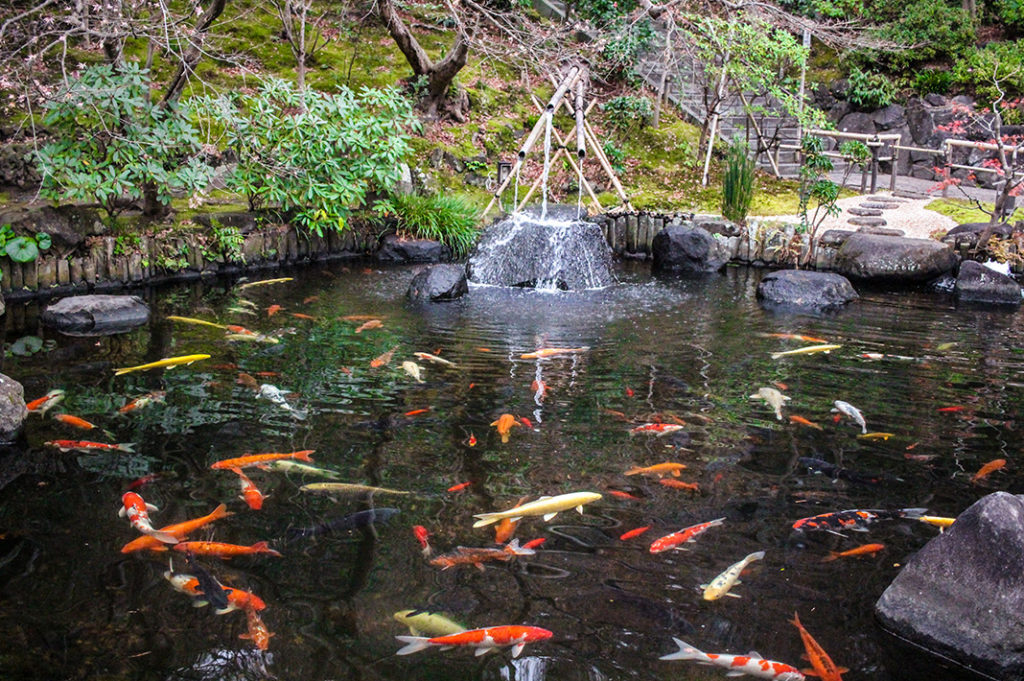 The Benten-kutsu cave
To the right of the ponds, you'll find the Benten-kutsu Cave, a place for seclusion and prayer. Inside is the likeness of Benzaiten, one of the seven gods of fortune, and her posse of child followers. They are all carved out of the rock walls, with soft lighting illuminating the space.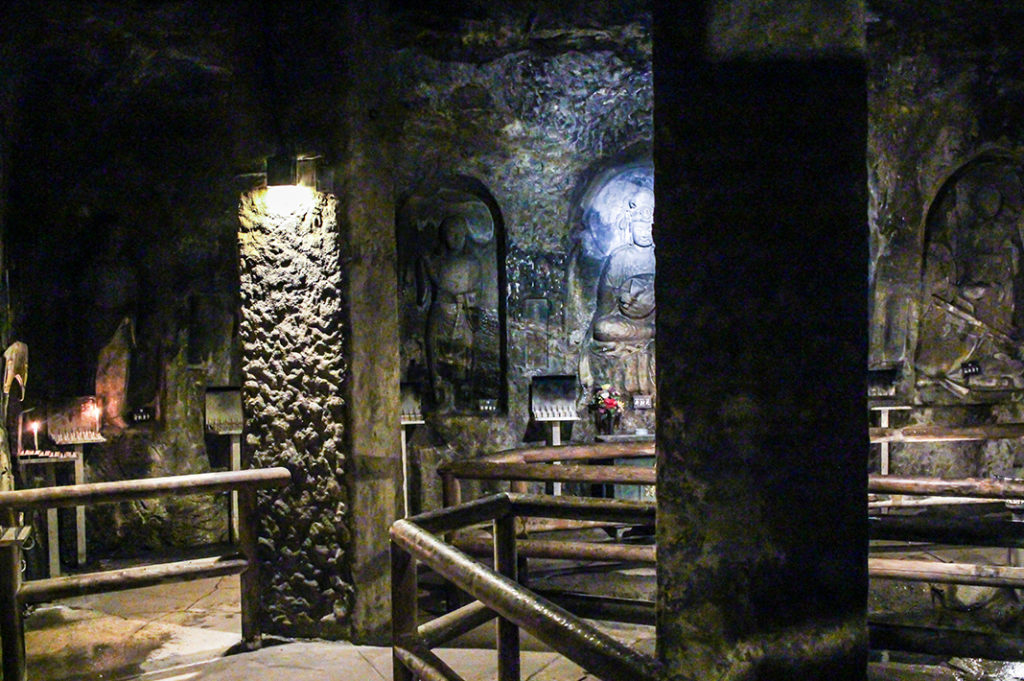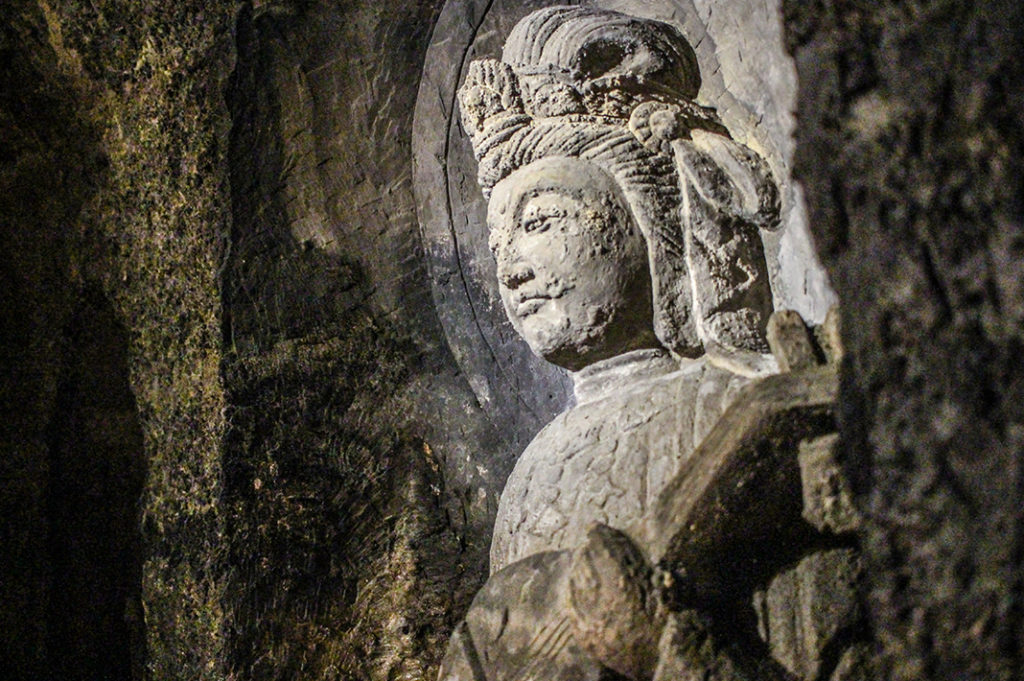 You'll also notice a room in the cave with hundreds of tiny statues. You can buy these on-site and write a message on yours as an offering.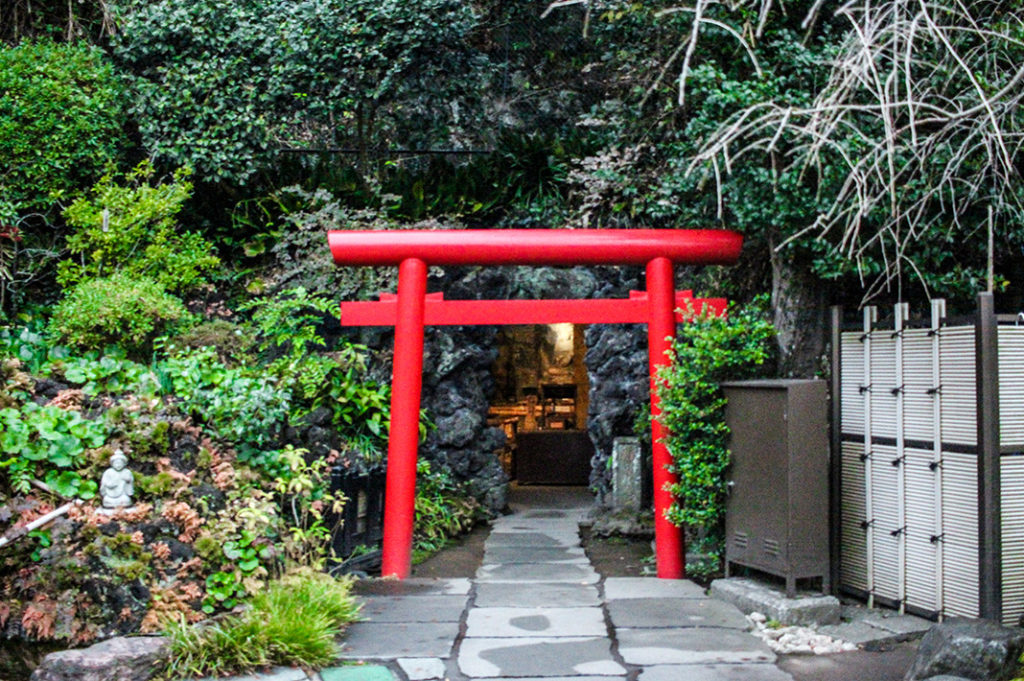 To The Upper Level
Take the stairs up to the Jizo-do hall where you'll find a small army of Jizo statues. These guardians are believed to protect children's souls, so, if you're the praying kind, you could say a word about your kids here.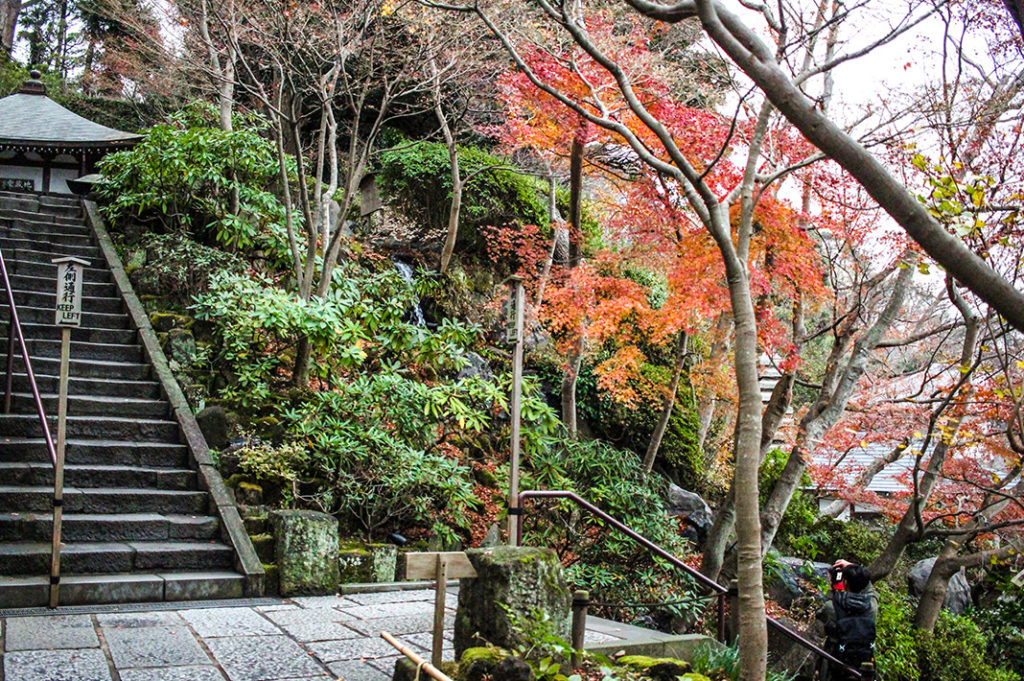 Kakigara-inari (oyster shell shrine)
Continue up the stairs and take a sharp u-turn to your right to find the Kakigara-inari (oyster shell shrine). Legend has it that oysters attached themselves to the Kannon lost at sea to help guide it back to shore. You can buy an oyster shell inside the main hall, write your wish upon it and add it to the collection.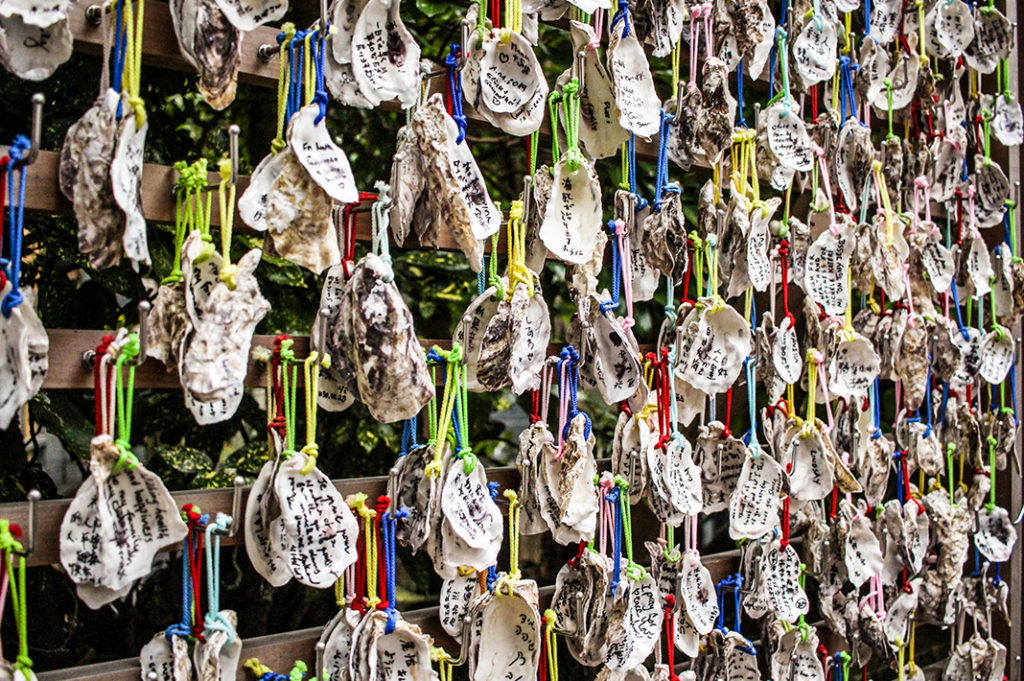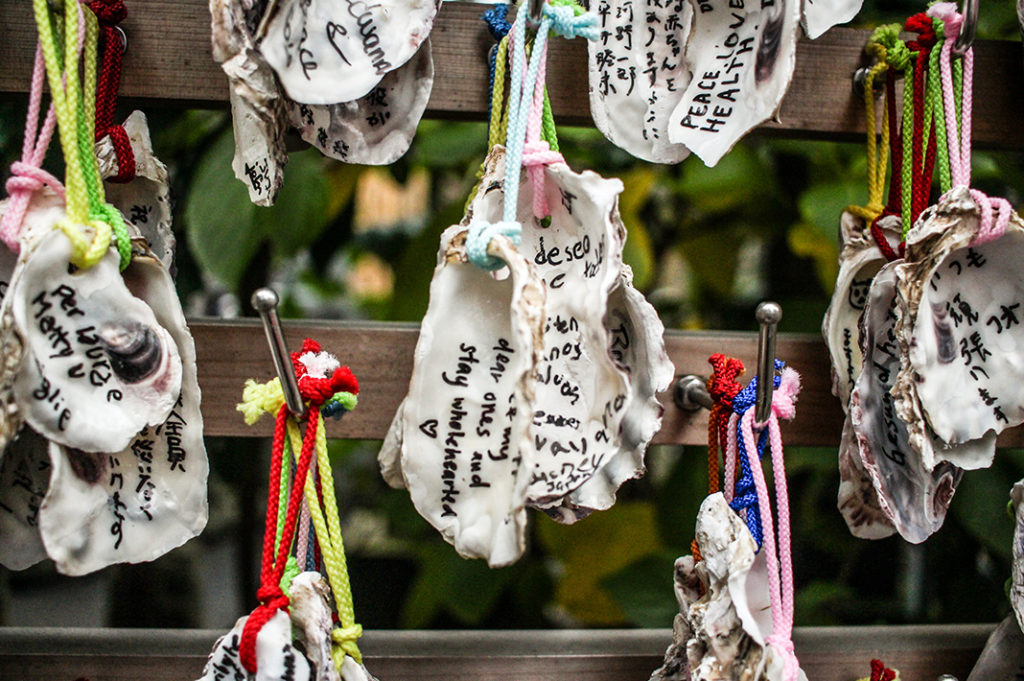 Shoro Belfry
Just next to the oyster shrine, you'll spot the Shoro Belfry. This bell rings every day promptly at 8:00a.m. to signal the opening of the gates. Though beautiful, it's not that old (1984); the original bell from 1264 is on display inside. As it's the third oldest bell in Kamakura, it was designated as an important cultural property in 1953.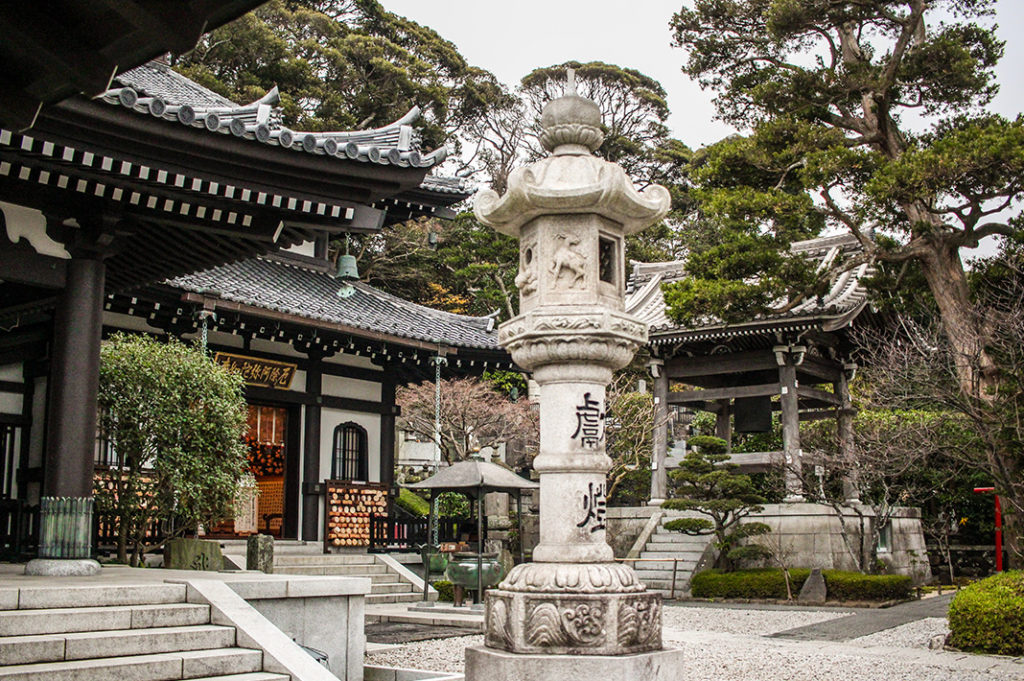 Amida-do Hall and Amida
Next, you'll find the Amida-do Hall, inside of which sits the golden Amida statue said to ward off evil. There are five others around Kamakura; I wouldn't be surprised if there was a stamp passport to prove you've visited all six sites.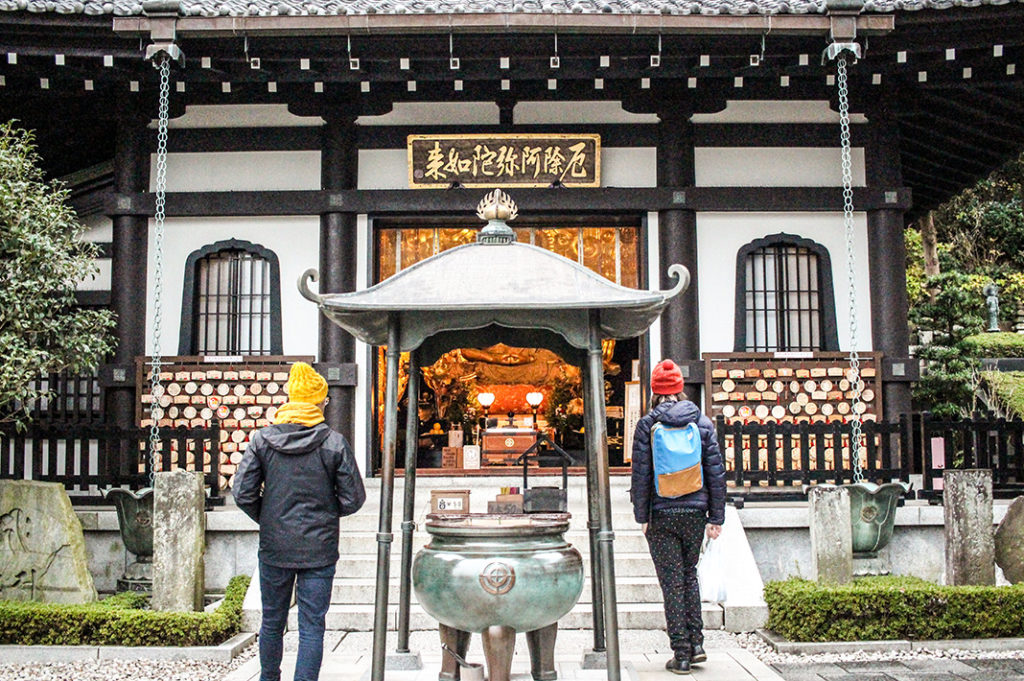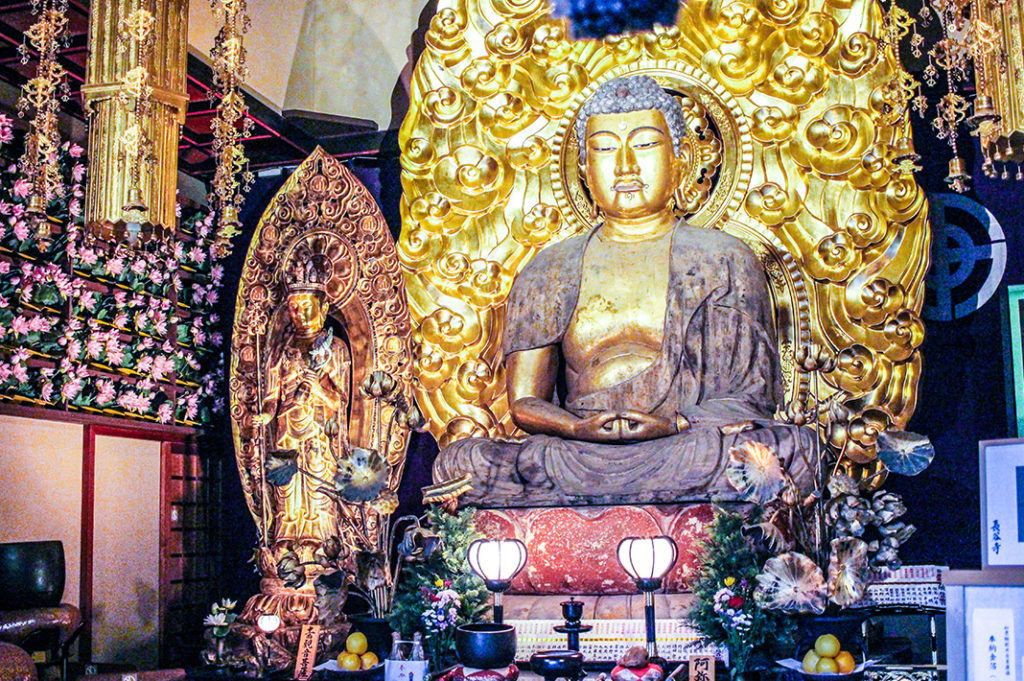 Kannon-do
The largest building in the clearing, the Kannon-do Hall, dates back to 736. This iteration was built in 1985, sixty years after it was destroyed by the Great Kanto Earthquake in 1923. Inside you can come face to face—or, shin—with the towering 9.18m Kannon. It's a powerful sight.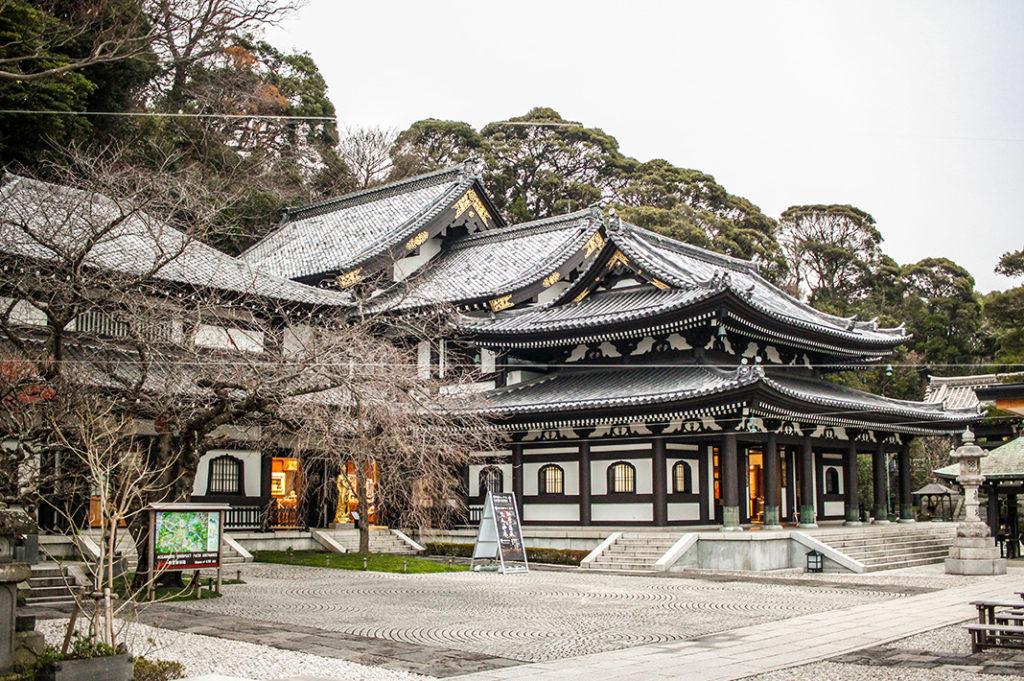 Kannon Museum
To the left of the Kannon-do Hall is the the Kannon Museum, which requires a small additional entrance fee. Inside, you can explore information relating to Buddhism and Hasedera Temple specifically, as well as view a collection of ancient treasures. Unfortunately we didn't leave enough time to enjoy it. You may also notice a path to the left of the museum. This 'Prospect Path' curves around to the left and comes alive with hydrangeas in June. 
Panoramic Bay Views
You can't miss the panoramic views from the observation platform near Kannon-do Hall. It is said to be one of the most picturesque spots in Kamakura, and I'd have to agree. There are tables and chairs set up for some al fresco fun, but if you prefer a roof, head to Kaikoan. This restaurant, just to the right, has equally stunning views as well as light meals and drinks.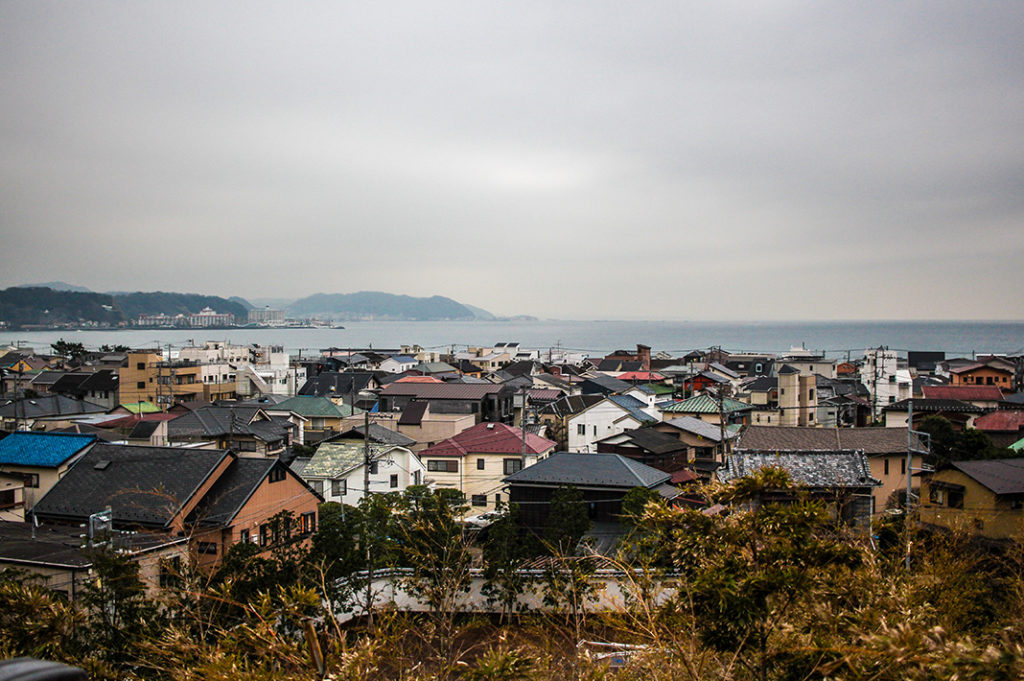 There are plenty more little surprises on site that I haven't mentioned—have to leave a few things for you to discover on your own!
With the fourth oldest gate, third oldest bell and views second to none, Hasedera is truly a first rate Kamakura attraction. Go and explore it for yourself.  
Getting to Hasedera
From JR Kamakura Station, take the Enoden line to Hase Station and walk for 5 minutes. You could also take the Enoden Bus or Keihin Express Bus (bound for Daibutsu), get off at Hase Kannon Bus Stop and walk for 3 minutes. It's a 10 minute walk from Daibutsu, so you can see them both.
Hasedera
Address: 3 Chome-11-2 Hase, Kamakura, Kanagawa 248-0016 (link)
Open: 8:00a.m. until 5:00p.m. (until 5:30 Mar–Sep), 7 days.
URL: https://www.hasedera.jp/en/ 
Post by Japan Journeys.