Kyoto's Higashiyama district may be jam-packed with countless temples and shrines, but in terms of aesthetic difference, the Ryozen Kannon Temple is quite literally head and shoulders above the rest. Sharing a carpark with Kodaiji Temple—my intended destination—I mistakenly walked toward the giant statue like a moth to a flame and soon discovered that this Buddhist Temple had its own name (Ryozen Kannon) and interesting backstory. I had no idea that this hidden gem and neighbouring Kodaiji Temple were about to top my list of Higashiyama highlights.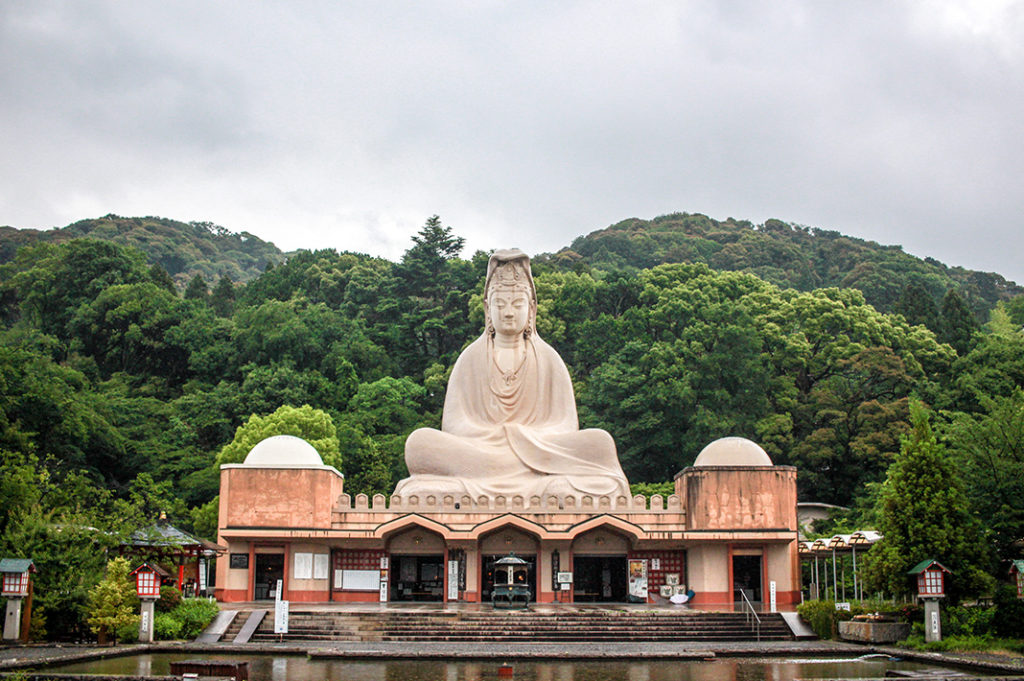 After paying a few hundred yen entrance fee and receiving some incense sticks for burning, I stepped into the clearing, coming face to face with the 24m tall statue of Kannon, the Goddess of Mercy. With a lush backdrop of the Higashiyama mountains, she gazes down over the complex with a faint smile.
The Compassionate Kannon
She's 500 tonnes of concrete and steel but Buddhist lore says Kannon's a real softie. As she is compassionate to all living things, this temple is a memorial for many forgotten souls. Underneath the statue you'll find a memorial for the 2 million Japanese lives lost in the Pacific War. But as Kannon does not discriminate, there is also another memorial hall for the unknown soldiers of World War 2. These were the foreign soldiers who died while protecting their countries. Built 10 years after the end of WWII, it's clear to see that Japan was still reflecting on the devastating effects of the war.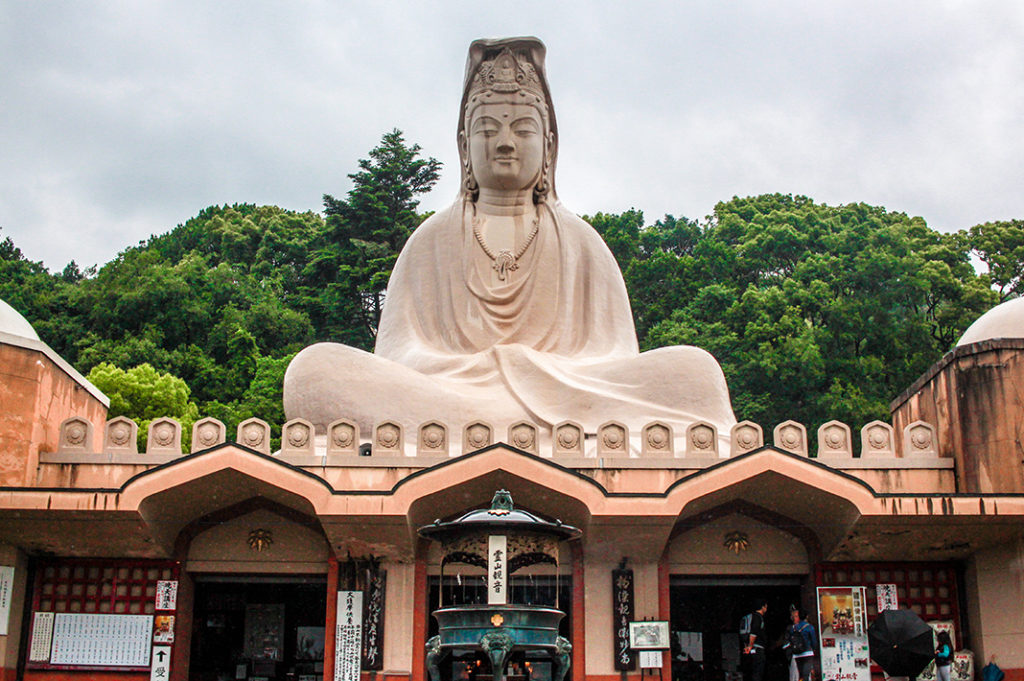 Lastly, the complex also features a small shrine to pray for all the aborted and miscarried foetuses whose souls couldn't make it into this world. And if this weren't enough to prove that Kannon shines with inner beauty, you can actually venture inside her to see for yourself. I didn't know it at the time, but inside the hollow statue lie even more Kannon statues representing the twelve zodiac signs.
Wishing Precious Stone
After placing my incense in the cauldron, I made my way over to the curious looking golden ball. To unlock an ancient underground power, all you have to do is place you right hand on the ball and walk around it three times.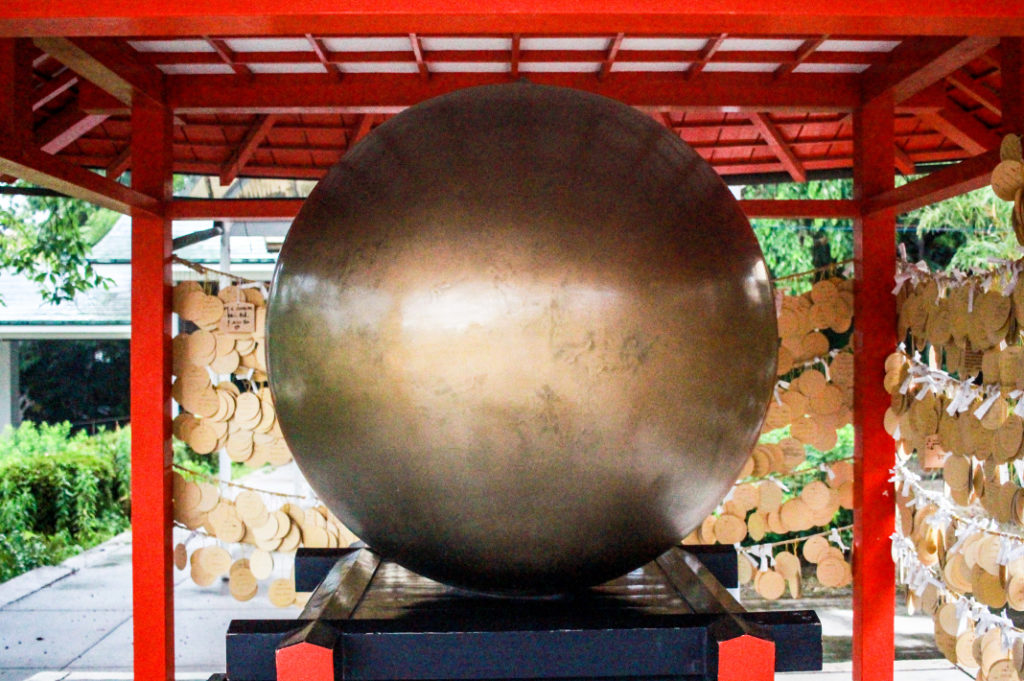 Write your wish on a paper disc, hang it with the others and wait for it to come true.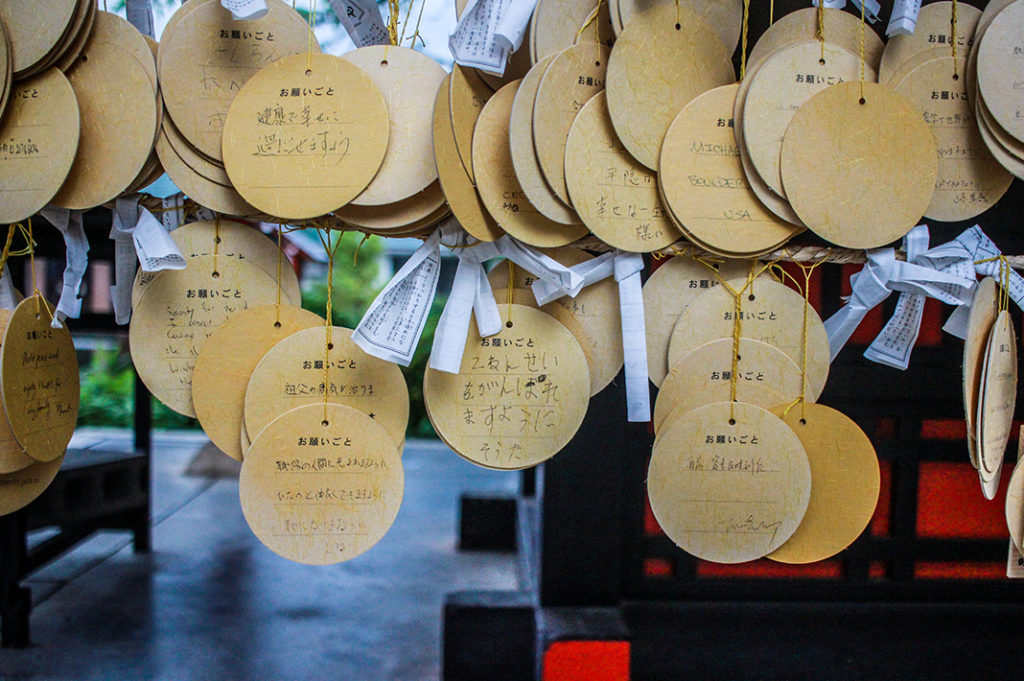 After making my wish, I set out to explore the grounds a little before heading over to Kodaiji Temple. As it was a rainy morning in Kyoto, there were hardly any people around; to my delight, I practically had the whole place to myself. I wandered around, lost in thought as the rain continued to drizzle.
The large clearing was dominated by the geometric Kagamiike Pond. This, coupled with the temple design had an aesthetic I'd not seen much of in Japan. Over beside the entrance were a collection of vintage cars and buses, possibly from around the time of construction. It was truly unlike any temple I'd visited thus far.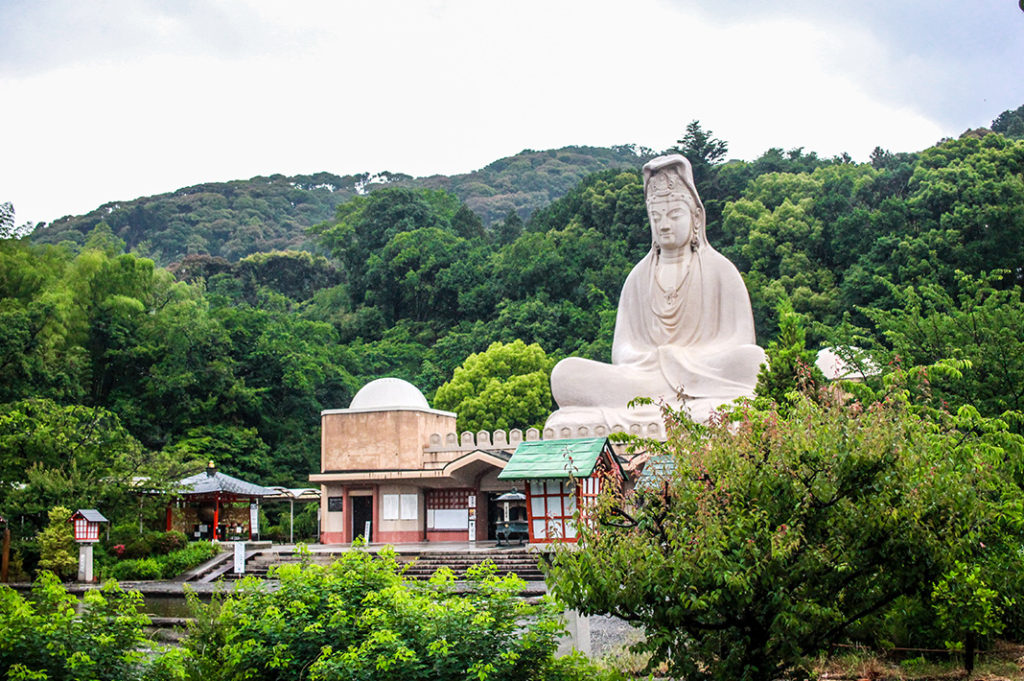 Looking around at the surrounding landscape, I felt like I was in a secluded mountain temple, far from civilisation. In reality I was a short walk from some of the busiest tourist hotspots in Kyoto. But it sure didn't feel like it. Ryozen Kannon, coupled with Kodaiji Temple were a standout on my Higashiyama day. They are a peaceful oasis, with beauty, history and power to rival many of the more well known temples nearby.
Access:
Ryozen Kannon Temple is a fifteen minute walk from Gion-shijo Station (Keihan Railway).
Name: Ryōzen Kannon
Address: 526-2 Shimokawaracho, Higashiyama Ward, Kyoto
Open: 8:40a.m. – 4:20p.m.
URL: http://www.ryozen-kwannon.jp/indexE.html
Post by Japan Journeys.