By day, the neighbourhood of Ebisu hums with shoppers, museum-goers and the lunchtime office worker crowd. Then, as night rolls in, the area around the station takes on a more romantic look. Restaurant lights flicker on one by one, bathing the winding backstreets in their warm, promising glow. However, as the station enters its nightly peak hour, just a few minutes away at the Ebisu Yokocho, the day is just beginning.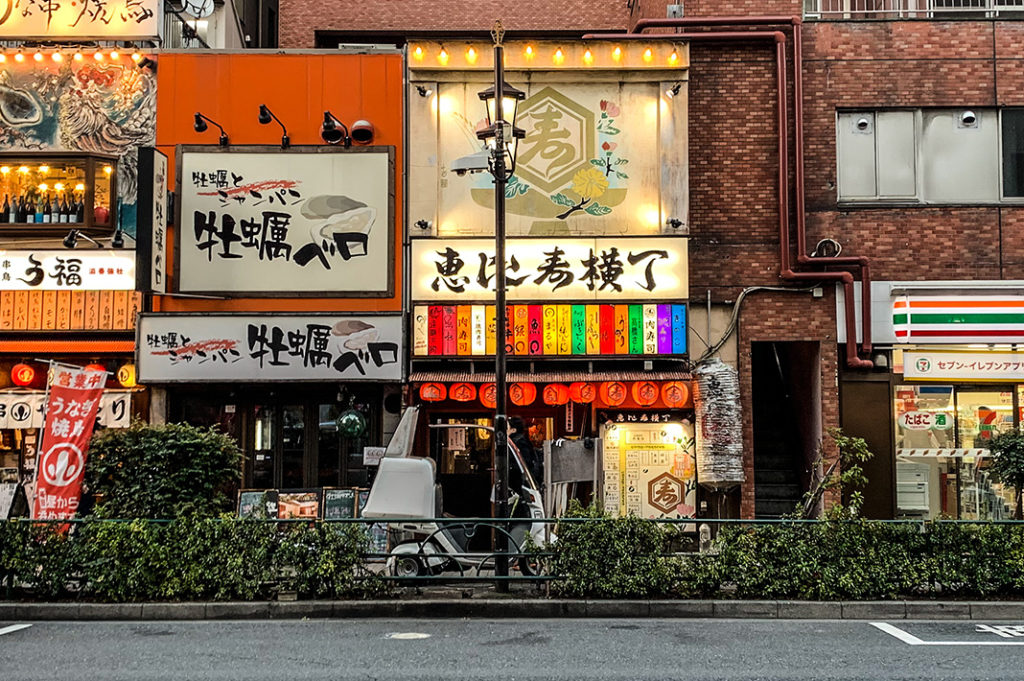 Occupying the ground floor of an old apartment building, Ebisu Yokocho is a collection of around twenty small, open-fronted eateries and bars. Opened in the late 90s, the design echoes the hastily erected entertainment districts of post-war Japan.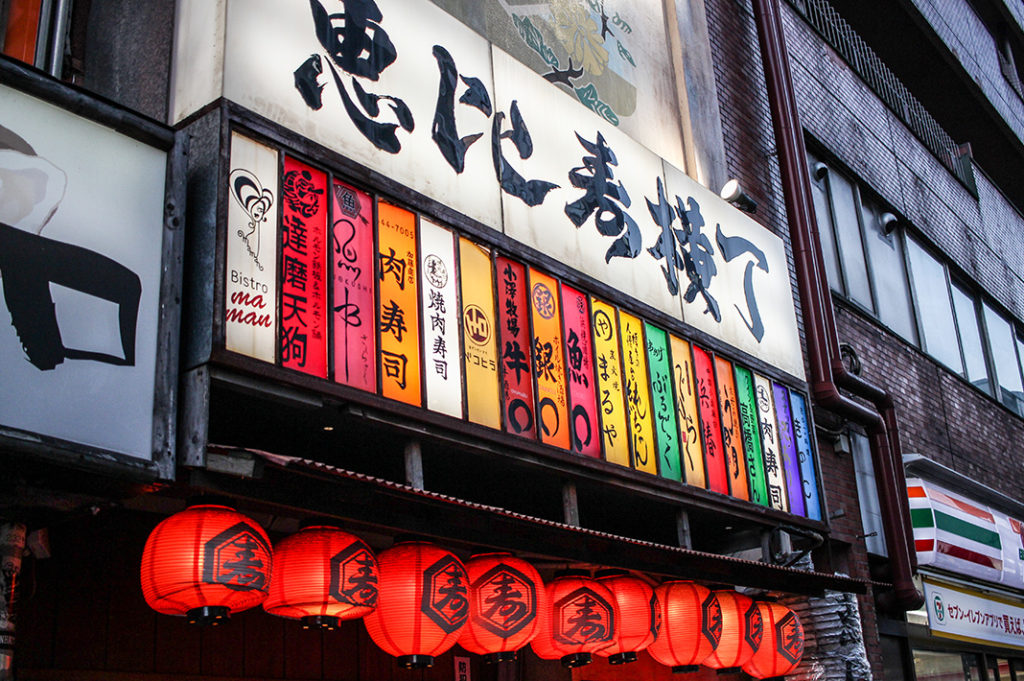 The many cuisines of Ebisu Yokocho 
Outside, you'll see there is some rainbow signage above the entrance. Each coloured panel advertises one of the businesses within; a nearby map shows their location.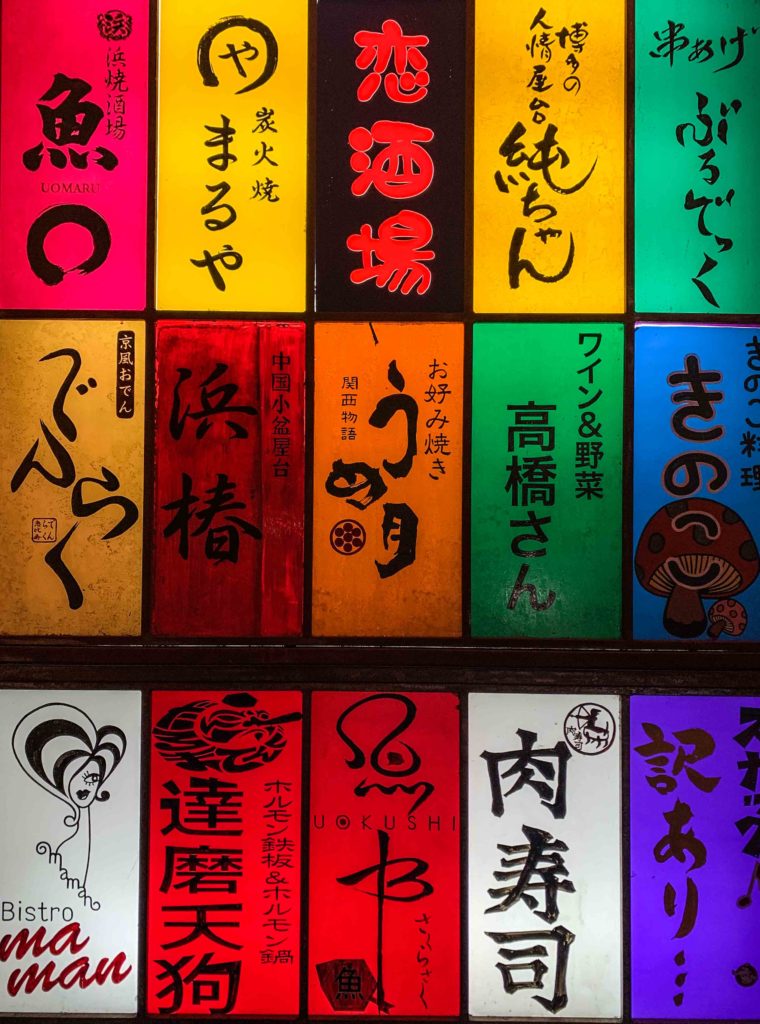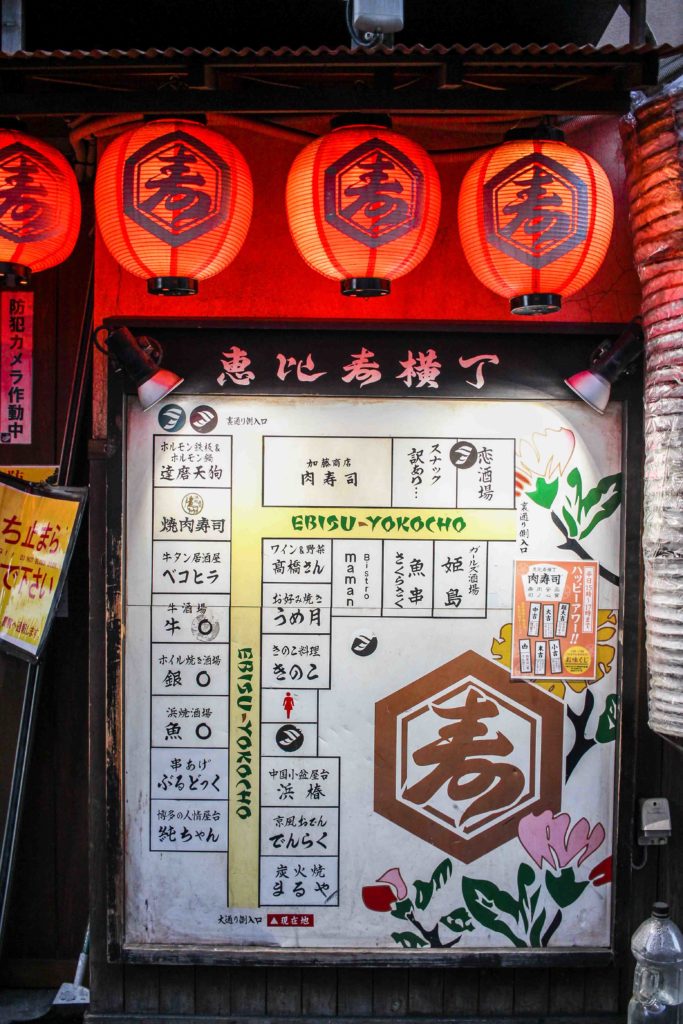 It would be easy to assume that the izakaya within are all slight variations of one another. However, this is not quite the case. Because each stall is privately owned, it's a mishmash of cuisines, aesthetics and aromas. You've got mushroom maniacs, Kinoko, kushiage slingers, Bulldog, oden wizards, Denraku, and the ever popular sizzle specialists, Daruma Tengu. This hot plate and hot pot restaurant is one of the bigger establishments and often has a queue trailing outside.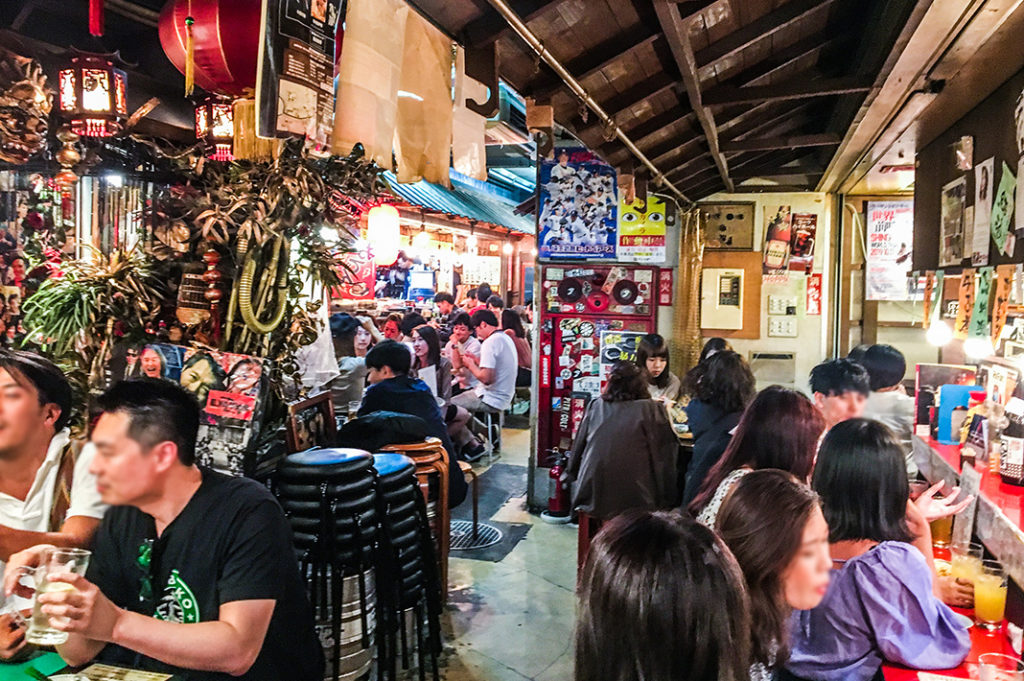 Fun, lively atmosphere 
If you arrive at opening time (around 5:00pm), you won't have a problem finding the restaurant you're looking for. Or a seat, for that matter. But after 9pm or so…all bets are off. Fair warning, this is the kind of place that gets busier as the night goes on.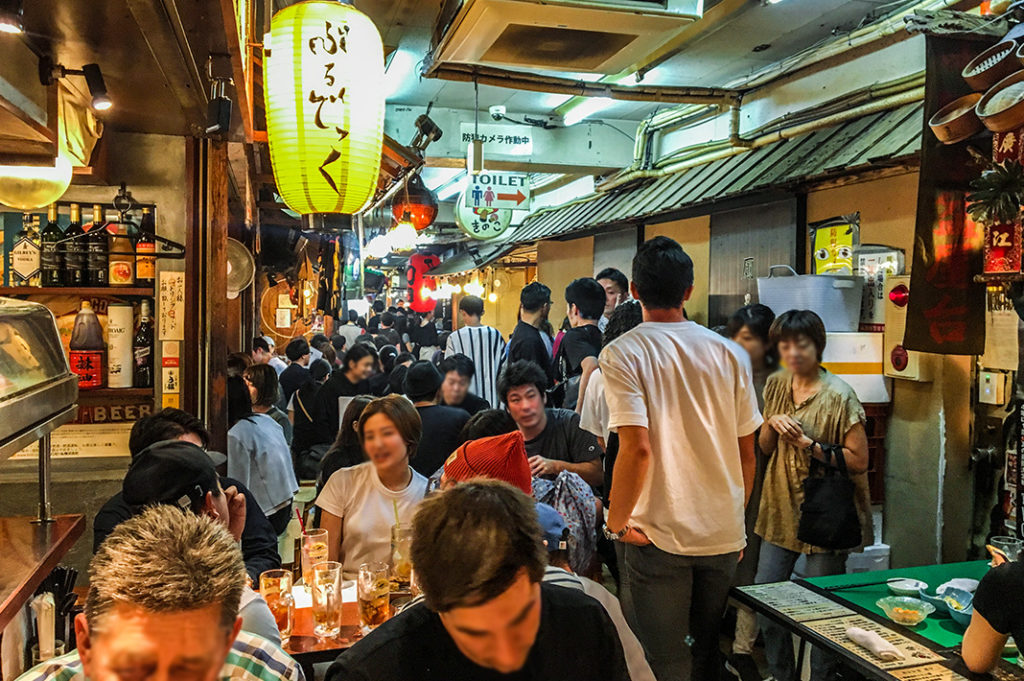 If your first walk through is anything like mine, you'll concentrate all your effort on squeezing through the narrow pathway, battling oncoming traffic and trying not to elbow diners in the face. You'll then emerge on the other end, only to realise that you barely looked for seats, let alone at what food was on offer. On the second try, you'll likely dart for the first empty seats you see and ask questions later. 
It's a pretty local setup, so you may not always get an English menu. If that's the case, you can always ask for an osusume (aww-sue-sue-meh), or recommendation.  
Up close and personal 
Space is a luxury in Ebisu Yokocho. The eateries are small, so expect some shoulder to shoulder contact. To make room for more diners in the restaurants, there are shared toilets off the hallway. 
And once the drinks are flowing, don't be surprised if people become relaxed enough to strike up a conversation with you. There's nothing like a 'kanpai' with new friends.
If you're a real night owl, you'll be pleased to know that Ebisu Yokocho is open until 5am! This makes it the perfect place to hang out until the first train.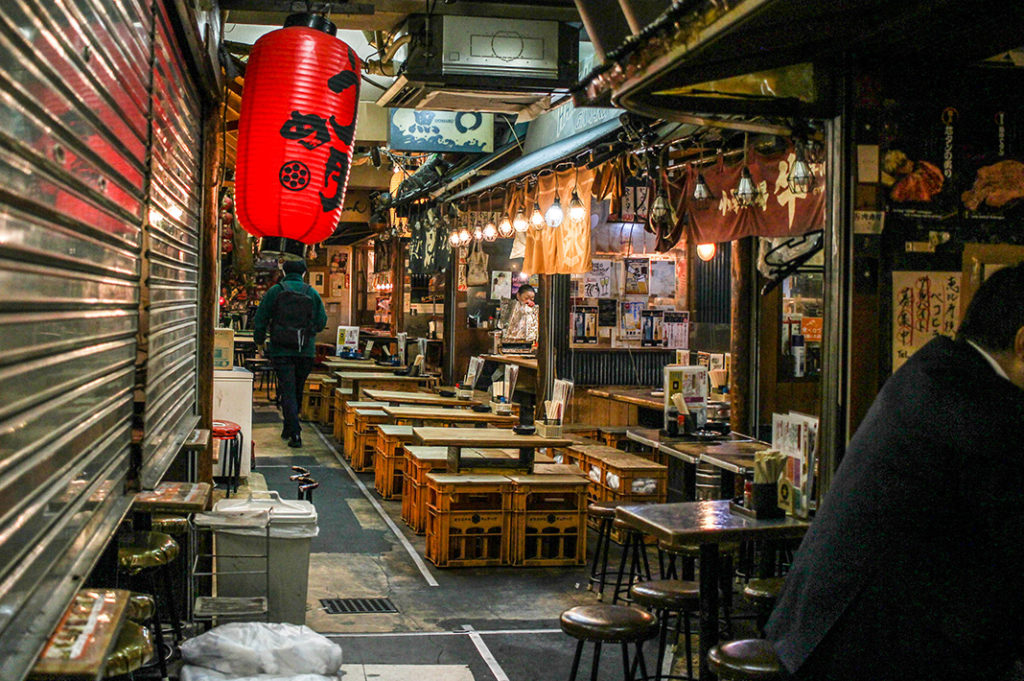 Even though Ebisu Yokocho contains a variety of different cuisines, there exists a shared passion for food, drinks and good times. In fact, this variety is all the more reason to re-visit this cheap and cheerful night spot time and time again.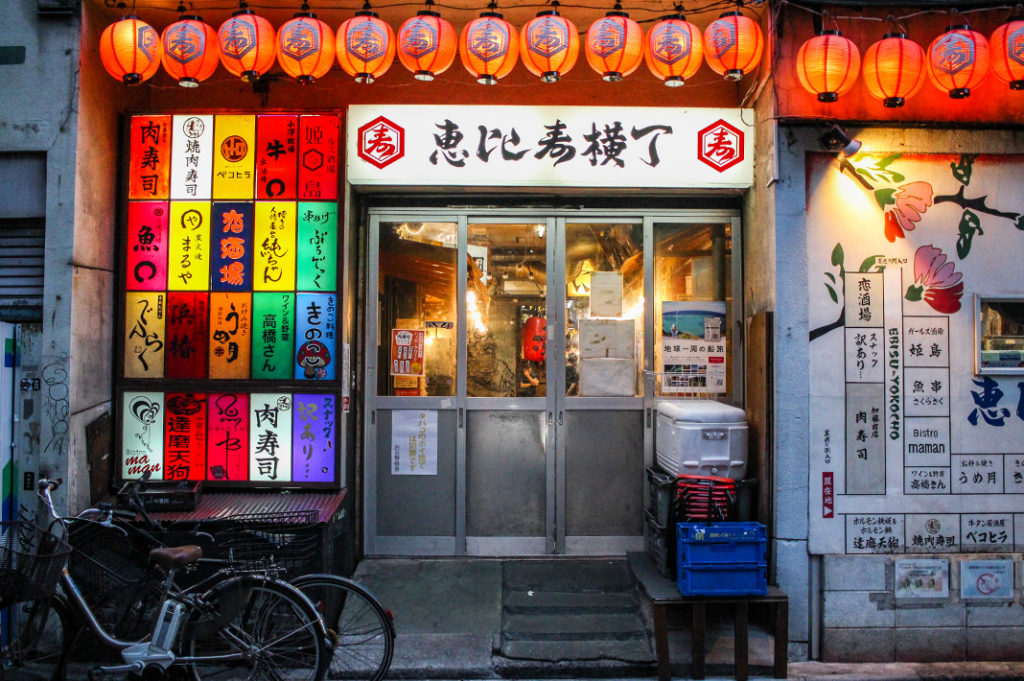 Getting to Ebisu Yokocho
2-minute walk from the East Exit of the Ebisu Station. Head right under the tracks.
Ebisu Yokocho
Address: 1 Chome-7-4 Ebisu, Shibuya City, Tokyo 150-0013 (link)
Open: 5:00pm—5:00am (stalls hold different hours)
URL: http://www.ebisu-yokocho.com/
Post by Japan Journeys.