With gorgeous scenery and impressive temples, shrines and gardens, it's no wonder Arashiyama draws the tourist crowds it does. Just a short bus or train ride from central Kyoto, you'll find yourself in one of the most bustling day trip spots around. And it's busy for good reason; as you can see from our other articles, there is plenty to see and do in Arashiyama. But if you're all templed out or looking for some gentle retail therapy, you're in luck; Arashiyama has quite the shopping scene, too. Here are a few places that caught our eye…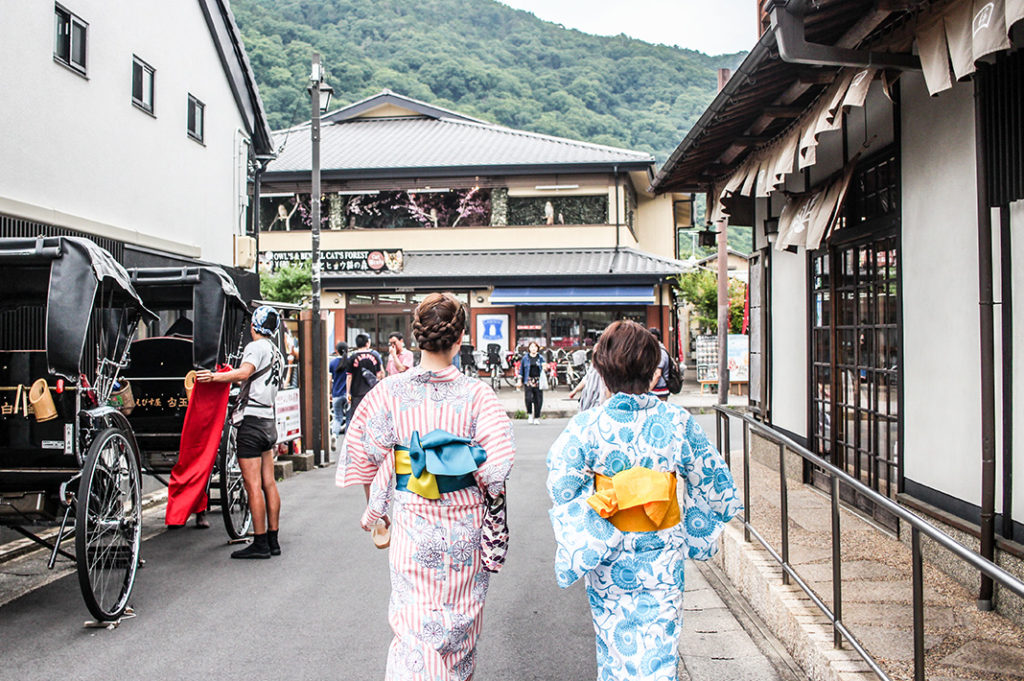 Shop in style with a rented kimono
The first decision is: to kimono or not to kimono? Arashiyama is the kind of place where you could get dressed up and not feel too out of place strolling around. If you want a traditional look to match the surrounding aesthetic, head to one of the rental stores around the station area.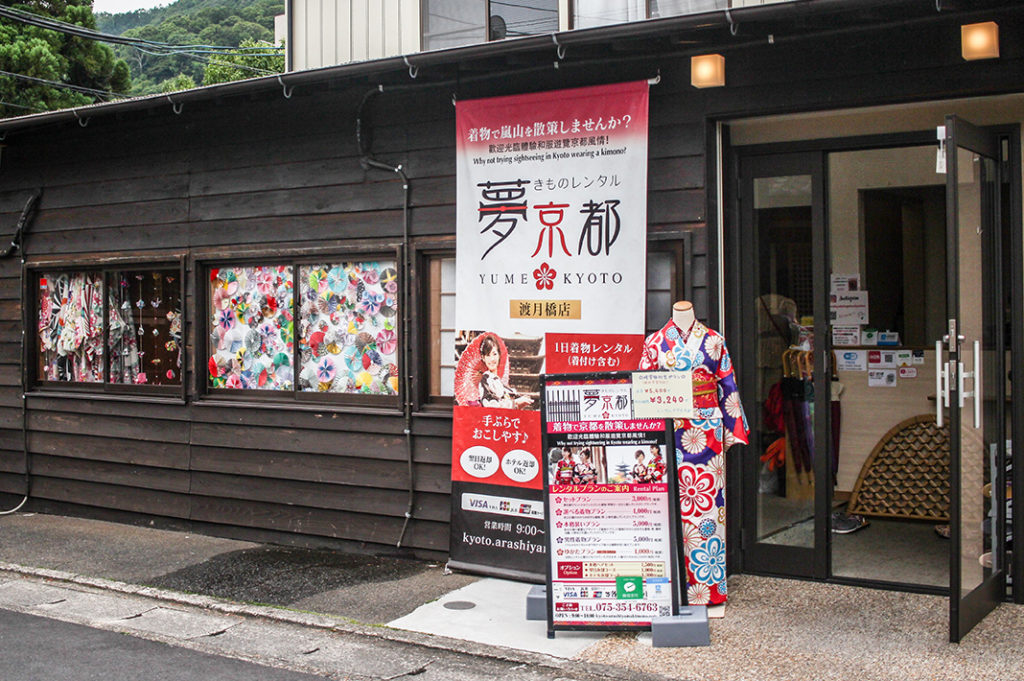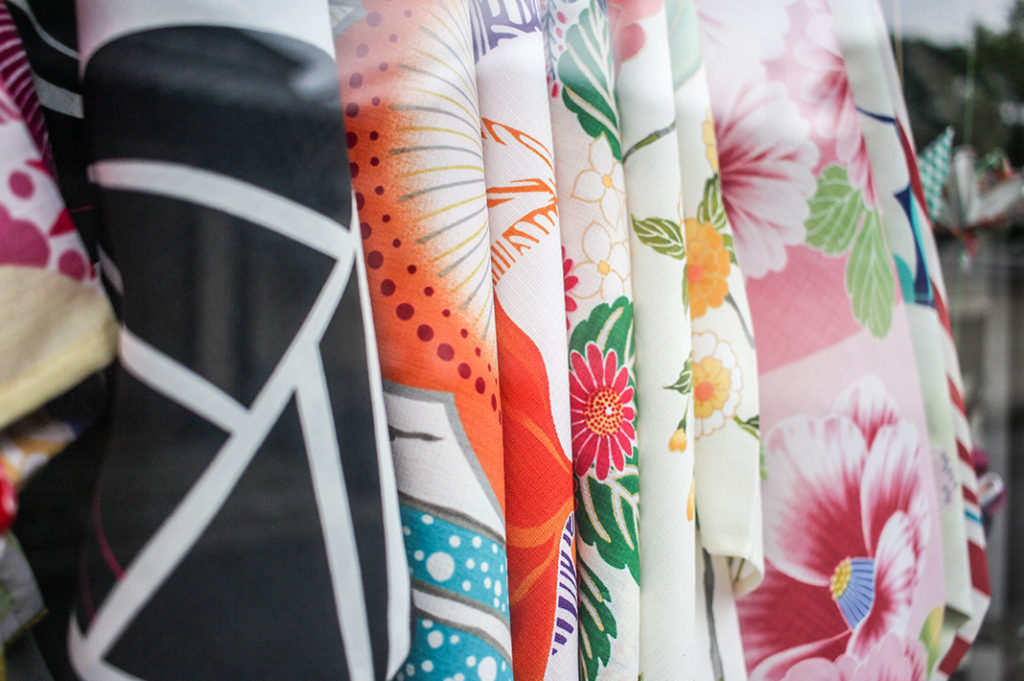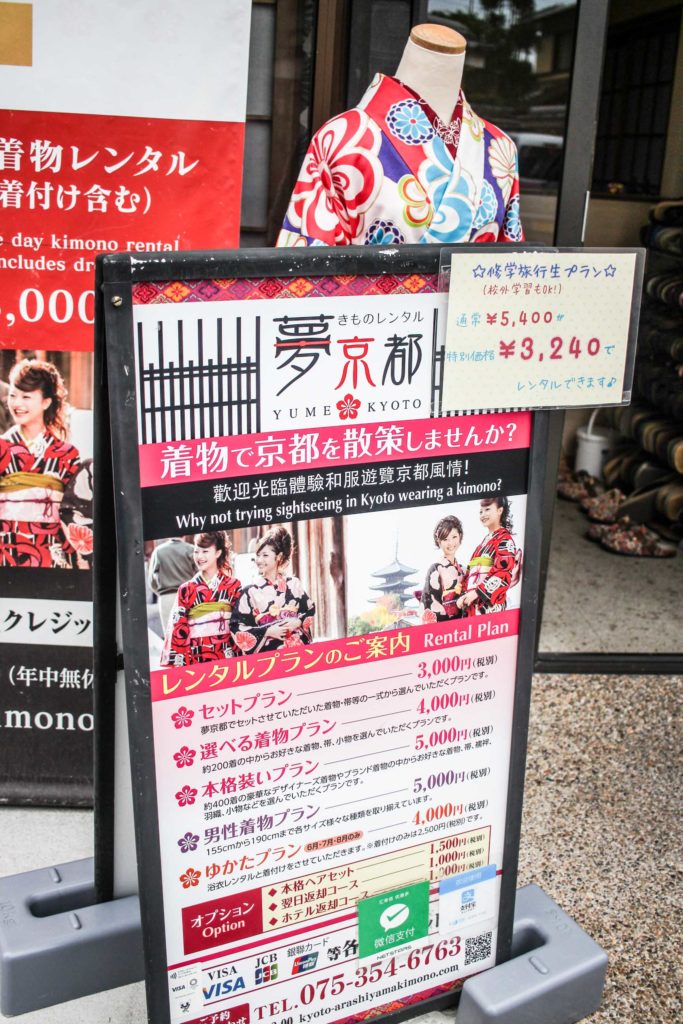 Shop for Bamboo Products
Probably the strongest association most people have with Arashiyama is bamboo. The nearby grove adorns many travel guides and makes for a wonderful photo backdrop—if you can find a break in the foot traffic, that is. Bamboo has also historically been a staple in Japanese food and craft. Head to Ishikawa Bamboo Shop to see what neat little natural souvenirs you can pick up.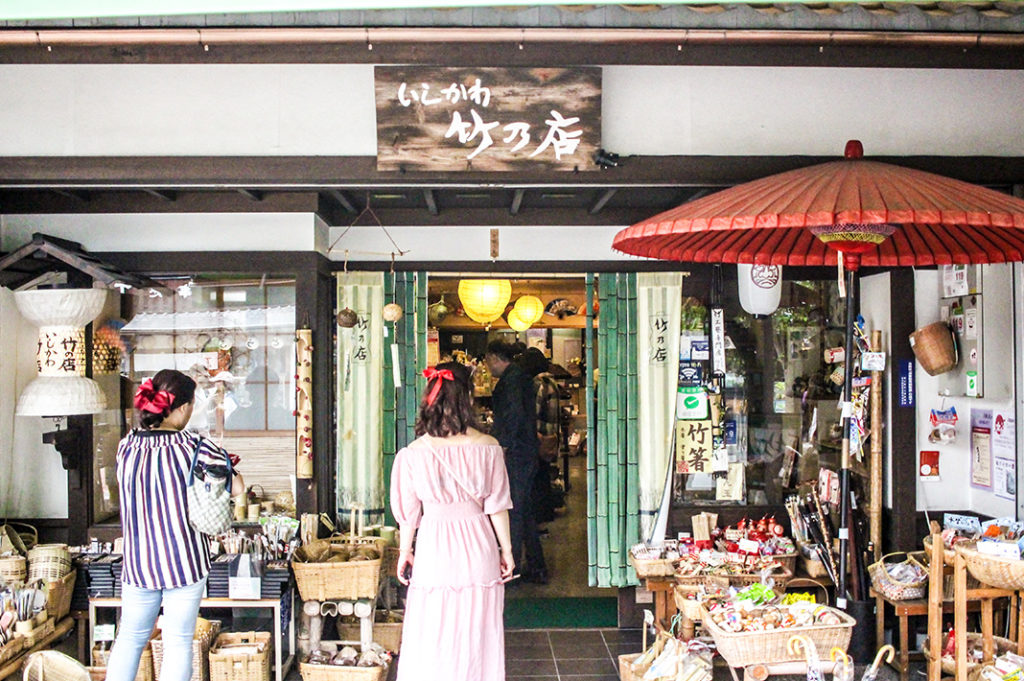 You'll find everything from umbrellas to kitchenware to toys.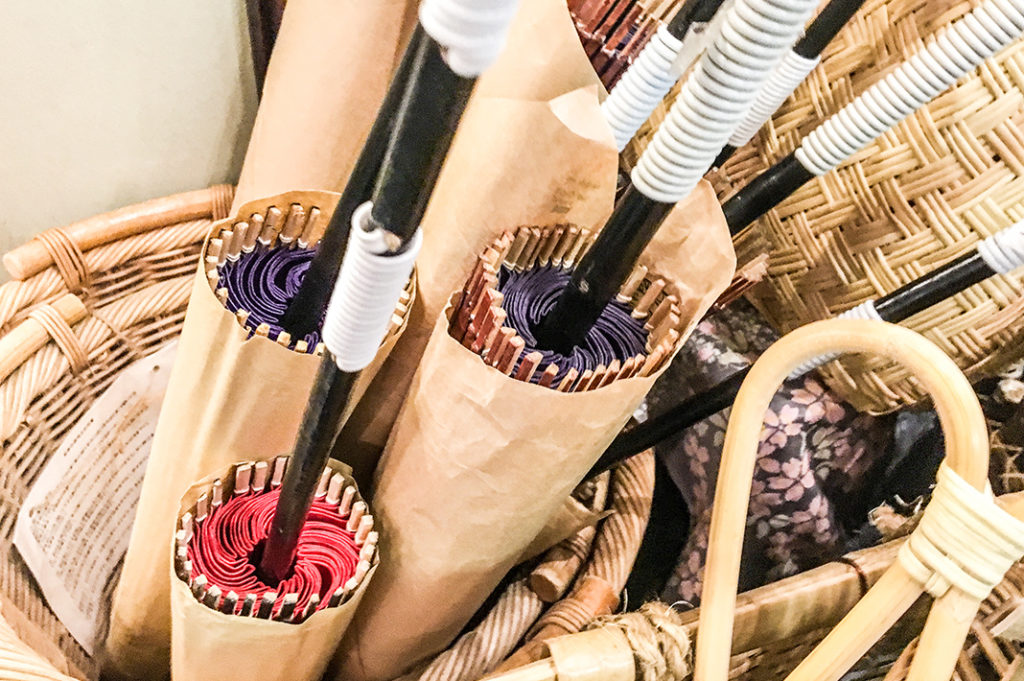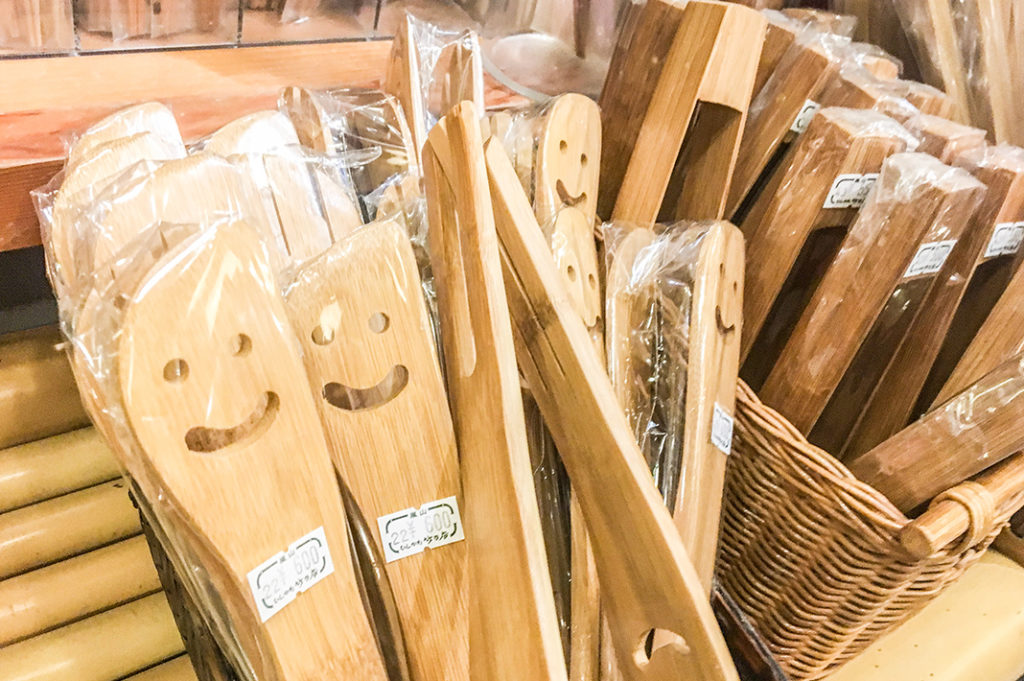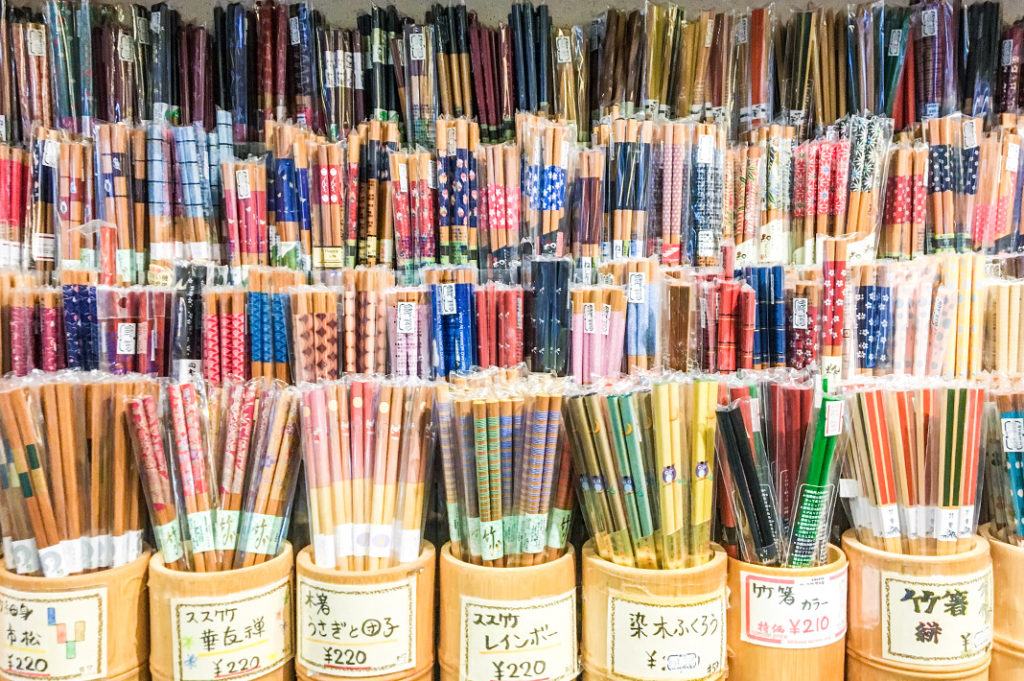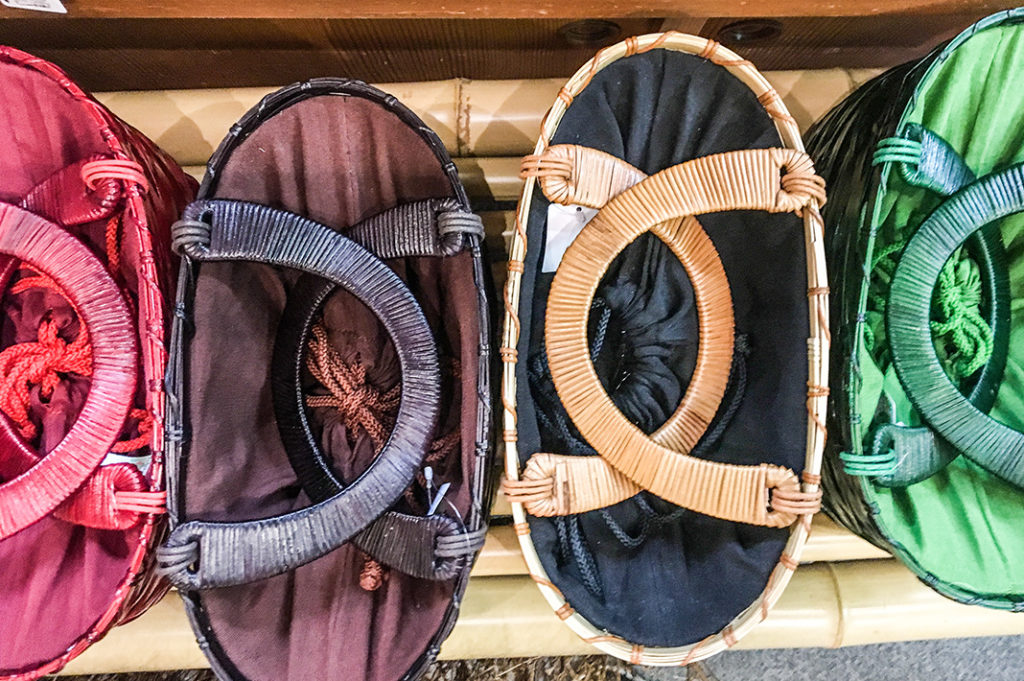 Arashiyama Rilakkuma Tea House
If you haven't had the pleasure of finding it out for yourself, let me tell you that Japan knows how rock to a theme. Themed stores, themed cafes and, in this case, both! The tea house is named after Rilakkuma—a popular cartoon bear found on stationery and other items across Japan. His name is a portmanteau of the words for relax (rirakusu) and bear (kuma) and he has a proclivity for chilling the day away. Which is exactly what you can do here.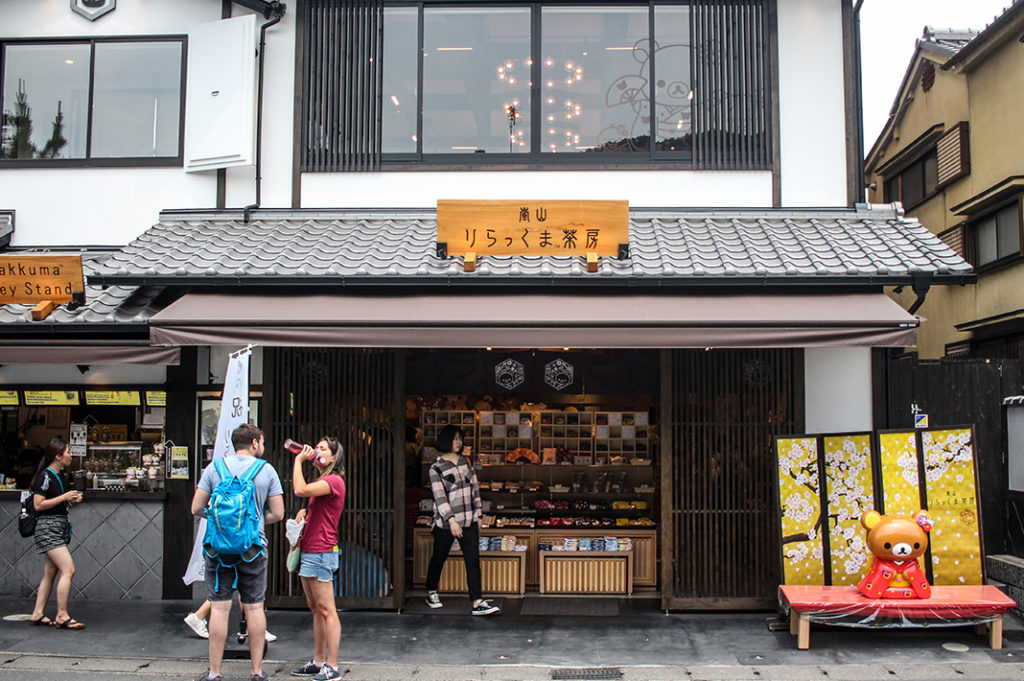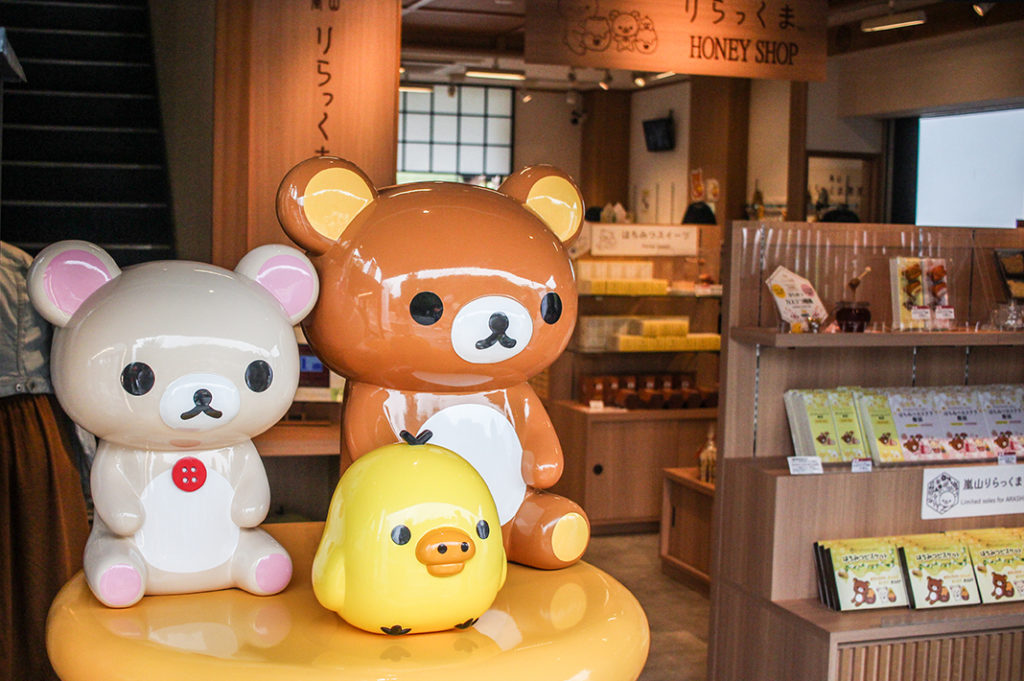 Rilakkuma is a bear, therefore he loves honey. You can pick up a number of flavoured honeys and honey flavoured treats on the ground level, as well as adorable ice-creams modelled on his likeness.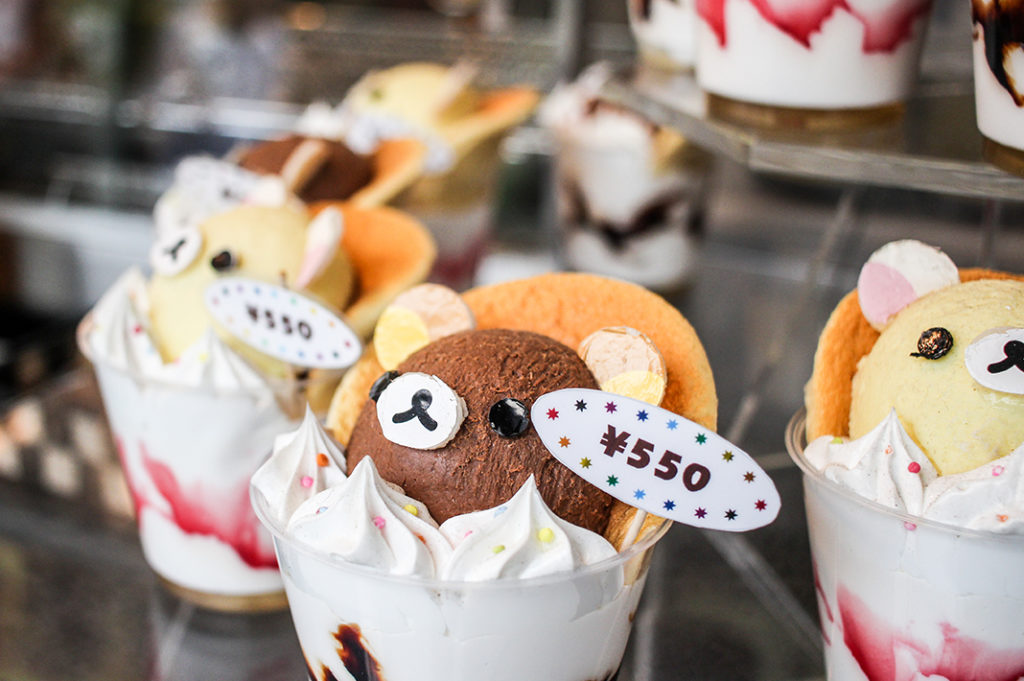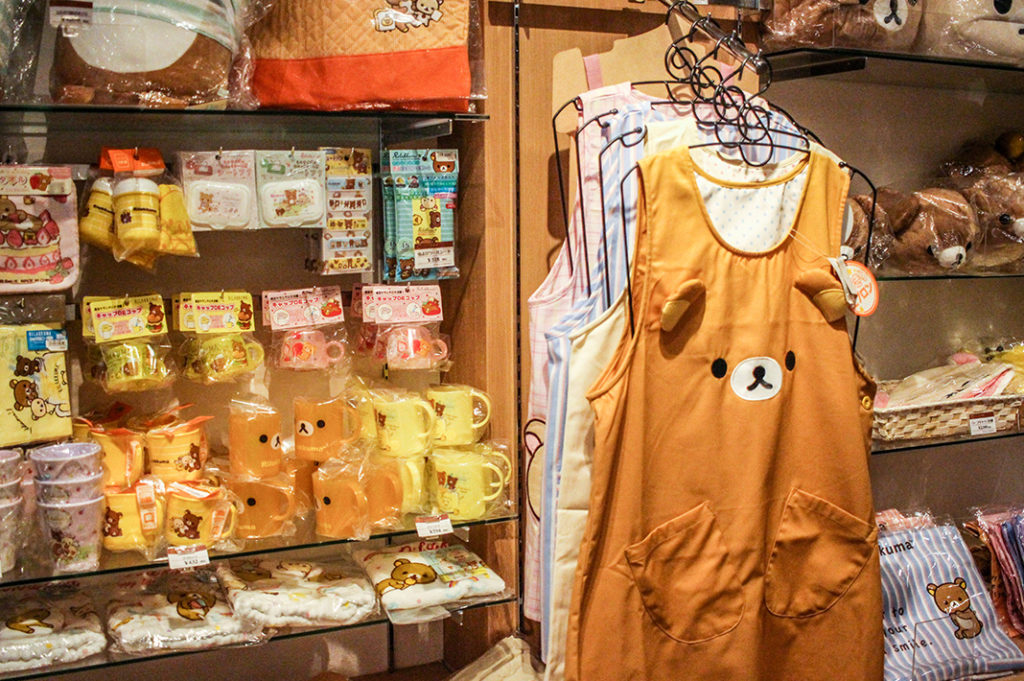 Upstairs is the Rilakkuma cafe. Due to popularity, there is a numbered waiting system at the bottom of the stairs.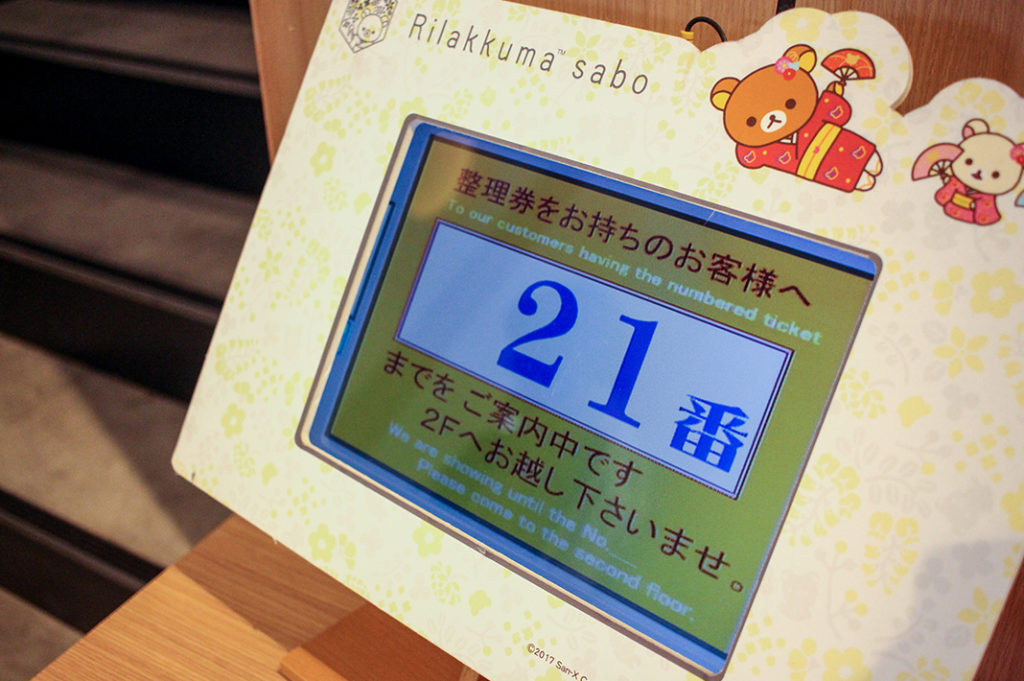 You can also get a sneak peek at the menu which features all kinds of kawaii sweet and savoury treats.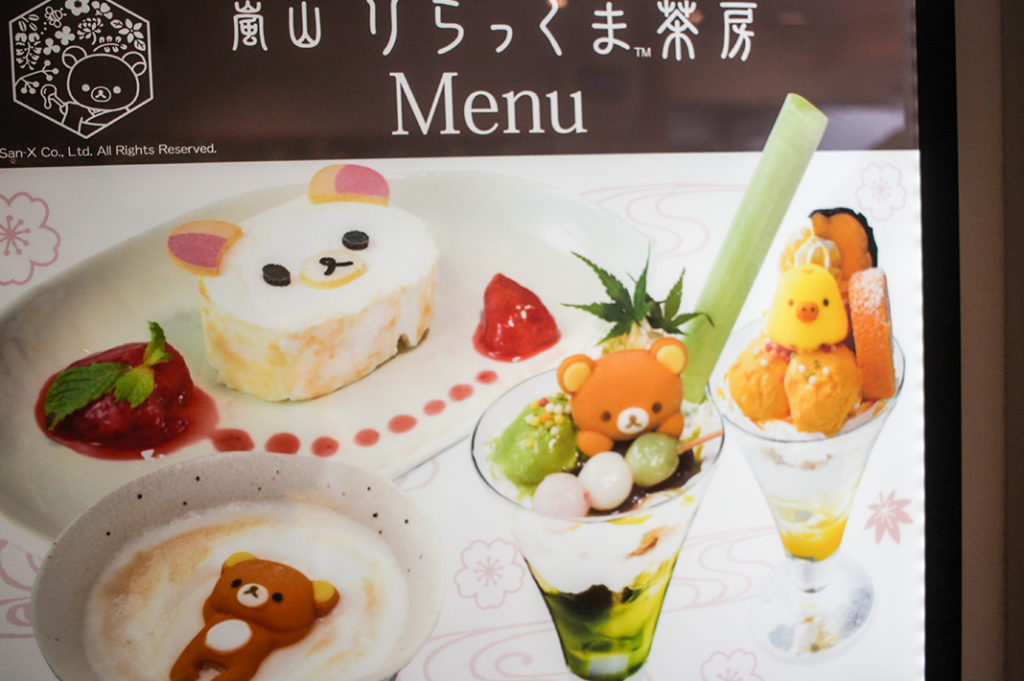 Shop for a Traditional Fan
Arashiyama has a wonderful old fashioned aesthetic, so it's no surprise there are a number of places to pick up a fan. If you visit in summer and experience just how muggy Kyoto can get, you'll be queueing up for one of these beautiful and practical souvenirs.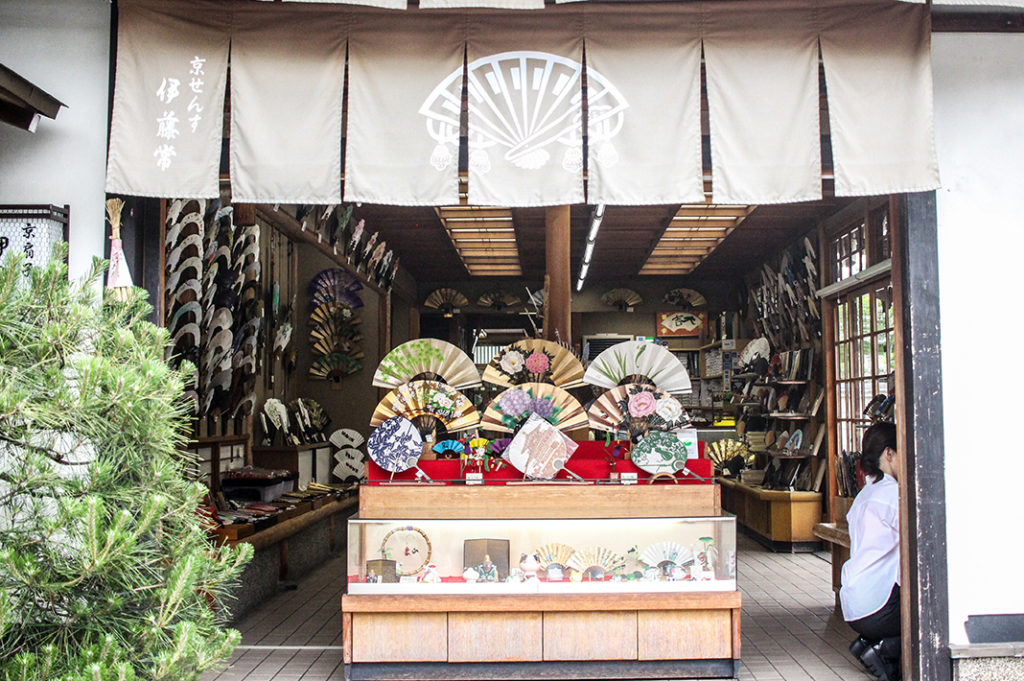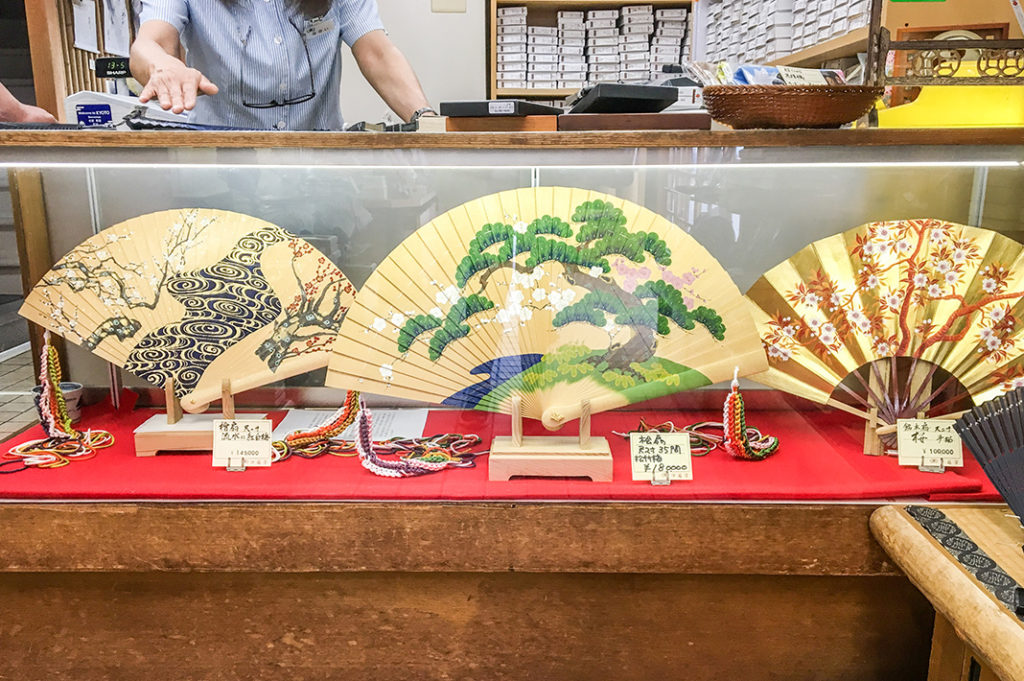 Browse the selection of designs and materials until you find your spirit fan.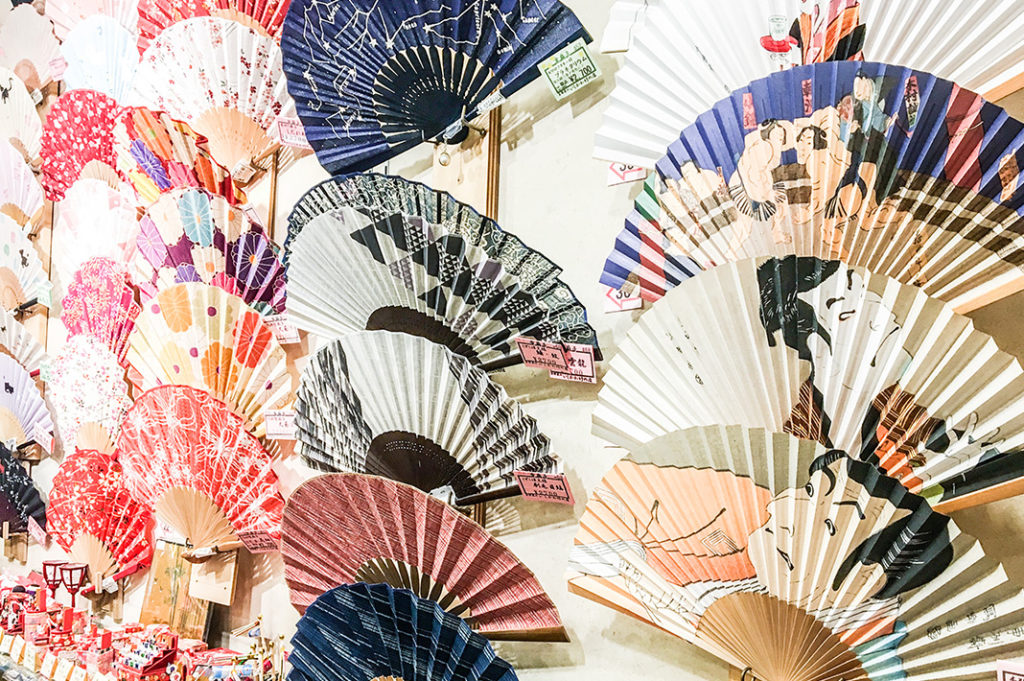 Get Crafty at the Chiri-Men Craft Museum
The Chiri-Men Craft Museum is located inside a converted Japanese style house near Arashiyama station. Head inside and you'll find an overwhelming number of items made using the traditional chirimen textile. Developed in the Edo period, the fabric (usually silk) is woven to appear crinkled or creped, before being made into other items.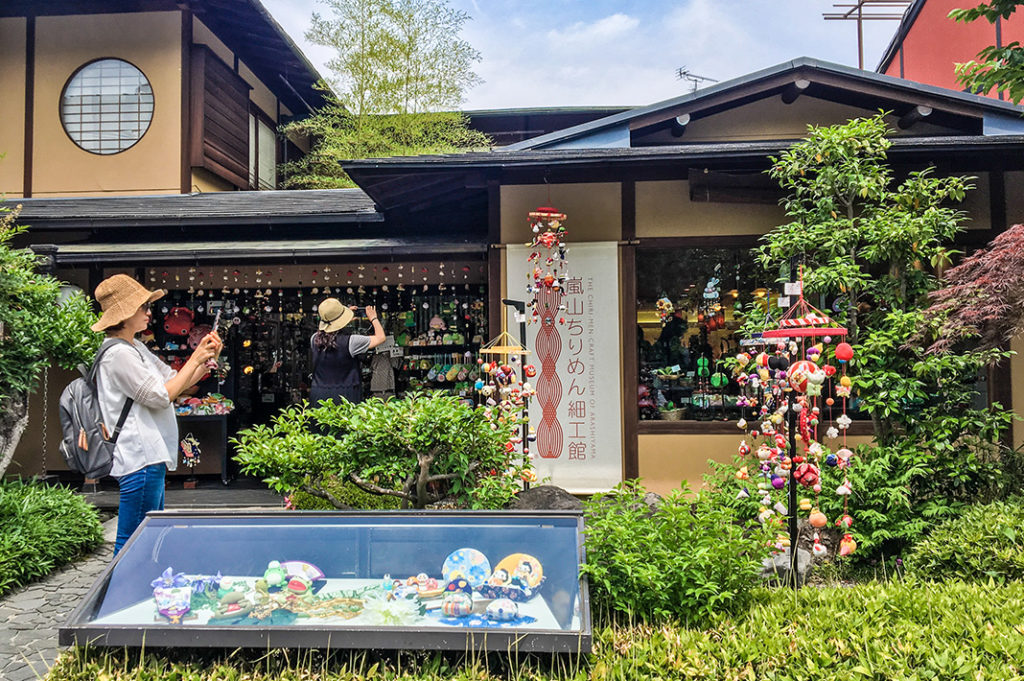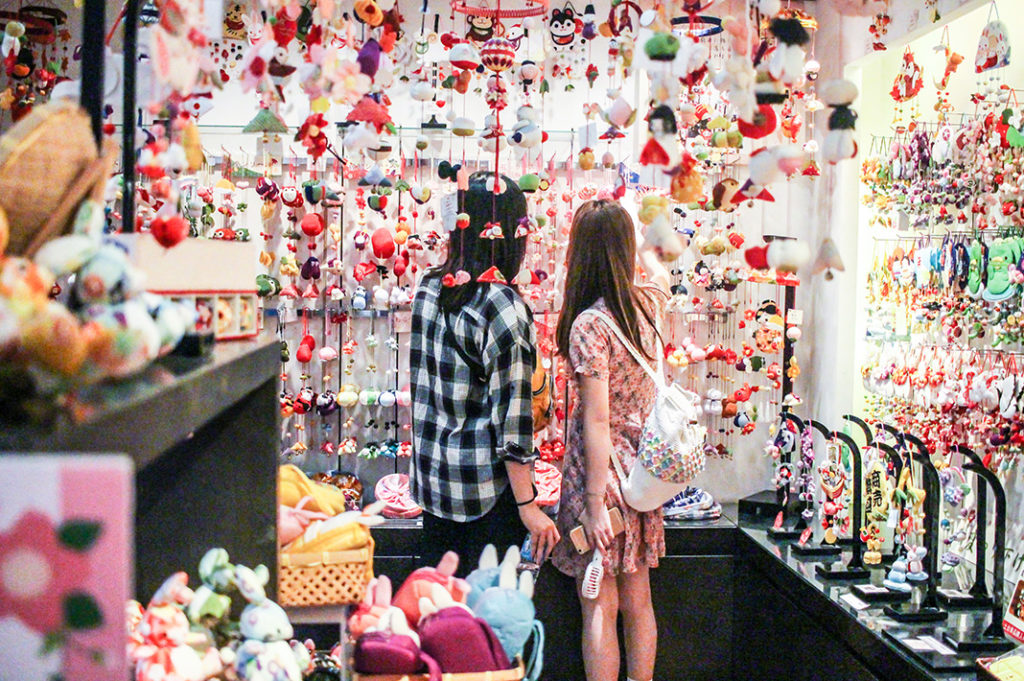 You'll find purses, bags, scarves, toys and even tiny chirimen sushi. These are lightweight and traditional, making them a great souvenir.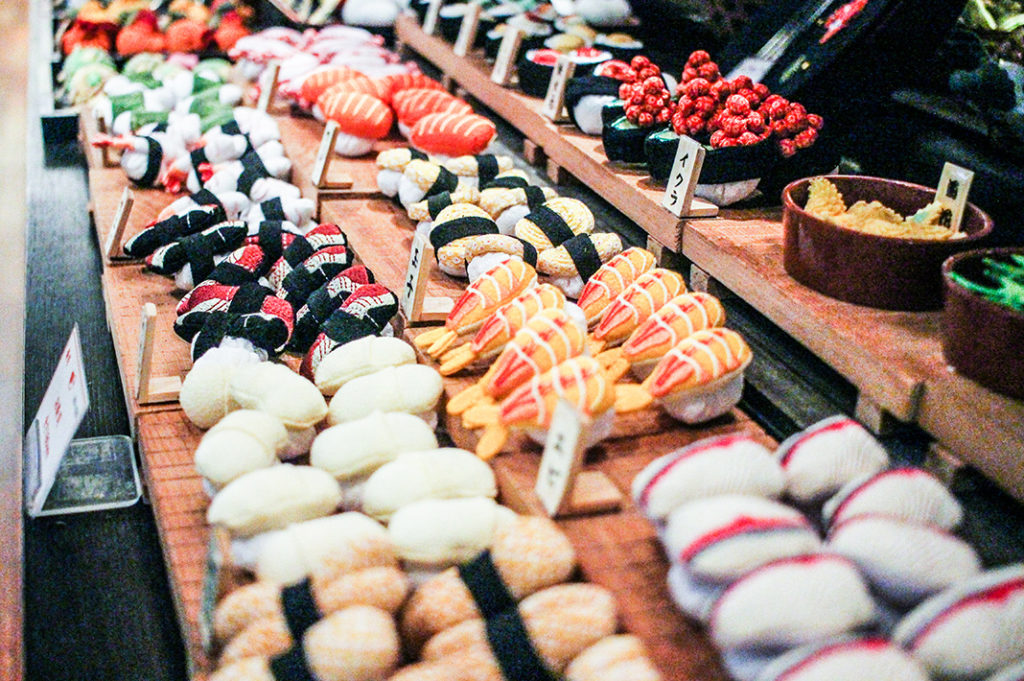 Miffy Sakura Bakery
Remember what we said about themed places in Japan? We weren't lying; Miffy Sakura Bakery is proof that one themed cafe in a small town is not enough. This one centers around the character Miffy, created in the 1950s by Dutch artist Dick Bruna.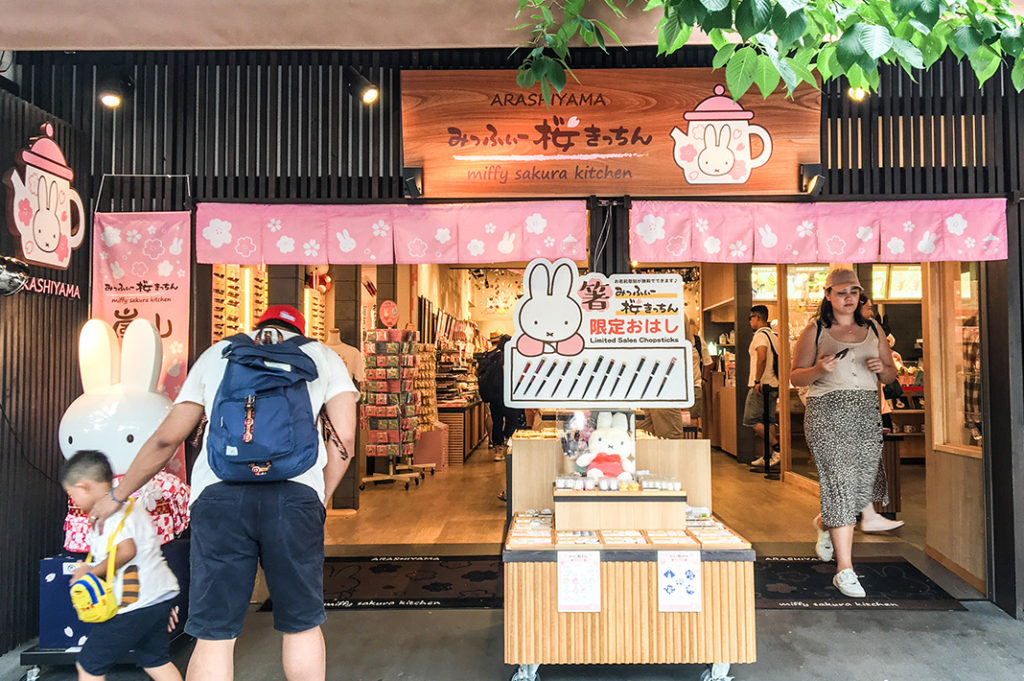 Fans of the little rabbit can shop from a wide variety of Miffy branded homewares, many of which are pink and related to sakura cherry blossoms.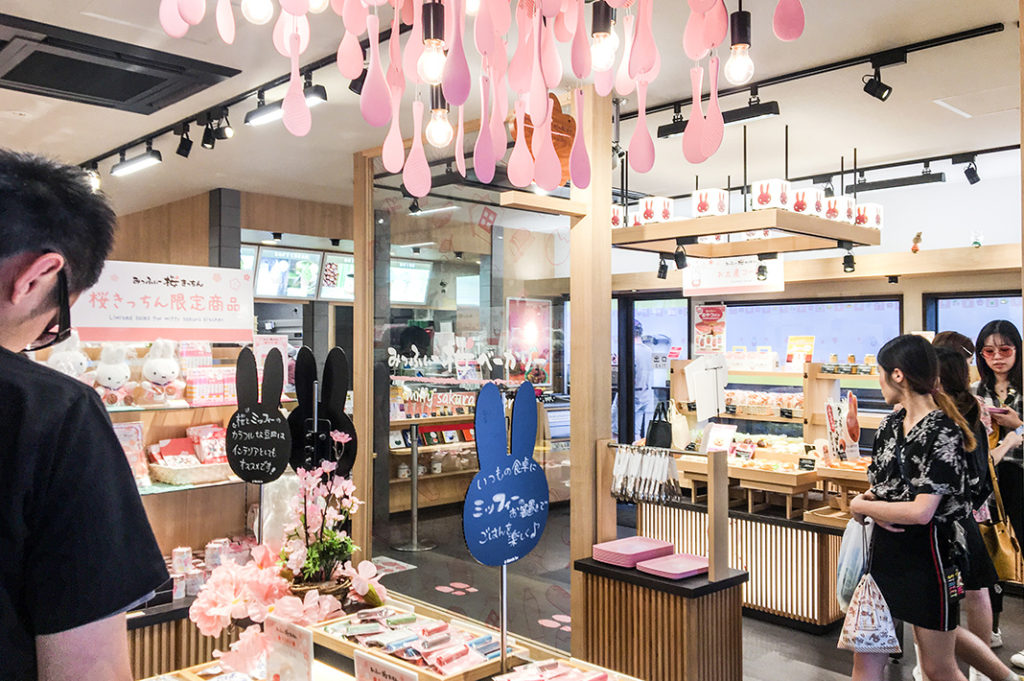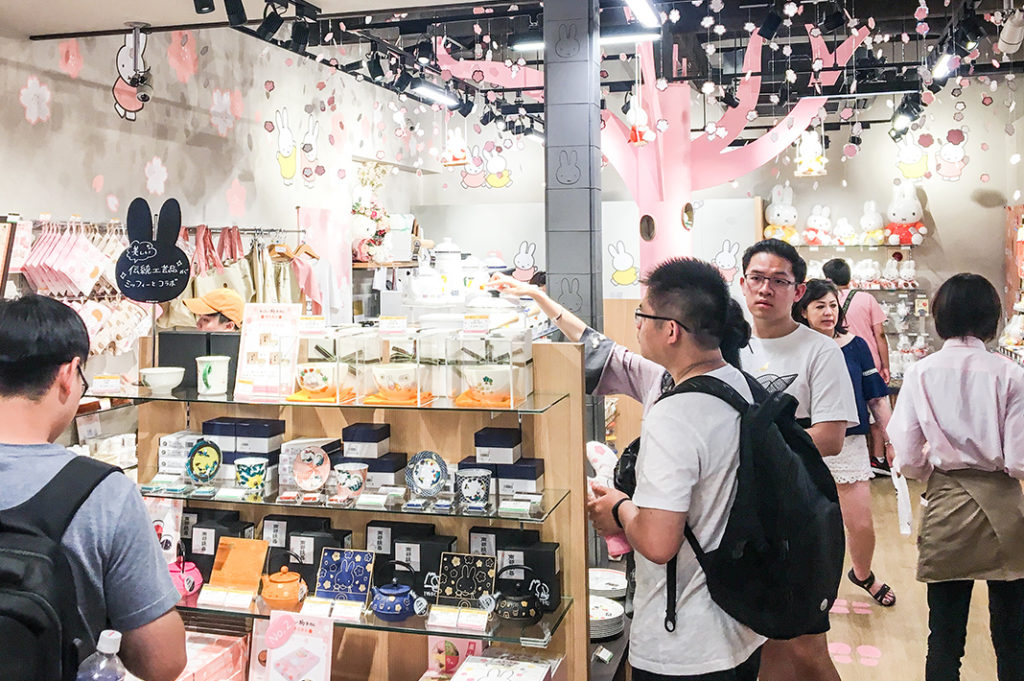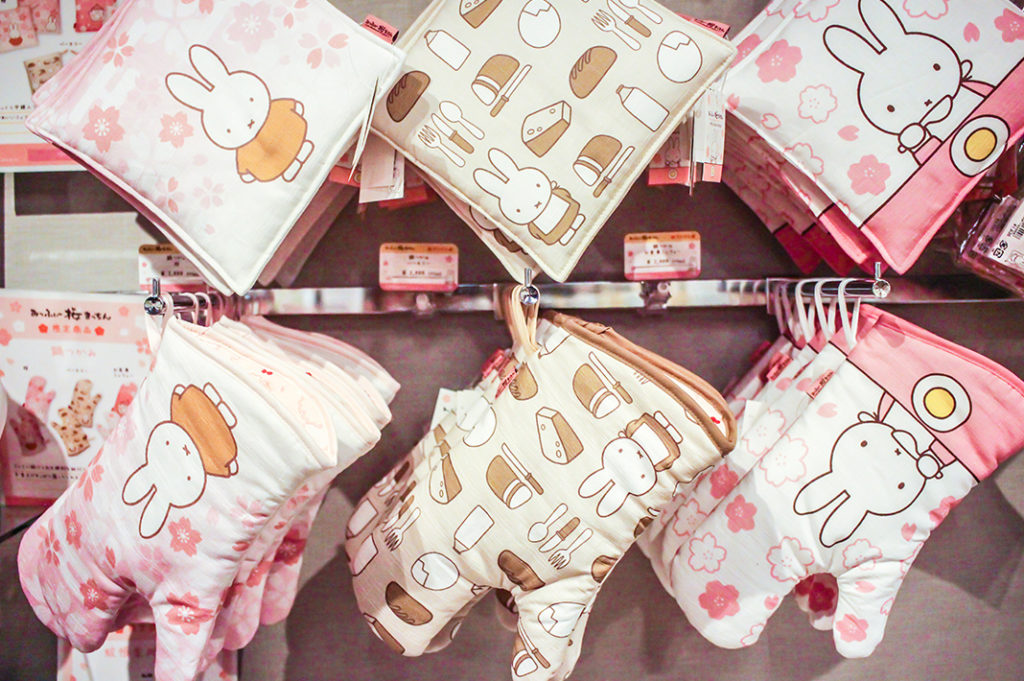 There is also an on-site bakery where you can buy Miffy shaped fresh bread to eat or take home as a souvenir. If bread's not your thing, they also serve ice-cream, cookies and coffee.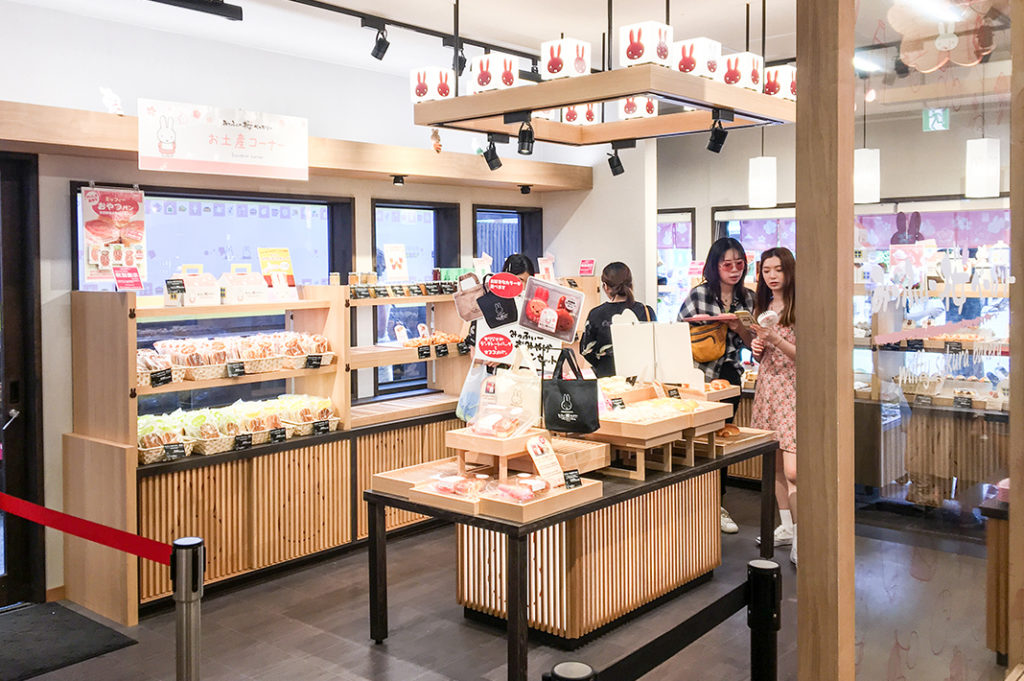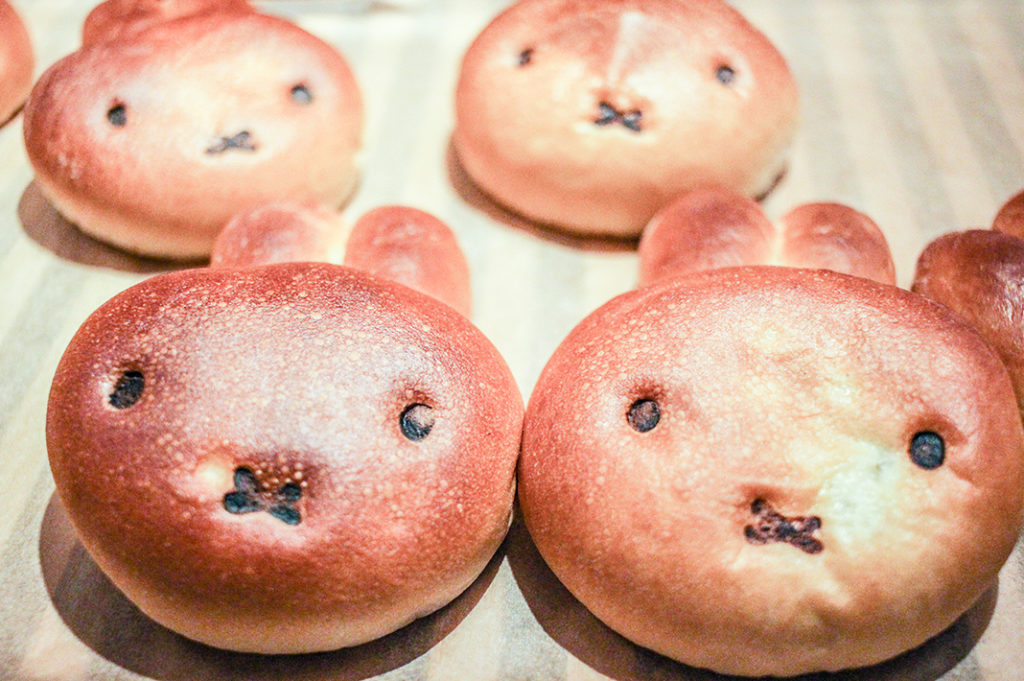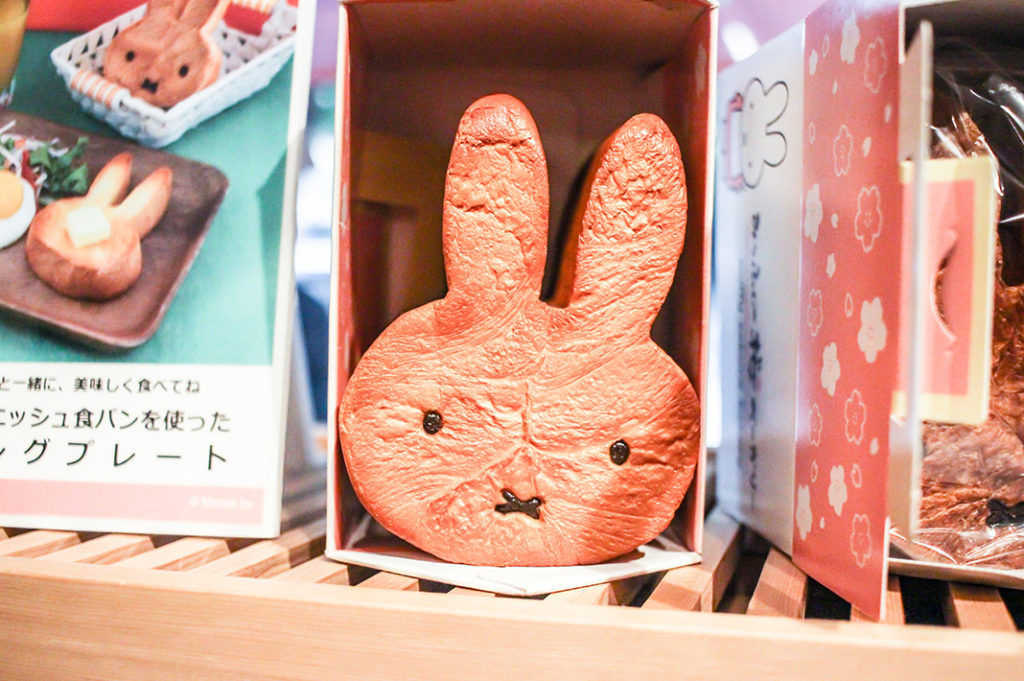 Eye Candy Candy
Back to traditional things, Arashiyama Marun are all about old fashioned hard candies. They're bright and cute, making them as pleasing to the eye as they are to the tastebuds.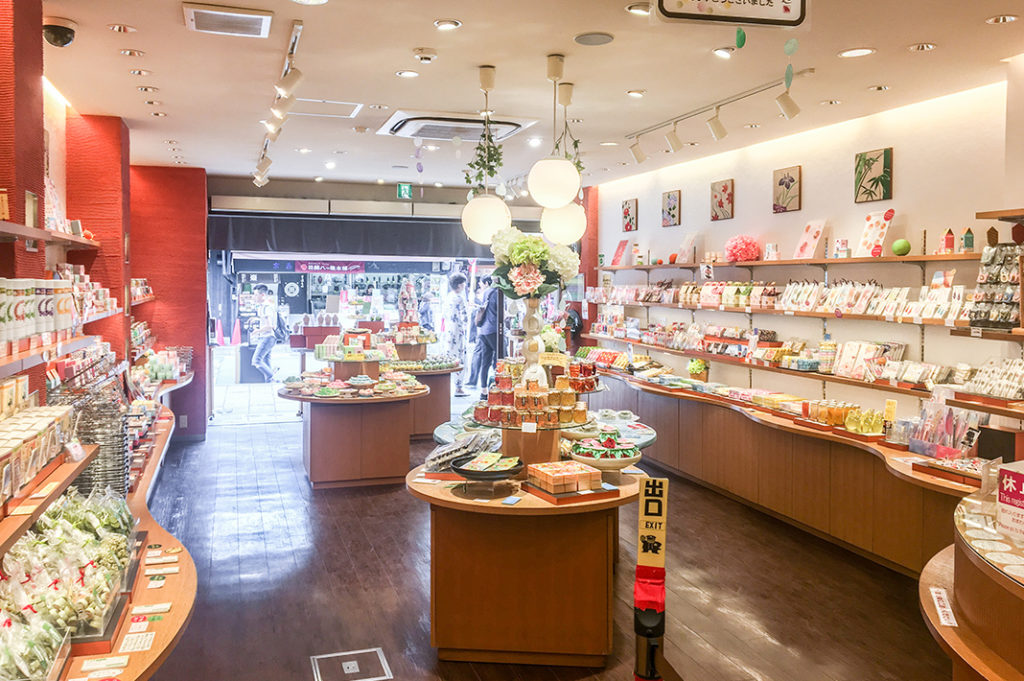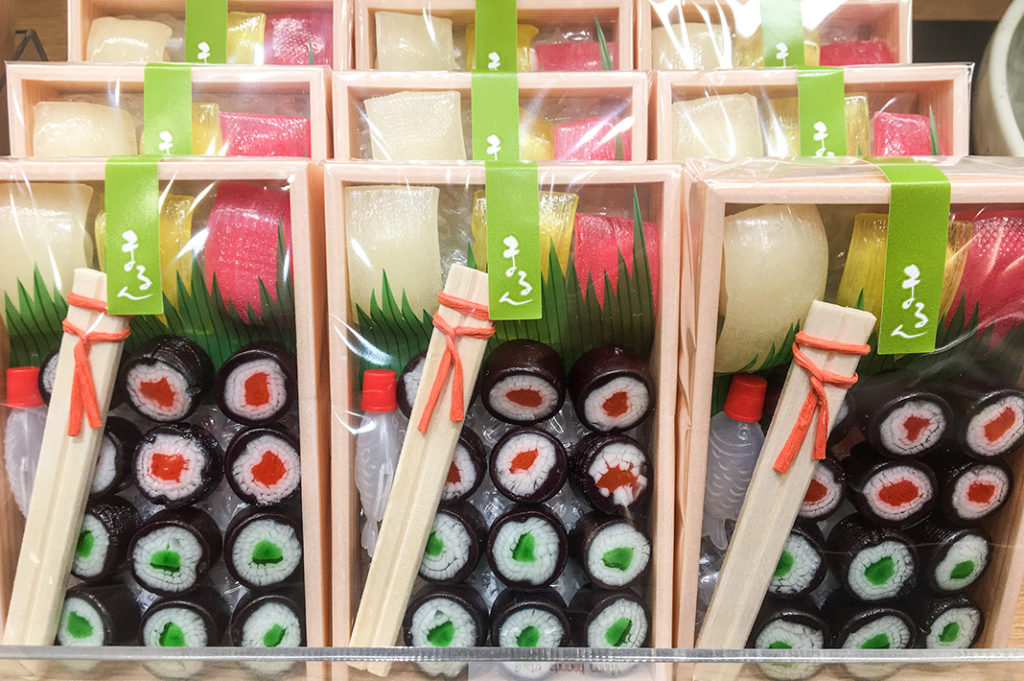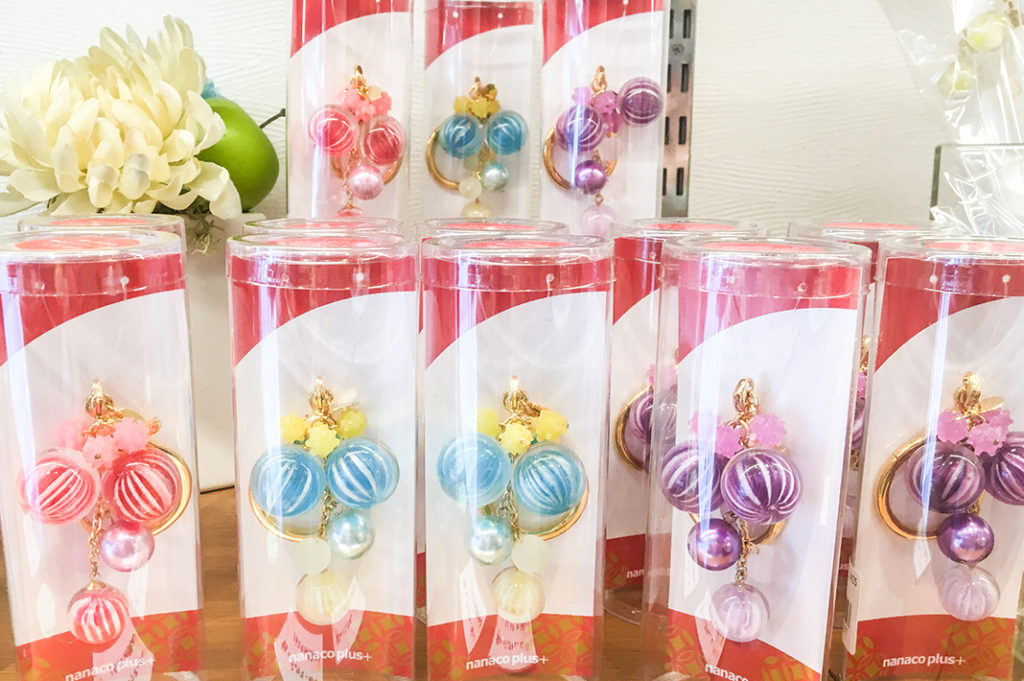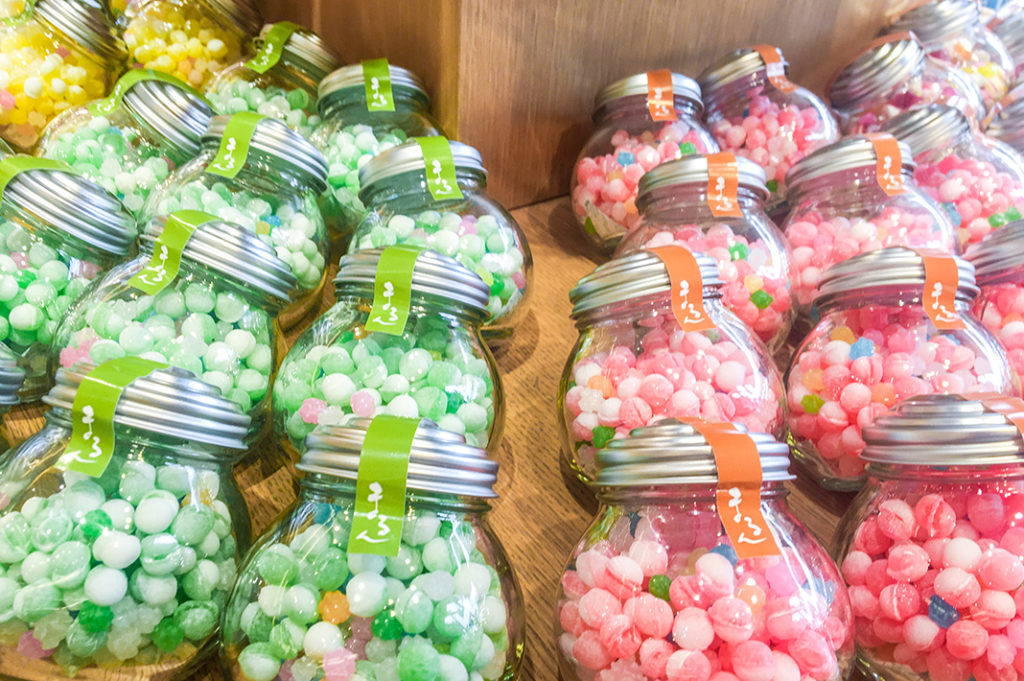 That's not even the half of what's on offer when shopping in Arashiyama. There are stores for green tea, traditional sweets, clothing and so much more.
If, like me, you need a post-shopping wind-down, there are plenty of places to do that, too. Why not try this foot massage place just off the main road, or the public foot bath at the station.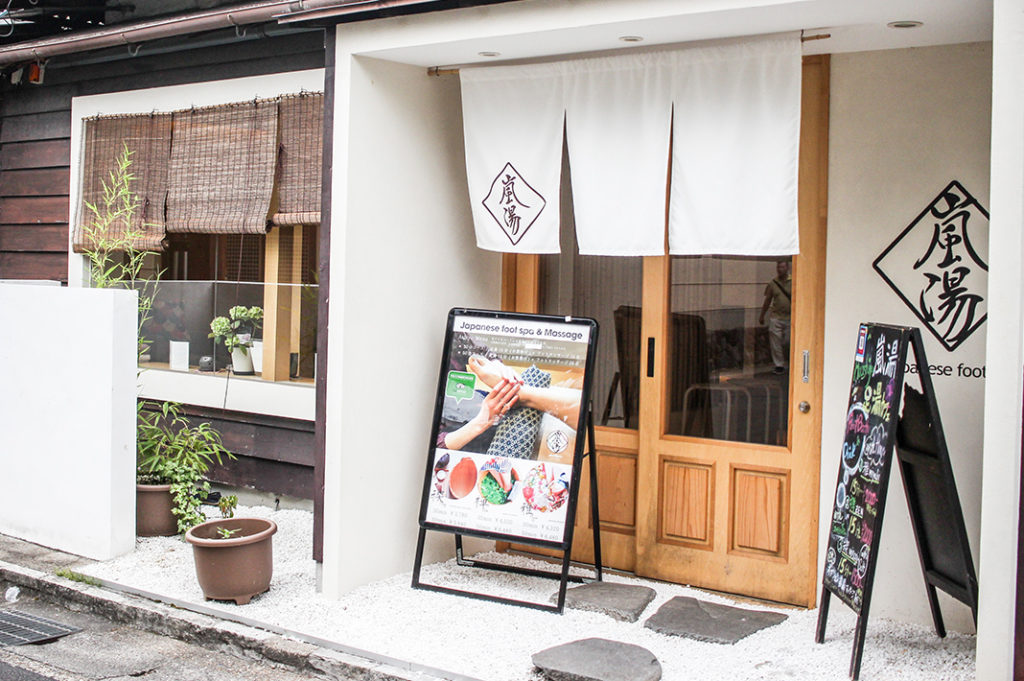 If you're in the mood for a drink, I'd recommend Inity based on their sense of humour alone. (The other side said 'dinosaurs didn't drink beer…and now they're extinct'). They have a range of drinks on offer plus delicious Jamaican food.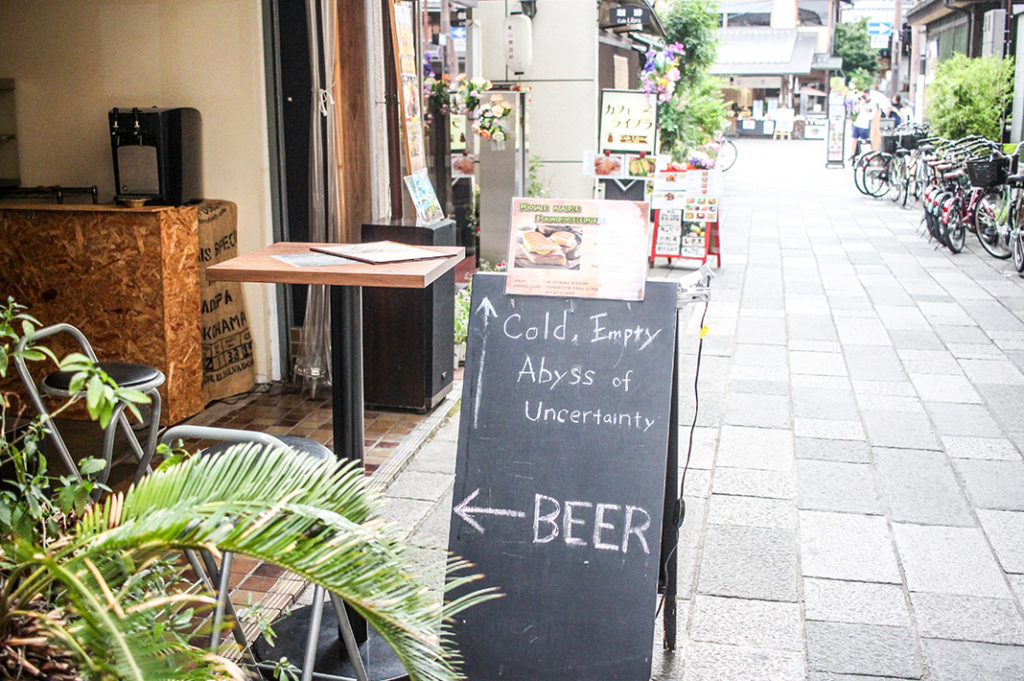 The good news is, there is no shortage of great shopping and dining options in Arashiyama. Just walk around and find out for yourself. And if the crowds are getting to you, remember to do what Rilakkuma would do: chill out. Hard.