The Goto Islands are an archipelago of 140 islands located off the west coast of Kyushu. As the name would suggest, there are five main islands, the southernmost of which, Fukue, is the largest in the chain. Goto is famous for its local cuisine, beautiful coastal scenery and abundance of Catholic churches. Some of the Goto residents are actually descendants of the secret Christians.
This is a big island, 326km2, so a car is the advised method of exploring, however, there are bike options—both of which we will cover toward the end. Most of Fukue island is national parkland, so it is quite beautiful and well maintained. Route 384 is a 90km loop circling the island; with no stops, you could drive it in 90 minutes or so, however we recommend allocating much more time to see the sights. Follow along with this map.
Key sights of Fukue
The sights we present below exist in a loop around the island, going counter clockwise from Fukue Port. If you attempted to visit all of them, it would be almost 4 hours of driving plus time at the attractions. I would recommend taking your time at a few choice ones and enjoying a nice relaxed pace—it is an island, after all. By staying on the island, you can always return to any missed attractions the following day or perhaps do a more in depth activity like a cycling tour.   
Without further ado, let's set off from Fukue Port and see some of the island!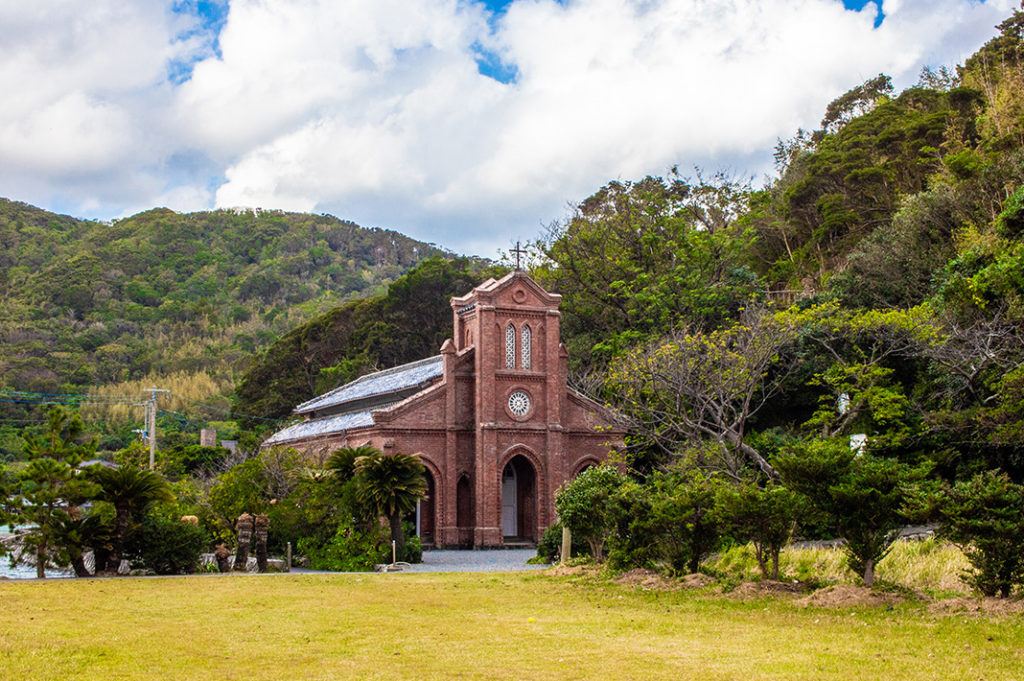 Dozaki Church
Established in 1879, it is the oldest and most famous church on the island, making it a must-see. This 'Tangible Cultural Property' was built in 1908 utilizing materials shipped from Italy and features a beautiful interior with vaulted ribbed ceilings and stained glass. The church sits on crystal clear rocky shores, surrounded by shiny indigenous Camellia bushes. Photographers dot the scene, vying for the best angle of the red-brick church, however, photography isn't permitted inside. After you remove your shoes, you'll have a chance to explore and take in the small museum (mostly Japanese signage). I was particularly taken with the font (holy water receptacle) made from a large shell and affixed to a pillar. Genius.  
Dozaki Church is a 20-minute drive north of the port. There is a a small gravel parking lot with toilets; from there it's a short walk to the entrance.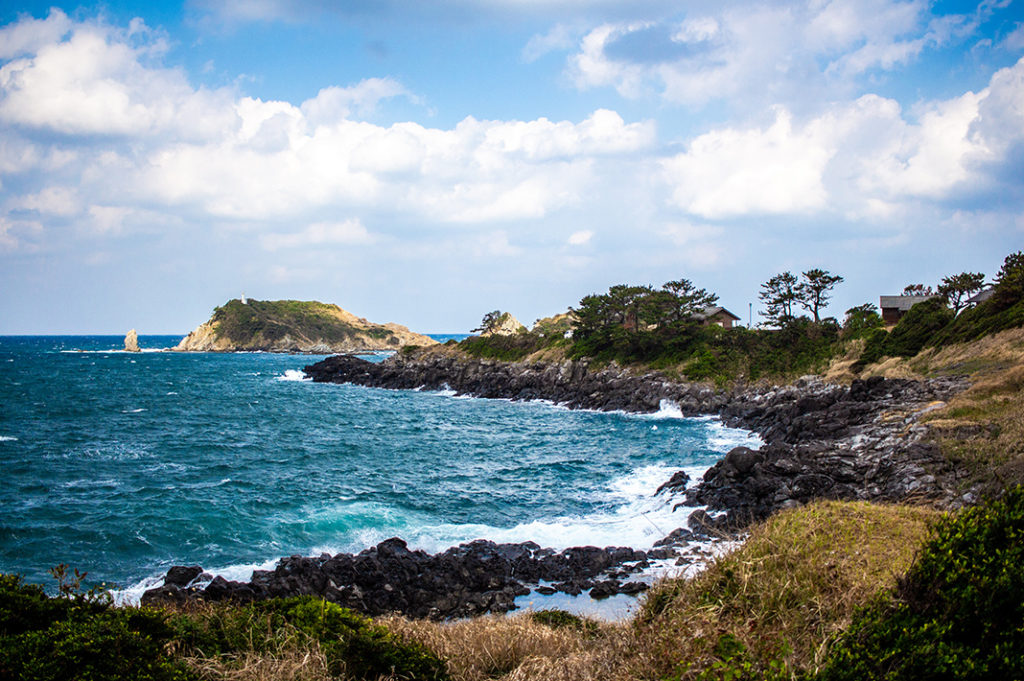 Gyogasaki Park
This park is known for its great coastal views, particularly at sunset. There is also a flower field that displays vibrant seas of flora throughout the year; rape blossoms in spring, hydrangeas and sunflowers in summer and cosmos in autumn. Gyogasaki Park also features a campground with cabins for hire. It's roughly a 40-minute drive from Dozaki Church.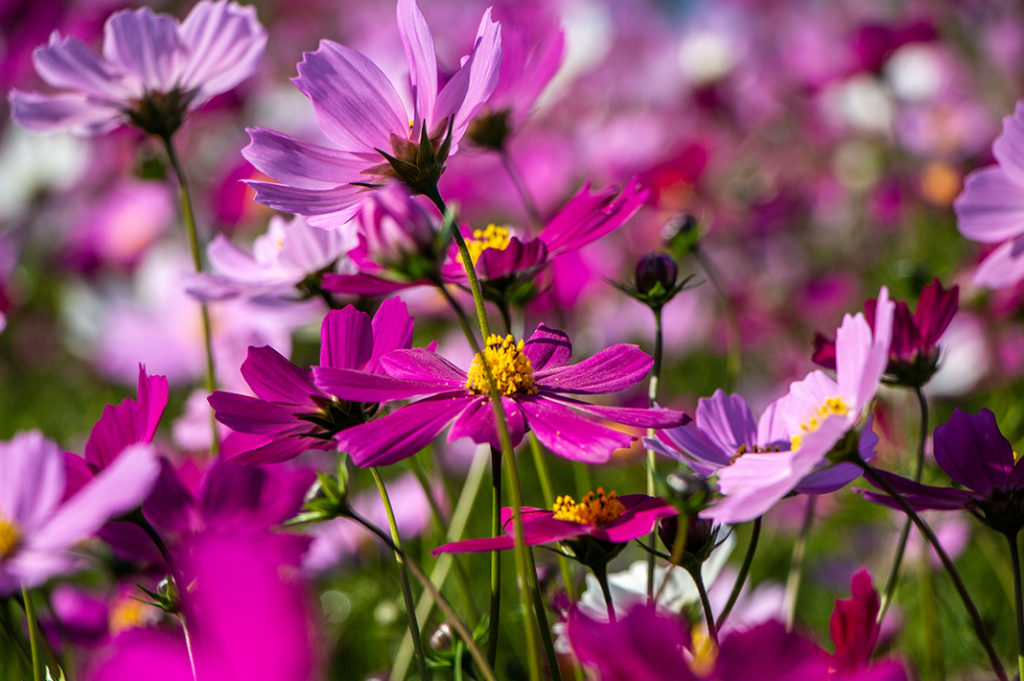 About 10 minutes drive from Gyogasaki Park, the Kentoshi Furusatokan makes for a good place to stop. There is food, toilets, wifi, souvenirs, electric vehicle charging and an exhibit about Goto's role in Japanese missions to China. 
Takahama Beach
As you come around the bend and catch the first glimpse of Takahama Beach, a feeling of excitement is inevitable. The blue waters and white sand shine in the daylight and it's no wonder this beach is so popular. Facility-wise, there is a large car park and a building encompassing showers, lockers, bathrooms and even food in the high season. Down by the shore, people swim and surf, surrounded by lush virgin forests. Listed as one of Japan's top 100 beaches, it's well worth a visit.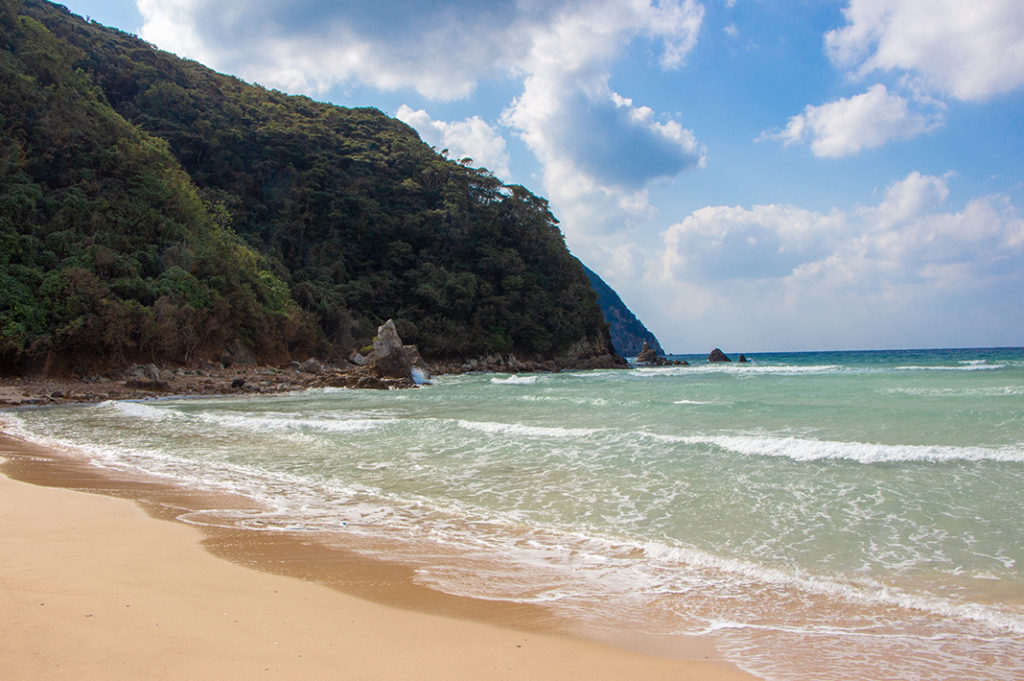 Tip: as you are approaching Takahama beach, take a right just before the tunnel and drive uphill where you can catch a fantastic view of the beach from the Gyoran kannon observatory.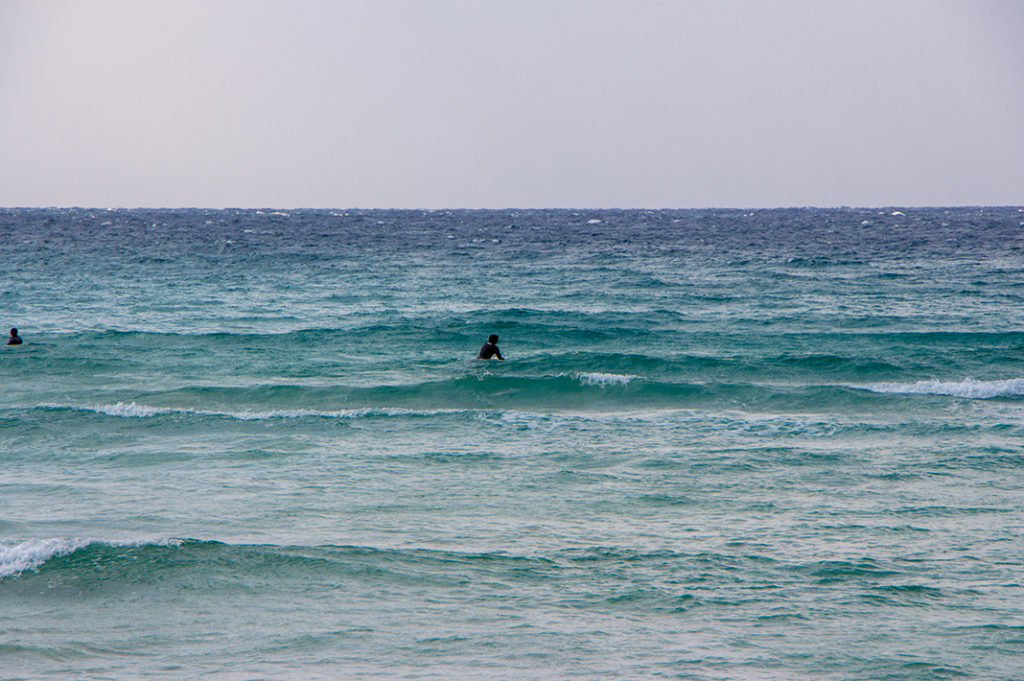 The drive to the next attraction, Osezaki Lighthouse, is around 50 minutes, so make sure you use the bathroom and grab a drink or some food if needed. The 50-minute drive is packed with stunning views, though, so you'll certainly be entertained.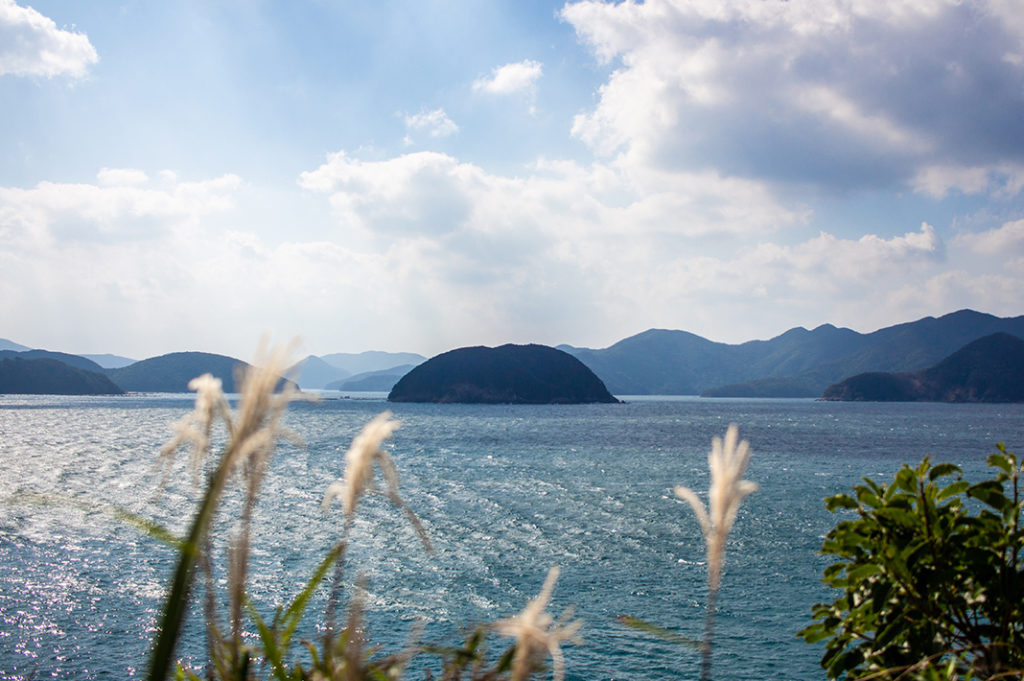 Osezaki Lighthouse
The Osezaki Lighthouse sits perched on a craggy cliff overlooking the East China Sea. As you get closer, you'll find a number of roadside lookouts, the first of which has toilet facilities. Each of these spots offers a powerful panoramic view that's hard to tear your eyes away from. From this height, you can watch the shadows cast by the clouds drifting across the sea, everything appearing so small and calm.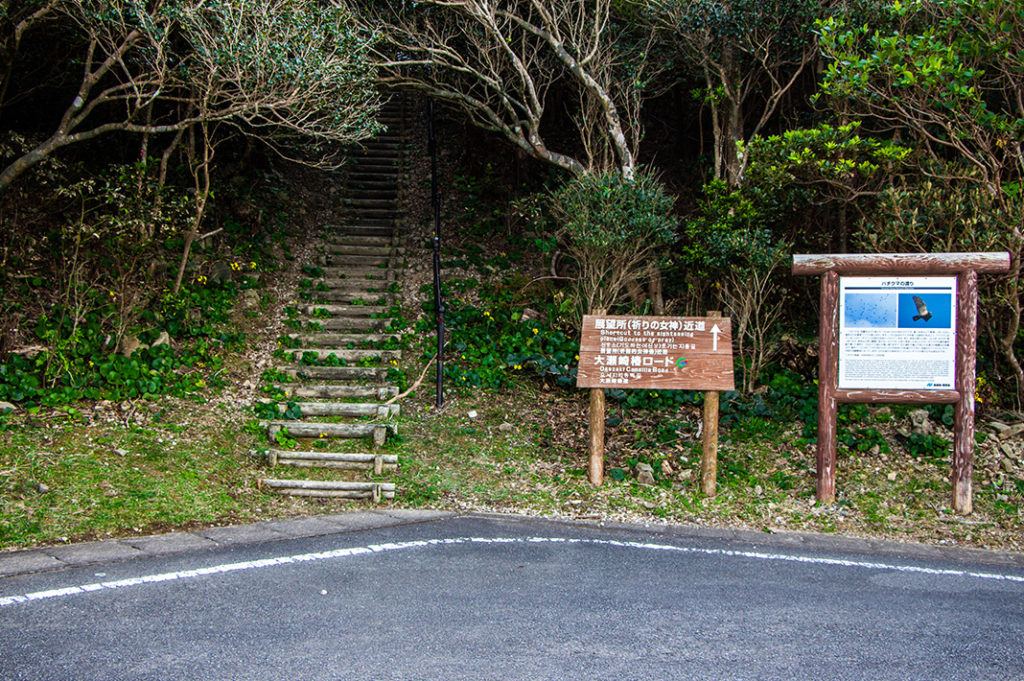 If you drive to the very end of the road, you'll find the entrance to a walking track, called the Camellia Road, which takes you 1.2km downhill to the lighthouse. The walking track is lined with vegetation, including Camellia bushes, and is a nice opportunity to stretch your legs if you have the time.
A few more notable attractions on the circular route include Matsunoshita, a traditional Japanese house open for a peek and meals on weekends; Imochiura Church, the first Lourdes Church in Japan, and the Arakawa Footbath, a great spot to soak your toes for free.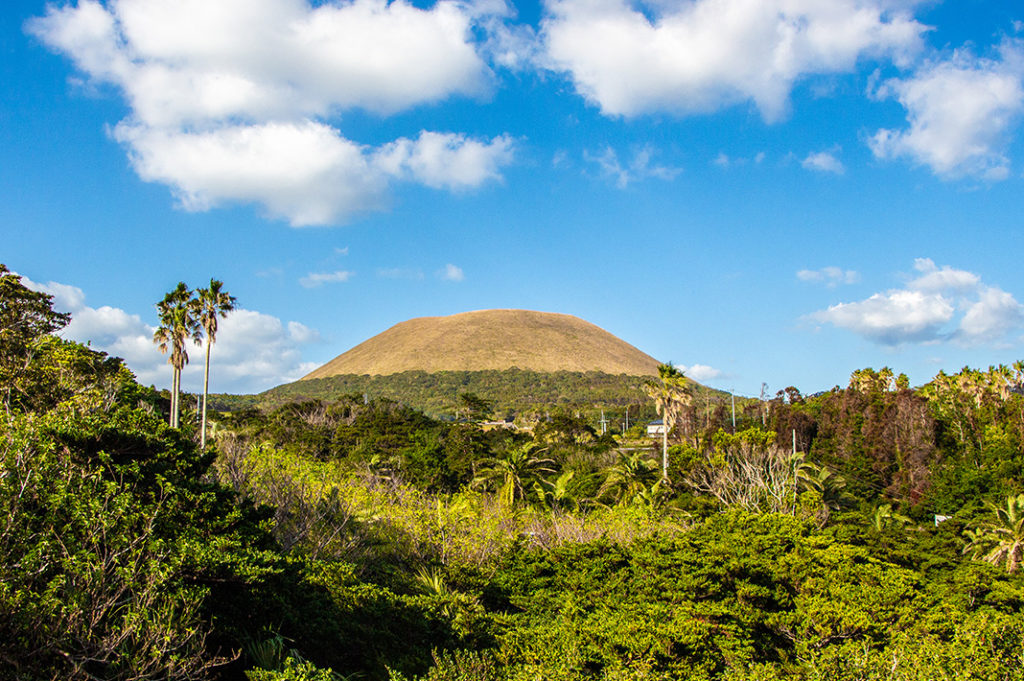 Mount Onidake
My final stop on the route was Mt Onidake, an iconic symbol of Goto. This 315m cinder-cone volcano is covered in grass and particularly vibrant in summer. If you have the time, you can climb Mount Onidake and enjoy the views or some grass sledding. We think it's nice to observe it from afar, too. While you can see it from many spots, we went to the Abunze Visitor Center. From the observation deck on the grounds, you can not only see Onidake, but the famous Abunze Lava Coast.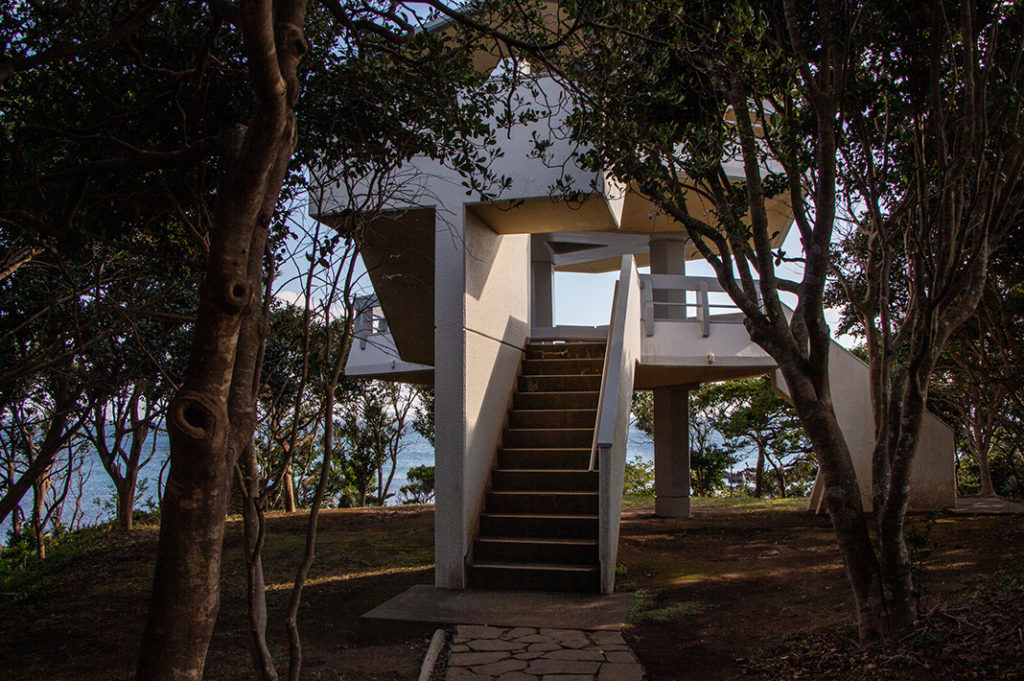 Also in this area is a winery. From Onidake, it's roughly 15 minutes' drive to return to the port.
Exploring Fukue City
If you stay overnight on Fukue Island, you will have plenty of time to explore. We think you could even spend up to half a day wandering around town, where you could explore Fukue Castle ruins, the local history museum, culture center, church and the Buke yashiki dori samurai street.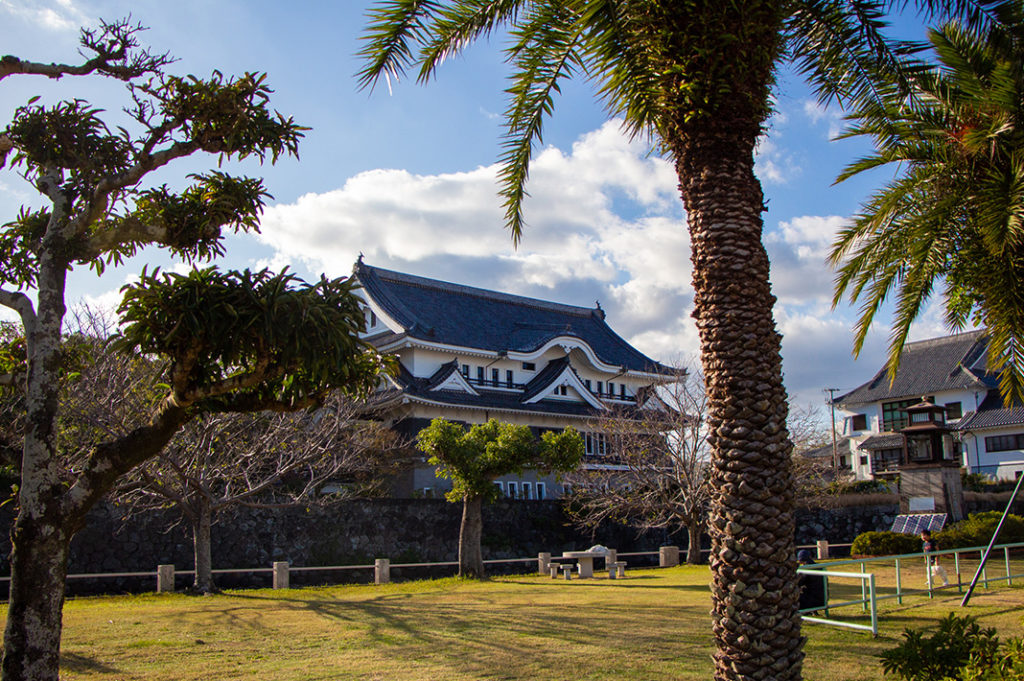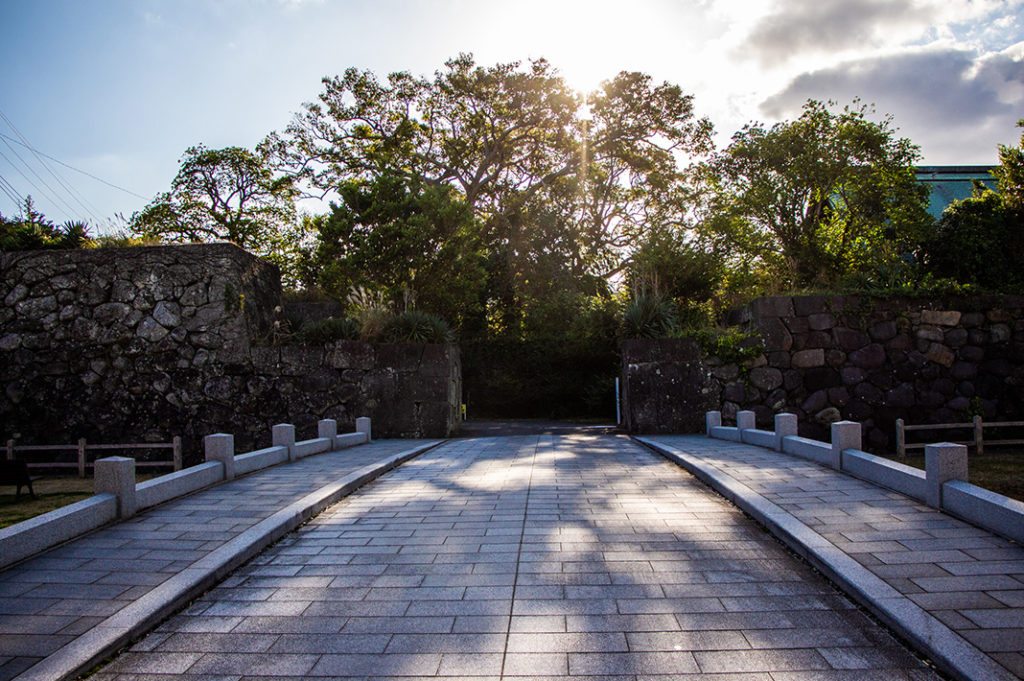 West of the port, you'll find the rare Hexagonal well, made by Chinese people in 1540. This ruin of the Wokou era became a prefecture-designated cultural property in 1954.
Goto Island souvenirs and food
There are souvenir spots at the ferry terminal as well as around the island. Popular souvenirs of the Goto Islands are Goto Baramon kites, depicting a samurai facing a devil; products made with Camellia oil; dried Goto udon noodles; and Kankoro mochi, sweet potato mochi.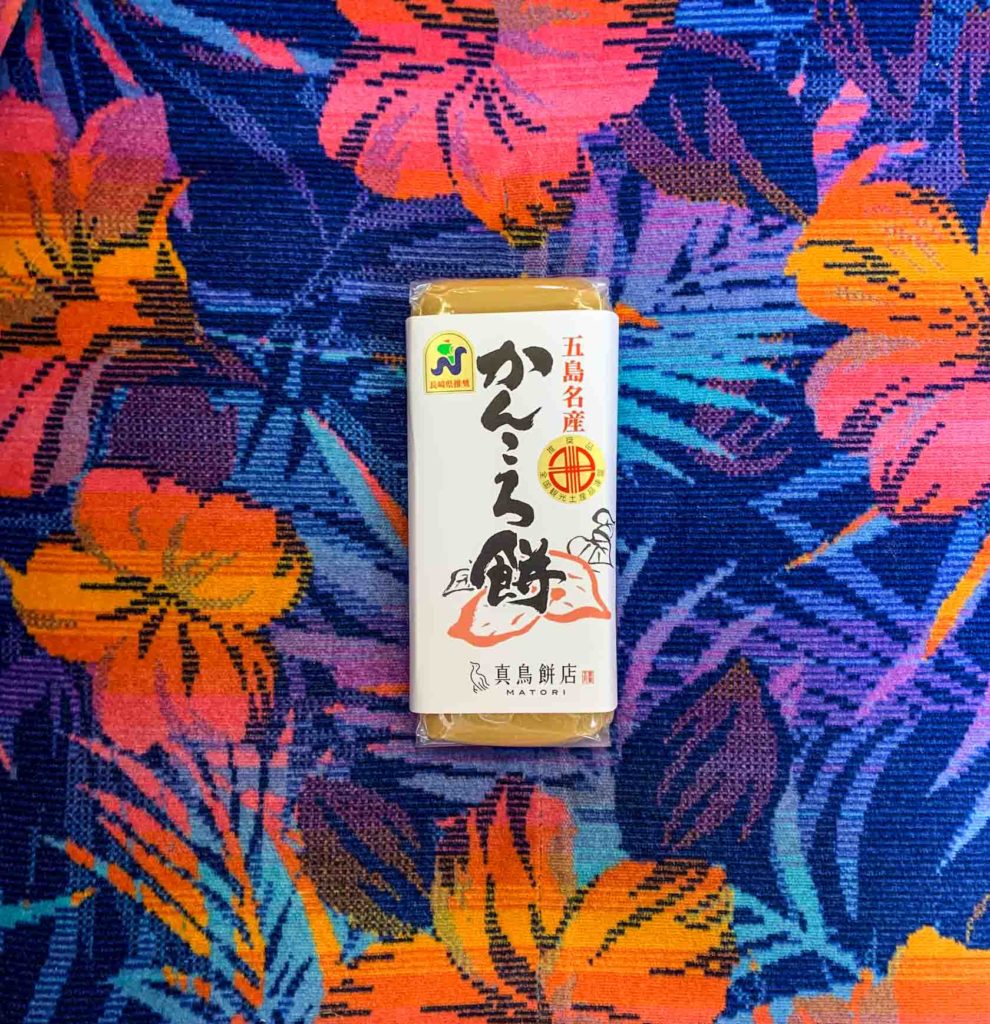 In terms of local cuisine, look out for oysters, sea urchin (uni), Goto beef (a type of Wagyu) and the famous Goto Udon. Read more about Goto Udon here. You can find it all around the Goto Islands, and even in Nagasaki City; we have highlighted a few options on this map.  
Where to stay on Fukue Island
There are quite a few places to stay on Fukue, dotted around all corners of the island, though most are located in or near the main town. Styles range from modest guesthouses to beautiful beachfront properties. As options are limited, it's advised to book ahead. 
When to visit Fukue Island
Any time is good to visit; it depends on what you're looking to do. Summer is perfect for swimming and vibrant scenery, however the February 20-28 Camellia Festival is a great festive time, too.  
Things to know
Credit cards may not be accepted everywhere.
Bring cash, as foreign ATMS are not widely available. Tip: Japan Post is your friend!
Mobile phone coverage may be spotty.
Buses are limited, pay close attention to the timetables.
Ferries may be suspended due to bad weather.
Convenience stores may not be open 24 hours.
When visiting churches: eating, drinking, photography, hats, loud voices, revealing clothing and touching of religious objects are prohibited.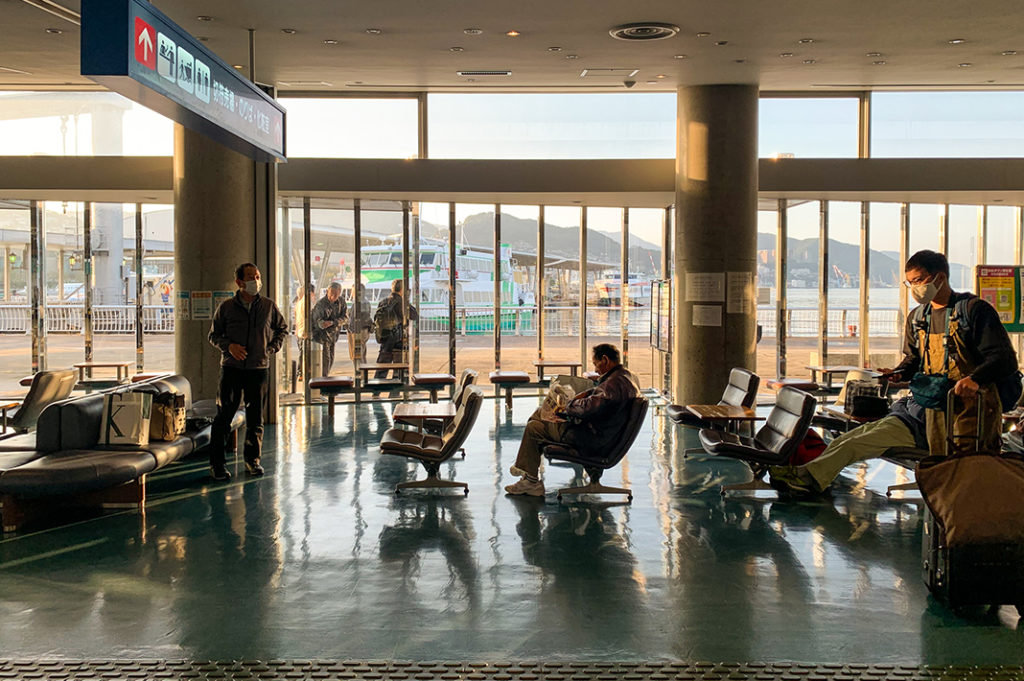 Access
By boat:
There are so many different sailing courses to Fukue, however, the quickest is the high-speed JetFoil boat from Nagasaki Port which takes around 1 hour 25 minutes. There may only be three or four departures per day, one in the morning and two in the afternoon, so plan ahead. More information here. You can try to book the JetFoil online (in Japanese) however, I simply went to the Nagasaki ferry terminal the day before my trip to buy a ticket directly. There are lockers at the ferry terminals if necessary. You can also catch a ferry to other islands in the Goto chain from Fukue.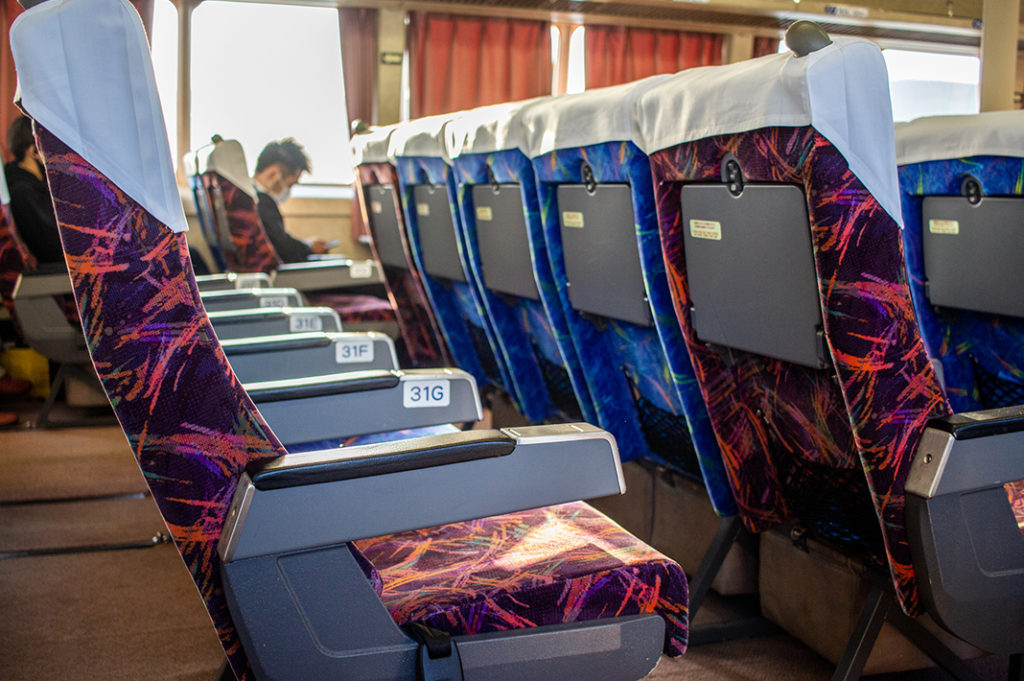 By plane:
Fukue Island is a 30 minute direct flight from Nagasaki or 40 minutes from Fukuoka. You can also access Fukue from other major cities with a stopover in either Nagasaki or Fukuoka.
Rental Cars
There are lots of car rental agencies around Fukue Port and Fukue city, however, we recommend you to book ahead online. You can pull up google maps and visit each company's website directly to book or check out Irie Rentacar or a website like Tabirai. Many of the rental agencies will offer to meet you at the ferry terminal and drop you back off, to save you the walk. There is a list of phone numbers on this website; if your Japanese isn't up to scratch, see if your hotel staff could call for you. Make sure you have a Japanese license or International driver's permit.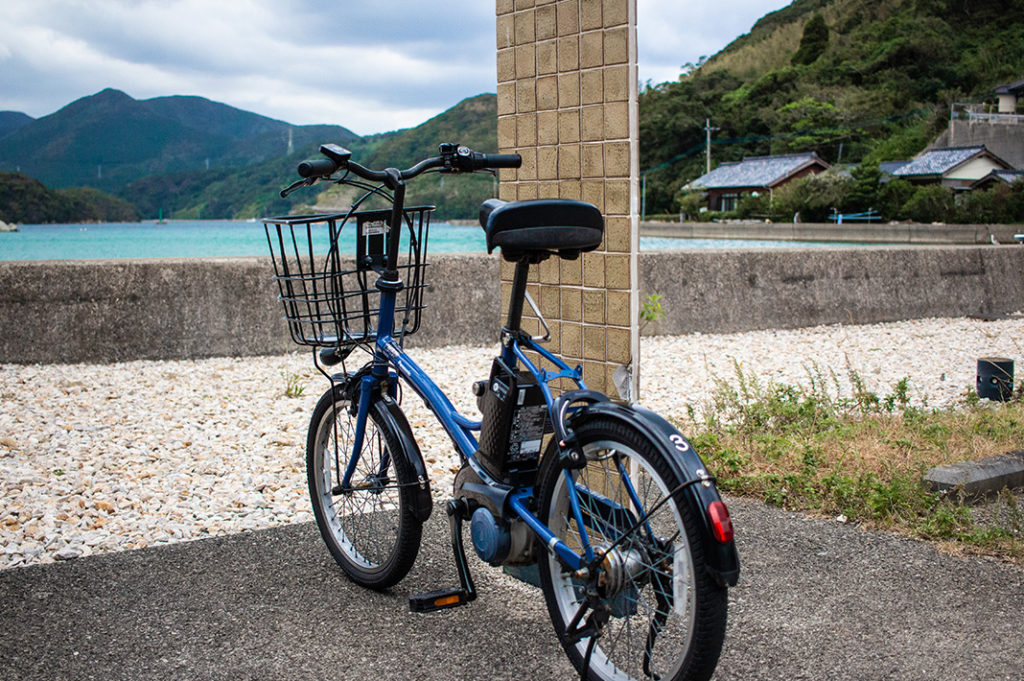 Biking on Fukue Island
Biking on Fukue Island is a dream, however, you need to be realistic about time frames. First tip: we'd recommend getting a hill-assist bike to help with the hilly roads. These go for around 1,500yen per day and are available at the ferry terminal. If you are only staying for a day, the advice given to me by ground staff was that you could probably only tackle Dozaki Church and Onidake. Remember, from Fukue Port, Dozaki Church is 9km north, while Onidake is 9km south. If you wanted to tackle both, you'd be looking at around 3 hours biking (minimum) plus time to enjoy the attractions and have lunch. Make sure to allow some time to spend in town.
If you prefer a more tailored and guided approach, consider the half-day and full-day guided English tours available through Wondertunk & Co Bakery.
More information about Goto here.
Post by Japan Journeys.