I have a morbid fascination with abandonments. They are symbols of death, bankruptcy, modernisation and economic downturn. Their grimy shadows hide secrets, their decaying decor illuminates history and their silence speaks volumes. Oftentimes, once the decision has been made to walk away, these buildings, amusement parks and towns are frozen in time, defenceless against the unyielding forces of nature, forgotten. But not always. In some cases, like Hashima off the coast of Nagasaki, efforts are made to preserve and even promote the sites as tourist attractions. Those with a penchant for urban exploration should take a Gunkanjima Cruise out of Nagasaki City to witness the crumbling former coal mining island for themselves. 
Hashima, a decaying bubble
Hashima, often referred to as Gunkanjima, or Battleship Island, due to its boat-like profile, is a UNESCO World Heritage Site located 15km from Nagasaki's city center. Coal mining kicked off here around 1887 and continued for nearly a century until 1974. At its peak, Hashima's population was over 5,000 people; for such a small island—160m east to west and 480m from north to south—this made it the most densely populated place on Earth.
Though mining was the main industry, residents also had access to schools, shops, a hospital, cinema and swimming pool among many other facilities. It was its own self-contained little world, with easy access to the mainland for anything else they needed. Since the collapse of the coal mining industry and the subsequent abandonment in the 1970s, Gunkanjima has been battered almost beyond recognition by typhoons, giving it a rather spooky appearance. The island was later opened to the public in 2009, but it's not possible to explore on your own. Luckily, there are a number of tour providers that can ferry you to the island for a guided look.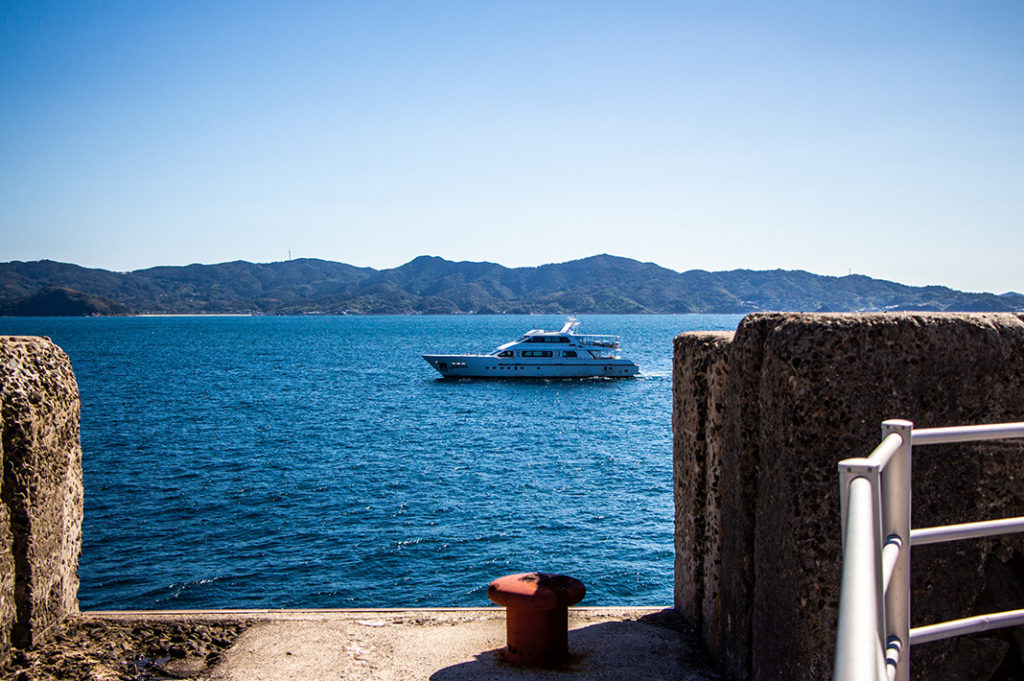 Gunkanjima cruise providers
There are only a handful of companies who are authorised to operate Gunkanjima cruises and tours. In the Motofunamachi area, not far from Nagasaki Station, you'll find Gunkanjima Cruise Co. and Yamasa-Kaiun. Over at Tokiwa Terminal, near the Oura Church area, are the Seaman Gunkanjima Tour company and Gunkanjima Concierge—the latter of which I chose. Each of the providers offer morning and afternoon cruises, with tickets costing roughly 4,000 yen for adults across the board. Schedules and prices can be found on their respective websites where you can also book directly.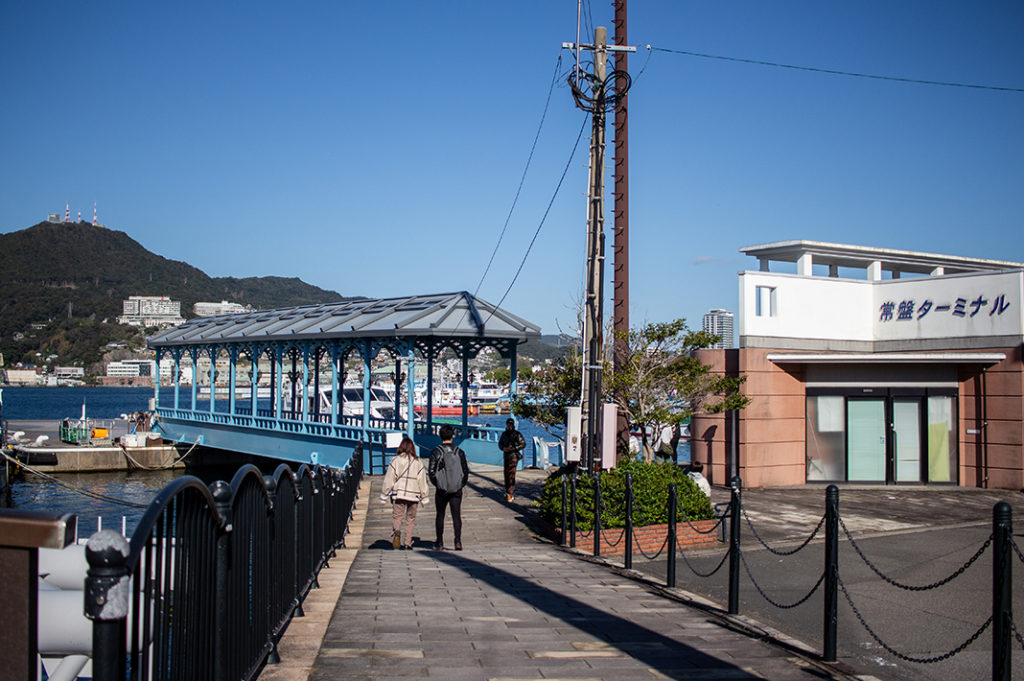 Gunkanjima Concierge
At Gunkanjima Concierge, the regular ticket costs 4,000 plus a 300 yen fee for accessing the island. I went with the next plan up, the 'Priority', which costs an extra 900 yen, and gave me half-priced entry to the Gunkanjima Digital Museum as well as priority boarding on the outbound trip. The museum contains three floors of digital displays, movies, images, models and even VR experiences to help visitors understand more about life on Hashima. It is also the check-in point for the cruise and is where you get your numbered sticker for boarding. I wanted to learn as much as possible about Hashima before visiting, so I went early to browse the exhibits with my discounted entry. I will cover this attraction in more detail in my next article. When it was time for the Gunkanjima cruise, I made my way a few blocks over to the Tokiwa Pier.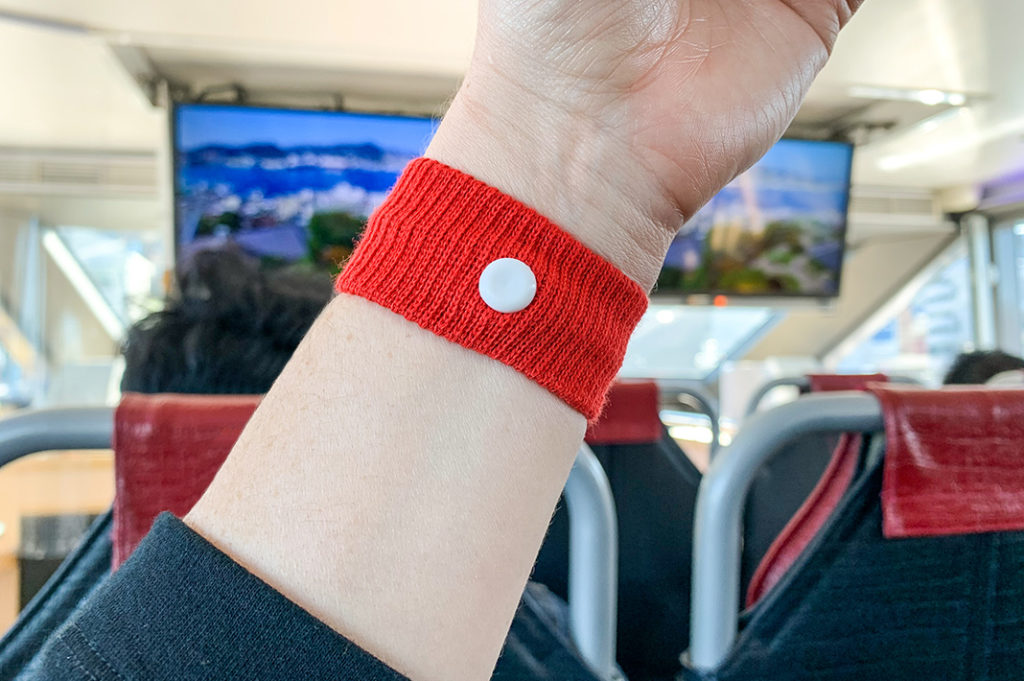 The cruise portion
I arrived to an excited crowd and a dismal forecast. On the day's information board, the sea conditions were listed as simply a screaming emoji. Just as I had feared, rough seas were ahead. Perhaps seeing my ashen expression, a friendly staff member sidled up and suggested I head inside to purchase the anti-sea-sickness pressure bands; I've never spent ¥500 so quickly. By the time I'd gotten my bands in place and was given a folder full of information (in place of the usual English audio guide which was temporarily withheld due to social distancing measures), a long queue had formed beside the ship. This is when the priority boarding privileges came in handy, as I was ushered to the head of the line.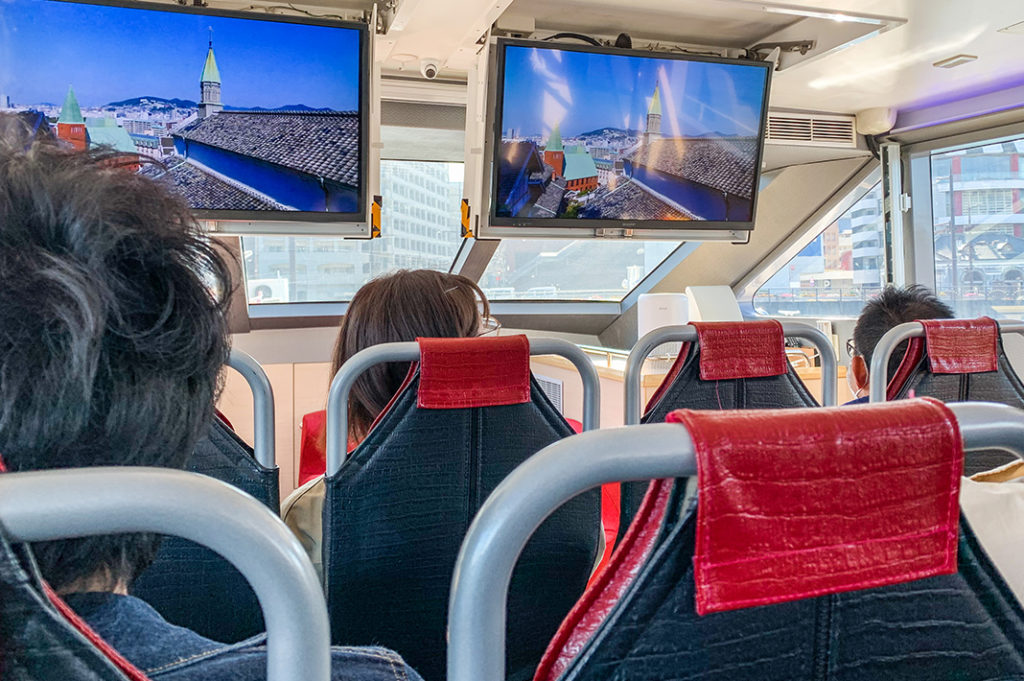 All aboard
The boat is a sit-where-you-like situation. However, the 'Premium' ticket (around 8,000 yen) holders had a special area upstairs, as well as VIP access to the front of the boat. I clocked the sick bags, took the boiled lollies from the staff and fastened my pressure bands as we commenced the choppy ride towards Hashima. The seats all faced the front where screens showed images and mid-century footage to accompany the guide's presentation. He occasionally dipped into English for my sole benefit but the information folder was filled with interesting snippets.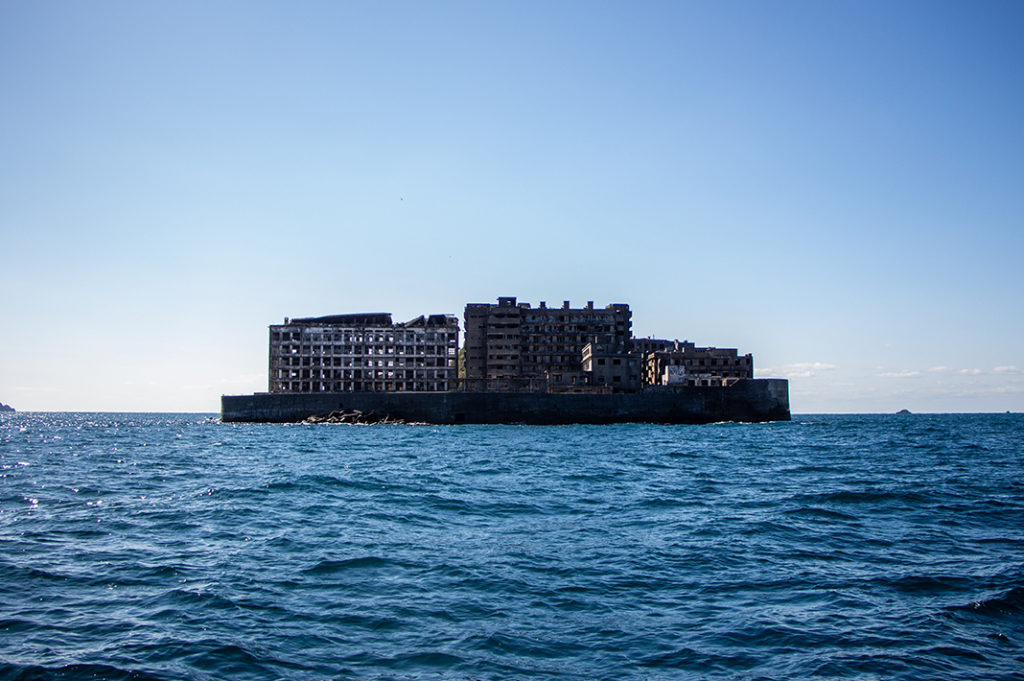 Once Gunkanjima was in sight, the Premium ticket holders went to the front of the ship for photos, while the rest of us went to the windows or out to the rear. The 'three points of contact' rule is king, here. It was rough. As we got closer, I could see the sky through the smashed out windows of the deserted high-rises, and the sea birds circling above.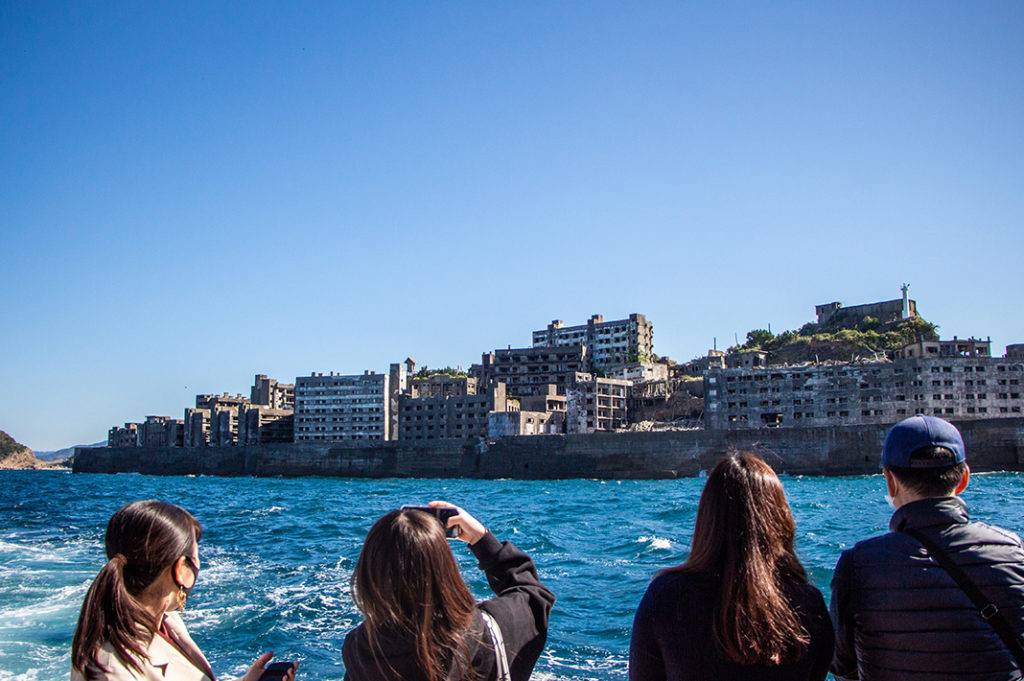 Touring Hashima island
We disembarked and staff led us into the rubble. The roaring sea winds died down, silence descending over us. It's far too dangerous to walk around the island unattended, so there are three designated viewing zones. Surrounded by concrete, rusted steel and smashed bricks, we made our way through as the guide spoke in Japanese about the history and function of certain buildings. Without the audio guide, I simply took in my eerie surroundings and photographed them. 
Hashima was home to so many people and many of the former residents have fond memories of their time here. The Digital Museum's website has a written account from a former resident who returned to the island on a Gunkanjima cruise and said they wanted to scream. Those fond memories replaced by a dystopian warzone. Looking at the drab grey all around, I recalled what I'd read on the boat: that Gunkanjima was jokingly called 'the island without green.' At one time, rice paddies were set up on one of the rooftops to teach children about agriculture. Unfortunately, the building wasn't waterproofed and the rice paddy leaked on the residents below. Oops!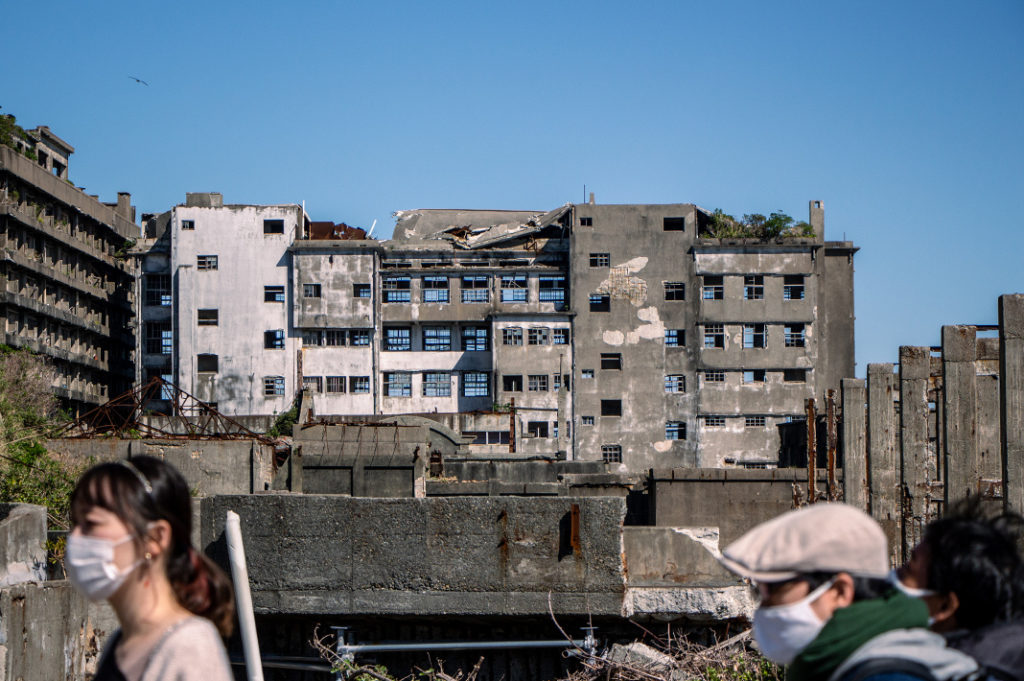 Of course, Hashima also has a sad history. It was, for a time, home to a number of POW labourers who were made to work in the mine. Perhaps this knowledge is what caused me to shiver when I saw the twisted remains of the mining equipment because it wasn't that cold.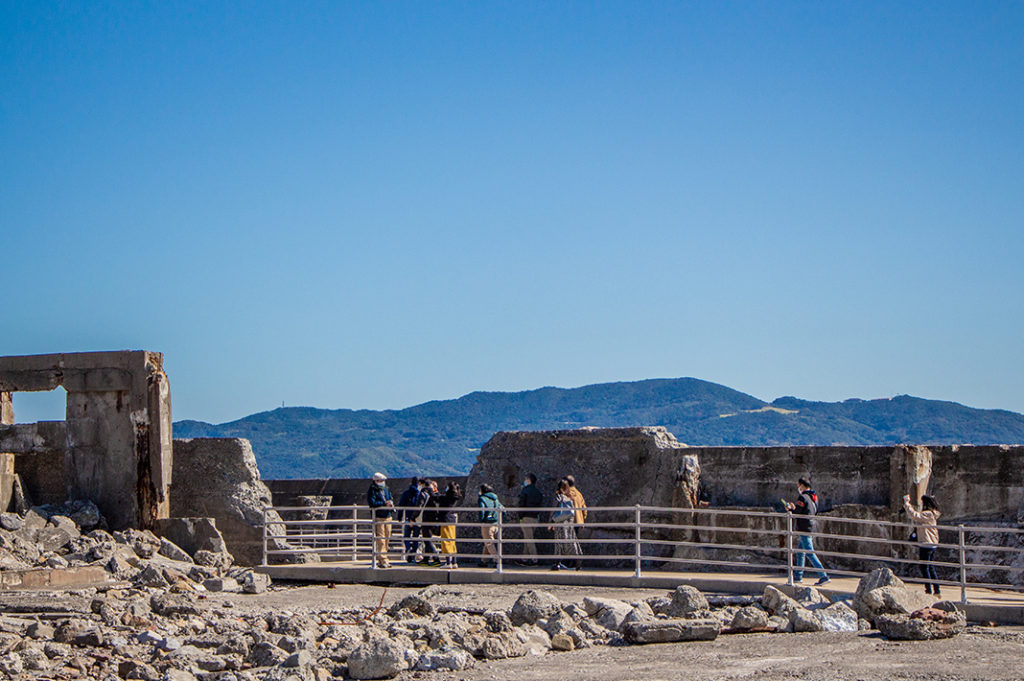 Heading back
The staff herded us back to the boat, as no doubt another tour company was coming our way. I checked to make sure my new favourite thing in the world, the pressure bands, were in place before climbing aboard. On the return journey, I read that Hashima is just one of over 500 abandoned islands in Nagasaki prefecture alone. In fact, Gunkanjima Concierge also offers tours of another island: Ikeshima. Unfortunately, it was closed due to typhoon damage but it's earmarked for next time.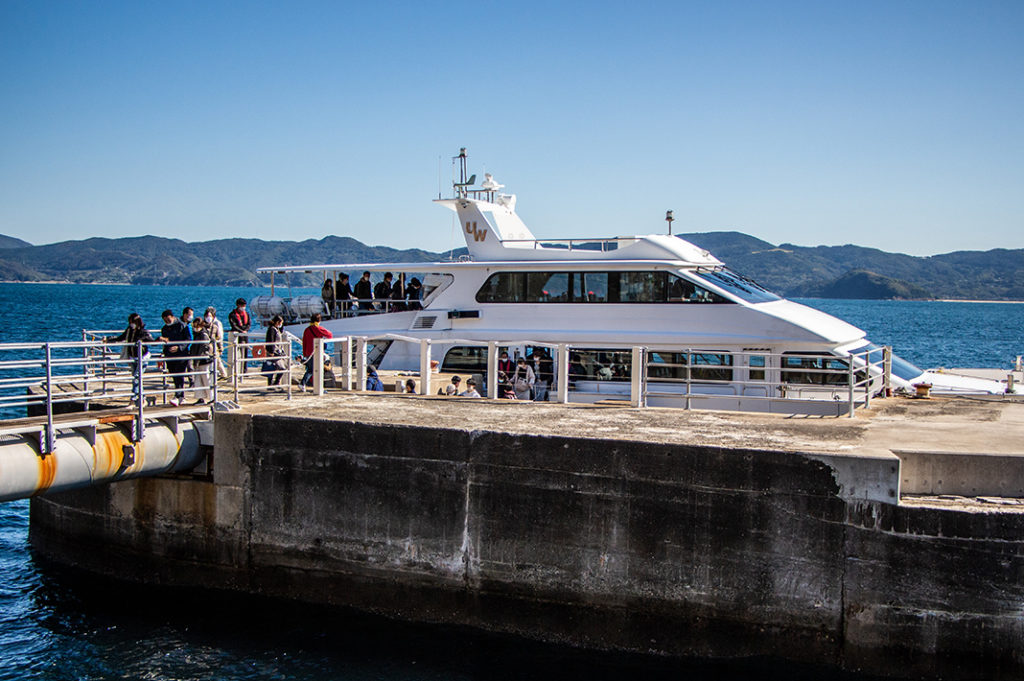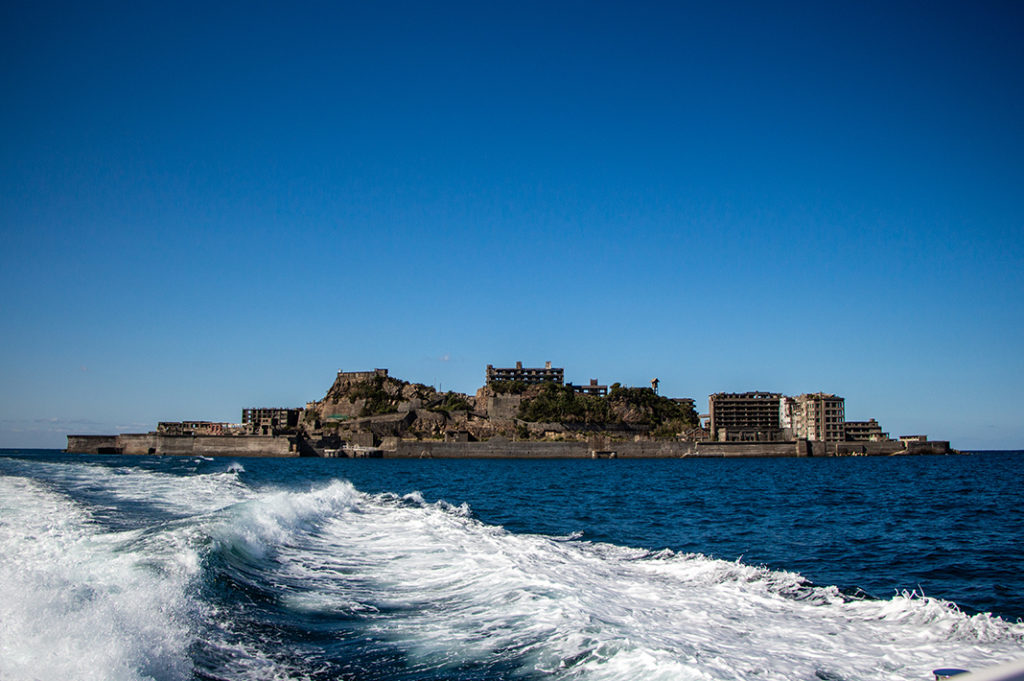 As we sailed back into Nagasaki Bay, our guide pointed out the Mitsubishi shipyard—previous owners of the Hashima mine and Gunkanjima island. It's fair to say I'll never look at one of their cars again without thinking of this day.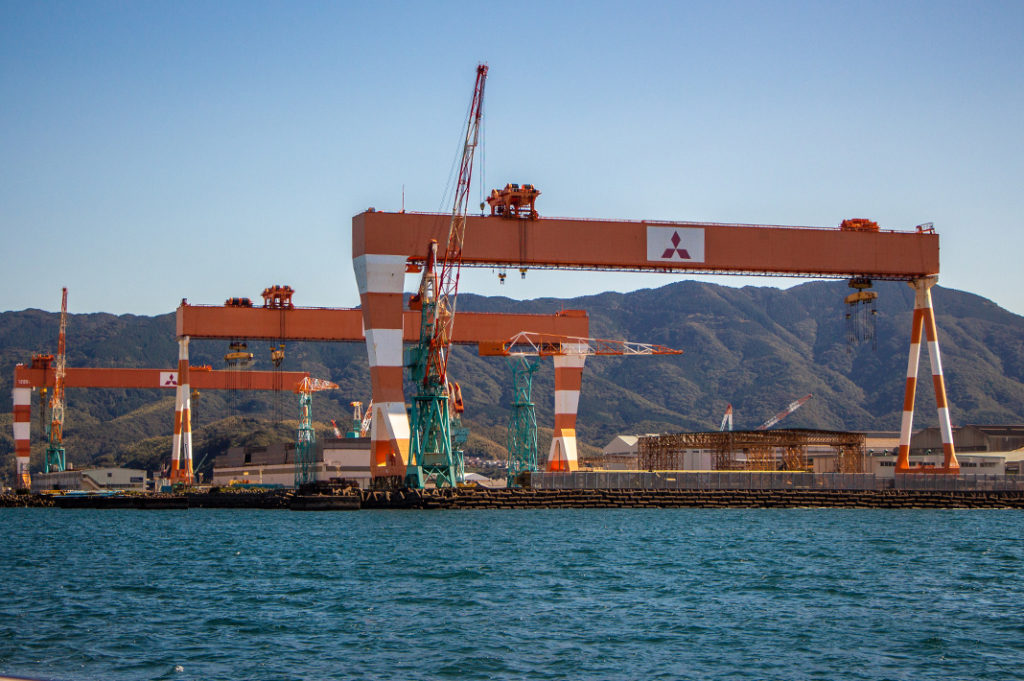 Visiting Hashima was a dream come true. As it is forever deteriorating, there's no time like the present to visit. For those unable to visit due to poor weather conditions or a tight itinerary, you can always Google it. Amazingly, a person rigged with a 360º camera was sent in so we can experience the ruins using Google street-view. Alternatively, check out the 007 Skyfall movie which has a scene filmed on the island.
Post by Japan Journeys.