As tourism in Japan rises almost exponentially year-on-year, it's becoming harder to find secluded spots to enjoy. Luckily, a Kyoto City Walking Tour is the ideal solution to coach tours, overloaded city buses or expensive taxis. In this half-day adventure, you'll take some sneaky backstreet routes to avoid the crowds; seeing a quieter side of Kyoto. First, you'll visit the famous Zen gardens at Tofuku-ji before walking through a quiet residential neighbourhood. This leads into a side entrance of the famous Fushimi Inari Taisha. From here, you'll hop onto a train and arrive in Gion in the early evening. If you're lucky, you may even spot a few Maiko (Geiko in training) heading out to their evening engagements.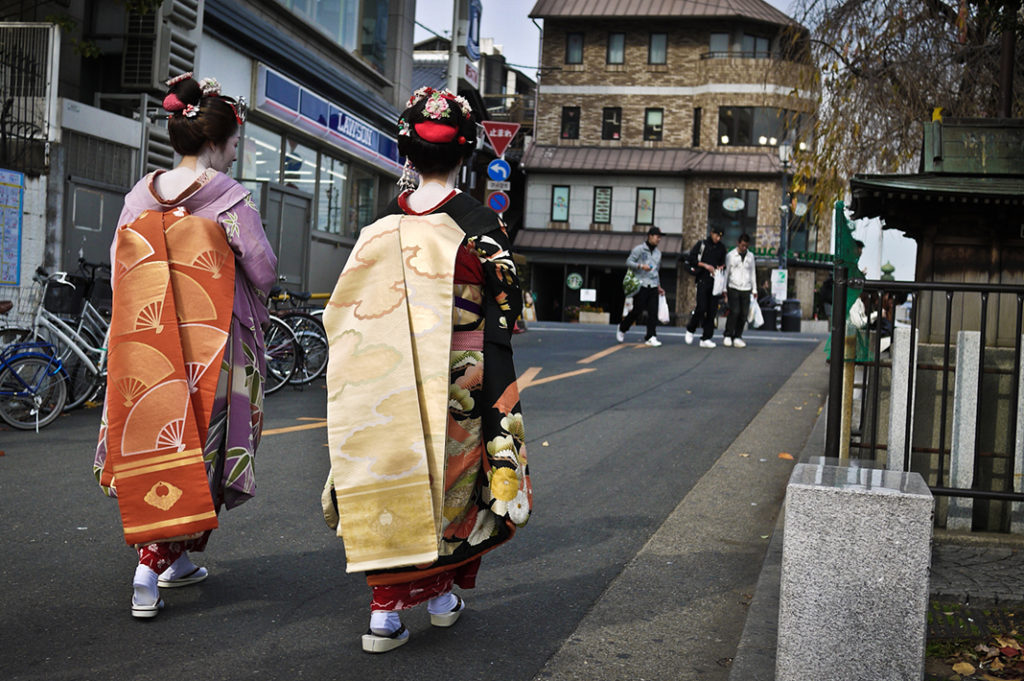 Kyoto City Walking Tour, first stop: Tofuku-ji!
Today's Kyoto City Walking Tour starts from the very central JR Kyoto train station. Of course, you may want to arrive early and stock up on travel snacks at one of the many amazing bakeries located inside the station. Then, go to platform 8 or 9 and jump on a local train bound for Nara, which will stop at Tofuku-ji station. Once you arrive at Tofuku-ji station, exit right and stroll through the narrow streets and traditional machi-ya shop fronts. Shortly, you'll arrive at the outer gate of Tofuku-ji. From here, take time to enjoy visiting the smaller temples (along this route) before reaching Tofuku-ji proper.
On arrival at Tofuku-ji, you'll be able to explore the site's outer grounds for free. After entering, you can head right to view the temple's legendary sanmon gate, lotus ponds and (historical) communal toilets! Crucially, Tofuku-ji's unique gardens lie inside the Hojo (abbots' quarters) and entry is a modest ¥400.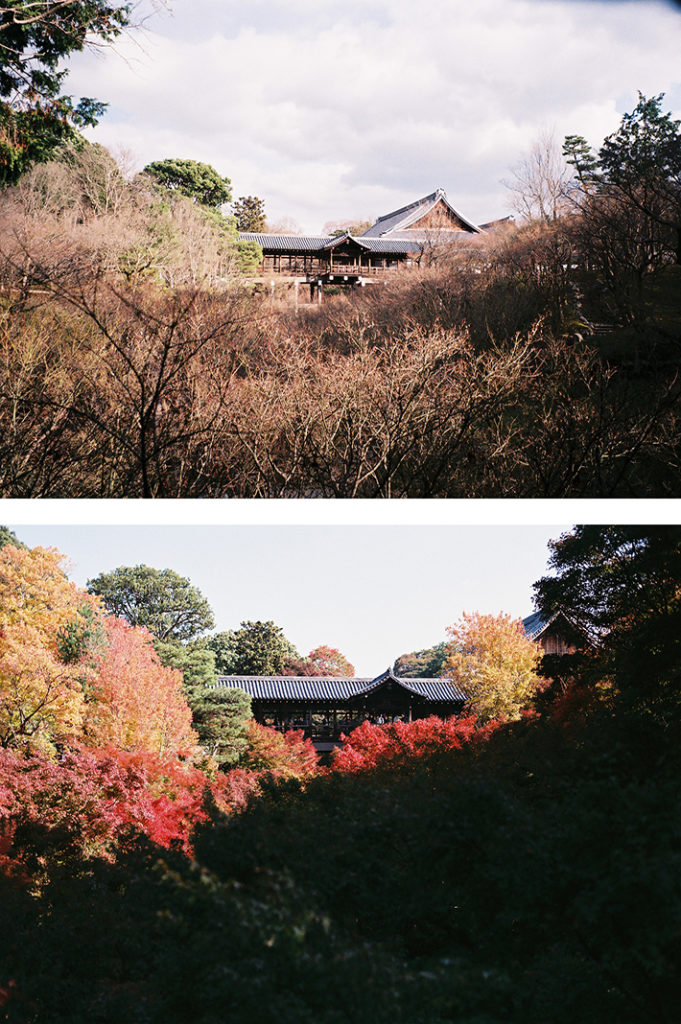 Gardens: Tofuku-ji's Fusion of Old and New
Tofuku-ji boasts an uncommon feature: its gardens were created by legendary Japanese design modernist Shigemori Mirei. Naturally, Mirei's work featured a central garden made in the karé-sansui style that follows more traditional design features. However, the rear and side gardens surrounding the Hojo are a blend of mossy cubism and stone-hewn modernism. Japanese garden design has for centuries existed to represent the world of nature in miniature. As such, it was a bold move for Mirei to add square, cubic and industrial design features into a temple garden at all. At first, his creation was considered to be 'lacking in flow' and was not particularly popular. However, by virtue of its rarity and Mirei's later critical acclaim, the gardens are now a point of pride for Tofuku-ji temple.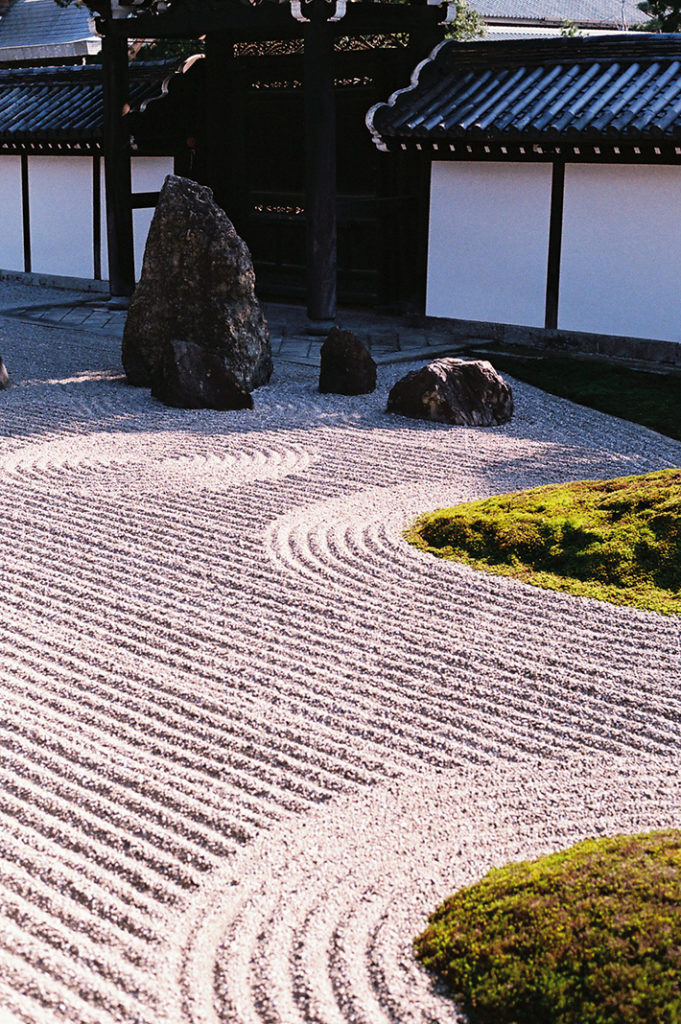 After taking time to appreciate the scenery at Tofuku-ji, head towards the temple's 'Rokuhara Gate.' From here, you'll have a chance to stroll through one of Kyoto's residential areas. Japanese domestic architecture, both old and modern, is peculiar to the country. Owing to this, its neighbourhoods blend small temples and shrines with municipal design to create an idiosyncratic charm. Initially, you'll want to follow this route. However, thanks to smartphones and live maps, simply dropping a pin at this entry to Fushimi Inari Taisha will help you find your way.
Gates: Does Fushimi Inari need all 35,000‽
Welcome to the famous Fushimi Inari Taisha, the second section of your Kyoto City Walking Tour! Of course, one must preface any guide to Fushimi Inari Taisha with the fact that visitors could spend an entire day and evening here to truly absorb its full magnitude. Luckily, we offer a full guide right here. Furthermore, to help you understand the scale of the shrine, know that it has over 35,000 vermillion torii gates lining its pathways. Seeing all of the shrine is a highly recommended but time-consuming undertaking! As such, on this tour, we'll just visit the spectacular central gates and stone courtyards of the lower levels. Ideally, you can plan to spend 1-2 hours at Fushimi Inari Taisha without feeling hurried. What's most important is to head out towards Gion at around 4 to 5 pm to catch its magical transition into evening.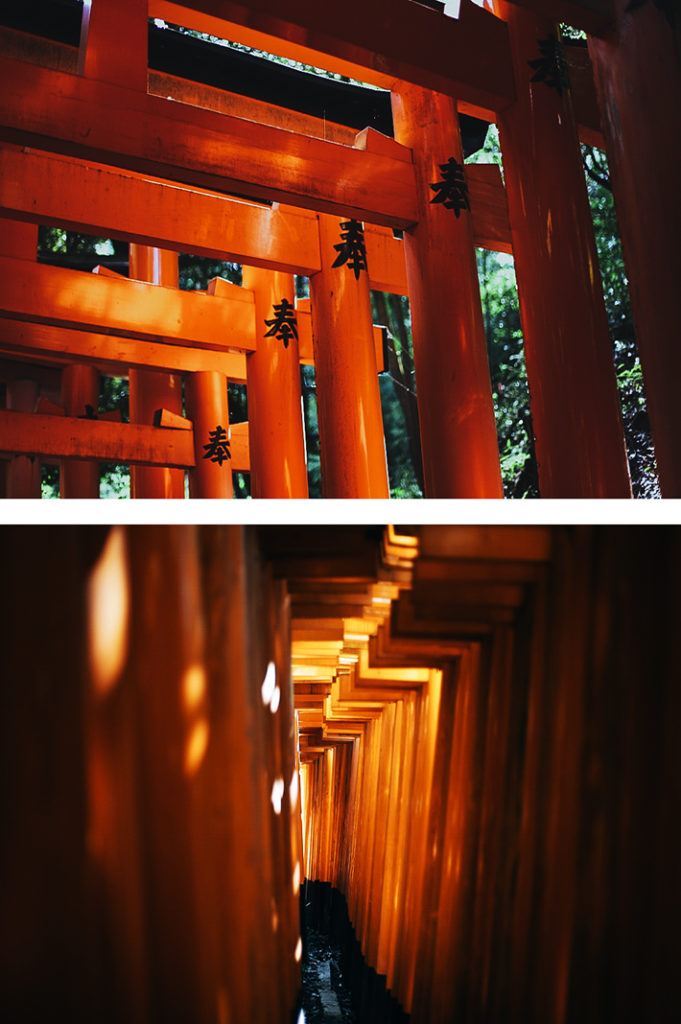 Feeling Foxy?
Fushimi Inari Shrine installed a 'one-way system' to help tourists navigate its famous 'Path of 1000 Gates' several years ago. Naturally, this short stretch of the shrine has become immensely crowded in the age of Instagram. Fortunately, the most enchanting part of the shrine is further skyward, well away from the crowds at 'base camp.'
After you've navigated the long path of vermillion gates, take the left path at the Okusha shrine you'll reach upon exiting the double tunnel. Follow this path and take a right turn, heading deeper into the forest and up into the mountain. Then, after ascending one flight of stairs, turn right into a secluded courtyard packed with moss-covered standing shrines and work your way upwards. Fortunately, many visitors bypass this quiet area, meaning you'll experience some of the shrine's magical atmosphere in relative peace. Additionally, this area has in recent years become populated with a small family of cats. You may even see them sitting in the crossbars of the torii gates! Finally, be sure to cast a glance out over the adjoining Shin-ike pond. The local population of turtles here often climb low lying logs in order to splash comically into the pond beneath!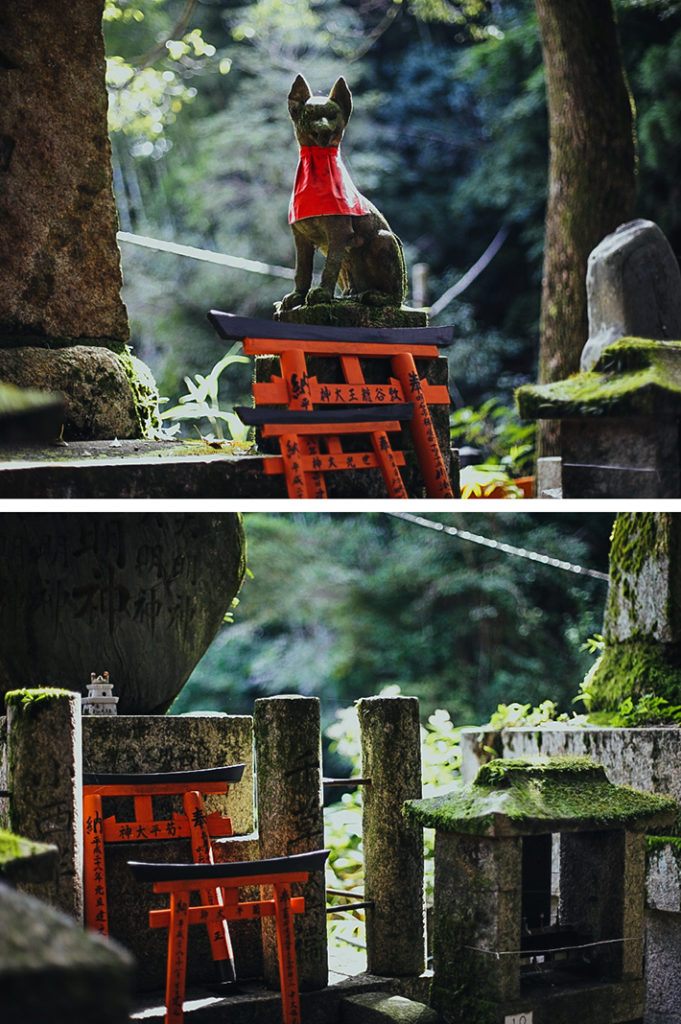 Spirited away!
Naturally, finding a convenient route off Mt Inari if you're visiting for the first time will be difficult. However, following this exact route from Shin-Ike pond will take you directly to Vermillion Cafe. Be absolutely sure to make time for a coffee and snack stop at this gorgeous waterside café! Best of all, this route passes through a plethora of intricate courtyards and hidden shrines that are commonly missed. Allow plenty of extra time if you'd like to explore them at your leisure. When you're ready to extract yourself from your peaceful surroundings and visit Gion, be very sure to head to Keihan Fushimi Inari Station. JR Fushimi, which is closer to the shrine's entrance, will not take you to Gion.
Geiko: Get Going to Gion!
It's time to go forth, to Gion! Arguably Kyoto's most famous district, Gion is home to Kyoto's historical 'hanamachi' [花街, flower town]. It's one of several well-known Geiko districts in Kyoto city. Famously, Gion was also a filming location for the movie adaptation of Arthur Golden's novel, 'Memoirs of a Geisha.' On a cultural note, it's important to distinguish that 'Geisha' are referred to as 'Geiko' in Kyoto.
Gion's main draw is its historical wooden buildings, quiet lanes and movie-set atmosphere. Beyond this, visitors hope most of all to catch a rare glimpse at a passing Maiko as they wander the paved streets. Maiko are still present and active in Gion, but more efforts are now made to shield them from the rapidly growing numbers of foreign tourists. As such, the chance to see a Maiko on an evening stroll is slim, but the experience is absolutely worthwhile.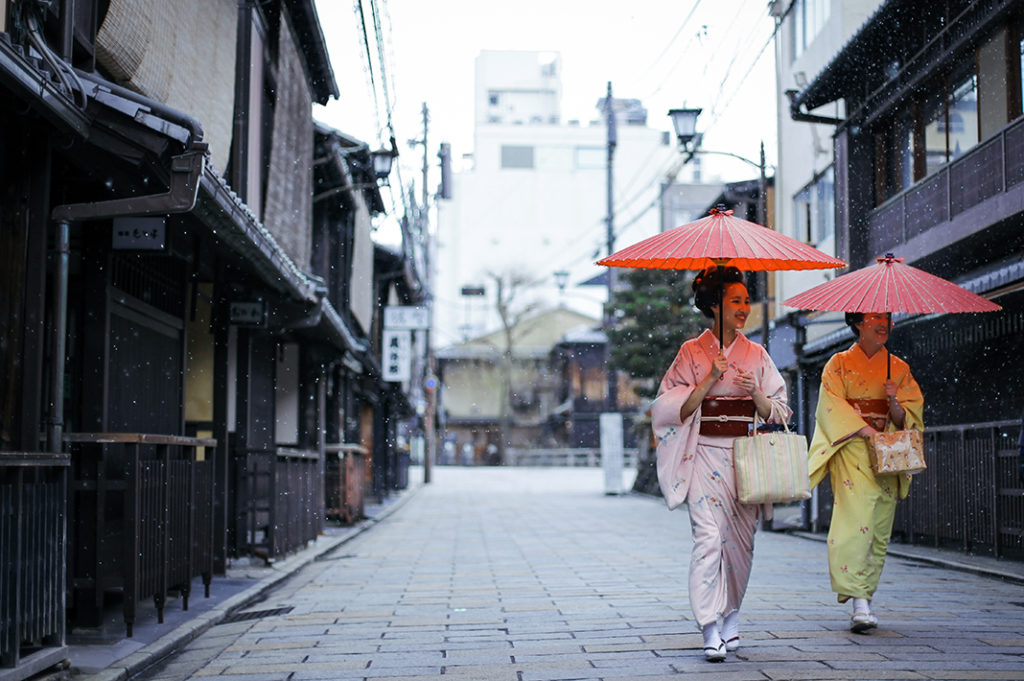 Memoirs of a Maiko
Geiko culture is commonly viewed as mysterious and exotic to many non-Japanese. Sadly, the mystery is often rife with misconceptions about what a Geiko actually does. Geiko are often confused with Oiran by outsiders; although they look similar, their career paths are entirely different. However, the Japanese movie 'Sakuran' does a fantastic job of bringing the world of Oiran to life and is a must-watch for Japanese pop-culture buffs.
The path from 'civilian' to Geiko is long and arduous. Young girls who embody certain characteristics will begin formal training at around age 14-15 with the title of 'Shikomi.' The second stage is titled 'Mi-narai'; a literal translation of "watch and learn." After a year, they will graduate to the rank of 'Maiko' – the most beloved and recognisable symbol of Kyoto's cultural identity. At age 20, a Maiko will 'turn her collar' (changing from red under-robes to white) and graduate to the status of 'Geiko.'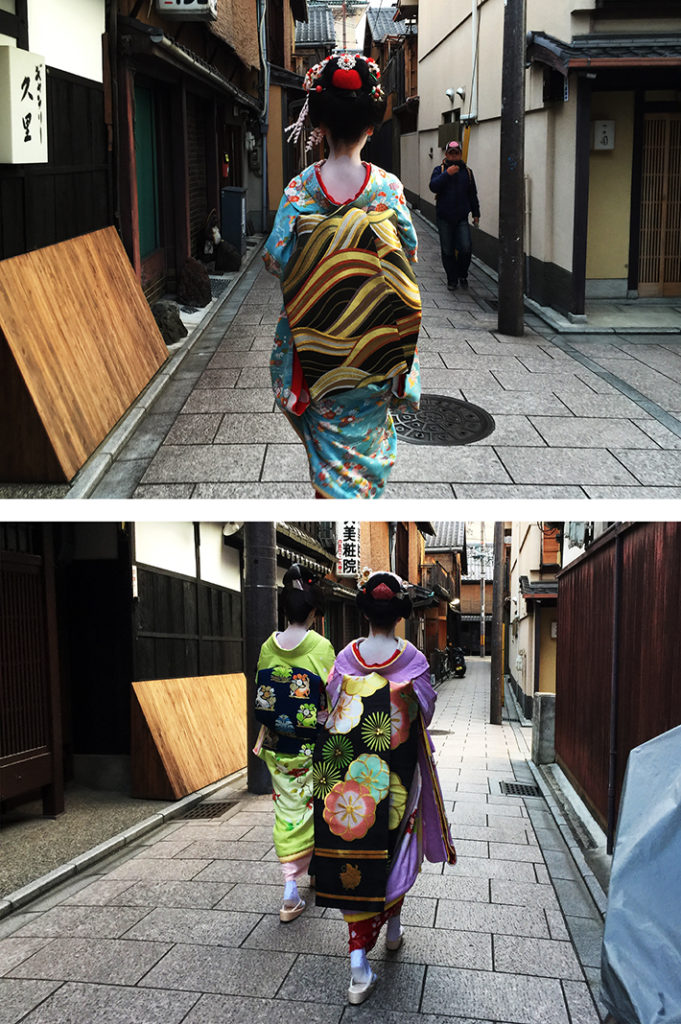 Here in Gion, traditional Geiko lodgings (okiya) are abundant. Beyond these, traditional teahouses (ochaya) cluster together on every street. The world of Geiko and their patrons is steeped in privacy and is non-negotiably closed to the vast majority of people. As such, remember that although Gion is a place that understands the need for tourism, it has operated without it for centuries. Gion is truly the last bastion of Kyoto's unique 'floating world.' As the district is forced to modernise, Geiko are becoming ever-more elusive to preserve the precious culture they embody.
Regroup, refuel, relax.
Naturally, as your Kyoto City Walking Tour finishes in Gion around dinnertime, you'll want to seek out somewhere nearby for an evening meal. Unfortunately, Gion itself isn't home to any restaurants that can be 'dropped in' on. Additionally, many of Gion's restaurants operate kaiseki menus that total several hundred dollars for a meal. However, neighbouring Pontocho is a district made up entirely of restaurants! At each end of Pontocho are the Kiyamachi and San-jo districts, laden with even more fantastic bars, pubs and restaurants. If you're looking for some classic yaki-niku, try Hiro Beef, in Pontocho. For serene river views and excellent food and atmosphere, head back south to the Kawa Cafe. If you're a fan on tempura, Komefuku is the spot for you!
Finally, if you're in the mood for some unique drinks after an evening meal, head expediently to Nokishita. It's a dedicated gin bar serving some of the most unusual blends you're likely to find anywhere in Japan, and has an enchanting décor to match. For unique cocktails in a speakeasy setting, try the well-known L'escamoteur bar. Alternatively, you could 'Finnish' in style at Bar Finlandia. Kanpai!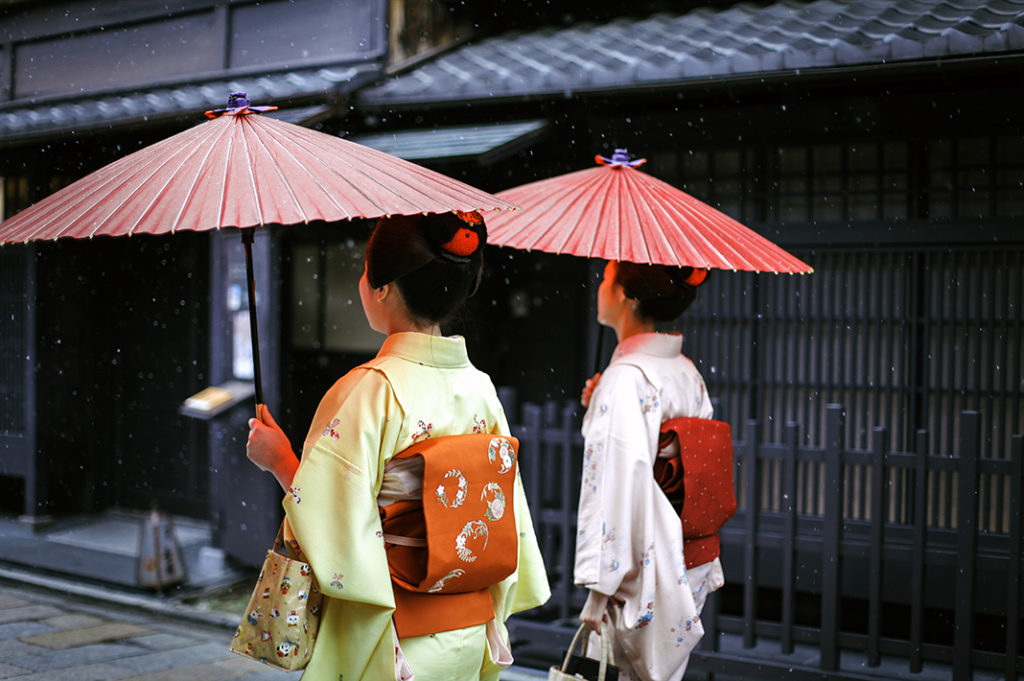 Post by Japan Journeys.