Lights, camera, monsters? Delve into the belly of the beast (a cute beast that is) at Kawaii Monster café in Harajuku Tokyo. Whilst going about your day, you, unfortunate café-goer, have been swallowed whole by Mr. Ten Thousand Chopsticks, a kawaii (cute) monster. With no way out, your only recourse is to join in on the riotous décor, rainbow-toned food and drinks, and monster-led performances bouncing around his stomach. The brainchild of designer Sebastian Masuda, the café is a Harajuku-based, high-energy tribute to guro-kawaii (grotestque-cute) and kimo-kawaii (disgusting-cute) aesthetics. Minimalists beware.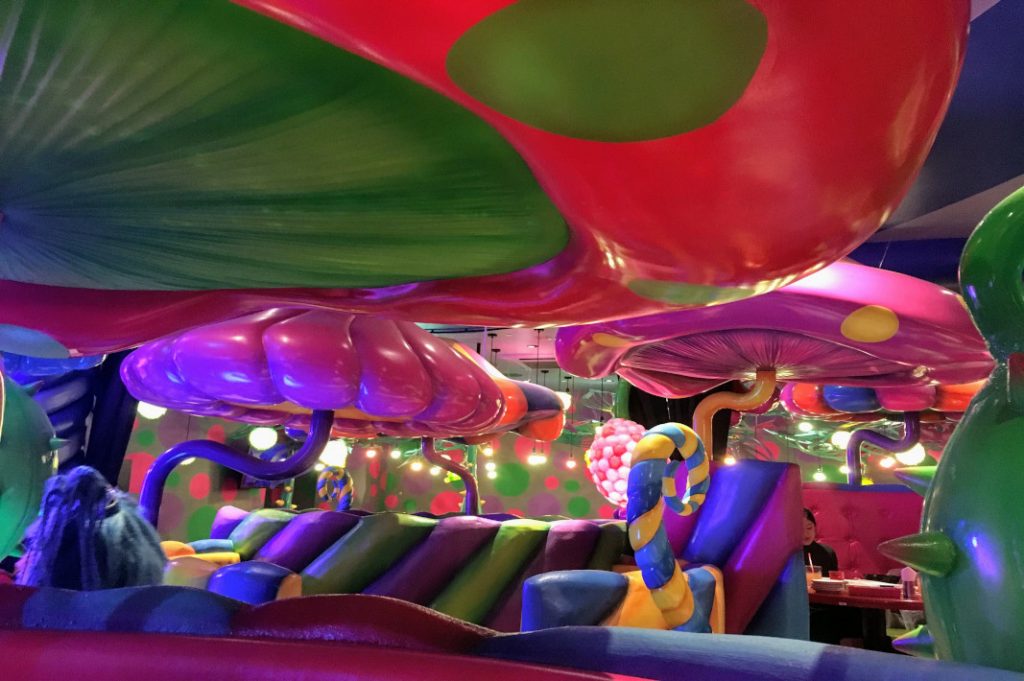 Crossing the threshold
Buckle up! You're in for a weird, albeit uniquely thrilling, ride. The café does its best to toe the line between adorable and disturbing. When you arrive, you'll be greeted by massive, rolling monster eyeballs and shortly thereafter by an enthusiastic staff member, who will introduce you to your lavishly dressed monster-server. Upon opening the gates, you server will guide you through the pumping beats, violent colours, and menacingly-cute monsters and plant-life that await you.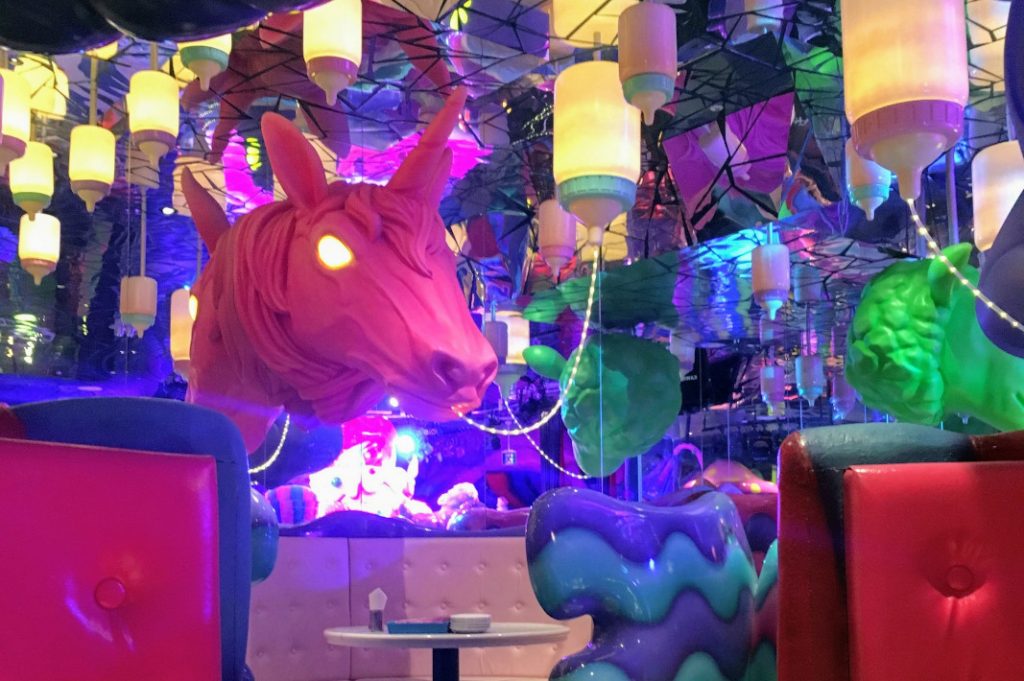 Monster-worthy décor
Once seated, you'll be free to wander the café at your leisure. Make sure to bring your camera, as every inch of the café is an Instagram-worthy shot; just don't turn your back on anything that looks dangerous. There are four major setting areas: the mushroom disco, milk stand, mel-tea room, and BAR experiment. Vibrant, toxic-looking mushrooms shade comfortable booths in the mushroom disco. However, the nearby milk stand is not for the faint of heart. Animal heads, with a decidedly maniacal glint in their glowing eyes slurp from floating baby bottles. Written out, it doesn't sound that bad. But I'm hard pressed to explain why in person this corner gives off such an unsettling atmosphere. Meanwhile, if you'd like to lean a bit more into the cute side of things, the mel-tea room is adorned with macarons, lips, and pastels. Last but not least, the BAR experiment is truly one of a kind. Glowing tentacles screen its patrons from the rest of the chaos.
Other key sites include the sweets-go-round, a revolving tired cake crowned with melting animals, a banana, and a top hot, which doubles as a performance stage. Why? You might ask. Evidently, Masuda's answer is why not? Meanwhile, if you're hoping to take an overload break in the bathrooms…you guessed wrongly. Simple they are not. However, fun, well-stocked with free goodies and adorned with candy counters they are.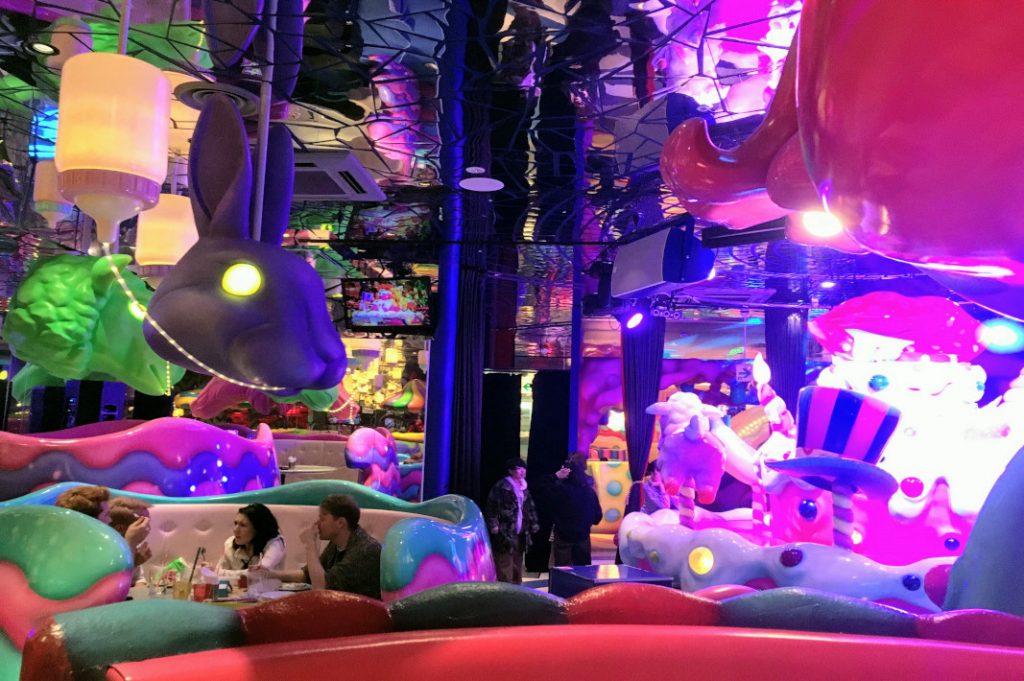 Performances
On the hour, performers will rouse patrons, eventually taking to the cake stage for singing, dancing, and pulling a lucky few up to join them. If you'd like to take some photo evidence, there's a photo-op at the end. Daytime performances are a bit fluffier, and you don't usually need to reserve entrance tickets in advance. However, as night falls things become distinctly more leather-y and sexy. Check the calendar for special burlesque, pop culture, geisha, and drag-queen nights. But take note that Thursdays and Fridays are for ages 20+ only (Japan's drinking age). The nighttime shows are extremely popular, so its well worth it to book your tickets in advance through their English site.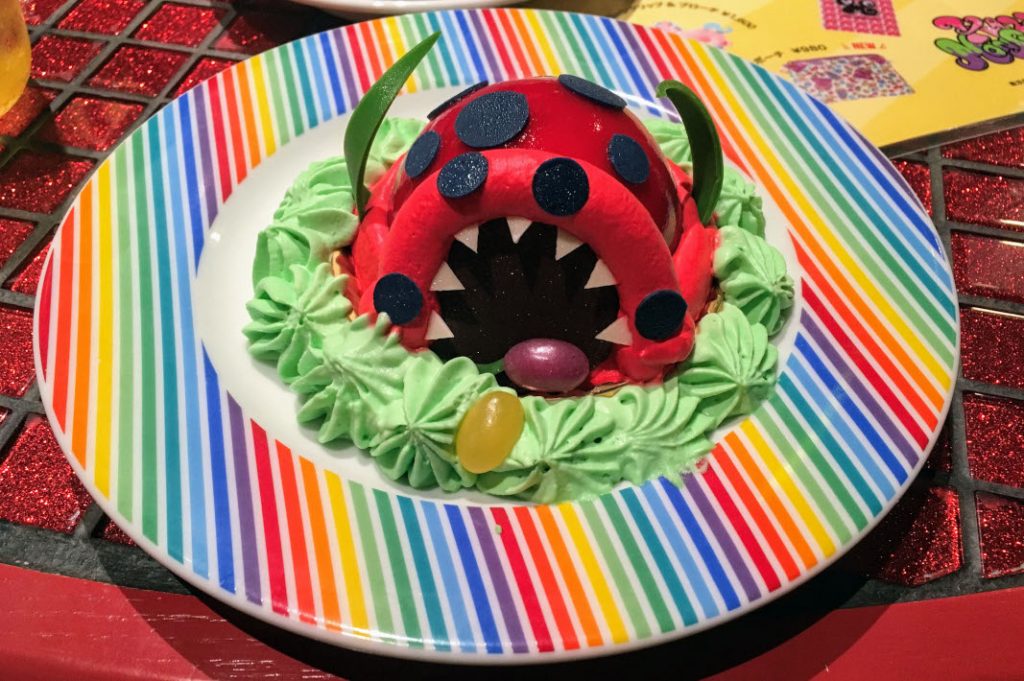 Monster fuel
Although sometimes achingly sweet, the food more than delivers in its presentation. Loops of rainbow-coloured pasta, pastel-toned sauces, and bright poison cake await you. If you're searching for some less-vibrant fare, items like chicken and waffles, maki rolls and burgers are also available, too. Although, your burger will be watching you…with its eyes. Take note, however, that there is a minimum order of one drink and one food item per each patron as well as a small cover charge. Speaking of drinks, the café is also stocked to the gills with a wide range of alcohol to boost your experience. Check out the specialty cocktails, such as the mad scientist.
Name: Kawaii Monster Café Harajuku
Address: 4-31-10 Jingumae, Shibuya-ku, Tokyo, YM Square Building, 4F
URL: https://kawaiimonster.jp/night/english
Post by Japan Journeys.