Summer is peak festival season in Japan, particularly during the Obon period in August. For one of the largest and oldest in the country, head to Tokushima on the east side of Shikoku, the smallest of Japan's major islands. Held annually, Awa Odori is an exuberant celebration of a four-hundred-year-old local dance.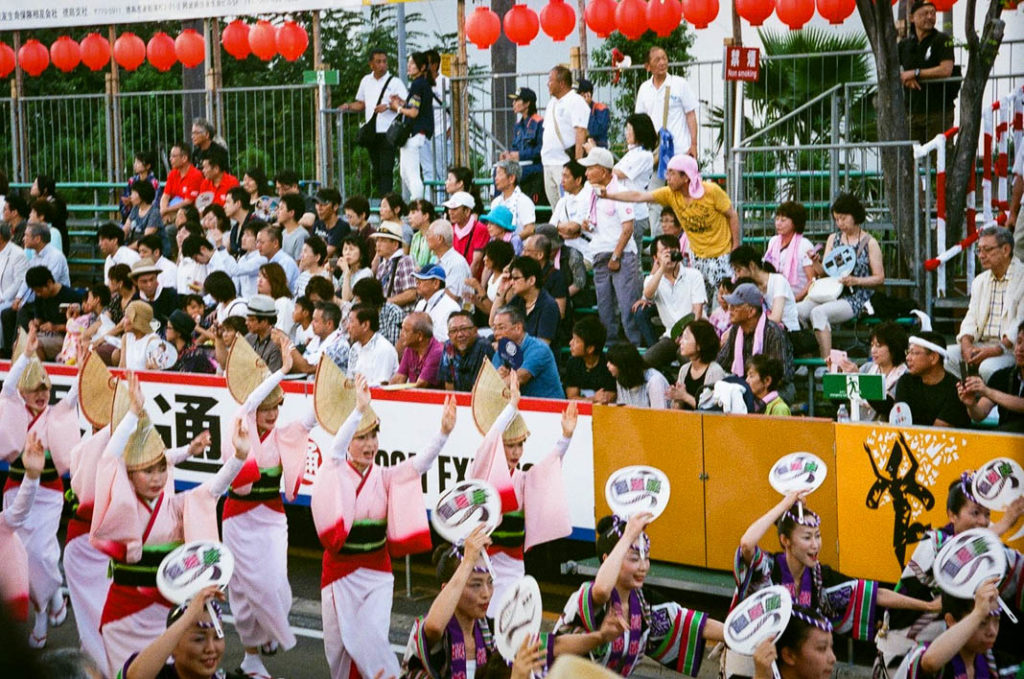 The Fool's Dance
Awa Odori is the largest dance festival in Japan and has a long and storied history. Bon Odori dances have been held as part of the Obon festival for centuries, and, according to one legend, Awa Odori was born out of a particularly raucous drunken party celebrating the opening of Tokushima Castle in 1586. The resulting dance, called "The Fool's Dance", has been done at the Awa Odori festival every August since.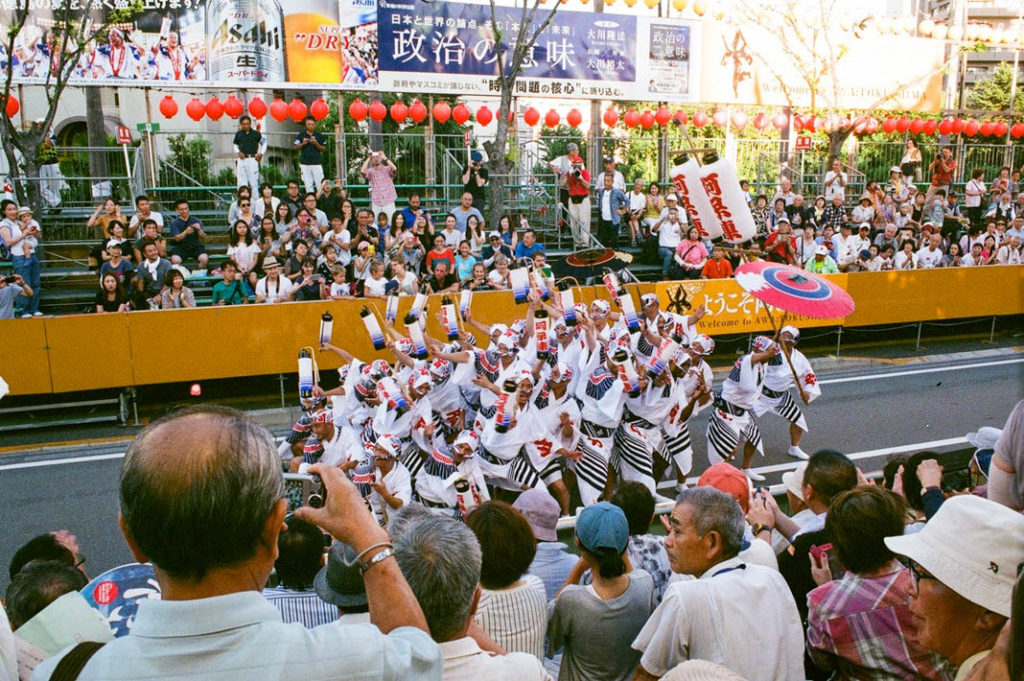 While all of the many dance troupes perform the same dance at this summer festival, each has its own distinct flair while costumes, musical arrangements, and skill level vary from group to group. Typical costumes for men include happi coats, while women wear kimonos and folded tatami hats and dance daintily on the edge of their geta sandals. The men dance with bent knees in a low crouch, and children and adolescents of all ages and genders can perform the men's dance. Some of the larger troupes also include a kite dance, with one acrobatic performer as the "kite."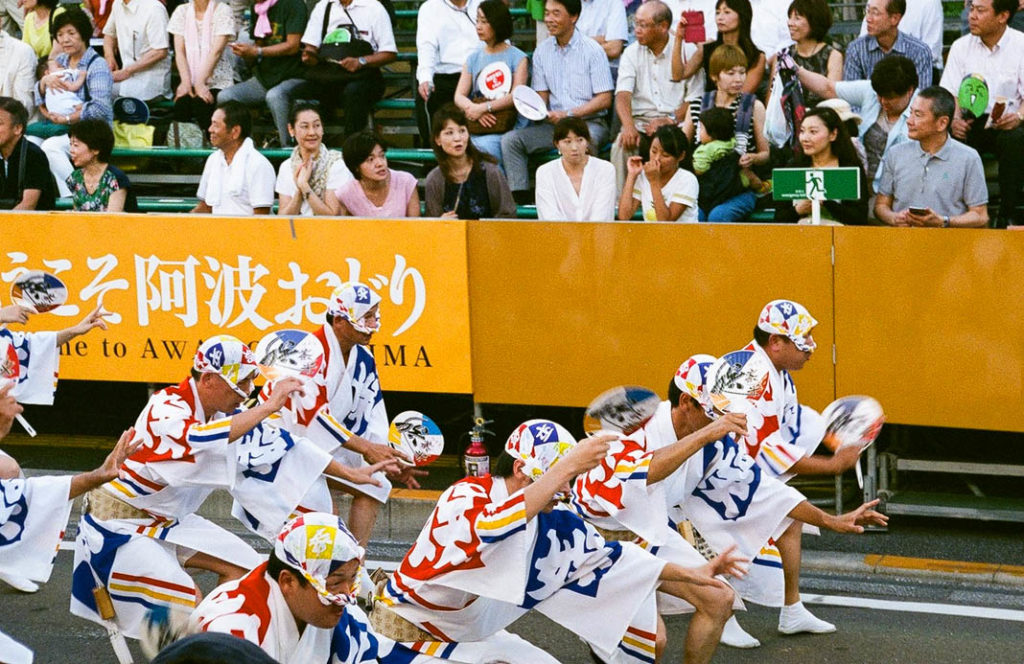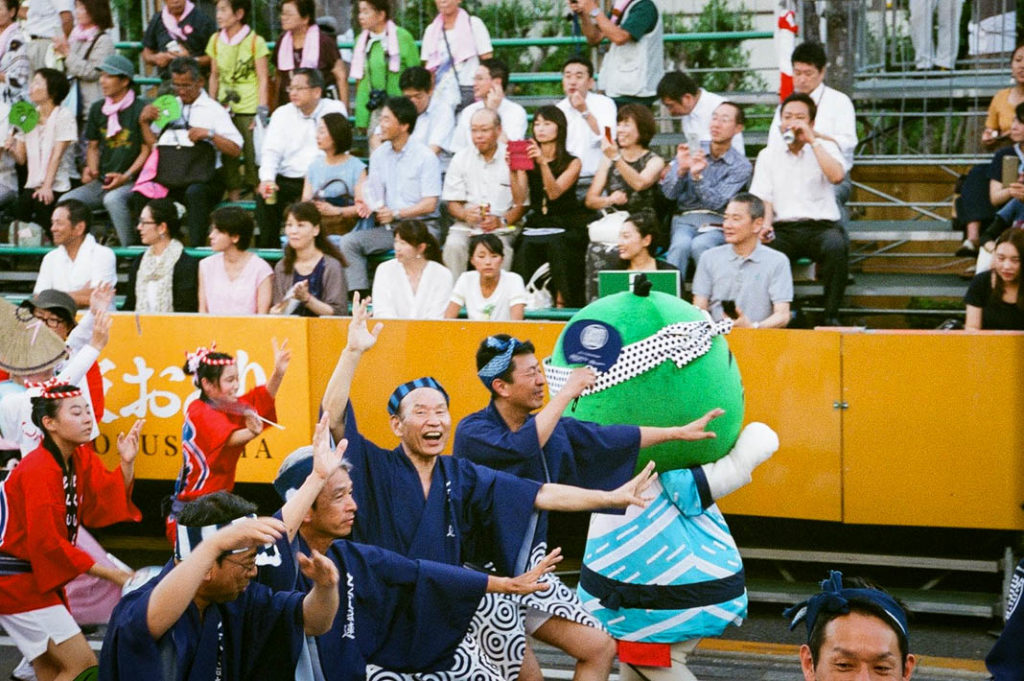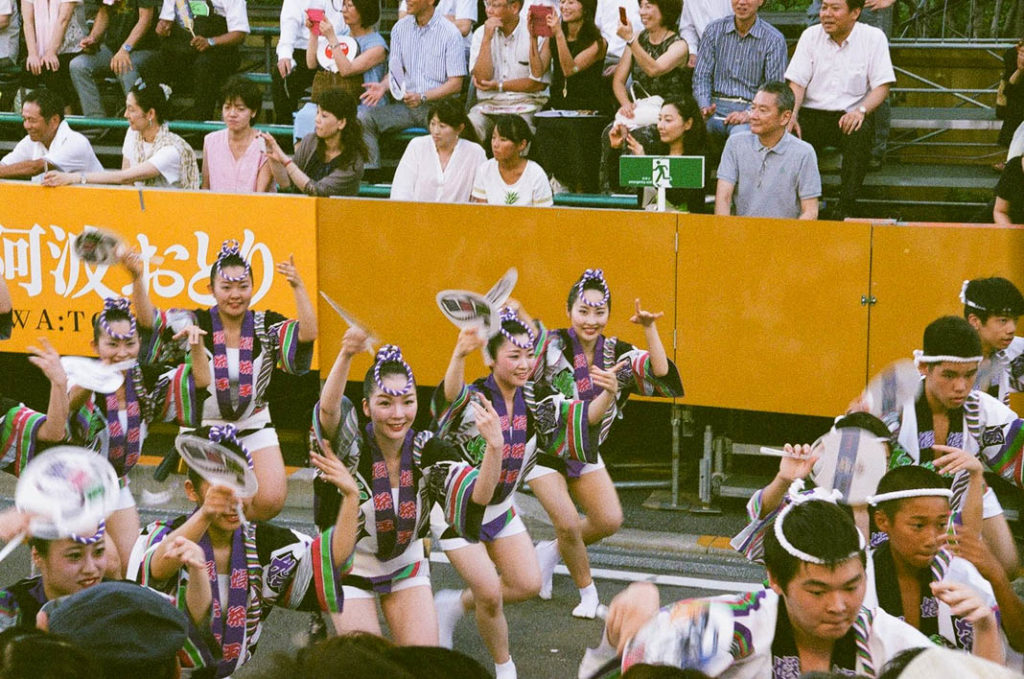 The dance troupes are led by musicians playing traditional Japanese instruments such as the shamisen, taiko drums, and shinobue, a kind of flute. The music is accompanied by occasional singing and call and response chanting to keep the dancers' energy up.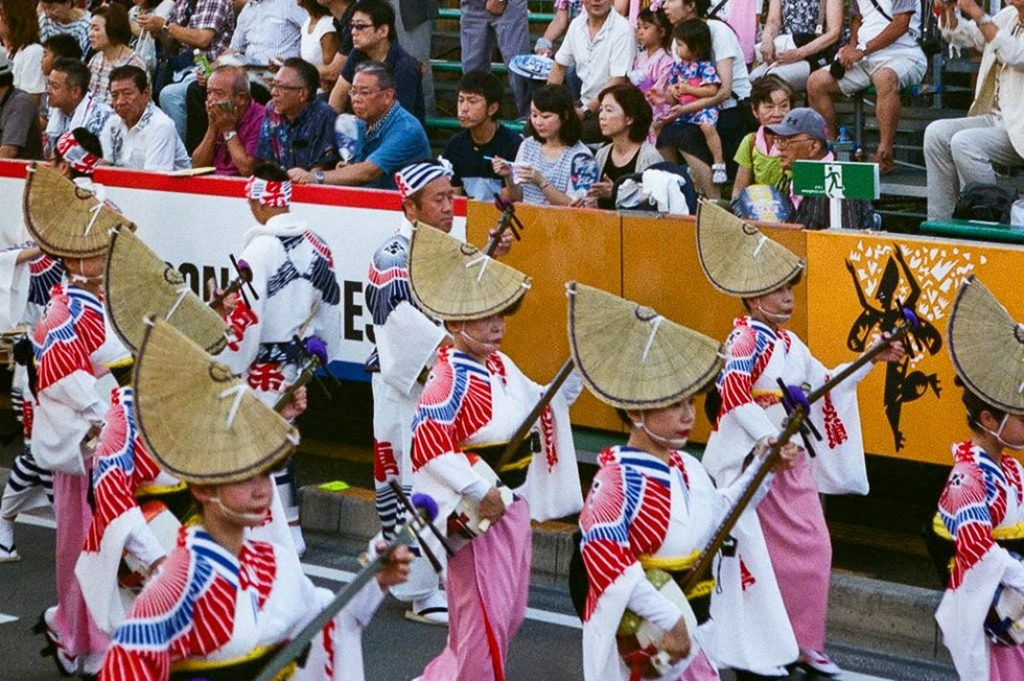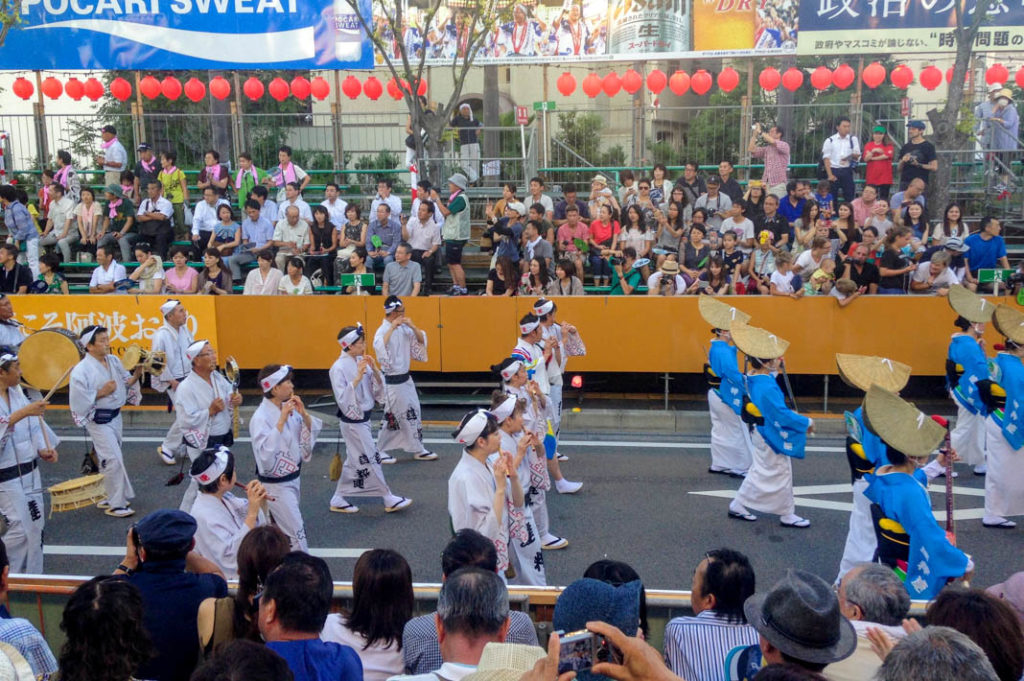 Seeing the Awa Odori Festival
Every evening during the festival, the city center shuts down and becomes one large performance space. In addition to the main event, there are also tents with food, festival games, and even more dancing in the pedestrian-only festival zone. There are both free and paid seating areas for spectators to watch the processions, but to see the more professional groups, you should definitely go for the paid seating, which costs between ¥800–¥2,800. There are two different blocks of performances each night, one from 18:00-20:00 and another from 20:30-22:30. At the end of each block, the dancers invite the spectators out of the stands to join in the fun! Tickets can be found at convenience stores nationwide or at the Tourist Information Center in Tokushima.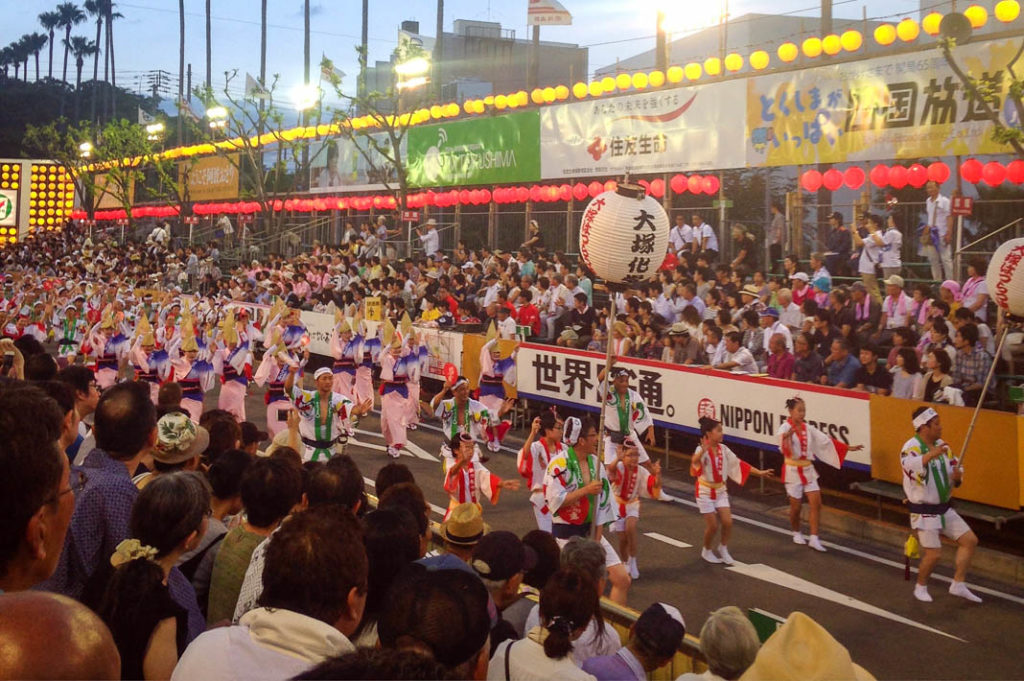 Getting There
There are a few different ways to get to Tokushima. It's a 1 hour and 10-minute flight from Tokyo. Alternatively, take the Shinkansen to Shin-Kobe Station and transfer to a bus to Tokushima (approximately 5 hours). Accommodation during this time should be booked well in advance.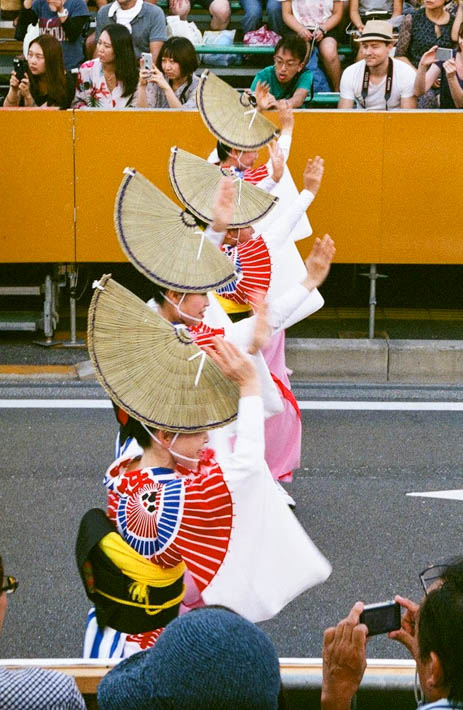 Name: AWA Odori Dance Festival
Address: Throughout Tokushima City
When: August 12th-August 15th
URL: https://www.japan.travel/en/spot/203/
Post by Japan Journeys.