Spend a few days exploring Tokyo and you'll start to get a sense of its enormity. For every neon-lit neighbourhood, there's an old-fashioned counterpart across town, bustling in its own special way. A visit to a 'Shitamachi' (downtown) pocket has a way of transporting you back in time, to a Tokyo many don't even know exist. Though they're not the hot date-spot for the younger generation, Shitamachi neighbourhoods offer a valuable glimpse into Tokyo's past and should be an essential part of any Tokyo itinerary. On a recent quest for a manhole card, I found myself planning a day trip to Shibamata which happens to be one of these old-fashioned Tokyo neighbourhoods. And while I expected a nice day out, I didn't think I'd come away relaxed, invigorated and utterly charmed. It's that ol' Shitamachi magic.
That Shitamachi downtown charm
Located in Katsushika Ward, Shibamata is a 25-minute train ride east of Asakusa, at the edge of Tokyo Prefecture. The Edo River (Edogawa) runs alongside it, with Chiba Prefecture on the other bank. Like Asakusa, things in Shibamata center around a temple and the shopping street leading to it, with a healthy dose of charm and attractions all around. Follow along with our route here.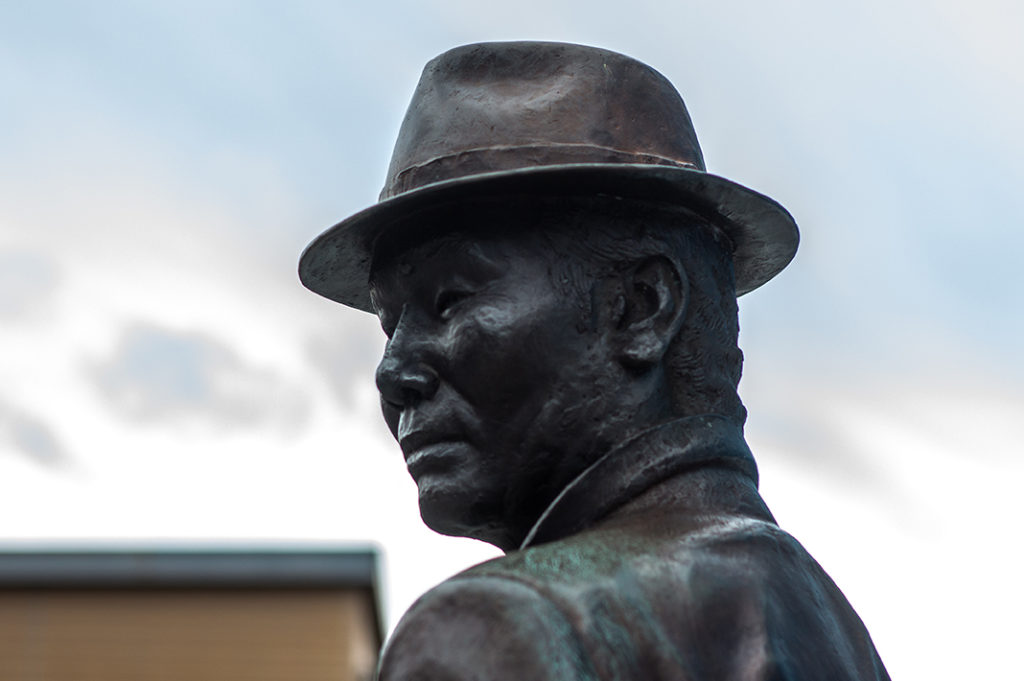 The neighbourhood is well known among Japanese as the home-town of Tora-san, the protagonist in the film franchise 'Otoko wa tsurai yo', or 'It's hard being a man.' Incredibly, there were 48 movies released between 1969–1995, earning it the Guinness World Record for the longest-running movie series starring a single actor. So it's only fitting that, as you exit the station, Tora-san is the first face you see, albeit a bronzed one. Get familiar with him and his jaunty hat, as they appear all over town—from the souvenir shops all the way to his very own museum.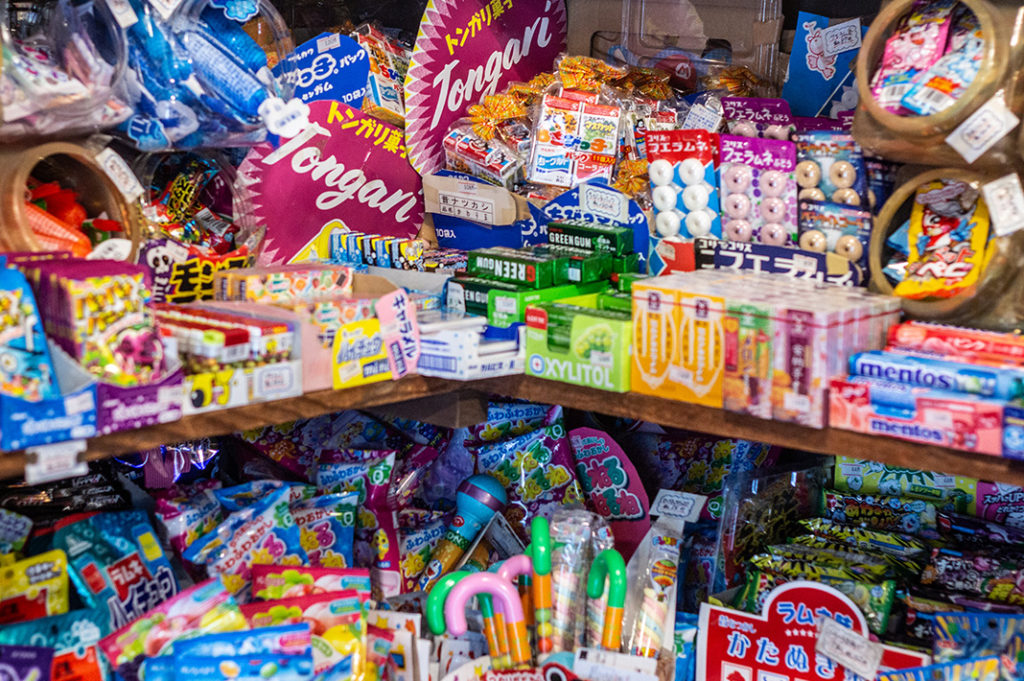 Explore the Taishakuten Sando shopping street
Just steps from the station, we spot the overhead sign for the Taishakuten Sando (帝釋天参道) or approach to Taishakuten Temple. Resisting the temptation to explore, we first head into the candy shop to its left. Full of old-fashioned sweets, memorabilia and even some arcade games, it makes me nostalgic for a time and place I never knew. Exiting, giddy, my mind now in the mid-century, it's time to dive into the shopping street.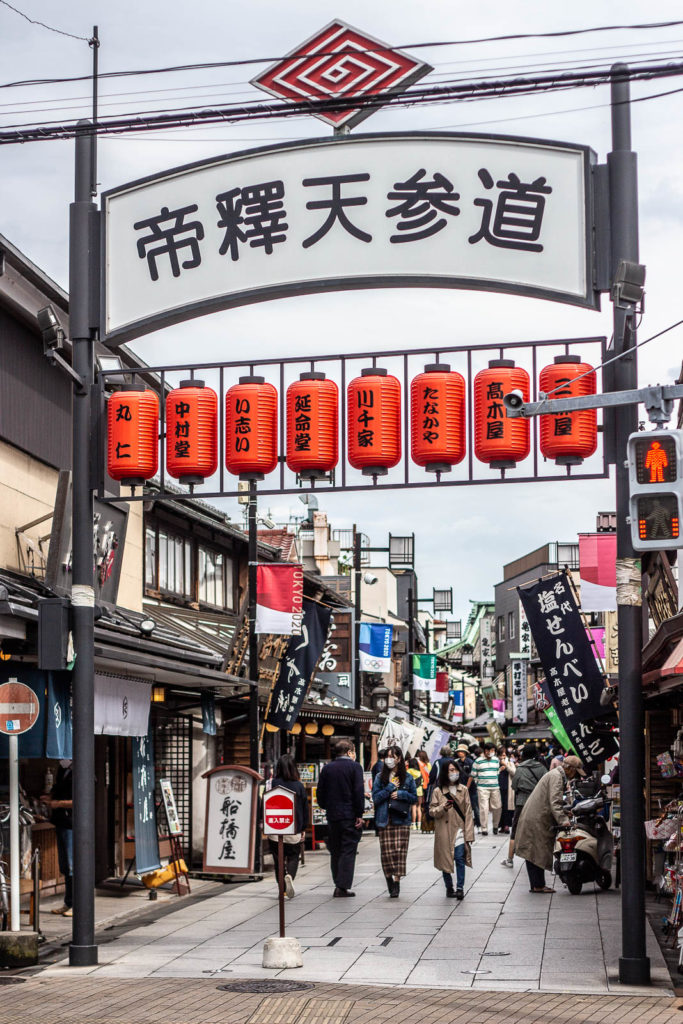 The 200m path curves its way toward Taishakuten Temple and is lined with charming shops, like a scene from an Edo Period (1603-1868) painting. There are all manner of treats from senbei to soba and sweets, but the Shibamata area is best known for unagi (eel) dishes and kusa-dango (mugwort dumplings).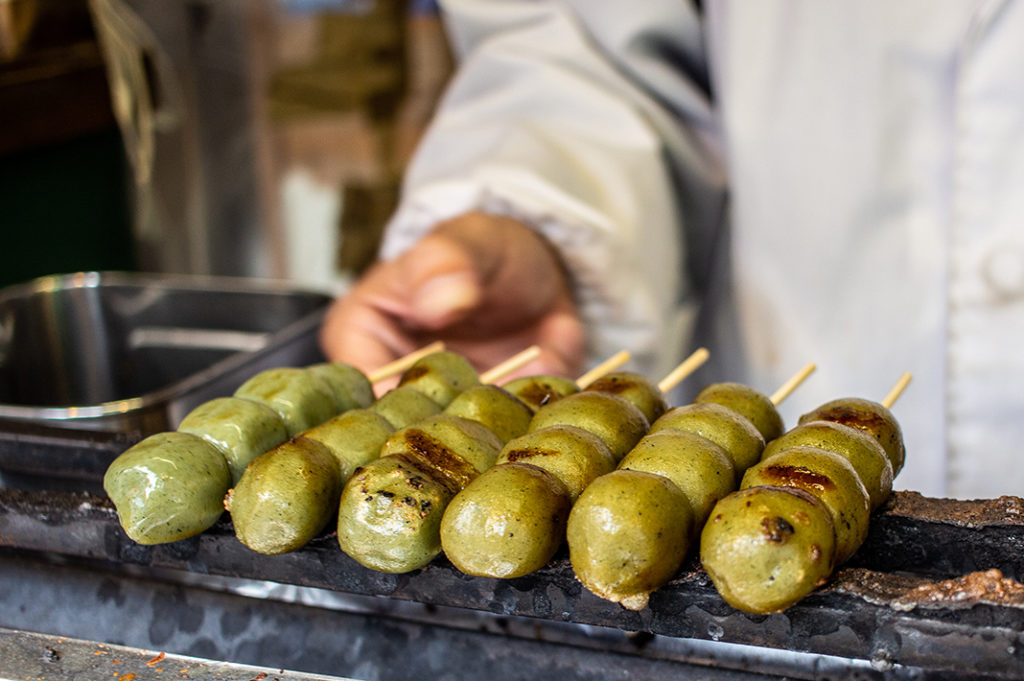 Kusa dango – mugwort dumplings
The latter may sound alarming, but if you've had the tri-colour sanshoku dango before, you've had yomogi (Japanese mugwort—the green ball). Kusa dango are typically sold here topped with anko (red bean paste) but I went for some fresh off the grill, rolled in shredded dried seaweed. The yomogi flavour was subtle, almost hinting at shiso or mint.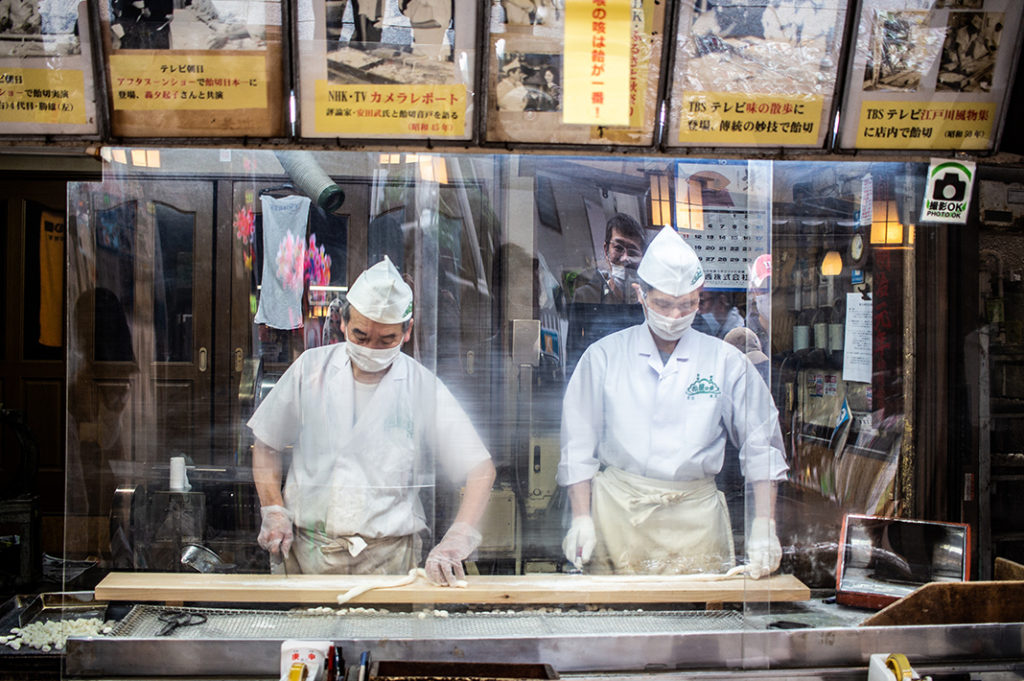 See the famous candy makers
Visiting Shibamata on a Sunday is a treat as the candy makers at Matsuya no ame put on one heck of a show. The two chefs stand before a wooden board and begin tapping out a rhythm with their knives while their free hand readies a length of freshly-made soft candy. The rhythm changes once the cutting begins, causing many heads to bob among the crowd—mine included. The sound of the cutting, and of the general area, are considered so iconic that the Japanese Government has included them among the 100 soundscapes of Japan—one of only four in Tokyo. If that's not reason enough to visit, I don't know what is.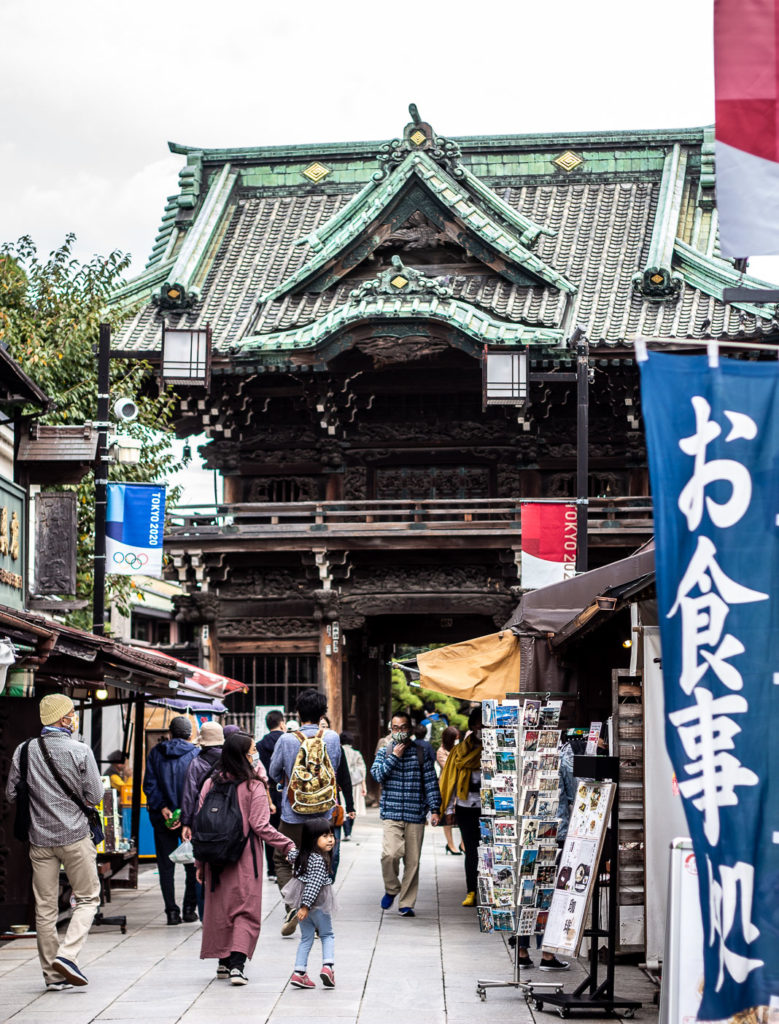 Taishakuten Temple and grounds
Rounding the final bend, Taishakuten Temple's ornate wooden gate dominates the scene and, as though on queue, the temple bell tolls as we enter. This Buddhist Temple, founded almost 400 years ago in 1629, is the spiritual heart of Shibamata. In front of the main hall, the Zuiryu-no-matsu pine tree, said to be 500 years old, stretches out in two directions with the help of supports. Photos just don't do it justice, you'll need to walk underneath for the full effect.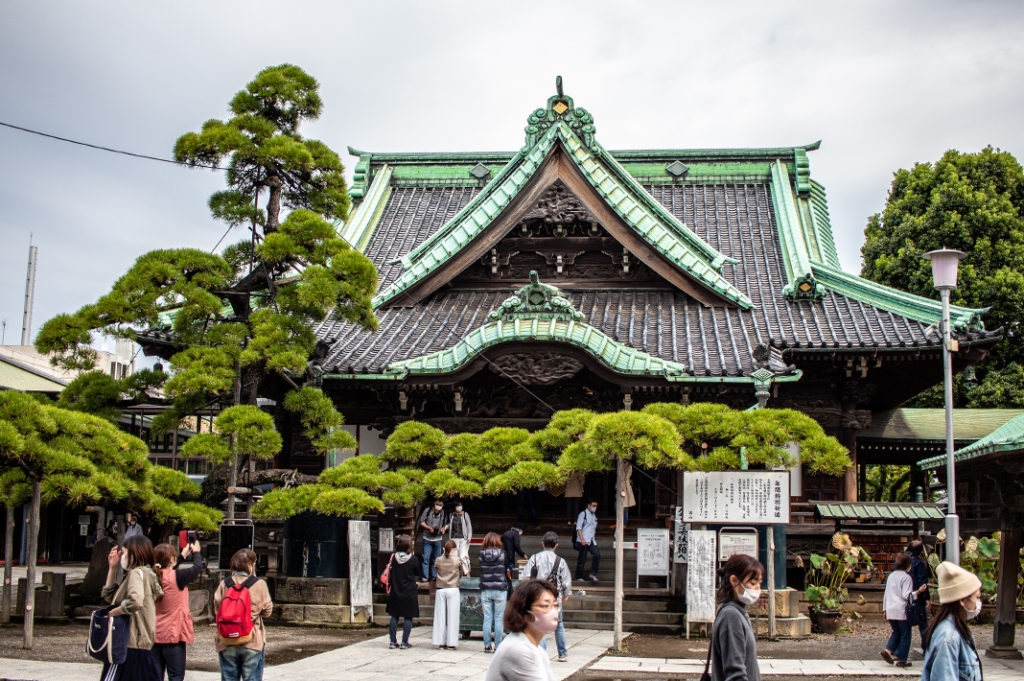 We remove our shoes and enter the main hall, peering around at the intricacies of the altar. The man beside us catches our eye and grins cheekily as he points up at the huge oni design on the ceiling. We gaze up in awe, unaware of just how much our minds are going to be blown in 15 minutes' time when we find the wood carvings in the gallery.
The best 400 yen you ever spent
Outside and to the rear of the main hall, there is a ticket office window where you can pay 400 yen to get access to the Soshido Hall, its Japanese garden and the wood carving gallery. We remove our shoes and head into the refurbished Shoshido hall to admire the design and artworks.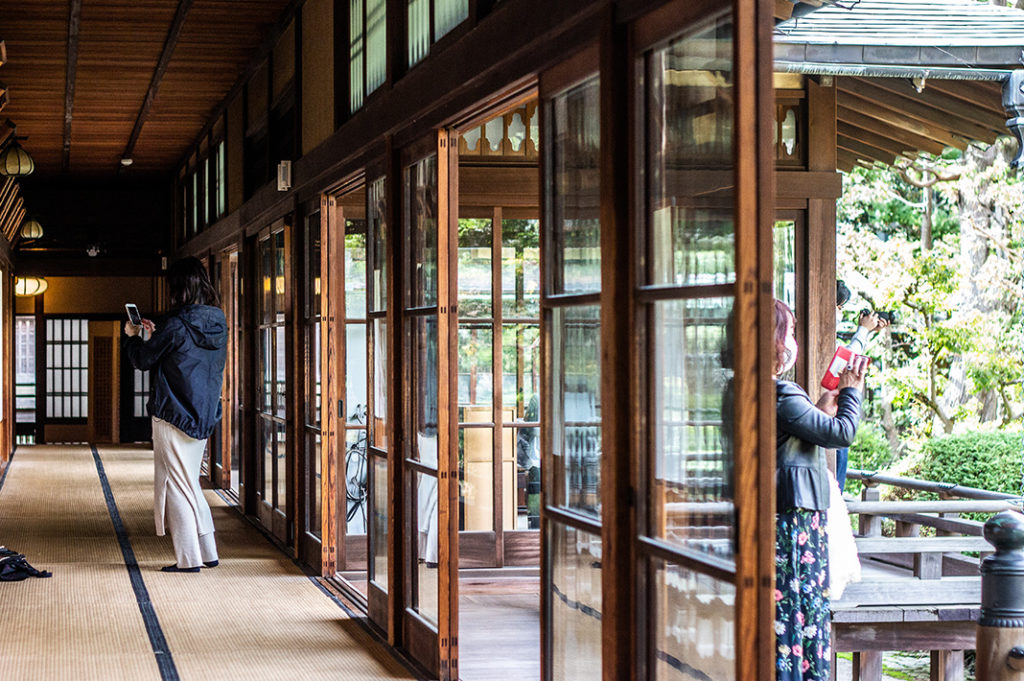 The tatami hallway offers views into the beautiful garden—an Important Cultural Asset. At the hallway's end, follow a wooden walkway around the garden to see koi carp, plants and water features.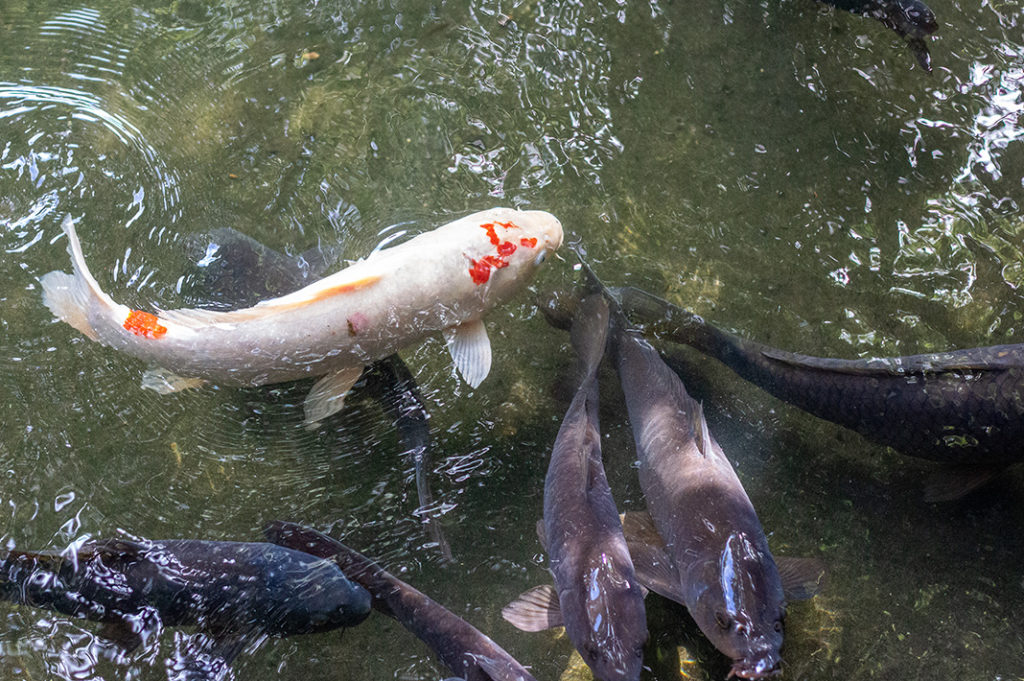 Next, we pad over to the rear of the main hall, which is encased in glass to protect the wood carvings. The panels, completed between 1922-1934, are simply astounding. As we gaze over them, a Buddhist monk chants along to a rhythmic instrument. We cannot believe we are the only ones bearing witness to this incredible scene. Where are the tourists? Where is the noise? This is just one of the times we would pinch ourselves that day to prove that this was all real. Here's a teaser, though you have to see it to believe it.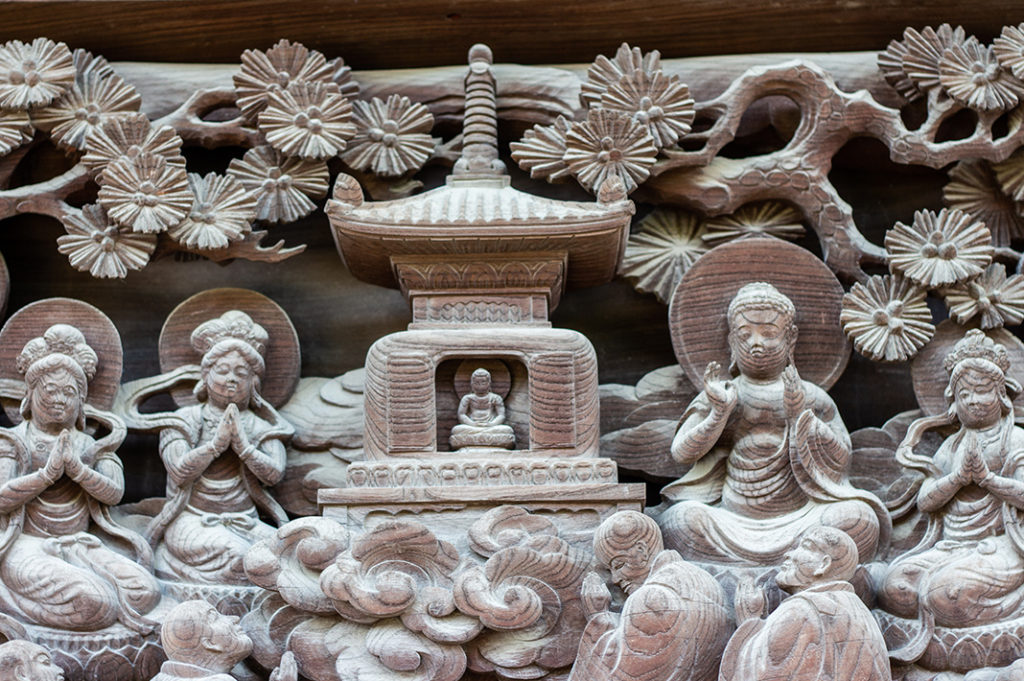 Refreshments at the Yamamoto-tei tea house
We wander the backstreets of Shibamata for a few minutes to get to Yamamoto-tei tea house. Once again, we remove our shoes to step inside. The man in the queue in front of us reaches for a pamphlet, and to our surprise, turns to hand us two English versions. With this most recent act of kindness and connection from a stranger, we now understand that there's something in the air here. We're bonded in the shared halcyon bubble that exists around a Shitamachi neighbourhood.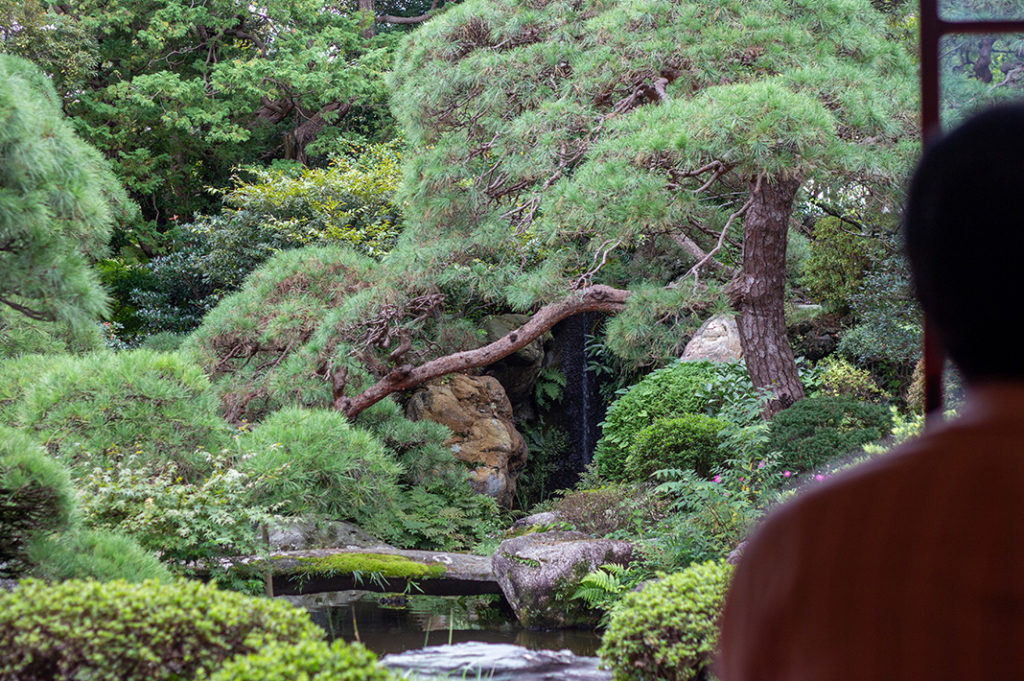 The tea house, last renovated in 1930, features a number of surprising western elements in the beautiful Japanese design. It's only 100 yen to enter and look around, though we recommend you order tea and snacks, too. You'll get a token that you can place at your table and await delivery while gazing at the peaceful garden.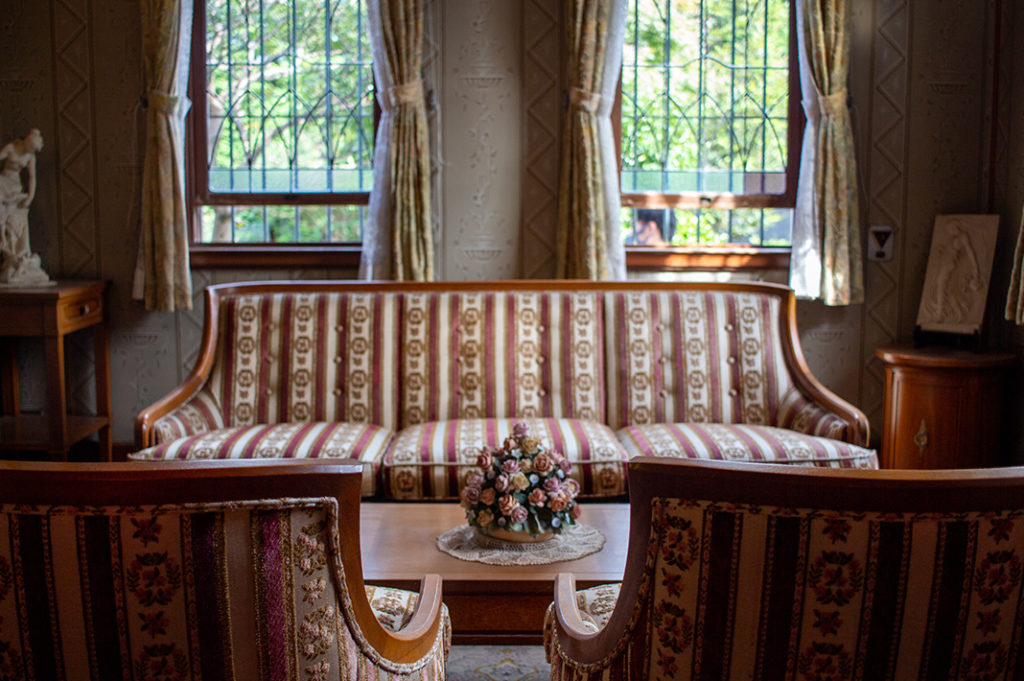 We sit cross-legged at a low table with views of the garden when music starts playing in the next room. We wander over to find a five-person string performance taking place and once again pinch ourselves. This is really happening.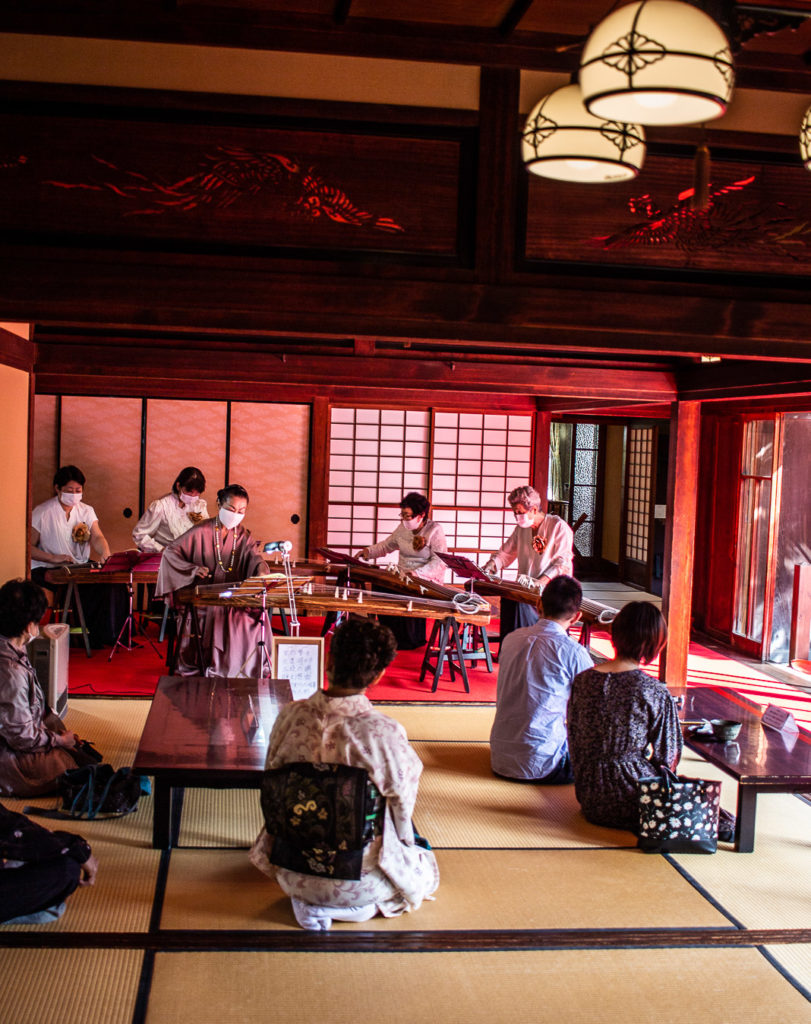 From the tea-house, signs point to the neighbouring Tora san museum which features movie sets and Japanese mid-century charm. Unfortunately, our magical day had a very real deadline, so we vowed to pin it for next time.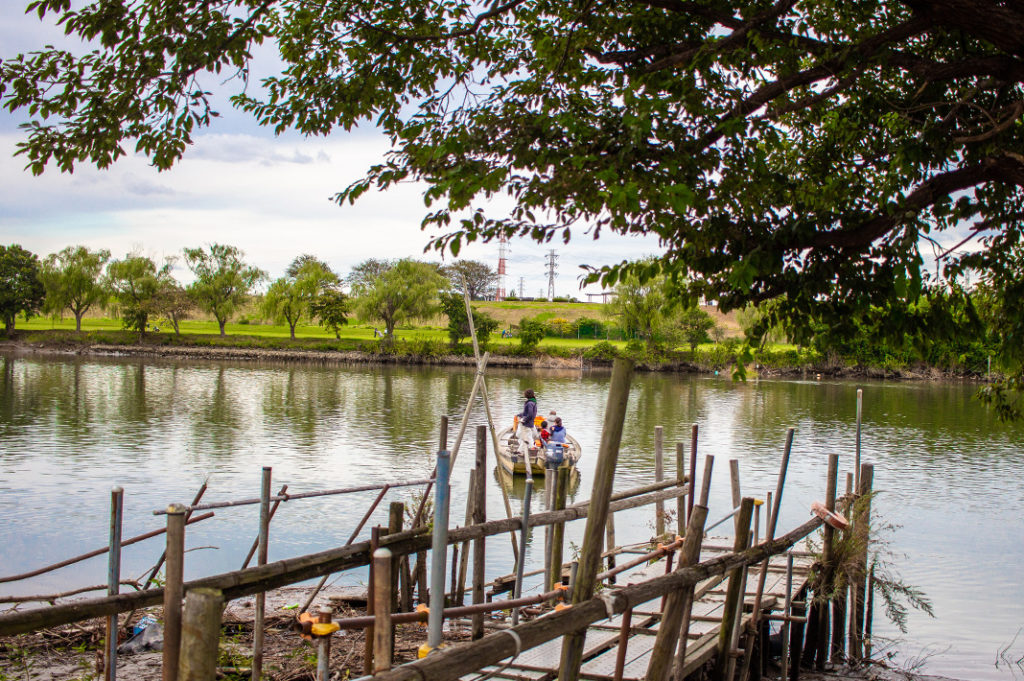 Yagiri no Watashi boat ride
Another of Shibamata's important attractions is the Yagiri-no-Watashi, a ferry dating back to the Edo Period (1603-1868). We wander down to the banks of the Edo River, past a spirited local baseball game and spot the wooden boat departing the rickety pier. The captain lazily steers the creaky rudder as it floats across to Chiba Prefecture, the way it has for hundreds of years. The sounds of this boat are explicitly mentioned on the list of 100 soundscapes of Japan so we are glad to have heard it. Tickets are just a few hundred yen per person but we, unfortunately, had to keep moving.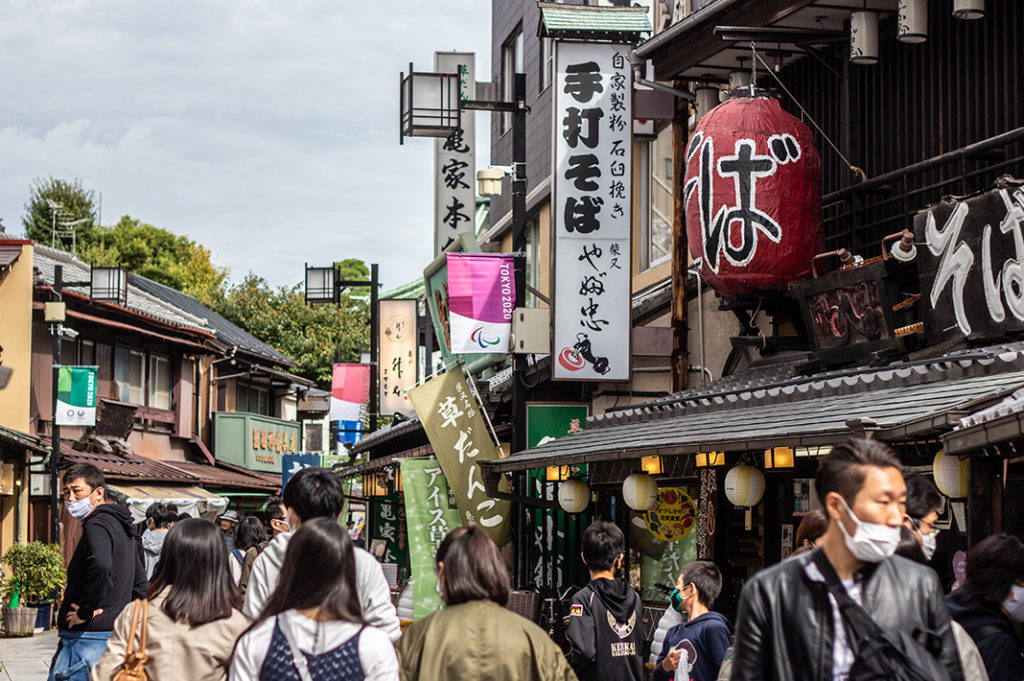 Unlike our 3 hour visit, allow a full day to explore Shibamata and the surroundings; I'm confident you will find plenty to see and do. That night, my arm red from a day of pinching myself, I watched a clip from the 1969 Tora-san film, and was shocked to see Shibamata as I had seen it a few hours earlier, unchanged in over 50 years. I cannot believe this well-preserved Shitamachi pocket exists, this time-warp bubble that filled my day with laughter and delight and connection with strangers. This goldmine of culture and history now tops my list of places to bring visitors, and I can't wait to go back.
Post by Japan Journeys.