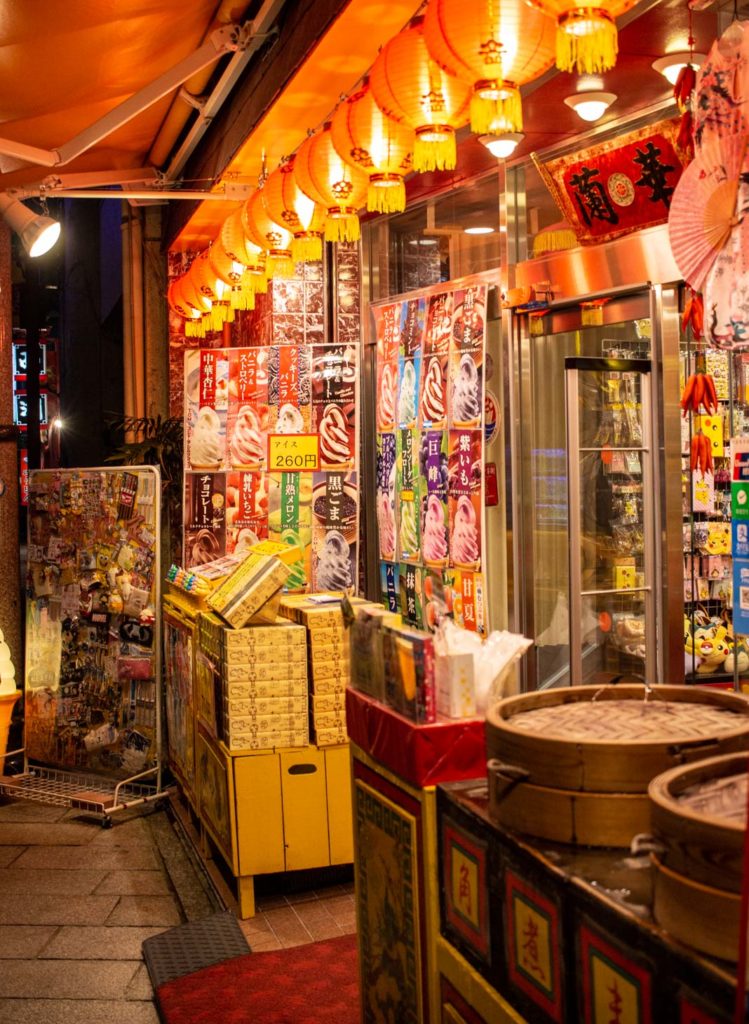 Nagasaki Chinatown is a shopping and dining district in downtown Nagasaki, rich in history and bursting with delicious local fare. For the 200-odd years that Japan's borders were closed to foreigners during the Sakoku (closed country) policy, Nagasaki was one of the few ports open to trade. This was, however, limited to the Chinese and Dutch. While the Dutch were relegated to operating from Dejima, this area, also known as Shinchi, or 'new land', has been the commercial district for Chinese traders for hundreds of years. As such, it is the oldest Chinatown in Japan, predating both those in Yokohama and Kobe. Join us for a stroll through the neon streets to see what's on offer.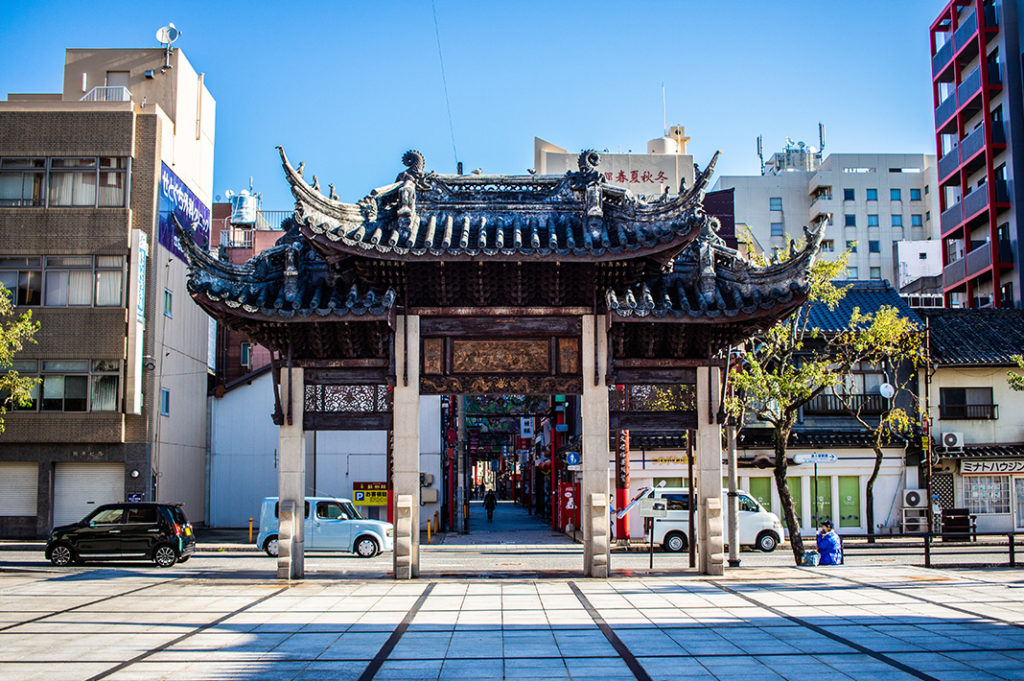 Exploring Nagasaki Chinatown
All told, Nagasaki Chinatown is fairly compact, taking up just one city block. There are 4 gates, positioned at the north, south, east and west, each with a unique animal design acting as a guardian. Inside, the streets are colourful and delightfully gaudy, with folksy Chinese music playing from hidden speakers. People wander around, studying the menus and plastic food displays before disappearing inside one of the many restaurants for a bite. This brings us to one of our favourite things to do in Nagasaki Chinatown: eat.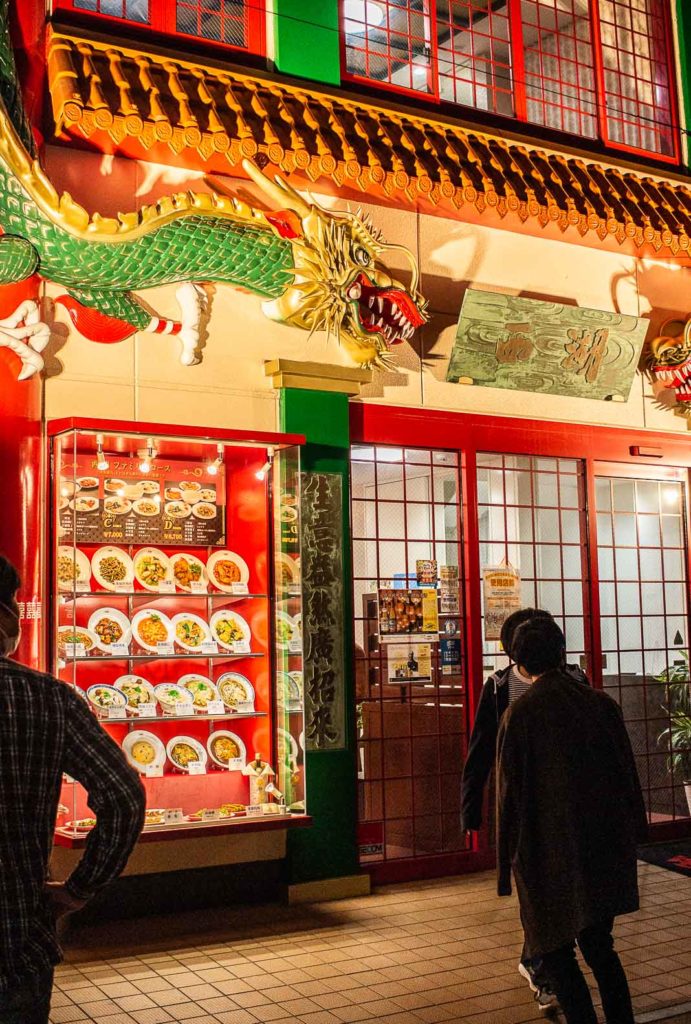 Try Nagasaki dishes
Food is undoubtedly the main attraction of any Chinatown. Everywhere you turn, you'll find a dizzying array of plastic replica dishes in restaurant window displays. From dumplings to pork belly and countless stir-fries, deciding what to eat can be quite a task. But seeing as you're in Nagasaki, we think trying one of the local speciality dishes like Champon or Sara Udon is the way to go.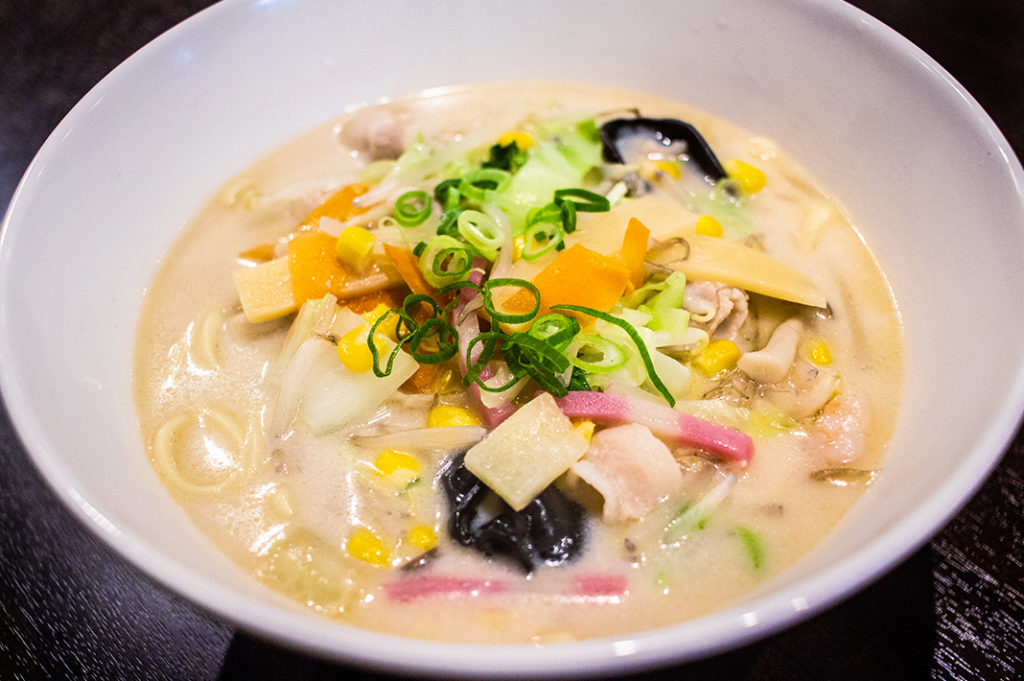 Champon
Champon is a Chinese-influenced noodle soup dish that originated in Nagasaki in the early 1900s. Cheap and filling, it's said to have been designed for the Chinese students living there at the time. The noodles are specially made thick egg noodles, called 'champon men', which are cooked in the rich chicken and pork bone broth. The toppings—or fillings, rather—are a long list of vegetables, seafood and pork, which are stir-fried in lard before joining the noodles and broth. The result is a comforting, surprising dining experience that will have you smiling to the last sip. Read more about it here.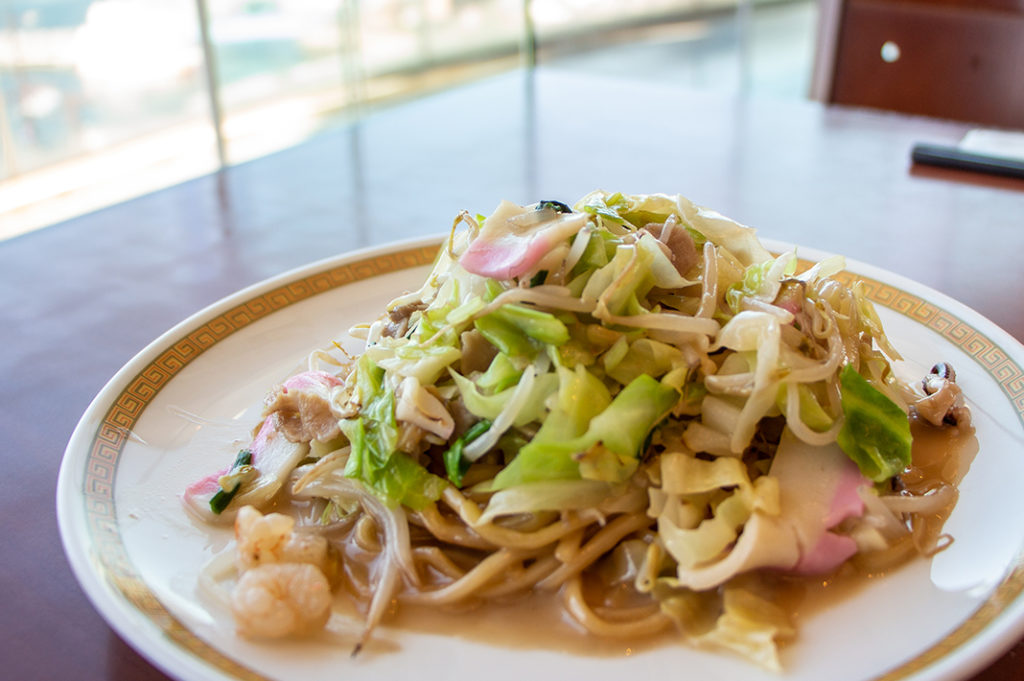 Sara Udon
Sara Udon is another Chinese-influenced dish local to Nagasaki. Essentially a stir-fry on noodles, the ingredients are similar to Champon, but edited down to just cabbage, bean sprouts, pork, prawns, squid and kamaboko (fish cake). The sauce is a chicken/pork broth base, thickened with starch and seasoned with oyster sauce, sesame oil, soy sauce and Chinese spices. Sara Udon is served one of two ways—with crunchy fried noodles or with soft champon noodles. I went for the soft version and found it to be my surprise favourite dish of the trip. Read more about it here.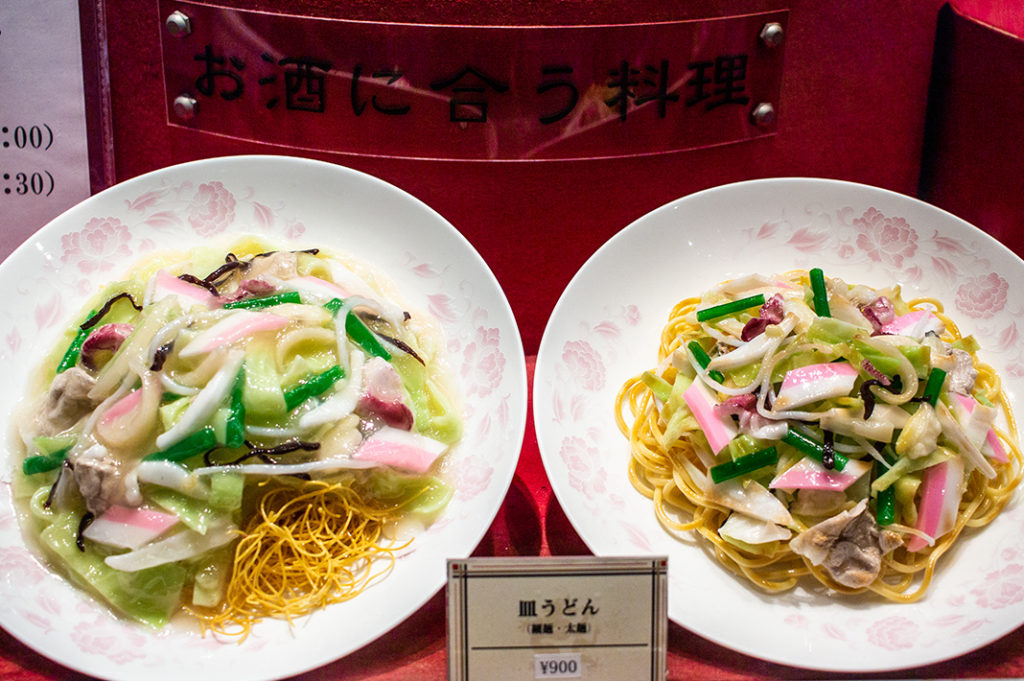 Try some street food
Another great thing about Nagasaki Chinatown is its street food. For a quick bite, head to one of the big steaming baskets and choose from the assorted savoury delights within. While there are all kinds of dumplings available, I can't go past a pork belly bun.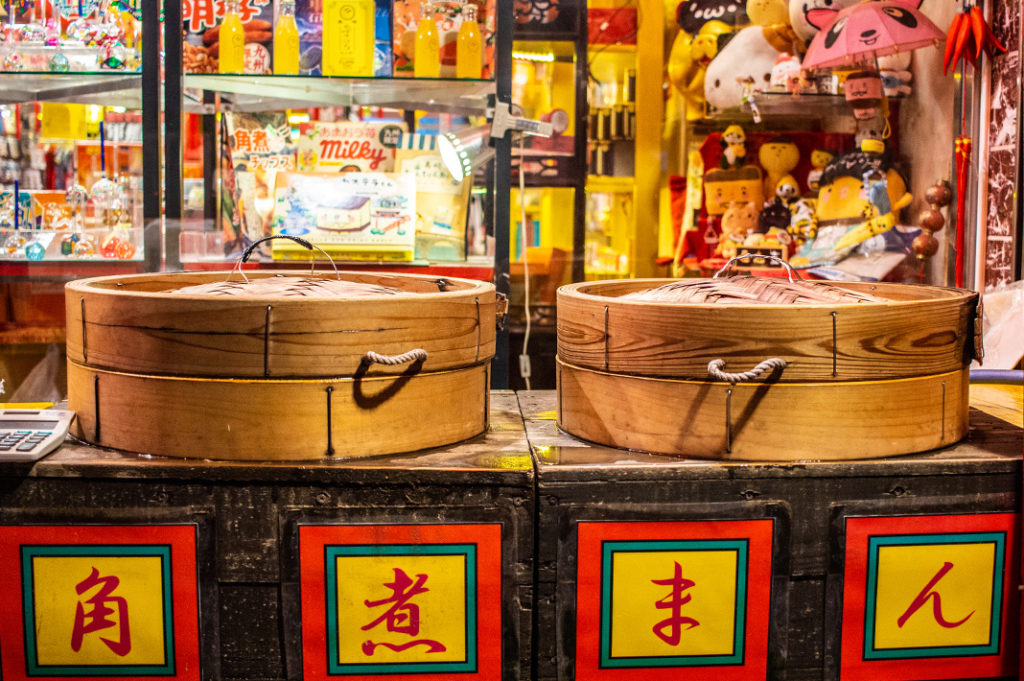 Kakuni manju (pork belly buns)
Kakuni Manju are just. So. Good. The chunk of pork belly is braised in a mixture of soy sauce, rice wine and sugar, trimmed of excess fat, and placed inside the fluffy manju bun casing. It's the on-the-go version of the melt-in-your-mouth pork dish served at many of the nearby restaurants. 
Goma Dango and yori yori
Nagasaki Chinatown has a lot to offer the sweet-tooths out there, too. Goma Dango (sesame balls) are deep-fried treats made of rice flour with a sweet red bean paste (anko) filling. They are considered tricky to cook as the sesame seeds on the coating are quick to burn. Yori Yori is made from sweet dough which is twisted into a helical shape and deep-fried. Also going by the name of mafa, you'll find them in bags at souvenir stores.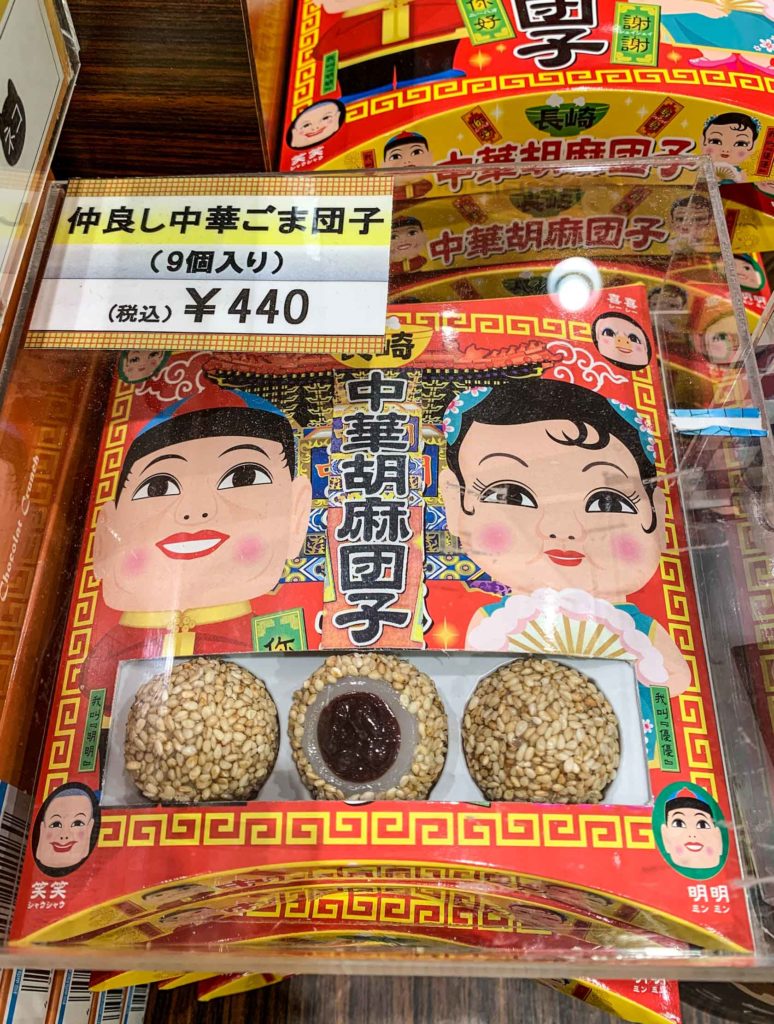 Peruse the gift shops
Of course, there's more to do in Chinatown than just eat. There are a few gift shops where you can peruse Chinese nick nacks and get that glass dragon you always longed for. You're also likely to spot a bekko store, both here and around town. This traditional craft was introduced by the Chinese and involves carving intricate items from sea turtle shells, such as hairpins, jewellery, combs and trinket boxes. Bekko's popularity has led other countries to join in on the trade, too. Sadly, this has resulted in the number of wild Hawksbill turtles plummeting. While bekko is beautiful, the criticism from conservationists and the high prices are enough to steer many shoppers back towards the glass dragons.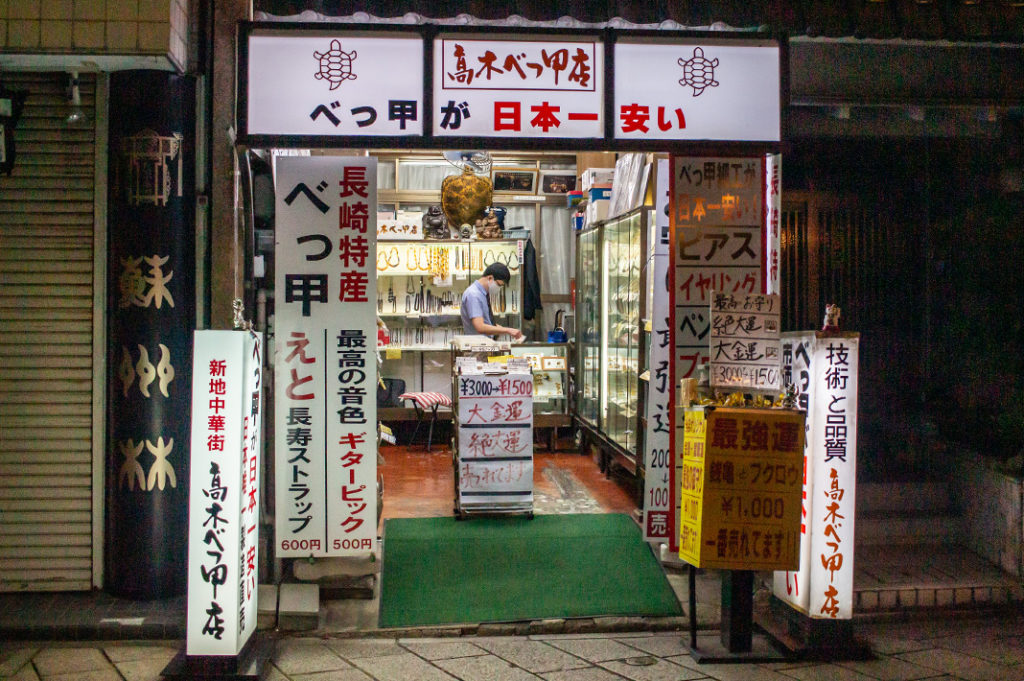 Chinatown Festivals
Nagasaki is the place to be for Chinese New Year, as the two-week-long Nagasaki Lantern Festival transforms the city into a magical lantern-lit paradise. The largest Chinese New Year celebration in Japan, it extends beyond the Shinchi Chinatown area and involves processions, parades and lanterns—thousands of colourful lanterns illuminating the night. It is typically held between January and March. 
The Mid-Autumn Festival is another big event when people flock to Chinatown and the nearby Minato Park to see the lanterns, enjoy moon cakes, shop, and watch performances.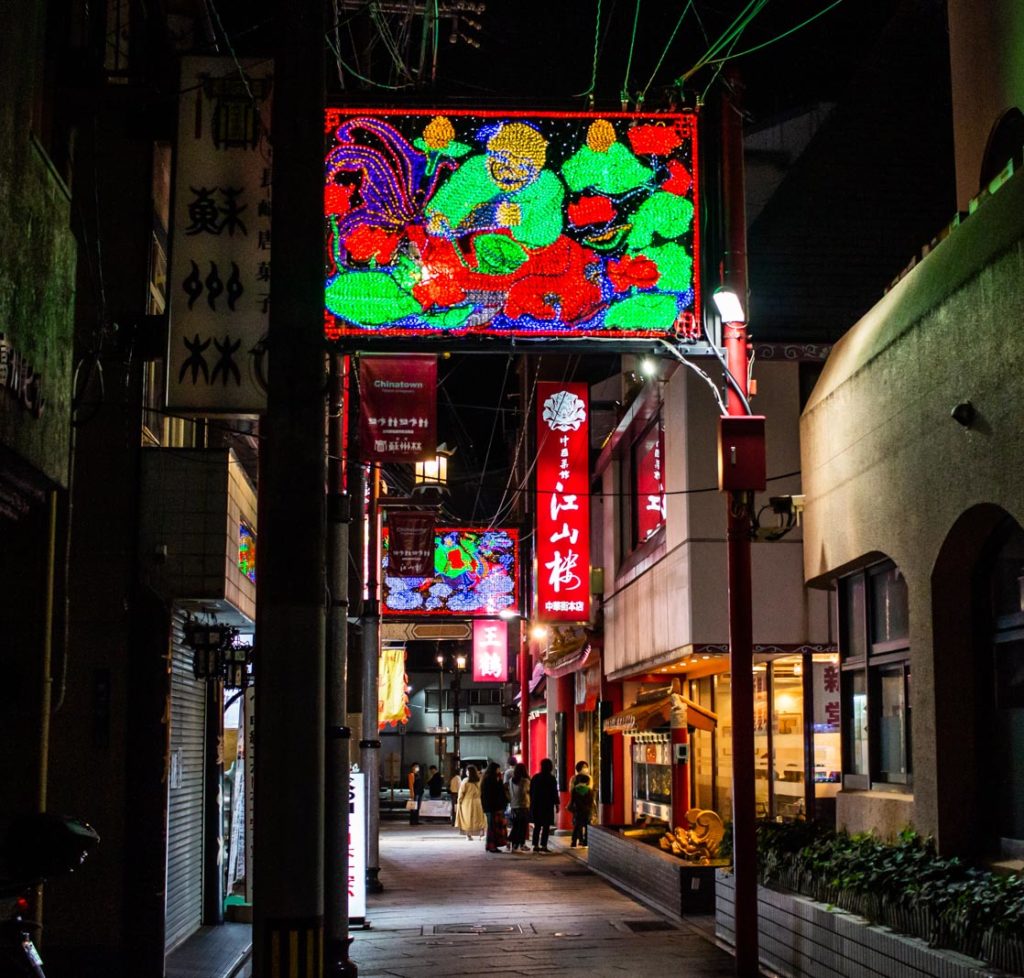 Accessing Nagasaki Chinatown
Nagasaki Chinatown is very close to the 'Shinchi Chukagai' (Shinchi Chinatown) tram stop. Lines #1 and #5 both stop here. Read more about Nagasaki trams here.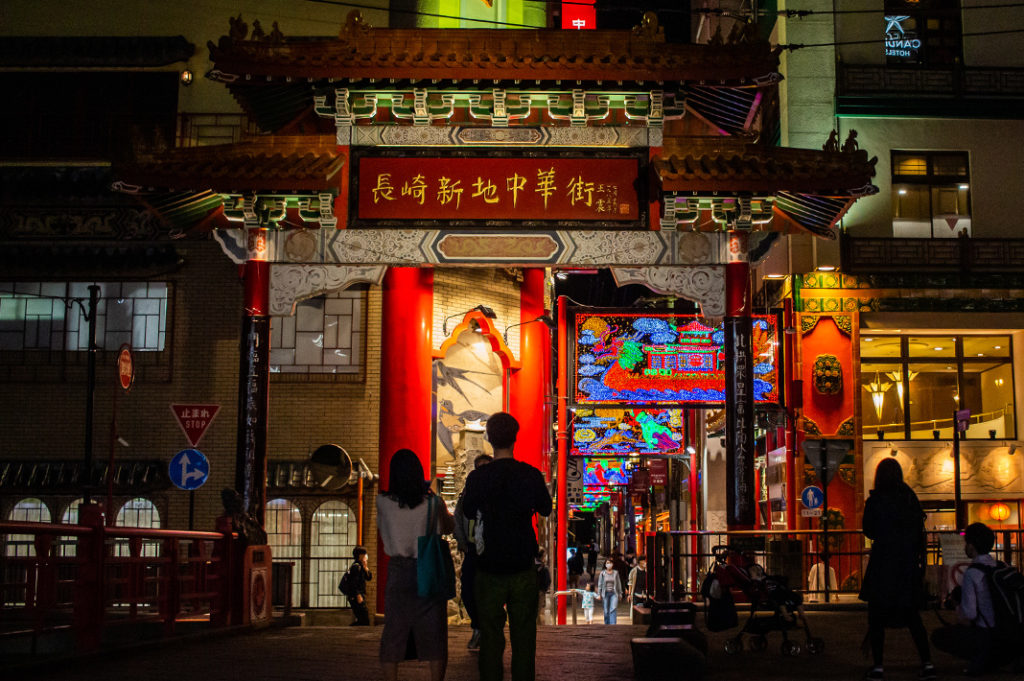 Name: Nagasaki Chinatown
Address: 1 Dōzamachi, Nagasaki, 850-0841 (link)
Post by Japan Journeys.