If you're only going to visit a few religious sites in Tokyo, put Zōjōji Temple on the list. For the devout, it holds importance as the main temple of the Jōdo-shū Chinzei sect of Buddhism in the Kantō region. For everyone else, it's got a beautiful old gate, sits at the base of Tokyo Tower, is the mausoleum of multiple warlords and has 1,000 stone babies with knitted hats. Interested now? You should be.
A brief history of Zōjōji Temple
Zōjōji Temple's history is tightly woven with Tokyo's. It was around 1590 that warlord Tokugawa Ieyasu took control of Edo Castle and ordered Zojoji Temple be moved nearby (its current location) to function as his family temple. Just a few years later in 1603, the same man officially brought in the Edo Period. This saw Tokyo become the capital of Japan—no doubt a shock to Kyoto which had been the capital for over 1,000 years. From then, the Tokugawa clan ruled Japan for over 250 years.
In its heyday, the Zōjōji complex occupied 826,000 square meters and contained 48 separate temples and 150 schools, housing over 3,000 scholars. Much of this has been lost to time, disaster and war—all except for the front gate.
The Oldest Wooden Structure in Tokyo
The front gate of Zōjōji Temple dates back to 1622, making it the oldest wooden building in Tokyo. This 21m tall vermillion gate has miraculously survived various fires, earthquakes and wars, standing strong as the temple and city fell around it. As such, it has been designated an Important Cultural Property.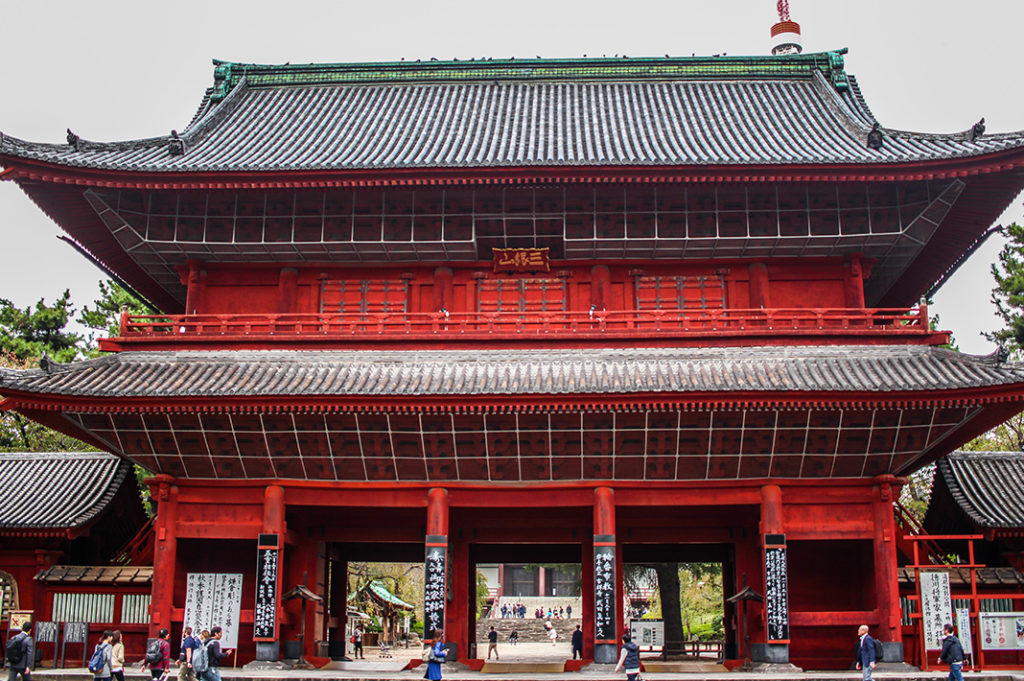 It's name, Sangedatsumon, means literally a gate (mon) for being delivered (gedatsu) from three (san) earthly states of mind: greed (貪 ton), anger (瞋 shin) and stupidity (癡 chi). As you pass through, ridding yourself of your sins, reach out and touch it. If you're in tune with 'vibes', maybe you'll feel something?
New Neighbour: Tokyo Tower
In 1958, Zōjōji Temple got a brand new neighbour: Tokyo Tower. This iconic symbol of modern Tokyo now towers above the grounds, creating a nice juxtaposition of old and new. It's a popular photography spot to capture the Main Hall with Tokyo Tower, particularly when the tower is lit up at night. And as Tokyo Tower is so close, it's obvious where to explore afterwards.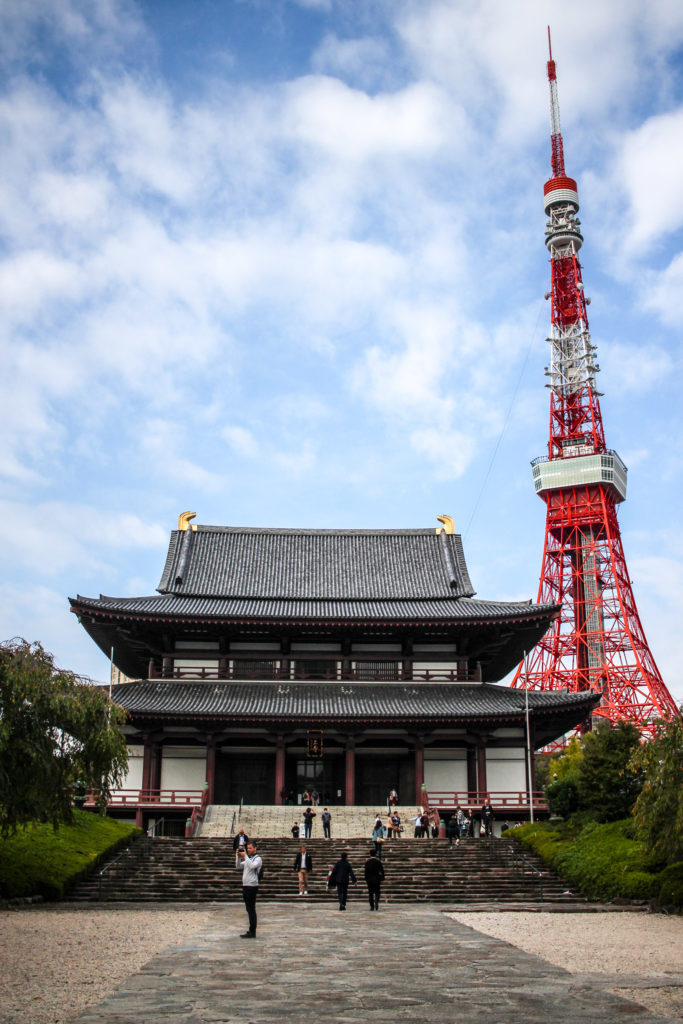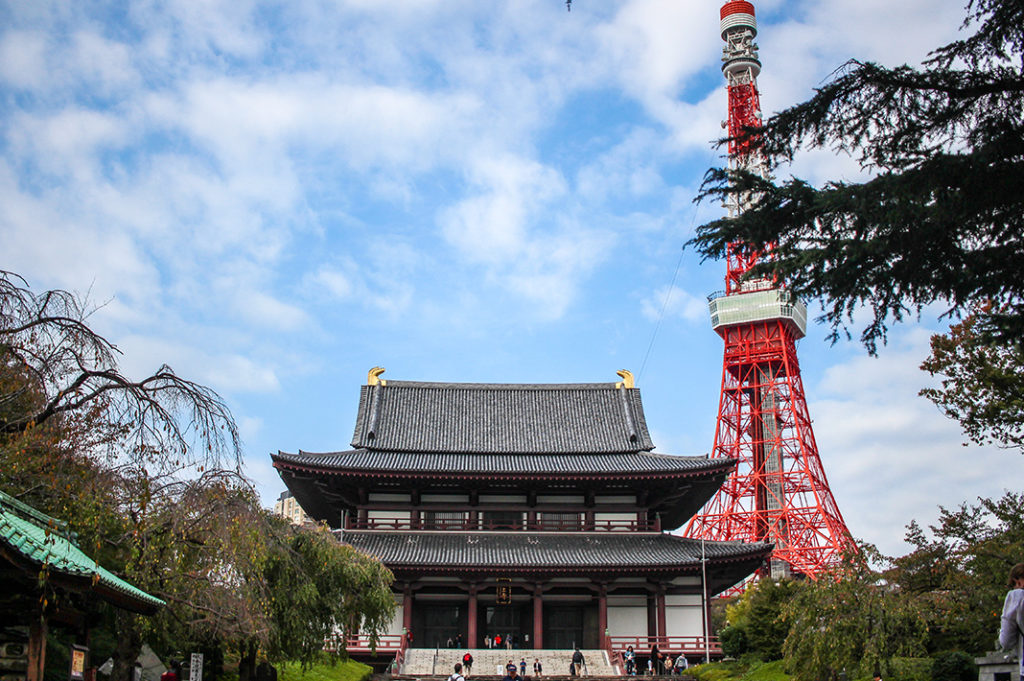 1000 Jizō Statues
The Sentai Kosodate Jizō (Garden of Unborn Children) sounds creepy but is actually rather sweet. Just to the right of the Main Hall, you'll spot a collection of stone statues, all wearing knitted clothing and decorated with flowers and toys. These 1,000 Jizō statues represent the souls of miscarried, aborted and stillborn children. Basically, parents can choose one to dress and decorate, then they pray for the soul of their little one.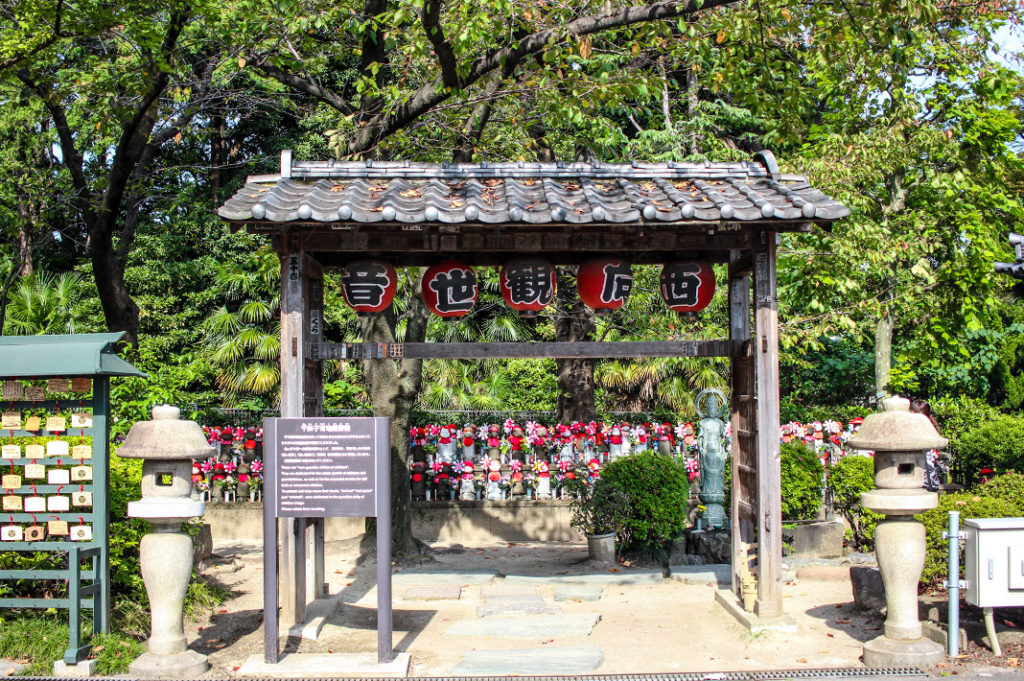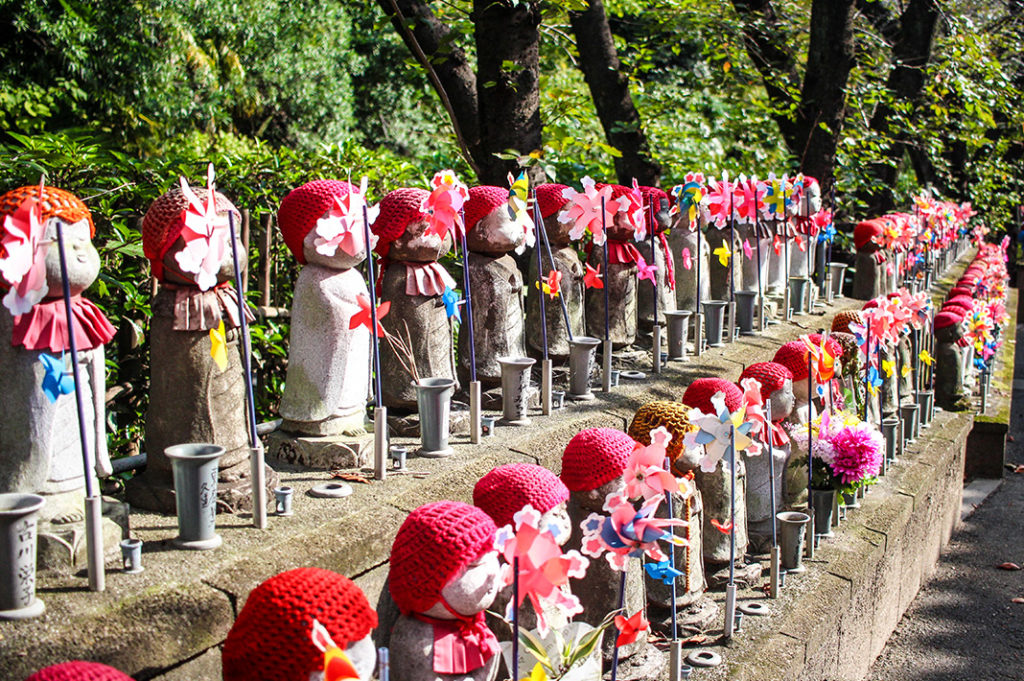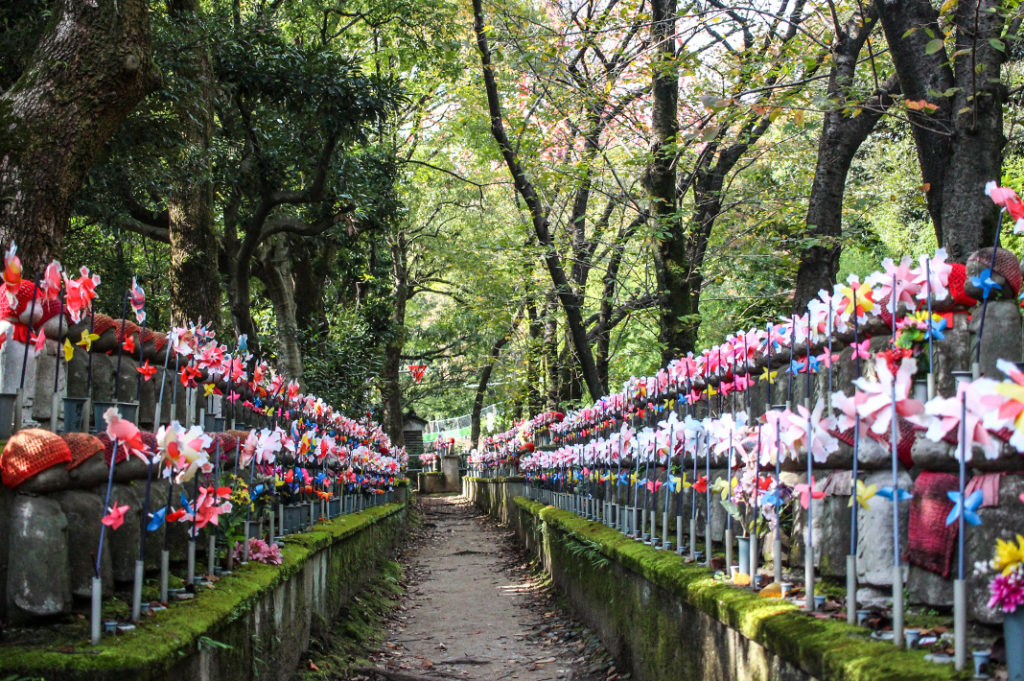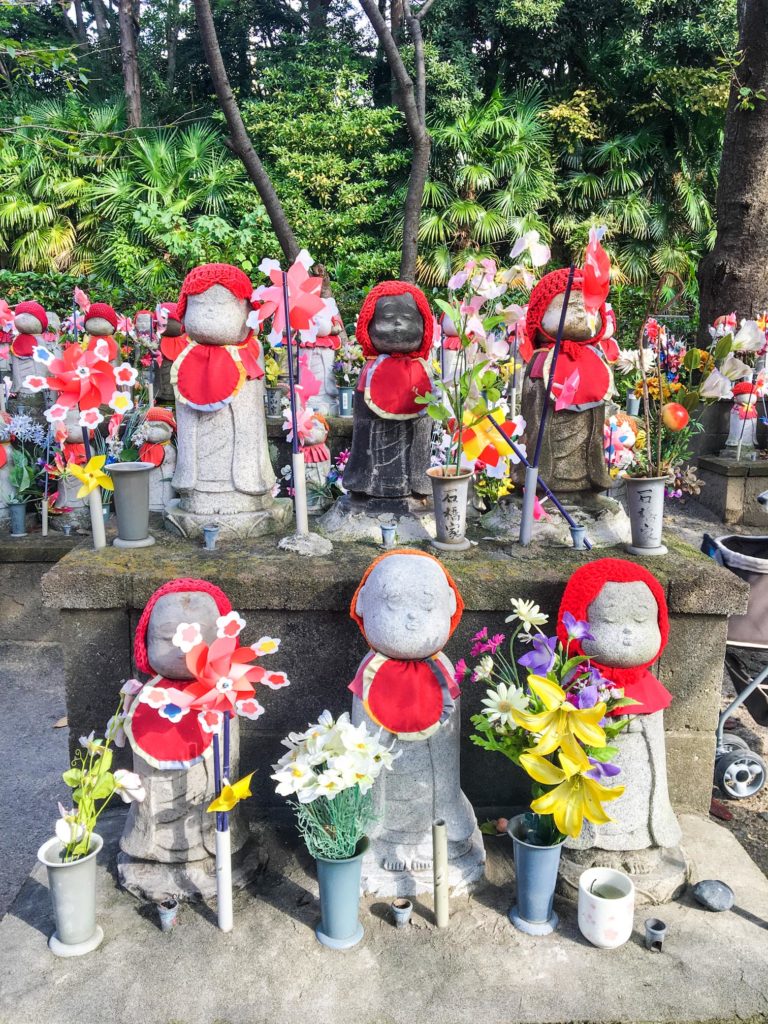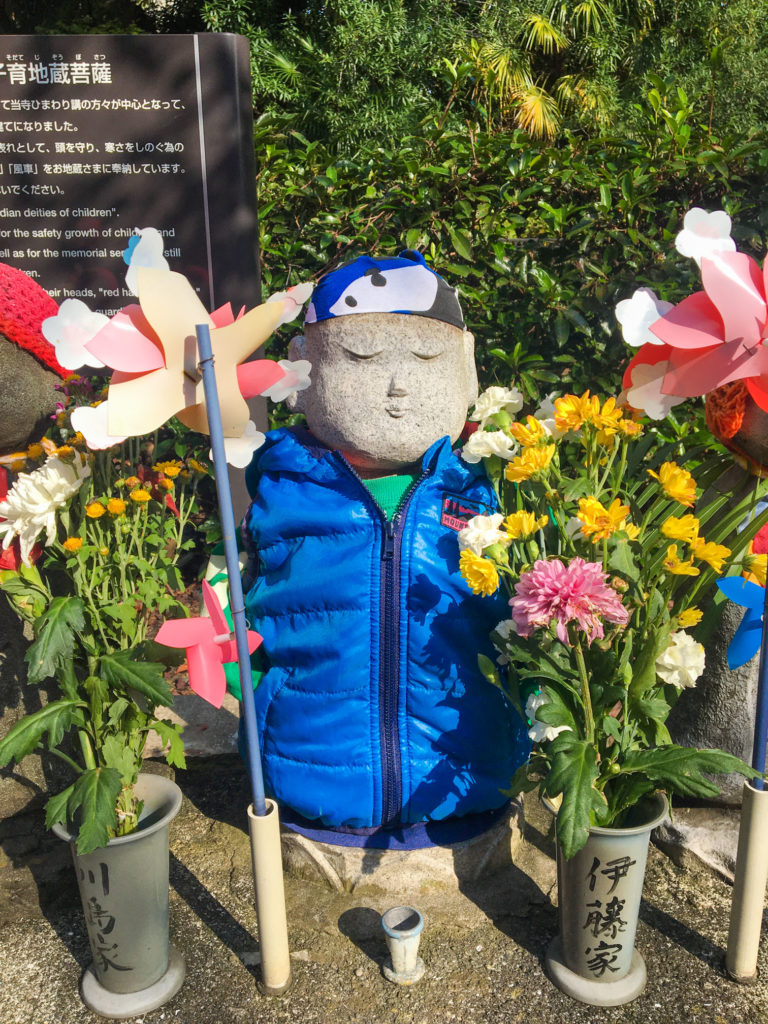 Warlord Resting Place
Because of the shared history between Zōjōji Temple and the Tokugawa family, it now houses a mausoleum for six of the Tokugawa shogun, as well as wives and children. It's located towards the back of the grounds—follow the 1,000 statues!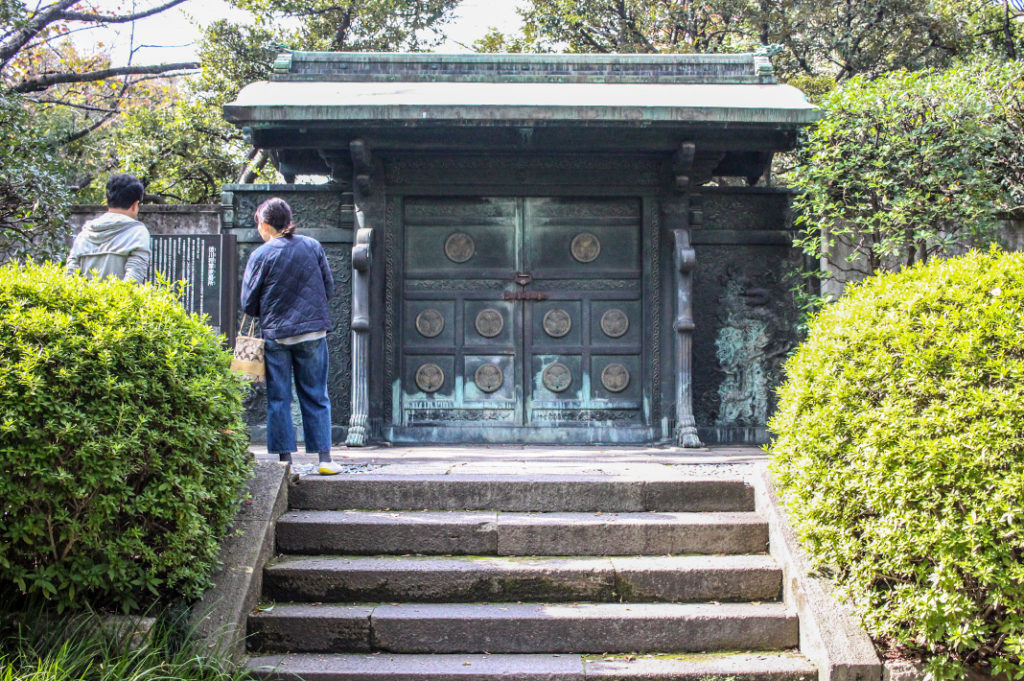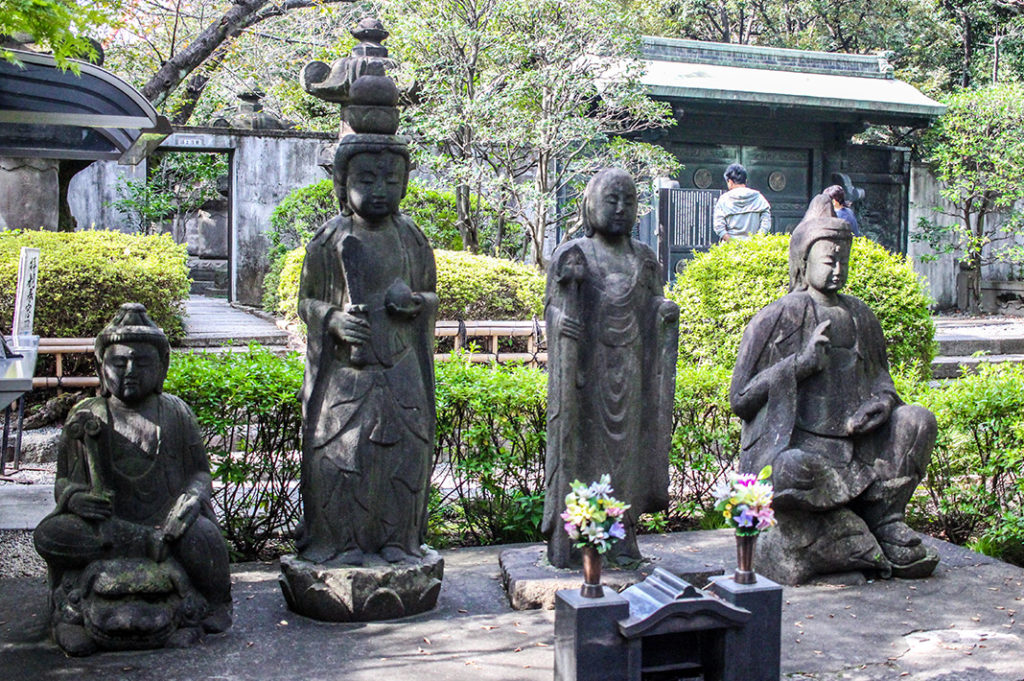 More on Zōjōji
Admission to Zōjōji is free but there is a cost to access the onsite Treasure Gallery museum. Around the grounds, you'll be able to spot a number of interesting features, such as the Buddhist foot stone and the Statue of Kannon erected in memory of 33 people who died in a 1982 fire.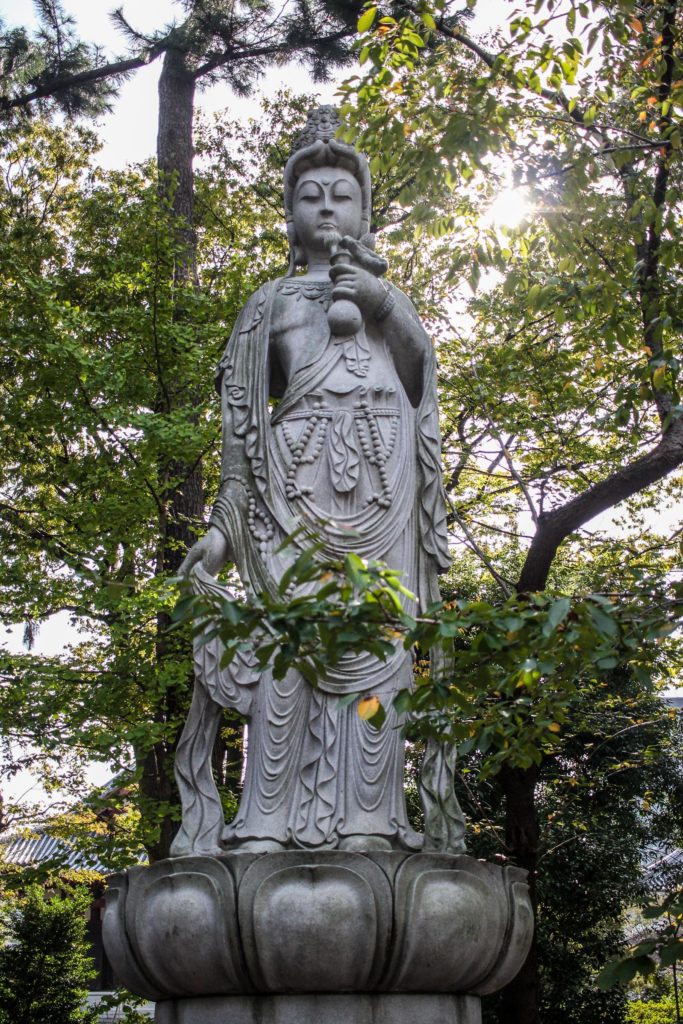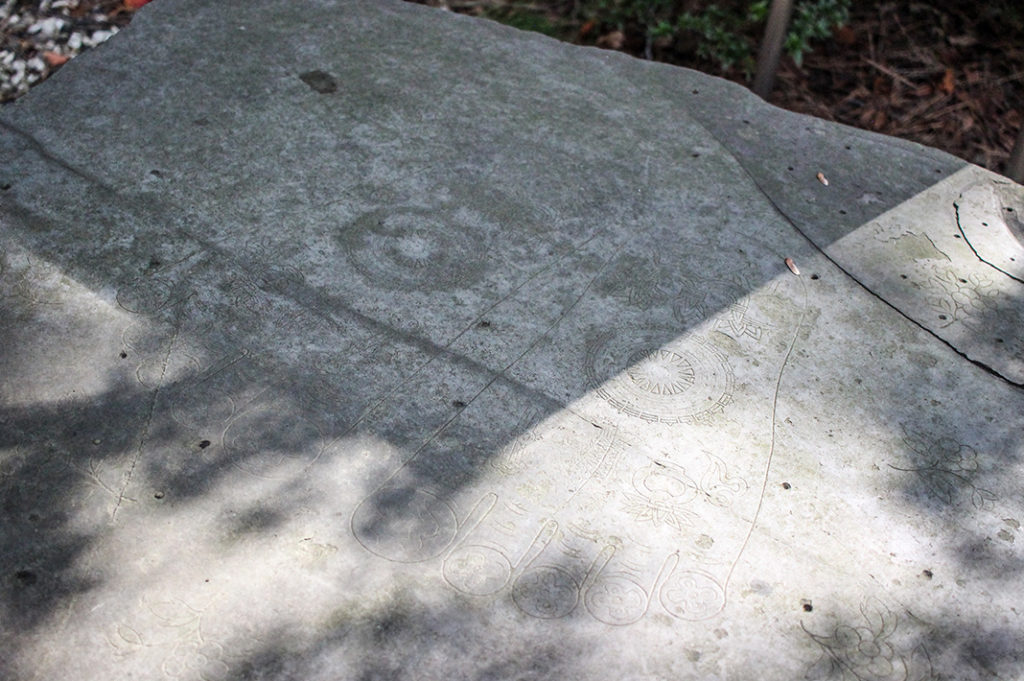 In more recent history, Zōjōji was used to film a scene from 'The Wolverine' movie. Action film buffs can take delight in visiting the location—just please don't try to recreate any scenes!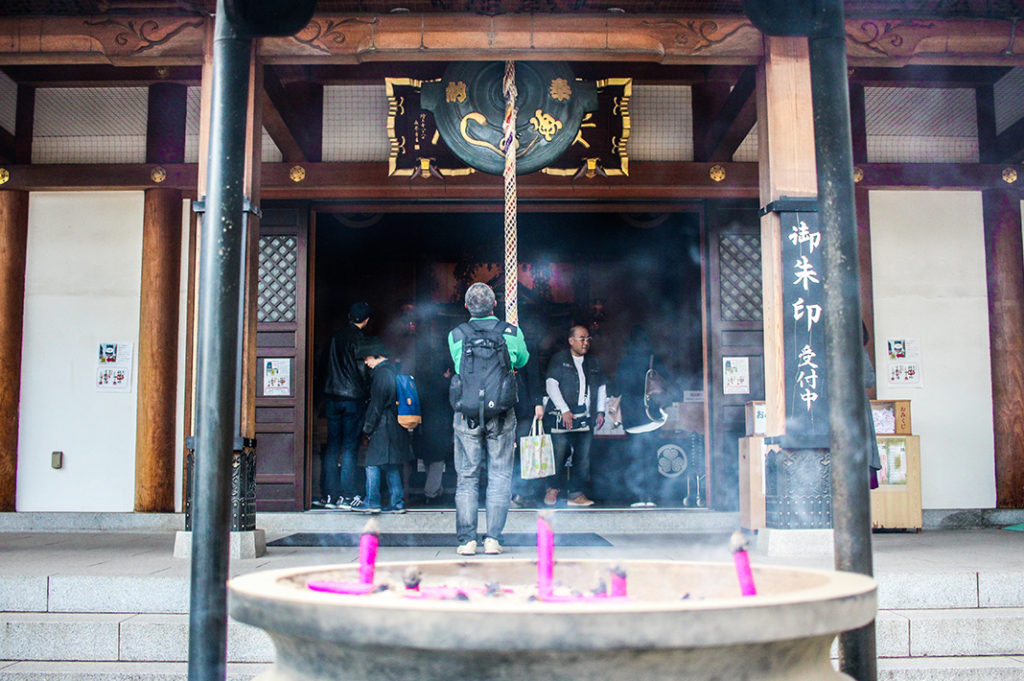 Of course, Zojoji also plays host to a number of daily, weekly, monthly and annual events. If you time it just right, you might just be lucky enough to catch one! Check their website for more details (in Japanese, open in Google Chrome for translation).
Getting to Zōjōji
Zojoji Temple is located 3 minutes' walk from Onarimon station and Shibakoen station (both on the Tokyo Metro Mita Line). Alternatively, it is a 5-minute walk from Daimon Station on the Tokyo Metro Asakusa or Oedo Lines. 
Name: Zojoji Temple (San'en-zan Zōjō-ji)
Address: Shiba Park, 4 Chome-7-35 Shibakoen, Minato City, Tokyo 105-0011
Open: 9:00a.m. until 5:00p.m., 7 days per week.
URL: here
Post by Japan Journeys.