Mention Fukuoka to any Japanese person, and they'll reply with one of two things: ramen or yatai. Of course, you'd have to live under a rock to not know what ramen is, but I bet many of you haven't heard of yatai before. The concept is simple: it's an open-air food stall. While these can be seen around the world, it's not all that common to come across one in Japan these days. That is unless you're hanging out in Fukuoka, where yatai are a key part of the food scene.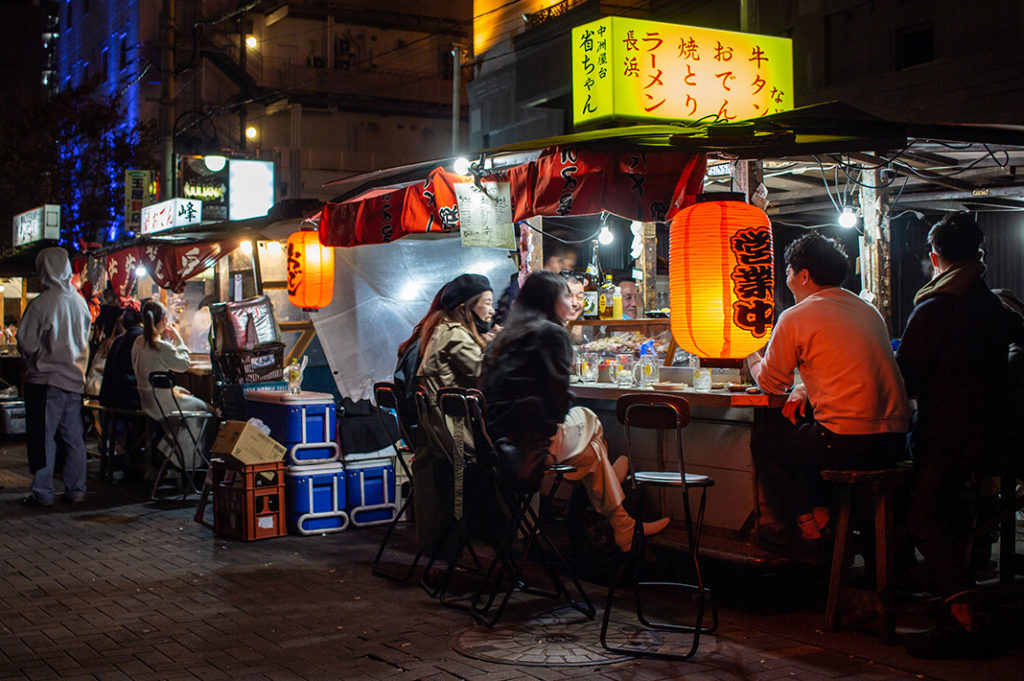 Fukuoka: yatai capital of Japan
Demand for cheap, accessible food is a constant, meaning that push-cart food vendors, or yatai, have existed for centuries. However, it hasn't always been easy for them. Perhaps the last boom was during the post-war era of the late 40s, but unfortunately, numbers have been dwindling ever since, due to harsh government restrictions. It's now estimated that Fukuoka is home to almost half of all yatai in Japan. According to the city's website, there are 102 operating as of July 2020 which gives you an idea of how few remain. If you're keen to experience one, your best bet is to get to Fukuoka post haste.
One of Japan's 10 most populated cities, Fukuoka is a vibrant place. With white-sand beaches, blue water, fresh seafood and sumptuous Hakata style ramen, it's also a desirable domestic travel destination. When the sun goes down and the city lights turn up, this is the yatai's time to shine.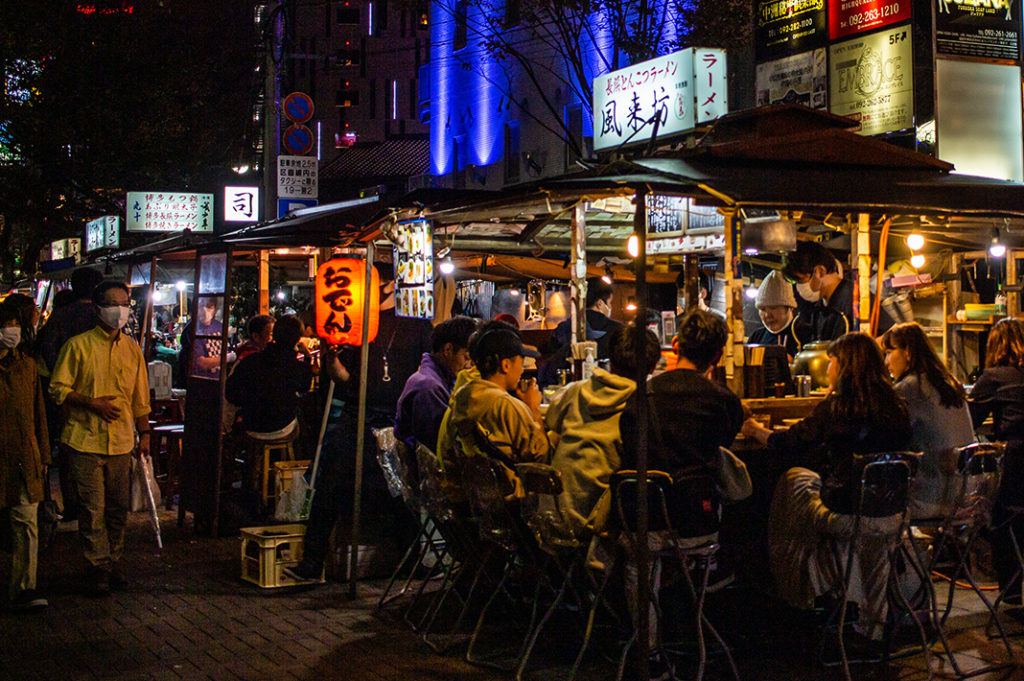 Where are the yatai?
You'll find yatai all over the city, some in clusters and some claiming their own territory, with hotspots in the Tenjin, Nagahama and Nakasu districts. Of these, the most visited has to be the twenty stalls lining the river on the southern tip of Nakasu. Head to the Haruyoshi Bridge, look towards Canal City and you can't miss 'em.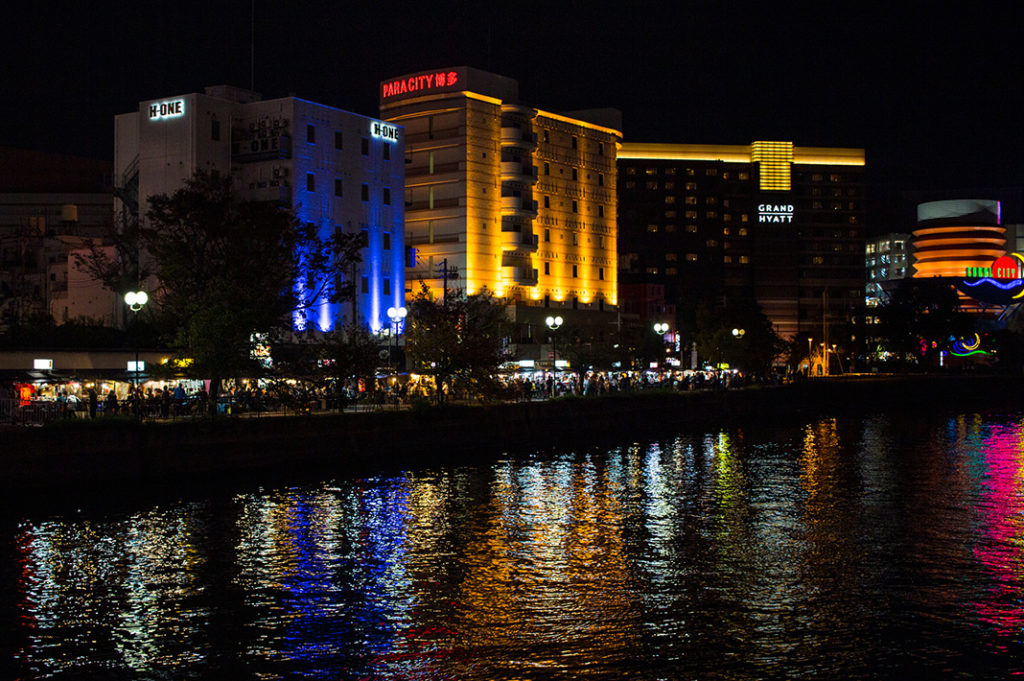 Wandering along, you'll find each stall different from the last. Some are open-air while others have vinyl curtains or noren for privacy and warmth. Lanterns and menus advertise the offerings, while touts stand outside, trying to fill the empty stools.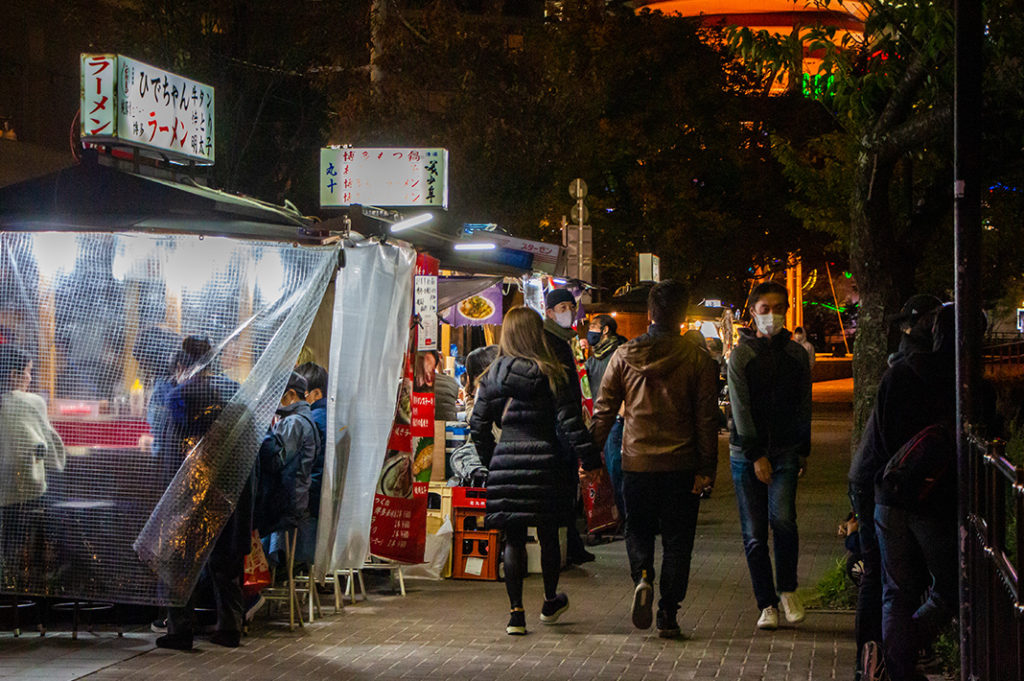 What's on the menu?
Many yatai serve Hakata style ramen, the rich, porky local favourite. Naturally, I couldn't visit the yatai without getting a bowl. Interestingly, you'll also come across grilled ramen, called yaki ramen, which is similar in principle to yakisoba.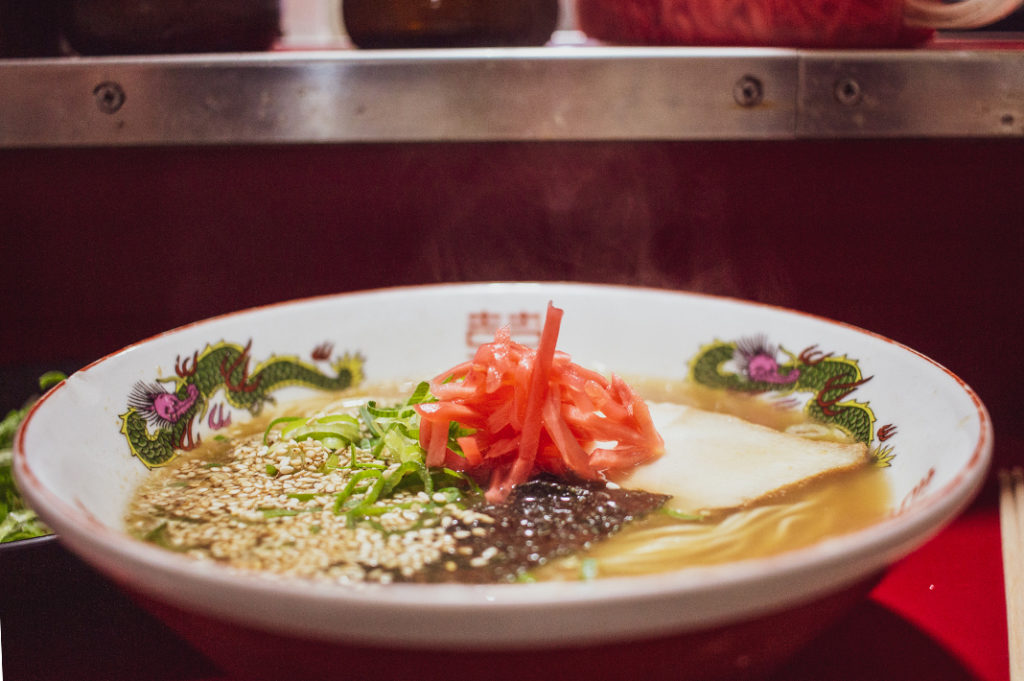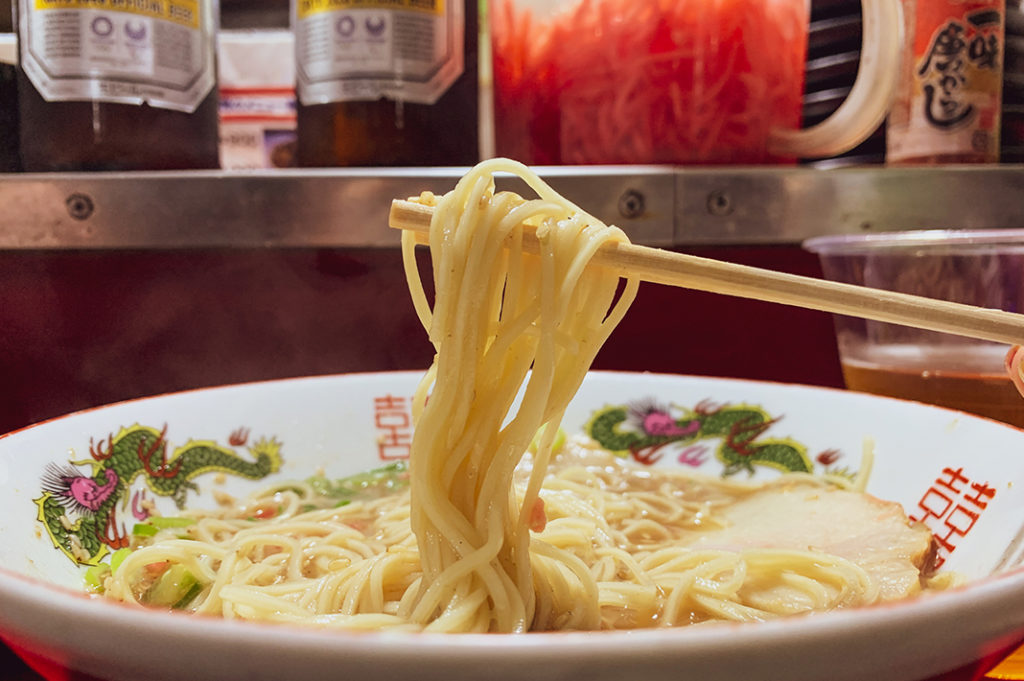 Next most common is oden, the slow-simmered a la carte hot pot. Simply choose a few of the ingredients, and you can enjoy them nice and hot with a dab of mustard. My favourite is the super-soft daikon radish—absolutely dripping with savoury broth.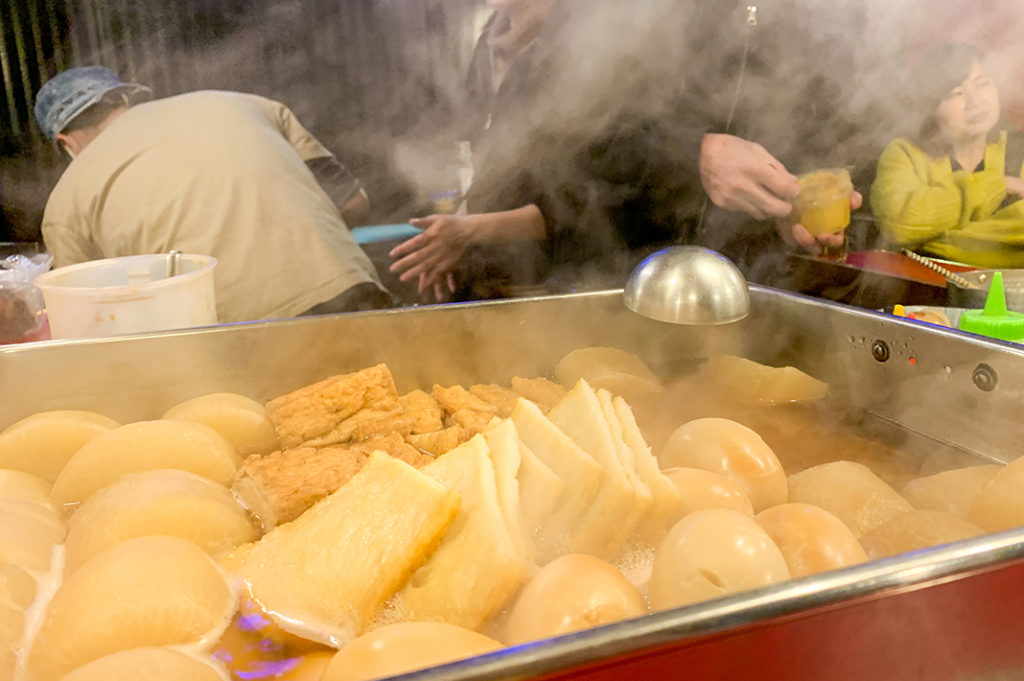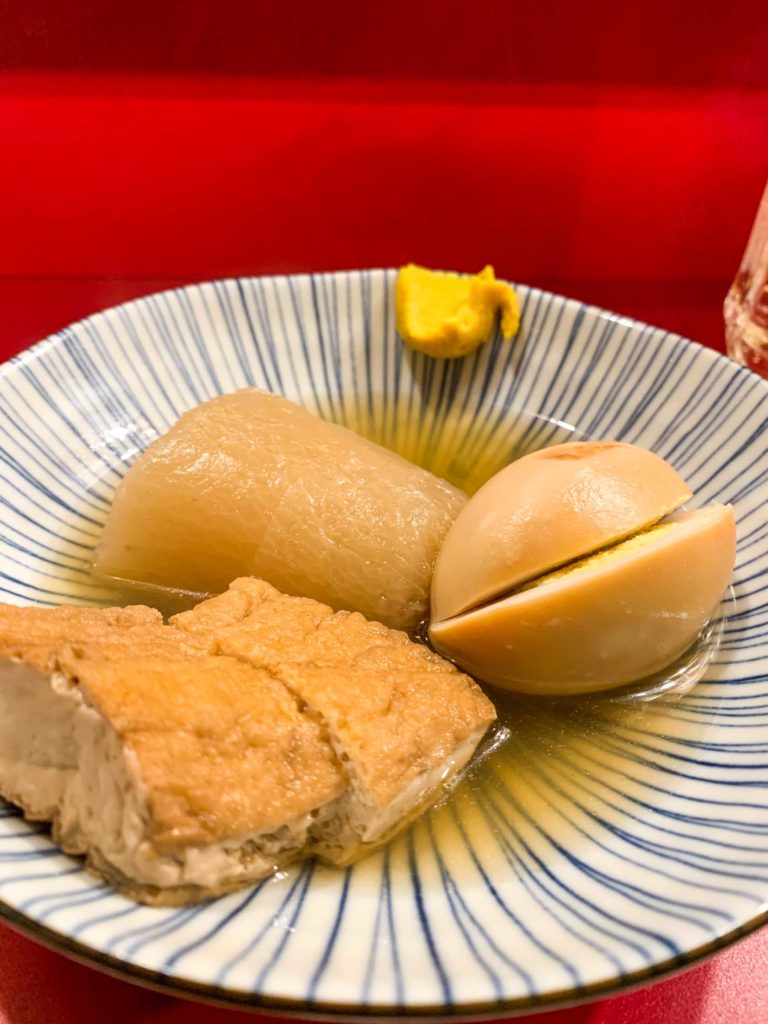 Yakitori is also an extremely common menu item, but you can find things like gyoza, tempura and udon, too. Those looking to mix things up a little could seek out the fugu (blowfish) stall, go for Chinese or Western fare or visit the French Chez Rémy. Here, the owner speaks English, French and Japanese—a safe place to get acquainted with yatai.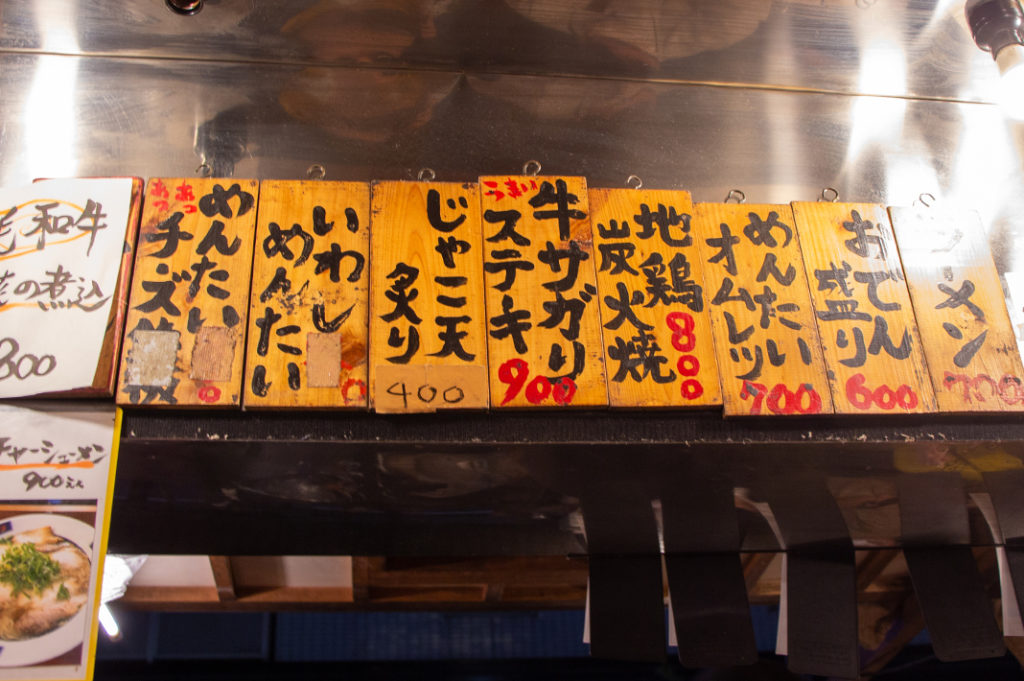 For those worried about sanitation, rest assured that no raw food is permitted to be sold at yatai, including vegetables and sashimi.
You can browse the list of yatai and their offerings here, filtering by cuisine, payment method or multilingual menu availability.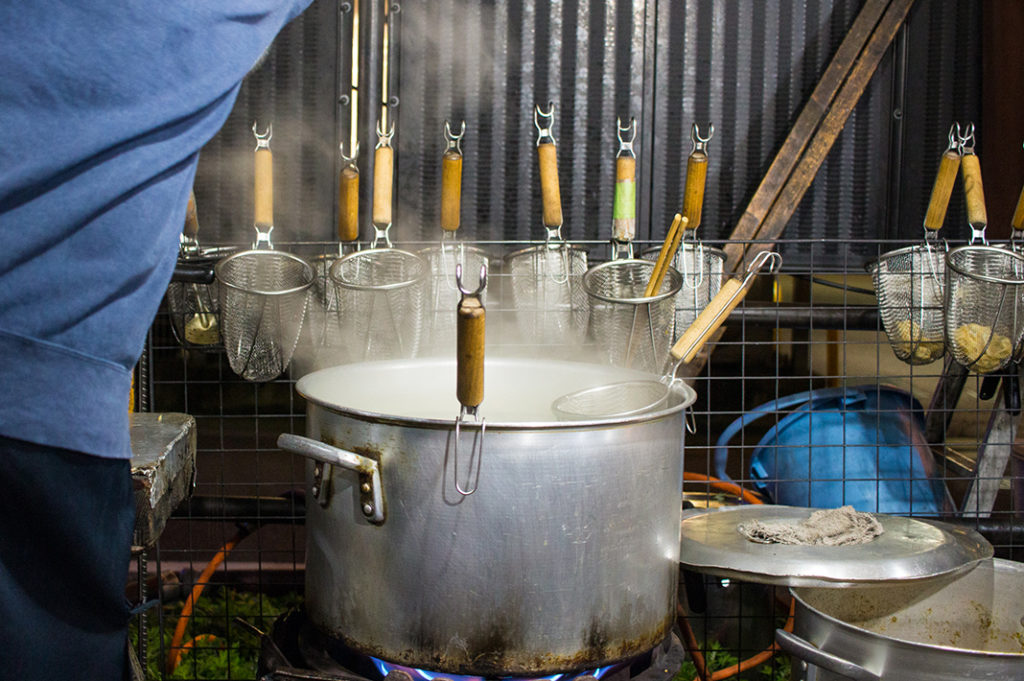 How do yatai work…?
Yatai are basically a compact cart on wheels. The counters are folded down, stools put out and a kitchen set up behind. They only seat a maximum of 10 people and don't take reservations, so it's a first-come, first-serve situation. Large groups may need to split.  
Some yatai are popular, with queues of people waiting patiently for a seat. At others, it's possible to wander up and sit down immediately. Given the low number of seats, the owners tend to appreciate a high turnover, so don't linger too long. If you want another drink and more food, why not check out another stall and share the love.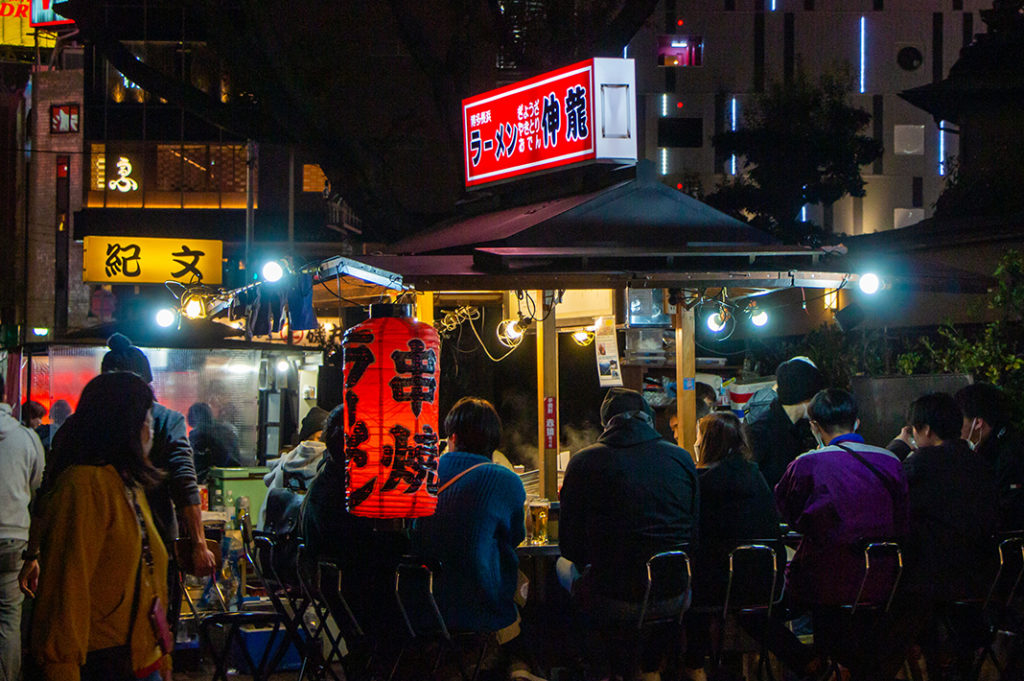 It's worth noting that some yatai will serve a small otoshi to diners, a seating fee disguised as an appetizer, common in small venues. Note that payment options are mostly cash, with some places accepting card or online payment options.
Regarding toilets, there are usually public restrooms or convenience stores nearby. Check this map or ask the staff where the 'toireh' is.
Lastly, if the staff are sick or the weather is unaccommodating, the yatai will likely not open up.
Once the last of the merrymakers heads off into the night, everything is folded, rolled and stacked until the yatai looks like a miniature building on wheels. In that form, they are rolled into parking garages and storage spaces to cool off before another exciting night.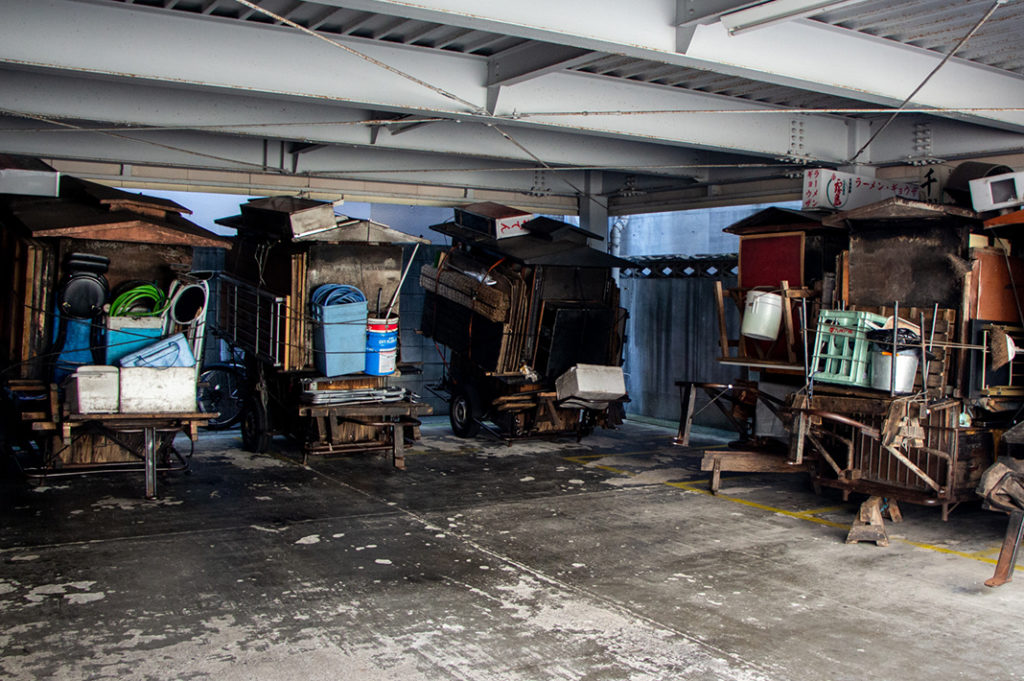 Access
The row of yatai running along the river near Canal City shopping complex are a 10-minute walk from both Nakasu Kawabata Station and Minami Tenjin Stations.  
Name: Fukuoka Yatai (Food Stalls)
Address: 〒810-0801 Fukuoka, Hakata Ward, Nakasu, 8, 那珂川 通り (link)
Open: roughly 6:00 pm until 2:00 am
URL: website
Post by Japan Journeys.