Calling all adventurers! The realm of Eorzea is in dire need of your service. However, as any adventurer worth their salt knows, you should never leave on an empty stomach, or with an empty pack. Stop by the Final Fantasy XIV-themed Cafe (the Eorzea Cafe) in Akihabara to down a couple of potions, dig into some Final Fantasy fare, and stock up on sundries.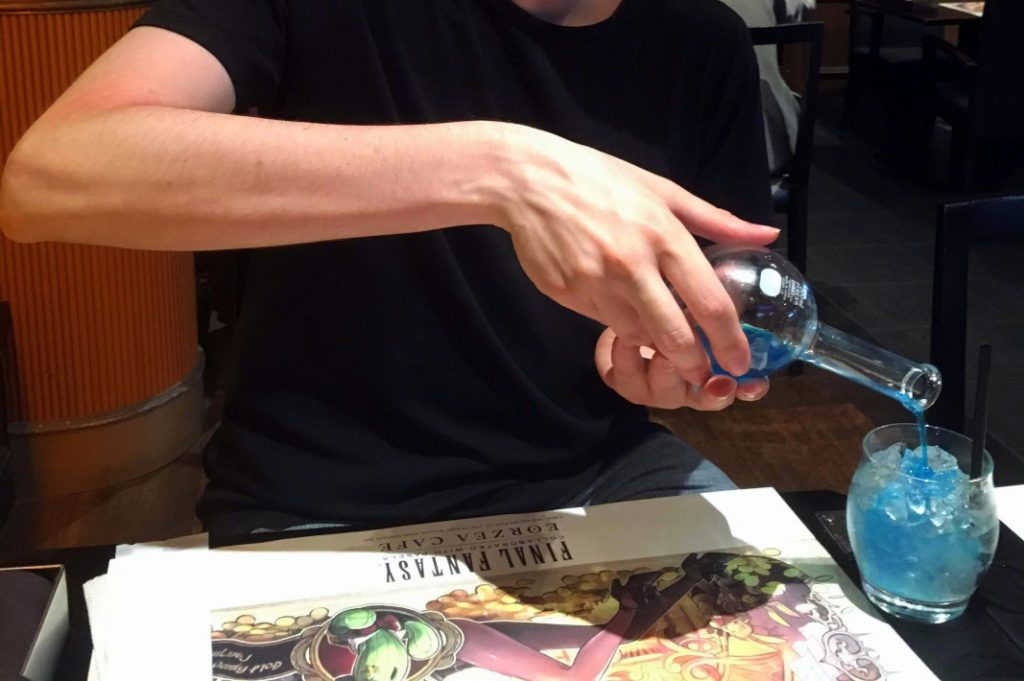 Getting Your Name on the List
First things first, those who enter the Final Fantasy cafe must be on the list. So, how do you get on the list? Well, if your native realm has internet, you can use third-party websites (like Voyagin) to reserve your place. If not, you can venture forth to any Lawson in Japan and navigate their ticket-purchasing machines. The Eorzea Cafe is a popular place. As a result, you'll be granted just two hours in their establishment. Groups enter at 11:30 a.m., 2:00 p.m., 4:30 p.m., and 7:00 p.m. throughout the day. Make sure to book at least a day in advance (preferably much earlier).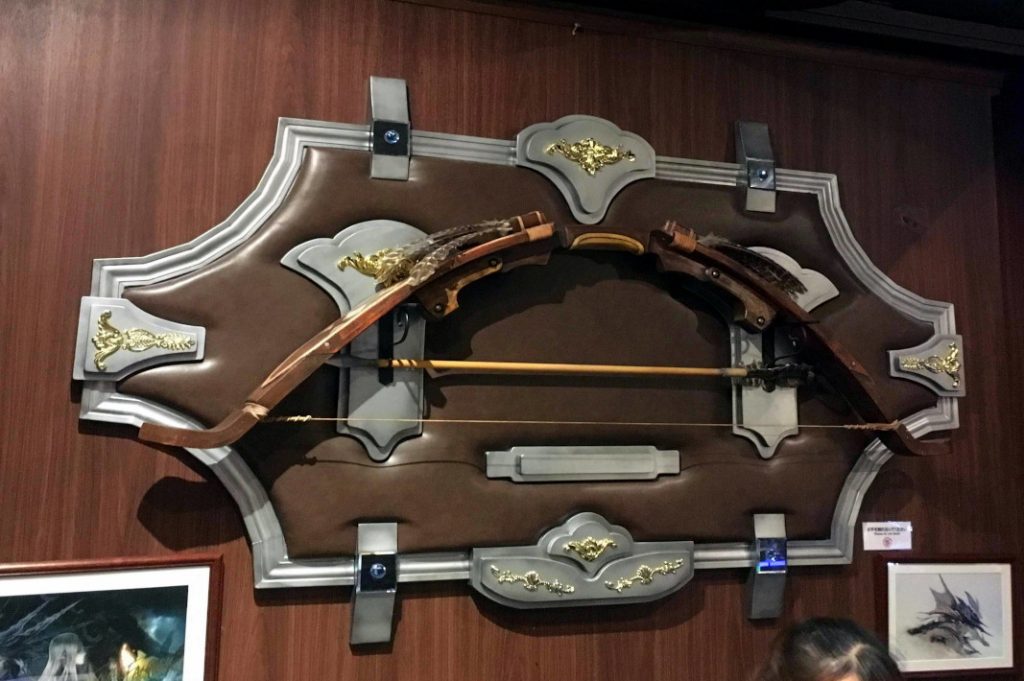 Gaining Entry
To get to the cafe, open your map and set a waypoint for Akihabara Station, Japan. From there, make the 5-minute walk to Pasela Resorts Akiba Multi Entertainment Complex and ascend the lifts to the 2nd Floor. An Eorzea Cafe staff member will check your ticket, make sure that you're on the list, and ask your party members to confirm their classes. As a welcome token, they'll grant each member of your party a collectable coaster that honours their class. Once the doors open and you take your seat, you'll be free to roam the cafe at your leisure.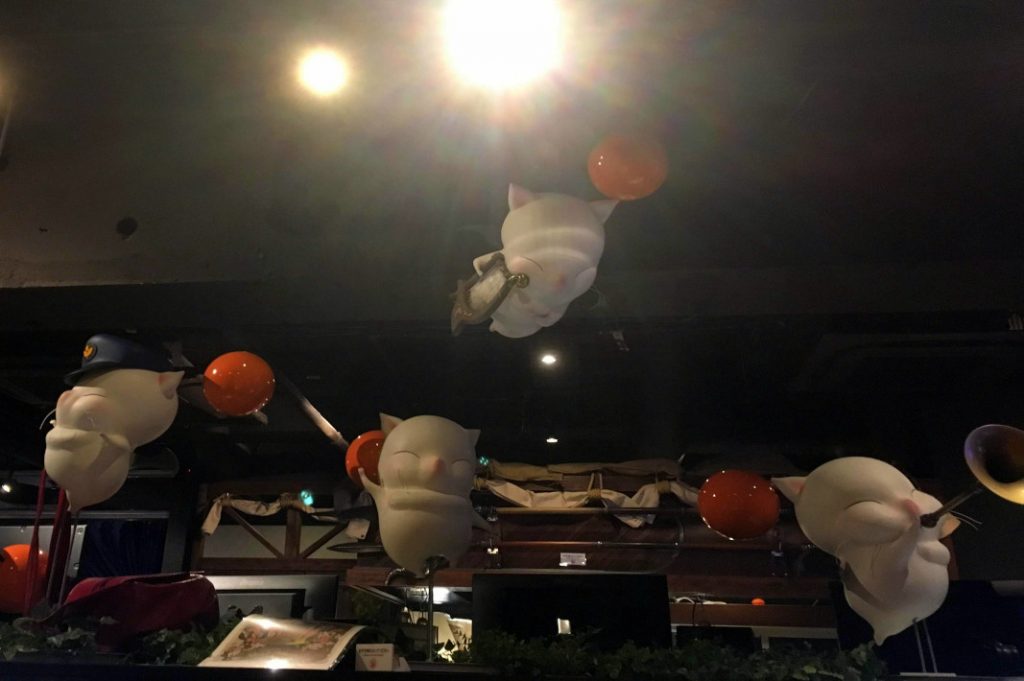 Décor Straight from Final Fantasy XIV
The establishment itself is modelled after an Eorzean pub. A party of fun-seeking Moogles greet you at its entrance and sweeping stained glass windows illuminate its back wall. In the corner, you'll find a bar worthy of any sky pirate. A range of weapons (sword, bows, axes, and more) are displayed throughout the pub. Finally, a map of Eorzea graces the back corner. Although all prices are listed in gil, the staff are kind enough to accept Japanese yen in its stead.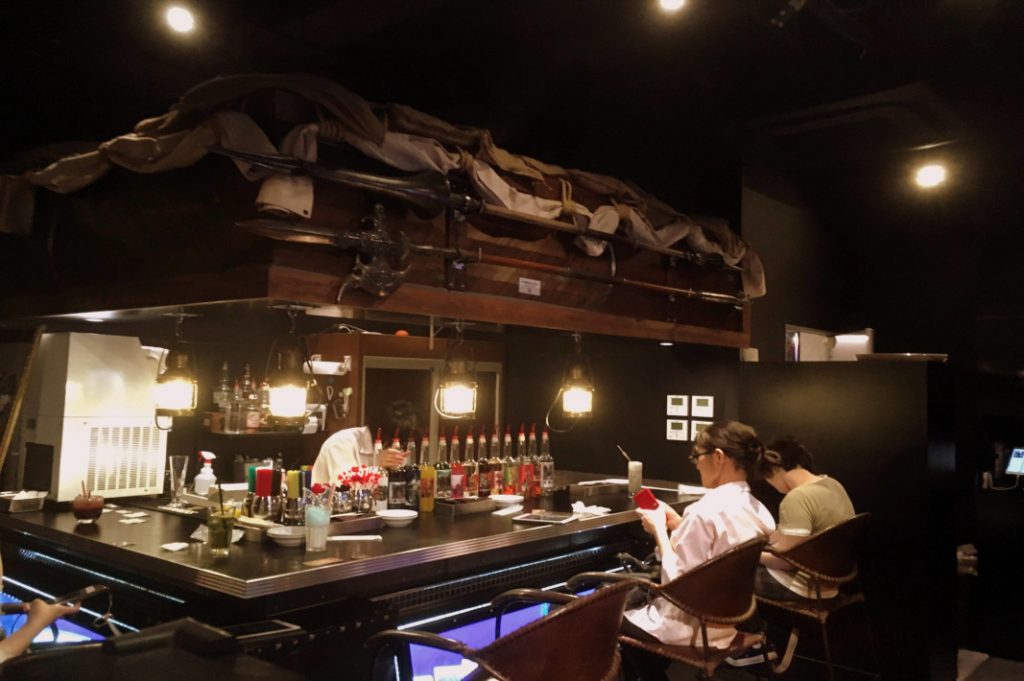 Drinks at the Eorzea Cafe
The first order of business is, naturally, to order some drinks. Cocktails at the Final Fantasy XIV-themed cafe pay tribute to the great summons and classes. Dare to down Bahamut's concoction or kick back with a sweet, white mage-approved cocktail. The cafe also has a wide range of restorative potions and invigorating ethers on hand. Pick your poison (or potion).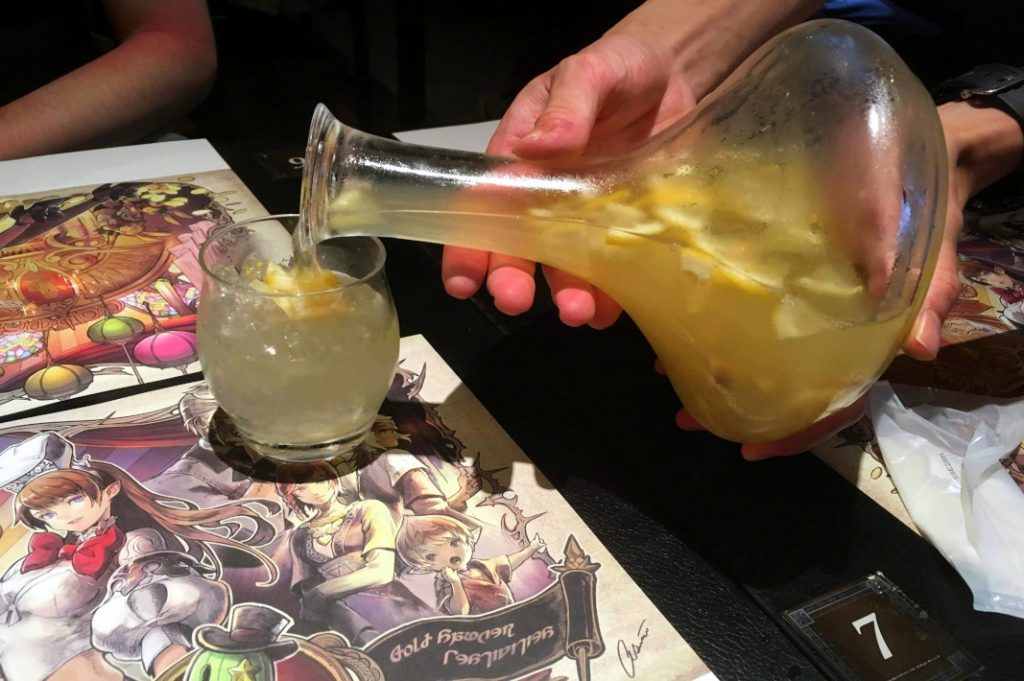 Final Fantasy Food
Ever wonder what a Malboro's leaves taste like? Well, thankfully for you, the Eorzea cafe is well-stocked in delicacies. Sample the Marlboro salad, taste steak seared by Ifrit's flames, or dig into a bowl of Dragoon-style curry. The menu has been known to flux and change, so keep an eye out for any seasonal offers. While some of Japan's themed cafes devote all of their energy to aesthetics, the Eorzea cafe scores highly in both its food and design.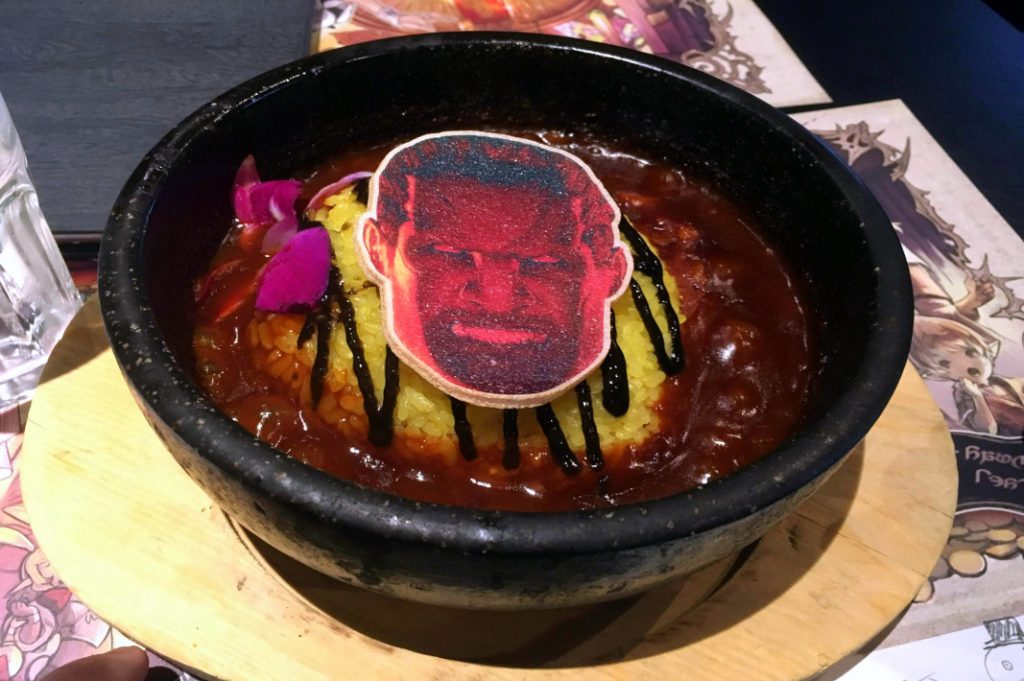 The Eorzea Cafe Shop
Once your time in the cafe is up, you can browse the Eorzea speciality shop, which you'll have caught a sneak peek of when you checked in at the reception desk. There, you'll find a range of Final Fantasy merchandise, collectables, and assorted sundries. During your visit, you'll have received a stamp card. Ordering an item from the menu grants you one stamp, and you can exchange your fully completed stamp card for exclusive Final Fantasy XIV merchandise. Load up your pack with all of the necessary items and set out on your quest. Eorzea awaits!
Name: Final Fantasy Eorzea Cafe
Address: 2F, 1-1-10 Sotokanda, Chiyoda-ku, Tokyo
URL: https://www.pasela.co.jp/paselabo_shop/ff_eorzea/
Post by: Japan Journeys