Many cultures have something similar to yakitori in their cuisine—meat or vegetables threaded onto a stick and cooked over fire. When you think about it, it's quite primitive. But, there's really no denying its greatness. I think the secret to yakitori's success lies in the simplicity; there are few things more satisfying than a bite of smoky, juicy chicken breast. But of course, some places do it better than others, and one place that does it really well is Toriyoshi. 
Toriyoshi is actually a chain—a high quality chain, mind you—of yakitori restaurants. The original location opened in Nakameguro in the mid-90s and the business has grown to seven locations in subsequent years. This time, I visited the Nishi Azabu location, next door to Roppongi.  
Toriyoshi Nishi Azabu
When you arrive at the corner address, ignore all your instincts telling you not to go through the dark garden-shed looking doorway into darkness. Ignore that, head straight in and make your way down the staircase where you'll find a charming little lamp-lit entrance.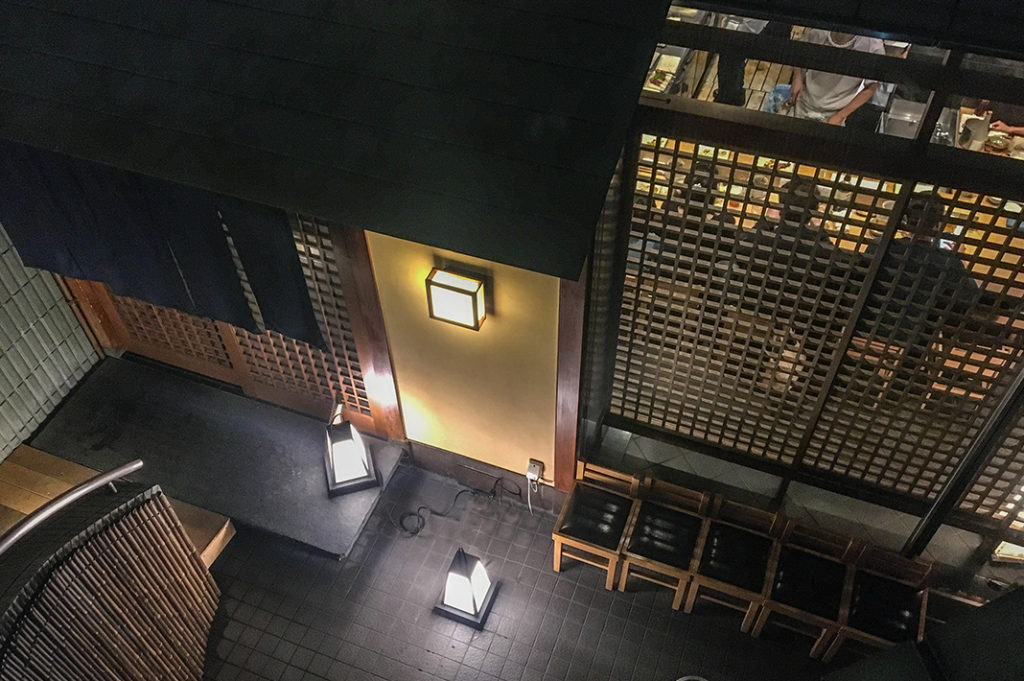 Or, if you're like us who were a little too eager and arrived right at opening time, you'll get to watch the ceremonious switching on of the lamps.
Inside, the decor is sleek and traditional. A large counter wraps around three sides of the kitchen where aproned chefs hustle around, each with their own set tasks. There are two yakitori grills and accompanying chefs (one on either side) as well as extra staff to take orders, make side dishes and pour beers. There is also a separate dining room for smokers.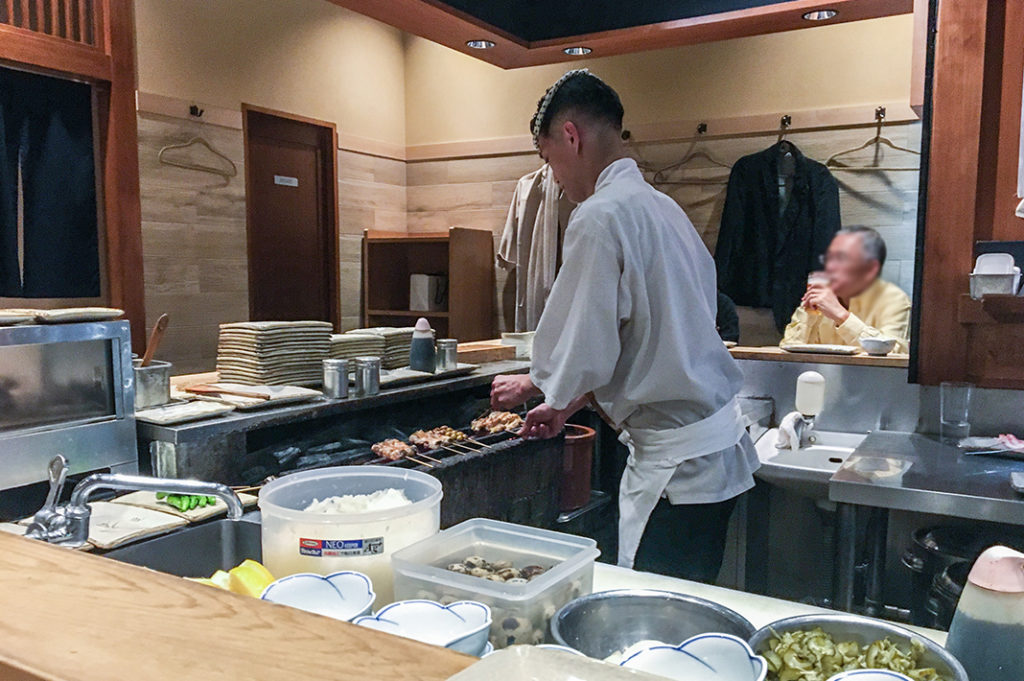 On the counter, glass display cabinets are stocked with pre-made sticks and baskets of fresh vegetables tempting the diners.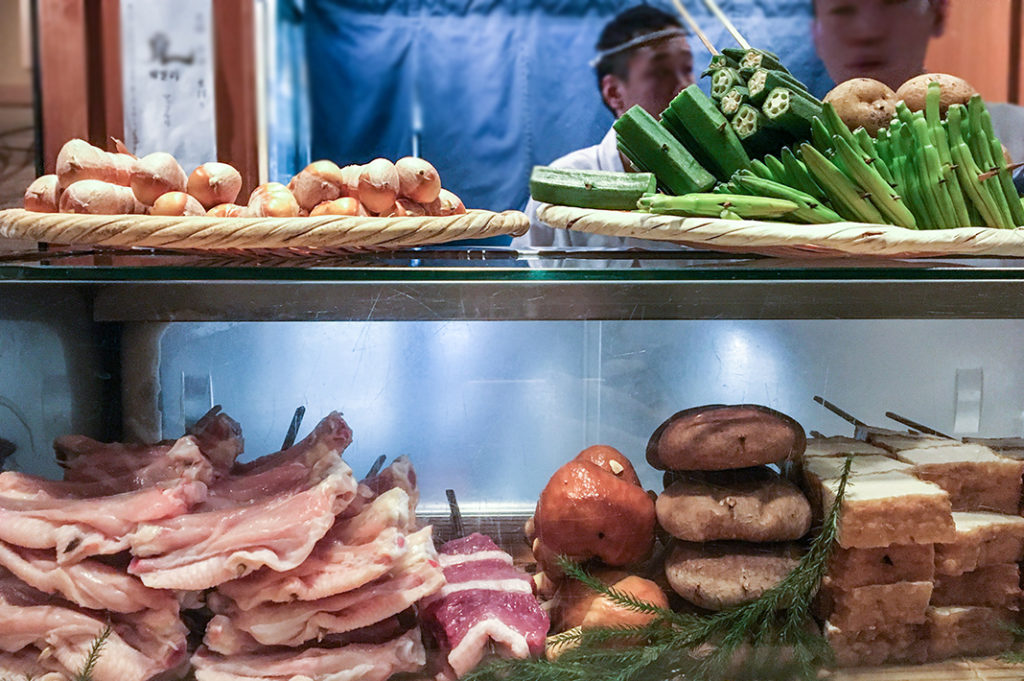 Toriyoshi's menu 
On the wall above the kitchen is the menu in Japanese, though you will receive an English menu when you sit down. The menu offers a choice of omakase (chef's selection) or ordering a la carte sticks. The ingredients are bought daily at market rates so the prices aren't displayed, though sticks run between ¥200–¥600 each.
In terms of chicken, you'll see a range of familiar cuts like breast, thigh and wing. Those familiar with yakitori will also see popular staples like liver, cartilage and skin. If you're game to try it, it's certainly a safe place to do so! As I was looking forward to a veg-filled meal, I was delighted to see a huge range of fresh local vegetables on the menu, not to mention stacked decoratively on the counter. 
The taste test
First up was the ootoshi (compulsory appetizer). In fact, there were two! There was a small plate of pickled vegetables as well as daikon ooroshi—grated daikon radish with a quail's egg cracked on top and a sprinkling of sauce. Both delicious; clearly other diners agreed as they asked for seconds.
If you order a la carte, as we did, make your way through Toriyoshi's menu ordering what you like, when you like. Maybe some asparagus here, a chicken wing there. Everything was beautifully cooked by the chef, who no doubt has the cooking methods mastered, down to every fan on the flames. You can't go wrong in ordering, but my biggest recommendation is the aigamo (duck). It is so rich, juicy, fatty and smoky. You'll want seconds.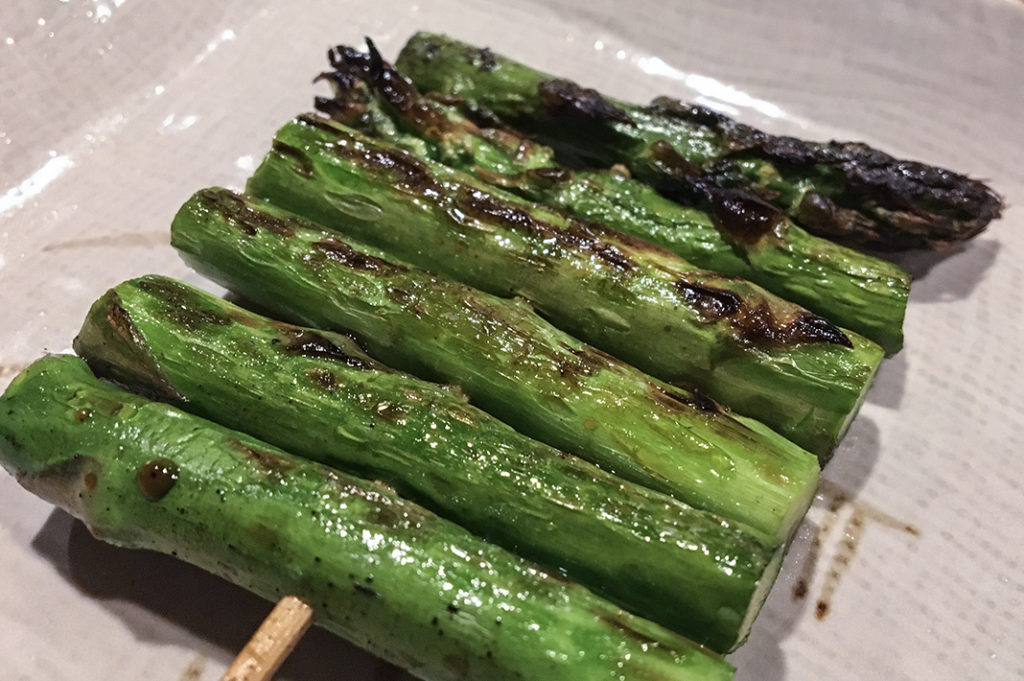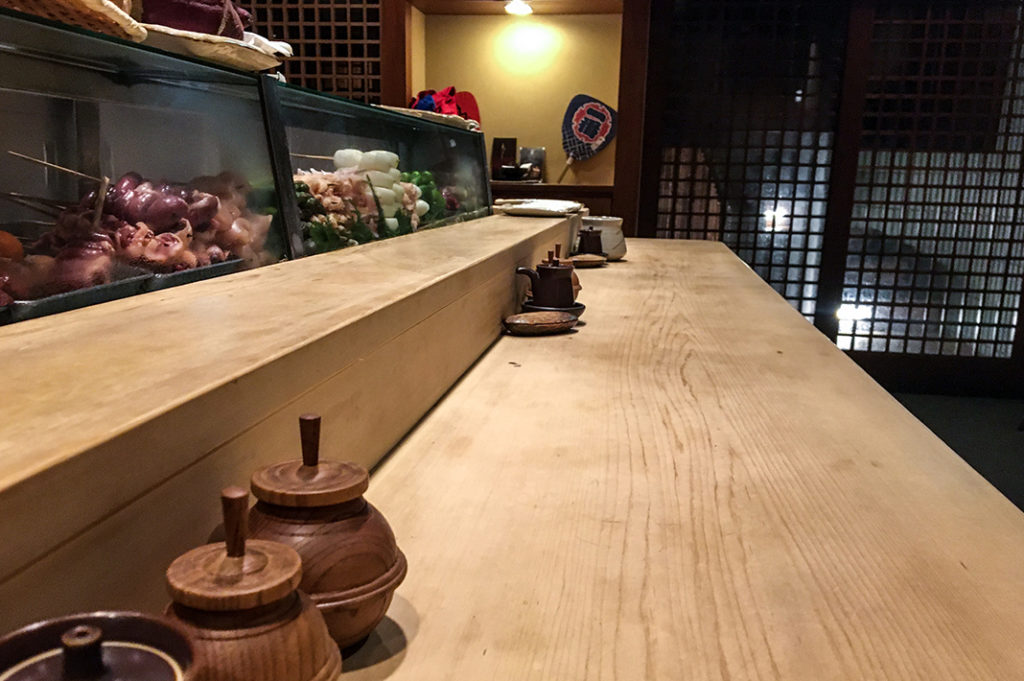 If you're looking for a fancier yakitori experience, look up Toriyoshi and get to one of their branches. It's a popular spot so be prepared to wait…or rock up at opening time like we did.
How to Get to Toriyoshi
Toriyoshi is about a 10 minute walk from Hiroo Station and perhaps a few minutes more if you're walking from Roppongi Station.
Toriyoshi (Nishiazabu)
Address: Basement of 4 Chome−2−6, Nishiazabu, Minato, Tokyo
Open: 5:00p.m.–11:00p.m., 7 days
Other Locations: Nakameguro, Ginza, Akasaka (different hours)
URL: here
Post by Japan Journeys.