Twenty minutes west of Fukuoka city, Momochi Seaside Park beckons weary travellers with its golden sands and wide-open skies. This man-made beach, part of the Fukuoka City Beach Park, stretches along the gentle coast of Hakata Bay, near attractions such as Fukuoka tower and Paypay Dome. While beautiful, there is more than just scenery to draw crowds. Bars, restaurants and even a wedding venue are in place to ensure your day at the beach is done in style with an added touch of romance.
Exploring Momochi Seaside Park
While there are a tonne of great beaches in Fukuoka, Momochi Seaside Park is one of the closest to the city, making it a convenient way to enjoy the great outdoors. In summer, you'll find the beach filled with people playing volleyball, soccer and rugby or perhaps searching for clams and splashing around in the swimming zone. Facility-wise, the restrooms, showers, shaded pergola and beach tents provide all the comfort you could need—and more—on a beach day.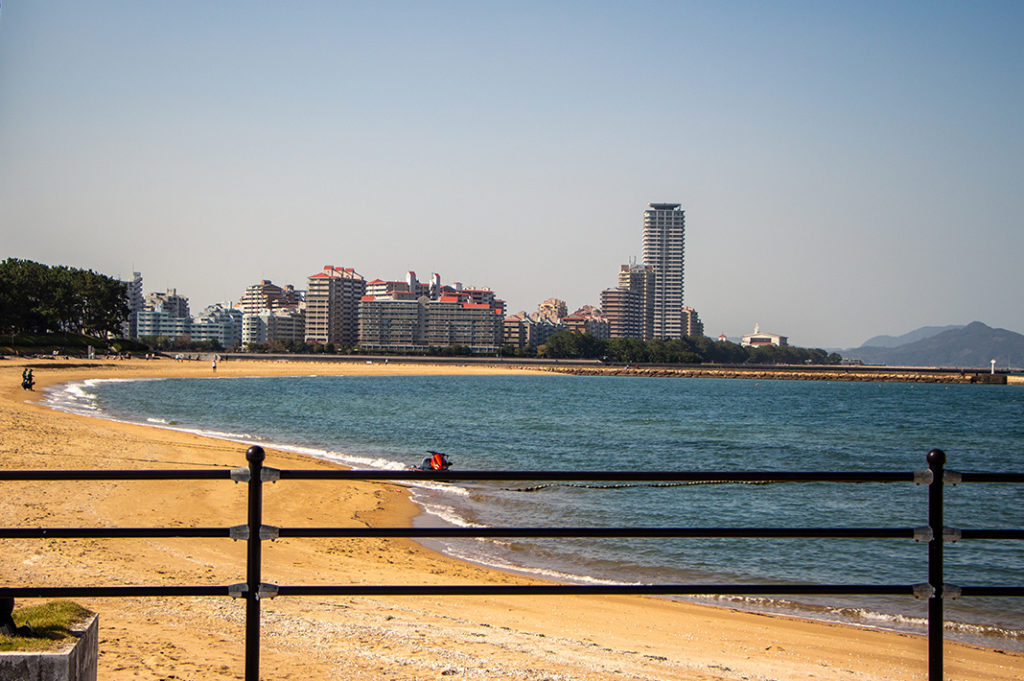 Marizon's Mediterranean resort vibes
The hub of this area, though, is what's known as "Marizon", a waterfront facility styled after a Mediterranean resort. The paved thoroughfare is lined with a number of shops and restaurants and leads to a light and bright wedding venue over the water. The white cathedral, terracotta roof tiles, water features and bay views transport you out of Japan and onto another continent.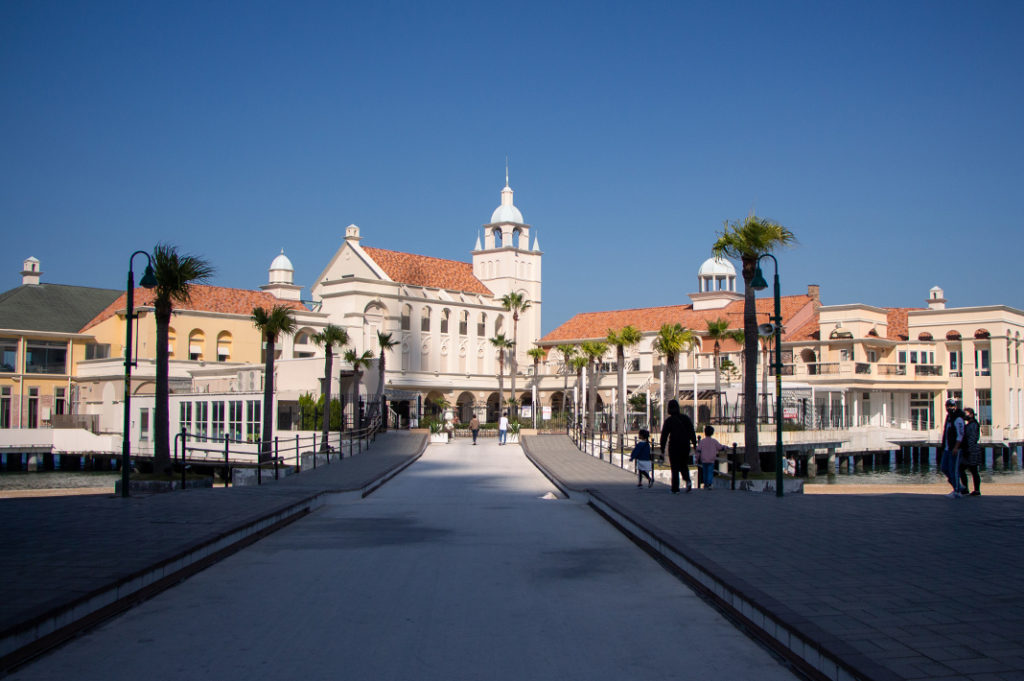 From the reception venue's floor to ceiling windows, wedding guests can enjoy views of the bay and its islands while discussing who wants to swap their chicken for fish.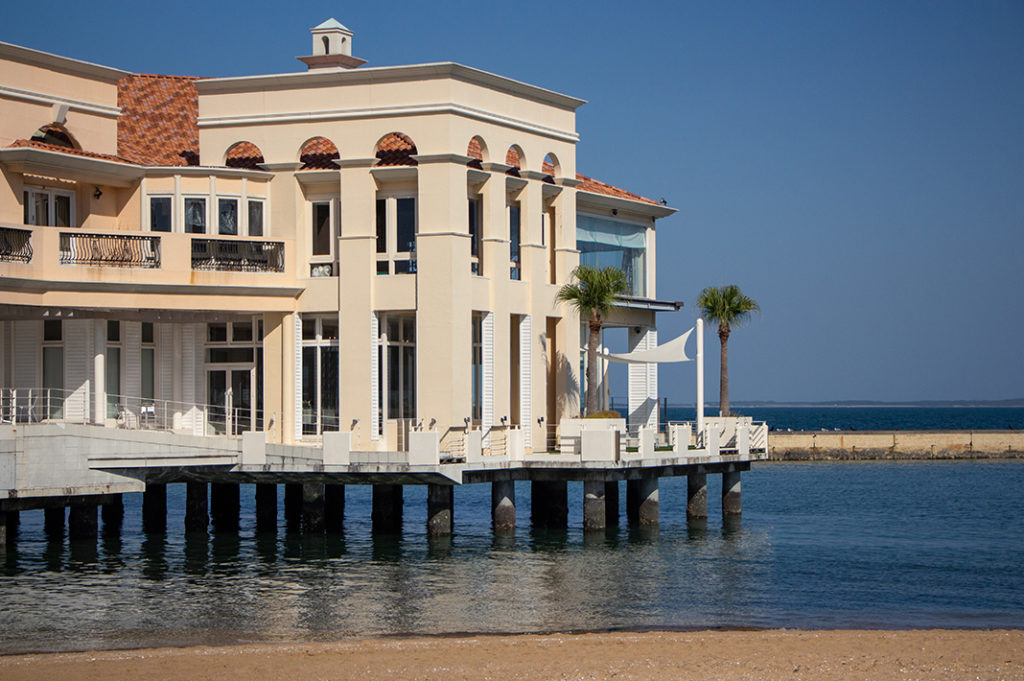 Strolling and exploring
In late autumn, as the opening time approached, we practically had the place to ourselves. The paved thoroughfares and beaches were quiet. A few kids were digging in the sand and a wedding photoshoot was taking place further along. The brisk sea breeze was softened by the warm sun as we explored the Disneyland-esque facilities. Looking out over the glittering water, I could see Nokonoshima Island, where I'd visited a few days earlier.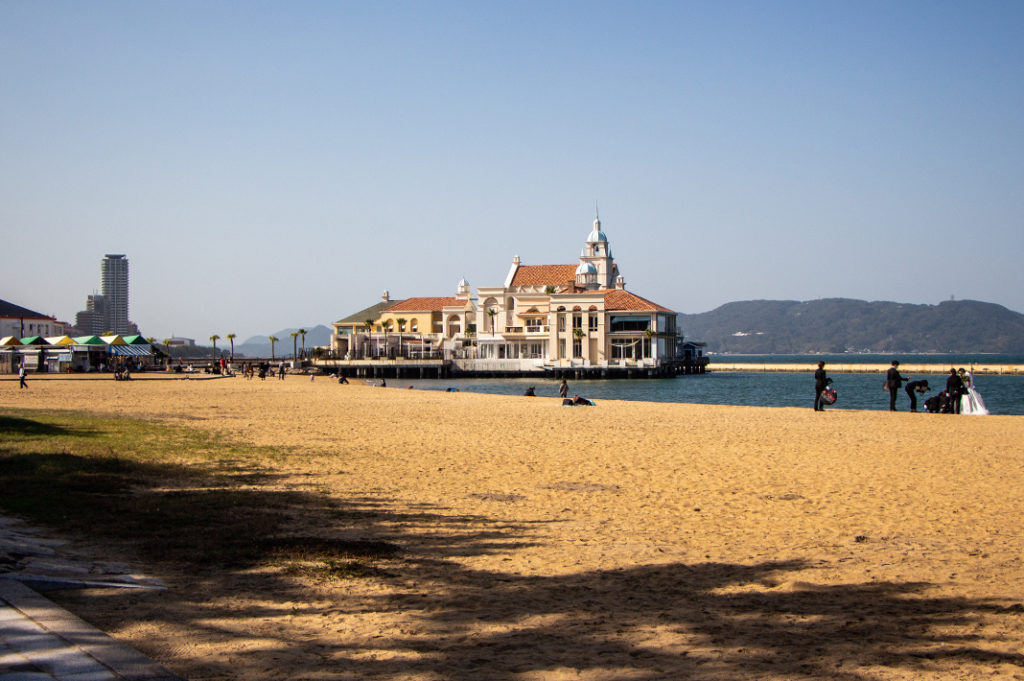 Romantic atmosphere
After seeing a number of couples strolling arm in arm along the boardwalk, I realised we were at a classic Fukuoka date spot. The charming architecture, al fresco dining and promise of matrimony are too powerful to resist. This, coupled with the "Lover's Sanctuary" inside Fukuoka Tower (across the street) and the sunset over the water…done deal.  
Food options
After strolling around, scoping out the offerings, we were ready for lunch. Ice cream cones felt a little cold and we weren't in the mood for self-cook BBQ (though it does look fun!) so we went for some al fresco Italian to match the atmosphere. Mamma Mia serves up pizza and pasta as well as things like curry, seafood and even jerk chicken. A Birra Moretti and a slice by the seaside—not a bad way to spend a Sunday.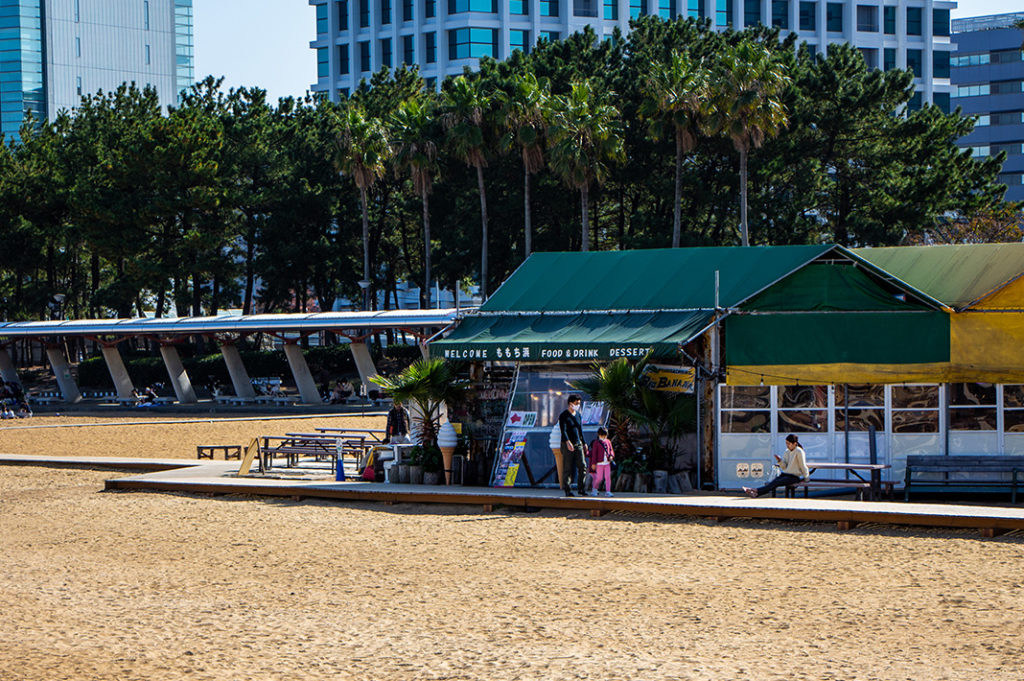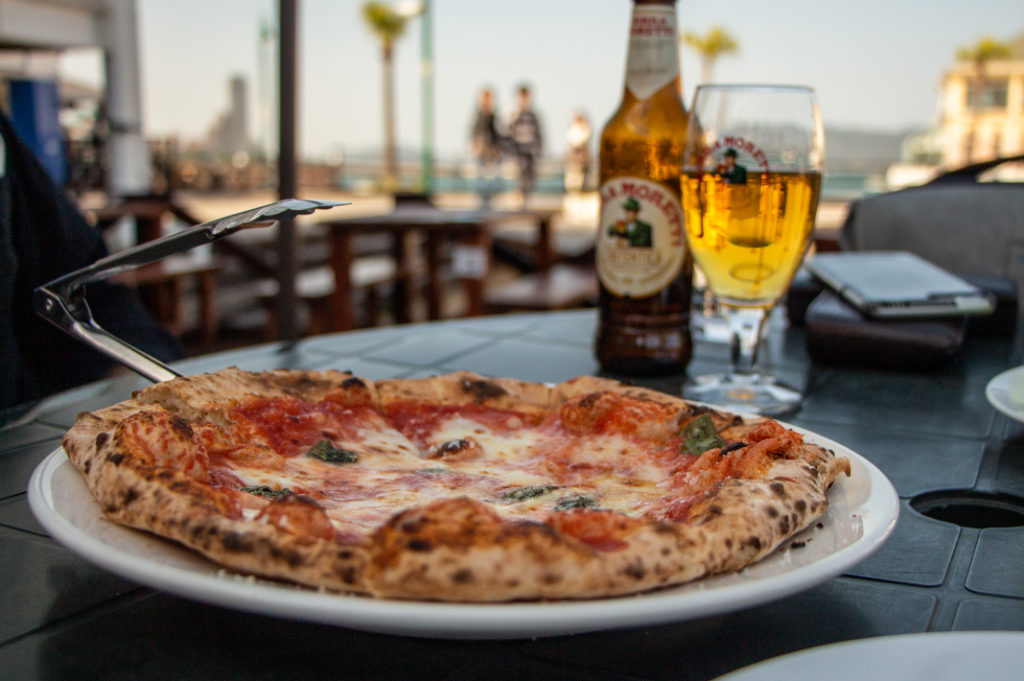 Despite its romantic reputation, you don't have to be on a date to enjoy Momochi Seaside Park. The calming views and warm sand make for a nice change of scenery from the city any day.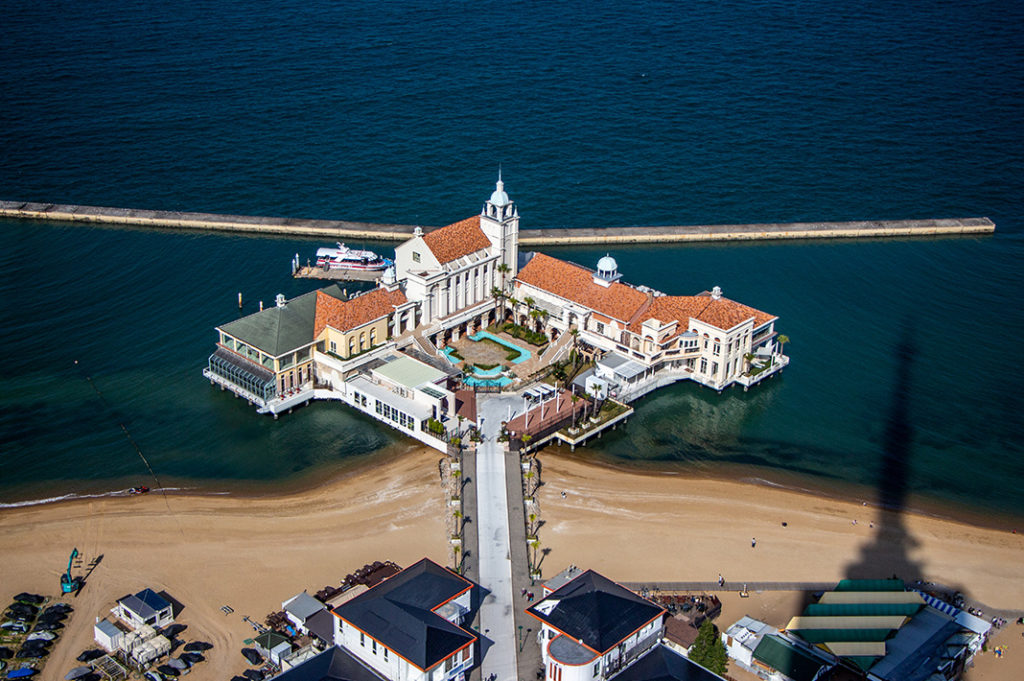 Accessing Momochi Seaside Park
By Bus
We recommend getting the bus, as it stops right near Momochi Seaside Park. From Hakata Station bus terminal, take Bus 306 from Platform 6 and ride for 25 minutes. If you're in the Tenjin area, head to the Tenjin Bus Center and take Nishitetsu Bus 302 or W1 from Platform 1A. It's about 20 minutes to Fukuoka Tower. 
By Train
The closest train station is Nishijin Station, which is a 20 minute walk. You can get here from the city via the Kuko Line which starts at Fukuoka Airport and runs through Hakata Station, Tenjin, past Ohori Park and terminates at Meinohama Station.  
By Ferry
For those wanting to explore the Umi-no-Nakamichi Seaside Park, you can travel between it and Momochi in around 20 minutes on the Uminaka Line ferry.
Name: Momochi Seaside Park / Fukuoka City Beach Park
Address: Google link
Open: Venues start opening just before lunch.
URL: website (in Japanese)
Post by Japan Journeys.