Miyajima, or Itsukushima, is a lush, forested island in Hiroshima Bay and undoubtedly one of the most popular day trips in the area. With a sacred history, UNESCO listed shrines, mountain temples, spectacular views and roaming deer, there is absolutely no shortage of fun activities. But where to begin? Let us guide you through some of the most popular and fun things to do on Miyajima, making it a day you won't soon forget.
Visit the Temples and Shrines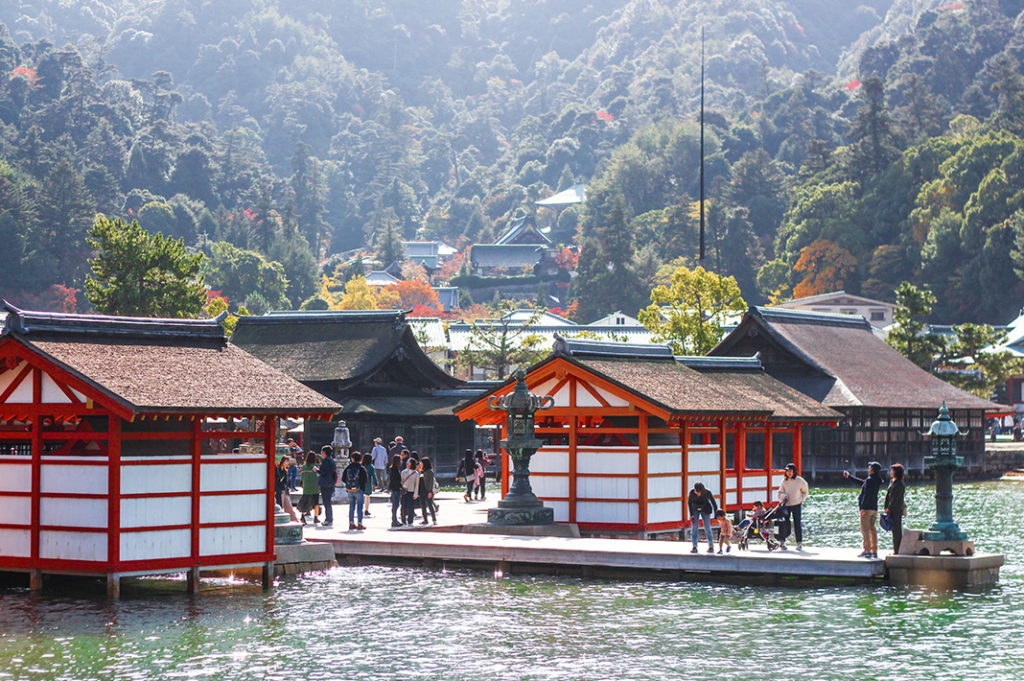 Itsukushima Shrine and Torii Gate
Miyajima's official name, Itsukushima, shares its name with its UNESCO listed shinto shrine, originally built in the 12th century. The shrine sits on pier-like stilts which gives the illusion of it floating.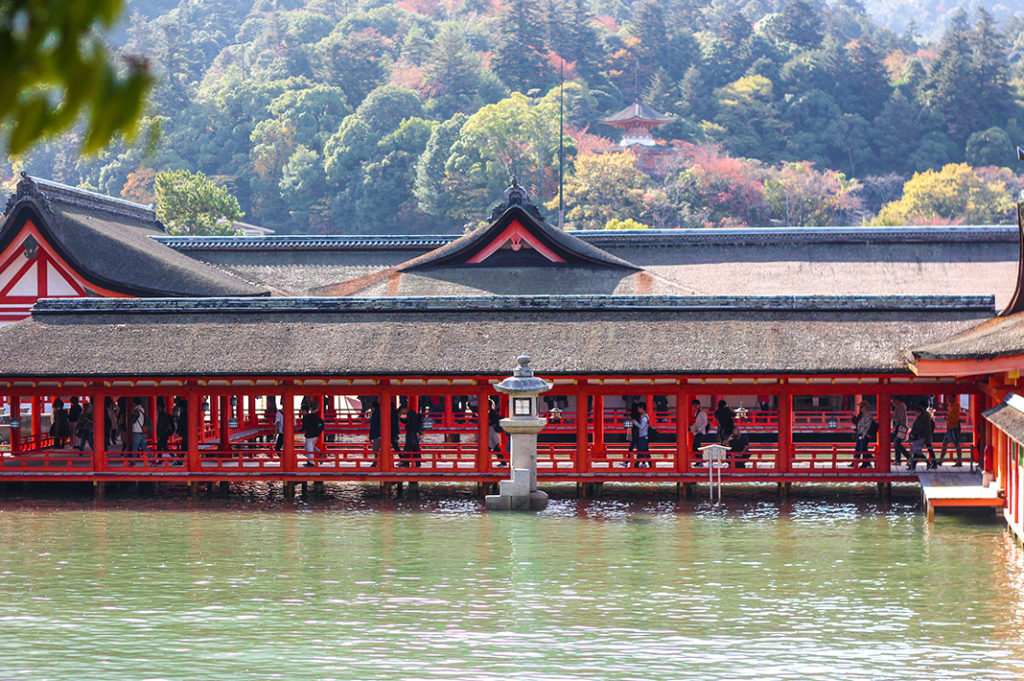 The gigantic red torii gate signifying the entrance to the shrine is one of the most photographed sites in all of Japan as it emerges from the water at high tide.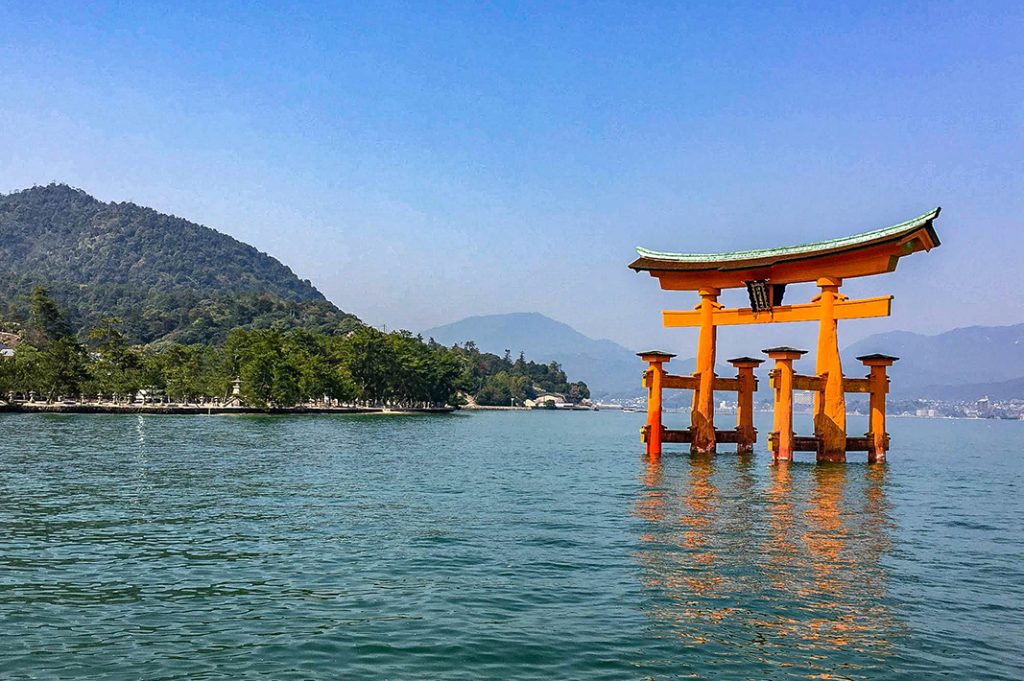 At this time it's possible to kayak or boat around it for a closer look.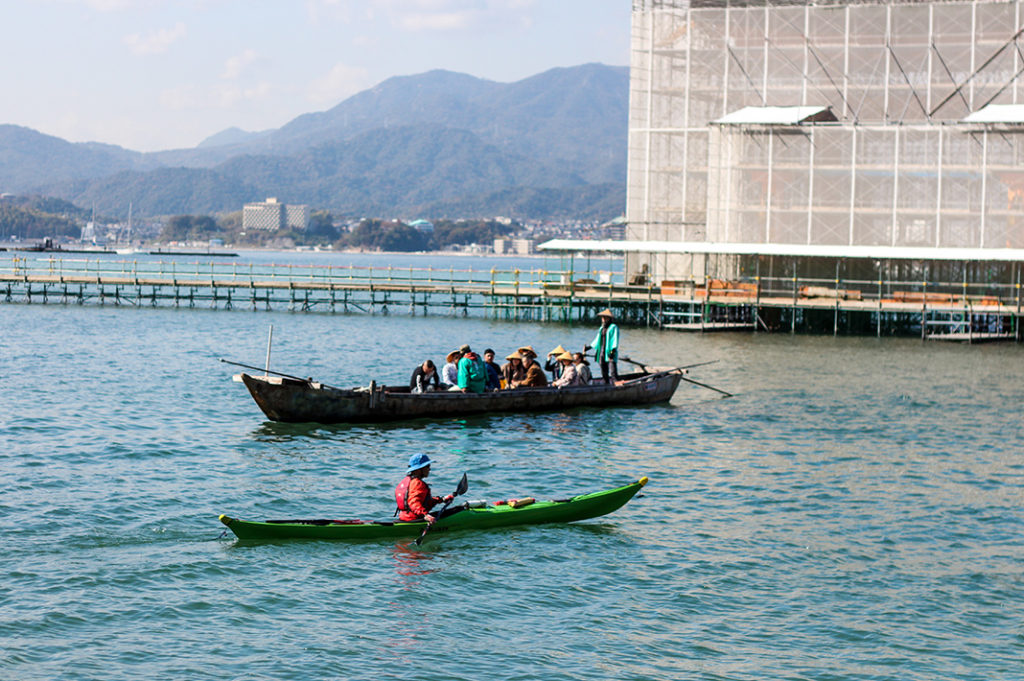 Then, as the tide rolls out, visitors can wander across the squishy sea bed to get up close and personal for free. If you want to enter Itsukushima Shrine, be prepared for long lines for the ticket booth, particularly on weekends.
Daisho-in Temple
Daisho-in is a Buddhist Temple in the hills about 5 minutes on foot from Itsukushima Shrine. Of course, it takes longer if you stop to take photos like we did. Daisho-in holds importance as the headquarters of the Omuro branch of Shingon Buddhism, but for the uninitiated, it's just really pleasant.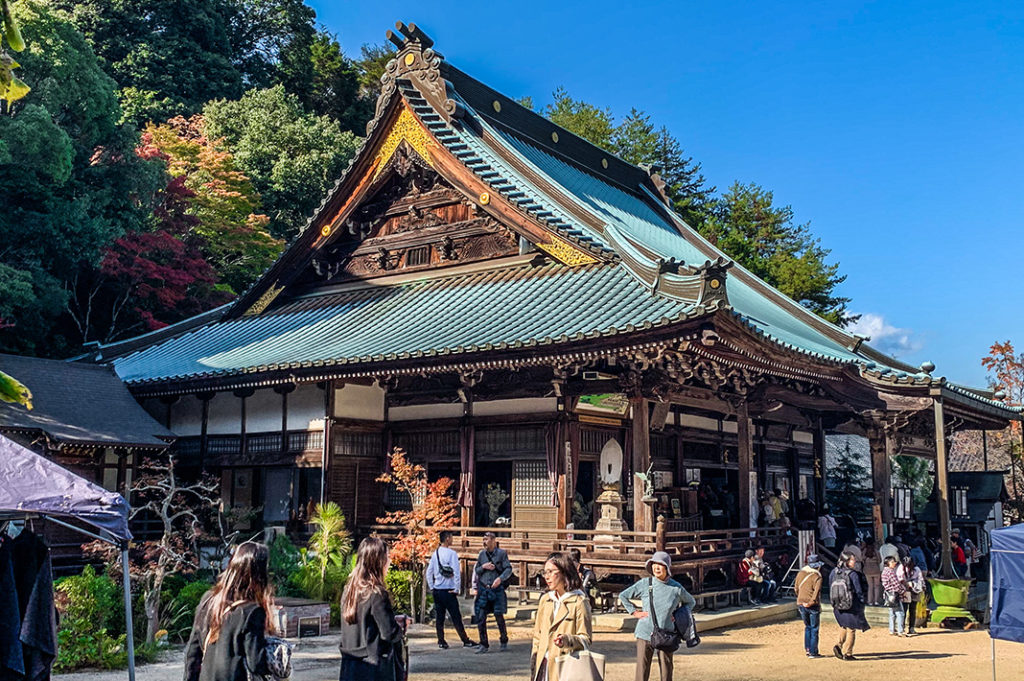 Think picturesque steps, a giant bell, a sea of jizo statues with knitted hats and a scenic mountain location. Our visit during Autumn was brightened by the splashes of reds, oranges and yellows all around. Read our detailed post about the jizo statues with wool hats here.
Other Sites
Five tiered pagoda

Senjokaku Pavilion
Being such a sacred island, it's no surprise that there are more than two religious sites on Miyajima. Senjokaku, or the pavilion of 1,000 mats, is the largest structure on the island, and the five-storied pagoda (Gojunoto) is one of the most spectacular. Then for the Buddhist fans out there, Miyajima is also home to Daiganji Buddhist Temple dedicated to goddess Benzaiten.
Take in the Views from Mount Misen
Dominating the Miyajima landscape is Mount Misen. While it's possible to hike to the top (90 minutes–2 hours), you can also take the Miyajima Ropeway in a quicker and more relaxed fashion (around 30 minutes). The glass cable car glides over the forests and up into the mountains. You'll need to switch to a second ropeway halfway and you'll still need to walk for twenty minutes to reach the summit.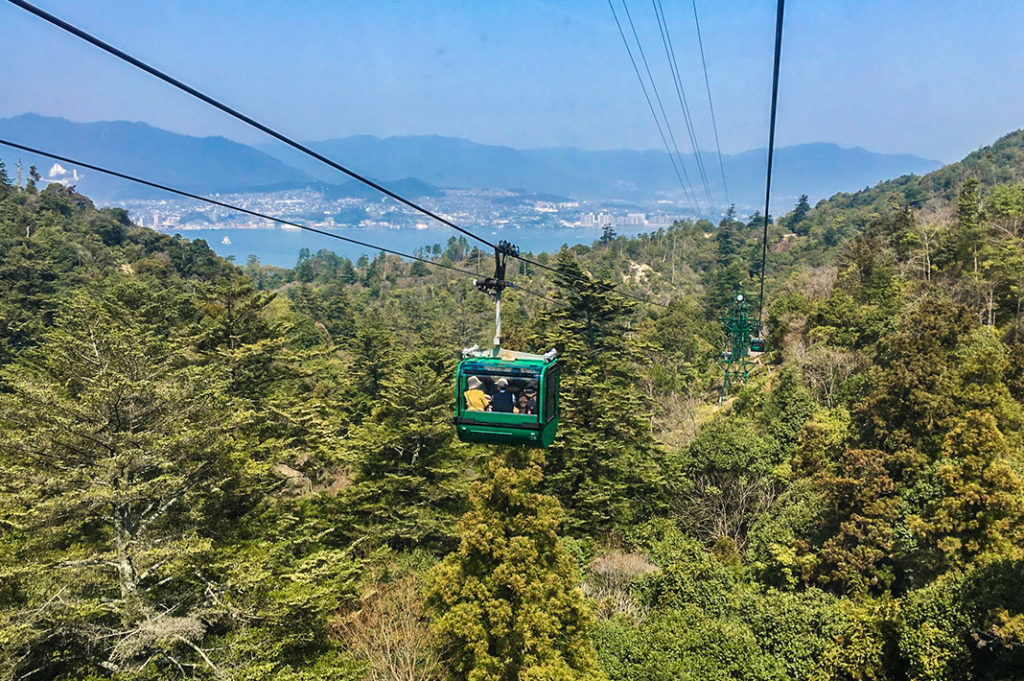 From the top, you can expect sweeping views of everything below and the stunning bay dotted with islands.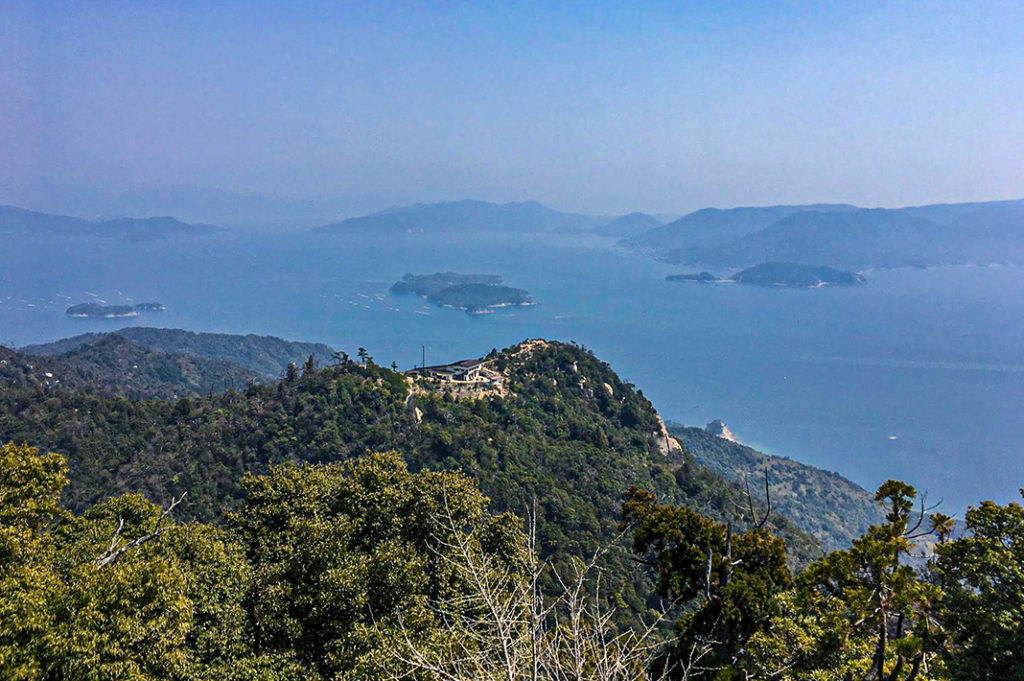 Allow at least 2.5 hours from Itsukushima Shrine to the Mt. Misen Summit and back via the cable cars. Longer if hiking. It's best to do this early so you don't miss your boat home. Read more about the experience here.
Shop and Eat
The shopping streets around the island are long, winding and full of wonderful shops and restaurants.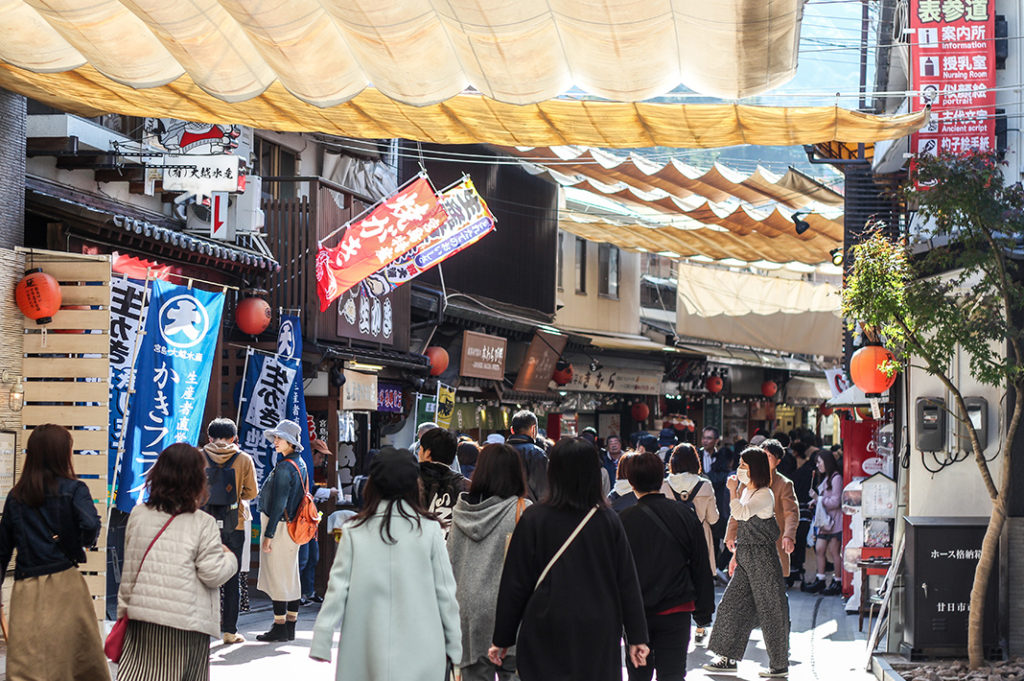 You can pick up a number of local souvenirs featuring deer, maple leaves and torii gates from the many gift shops. If you're looking for something to eat, there are plenty of restaurants, not to mention tantalising street foods.
Miyajima Caramel Blonde beer

Oysters

Momiji Manju

Beef steam bun
Check out our other Miyajima articles for more on what to eat and buy. 
Appreciate Nature
Nature is definitely one of the shining stars of Miyajima. All around you are stunning views, lush forests and top notch trees. Springtime brings with it clusters of fluffy, baby pink cherry blossoms, while autumn sees Miyajima's foliage transform into a collection of bold reds, fiery oranges and bright yellows.
Nature can be enjoyed all over, as well as in the Miyajima Natural Botanical Garden operated by Hiroshima University.
Make Friends With The Sacred Deer
In the shinto religion, deer are thought to be messengers to the gods, and therefore considered sacred creatures. So, as you could imagine, harming and hunting them is quite the faux pas. In the olden days, this was a crime punishable by death. So, the deer were left to roam free and multiply, which is why you'll find deer around important sites like Itsukushima on Miyajima and in Nara Park.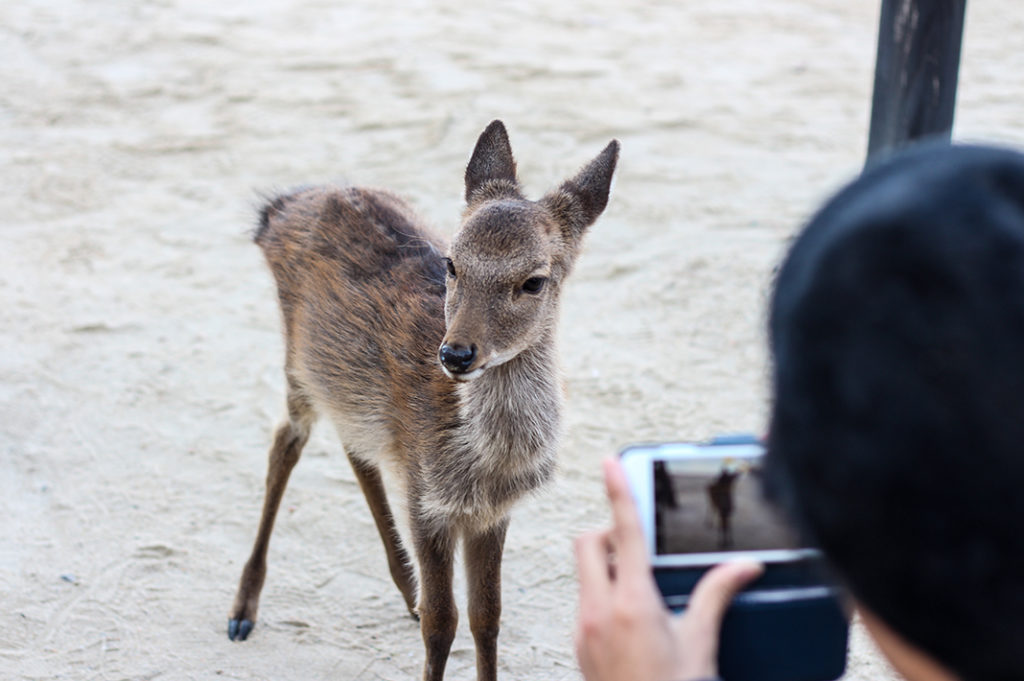 The deer on Miyajima are mostly placid, except for a few who have worked out how to snag food from distracted travellers. The signs around the place warn tourists not to feed the deer and not to touch or harm them. It doesn't seem to stop people, but please try your best.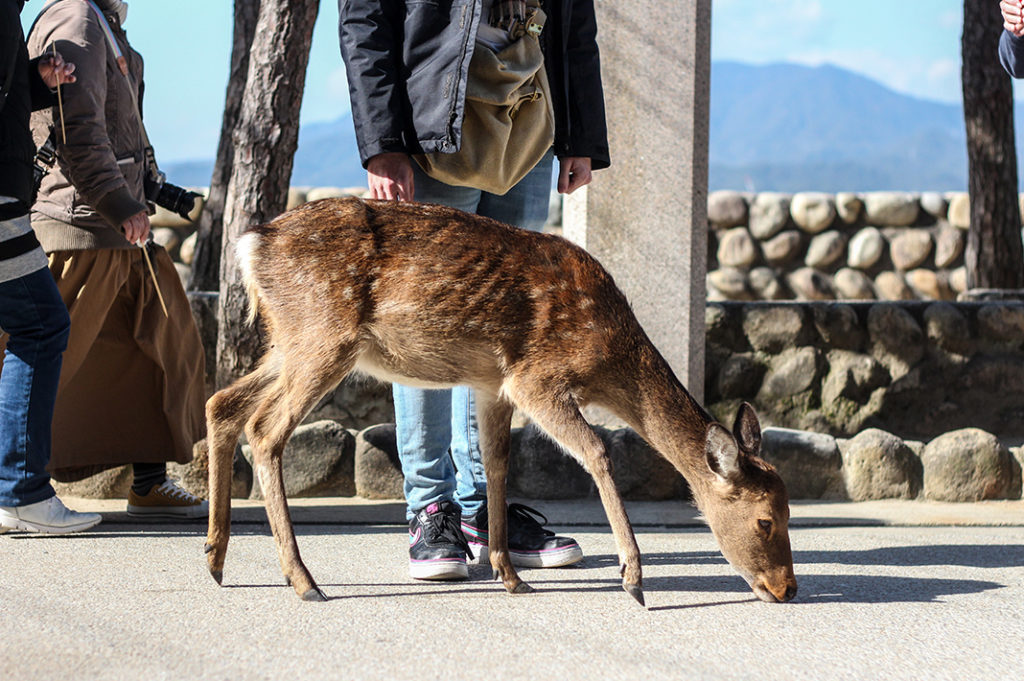 Keep An Eye Out For The Albino Tanuki
If you're lucky, you might also catch a glimpse of a tanuki, or raccoon dog on Miyajima. Don't know them? Well, you've probably seen their statue form outside of shops sporting a hat and a jug, with full bellies and large genitals. They're known in folklore as tricksters and the statues are thought to be good luck for business owners. It must have been a super lucky day for us, as we saw an albino tanuki (a very good omen) run across the road on the way to Daisho-in. At first glance, we thought it was a cat or dog, but once it darted out, there was no mistaking it for the cheeky tanuki…sans tail.
Rickshaw Rides
Would it really be a traditional looking Japanese town without rickshaws zipping around? The answer you're searching for is no. Just like in Kyoto, Asakusa and other traditional areas, Miyajima has a fleet of rickshaw touts willing to jog you around to all the big sites. It can be quite hilly, so they definitely work hard. If you want to get off your feet and splurge a little, give it a go.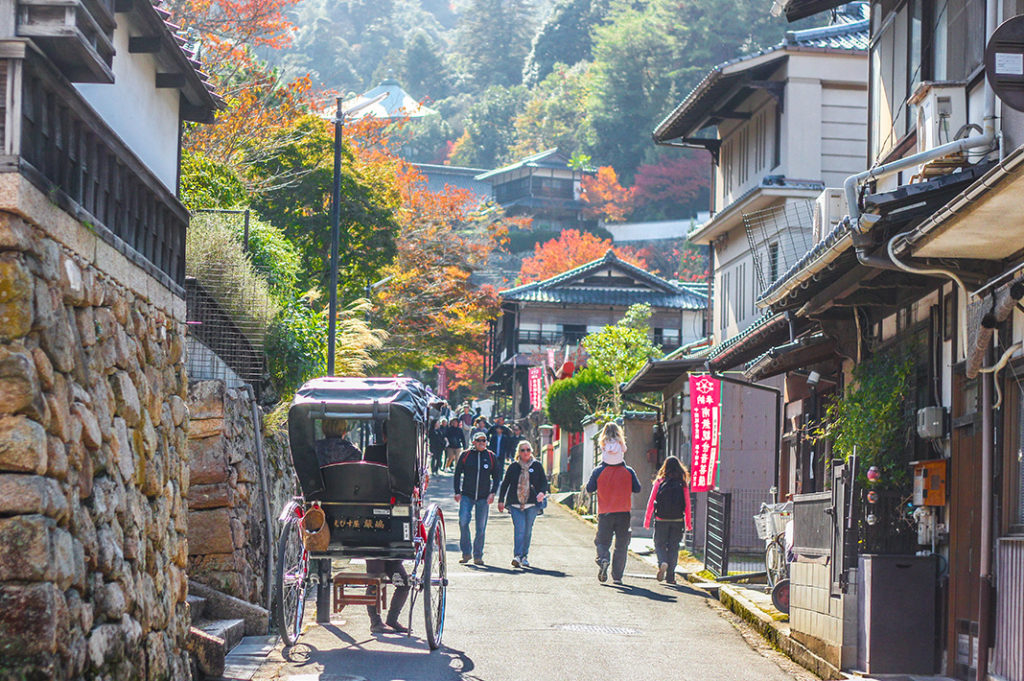 Relax
Last but not least, relax; you're on holiday after all. While many of the activities listed above are relaxing in nature, make sure you make time to do nothing. Stare out at the bay, close your eyes and take deep breaths. And if you want some extra relaxation, search for one of the island's onsen for a relaxing soak.
Getting to Miyajima
From Hiroshima, there are a few ways to access Miyajima. The cheapest way is to catch the train toward the island and then a 10 minute ferry from Miyajima-guchi port (¥180). The JR San-yo line train takes just under 30 minutes from Hiroshima Station (¥260), and one of the ferries (JR Miyajima ferry) is covered by the JR Pass. On a nearby dock, you'll also spot another ferry company called the 'Miyajima Matsudai Kisen' which costs the same amount but is not covered by the JR Pass. If you want to do the Miyajima Ropeway, you can package this with your ferry ticket to get a discount.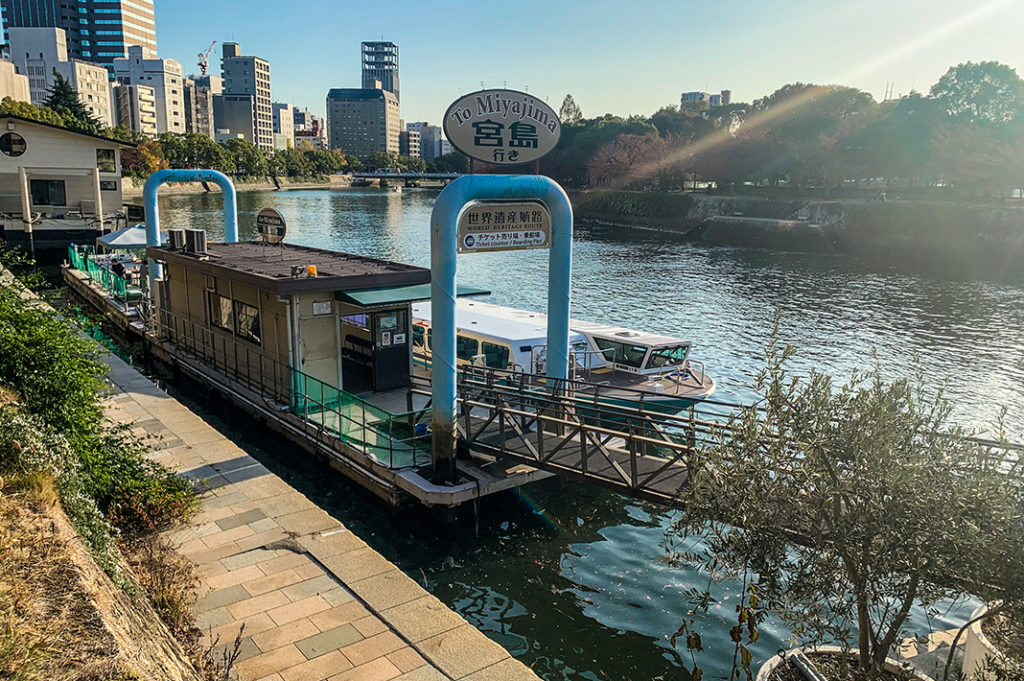 However, if you're near the Peace Park and don't mind splurging, you can take the Aquanet boat (¥4,000 round trip). It sails past the A-bomb dome and out into the bay, taking 45 minutes each way. Make sure you book your return ticket time as soon as you alight at Miyajima.
Post by Japan Journeys.