The Pontocho area is one of Kyoto's go-to spots for food, drink and a dose of traditional Japanese aesthetic. Wander along the gently lit alleyways far enough and you'll come across the charming Hiro Pontocho yakiniku restaurant. If you're in the mood for juicy, quality cuts grilled over charcoal, this is the place for you. And if you're not in the Pontocho area? No worries, there are countless other branches all over the city! 
Hiro Pontocho Yakiniku
Aiming to satisfy a serious beef craving, I made my way over to Hiro, which was just off Pontocho Alley. The small yet lively streets surrounding it exuded charm and that certain Kyoto something.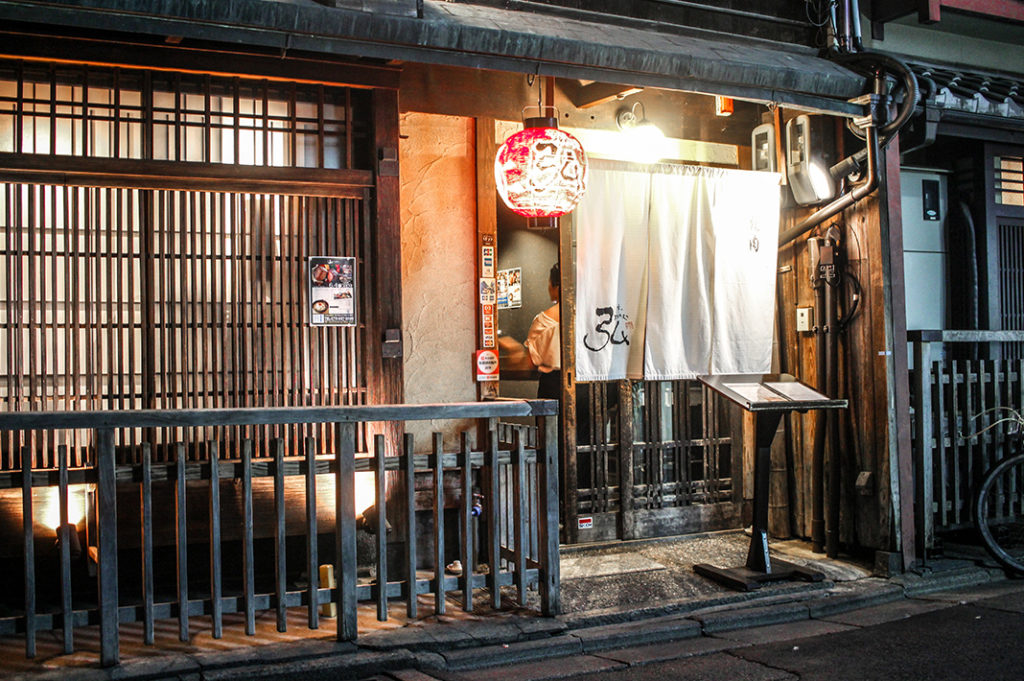 I arrived at 9pm to a full house—obviously during peak grill time. The English speaking staff took my details on the handy dandy tablet and asked me to return in half an hour. I can't say I've ever been more delighted at the prospect of killing time with a neighbourhood stroll.
When I returned, the place was half-empty, meaning I had all the service I could ever hope for. Hiro is the kind of place where all the staff yell welcomes and other things loudly and in unison. With a roaring "Irrashaimase!", I was ushered into the cosy, wooden space and given a menu.
The English menu was extensive, featuring a number of a la carte cuts and sides, as well as bountiful courses for two or more. The prices were reasonable for the high quality of meat. There are plenty more expensive options out there, believe me! When it came time to order, I followed the staff's advice and went for the wagyu beef tongue and the diced sirloin (both 90gm serves).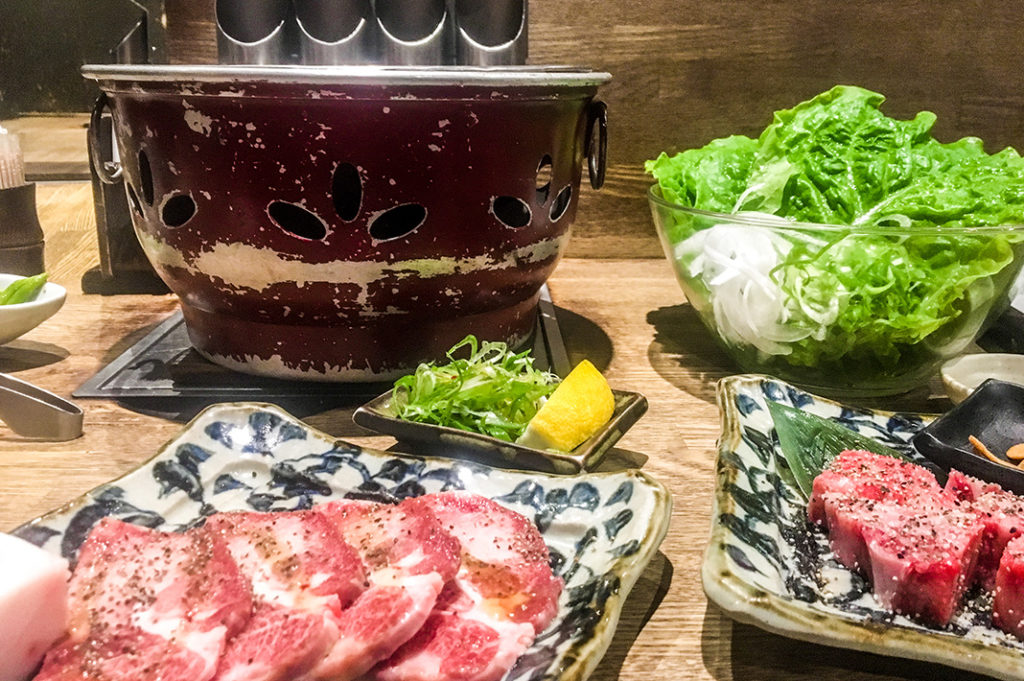 The grill was brought over, glowing red with big chunks of charcoal, and sat down in front of what looked like car exhaust pipes. When I placed my first cut of meat on there, the function was clear as the smoke was whipped away instantly.
The mmmeat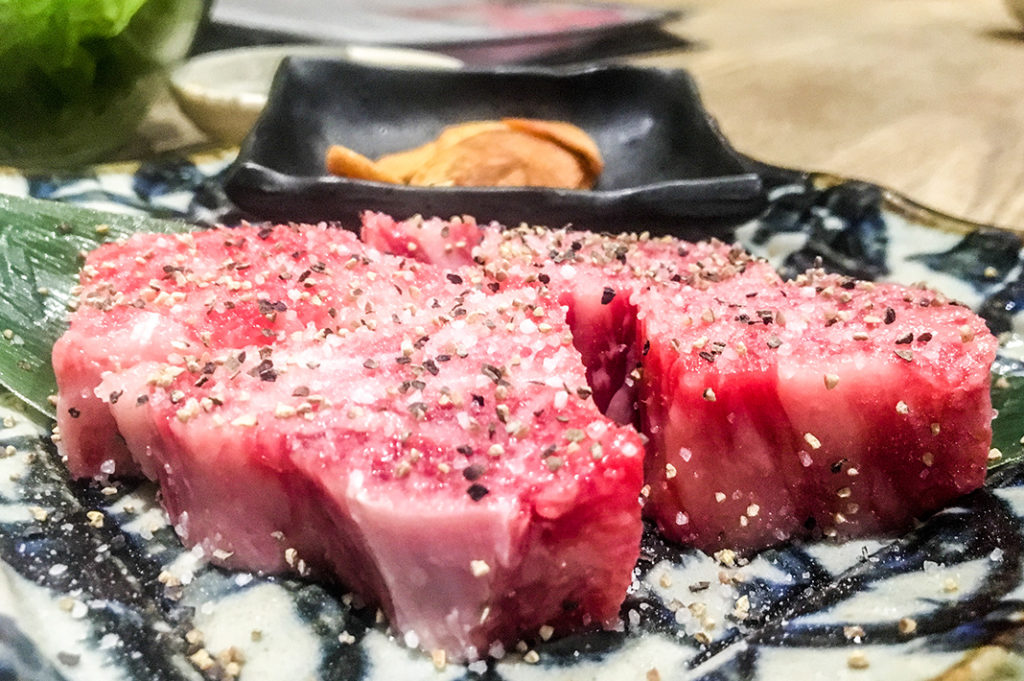 The sirloin cubes were eye-closingly, moan-inducingly delicious. These salty, juicy cuts were served with roasted garlic chips and cracked pepper for garnish; a flavour and texture combination I couldn't get enough of.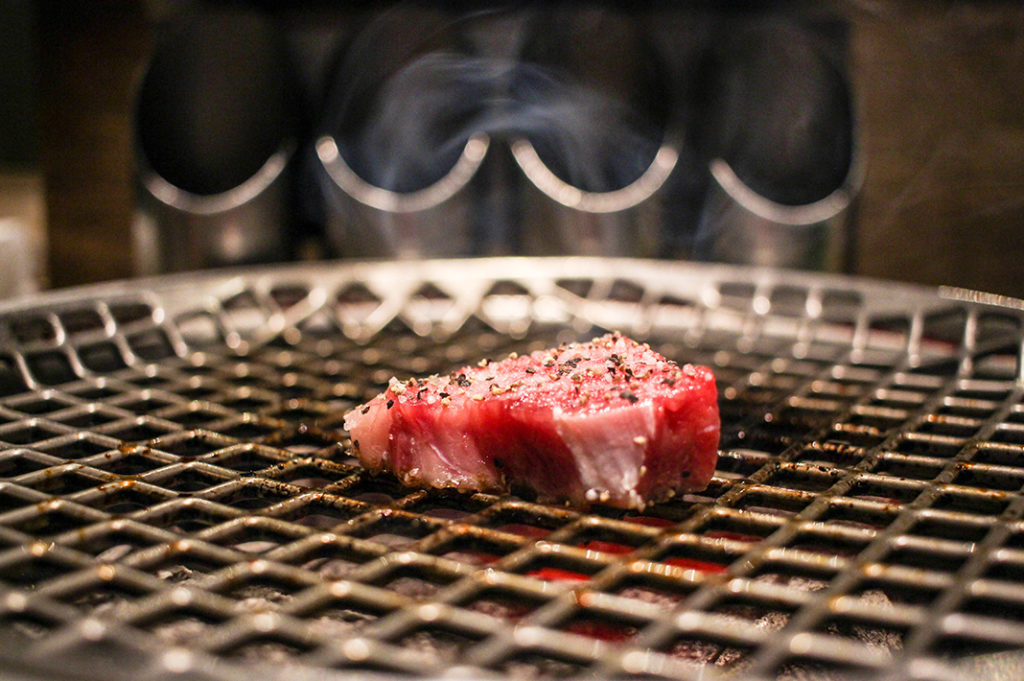 Turn the cubes every which way to get a charred crust on all sides while keeping that soft, pink interior. One bite and the juices flood your mouth.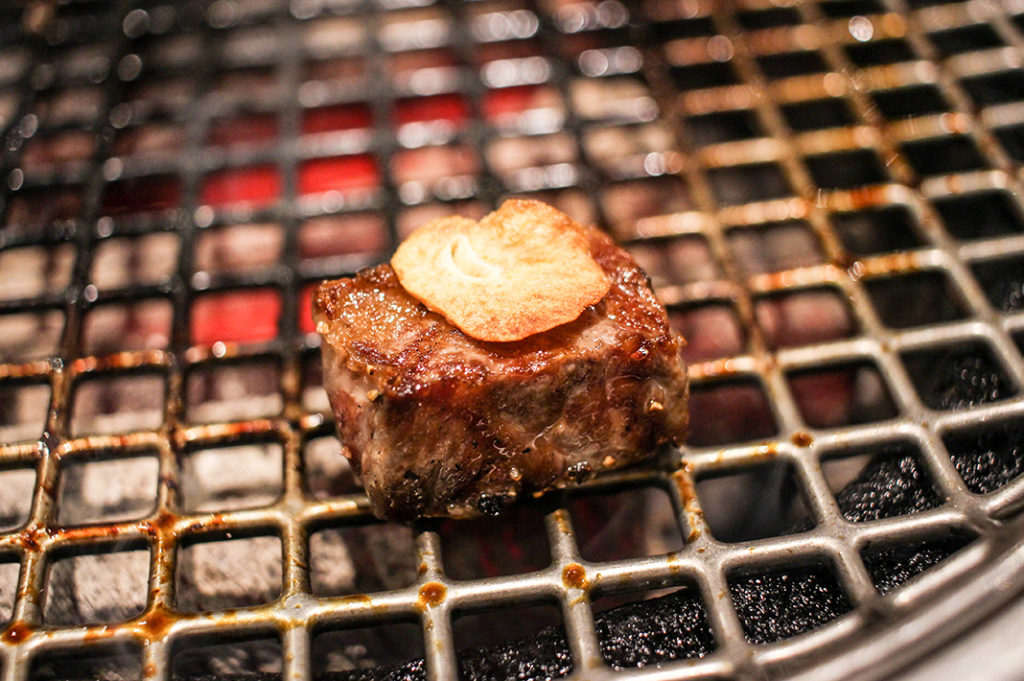 The wagyu tongue was sold to me as the 'healthy option'. It comes with sliced green onion and lemon for garnish. It's a chewy cut in general but manageable when sliced thin.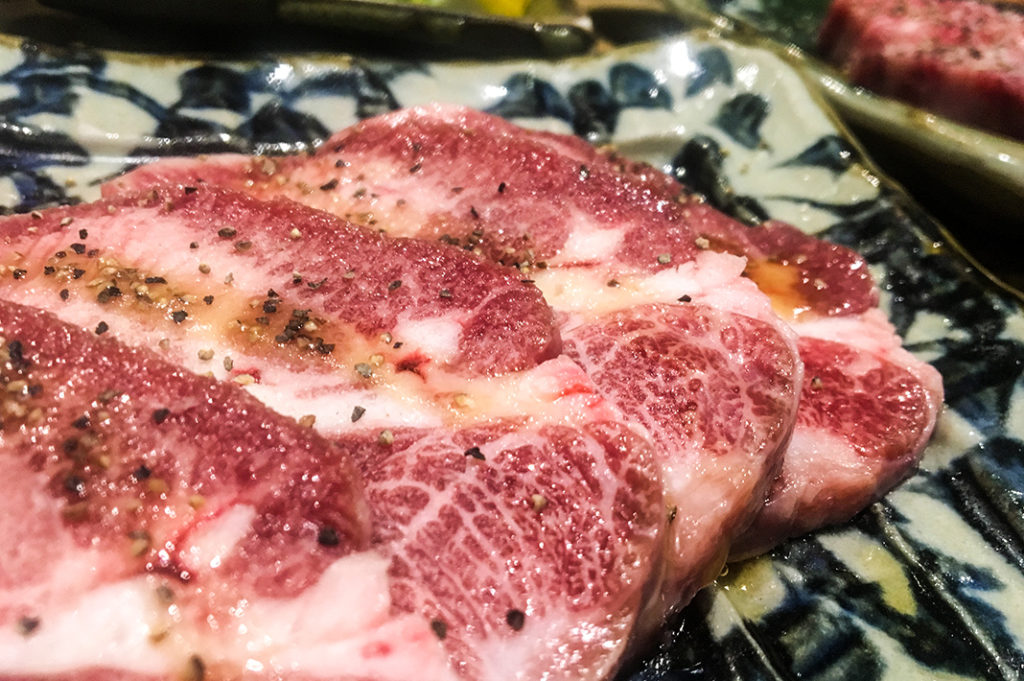 The taste? Sweet, surprisingly juicy and perfect with lemon; the tangy combination really made my mouth sing and dance.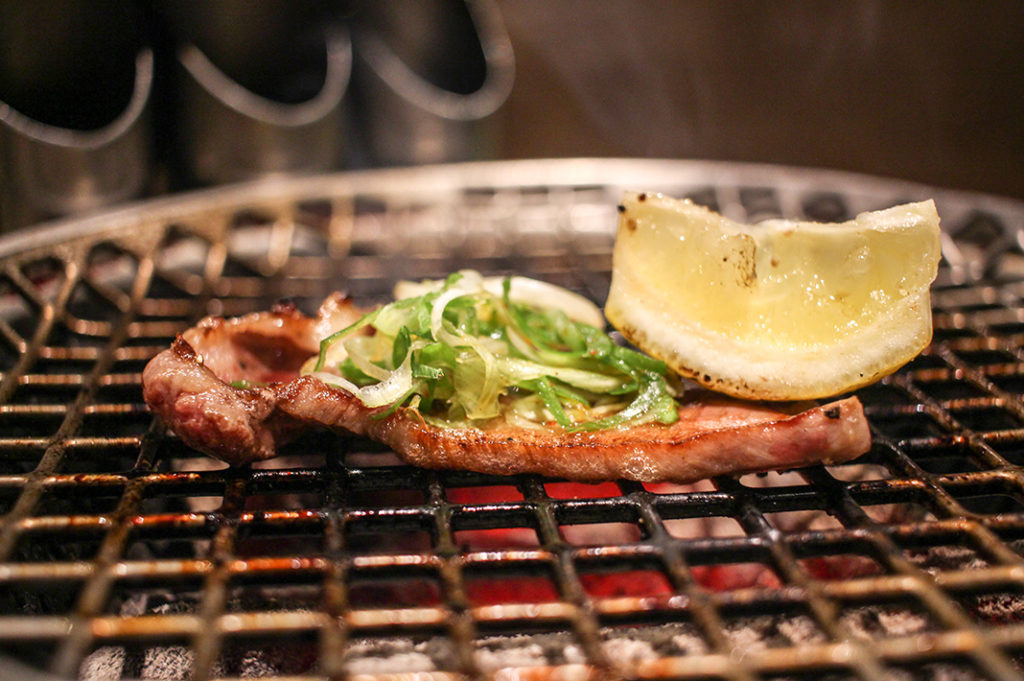 As is customary with yakiniku and Korean BBQ, there are accompanying lettuce leaves to create little beef tacos with. I also ordered some vegetable sides, you know, for the heart.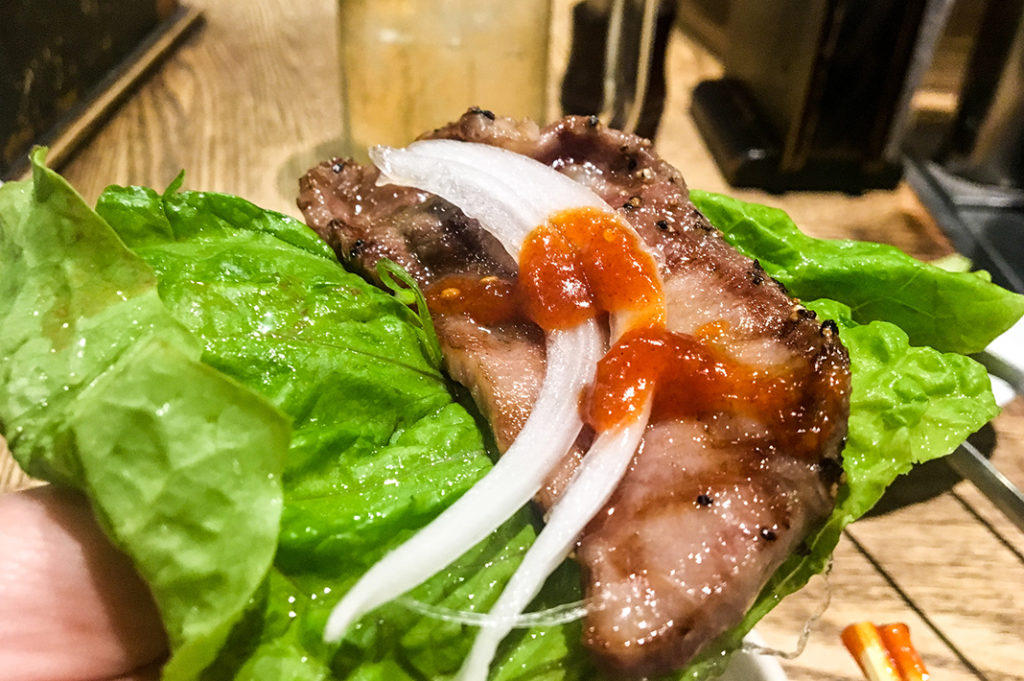 In conclusion, Hiro Beef serve up great quality, reasonably priced wagyu beef. And with so many locations around Kyoto, you can't go wrong! 
Hiro Beef (Kyo-no-yakiniku Hiro Pontocho) is 5 minutes walk from Sanjo Station.
Address: 647-2 Kamiyacho, Nakagyi Ward, Kyoto
Open: 5pm–midnight, 7 days per week.
URL: https://yakiniku-hiro.com/
Post by Japan Journeys