Miyajima is only a short ferry ride away from mainland Hiroshima, but this forested island retreat feels worlds apart. Sacred temples and shrines dot the hilly landscape and there is plenty to fill your days. But what about Miyajima's food? Pick up any travel magazine in Japan and you'll see that local delicacies feature heavily when marketing a destination; Miyajima is certainly no exception. In this article, we seek to get you excited for all the delicious Miyajima foods you'll come across in the Omotesando shopping area and quaint surrounds.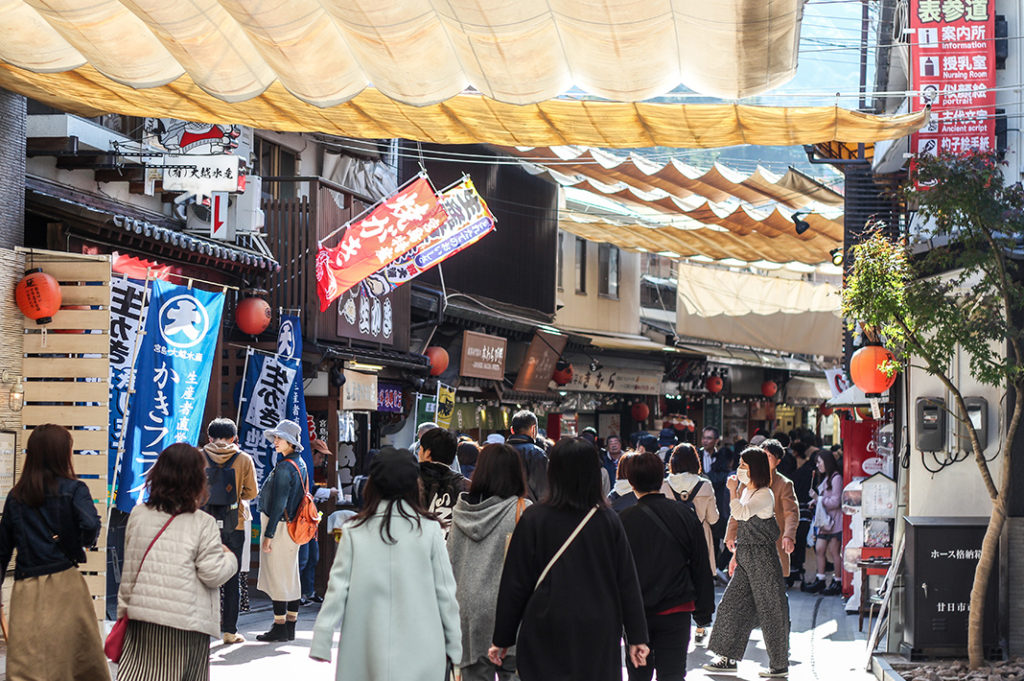 Miyajima Oysters and Eel
Oysters are a big draw card on the Miyajima food scene, with a long history of farming stretching back over 300 years. The nearby waters of Oneseto produce plump oysters, full of flavour with exceptional texture. In fact, they are so loved that an annual oyster festival takes place each February for all the mollusc maniacs out there. But, outside of February, you can get oysters all over town. One of the most popular oyster restaurants is Yakigaki no Hayashi, though you can get them all over the place, including street food style, raw or grilled.
From the same waters comes another local favourite: anago-meshi. A rather traditional meal, the charbroiled eel is slathered in a sweet and salty soy sauce and placed atop a bed of fluffy, hot rice. You'll also spot eel in sushi rolls and other dishes around town.
Momiji Manju
If you've been to Asakusa's Nakamise shopping street, you've seen—or at least smelled—ningyo-yaki. They're the little warm, pancakey sweet treats in the shape of lanterns and pagodas, filled with red bean paste. Or perhaps you're familiar with the larger fish-shaped taiyaki? If so, you'll understand the concept of Miyajima's momiji manju.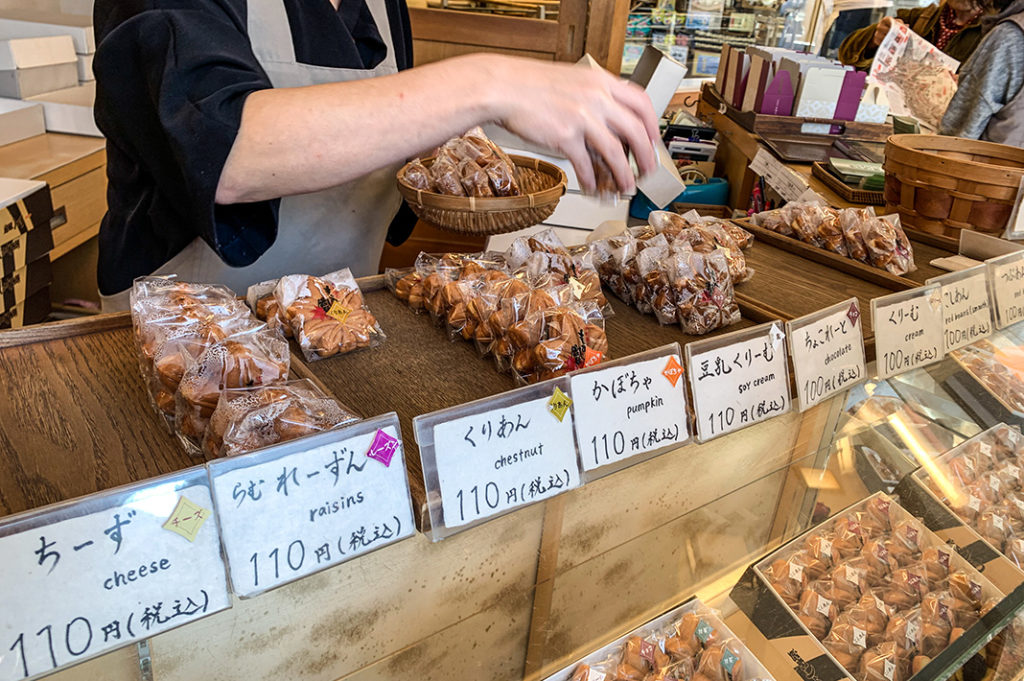 These small treats are made from a batter, stuffed with any number of delicious fillings and cooked in a maple leaf shaped mould. Anko, red bean paste, is the typical filling but you can also find flavours like cheese, pumpkin, chestnut, chocolate and custard.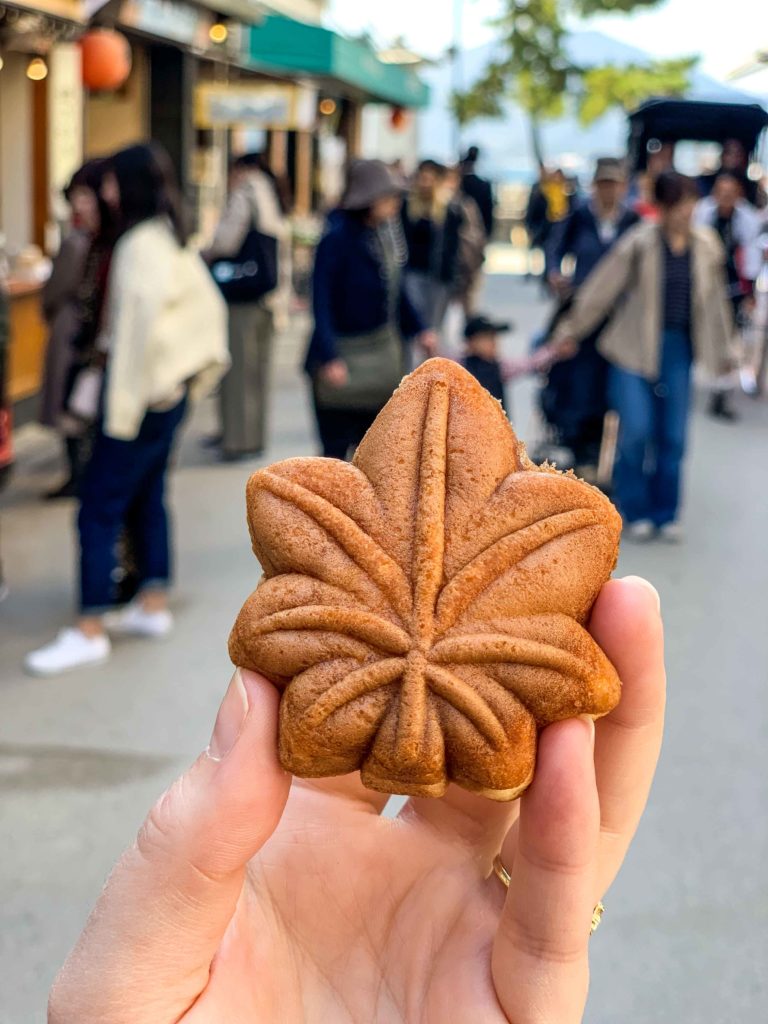 On Miyajima, vendors have been making manju for over 100 years. There are now around twenty vendors to choose from; see if you can find your favourite!
Beer
Drinking alcohol on the streets is allowed in Japan, so it's possible you'll see folks strolling around Miyajima with a beer or canned cocktail in hand. For some, day-drinking is the ultimate way to relax while touring. And lucky for them, there's a brewery right on the island! Miyajima Brewery sits right in the main thoroughfare with nine original beers, food and seaside views, making it a beacon for shopping weary travellers.
If you're on the lookout for beer, you'll also spot the alcohol vending machines, places selling take-out draft beer cups and others yet again selling bottled Miyajima beer. Seems like everywhere you go, there is a cold beer ready and waiting.
Steamed Buns
Fans of the Chinese style steamed bun will be happy to know you can pick some up on Miyajima! Wandering through the Omotesando shopping area, you'll spot Maru-kin Honpo, with a display of plastic bun replicas and some fun pre-war era signage.
They sell two kinds of bun; a Hiroshima beef and vegetable bun and a Miyajima eel bun, exclusive to the island. There used to be a yuba (tofu skin) filling which is unfortunately no longer sold.
Once you get your steaming hot savoury pillow, take it down to the water's edge to eat. Just be careful of the hungry deer!
Ice Cream
Ice cream, or soft cream as it's known in Japan, is a ubiquitous snack in tourist areas, year round. You can expect the usual flavours like vanilla and chocolate, but seeing as you're in Japan, why not try something new? Think green tea, sweet potato or…DEER POOP!? That's right; some of the local vendors add little chocolate drops to the cone to make it look like the pellets on the ground left behind by the four legged locals. It's probably fine, but give it a sniff before you bite—just to be safe.
Other foods
As you'll see, there are countless restaurants on Miyajima. If you don't feel like queueing or sitting indoors, there are plenty more street snacks around too. Think corn cobs, bacon wrapped fish cakes on sticks, wagyu beef skewers, fries, karaage…take your pick.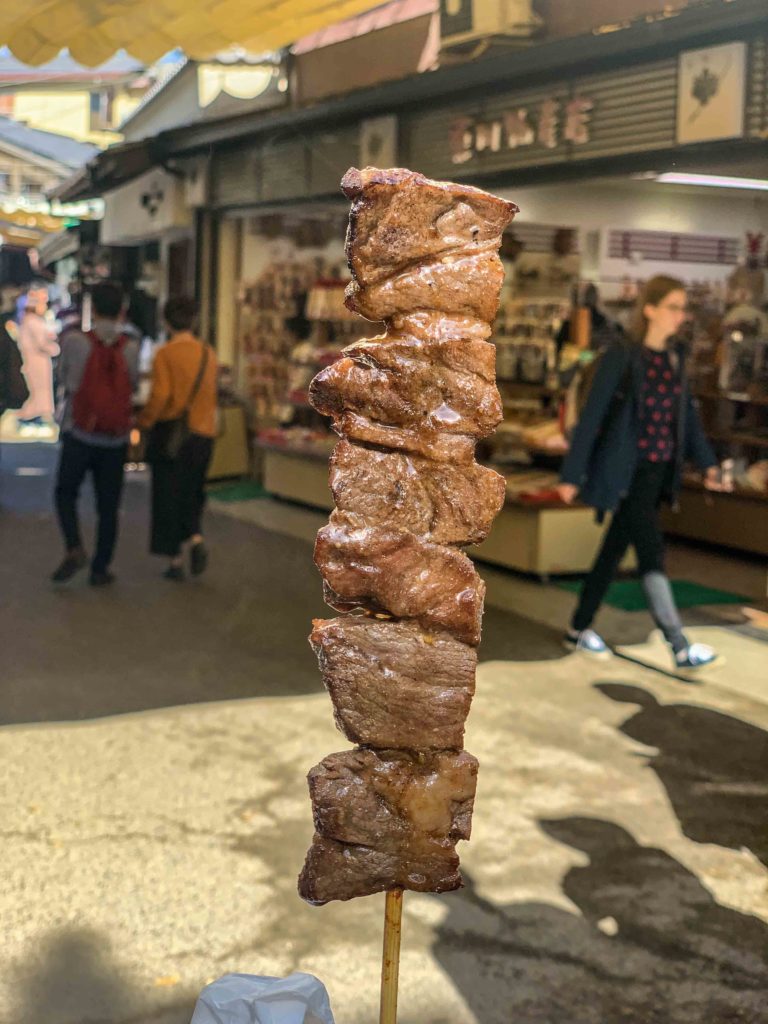 For those looking for something truly insta-worthy, the Rilakkuma Honey Stand offers the most kawaii snacks like croquette burgers and ice cream sandwiches.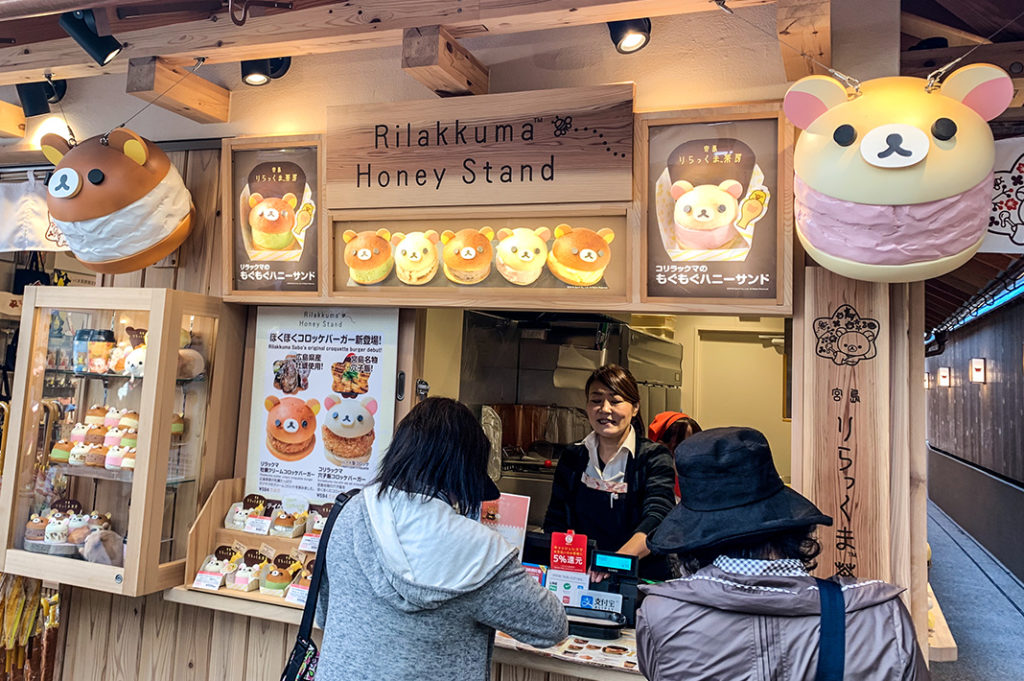 This is just a fraction of the food offerings on Miyajima. As the great Craig David once enquired, 'What's your flava, tell me what's your flava? (ooh!)'. Whatever it may be, no doubt you'll find it in the bustling streets of Itsukushima.
Getting to Miyajima
From Hiroshima, there are a few ways to access Miyajima. The cheapest way is to catch the train toward the island and catch the 10 minute JR Miyajima ferry from Miyajima-guchi port (¥180). The JR San-yo line train takes just under 30 minutes from Hiroshima Station (¥260), and both of these are covered by the JR Pass. On a nearby dock, you'll also spot another ferry company called the 'Miyajima Matsudai Kisen' which costs the same amount but is not covered by the JR Pass. If you want to do the Miyajima Ropeway, you can package this with your ferry ticket to get a discount.
However, if you're in the Peace Park area and don't mind splashing out, the Aquanet boat is a ¥4,000 round trip. It sails past the A-bomb dome and out into the bay, taking 45 minutes each way. Make sure you book your return ticket time as soon as you alight at Miyajima.
Post by Japan Journeys.