As I lower my camera amidst a sea of temple goers at Kiyomizudera, I get the feeling I'm being watched. Sure enough, in my peripheral vision, I spot two school boys, perhaps 14 years old, nervously looking from one another to me and back again. When we make eye contact, the shorter one nudges the other and they hurry over, sheets of folded paper in their hands. They explain that they're on a school excursion offering guided tours of the famous UNESCO listed religious site in order to practise their English. "Would you do?" one asks. Around me, other students begin pairing off with tourists and heading towards the ticket gate. I hesitate as I've already done Kiyomizudera; today's mission was simply to snap a few quick photos and move on. But I'm a sucker for their hopeful eyes and agree.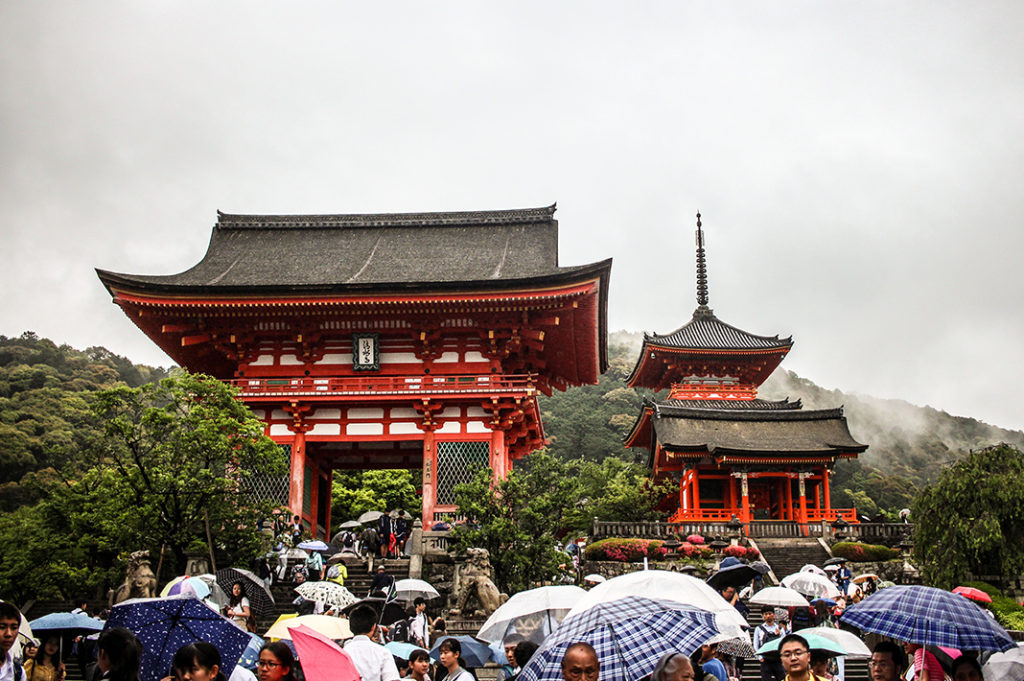 The impromptu tour of Kiyomizudera
Holding the script inches from his face, my guide Isamu slowly explains the process of washing your hands with the sacred water of the chozu basin. I don't have the heart to interrupt and let him know I've done it dozens of times before. "Would you try?" he asks. I play along, pretending to not know which hand gets washed first. Their earnest, word by word pace jolts my A-blood type butt from 4th gear back to 1st. Before now, I'd been on a four day solo whirlwind tour of Kyoto, treating each day like a tourism triathlon. At this point I was on the home stretch, heading back to Tokyo later that day, and this lengthy tour certainly wasn't part of my detailed plan.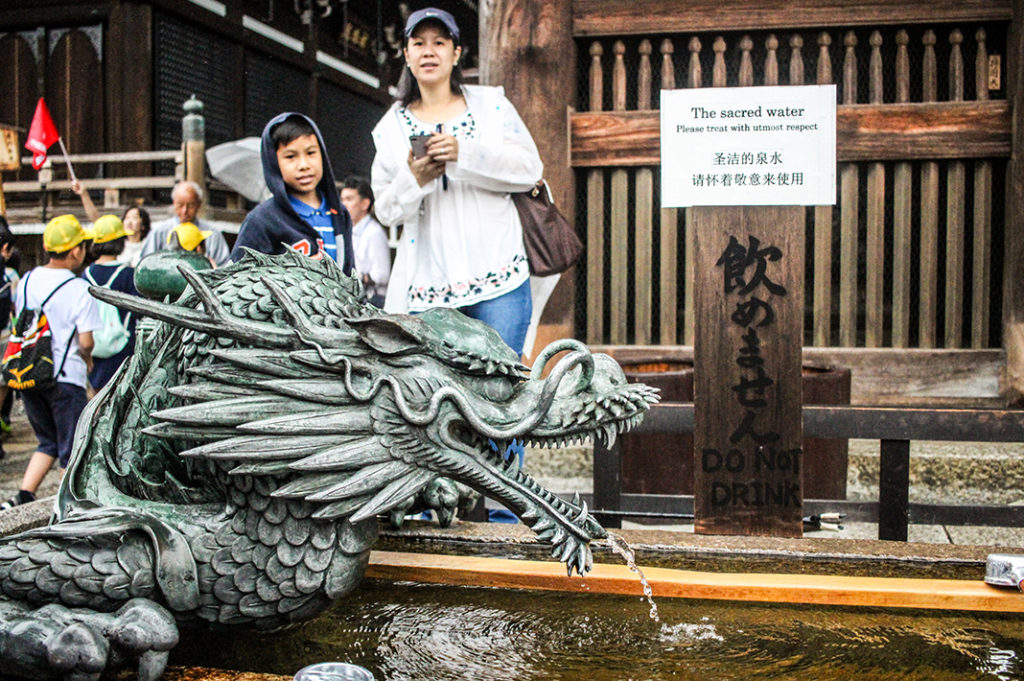 The detailed plan derails 
Looking up at the scaffolding surrounding the main hall, I curse myself for not checking the website for renovation notices. But then, Isamu and Daisuke don't seem bothered; nor does anyone else. And this is when a series of very zen thoughts cross my mind; things don't always go to plan, roll with the punches, que sera sera, go with the flow, etc. Feeling more relaxed, we continue on. I notice my guides have plenty more information on their script to get through.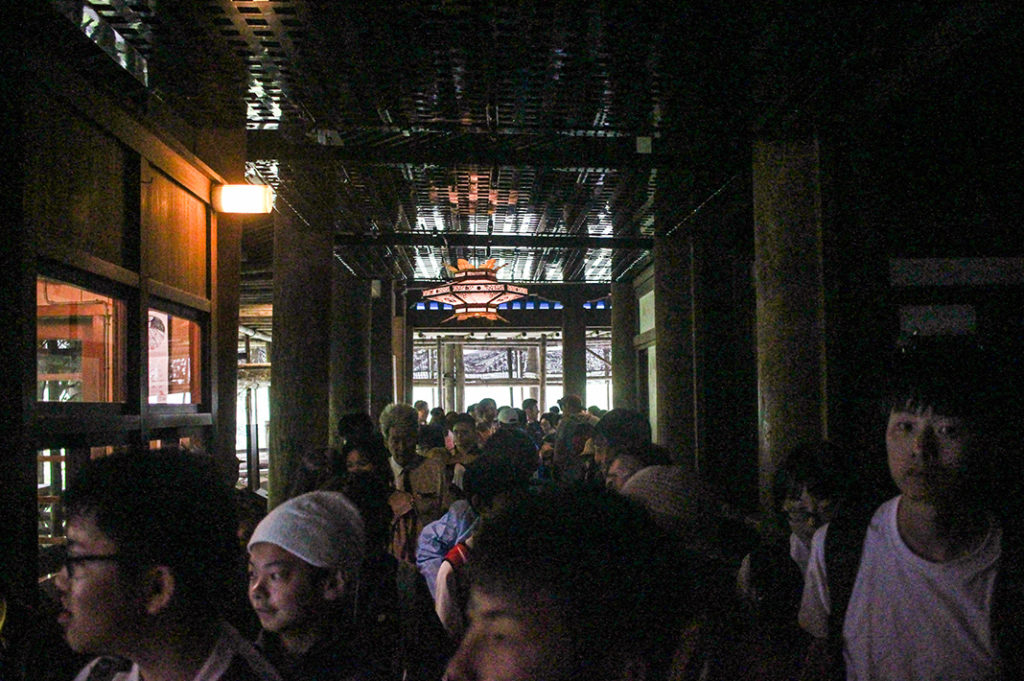 Though the main hall is shrouded, we can still walk through it and onto the elevated balcony. They say the building was constructed in 1633 without a single nail and though I'm impressed, I'm suddenly glad for the maintenance work.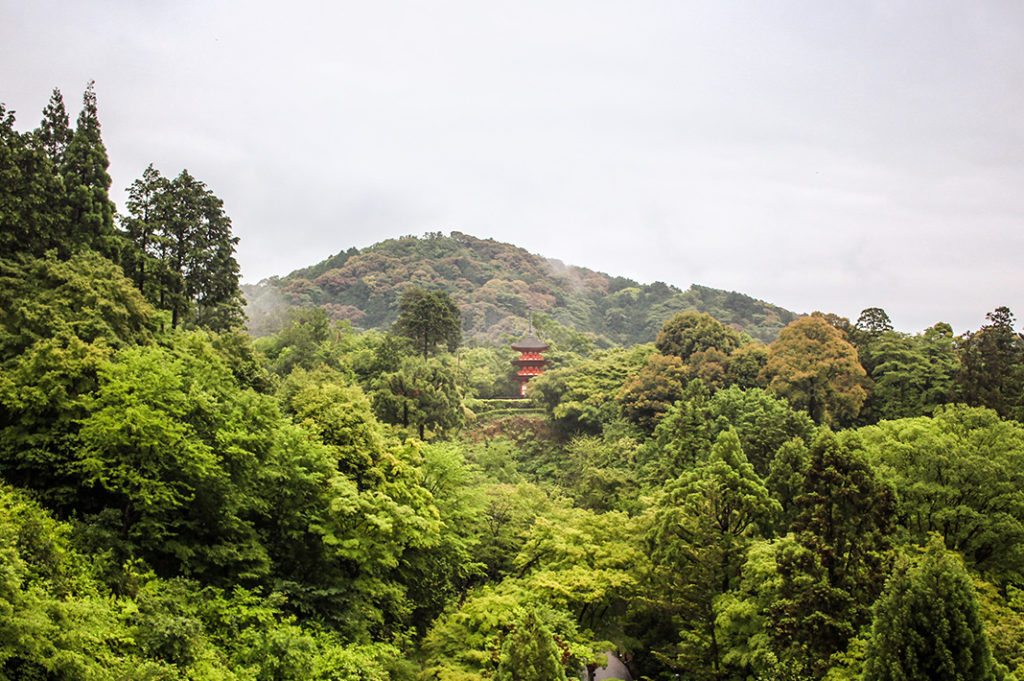 From the balcony, we can see the Koyasu Pagoda in the distance, red amongst the lush green hills. Daisuke has the paper now and, with Isamu sternly whispering corrections in his ear, tells me that it is dedicated to the goddess Koyasu Kannon who helps with safe childbirths. Just as I was thinking how lovely that was, they tell me about an old way of having your wish granted here. Basically if you survive jumping off the 13m/43 foot balcony, your wish will be granted. This is how the rest of the tour goes; them nudging and correcting, me appreciating their earnest efforts and shocking details.  
Much to see on Plan B
Next on the tour is the Otowa Waterfall, flowing with sacred waters from which Kiyomizudera (Pure Water Temple) gets its name. The water trickles out of three spouts on the roof of a small structure and visitors reach their ladles out to catch some water and purify themselves.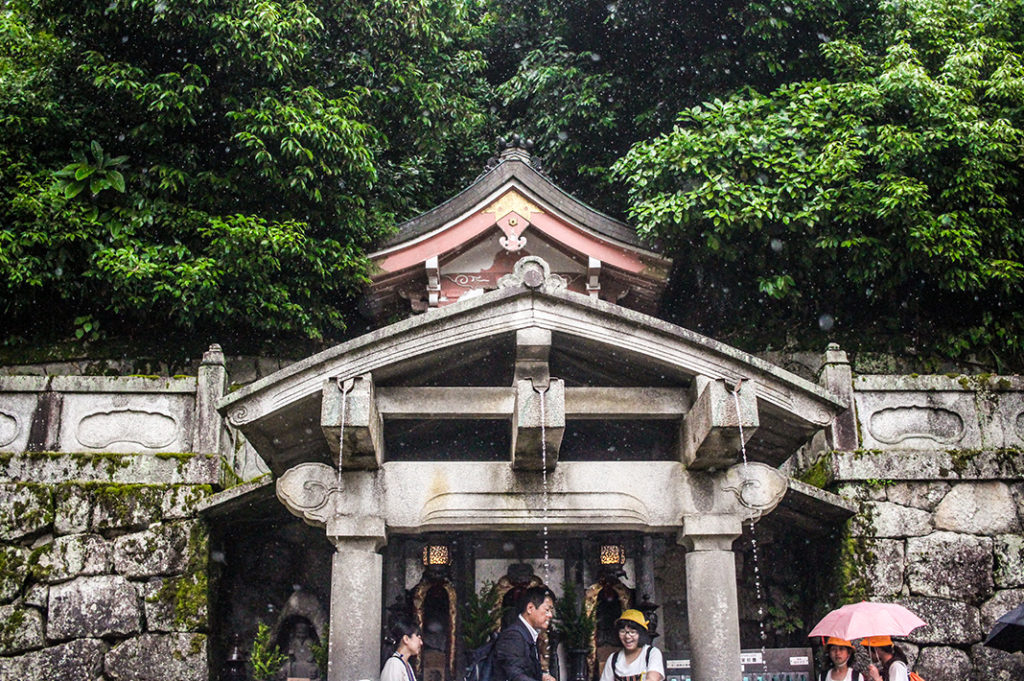 Isamu explains that drinking from all three is greedy and we watch to make sure nobody does. 
The boys then point to a torii gate with some steps winding uphill. Through there, they explain, is Jishu-jinja, where people pray to Enmusubi no Kami, the god of matchmaking, for help in finding 'the one'.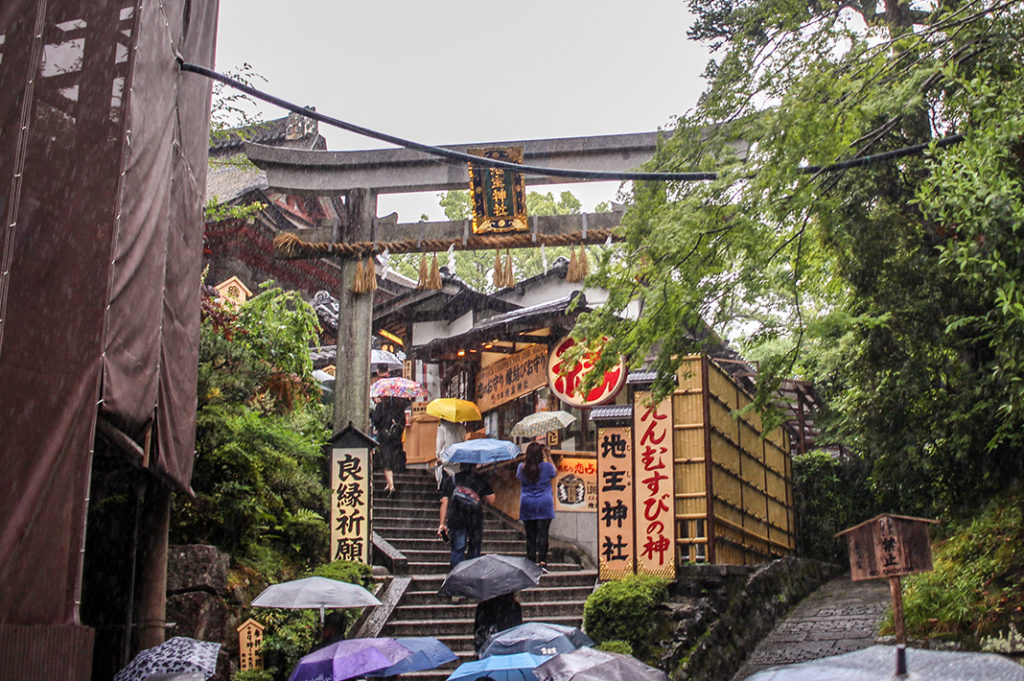 In order for the prayer to work, you need to walk 60 feet / 20 meters with your eyes closed from one statue to another. "Would you try?" Isamu asks. "Uh…I think my husband would be really sad if I did." I laugh, flashing my wedding ring. They are lost for words so we continue on.  
Last statues 
Next, they show me the Nurete Kannon (water-soaked kannon) located behind the Okuno-in. This statue stands in the middle of a water basin, surrounded by a stone fence. The idea is to use a ladle and pour water over the statue's head as an act of purification. The boys offer to do it, but tell me to watch and see if the statue appears to start smiling or not. I confirm that yes, he did, and they look relieved.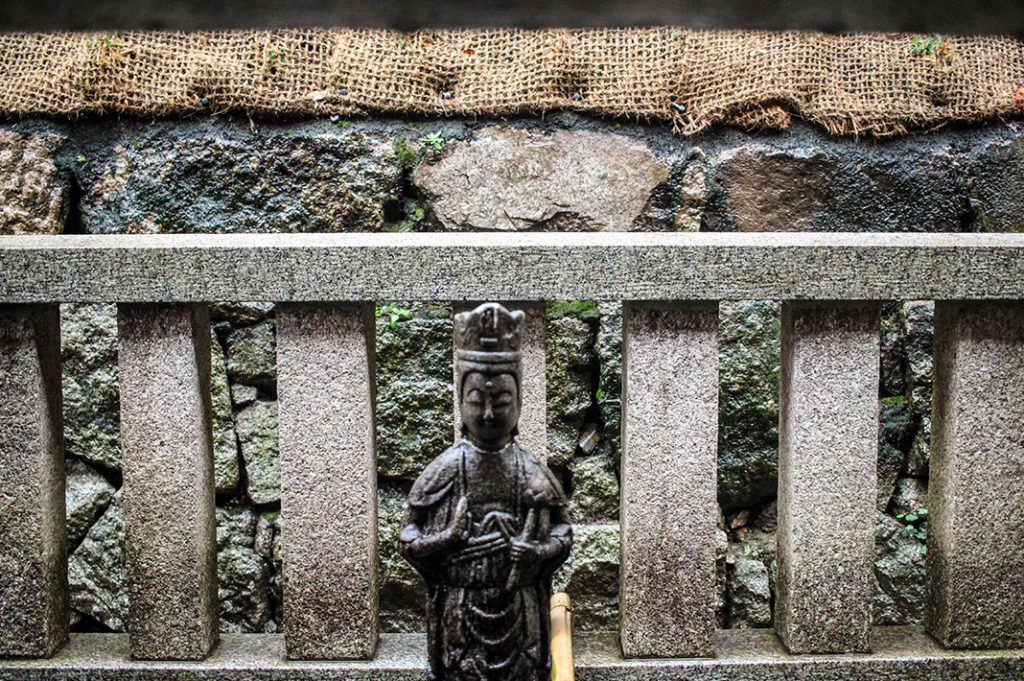 Lastly, we stop to see all the statues of Jizō—the guardian spirit who protects unborn babies in the afterlife. The mythology goes that as these souls didn't get a chance to accumulate good deeds in life, and as they caused their parents grief, they must partake in hard labour in the afterlife. Jizō rescues them from an eternity of rock stacking along the Sanzu River, ferrying them to safety hidden in his robes. Haunting.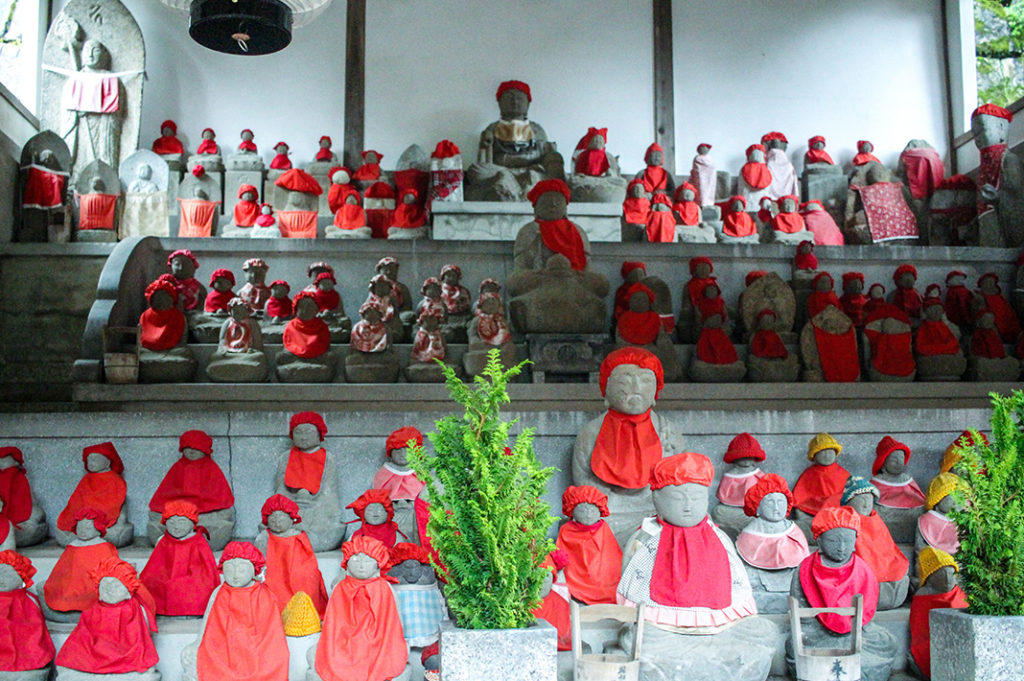 Lessons learned 
As we make our way back to the entrance, I realise that had I not deviated from my plan, I may never have learnt so much extra information about this temple. I thank my guides and they hurry off to find another lost looking tourist. 
So while checking an attraction's website for renovations ahead of your visit would help set expectations, there is still plenty more to see on site if you just go with the flow and dig a little deeper. 
Getting to and from Kiyomizudera
The closest station is Kiyomizu Gojo Station, about a 15 minute walk away. The area surrounding the temple is worth checking out, too. There are plenty of shopping streets and picturesque alleys to explore; think paper fans, tea cups and sweets.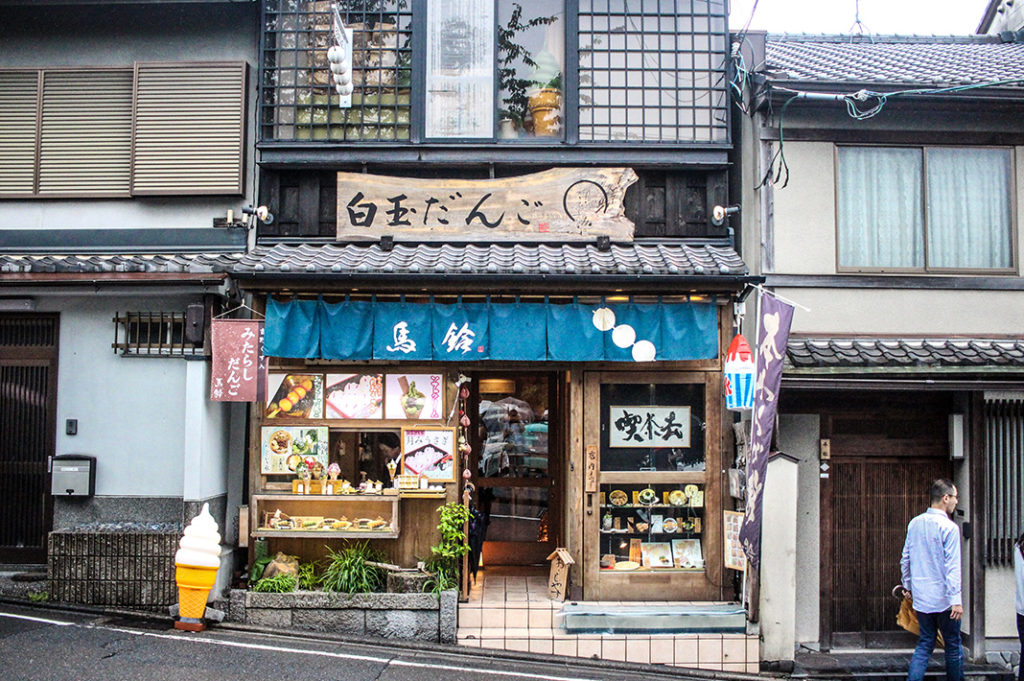 Many people also incorporate Kiyomizudera into a walking tour of the larger Higashiyama area to explore all the hidden nooks and crannies of old world Kyoto. Check out our walking tour of the area.  
Kiyomizudera Temple
Address: 294 Kiyomizu, Higashiyama Ward, Kyoto, 605-0862
Open: Usually 6:00a.m.–6:00p.m. (sometimes later, refer to website)
URL: https://www.kiyomizudera.or.jp/  
Post by Japan Journeys