Kanazawa lies at the base of the Noto peninsula, a small stretch of land jutting into the Sea of Japan. At the farthest tip of this jagged coastline is Suzu, the smallest city in Honshu. Back in its heyday, Suzu was a bustling maritime port. But as Japan modernized, Suzu became a place that time forgot, with only half the population of when it was founded in 1954. Then, in 2017, Suzu was put back on the map with the Oku-Noto Triennale, a "foremost art festival held at the end of the world".
This event runs every three years, however, due to the Covid-19 pandemic, the next one will be in 2021. For 51 days from September 4th to October 24th, visitors will be able to experience the work of 40 different international artists as they take over this sleepy coastal city and transform it with contemporary art.
An Event to Revitalize Suzu City
The Oku-Noto Triennale consists of artworks, installations and galleries spread across Suzu City. To visit the pieces, you can purchase a "passport" for ¥2,500 that allows access to everything. But if you prefer, you can pay ¥300 per exhibit (more for performances or special events). An important mission of the 2017 show was for artists to discover the charm of Suzu and its people. As a result, the installations all did an incredible job of rediscovering old, forgotten places around town.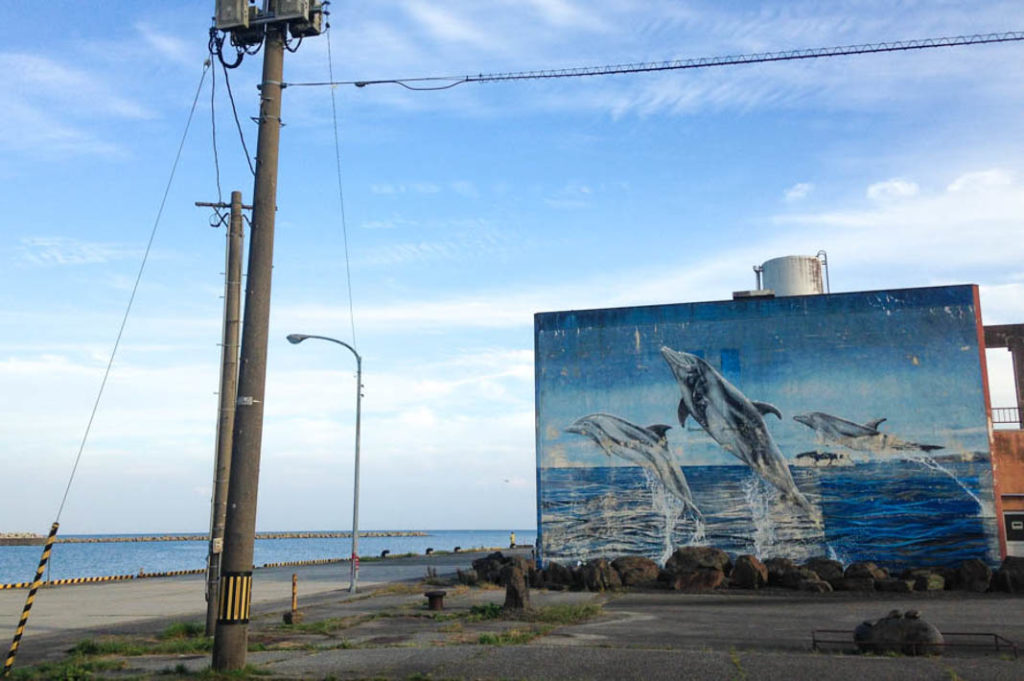 Back in 2017, I attended the first art festival, and it remains one of my favorite experiences in Japan. Here are some of my highlights to give you an idea of what to look forward to for Suzu 2021.
Highlights from the Inaugural Festival
Tatsuo Kawaguchi's Small Lost Article Museum was a charming tribute to the small things in life we lose and forget. Located in an old train station, a trail of forgotten umbrellas led the way to a train car. The inside of the train car was covered in chalkboard, and visitors could use the chalk to leave a message. In the station office was a room displaying forgotten items on the walls. The artist had painted both these items and the room yellow, rendering them nearly invisible. These small things are easy to forget, but the museum wasn't!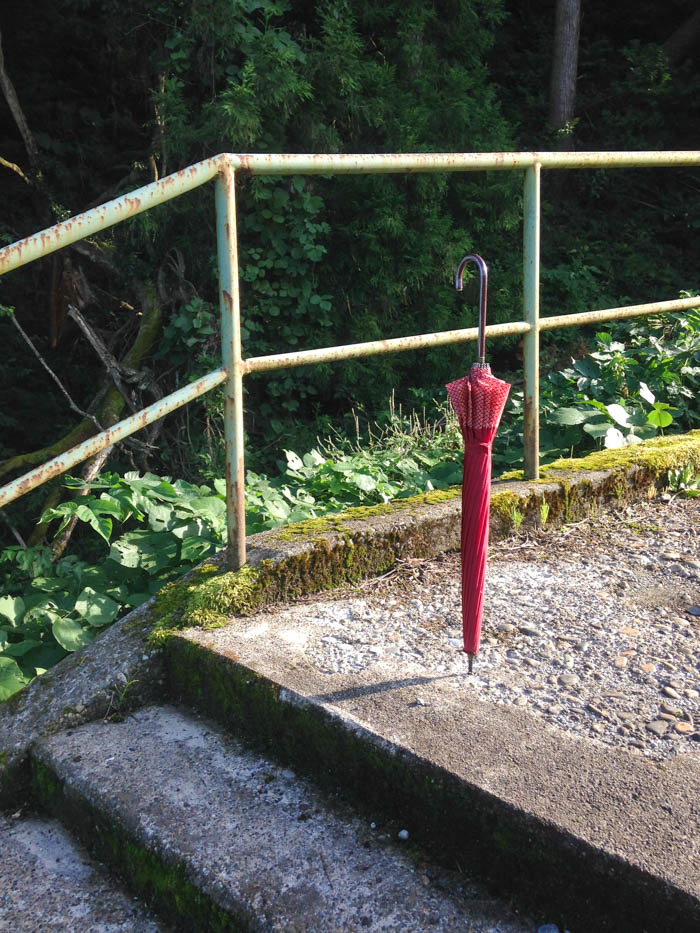 My personal favorite of the 2017 Oku-Noto Triennale was Ohji Yoshino's JUEN: Time Flies. Yoshino's work focuses on site specificity and uses wooden sculptures of farm animals and sea creatures to show the relationship between humans and the environment. This installation was a re-imagining of Bar Juen, a Showa-era drinking establishment. Each room in the building had been transformed using lighting and sculptures into an undersea fantasy that felt like the film set for a surrealist film. It was so well-thought out, so simple, and so effective.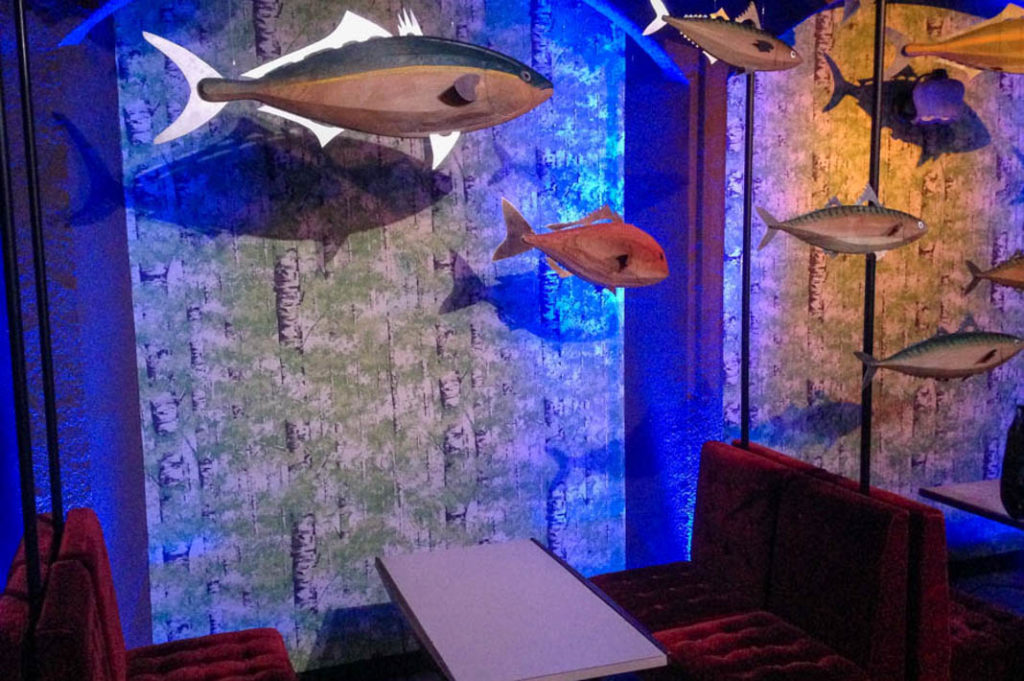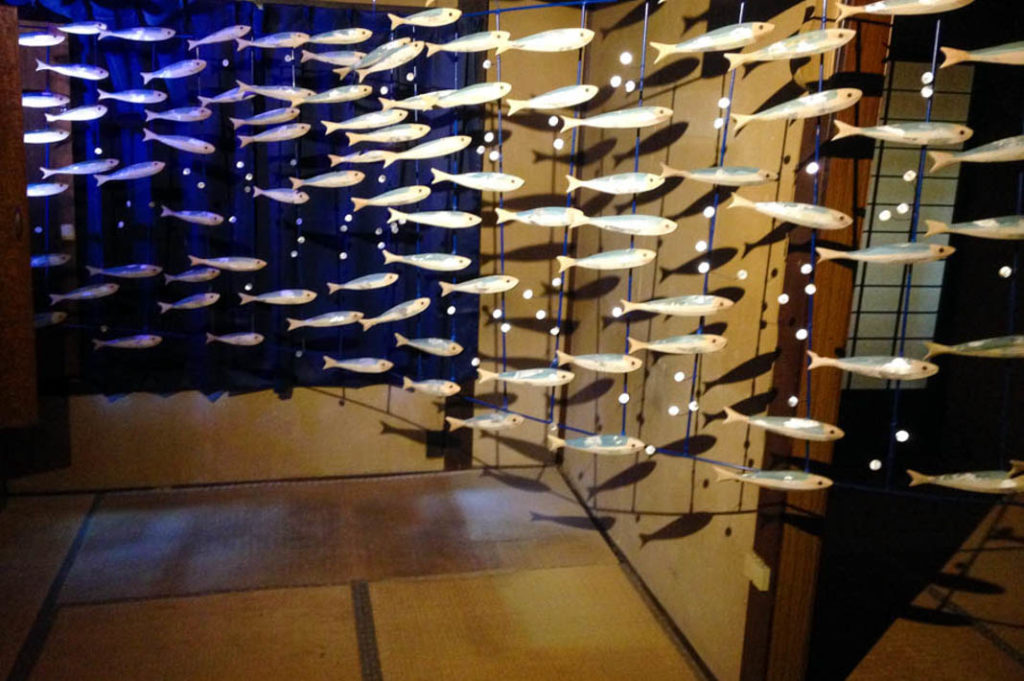 Surprising Installations at the End of the World
In contrast, "Cabaret in Preparation" at World's End was a very different piece by an artist that goes by Eat&Art Taro. Originally a chef, Eat&Art Taro's work combines food, culture, and experience. "Cabaret in Preparation" didn't seem like much at first, just an old, retro performance space preparing for a show. However, I enjoyed lingering in the space. A friendly young bartender in a bow tie approached me and poured me a drink of local Noto sake. There, I stayed a while, relishing the atmosphere and the ocean view through the wide windows. In order to exit the cabaret, you had to pass through the dressing room, where guests could try on costumes and take photos. As a result, this installation was truly an interactive one!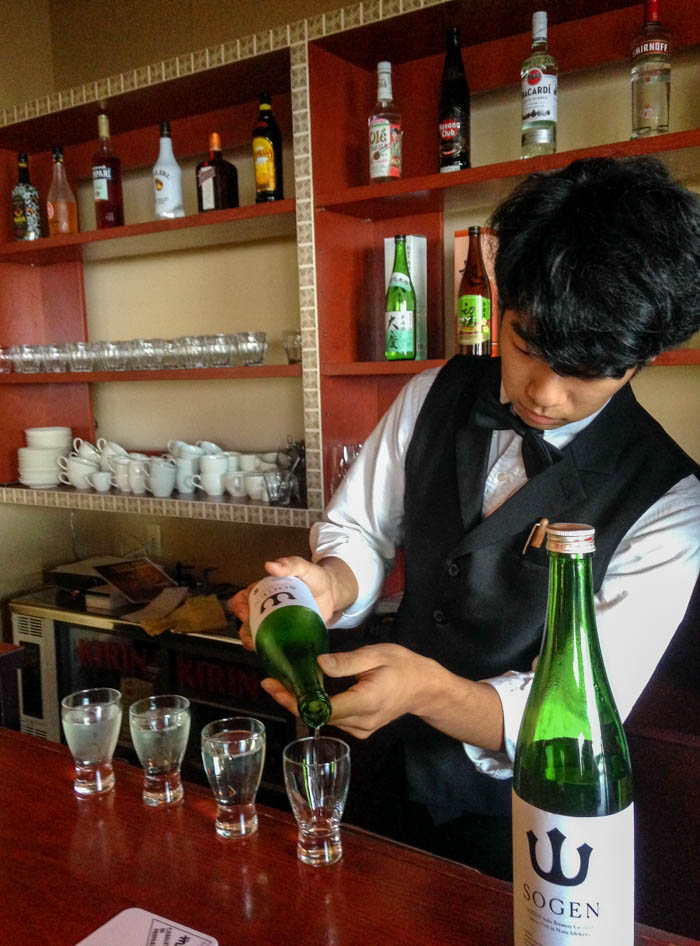 When the sun was going down, I had time for one last piece at the Oku-Noto Triennale. Tobias Rehberger's Something Else is Possible was made up of a huge rainbow linear sculpture perched on a mound of dirt at the end of a field. Across a set of old railroad tracks was a neon sign, stating that "Something else is possible", which could be viewed through a pair of binoculars or by walking along the train tracks. This was quite a striking piece with a simple, powerful message.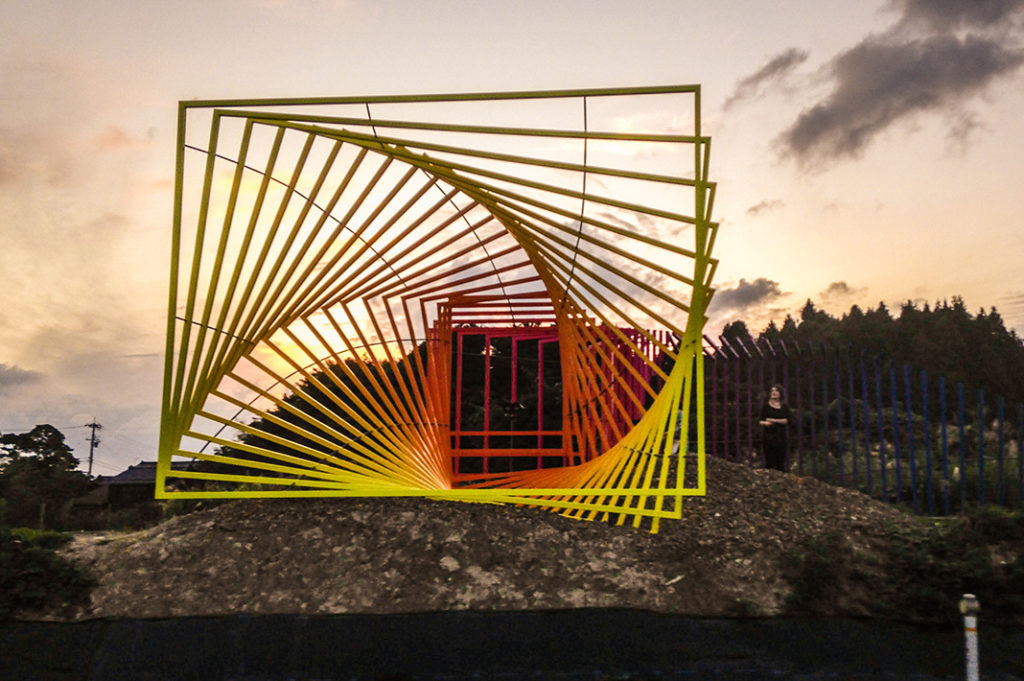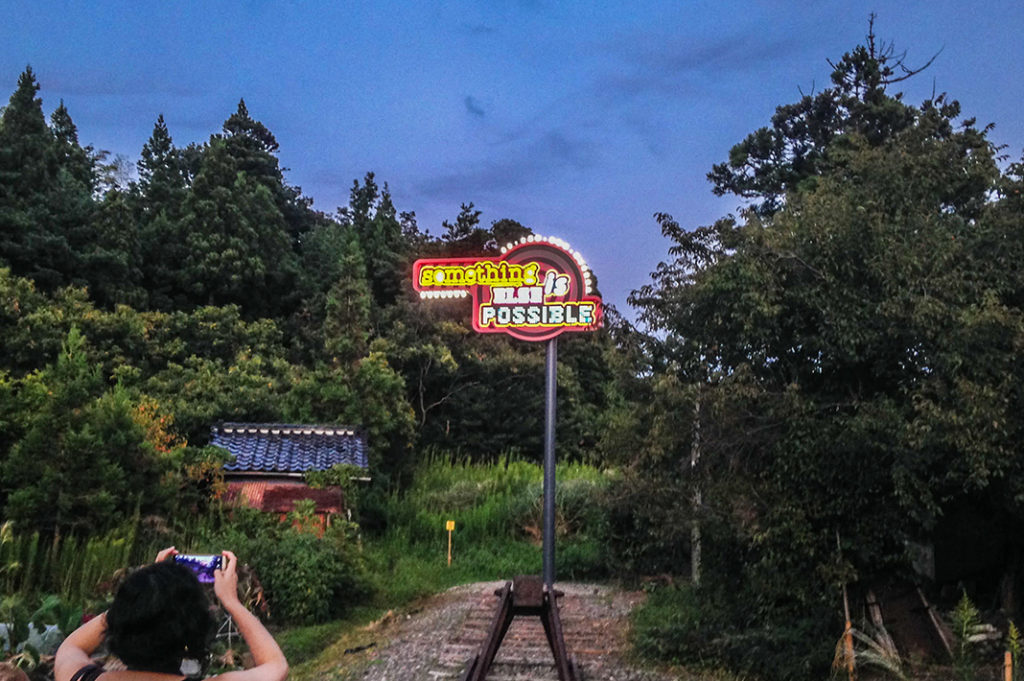 Due to its combination of contemporary, exciting artwork set in old-timey, charming Suzu, the Oku-Noto Triennelle is a unique and unforgettable art festival. I'm looking forward to seeing what the 2021 exhibition will have in store.
Information
It is easiest to get to Suzu by car. We recommend renting a car at the Times Car Rental at Kanazawa Station. Suzu City is about a two hour drive from Kanazawa.
Name: Oku-Noto Triennale
Address: Various venues across Suzu City
Open: September 4-October 24, 2021
URL: https://oku-noto.jp/index-en.html
Post by Japan Journeys