Japan is synonymous with sushi. Every day, thousands of fisherman take to the seas, bays and rivers in search of the highest quality seafood. And every day that seafood makes its way to the markets, restaurants and tables here and abroad. Tourists come in earnest to sample the freshest cuts at the finest establishments. 'Zauo Fishing Restaurant' may be a chain restaurant, but you can't argue the freshness of their food. You catch it yourself, after all. Trust us when we say this is one of Tokyo's most unique dining experiences.
Zauo Fishing Restaurant is popular with big and little kids alike. It's interactive, it's exciting and it's delicious! With thirteen branches across Japan and even one in New York, you're never too far away from your next fishing trip. It may require a reservation, particularly on weekends or for groups.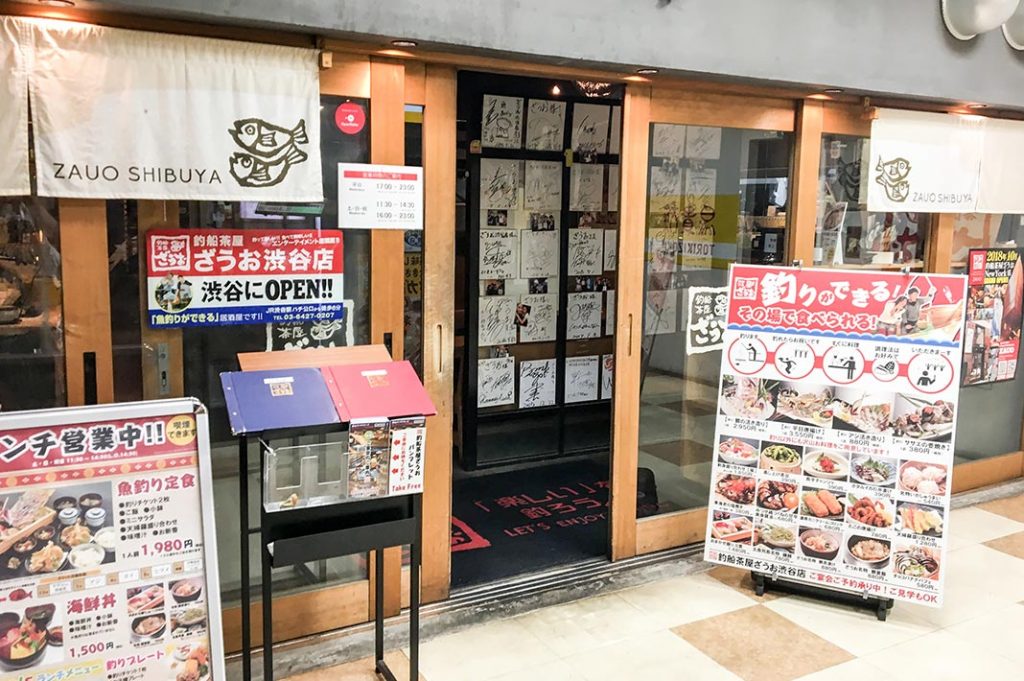 Zauo Fishing Restaurant Shibuya
We visited the Shibuya branch, located in the basement level of a building not too far from Shibuya station. As you walk in, you'll notice a large wooden boat to your left housing some fishing tanks and a few booths on the right.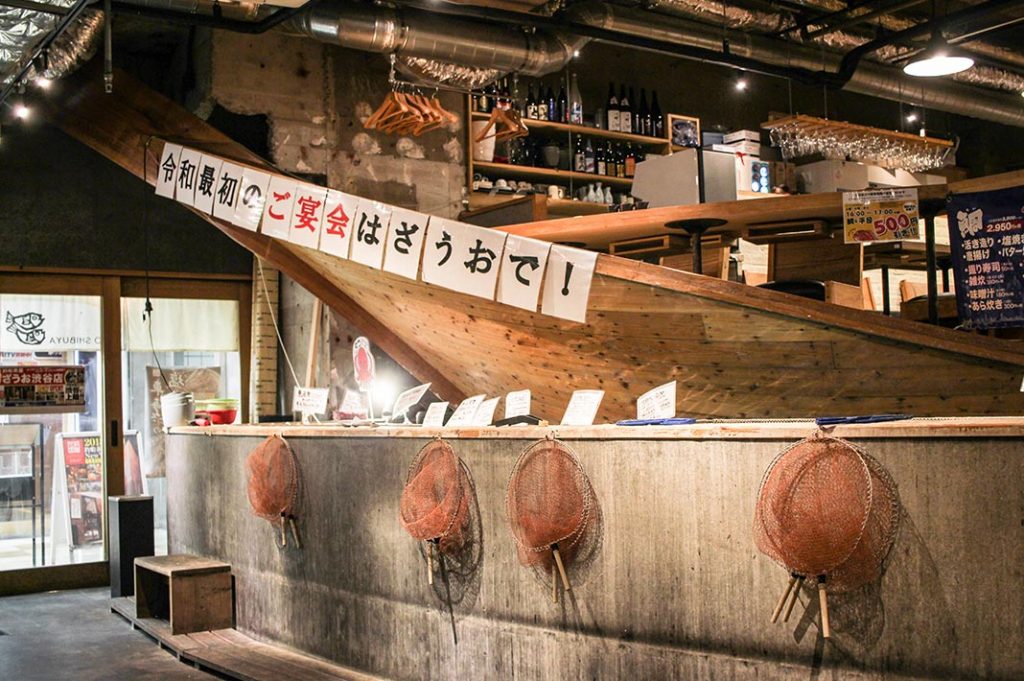 Upstairs (on the boat) you can get a bird's-eye view of the fishing or try to catch some of the bigger fish from the level 2 tanks. There is plenty of seating on level 2, as well as a bar.
The menu at Zauo Fishing Restaurant
The menu seems kind of overwhelming but it's really simple. You can either order a la carte or get a course menu.
If you go 'a la carte,' you can choose whatever you like from the menu. You can also rent a rod for 100 yen to catch some fish. You can inspect the tanks and menu to see what looks good, dangle the rod in and hope for the best! If you go this way, you pay the advertised price per gram/kilogram which they say is cheaper than market price.
The course menu is around ¥4,000 per person and comes with edamame, tempura, soup and a mixed sushi set. You are given 2 fishing cards per person as part of the set. For example, a prawn is ½ a card, a horse mackerel is 1 card. If you are in a group, you could pool your cards together for one of the bigger fish to share, around 8 cards.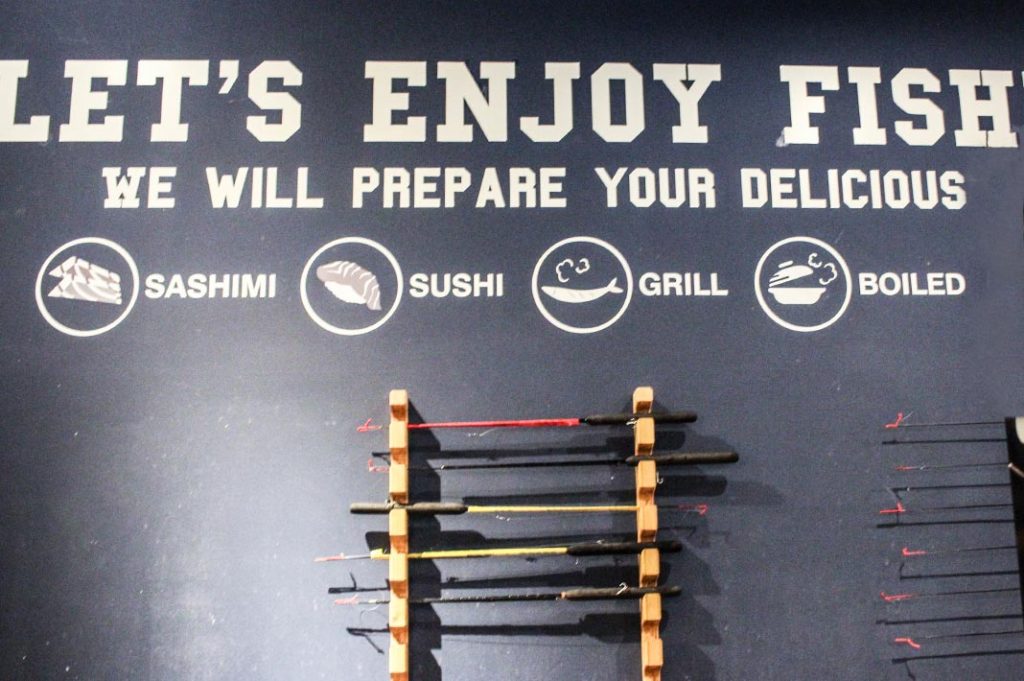 The Process
It's really very simple. You take your rod over to the tanks and dangle it in. When you catch a fish, the staff will assist you by netting it and offering to take your photo. You will also most likely be celebrated by way of taiko drumming and whole-staff at Zauo Fishing Restaurant call and response chanting and clapping.
They will then ask how you would like it prepared; sashimi, sushi, grilled, boiled or deep-fried. If you're not sure, you can ask for their 'oh-soo-soo-meh' (recommendation). Head back to your table and await the arrival of your unrecognisable catch. If you caught a big fish, they will also offer to use the head to make a broth for a post-meal digestive.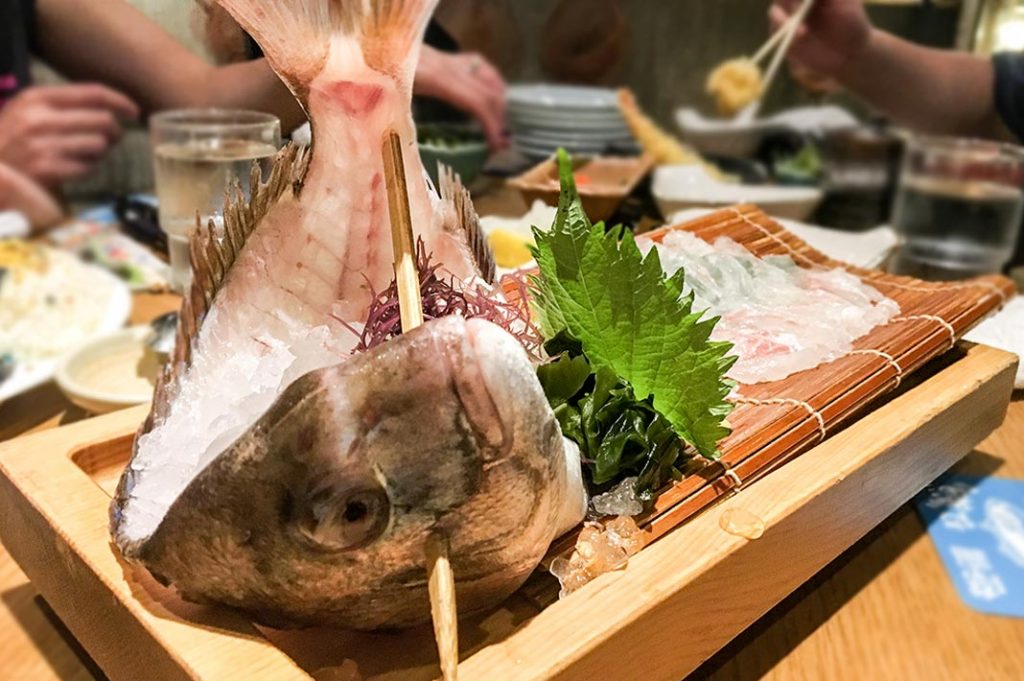 Fun for kids
While there may be groups of giggling adults enjoying themselves, Zauo Fishing Restaurant is great for kids, too. There are stepping stools by the tanks so kids can get up close to the action. The rods are small and padded with a three-pronged hook designed to easily snag your catch. The staff will gesture how it should be done and quickly swoop in to undo the hooks. There are also kid's set meals on the menu.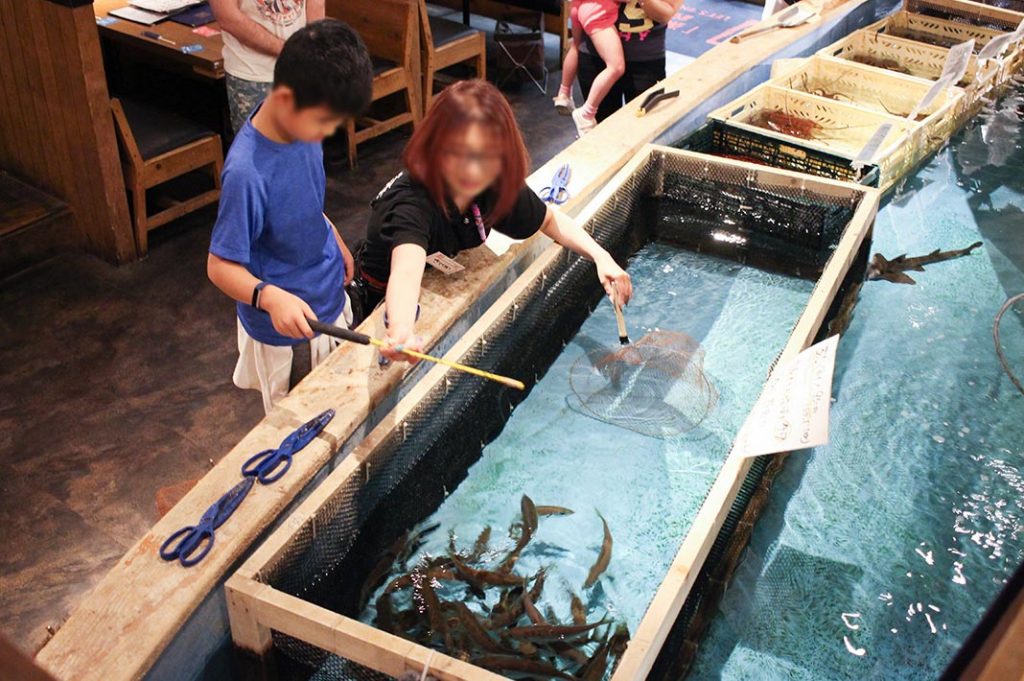 If you're looking for a unique Tokyo dining experience, check out Zauo Fishing Restaurant. Visit their website for the other locations.   
Name: Zauo Fishing Restaurant (Shibuya)
Address: Basement of Jinnan 1 Chome−19−3, Shibuya City, Tokyo
Open: Monday–Friday 5pm–11pm, Weekends 11:30–2:30, 4–11pm
URL: http://www.zauo.com/en/
Post by Japan Journeys.