Visiting Arashiyama in autumn will be one of two things: incredible, or infuriating. Unfortunately, Arashiyama's exceptional autumnal beauty makes it a victim of its own success. Recently, the area has become so crowded that people cannot walk from one part of town to the other for the sheer number of tourists and crush of bodies. The area was always popular with Japanese and foreign tourists alike, but it's now necessary to dig deeper into the district in order to find seasonal magic with fewer crowds. Luckily, the little-known temple of Nison-in holds the key to a relaxed leaf-viewing experience.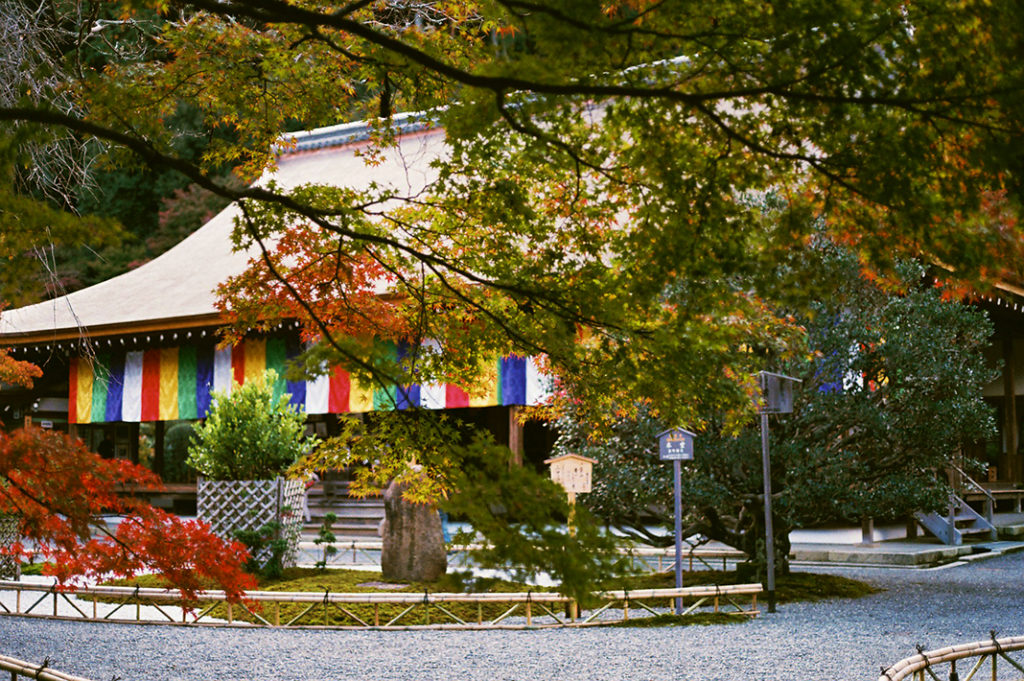 Nison-in: inexplicably underrated!
In recent years, Arashiyama's popularity has arguably become its greatest detractor. Only five years ago, visitors could still walk around the district in the autumn season with plenty of room to spare. Better still, weekdays were far less crowded and made an ideal time to view the area's famous seasonal colours. However, in 2018 and 2019, the number of visitors reached unmanageable peaks. The district's central roads became gridlocked with pedestrians and popular sites such as the Bamboo Forest came to a standstill.
The general habit of tourists to avoid wandering from the most popular paths is somewhat baffling. However, for those willing to walk even as little as ten extra minutes, the payoffs can be immensely rewarding. Nison-in is one such prize. A Buddhist temple built into a mountainside, it is the final resting place of many of Japan's most cherished historical figures. Additionally, the temple itself houses two sacred Buddhist statues; 'Ni-son-in' [二尊院] means 'hall of two images.'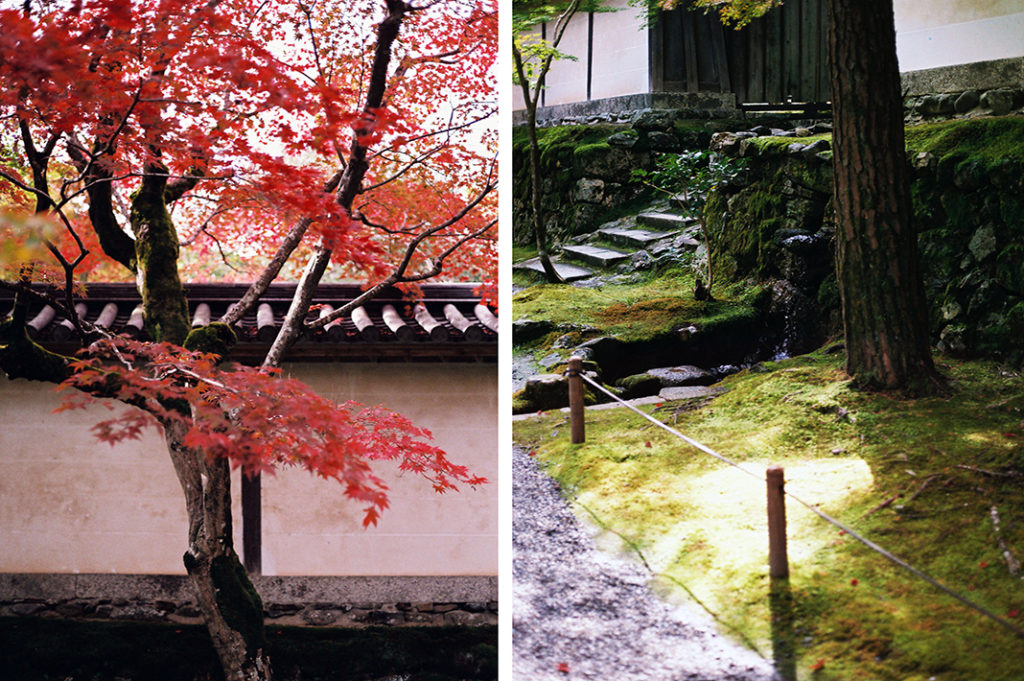 A mountain, aflame.
From its entryway, Nison-in's appearance is deceptive. A long 'san-do' (walkway) lies behind a huge, dark wooden gate. A friendly member of staff mans a small hut, where visitors will pay an entry fee of ¥500. He tells you (likely in Japanese) that when you enter the temple grounds, you can ring the huge temple bell three times, praying for world peace. However, most people never make it this far. They see only a long walkway that leads to a tall, plaster wall. Sadly, they often assume there's nothing hidden behind this wall. Mistake!
Behind this wall lies a beautifully rendered and dark temple hall. Set into the mountainside, autumn trees form a brooding and fiery mantle. It is a powerful sight to see; a reminder of the depth and fortitude of Japan's Buddhist history. Beyond, leading up and away from the central temple, stone steps stretch endlessly to the mountain's summit. A 900 year old cemetery surrounds the stone pathways, stretching out in every direction, shaded by trees of every autumnal colour imaginable.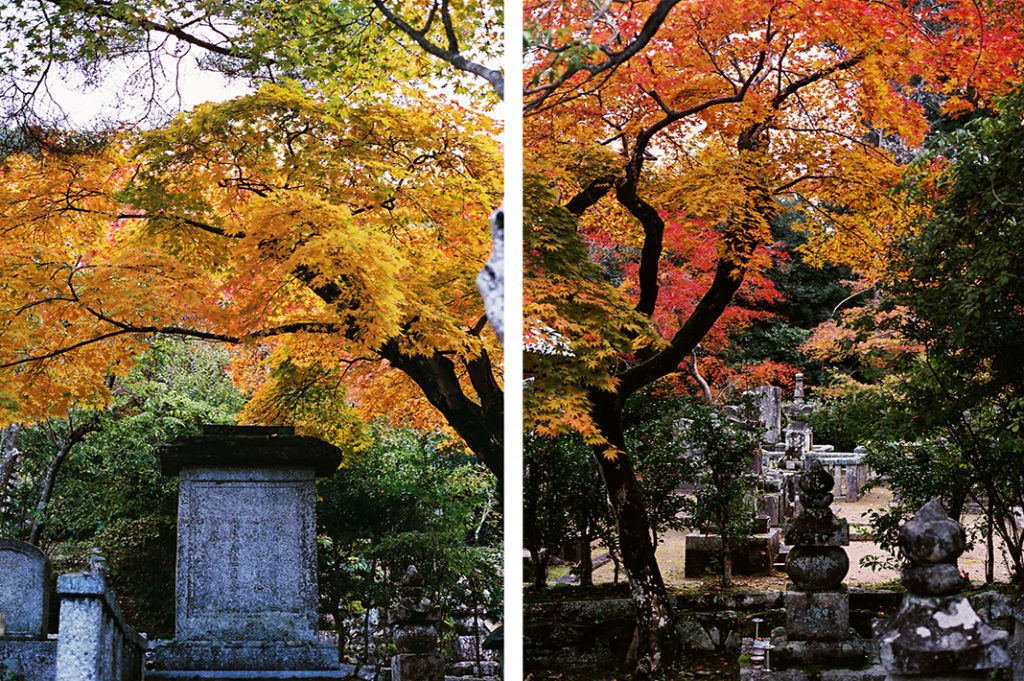 The ruby in Arashiyama's crown.
Arashiyama is undoubtedly a key destination within Kyoto during the autumn. Jojakko-ji is another hillside temple in the area, only five minutes' walk from Nison-in. However, Jojakko-ji sees far more footfall from tourists hunting autumn views. Arguably, this is due to the temple's high concentration of stunning maple trees centred around its entry gate.
Contrastingly, Nison-in doesn't present itself as an obvious site of autumnal wonder. As such, visitors are far more likely to have it to themselves when they do decide to head inside. The sheer size of Nison-in's grounds is another factor for its seemingly sparse visitor numbers. Deceptively, the main hall and courtyard seem to be the only area of the temple available to visitors. However, a small stone stairway serves as a passage to four immense platforms cut into the mountainside. Each of these platforms is piled high with enormous maple trees and row upon row of stone monuments, each older than the last as you ascend the hillside. It would take a huge number of people to make these areas feel truly crowded, even during the popular autumn season.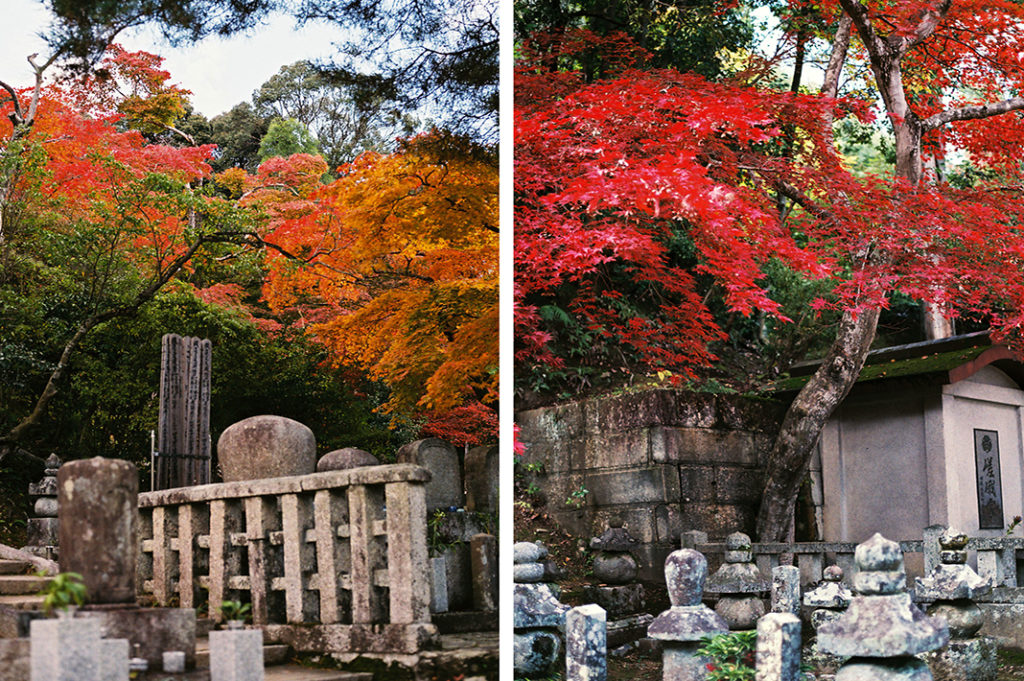 Do not adjust your screens!
Looking at the images in this article, you'd be forgiven for thinking that somebody had sneakily bumped a saturation slider too high somewhere in the editing process. However, this isn't the case. This article's images were shot on Fuji Superia 400 film – which actually has a green colour bias. The sheer depth and vibrance of colour of Nison-in's maple forest seems hyper-real. Truly, it's a rare chance to capture photos of autumn in Japan at its finest, with plenty of space for everybody to feel like they're on their own private adventure.
Although Arashiyama is becoming more crowded, it still offers a plethora of wonderful things to do. You can shop for souvenirs made in Kyoto or eat delicious street snacks like black sesame ice cream and mitarashi dango. There are luxury sushi restaurants, villas, monkey sanctuaries, riverboat rides and more temples than you could imagine possible for such a small locale. However, Nison-in offers a unique chance to stop and rest in one of the few areas that won't be incredibly crowded.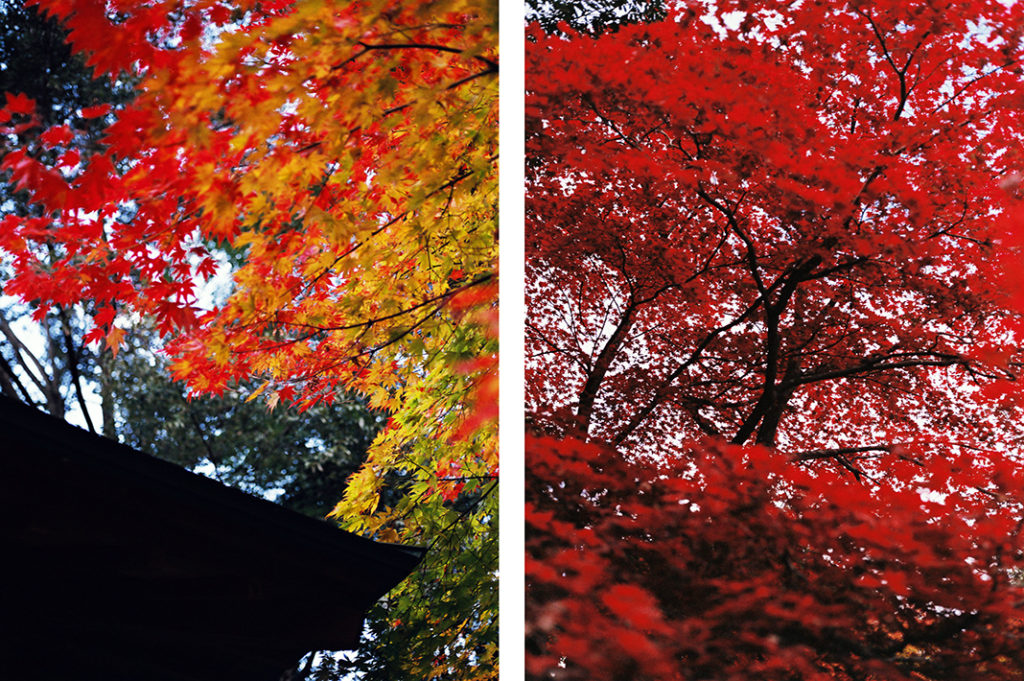 Peaceful, inside and out.
Nison-in doesn't only offer an excellent outdoor experience in the autumn season. Beyond the spectacular colours, the honden (prayer hall) itself is also open to visitors. The main hall was fully reconstructed in 1521 after damage done by Kyoto's Onin wars. Another major refurbishment was completed in 2016, giving the building a harmonious blend of dark wood inner chambers and smooth, lighter exterior woodwork. The honden's charms lie hidden in its interior garden, richly planted with moss and maples. A bamboo odoshi (deer scarer) sits in the centre of the internal garden, filling with water and creating a hollow 'clonk' when its bamboo chamber empties.
As visitors progress clockwise around the honden's outer platform, a mossy hillside rises into view, studded with six unique stone statues. These represent the six realms into which Buddhists believe a human may re-enter their next life. These realms are: the heavenly, demi-god, human, animal, hungry ghosts and residents of hell. Additionally, the inner square of the honden is visible from the outer platform and displays scrolls and statues rich in Tendai Buddhist heritage.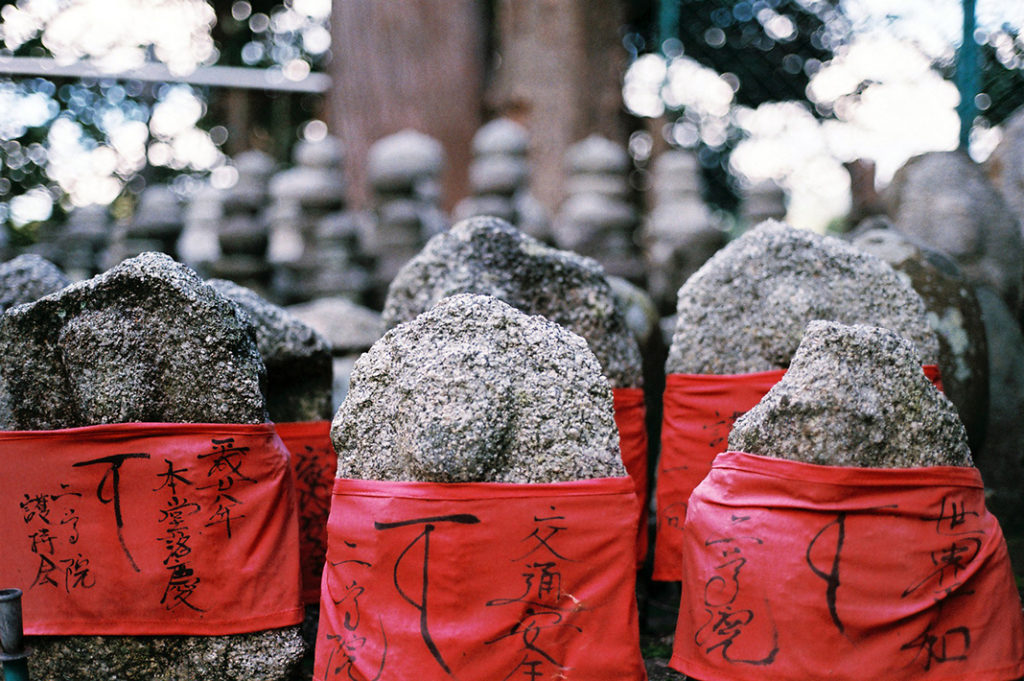 Access
Nison-in is easily reached from either Hankyu Arashiyama or JR Saga Arashiyama train stations on foot. You can access it via the famous Bamboo Forest, but a shortcut through the north end of town is quicker. Additionally, it avoids the pedestrian shuffle that runs from the high street through the bamboo forest.
A walking map of the route from Hankyu Arashiyama train station is here. In this, the left-hand route goes through the Bamboo Forest. The route from JR Saga Arashiyama is here, with the alternative route highlighted. Nison-in is a few short minutes from Jojakko-ji, and the latter is absolutely worth visiting. Finally, the little-known Seiryo-Ji temple is also on the walking route to Nison-in. It would make an ideal addition to a day spent in calmer, quieter locations around Arashiyama. Be sure to give the temple's enormous prayer wheel a spin!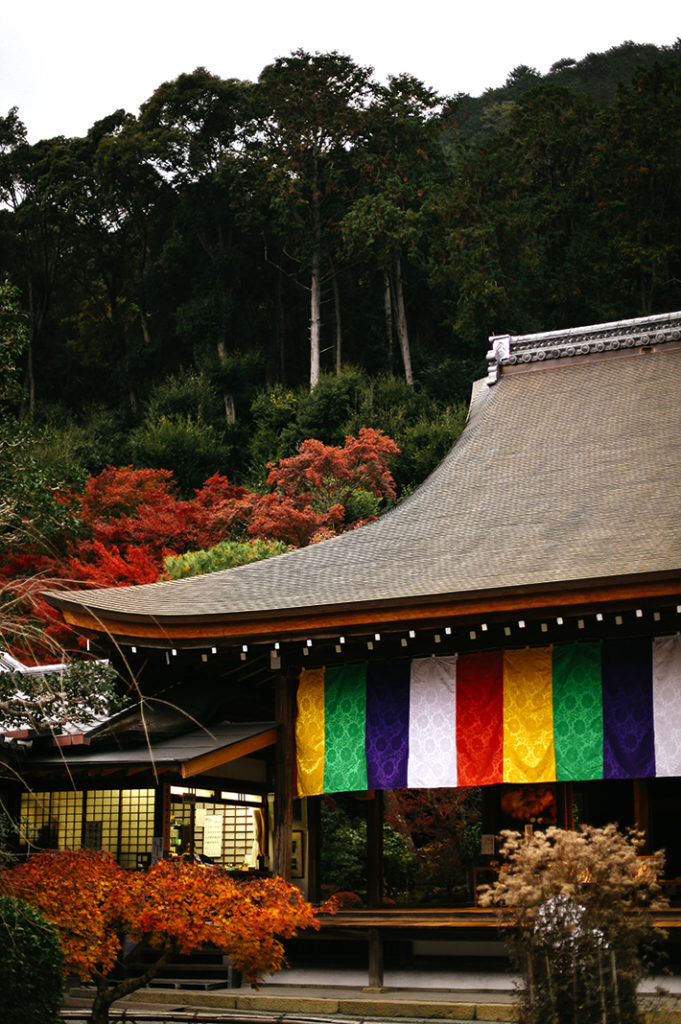 Nison-in has recently redesigned their website in Japanese and English, and it looks fantastic! Take a look at it here.
Post by Japan Journeys.