Are you a budget conscious traveller? If so, you're probably not staying in a hotel with a complimentary buffet breakfast. So what to do when your stomach is rumbling and the lunch places are still shuttered up at 10:00am? We've got you. At first it may not seem like breakfast in Tokyo is a thing, but we can assure you it is. And though many people tend to eat breakfast at home, there are still plenty of places to enjoy the most important meal of the day. Here's where to try out a Japanese breakfast in Tokyo without breaking the bank. 
What do Japanese eat for Breakfast?
Well, that all depends on the person. But a traditional Japanese breakfast is a teishoku meal, or set meal. Typically this style of eating consists of one main dish with multiple side dishes. For breakfast, the main dish is commonly grilled fish, and the sides would be things like rice, miso soup, pickles, salad, seaweed, egg and tofu. One popular and divisive breakfast item is natto, a small tub of fermented soybeans. The taste is quite strong and there is a stringy, sticky texture that binds the beans. If you can get past it, good for you because natto is super healthy.
Western Family Style Restaurants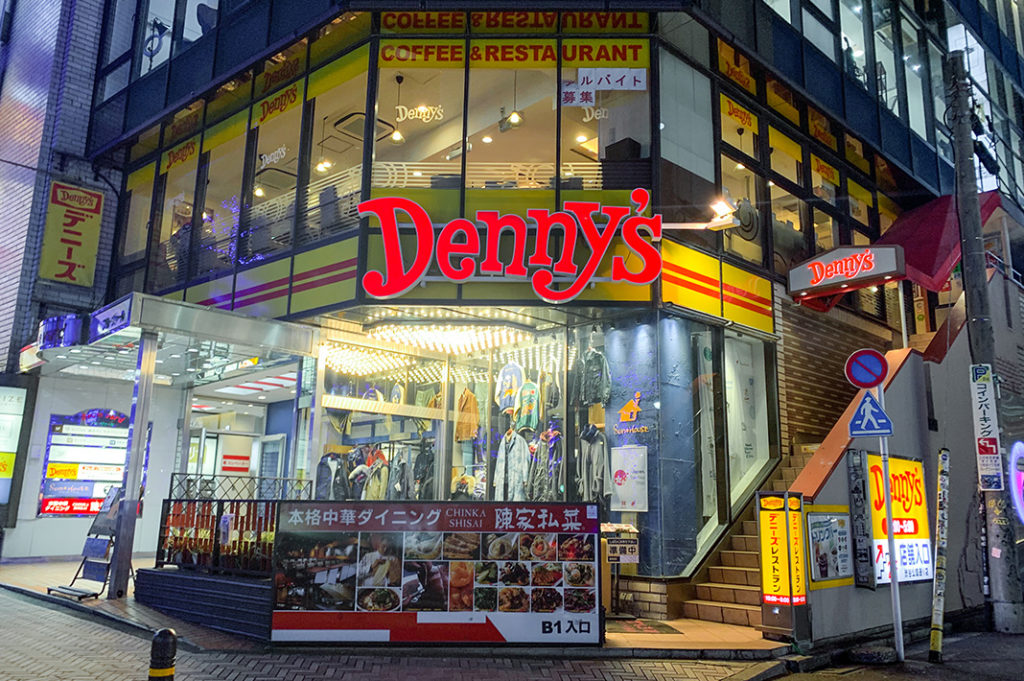 Denny's
This American family restaurant has certainly made it big in Japan, with multiple locations across most major cities. On the menu you'll find both western and Japanese dishes and, the best part, many are open 24 hours. Their breakfast runs from 6:00am—11:00am and the English menu showcases everything from salad to yoghurt, pancakes to french toast and bacon and eggs to minestrone soup. But what I really recommend are the Japanese breakfast sets. For less than ¥1,000 you can get a set featuring grilled fish (salmon or mackerel), rice, miso soup, pickles, and nori seaweed sheets. Typically the sets come with natto (fermented soybeans) but this can be swapped out for a soft boiled egg or tofu due to its strong flavour.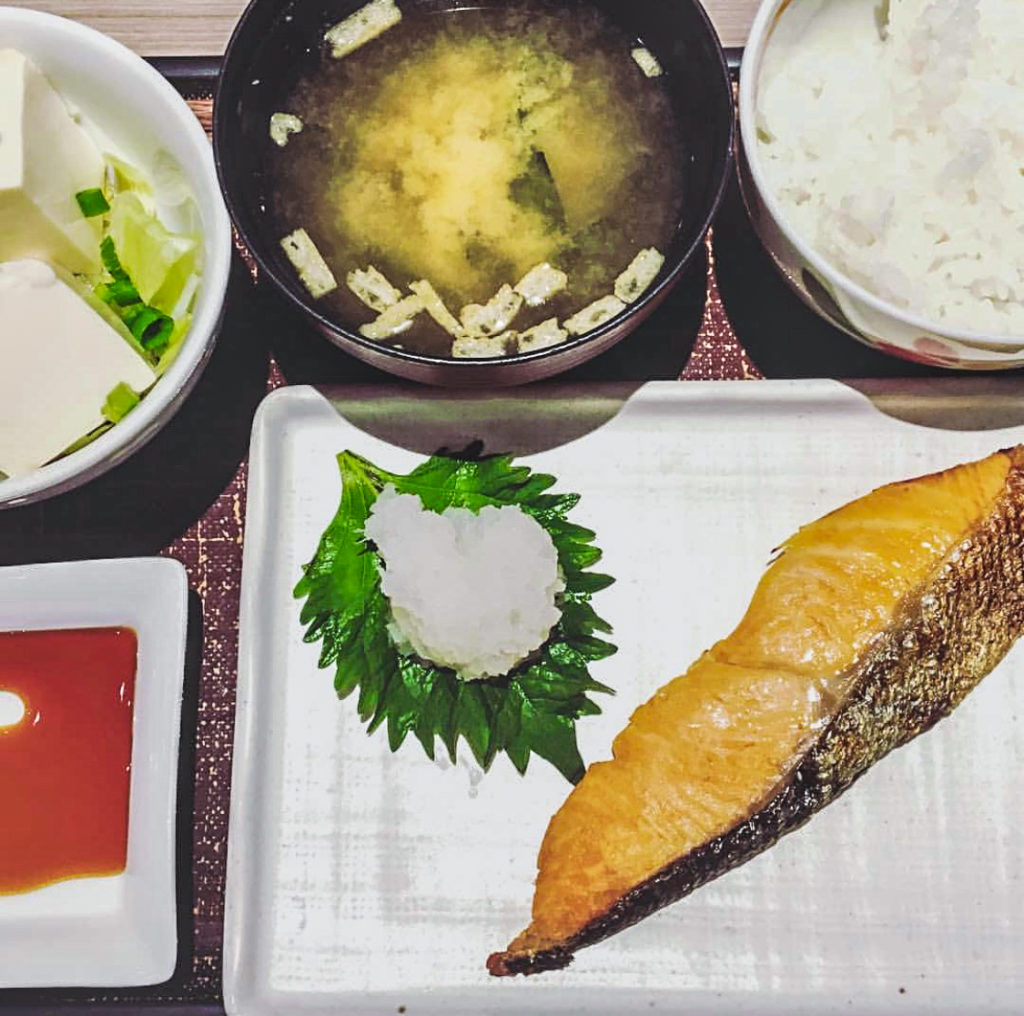 There are plenty of variations, so see the in-store menu for more information. We should note that there are a handful of locations that do not offer the Japanese Breakfast sets, but there is plenty else to fill you up. Denny's have a very cute kid's menu that ought to satisfy their appetites as well as your daily kawaii quota. Many branches also have drink bars with bottomless coffee and other beverages. Definitely a great way to charge up for a day of sightseeing. See more on their website.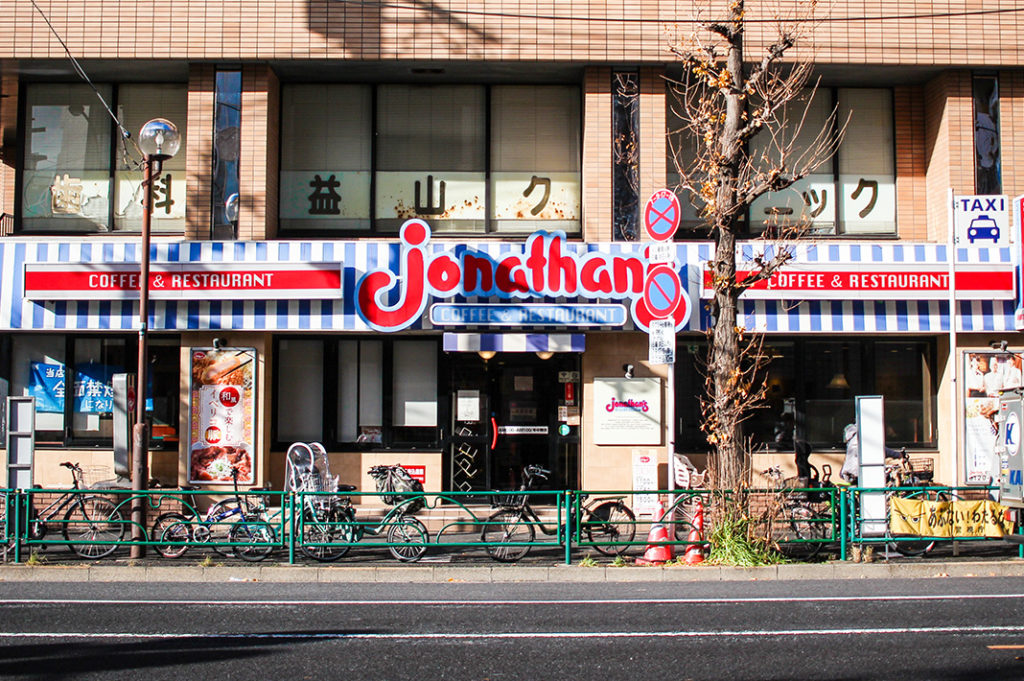 Jonathan's
Jonathan's is another family-style chain, easily spotted thanks to its blue and white striped signage. It is quite similar to Denny's in terms of price, plush booth decor, unlimited drink bar and both western and Japanese offerings. The breakfast runs from 6:00am–10:30am with sweet and savoury options to satisfy any palette.
For the Japanese Breakfast sets, you can choose mackerel or salmon and play with the accompanying sides, much like at Denny's. On the whole, the menu appears to promote healthy options so it's possible to change your white rice to millet rice or even to tofu. And for those who like to enjoy a beer with your breakfast, well…you might not be the only one doing so.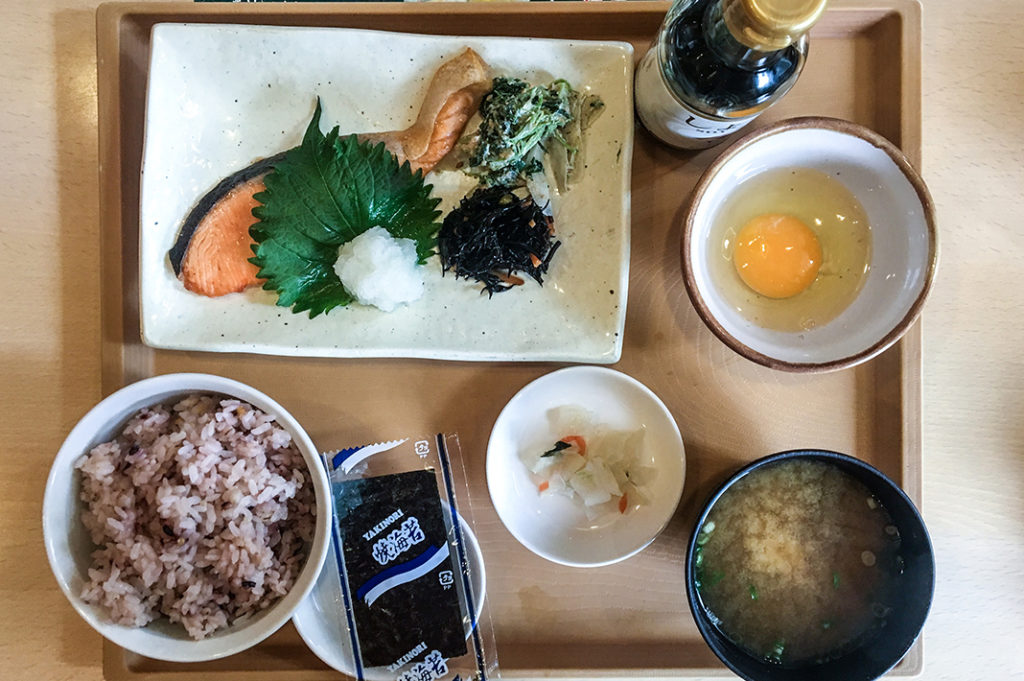 Jonathan's is another great option for dining under ¥1,000. Popular in the Kanto region, you unfortunately won't find it further afield. Check out their website here.
Japanese Style Fast Food Breakfasts: Yoshinoya, Matsuya, Sukiya
These restaurants are typical Japanese 'fast food' restaurants, where diners come, scarf down their meal and leave in lightning speed. They're cheap, quick and tasty options for the budget and/or time conscious among us.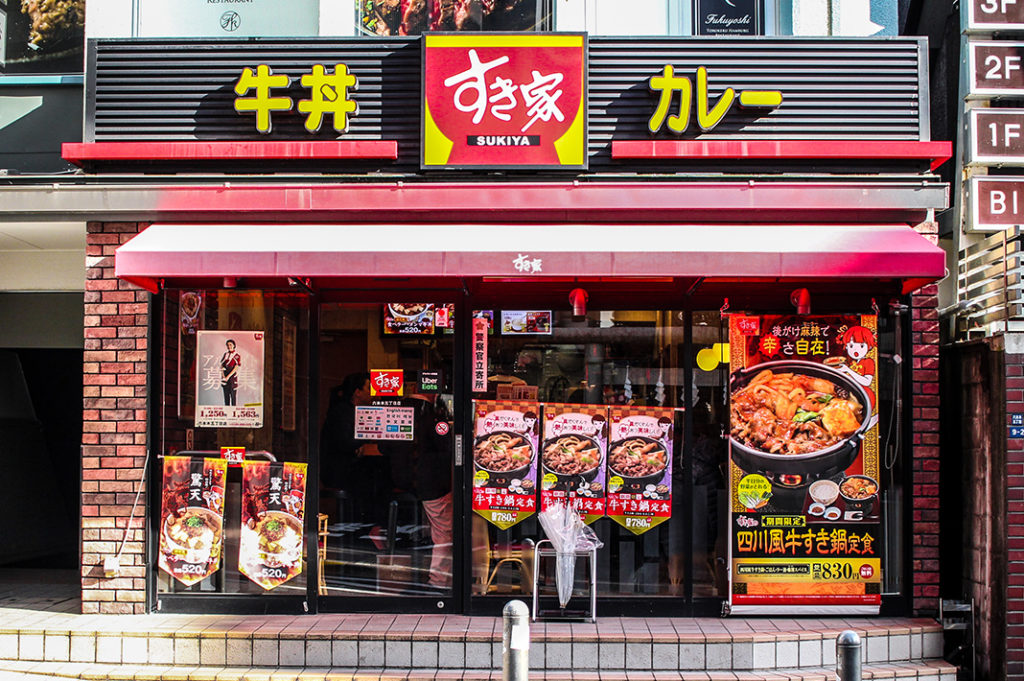 Sukiya
Sukiya is the most popular Japanese fast food gyudon (meat on rice) restaurant with over 2,000 locations across Japan and the world. Most are open 24 hours, though some have reduced (but still very long) hours.
Breakfast runs from 5:00am–10:30am. The morning menu features a Japanese teishoku with salmon, but you can also try sets with their signature beef as a substitute. Prices range from ¥400–¥600; check out more information here.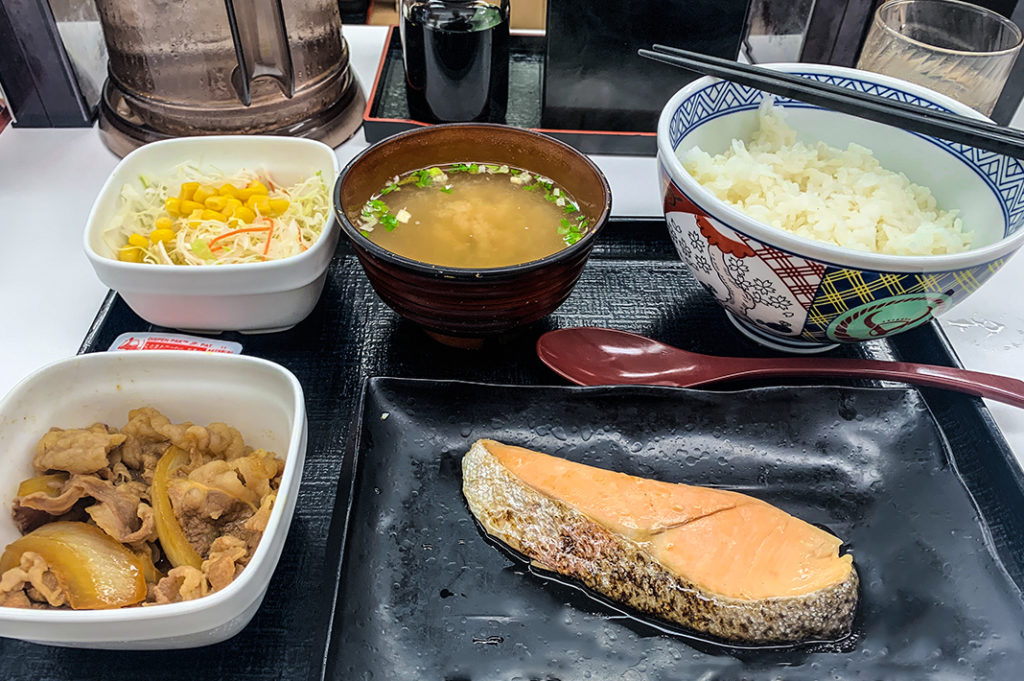 Yoshinoya
Yoshinoya is the second most popular gyudon (meat on rice) restaurant in Japan with stores across Asia and the United States, too. Their breakfast is also one of the earliest, running from 4:00am–11:00am. You can expect the usual teishoku set choices; salmon, natto, egg, etc. as well as ham and egg sets, all ranging from ¥400–¥600. If you're a little late and still want to try Japanese breakfast, you can get a fish teishoku up until 11:00pm. Check out their website menu for more information.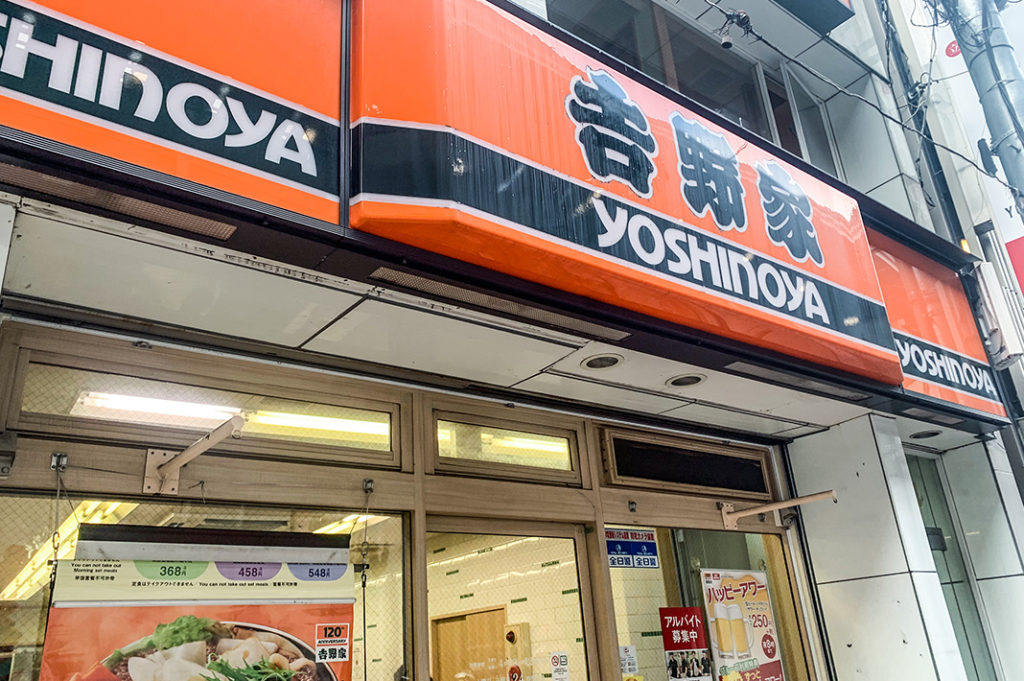 Matsuya
Matsuya is the cheapest of all the gyudon (meat on rice) restaurants, with breakfasts running from a low ¥300–¥500. It has all the standard fare as well as bacon and egg sets. There are also options to upsize your meal with extra rice. Open 24 hours, their breakfast menu is available from 5:00am–11:00am. Check out their morning menu here.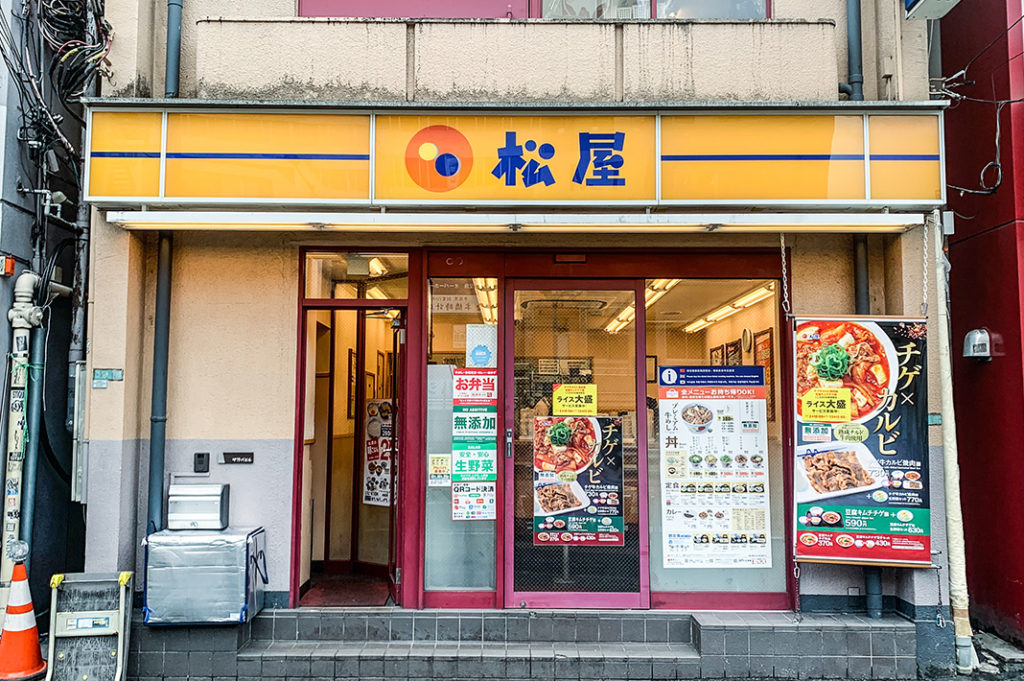 Other Breakfast Options
It goes without saying, but the McDonald's breakfast menu is always a trusty beacon for the weary traveller. Though not Japanese per se, the menu does have some Japan-only quirks which are a fun novelty factor.
And, if you didn't already know, convenience stores are a godsend in Japan. Open 24 hours, you can get all kinds of food. Sandwiches, pastries, fruit, yoghurt and cereals make up some of the western offerings, while rice balls, bento boxes and microwavable meals are decidedly more Japanese. If you have access to kitchen facilities, you could even piece together your own Japanese breakfast with microwaveable rice and fish, single serve hard boiled eggs, pickles and salad.
We've covered some of the more widely available and affordable options, but if you're looking for a higher-quality Japanese breakfast in Tokyo, you'll find it. Don't forget there are plenty of western-style cafes for those not into fish before noon. In conclusion, with so many options listed above, there's really no way you can miss out on the most important meal of the day!
Post by Japan Journeys.