After a morning spent witnessing volcanic archery and visiting a capybara onsen, my fiancé and I were off to the Jogasaki Coast, our next destination in the Ito Peninsula. A stretch of jagged 10-meter high cliffs threaded with hiking trails, it offers some of the best sea-side views and best dramatic photo ops in Japan. To my great shame, while we loved our hike, we also very much enjoyed stopping to take moody staring-into-the-sea and scrabbling-around-on-rocks shots. If you have time, it's best to pick your way along the full 10-kilometre stretch, which should take about 2-3 hours. However, it's also possible to quickly nip in and out of its most popular segment, which contains the Kadowaki Suspension Bridge and Kodawaki Lighthouse, before heading off to your next destination. Jogasaki is just 10 kilometres from Ito city, a 90-minute train ride from Tokyo.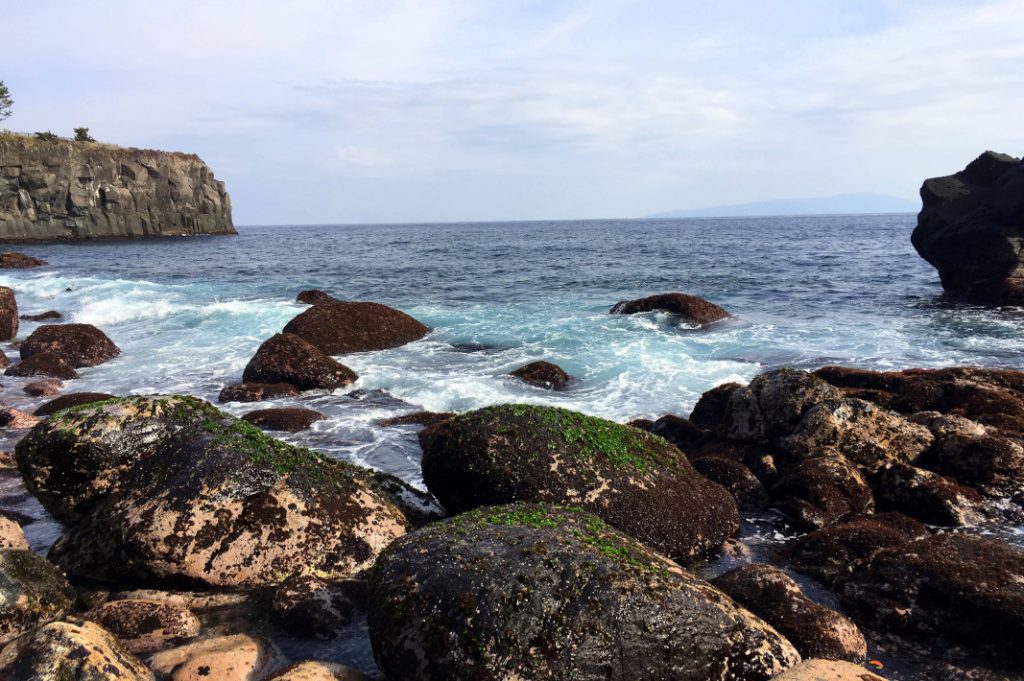 Its Volcanic Roots
Despite possessing no geology degrees whatsoever, I can confidently say that the cliffs along the Jogasaki Coast are unusually beautiful. While large sections of it spurt out of the sea in jagged spears, a few quiet stretches have been worn smooth into gentle capes. Oddly, some sections of it appear as if someone has haphazardly built the cliffs out of tiny stacked cubes. There's a reason for these odd features. The Jogasaki Coast owes its creation to the same violent eruption that formed nearby Mt. Omuro and rocked the entire Ito Peninsula nearly 4,000 years ago. Spewing from Mt Omuro, lava wreaked destruction for kilometres across the Peninsula. That is, until the lava finally met Sagami Bay, where it cooled, cracked, and was subsequently eroded by thousands of years of waves. These days, the Jogasaki Coast is home to over 80 capes and 20 thriving reefs.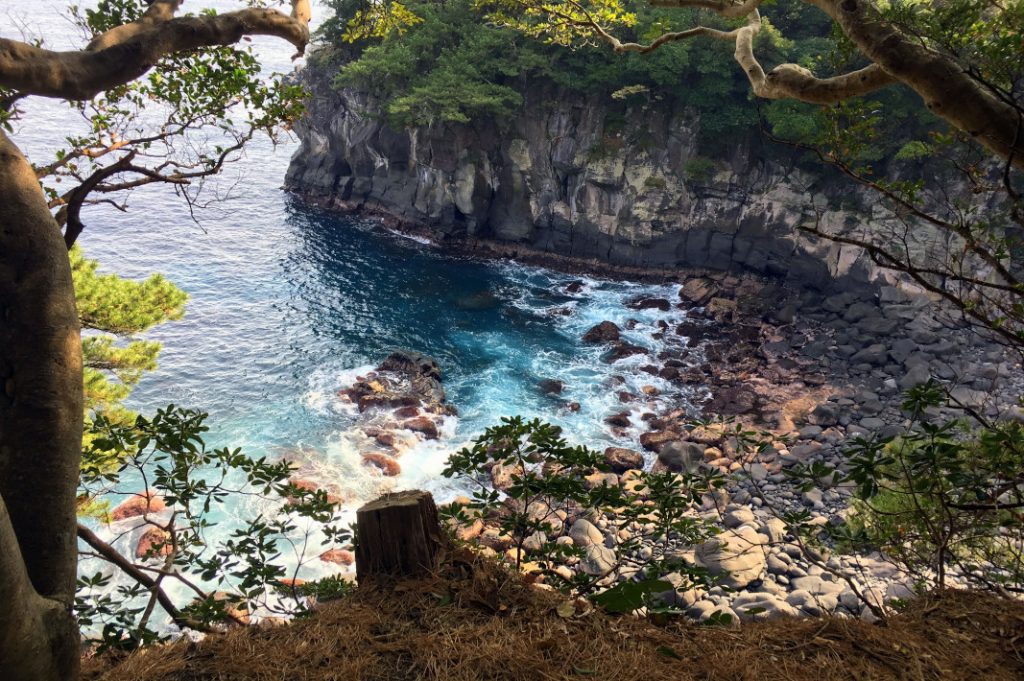 Exploring the Jogasaki Coast
Since my fiancé and I had a free afternoon, we set out to explore the full 10-kilometer stretch. If you'd like to do the same, start out at Jogasaki-Kaigan Station. From there, a 20-minute walk North-East will take you to the Northern trailhead. Once you reach the Southern trailhead, you'll want to head North-East again to Izu Kogen Station. From there you can connect to Ito City or even Tokyo. The hiking trail itself winds up and down the cliffs, close to the sea, into inlets and bays, and through stretches of thick Japanese pines. It's heavily reminiscent of traditional Japanese landscape prints.
Although the way, the path offers a smorgasbord of interesting sights. Buddhist statues and temples, wild peach trees, waterfalls, fields of hydrangea, and clumps of cherry blossom trees are all hidden among the twists and turns of the Jogasaki Coast. That said, since it runs along a sea-side cliff, some parts of the trail may become slippery or treacherous in stormy weather. It's best to take care and go slowly. And if you're keeping an eye on small children, consider the condensed route below.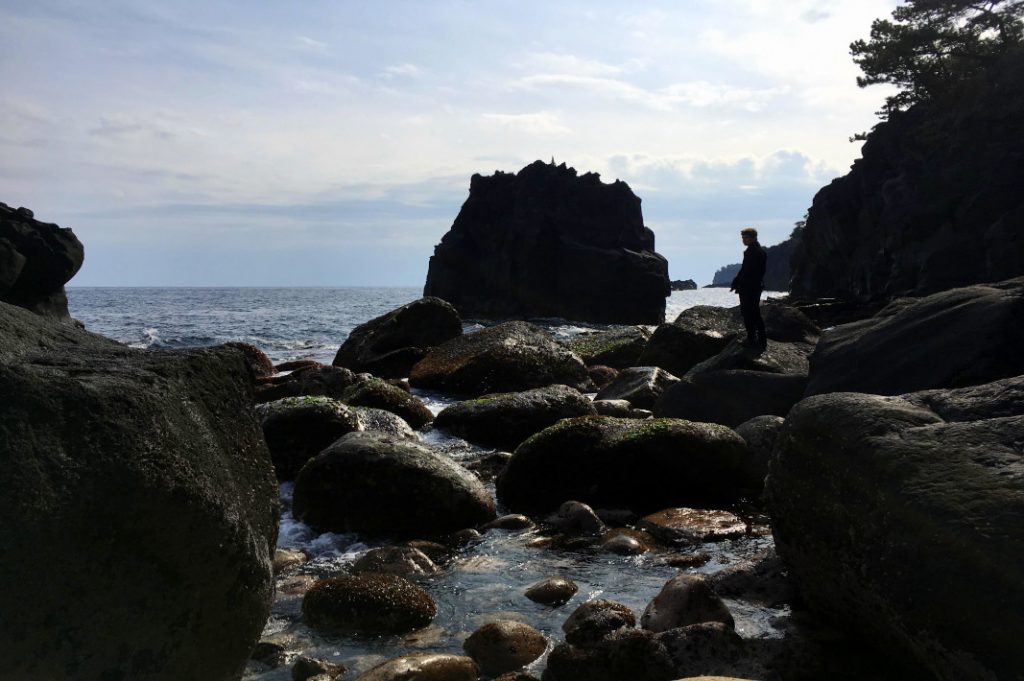 The Condensed Jogasaki Coast
If you're pressed for time or wrangling some small children, the condensed route is a great alternative. From the Itoshi Kadowaki Parking Lot, it's only a few minutes to the Coast's most popular features: the Kodawaki Lighthouse and Kodawaki Suspension Bridge. Access to the Lighthouse's observation deck is free. From it, visitors can take in romantic views of Ito's coast and inland features. It also offers glimpses of the surrounding islands on clear days. Next to the lighthouse is the 23-meter long and 28-meter high Kodawaki Suspension Bridge. While the lighthouse shows off the coastline's romance, the bridge captures its drama. It spans a dizzying, craggy passage.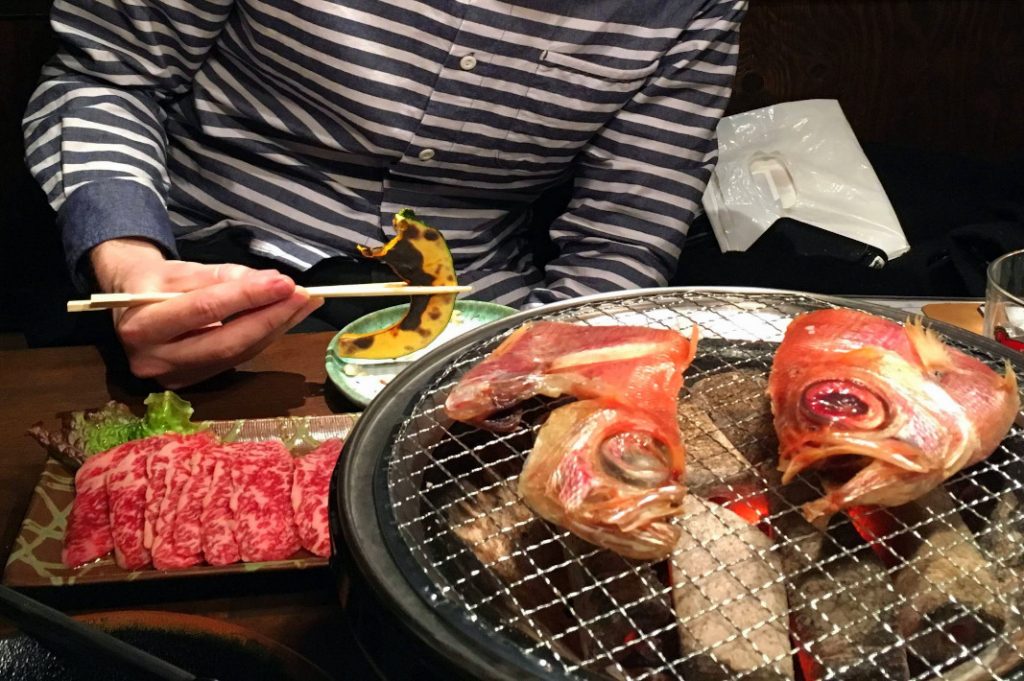 A Taste of Ito Peninsula
With the coastline explored and our photo storage maxed out, we headed back to Ito City for dinner. Sliding into one of its many izakaya (Japanese-style pubs) we opted for an Ito speciality, fresh, grilled, local fish. After a day spent admiring the ocean, consider capping things off with a taste of it, too.
Name: The Jogasaki Coast
Address: Futo, Ito, Shizuoka 413-0231, Japan
More Local Information: https://www.city.ito.shizuoka.jp/
Post by: JapanTrek.