A gentle breeze flaps the tall flags at the entrance to Kushida Shrine as I wait for a chance to cross the street. At first glance it appears like any other jinja but, in fact, it's one of the oldest and most revered Shinto shrines in Fukuoka. Established in 757, Kushida Shrine, affectionately known as 'okushida-san' is thought of as a guardian shrine of the city. People come as early as 4 am to pray to the enshrined deities Ohata Nushina-Mikoto, Amaterasu and her younger brother Susanoo, for good health and good fortune. Not known for being an early bird, it was a little later that I first stepped through the stone torii.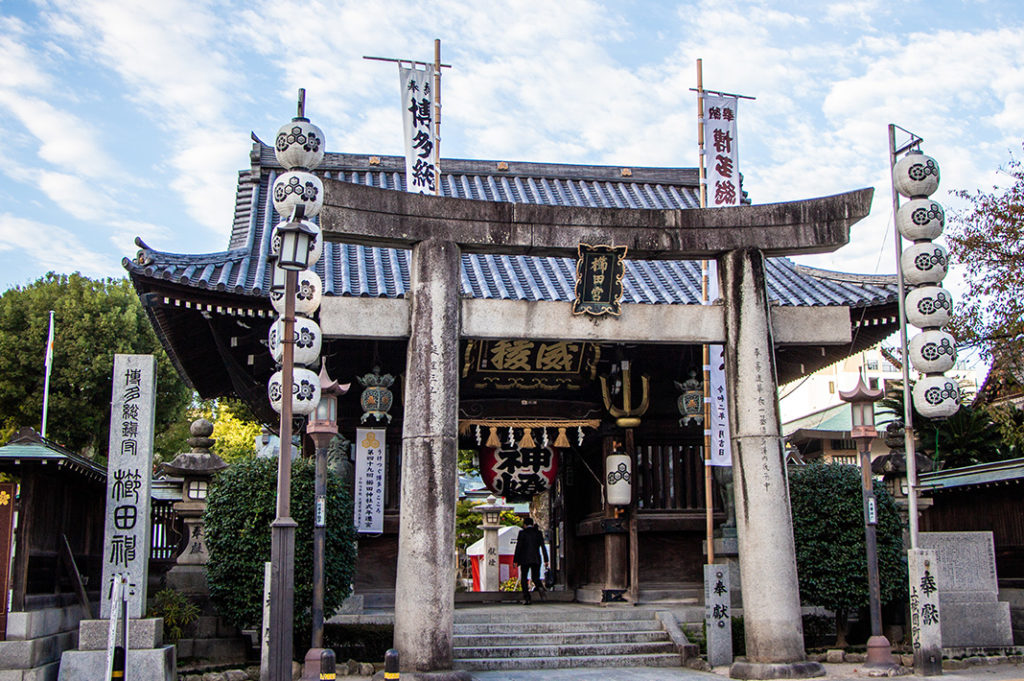 Inside the main gate, I crane my neck to see the eto ehou ban overhead. This circular disc features the twelve Chinese zodiac signs as well as the kanji characters for North, South, East and West. Each year on New Year's Eve, the central spinner is pointed to the new lucky direction. For me, it points west-south-west.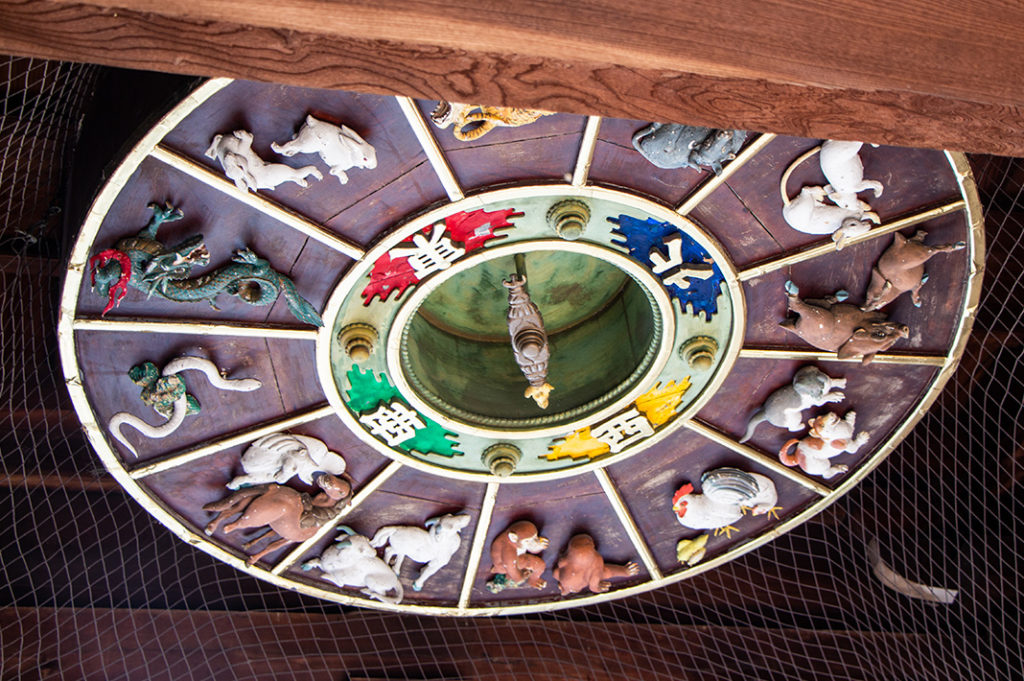 Stepping into the gravel clearing, I'm momentarily transfixed by the beautiful, chunky shimenawa straw rope hanging from the main hall. I move closer, passing between two omikuji paper fortune vending machines and stare up at the fine craftsmanship.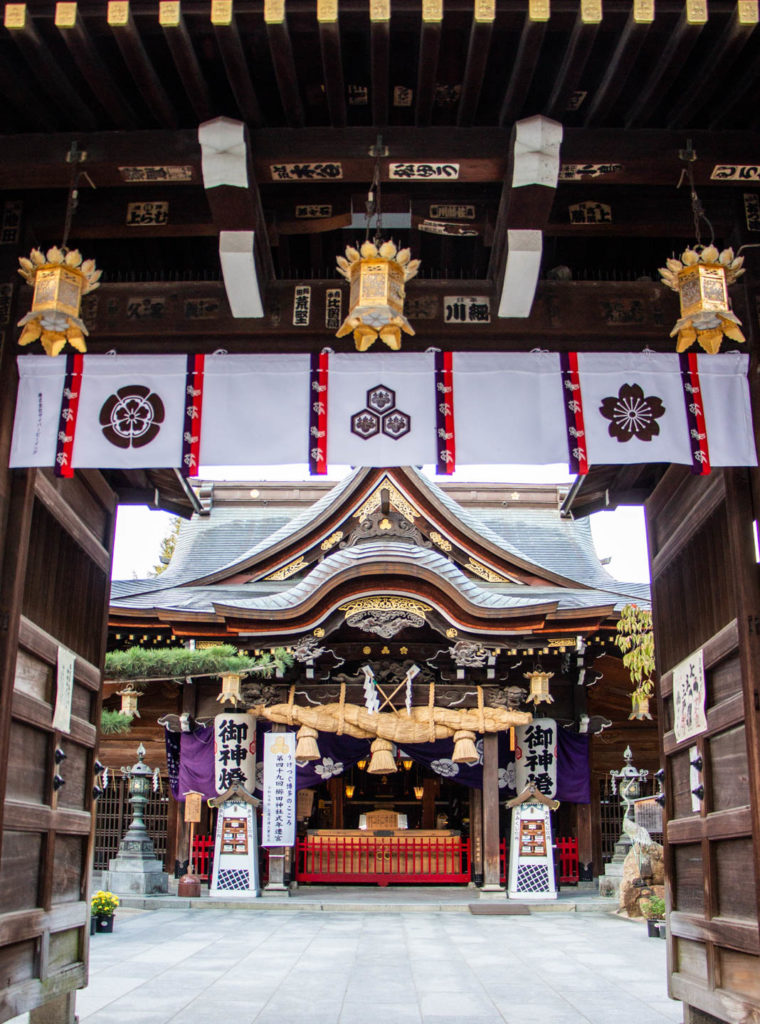 The fountain of youth
To the right of the main hall, I make my way over to the reisen (sacred fountain) featuring three crane statues. Nicknamed the fountain of youth, visitors are instructed to take three sips while praying for the health and longevity of themselves, their family and friends. Unfortunately, during my visit, the ladles had been removed as a social distancing measure, so I'd have to rely on sheet masks and a healthy diet.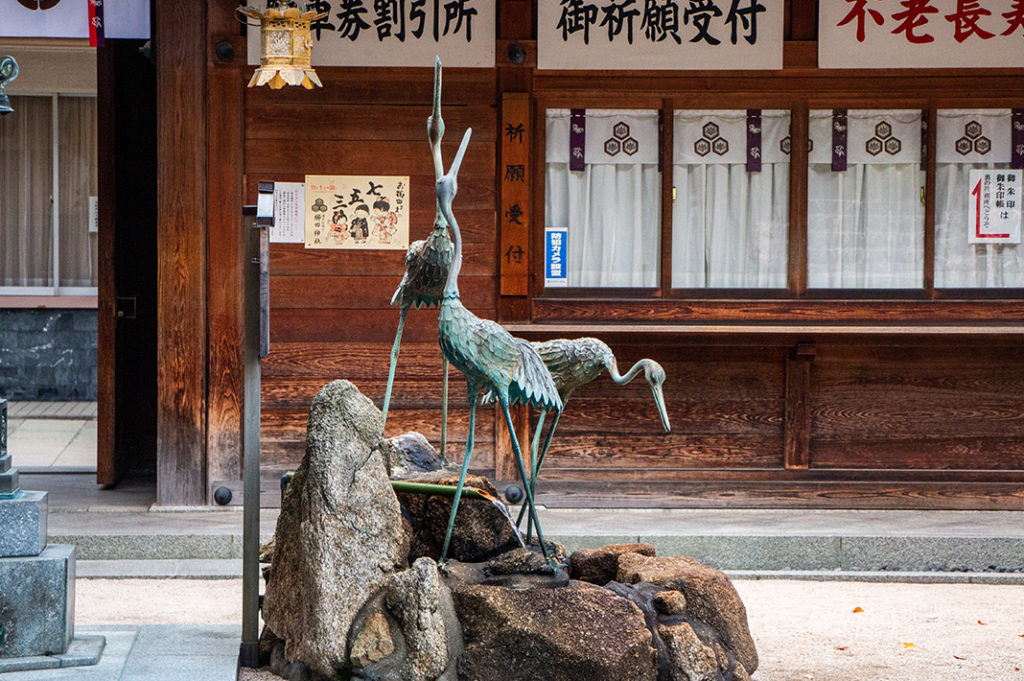 The parade floats and Hakata Gion Yamakasa Festival
I wander to the left of the main hall and come across the famous ornamental Yamakasa standing as tall as the gingko canopy. This fantastical parade float is redesigned and rebuilt every year on the 1st of July without the use of a single nail and features Hakata scenery and Hakata dolls bearing the likeness of samurai warriors and anthropomorphic animals. It is incredibly detailed, to say the least.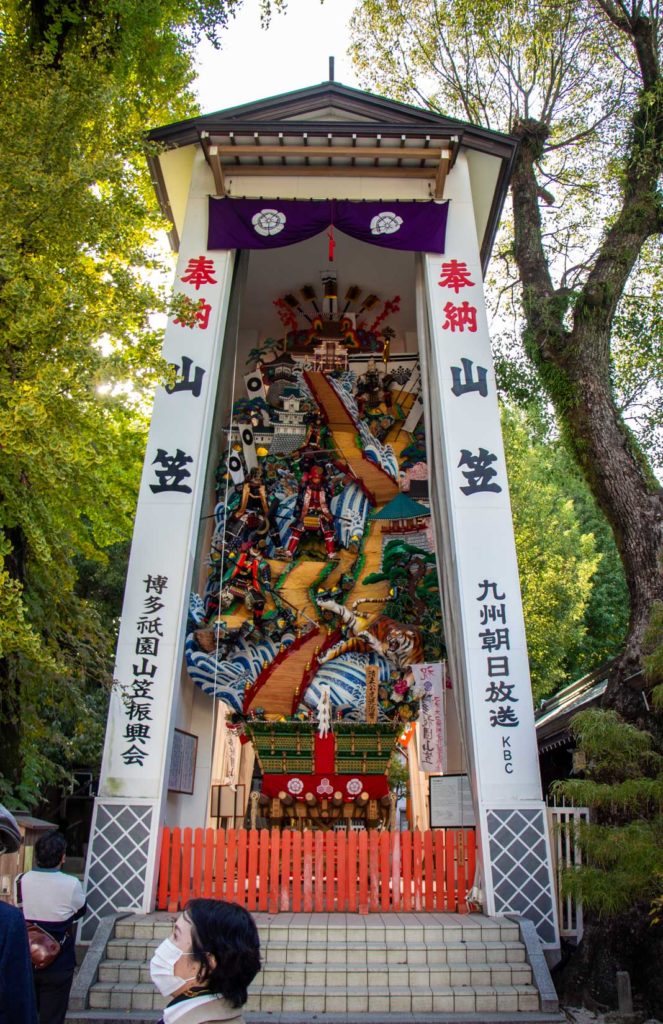 This Yamakasa is just a taste of what's on display during the annual Hakata Gion Yamakasa Festival. Every summer, a million spectators gather to watch groups of men racing around town in the early hours carrying elaborate floats weighing up to a tonne! The groups, representing the traditional districts of Hakata, carry 'kakiyama' floats which are smaller than the one at Kushida Shrine but still heavy. It's said that the 13m tall 'kazariyama' were once raced around too, but modern day power lines have made that a thing of the past. These days, they are positioned for viewing only.
Running for over 770 years, this festival is an Important Intangible Folk Cultural Property of Japan and the sounds of it are among the official 100 soundscapes of Japan. To catch it, be in Fukuoka between July 1st and 15th.
Of stones and gingko trees
Beside the Yamakasa are two more of Kushida Shrine's many attractions: the chikara ishi rocks and the fufu ginan ginkgo tree. It's said that the rocks were once a crude fortune-telling tool, but have since become more of a strength tester. Local sumo would proudly lift heavy stones before donating them to the shrine. They are lined up on display as in the picture below, and there is also a stone on the ground that anyone can try to lift. A group of people were taking turns trying to lift the stone and laughing at their lack of power. My advice: remember to lift with your legs.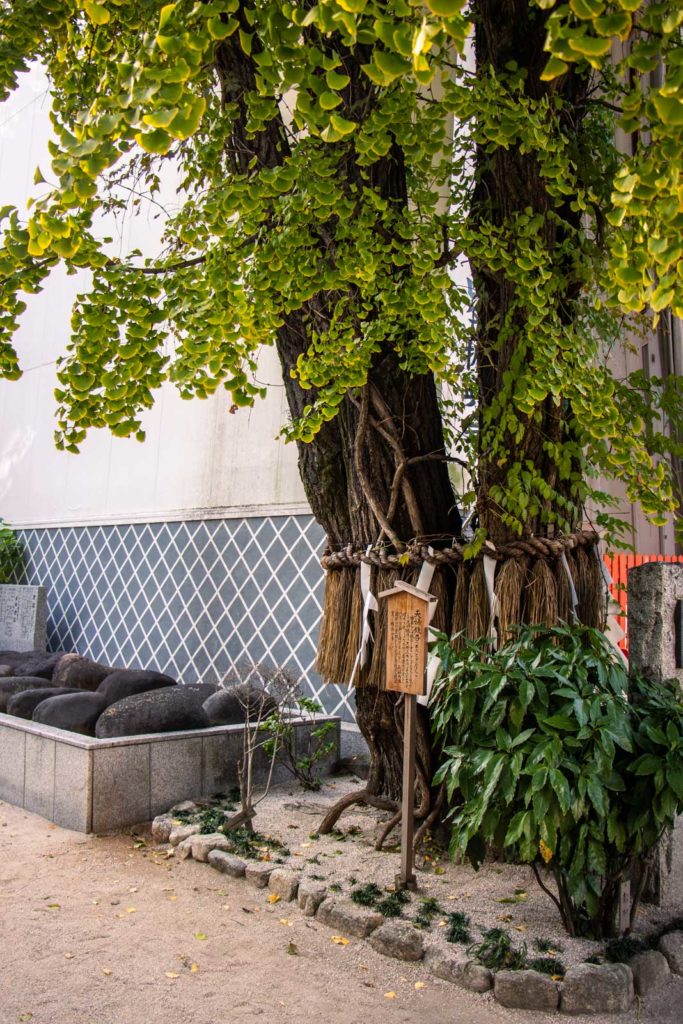 Beside that, the 'married couple ginkgo tree' (Fūfu ginan, 夫婦ぎなん) is a female tree with three trunks which fruits in Autumn. This is a popular place for locals to pray for matchmaking and matrimonial bliss. As I turn to head back to the entrance, I spot the ginkgo tree believed to be over 1000 years old, unsure how I missed it in the first place.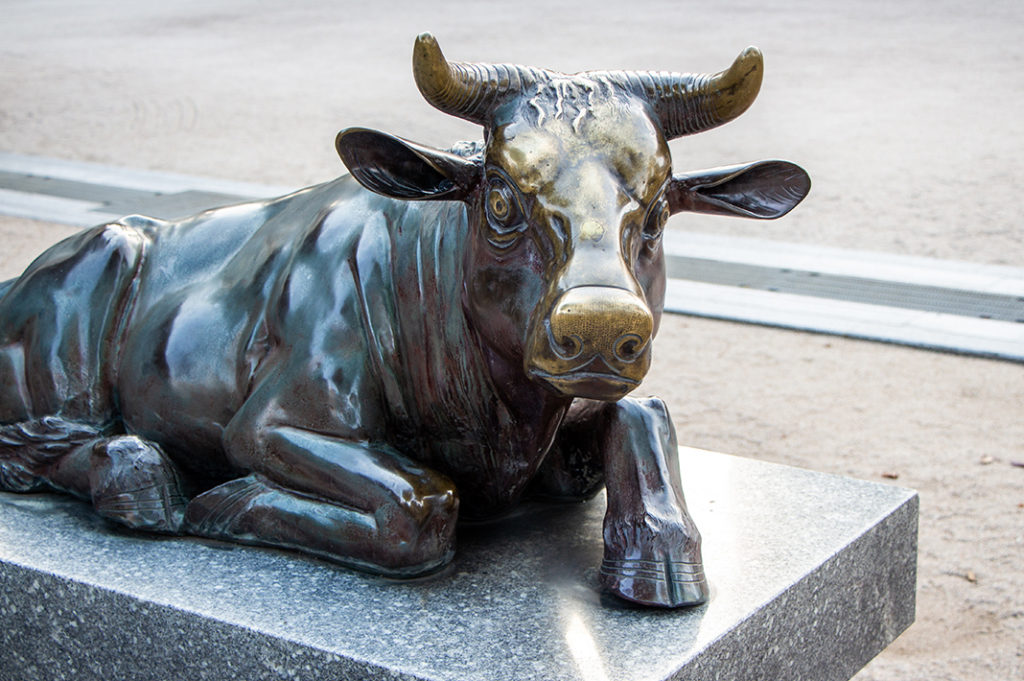 If you happen to be traveling to Fukuoka in winter you may be in luck. For the few days leading up to Setsubun (end of January to February 3rd), a giant 'Otafuku mask' is placed over the main gate, so visitors must walk through the open mouth for luck. It makes for a great photo opportunity, and the extra luck can't hurt either.
These are just a few of the fun and interesting aspects of Kushida Shrine which is why this is one of our favourite Shinto shrines in Fukuoka.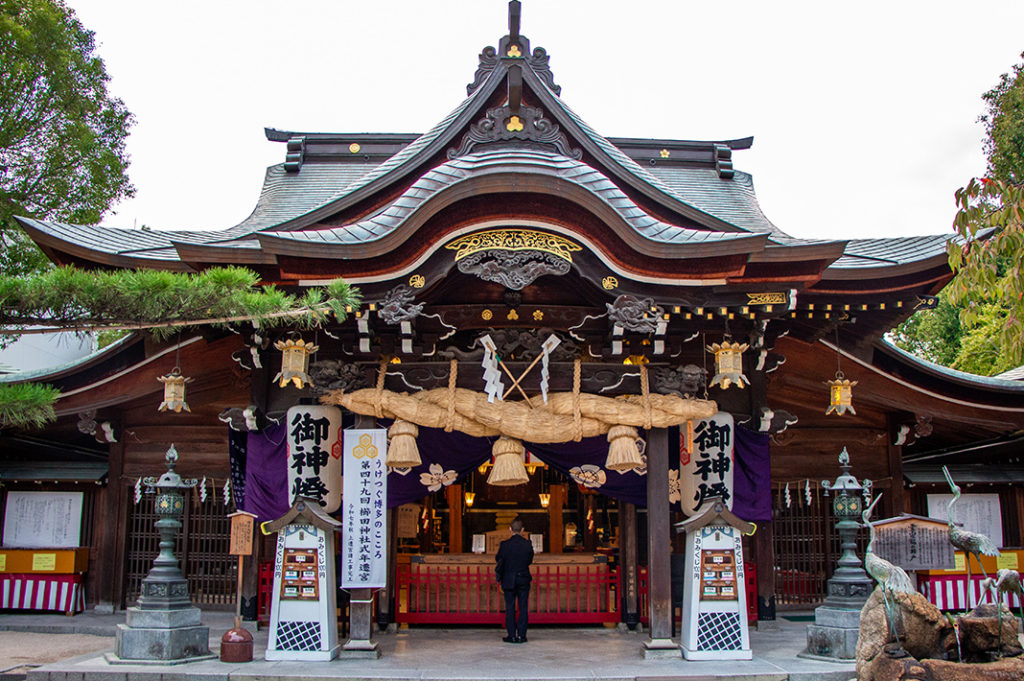 Accessing Kushida Shrine
As with most things in Fukuoka City, this shrine is within walking distance of multiple stations. It's roughly 7 minutes' walk from Gion or Nakasu Kawabata Subway station or 15 minutes from JR Hakata Station.
Nearby attractions include the Canal City shopping mall, the riverside Yatai stalls and the Fukuoka Asian Art Museum. Nearby accommodation includes the fun and fresh WeBase Hostel and the Hotel Vista.
Name: Kushida Shrine
Address: 1-41 Kamikawabatamachi, Hakata Ward, Fukuoka (google)
Open: 4:00 am – 10:00 pm
URL: website
Post by Japan Journeys.