Kyoto is a city that many consider to be the perfect embodiment of the truest 'Japanese sensibilities.' Refinement, restraint and muted displays of emotion create a type of subdued harmony that permeates all facets of life in the city. However, once a year the silence is broken and the city is engulfed in effervescent celebration: the Gion Matsuri. Welcome to a night of hot air, cold beer and a touch of wild transcendence. Here's why you'll want to stick around for the Gion Matsuri 'afterparty'.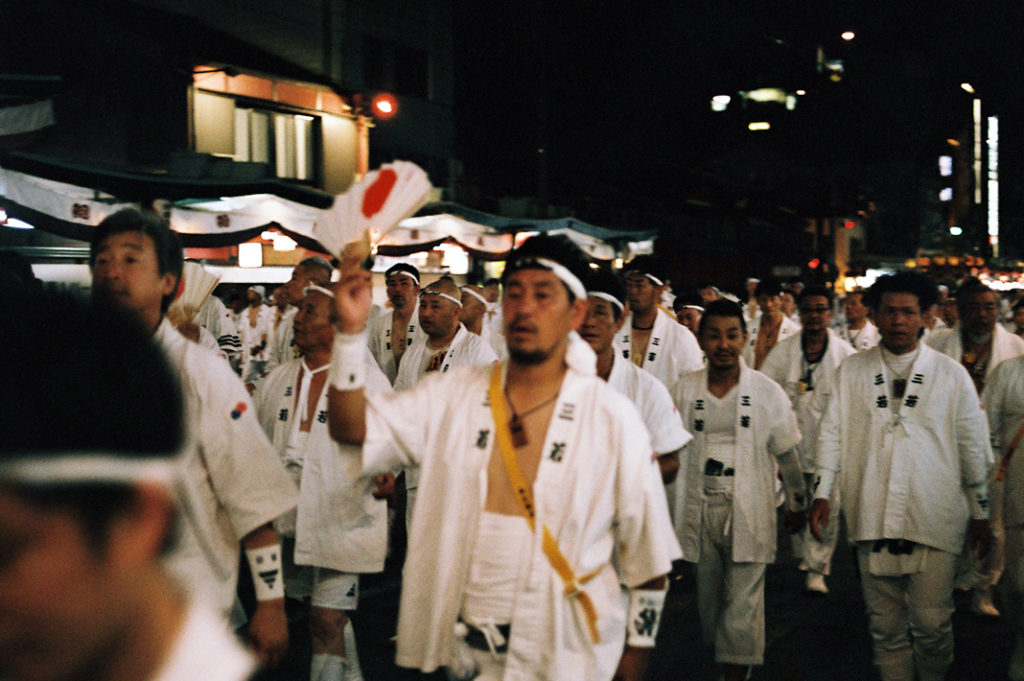 Gion Matsuri, from past to present.
The official origin of the Gion Matsuri begins in the Western calendar year of 869. Kyoto (then known as 'Heian-kyo') was experiencing an unprecedented year of sickness and poor agriculture. Emperor Seiwa thus dictated that the local gods needed some urgent appeasing. Decisively, he ordered a large parade to take place, ending at the city's revered Yasaka Shrine. Gradually, the tradition solidified and continued through the following decades, and large 'floats' (known as 'Yamahoko [山鉾]') were put into regular use from the year 999.
Arguably, today's Gion Matsuri is even more jaw-droppingly spectacular than ever before. The Matsuri itself takes up almost the entire month of July. Naturally, not a single detail of the festival is left to chance. Eagle-eyed visitors to Kyoto's Shi-jo [fourth avenue] may even notice that the traffic lights are fully retractable, allowing for the passage of towering Yamahoko.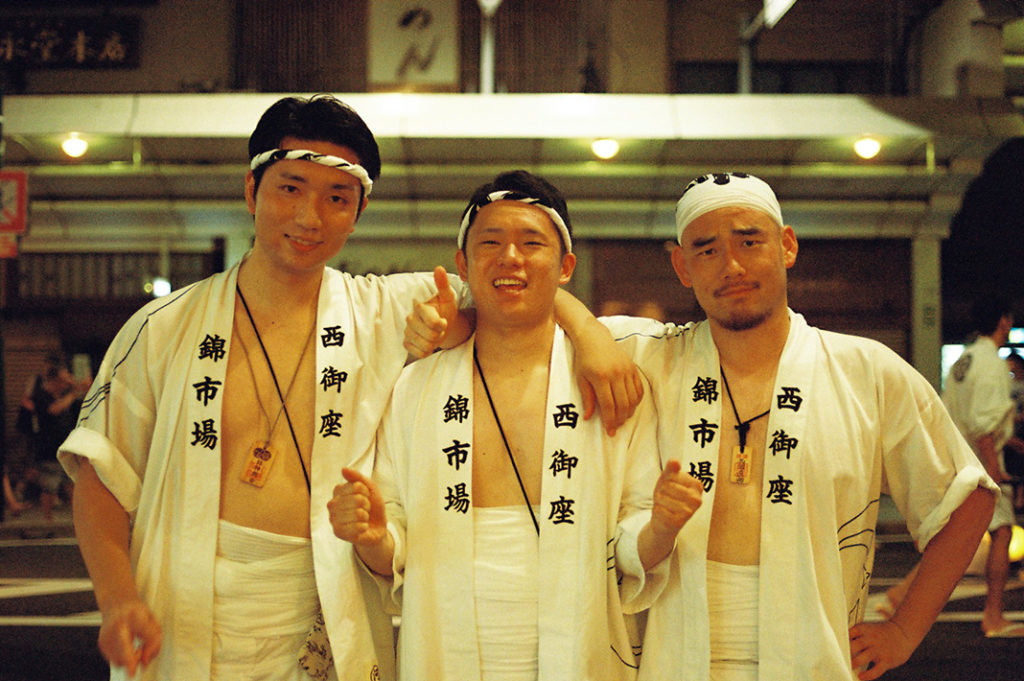 First glance: classically Kyoto.
Visitors to Kyoto can familiarise themselves with the Gion district during the day or night at any time of year. It's a diverse area, featuring everything from hidden traditional Okiya (Geiko residences) and invite-only sashimi restaurants, to Yakuza-owned ryokan. However, Gion Matsuri is a chance to experience an entirely different kind of Kyoto. The full festival lasts for more than half of July, marked by multiple events and preparations. Best of all, it's even possible to watch trained artisans construct the Yamahoko piece by piece in the middle of public roadways! As the days pass, lantern processions and Mikoshi (portable shrine) cleaning also take place.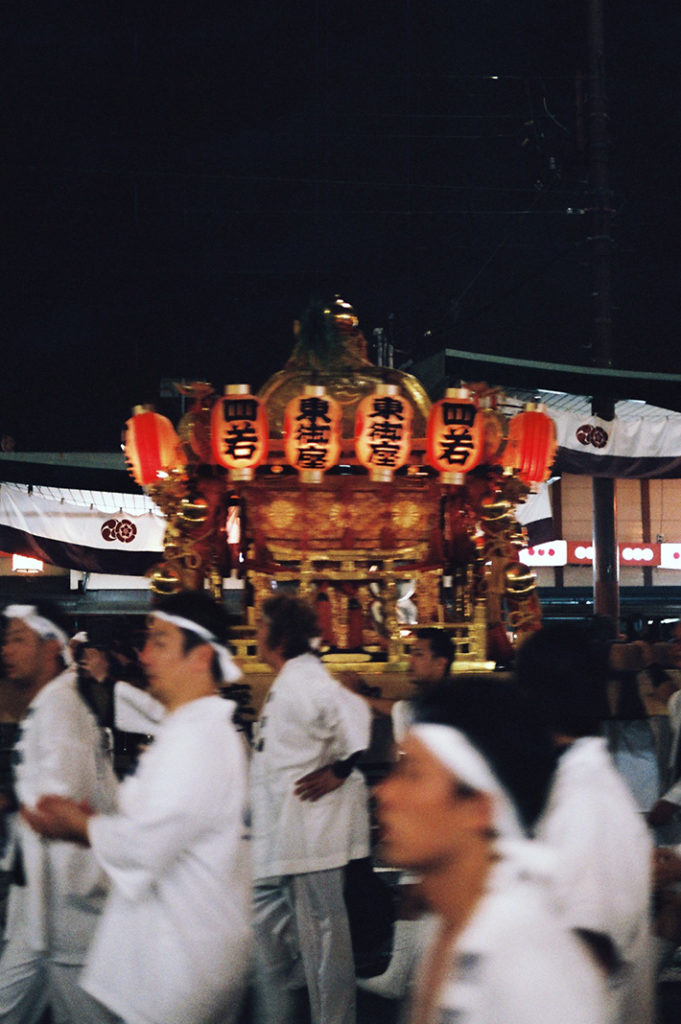 Waiting to exhale.
Things begin to heat up in the three days preceding the 'launch' of the festival, during the period named 'Yoiyama.' Gradually, Kyotoites will start to gather in the downtown area of Shijo-Karasuma for vibrant nighttime festivals. Naturally, delicious and seasonal street food is available in abundance and the beer flows freely to cool the heat of the summer night. The merriment and anticipation gradually escalates to a terse hum and on July 17th, madness ensues. From dawn until dusk, gargantuan Yamahoko piled high with uchiwa-waving riders trundle around the perimeter of the old Heian-kyo. The atmosphere is immense: a pure celebration of Kyoto's long and storied history.
Of course, the Yamahoko parades of the daytime are undeniably spectacular and should not be missed. However, they're hectic, hot and crowded, with tourists and locals alike crammed side-by-side into every available space. While this part of the Matsuri is undoubtedly a 'must-see', the ensuing night is different: it is a 'must-feel'.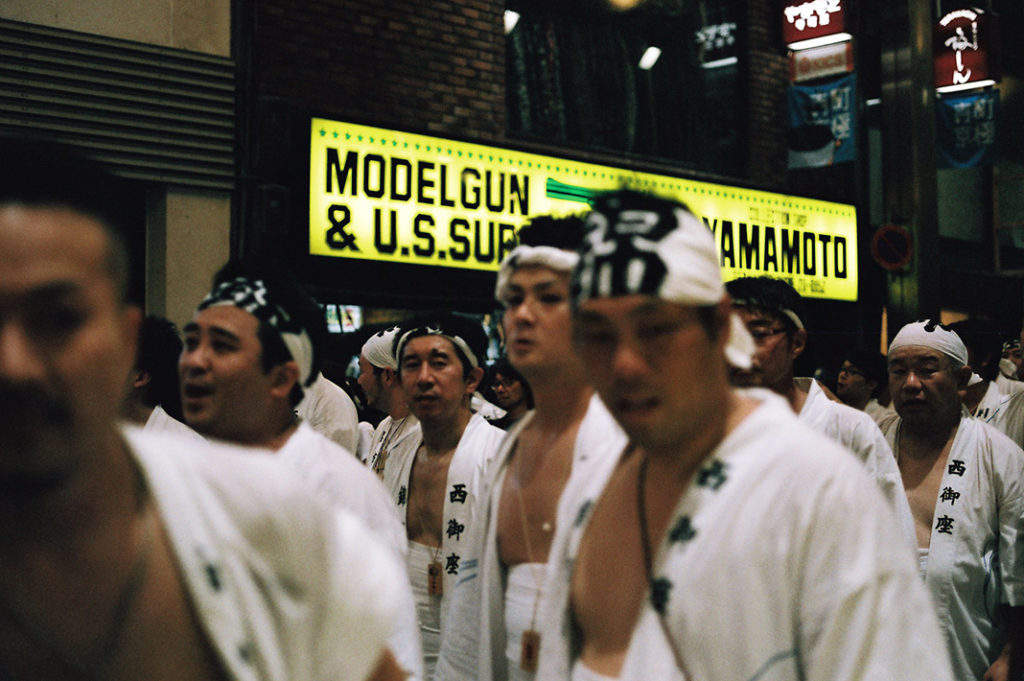 Kyoto, transformed.
When the tourists have returned to their hotels and are gratefully resting their tired feet, Kyoto's mantle of timeless refinement begins to falter. Part-liquidated by sweat, fatigue and excitement, the people of Kyoto sink slowly into the humming heat of the night. As the sun sets on this day, an entire city reconnects with twelve hundred years of unrestrained ancestral reverence. Truly, it is a time to 'feel' Japan as well as 'see' it, because living histories are only brought to life through these unique occasions.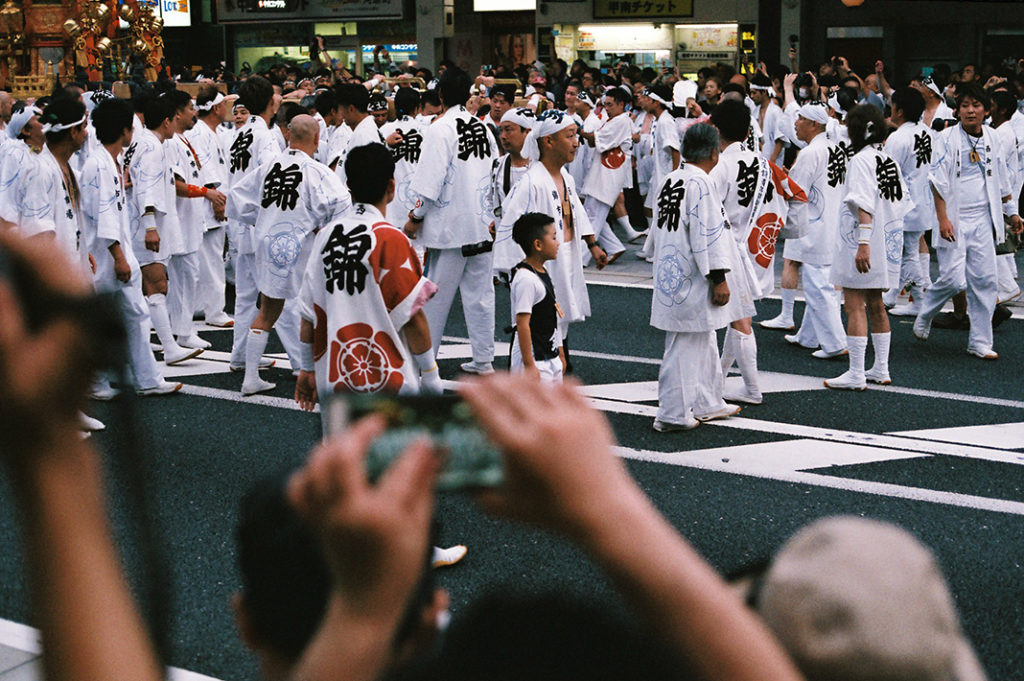 Lost in transcendence.
The repetition of an annual tradition with almost 1200 years of unbroken history forms a connection; a powerful yet invisible thread. This thread unites generations of Kyotoites through actions and and the repetition of rituals. Time and time again, they walk in the footsteps of their younger selves, of their parents, grandparents and ancestors. The vehicles, clothing and artefacts acquire stories of their own as they are renewed each year, passing from generation to generation. The first night of Gion Matsuri represents a blending of the old world and the new, transcending time by blurring the boundaries of 'now' and 'then'.
Whether you are a long term or short term occupant of Kyoto city, this hot and heady night will be a unique chance to join the often introverted salarymen of Kyoto as they burst forth in a flurry of communal celebration. As the night ends, the rows of paper lanterns will fade with the rising of the sun, flames extinguished for another year.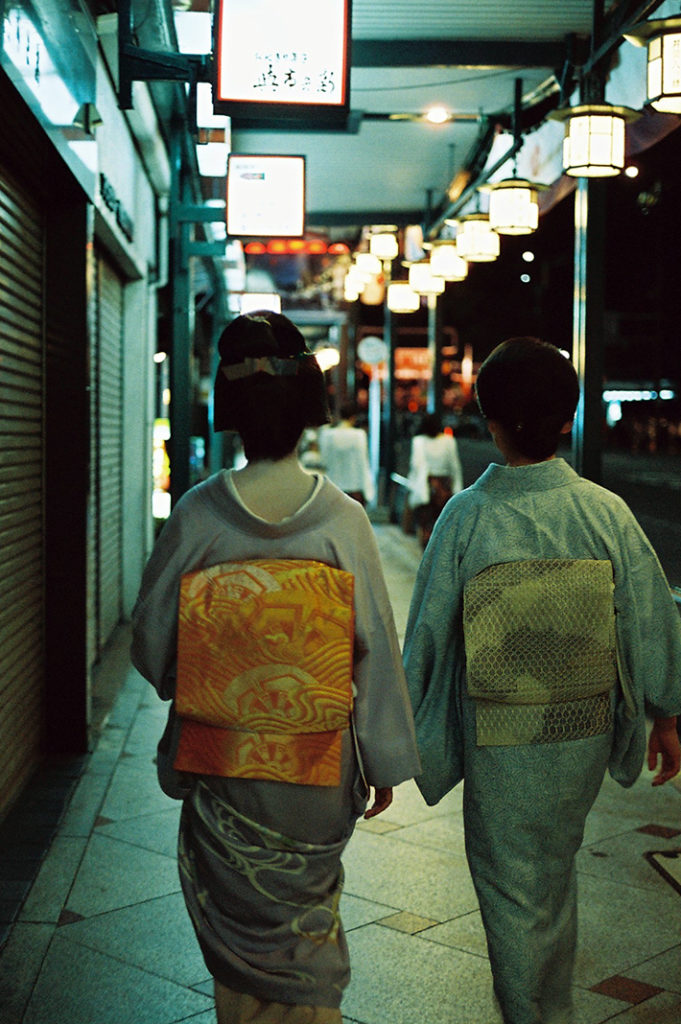 Hotel planning for Gion Matsuri.
Visitors will want to plan their experience of the matsuri as well as possible. However, due to the festival's immense popularity, some insider information will prove extremely useful.
Recently, Kyoto has seen an unprecedented rise in the building of hotels in the 'downtown' area. This includes Kawaramachi, Shijo, Sanjo and Gion. Despite hotels being abundant, those in this area are likely to be heavily booked up to a year in advance. If you want to have quick access to the festival, book as far in advance as possible and prepare to pay higher prices. Alternatively, book a lodging in a smaller and more residential area in the centre (Nijo) or northwest or southwest part of Kyoto proper.
Because taxis are plentiful and affordable in Kyoto city, you should have little difficulty catching one back to your hotel if you stay out later than 'last trains' (around 11:30pm to midnight).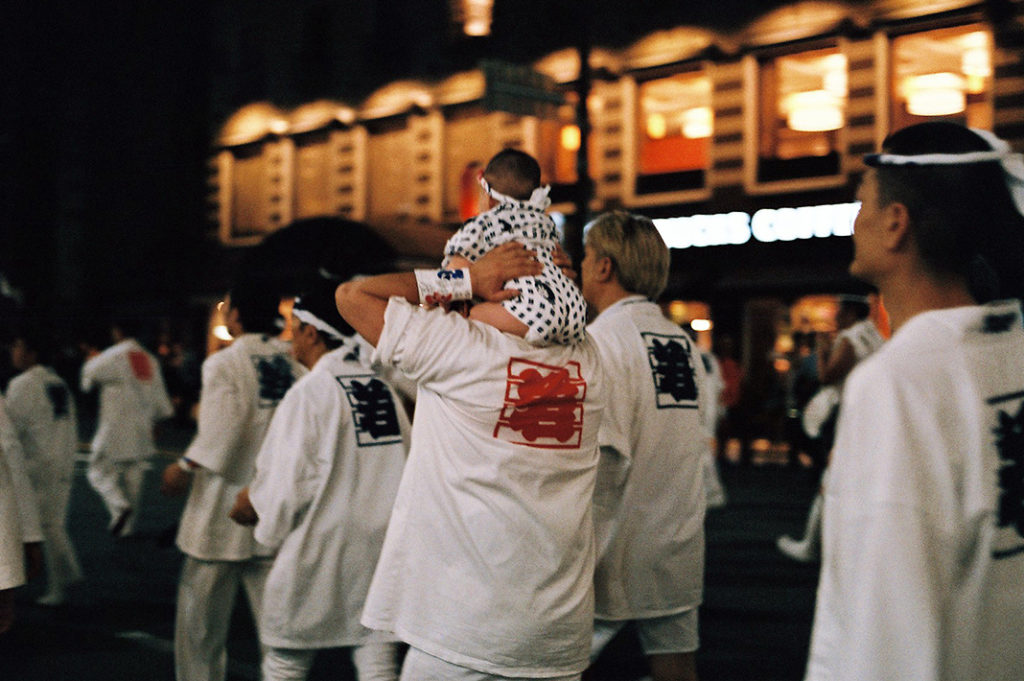 Access to Gion Matsuri.
Key transportation arrival areas are:
During festival times, these stations will be chaotic and overcrowded to the point of non-functioning. Ideally, disembark at stations that are one stop away from those listed and walk the remainder of the distance. Generally, buses are best avoided in favour of walking or taking a taxi. However, lines for taxis will be longer throughout the day.
Gion Matsuri itself is an open-air event and does not require tickets or reservations. Bring plenty of cash (¥1000 notes are best) to buy food and drinks from street vendors. Additionally, be aware that the crowd sizes during this event will make movement very difficult for wheelchair/mobility assistance users.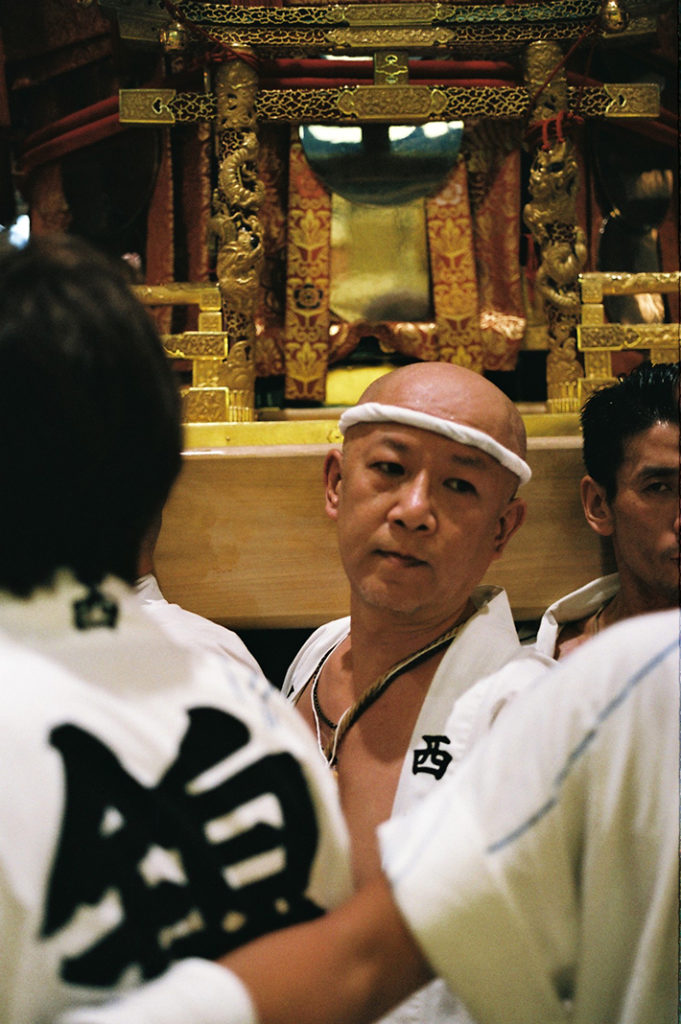 Post by Japan Journeys.