Narita International Airport has dozens of eating options, from ramen and sushi to tempura and tonkatsu. In-flight meals usually aren't all that great, so eating before the flight is rather important. I usually want something warm and comforting that won't break the bank. Ochazuke—which translates to "tea rice"—is the perfect option. Dashi Chazuke En on the fourth floor of Terminal 1 is the place for a quick bowl of pre-flight tea rice.
Pre-flight tea rice is the epitome of comfort food
Dashi Chazuke En is a chain restaurant specialising in ochazuke. It might seem like a fast food joint, but only in the sense of your food arriving rather promptly. In every other sense it's a great place for a healthy meal before hopping on a plane! The ingredients are fresh and high-quality, and the dashi stock used is very decent for a chain—a good mix of kelp, sardines, a few kinds of bonito flakes, and chicken.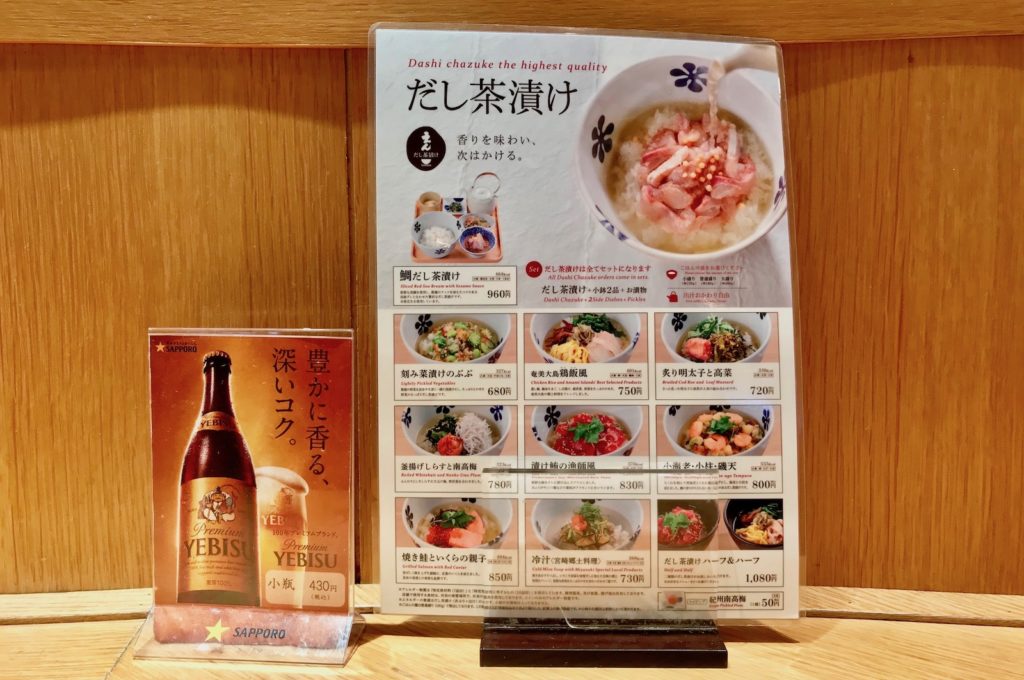 What to order at Dashi Chazuke En
There's so much to choose from at Dashi Chazuke En that the hardest thing is picking one tea rice dish and sticking with it! Do you go for the classic salmon and roe, or venture into newer territory with Amami Oshima-style chicken rice tea rice? Do you try a fisherman-style marinated tuna, or go for grilled mentaiko roe and mustard green pickle? Time yet, for a hundred indecisions…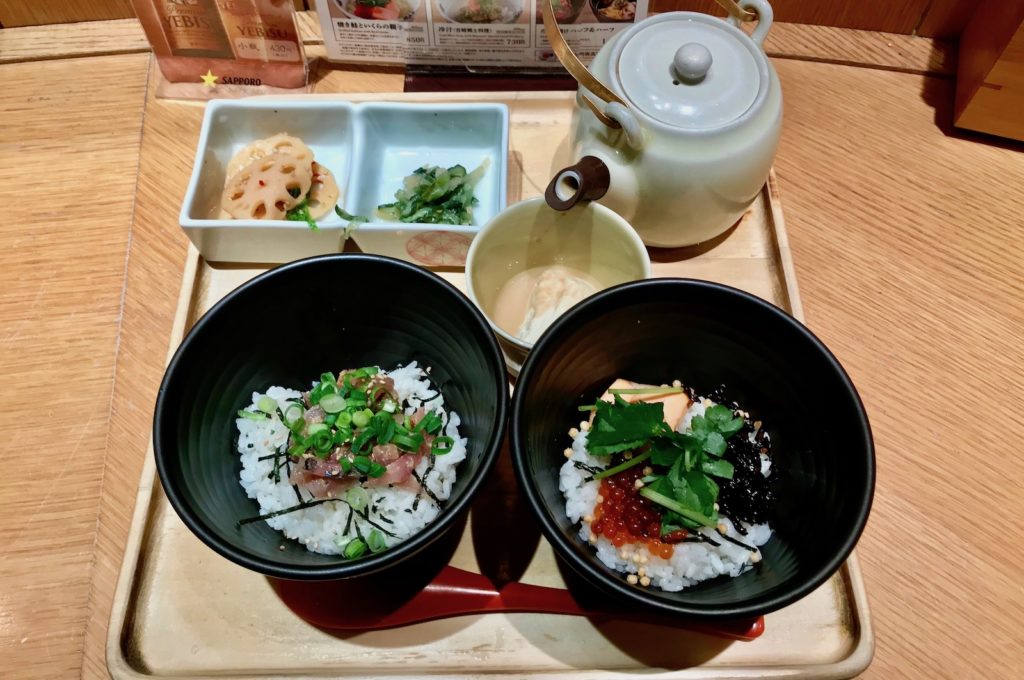 But why order just one ochazuke when you can order two? Enter the half-and-half: choose two from the menu and you'll get two portions for JPY1,000. Perfect for days you can't or don't want to decide on something. The sea bream with sesame sauce is a good bet, as is the salmon and roe (also called "parent and child").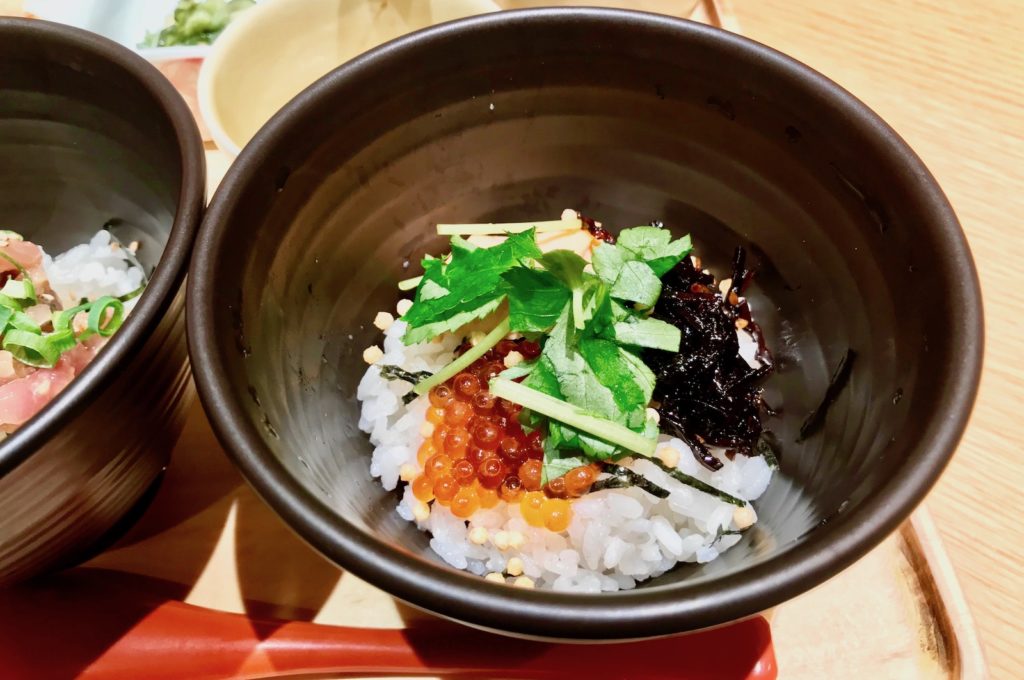 Each order comes with pickles and small side dish, which could be anything from tofu drizzled with sesame sauce to crunchy lotus root slices.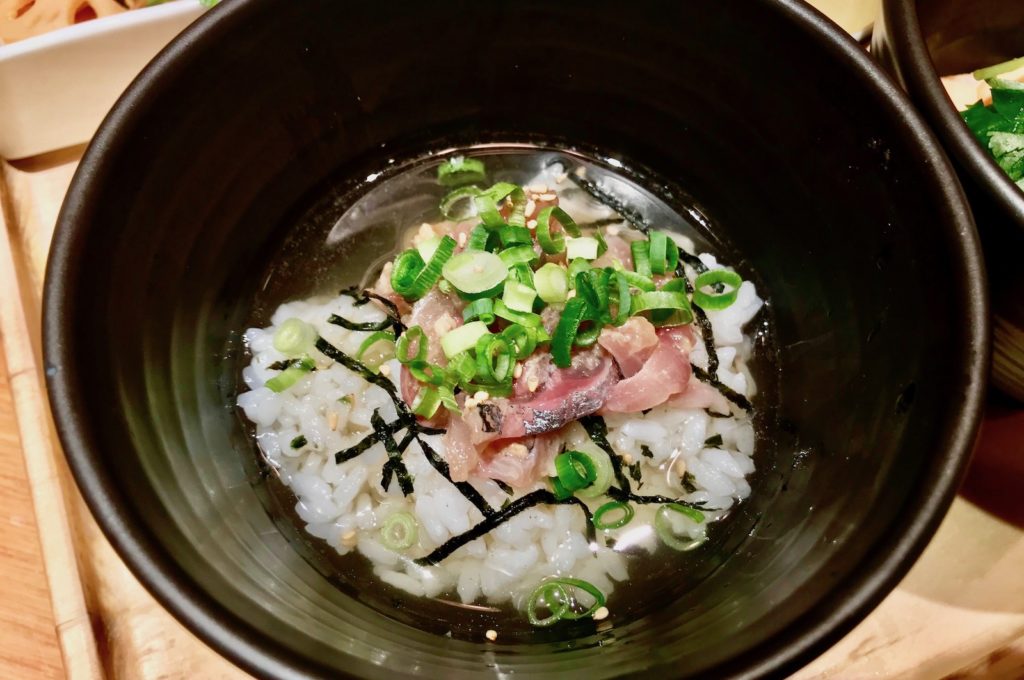 If you're one of those people who tends to run out of liquid before the rice is done, don't worry about being parsimonious with the soup. My favourite thing about eating at Dashi Chazuke En is the endless refills of soup. Do an Oliver Twist, turn to the waitstaff, and ask for some more.
How to get there
Name: Dashi Chazuke En
Address: 4F, Central Building, Terminal 1, Narita International Airport
Open: 11:00am–10:40pm (Closes earlier on weekends)
Website: http://dashichazuke-en.com/index.php
Post by Japan Journeys.