After living in Kanazawa for two years, I have become picky when it comes to sushi. Yes, you can have great sushi in Tokyo, but in my opinion the best fish is from the Sea of Japan. At Mori Mori Sushi, a chain in Ishikawa Prefecture, you can have the convenience and fun of conveyor belt sushi made with local fish straight from the Sea of Japan.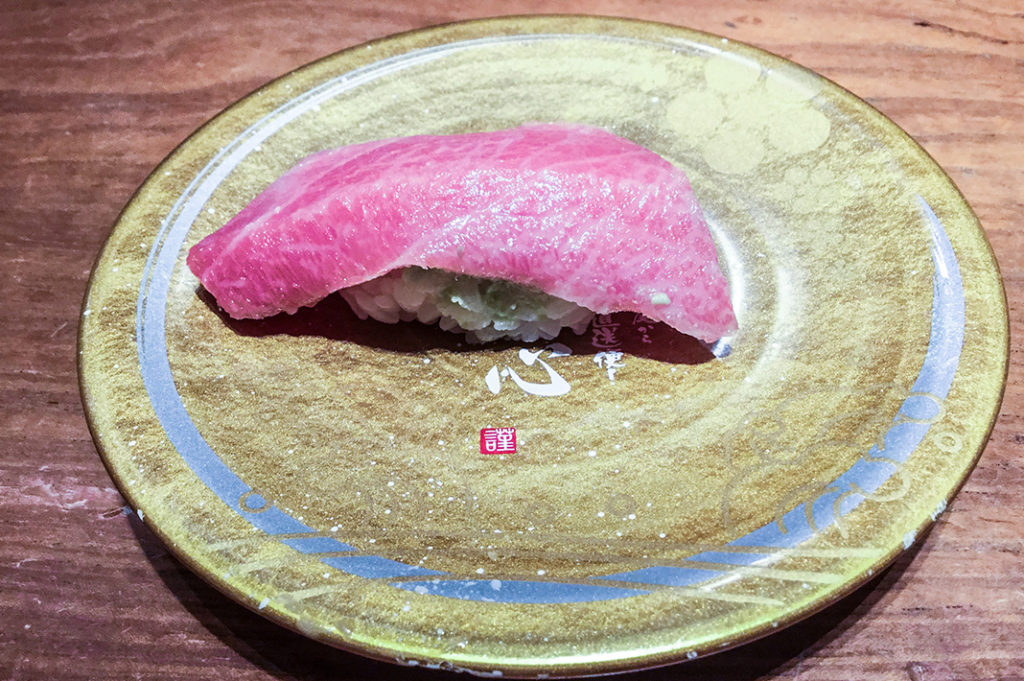 Conveyor Belt Sushi: A How-To
Kaitenzushi, or conveyor-belt sushi, is a must-try when in Japan. It's a fun, and typically cheap, way to eat sushi. Many kaitenzushi restaurants have plates of two nigiri sushi for as little as ¥140. While none of the plates at Mori Mori are that inexpensive, they are far fresher and tastier than the cheap places, and worth every yen.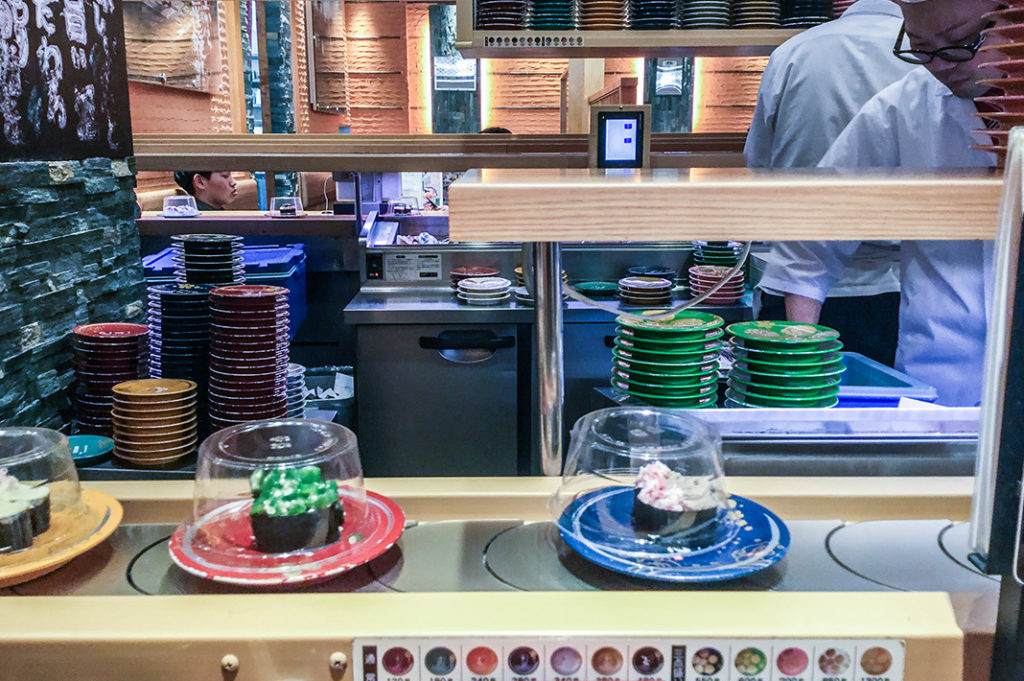 Although it's fun to watch the plates go around the conveyor belt, each table or stool at the sushi bar at Mori Mori comes with a tablet that you can use to order. The default language is in Japanese, but can be changed to English, Chinese, or Korean, making ordering a breeze! If you order from the sushi bar, your order will be hand-delivered by one of the sushi chefs. Diners sitting at tables are in for a treat, as any sushi they order will be delivered via a small Shinkansen train carrying the plates. Remember to push the button to send the train back to the kitchen after taking your sushi.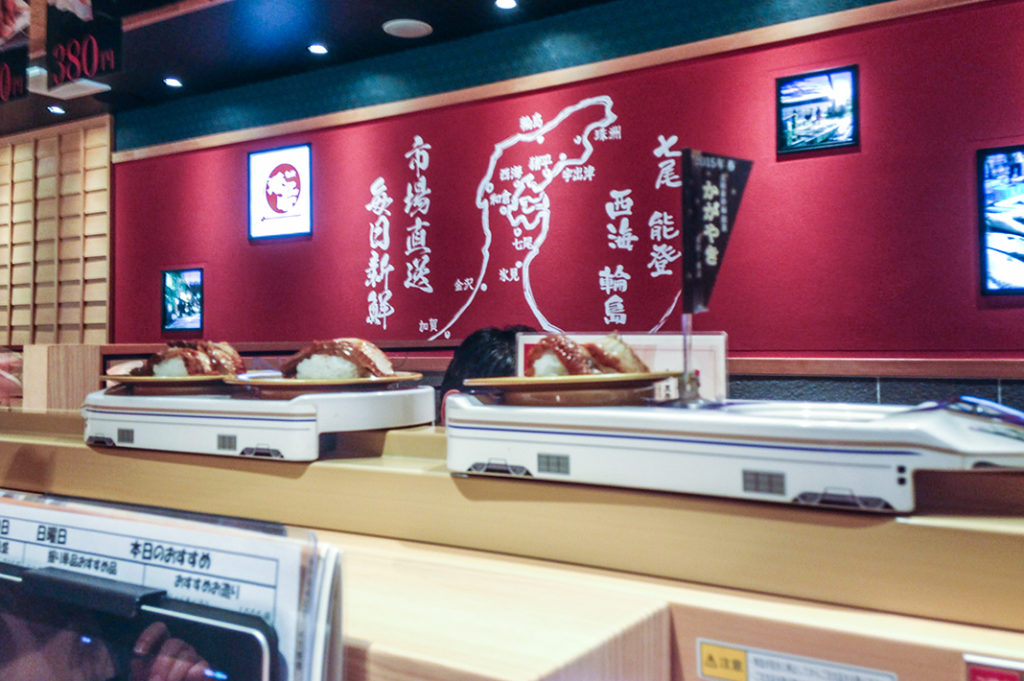 Also stocked at each table and intermittently along the bar are plenty of condiments such as soy sauce, eel sauce, pickled ginger, and matcha powder. For tea, simply put as much matcha powder as you'd like into a cup and fill it with water from one of the spigots by pushing against the black button to release the hot water.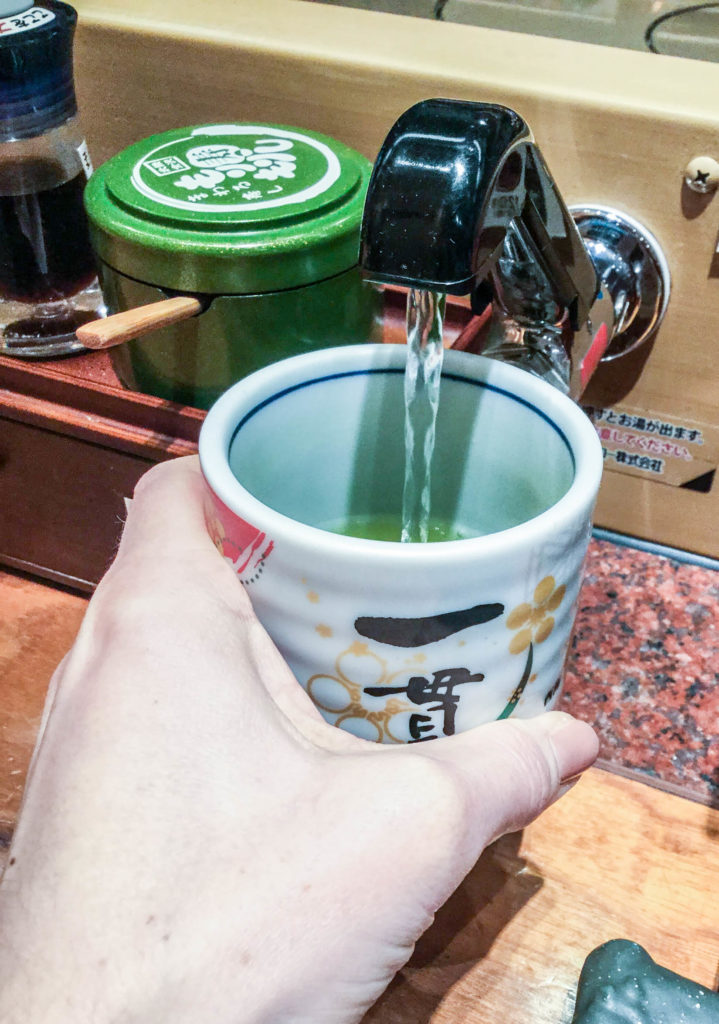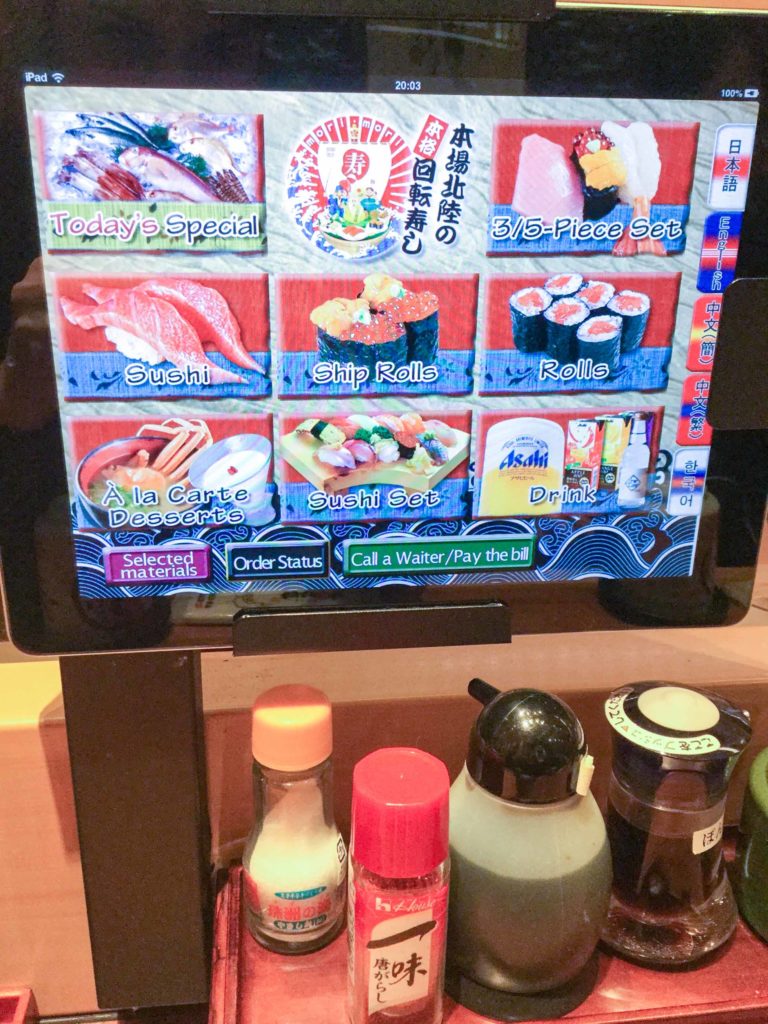 Local Flavors from Omicho Market
The menu at Mori Mori Sushi includes all of the usual favorite nigiri and sushi rolls, but also includes many local specialties, such as Kanazawa's famous snow crab. I also highly recommend their three and five piece sets; the Tuna 3 Ways (¥480) or the All Salmon 5 Ways (¥700). These tasting plates are a great way to try more cuts and preparations of your favorite fish.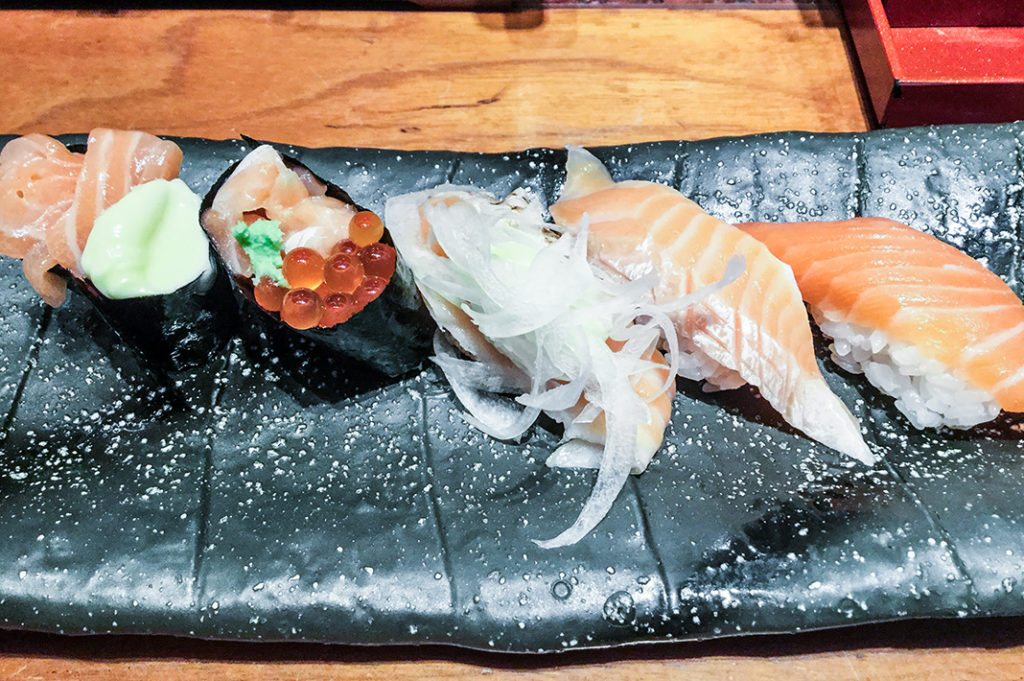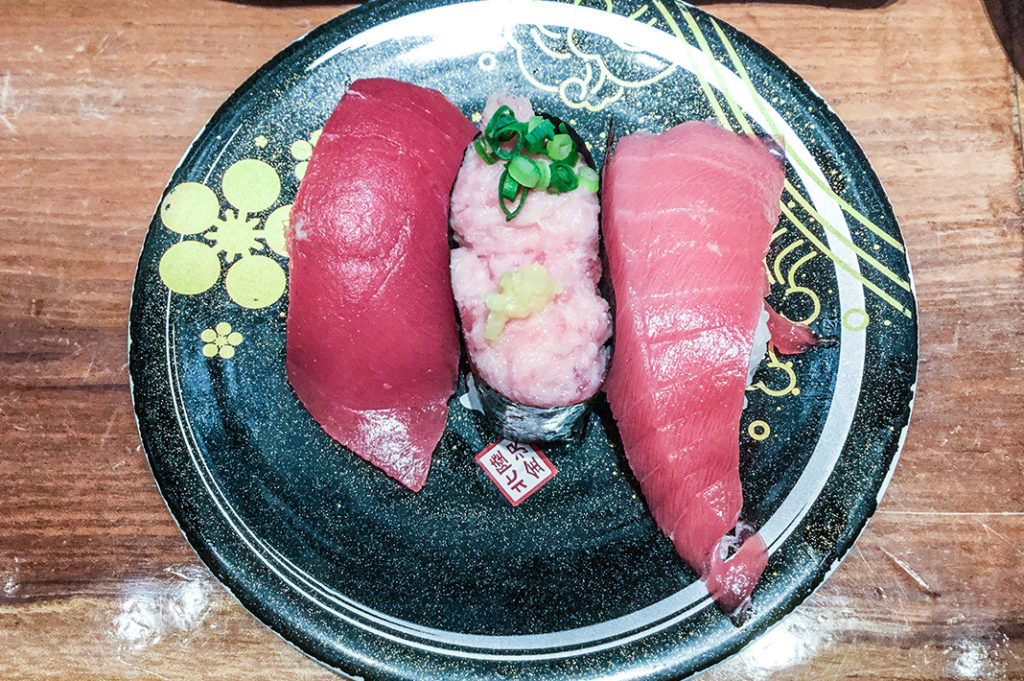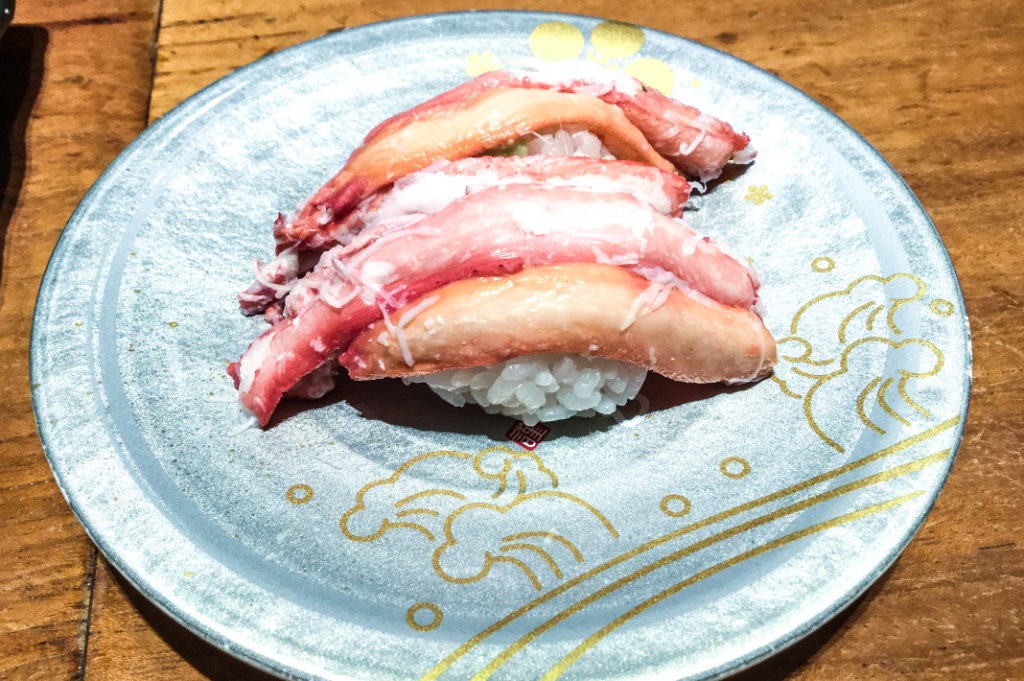 The drinks menu also offers a wide variety of local sake and shochu, including umeshu from nearby Kaga. And, since Ishikawa Prefecture consumes the most ice cream per household in Japan, why not go truly local and order some green tea and vanilla soft cream for dessert?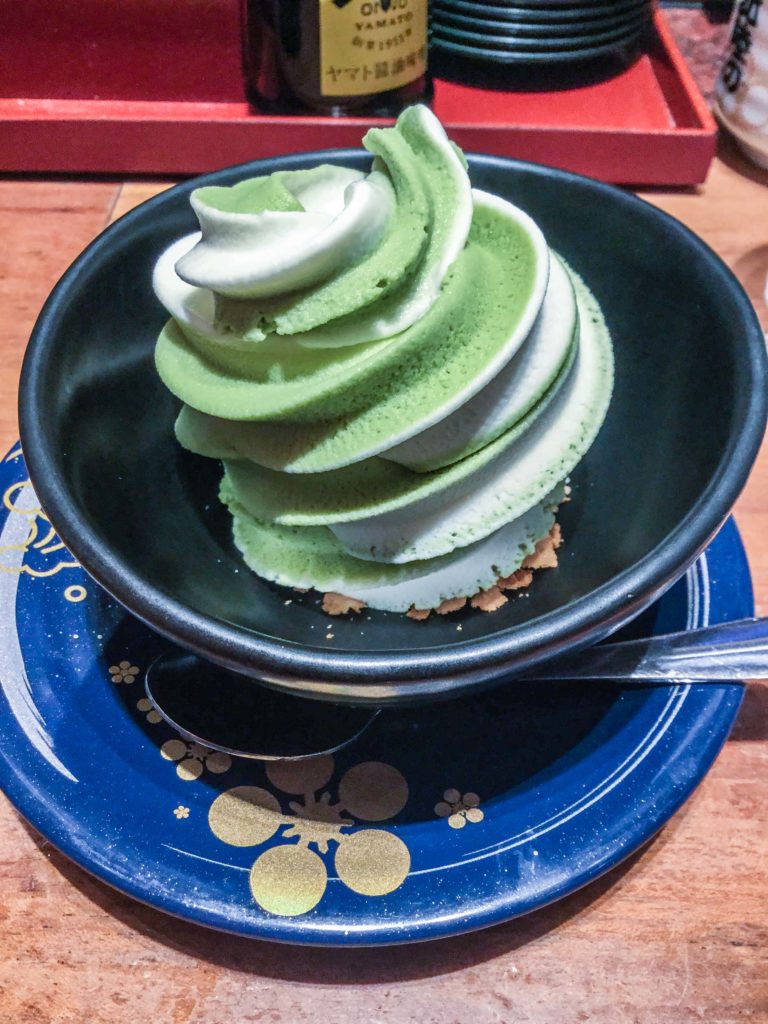 In Kanazawa, there are two locations. One is located inside the Forus shopping mall at Kanazawa station—convenient for travelers coming in or out of town. The other is inside the historic Omicho fish market. Be aware, however, that the hours of the Omicho location are consistent with the hours of the fish market, and it is not open for dinner.
Name: Mori Mori Sushi Kanazawa Ekimae.
Address: 3-1 Horikawashimmachi, Kanazawa Forus 6F, Kanazawa 920-0849 (map).
Open: 11:00-22:00.
Name: Mori Mori Sushi, Omicho.
Address: 88 Aokusamachi, Kanazawa 920-0907 (map).
Open: 7:00-17:00.
URL: link
Post by Japan Journeys.