For lovers of Japanese culture and history, a visit to Kanazawa is a must. Although its location is a bit remote, the Hokuriku Shinkansen from Tokyo and express trains from Kyoto make a side-trip here quite feasible. Catch all the historic highlights in this one-day Kanazawa itinerary.
Kanazawa is not a big city, and luckily, all of its major sights are quite close together. While one can do it as a day trip, you should stay for a night or two to really see all of its attractions without rushing. With this in mind, we recommend the following:
Day 1: Afternoon arrival in Kanazawa. For dining, check out the Korinbo district or restaurants around Kanazawa Station.
Day 2: Spend a full day sightseeing, following the Kanazawa itinerary below. Your route will take you on a clockwise tour beginning and ending at Kanazawa Station.
Day 3: Morning departure from Kanazawa.
It is possible to see most of the city by foot, but to maximize your time, get the Hokutetsu Bus One-Day Pass for ¥500. You can purchase this pass at Kanazawa Station. Read on for the perfect Kanazawa itinerary, and click here for a Google map of this route.
Higashi-Chaya
After a good night's sleep and breakfast at your accommodation, head over to Kanazawa Station around 9:30am to buy your bus pass. Your first stop will be Higashi Chaya, one of Kanazawa's three historic teahouse districts. From the station, take the Kanazawa Right Loop Bus to Hashibacho (stop #4), about a 10 minute ride.
It's easy to see why Higashi Chaya is the gem of Kanazawa, with its streets of beautifully preserved Edo-era teahouses. Many of these buildings are now shops and restaurants, but a few are still run as teahouses complete with geisha performances. To get a glimpse of Japanese culture during the area's heyday, stop by Shima Geisha House. Inside, you can see performance spaces, the geishas' dressing room, and guest rooms. There are also displays of musical instruments, geisha accessories, and utensils for tea ceremonies. Admission to Shima Geisha House is ¥500.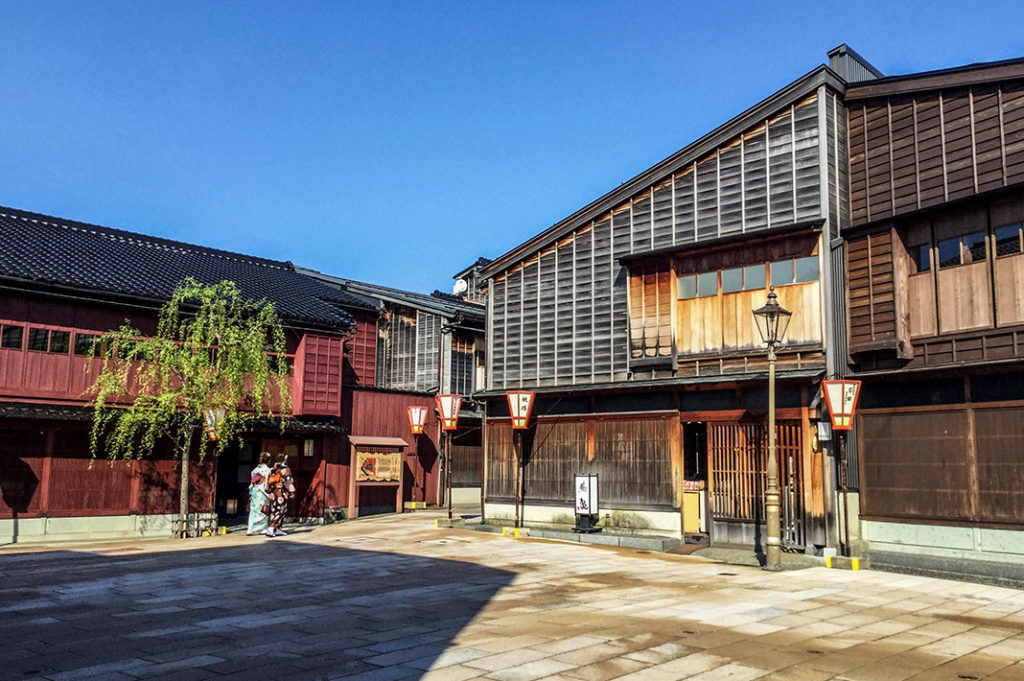 Higashi Chaya is a great place to shop for souvenirs, particularly Kanazawa's famous gold leaf crafts. If you have time, cross to the other side of the Asano River for a walk around Kazue Machi. This district is more exclusive than Higashi Chaya, but, as a result, less touristy, and very photogenic.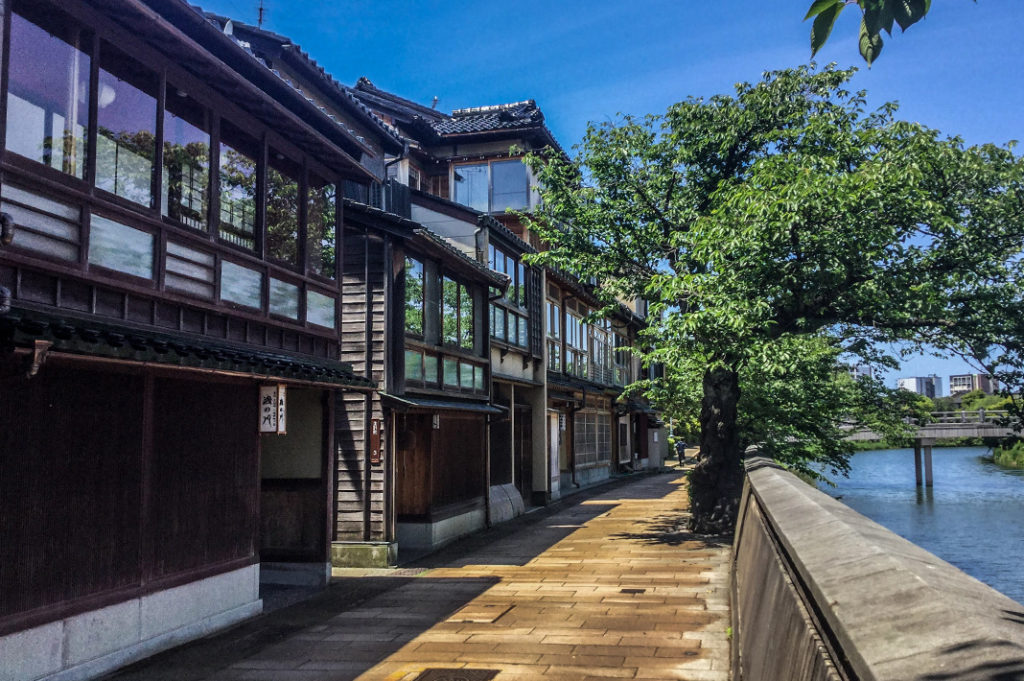 Kanazawa Castle
For the next stop in our Kanazawa itinerary, take the Kanazawa Right Loop Bus to stop #7 for Kanazawa Castle. From the bus stop, walk up the hill to the bridge and enter the castle park through the Ishikawamon Gate. While most of the buildings are restorations, this ornate gate is an original from 1788. It is most impressive during the spring, when the gate is flanked by dreamy cherry blossoms.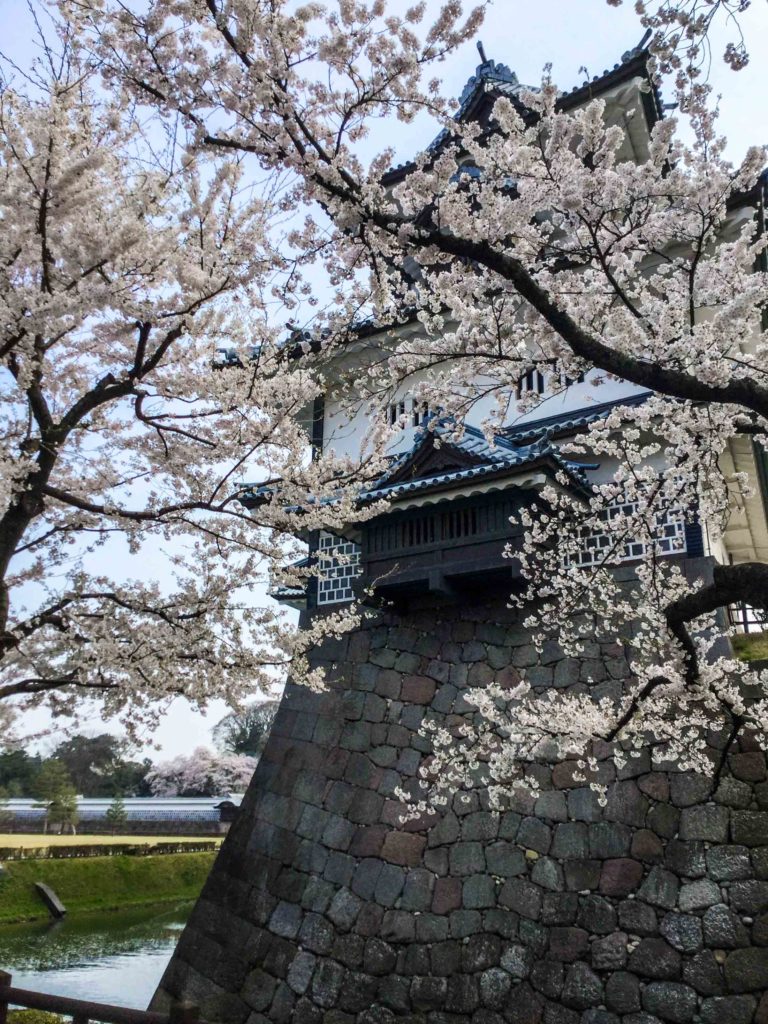 Have a wander around the vast grounds, taking in the atmosphere of this important castle. This is where Kanazawa's founding father Toshiie Maeda and his clan ruled for 300 years. To learn more about its history and construction, check out the exhibits inside the Kahokumon Gate and Gojikken Nagaya storehouse. Admission to the storehouse costs ¥310, but it is worth it for the view of the city from the turret windows!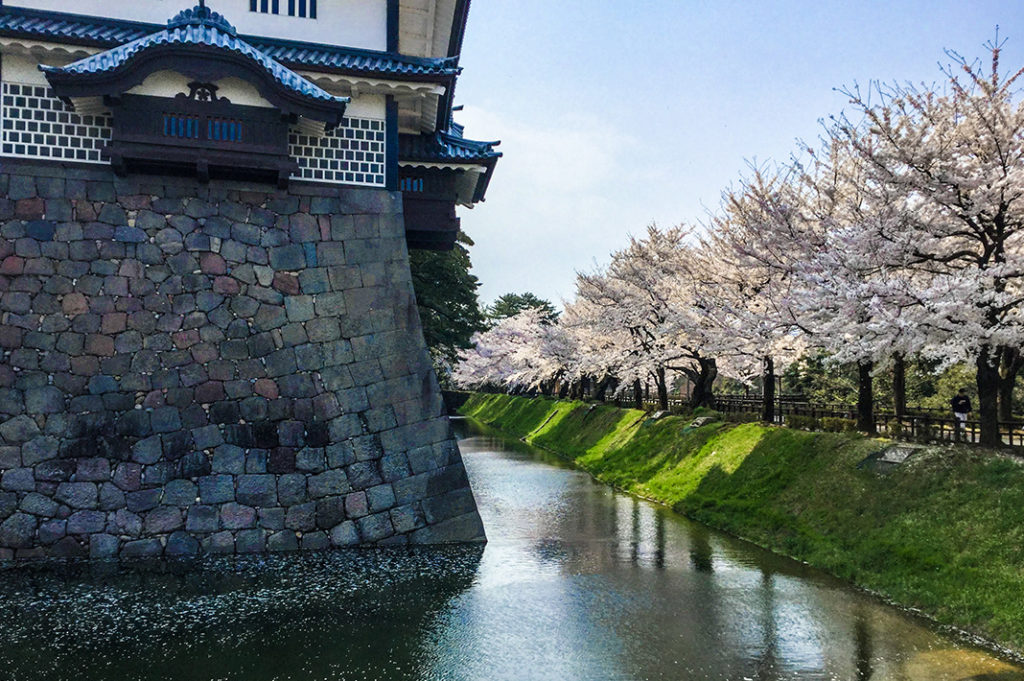 Kenrokuen Garden
When you are finished at the castle, simply cross back over the bridge to Kenrokuen Garden, the next stop in our Kanazawa itinerary.
Kenrokuen's fame as an icon of Japanese culture is rightly deserved. By Asian gardening standards, it is considered a perfect garden, and contains all of the six ideal features. (Read more about them here). It's rather large, so allow one hour to stroll its paths and take in its beautiful ponds, statuary, and flora. It's lovely to visit any time of the year, but the sakura in spring and momiji in autumn make it extra special.
If you need a break, pop into one of the dainty tea houses on the premises for a snack or matcha tea. Admission to Kenrokuen is ¥320. However, the garden is free during the cherry blossom season and also for special events throughout the year.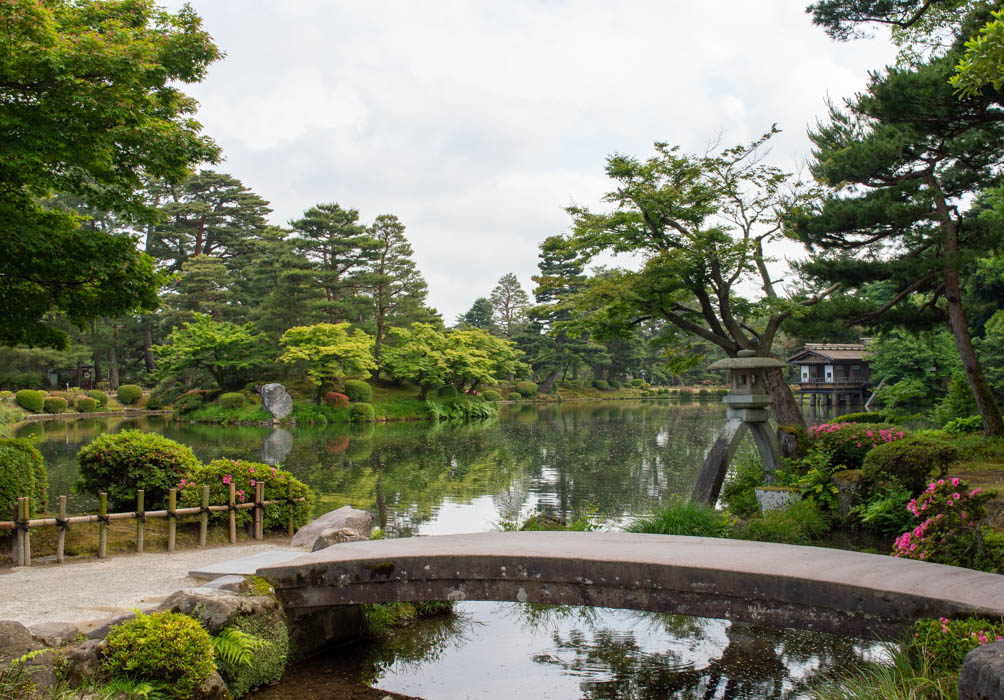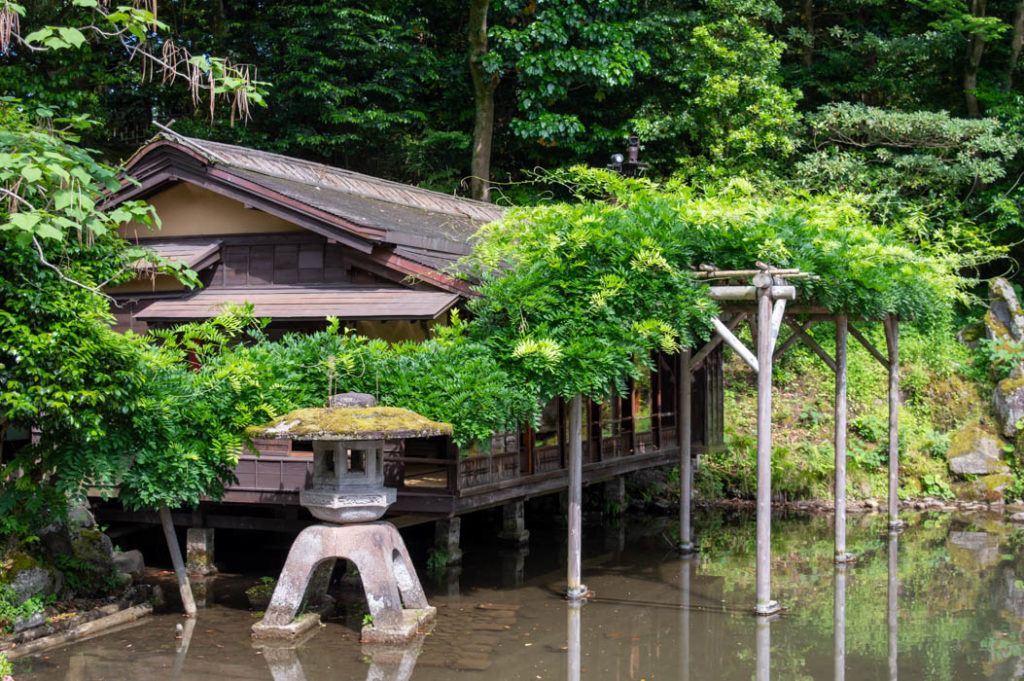 21st Century Museum
For a different side of Japanese culture, cross the street to the playful 21st Century Museum of Contemporary Art. If you're feeling peckish or dawdled too long at the previous sights, this one is optional. But for art fans, this museum should be a priority.
One value of the museum is accessibility. With this in mind, there are two ways to experience 21st Century Museum. Those short on time or cash can enjoy the free public zones. These include all of the interactive installations on the grounds and the viewing zone for Leandro Elrich's The Swimming Pool, the museum's most popular piece.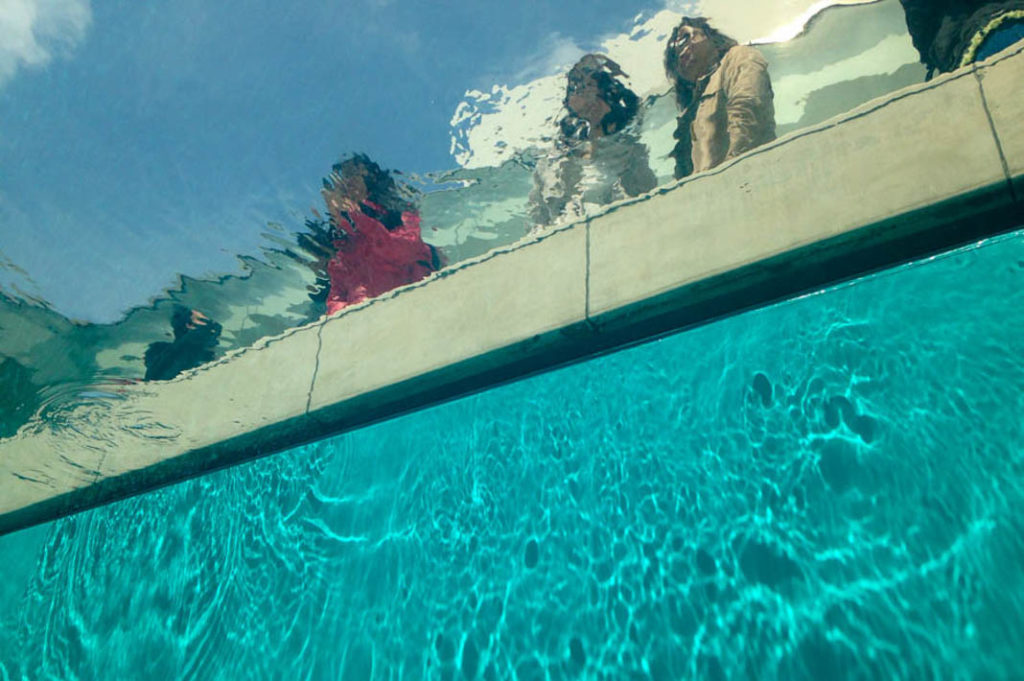 If you have time, the paid exhibition zones house visiting exhibitions of contemporary artists as well as the permanent collection and entry to The Swimming Pool. Admission to the paid zones vary based on exhibit. Facilities also include a restaurant, tea rooms, children's playroom, theatre, and a wonderful gift shop.
After 21st Century Museum, you can take the Kanazawa Right Loop Bus to Hirokoji (stop #11) to visit Nishi Chaya, Kanazawa's third teahouse district. But if you are short on time, continue on foot to the next stop.
Nagamachi District
From the museum, walk east to the Korinbo area and Tokyu Square. Then, head downhill on Seseragi Street, and look out for the blue signs to direct you to our next stop, the Nagamachi District. This is Kanazawa's historic samurai neighborhood, and a great area to walk around and get a taste of life in feudal Japan.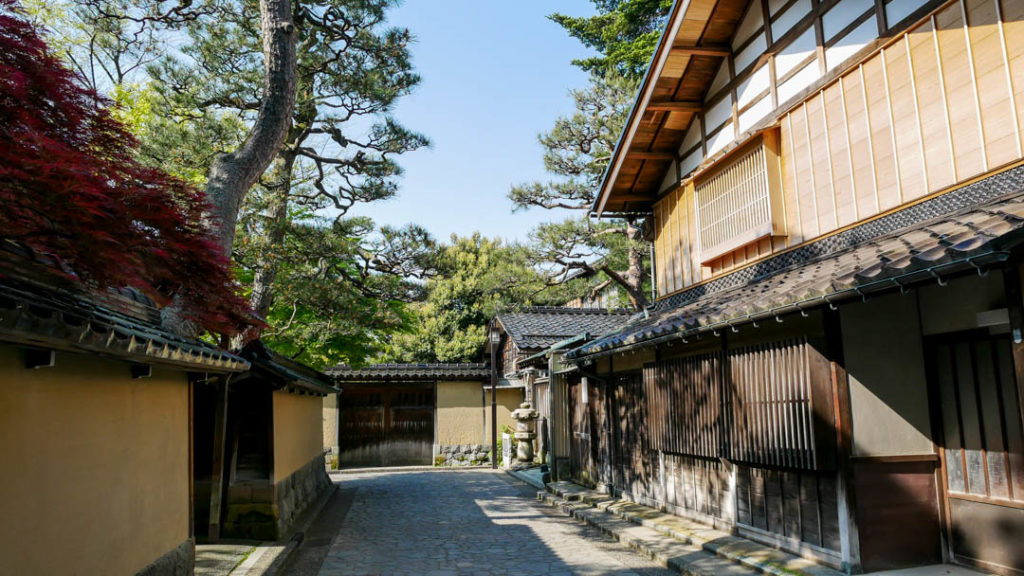 The cobblestoned streets are dotted with the traditional houses of mid to high-ranking samurai. To learn more about Japanese culture, pop inside the Nomura Clan Samurai House. This restored house is a wonderful example of Japanese architecture, and you can see displays of katana blades, letters, and a suit of armor with a hairy moustache. The most famous feature, though, is the garden, which has been designed to look perfect from every angle throughout the house. It is also visible from the second floor, where there is a matcha tea service. Admission is ¥550.
There are other buildings in the Nagamachi District that operate as museums, but quite a few have been turned into boutiques, making this a great area for shopping. We quite like Kaburaki, which specializes in local Kutani-yaki ceramics.
Omicho Market
Head back to Korinbo to take the Kanazawa Right Loop bus to Musashigatsuji (stop #15) for the final sight in our Kanazawa Itinerary. Kanazawa is famous for seafood, and there is no better place to get it than Omicho Market. This covered market has been feeding the city since the Edo Era and is popular with chefs, locals, and tourists alike.
There are stalls selling seafood, produce, souvenirs, snacks, and even clothing. It's a fun place to taste Japanese culture. Depending on how hungry you are, you can graze from stall to stall, snacking on fresh oysters and scallops or grilled skewers of eel and other local fishes. For a sit-down meal, duck into any restaurant that looks good for kaisendon, a bowl of warm rice topped with sashimi-style fish. The seafood here is as fresh as it gets!
Omicho Market is open until 17:00. If you don't have time to visit it during your sightseeing day before closing hours, consider stopping by in the morning before leaving town. Sushi breakfast, anyone?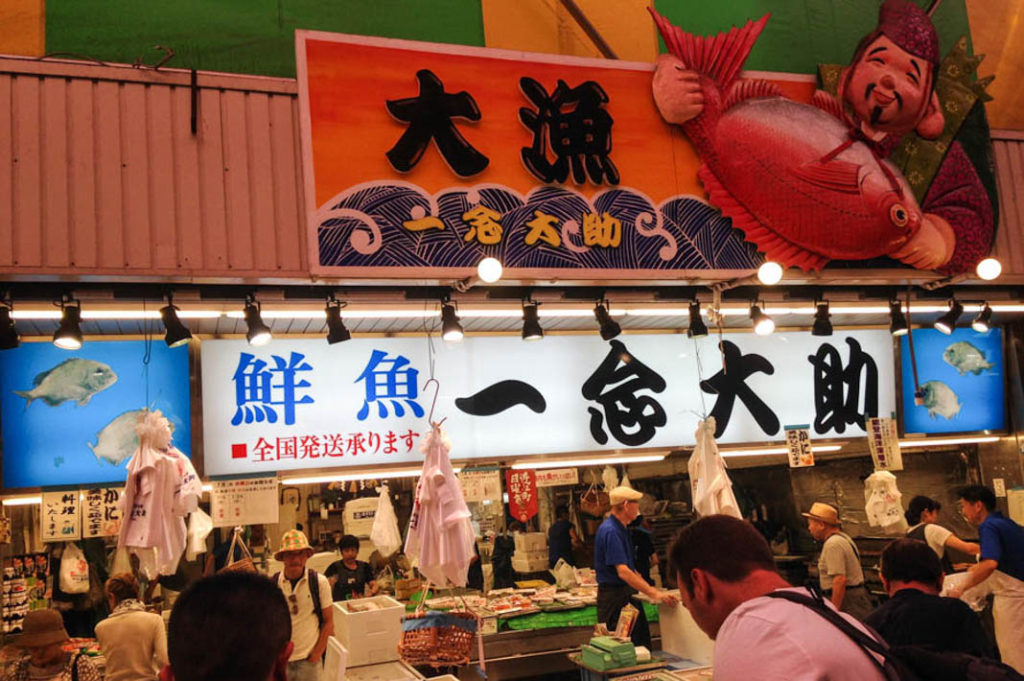 End your day by taking the Kanazawa Right Loop Bus back to Kanazawa Station (stop #0). There are plenty of restaurants in the Hyakubangai shopping area of the station, or at the food court of the Forus shopping mall. Or consider heading down to Katamachi, the city's buzzing nightlife district, to get your grub and drink on!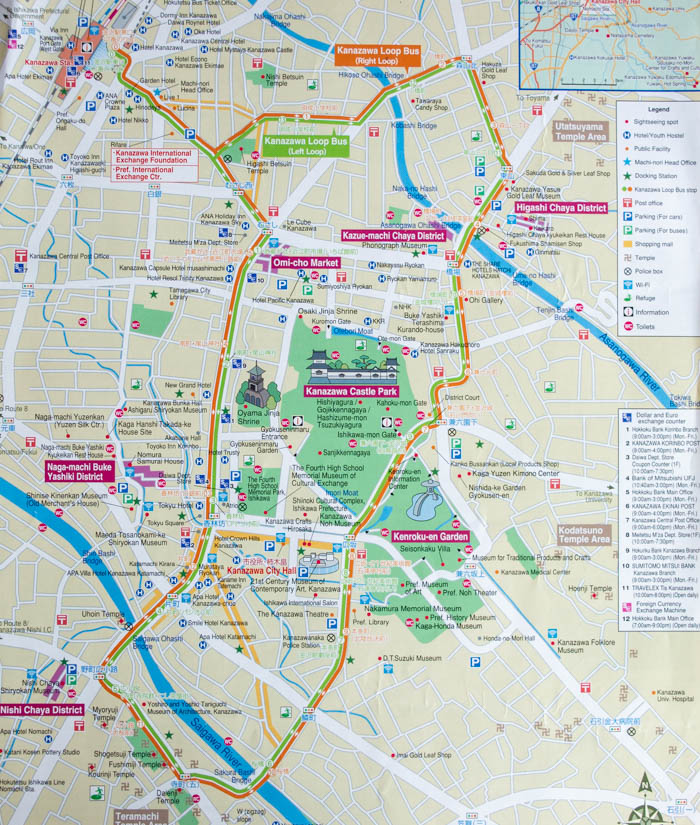 Getting to Kanazawa
From Tokyo: Take either the Kagayaki (2 ½ hours; ¥14,000) or the Hakutaka (3 ½ hours; ¥14,000) on the Hokuriku Shinkansen. While the Kagayaki is shorter, note that this train is all reserved seating.
From Kyoto: Take the JR Thunderbird limited express (2 hours; ¥6,400). Seat reservations are not required.
Post by Japan Journeys.