Anyone in Japan (or surveying it via Instagram) knows that pancakes are it and a bit. The fluffier and more kawaii, the better. Osaka pancake purveyors Shiawase no Pancake (a Happy Pancake) opened in 2015 and have since expanded operations all over Japan and abroad. Today we visit A Happy Pancake Kyoto to sample their limited Kyoto only menu featuring, you guessed it—Kyoto matcha pancakes.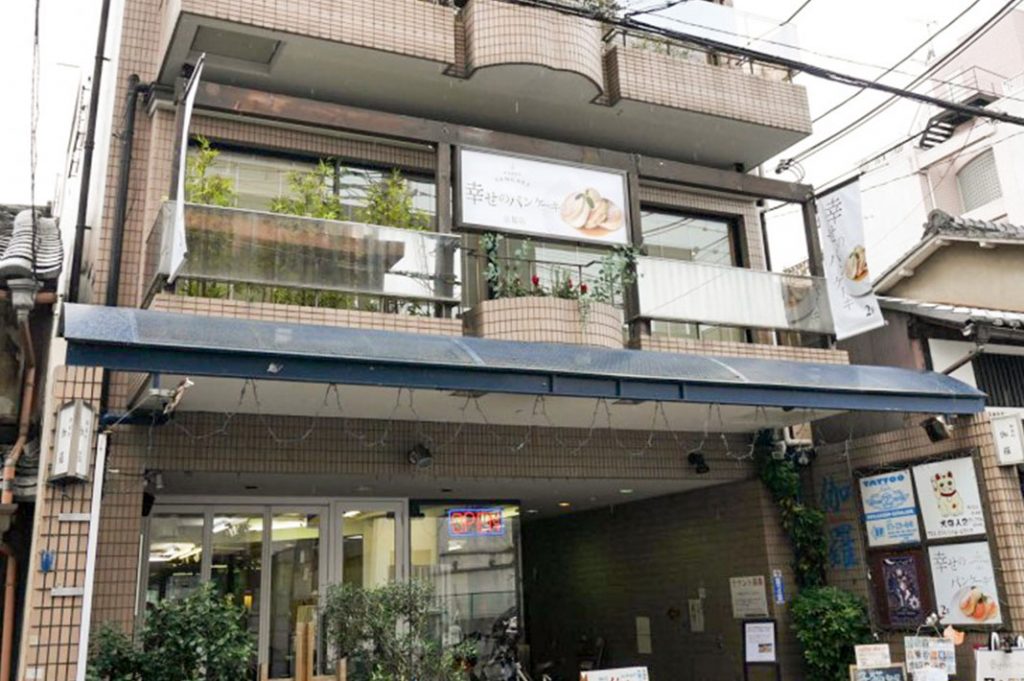 A Happy Pancake Kyoto
A Happy Pancake is located a short (5–10 minute) walk from Kawaramachi, Sanjo and Karasuma Stations. The interior of the store is open, airy and relaxed with a Kyoto colour scheme. It's a great place to enjoy a pancake.
Speaking of, the menu features a range of fruity and sweet pancakes, available individually or in sets. Everything from tiramisu to chestnut to seasonal fruits. This company uses pure New Zealand Manuka honey and fresh Hokkaido butter; it's no wonder their pancakes are winning awards.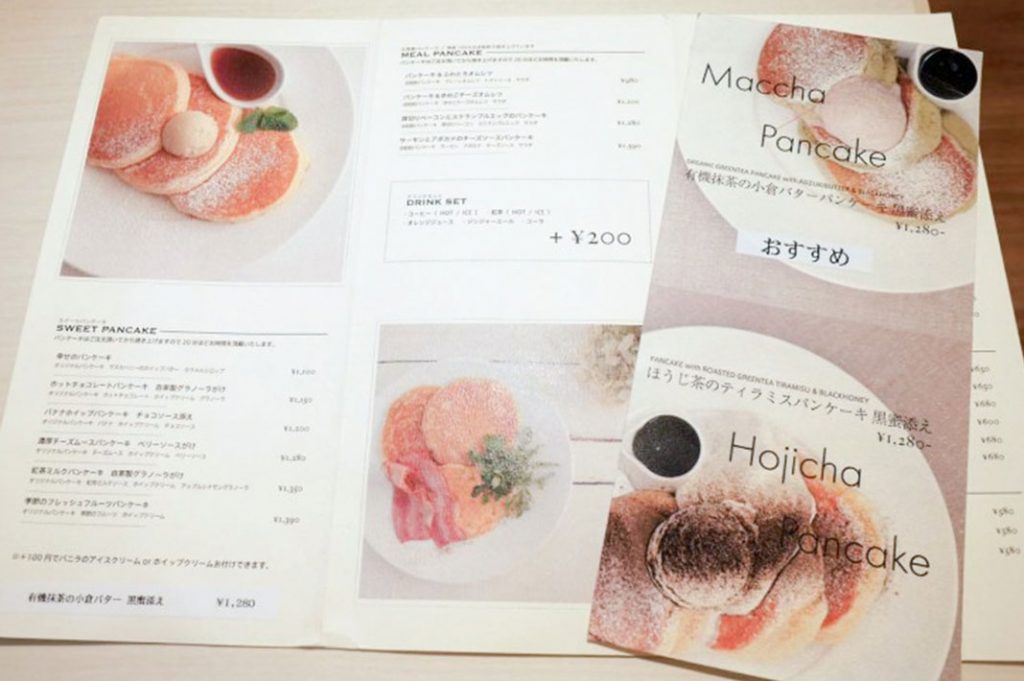 Be forewarned, these delicate, fluffy treats take around 20 minutes to prepare. Though if you queued to get in, surely a little longer can't hurt. 'When in Rome' as the saying goes, we went for the Kyoto-only menu item: the 'Organic Matcha Green Tea Pancake with Ogura Butter and Black Honey'.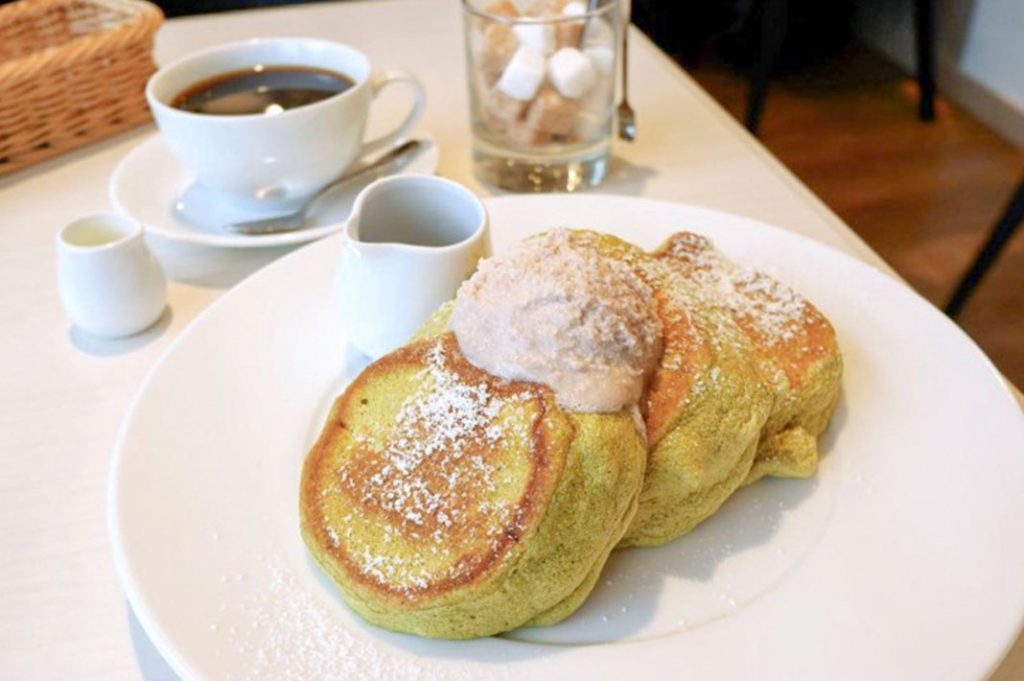 Green Tea Pancake
This thick, fluffy pancake is lightly browned on either side and has a rich green tea aroma. Ogura butter (a butter blended with sweet bean paste) sits proudly on top with a serving of black honey for drizzling. Kyoto is well known for green tea, so this is certainly the place to try a decadent matcha dessert like this.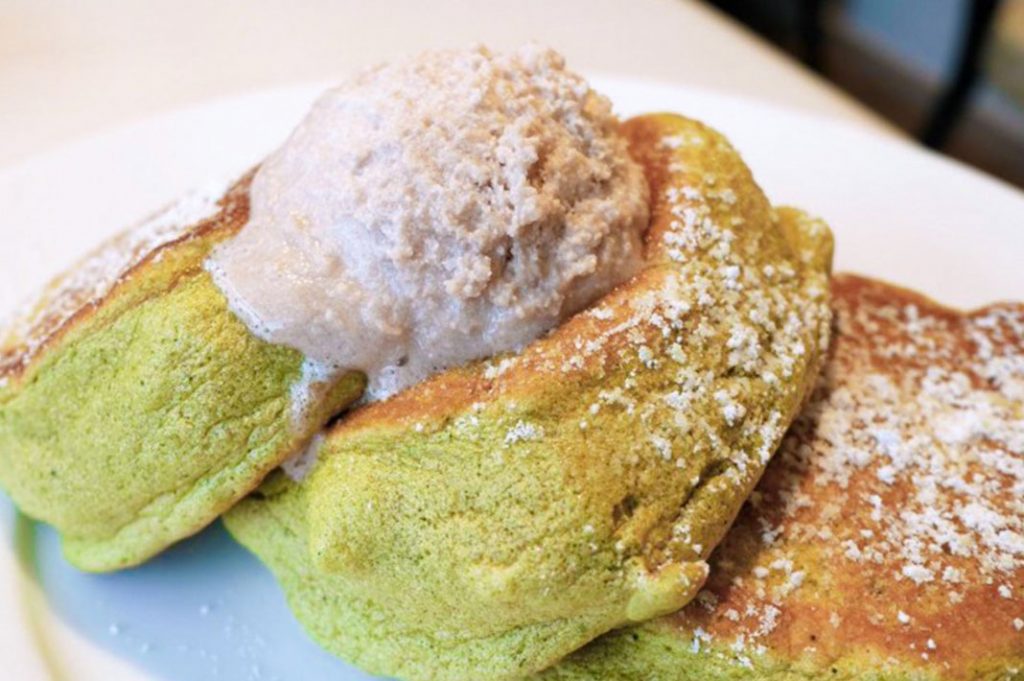 The ogura butter, a beautiful balance of salty and sweet, slowly melts in the pancake's heat. Lashings of black honey melt into the mix and go nicely with the rich tea flavour.
The baking powder in the batter is the secret to the fluffy, spongy texture. When you cut into the thick pancake steam rises up, giving you a hint to the flavour you will soon enjoy. One mouthful of the sweet, gooey dish and you won't be able to stop until every last bite is gone.
A cup of coffee
A Happy Pancake use coffee beans sourced from Japanese craft brewers, Streamer Coffee Company. These guys take their coffee seriously and it shows. They came to public notoriety when Brewer Hiroshi Yamada took out first place at the World Freepour Latte Art Championship.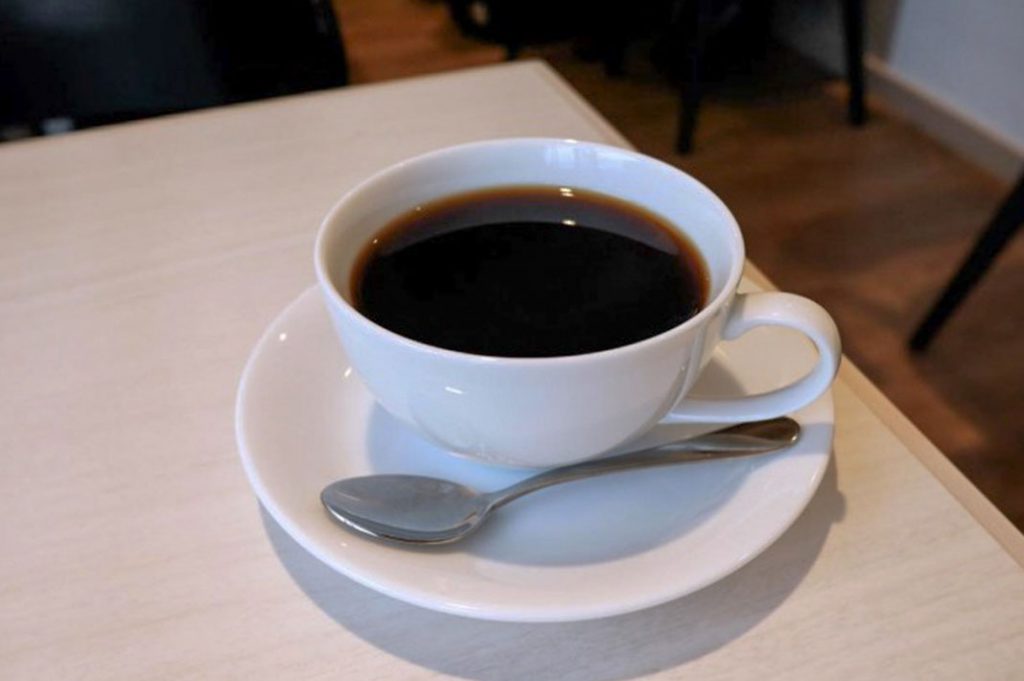 While in Kyoto, why not try one of these limited edition fluffy pancakes. It will make you feel happy, it's in the title after all. We'd recommended making a reservation beforehand or you may face a wait outside.
Address: Parade Building 2F, 354-1 Iseyacho, Kyoto
Weekdays: 10:30–20:30 (LO 19: 40)
Saturdays, Sundays, and holiday 10:00–20:30 (LO 19: 40)
You can reserve online https://magia.tokyo/reserve/
Post by Japan Journeys.