Osaka is Japan's second largest city, which may leave you wondering exactly where to go for some guaranteed fun? That's easy! Head to Dotonbori, Osaka's best entertainment district since the 1600s. Once scattered with kabuki theatres, these days Dotonbori is more about giant signage, neon billboards and dining. This open-air pedestrian arcade spans the eight or so blocks between Nihon Bridge and Daikoku Bridge, running parallel to the Dotonbori canal. Along it, you'll find restaurants serving local cuisine as well as a number of bars and shops. Come with us as we explore some of the very best dining in Dotonbori.
Come for the food…
People from Osaka have had a long term love affair with their food. There is even the local expression "kuidaore" which means something like "eat 'til you drop" or "eat 'til you're broke". That's a statement we can get behind. In terms of food exports, perhaps the most famous cuisine to come out of Osaka is konamon, or flour-based dishes. This includes both the beloved takoyaki and okonomiyaki. With one of the most vibrant food scenes in Osaka, you can definitely find plenty of konamon in Dotonbori—not to mention other local favourites like kushikatsu, sushi, ramen and curry. Take your pick!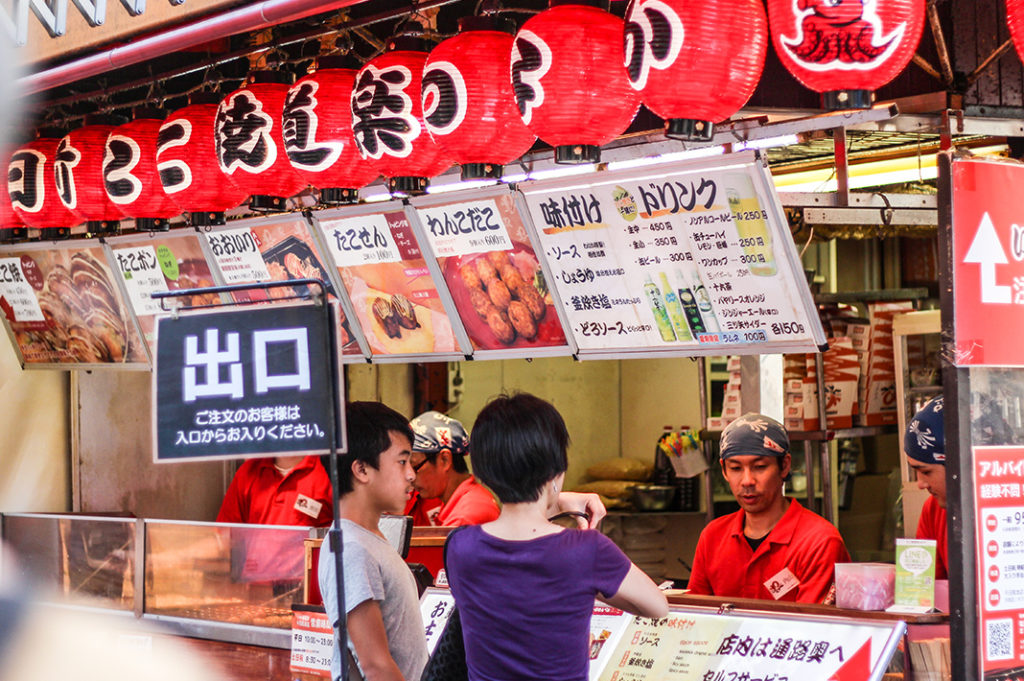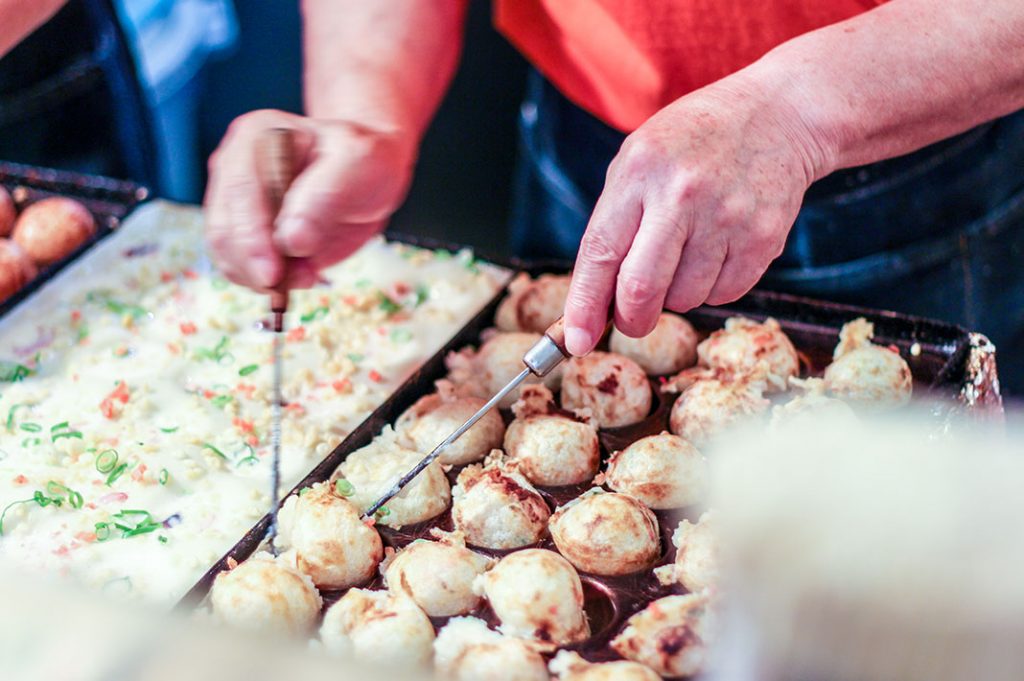 Stay for the giant signage
One of the first things you're sure to notice in Dotonbori is the giant 3D signage hanging off many of the restaurants. These whimsical sculptures make for great photos, but their prime function is to draw you into the businesses they adorn. It's like a game of giant signage one-upmanship and we can't get enough. Here are some of our favourites:
Kani Doraku moving crab
Waltzing down Dotonbori, it's pretty hard to miss the giant moving crab on the Kani Doraku restaurant. Although, it's understandable if you follow your nose there instead; out front, a chef stands grilling fresh crab legs for take away snacks. And crab is the name of the game at this restaurant. They are perhaps best known for a dish called "kanisuki" which is a sukiyaki-style hotpot featuring crab (kani).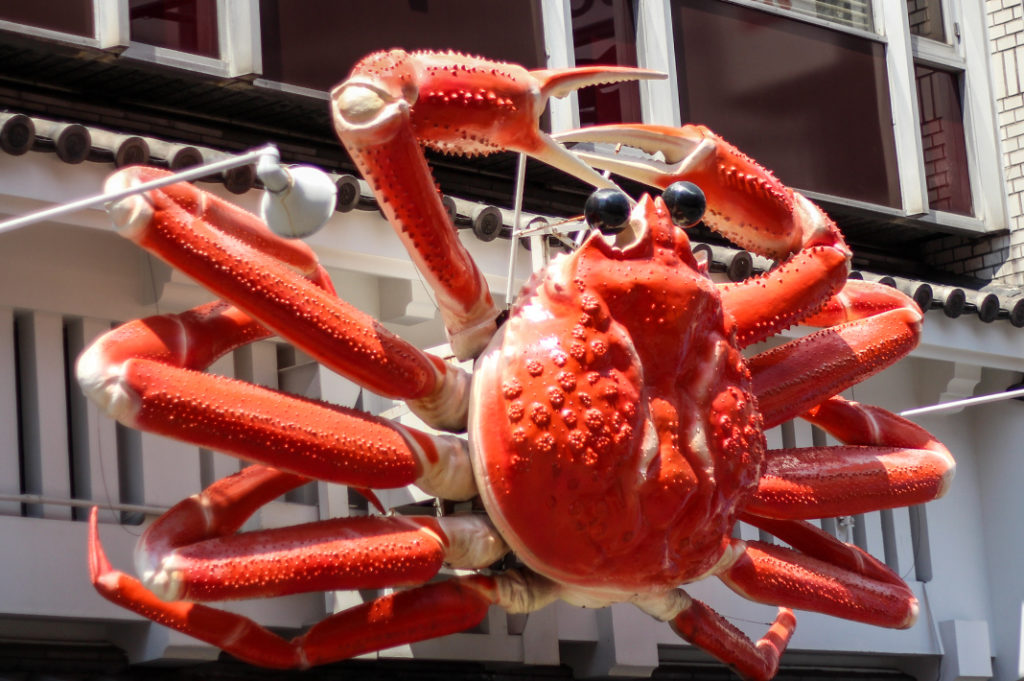 Konamon Museum Giant Octopus
The clue to what this giant octopus is spruiking lies in his tentacle—that's right, takoyaki! This building houses a takoyaki shop on the ground floor and a Konamon Museum (flour-based foods) upstairs. Head up to check out plastic "sample foods" and learn to cook your own takoyaki. As it's a popular attraction, it's best to reserve ahead, particularly on weekends.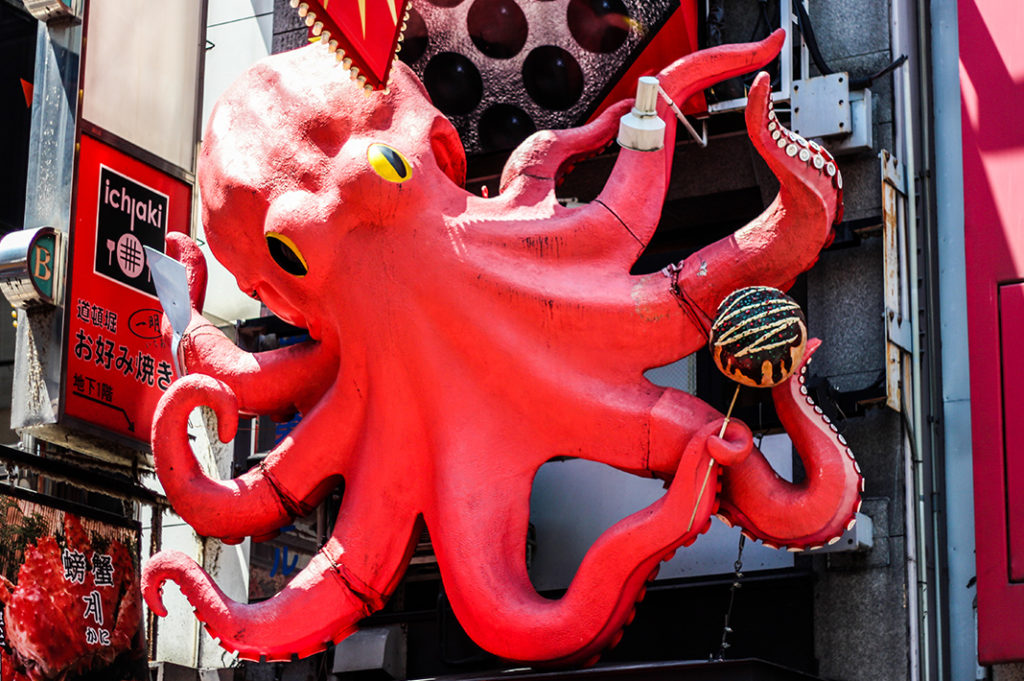 Daruma's Kushikatsu Man
Contrary to the look on his face, this intense fellow actually wants your custom. He's the mascot of Osaka's most popular kushikatsu chain, Daruma. This local fast food favourite involves skewered meats and vegetables which are crumbed and then deep fried. The mascot's gripe? That you don't break the most important rule when eating kushikatsu: no double dipping in the communal sauce!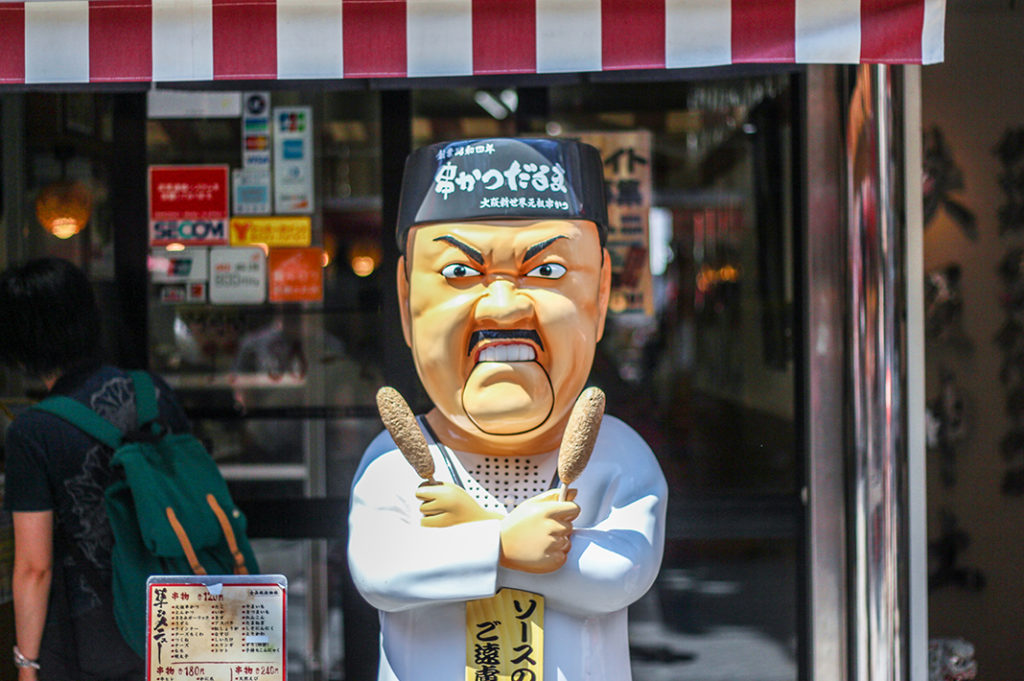 Zubora-ya Giant Pufferfish
Fugu, or pufferfish, is everywhere in Osaka; it makes sense that around 70% of all domestic fugu consumption happens right here. Prepared incorrectly, this fish is deadly. Prepared expertly, you're likely to experience a light tingling on the lips and tongue. It's a thrill-seeker's dream. And in Dotonbori, the most popular spot to tempt fate is at Zubora-ya. Popular fugu dishes are "tessa" (thinly-sliced raw blowfish) and "tecchiri" hotpot.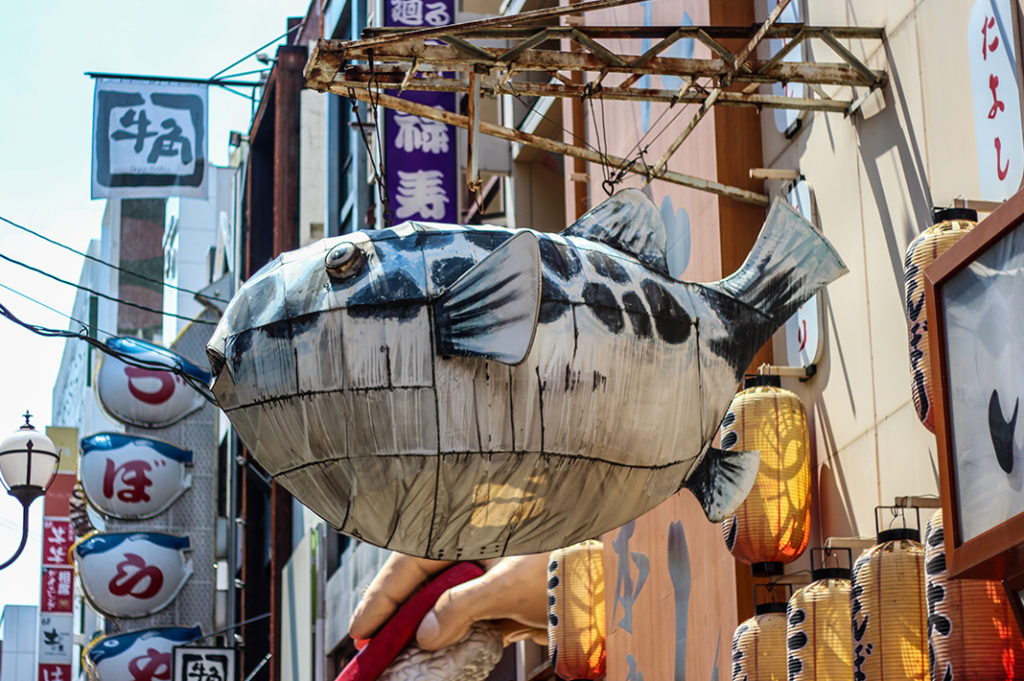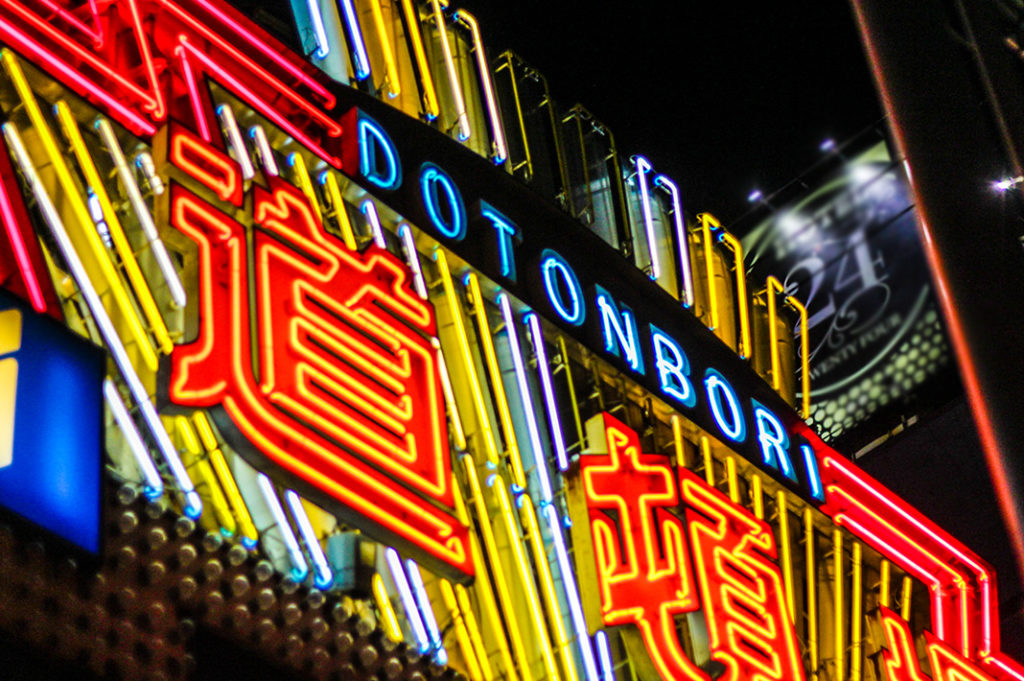 Dotonbori Nightlife
Like many places in Japan, things really liven up at night in Dotonbori. After dinner, people start (or continue) drinking at the local bars, long into the night. (Check out our article about the Elvis themed bar.) Stay 'til closing time and you may just emerge to a very different scene. One with security guards on patrol, salarymen passed out and some guy peeling old skin off his pet snake.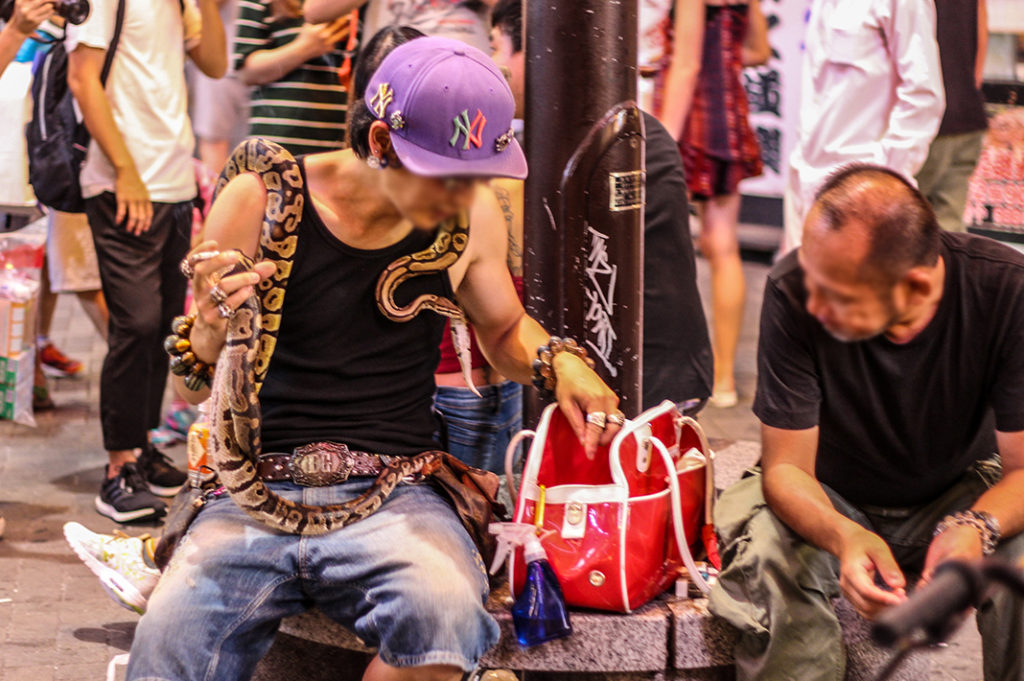 As shocking as that may sound, there are still plenty people around that it feels pretty safe. That's the beauty of Japanese nightlife.
So, if you're looking for somewhere to while away the afternoon or evening in Osaka, head to Dotonbori. And remember, no double dipping the kushikatsu!!
Getting to Dotonbori
Dotonbori is located in the Minami (south) district of Osaka. From Namba Subway Station, it's just a short four minute walk. Click here to see more things to do in Osaka.
Post by Japan Journeys.