The Arakawa River begins on Mount Kobushi and snakes through Saitama Prefecture on its way to Tokyo Bay. It flows for 173km through scenic landscapes and urban sprawls, but it's the 6km stretch known as the Nagatoro Valley that has truly captured the attention of the tourist crowds. This picturesque valley, just 2 hours from Tokyo, is a haven for hiking, boating and seasonal foliage. But it's not just a tourist hotspot; Nagatoro is also of great interest to the geology crowd. The area is rich with remnants of ancient tectonic movements, most curious of which is the rock formation known as Iwadatami. 
The curious Iwadatami rock terrace 
From Nagatoro Station, follow the main street down to the banks of the Arakawa River, and you'll spot the huge Iwadatami rock terrace. Forged by the ancient ocean currents, and more recently by those of the Arakawa, it's a series of long, flat rocks which spans 80 meters by 500 meters, running along the river bank. When viewed from a height, this natural monument resembles a pile of haphazardly strewn tatami mats, which is how it came to be named. This formation is also accompanied by a variety of potholes, strata, faults and cliffs which give scientists plenty to observe and discuss.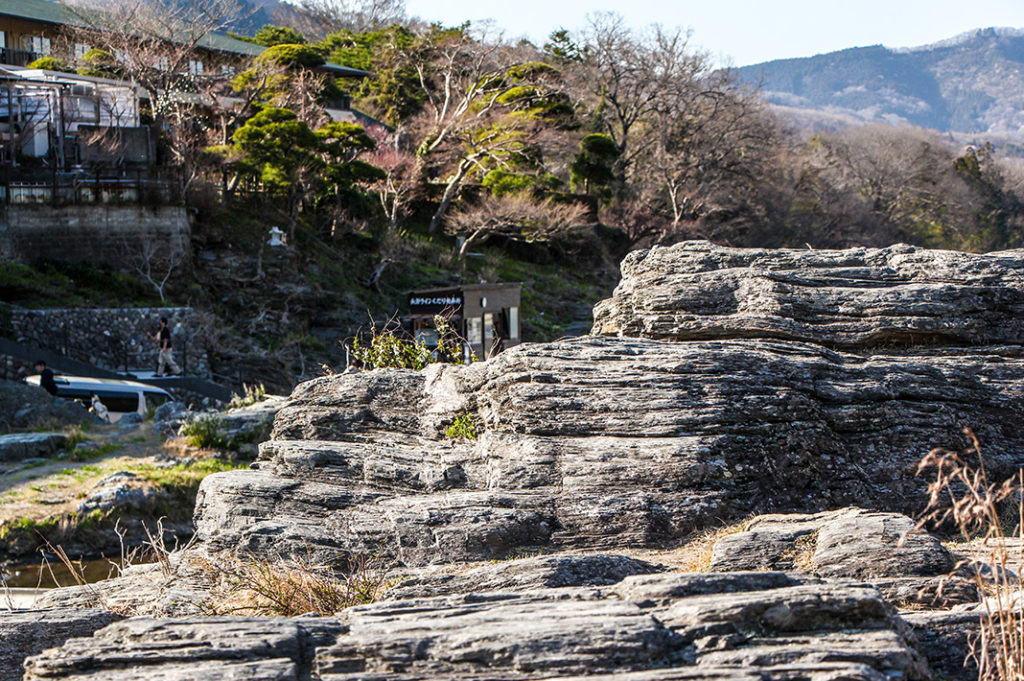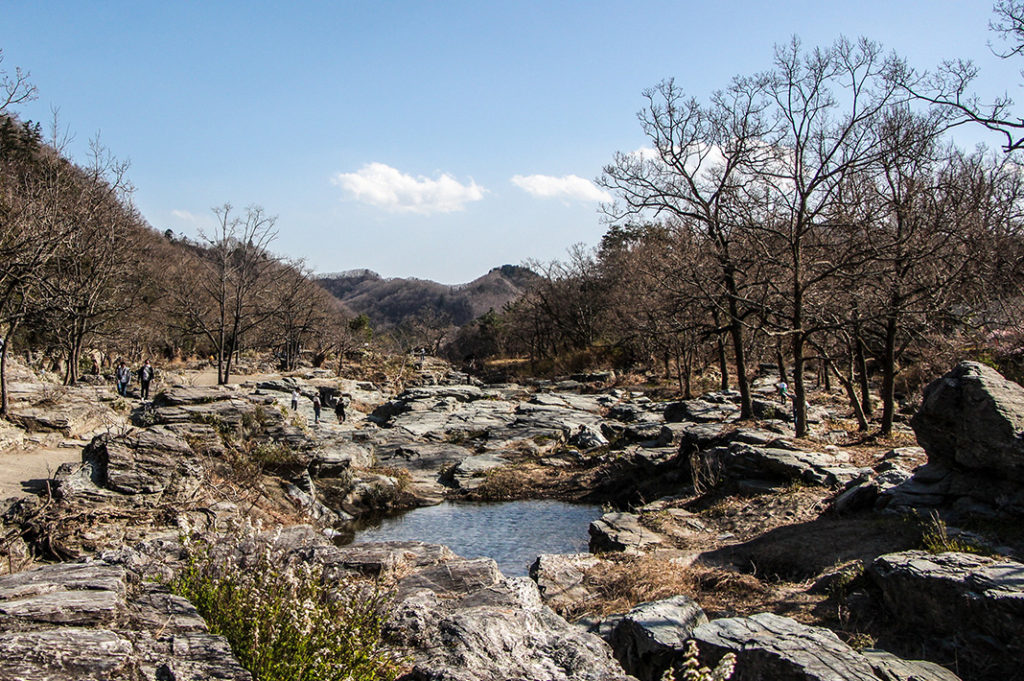 Rock Terrace Fun
For the casual daytrippers, though, the rocks are just a fun place to explore. This dramatic natural playground is usually covered with children scrambling, couples posing and people staring contemplatively out at the wondrous scene before them. With the river winding away before you and fresh air in your lungs, it's the perfect place to sit and enjoy a moment of peace.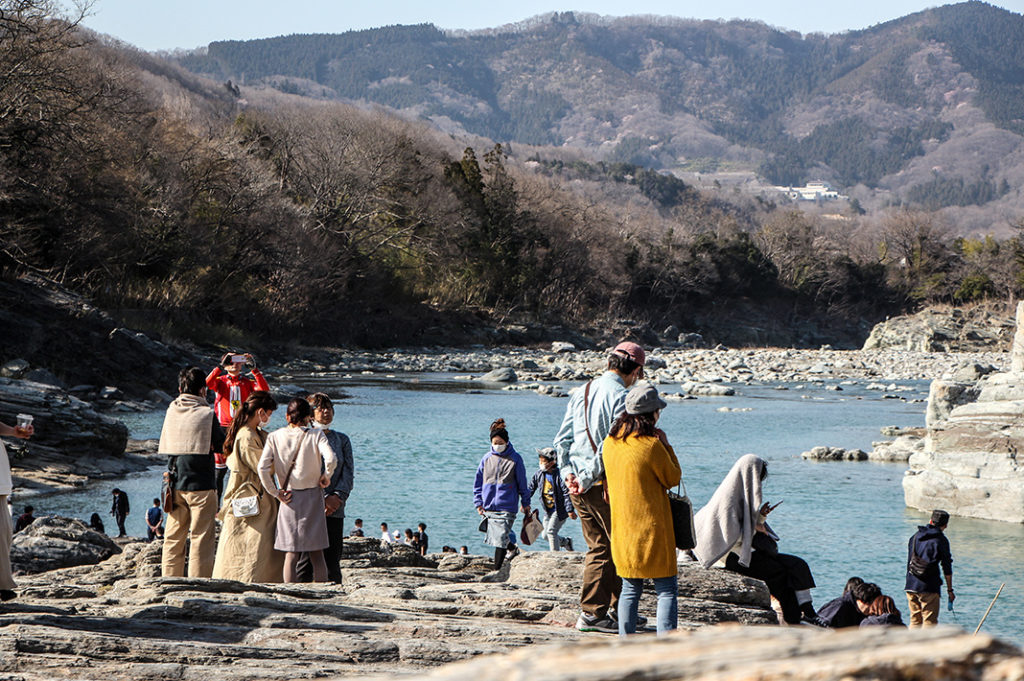 While enjoying the Iwadatami rocks, you'll also see Nagatoro's most popular activity taking place before your very eyes: boating on the Arakawa River.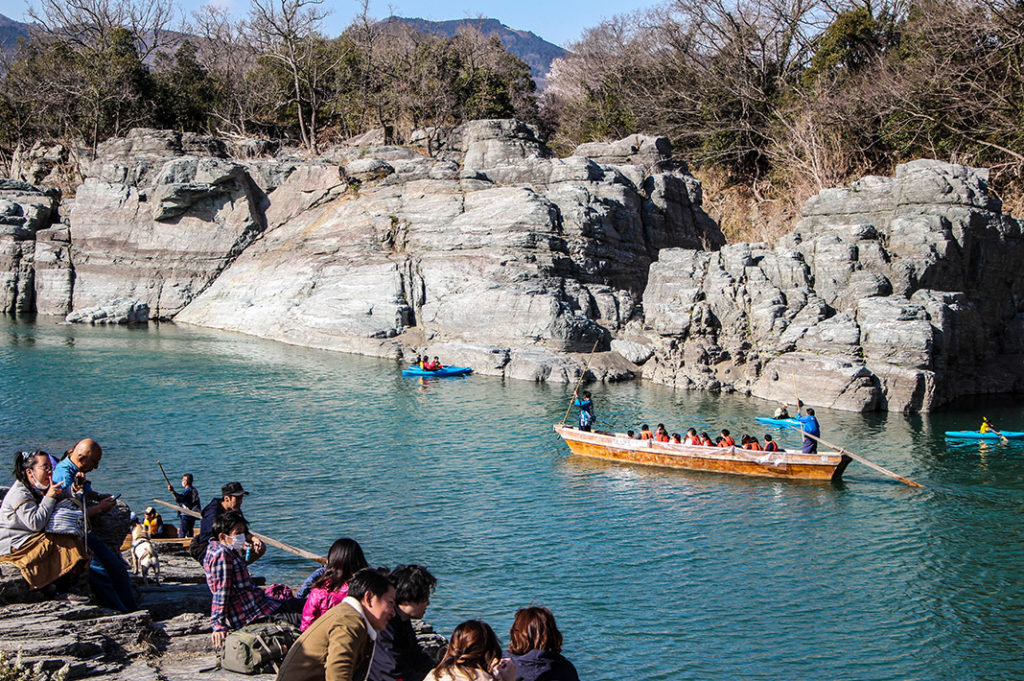 Boat rides on the river
With a wide, gushing river and pristine natural beauty, it's clear why boating in Nagatoro is so popular. Wooden boats seem to drift by the rocks every few minutes, filled with life-vested passengers and captained by a standing figure wielding a long stick. These highly skilled captains expertly navigate the gentle currents and tumultuous rapids of the Arakawa, using only their rudder and a bamboo stick. For those who love the weightless drifting feeling of being on the water, it's a must! You can sit back, relax, take in the scenery and, depending on what course you choose, have a little thrill ride, too.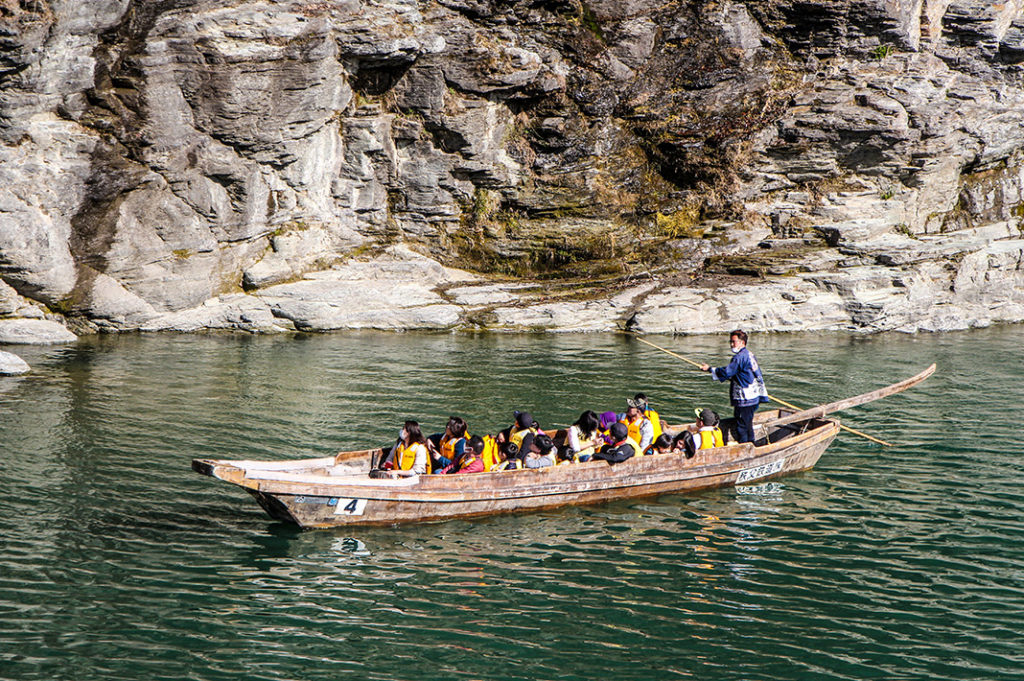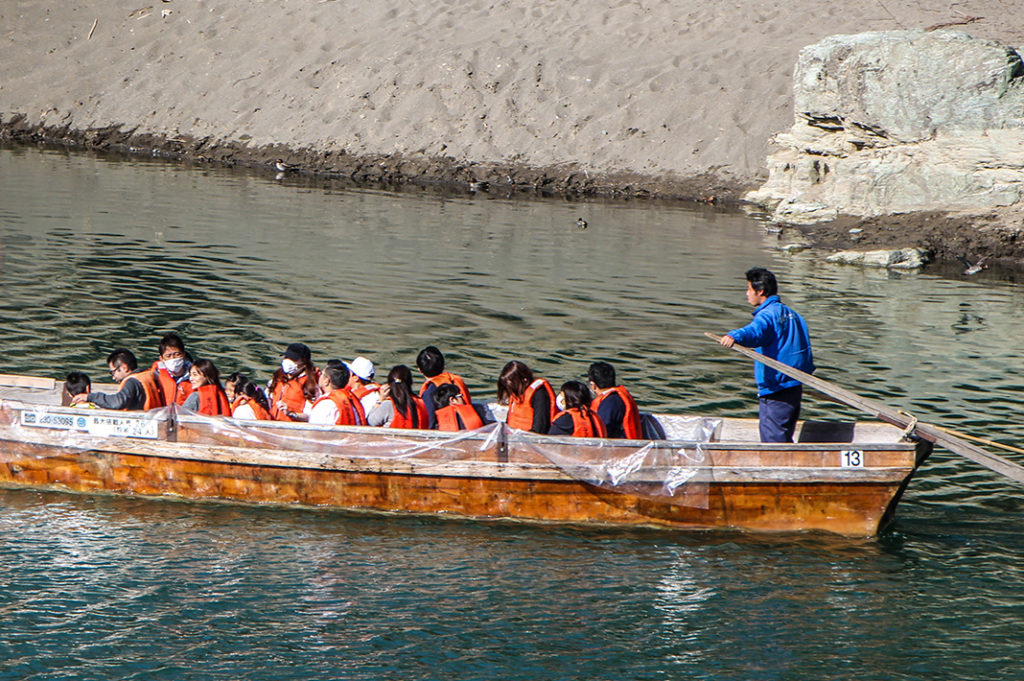 Course A tackles the rapids between Oyahana Bridge and Iwadatami, while Course B is more calm, running from Iwadatami to Takasago Bridge. Each takes around 30 minutes and costs just under 2,000 for adults (kids are half price). For those looking for a longer experience, Course C is a combination of both A and B. It runs just under an hour and costs around 3,000 yen for adults and half that for children.
You can purchase tickets on the day from Arakawa Line Kudari, near Nagatoro Station. However, groups over 10 should try to reserve ahead to avoid disappointment. Tours run at 5-20-minute intervals, wrapping up around 4 pm. It's also worth noting that your ticket includes shuttle transfers to your start- or end-point. Children under 60cm cannot ride but pets can, provided they're in a protective carry case.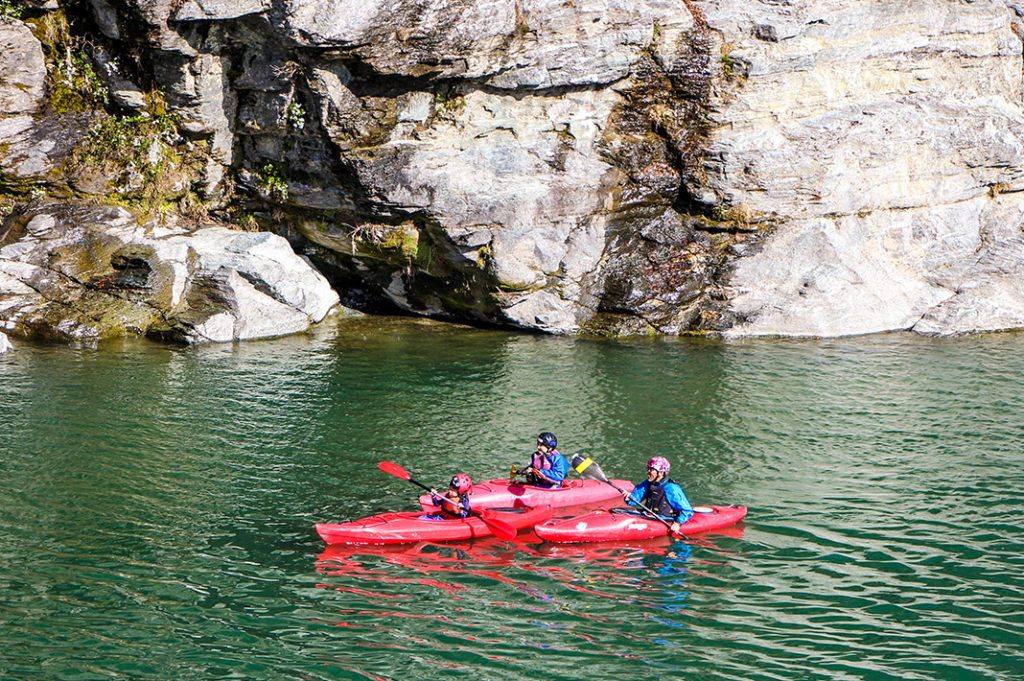 Other water sports  
The wooden boats don't have the monopoly of the Arakawa; you can also kayak and white water raft here. This is perfect if you want to be a little more hands-on. Pop into the Tourist Information Office for pricing and availability.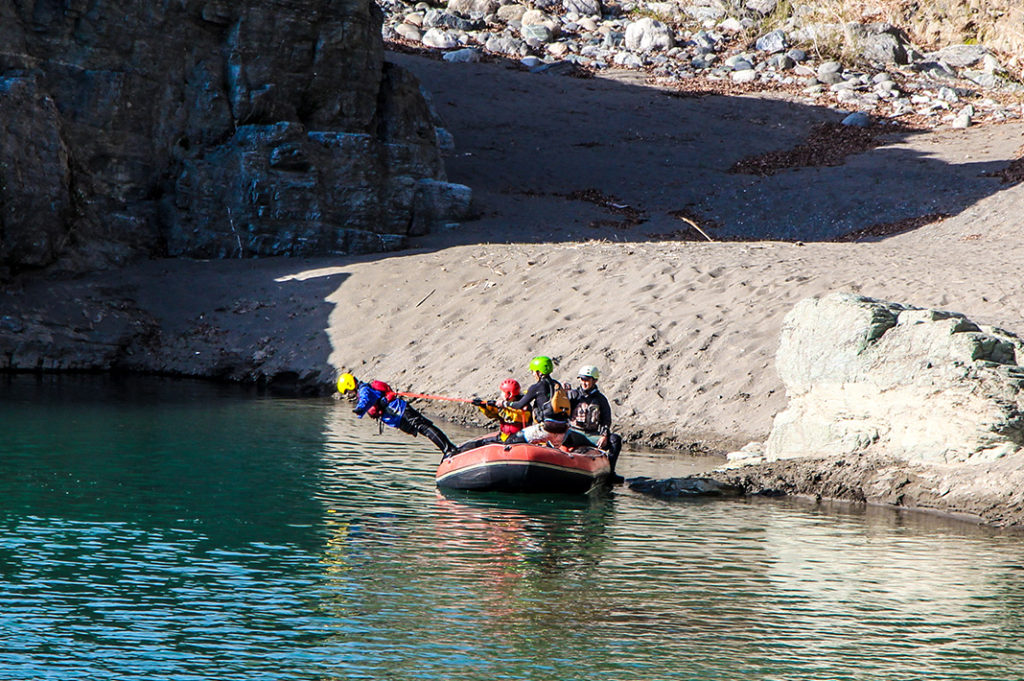 Getting to Nagatoro
You can reach Nagatoro in 2 hours from Tokyo. From Ikebukuro Station, take the Seibu Chichibu Line to Chichibu. Walk 5 minutes to Ohanabatake Station and take the Chichibu Railway toward Hanyu or Kumagaya. Get off at Nagatoro Station.
From Ueno Station, take the Takasaki Line to Kumagaya, then change to the Chichibu Railway toward Mitsumineguchi. Get off at Nagatoro Station.
Name: Iwadatami Rocks
Wooden Boats Open: March to December (heated boats in winter) 9:00 – 16:00
Closed: Jan, Feb and in bad weather (storms, floods etc)
Location: address link
URL: here (in Japanese)
Posy by Japan Journeys.