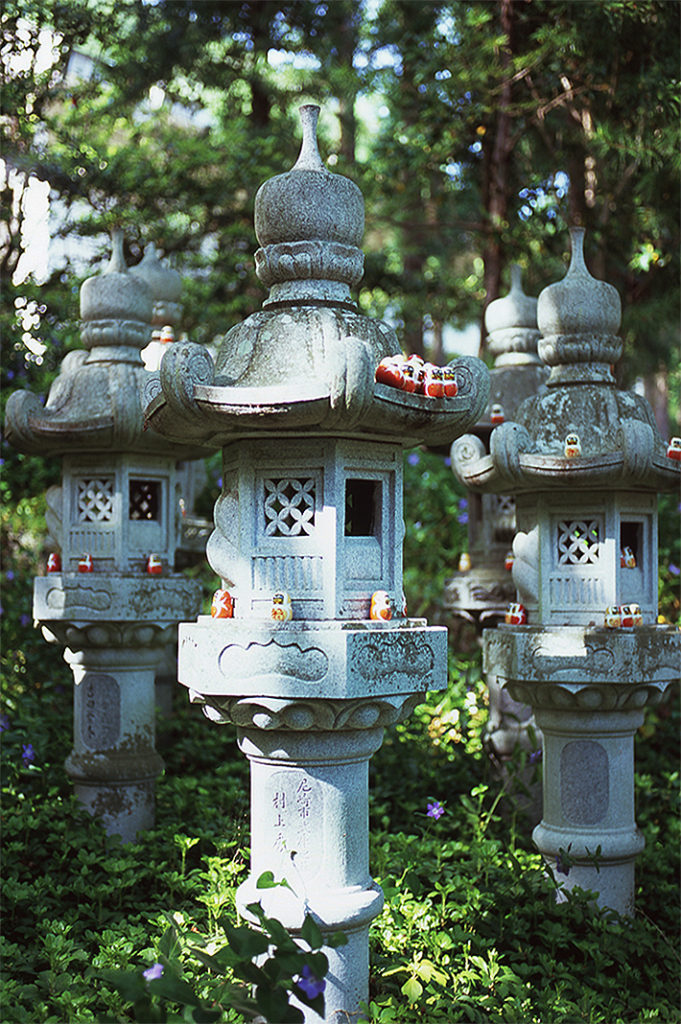 Thousands of 'used' Daruma? Welcome to the mountain temple of Katsuō-ji.
One could say with confidence that the temple of Katsuō-ji could be classed as an 'under the radar' type of location. When people think of Ōsaka, they more commonly think of castles, skyscrapers or Universal Studios Japan. However, Ōsaka (historically named Naniwa) is a vast and varied city and prefecture. Although it may be home to Japan's tallest building (Abeno Harukas), it's also home to Japan's first state-build Buddhist temple (Shi-tennōji). A natural basin, the city is framed with Japan's characteristic mountains—home to much more than visitors may realise.
Katsuō-ji itself is cloaked in the northern mountains that rise from Ōsaka's Minō district. If you're ready for a long day, it would be easy to visit Katsuō-ji of a morning before heading to the Minō falls hiking trail. With a bit of planning, you'll have the perfect day in nature waiting for you just a short ride from Ōsaka.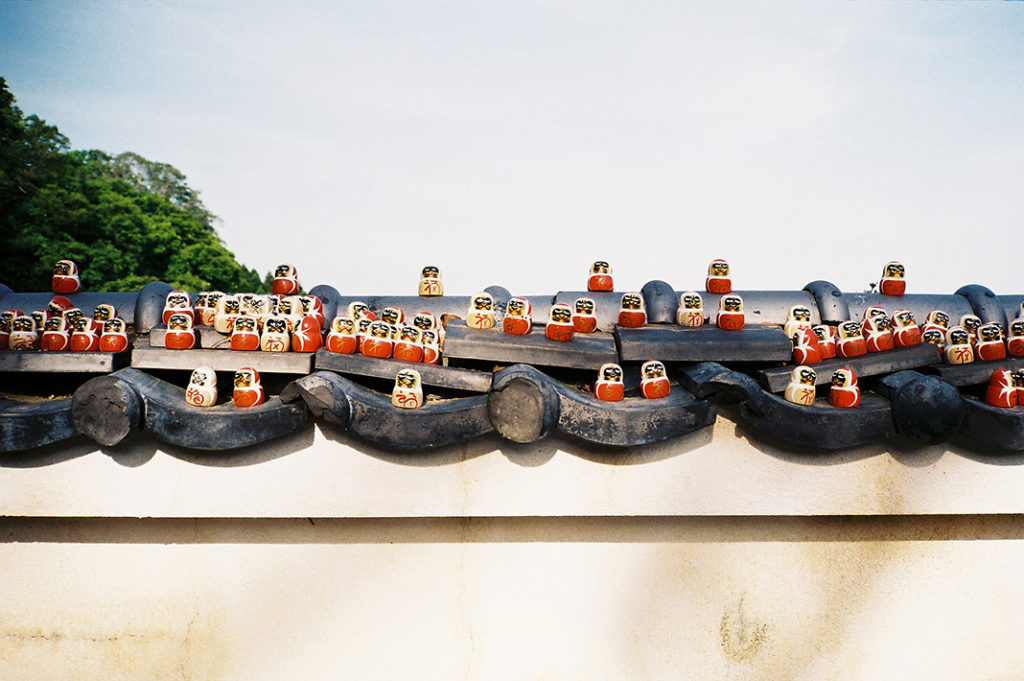 The 'Winning Daruma Temple'
Despite its fresh appearance, Buddhist monks first established Katsuō-ji in AD 727, making it one of Ōsaka's older temple sites. The temple's name refers to the great luck it brought those who came to pray in earnest. For this reason, the word 'win' [勝] is the first character of the temple's name. Furthermore, rotund red Daruma dolls are synonymous with wish-making in Japanese culture. Accordingly, Katsuō-ji's collection has grown to number Daruma in their thousands. They are available in all shapes and sizes from the temple, including as omamori: small souvenirs with lucky (or unlucky) fortune slips hidden inside.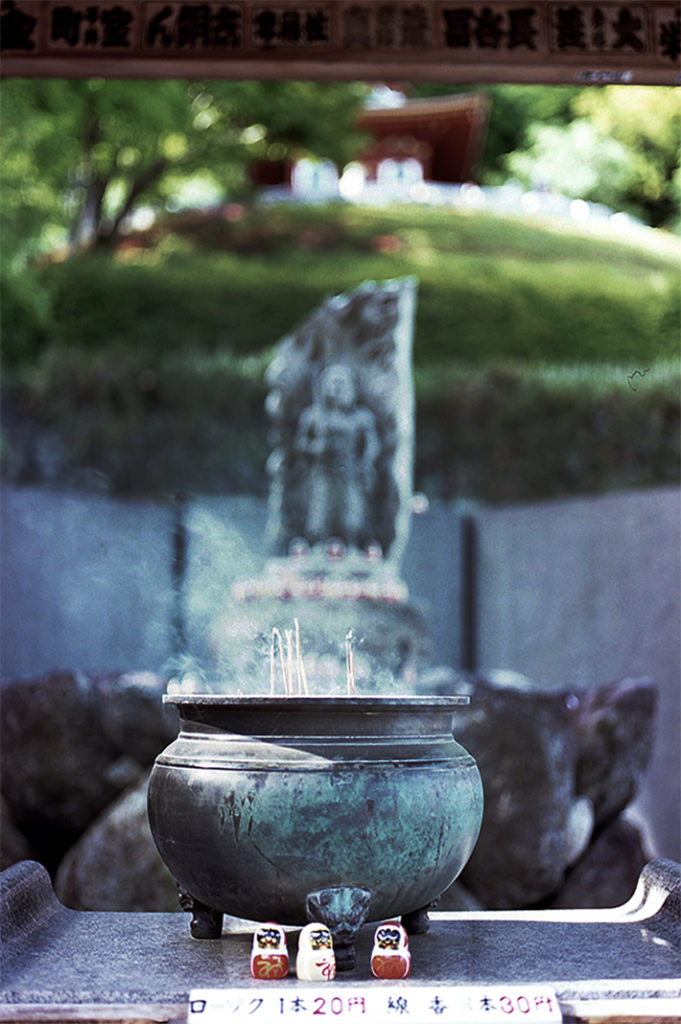 Katsuō-ji: shaped for wandering.
As you approach Katsuō-ji, you'll see a towering red gate stand before an expansive koi pond. To the right lies a café and gift shop, where you'll naturally want to pick up some o-miyage (souvenirs) for yourself friends. You'll be able to appreciate the koi pond and its lively inhabitants from the far side of the pond, across the bridge.
Beyond the pond, wide and meandering pathways rise up to the higher levels of the temple's garden area. There are artistic rock formations and seasonal flowers in abundance here. Unfortunately, the entire temple route is lengthy and has no vending machines. As such, it's a wise idea to use the entrance's facilities and fill up an empty stomach or water bottle before heading to the hillside. To the left of the pond area, a wide set of stone steps rise along with corridors of stone lanterns. These too are covered in the tiny wooden Daruma you'll begin to see on every imaginable surface at Katsuō-ji.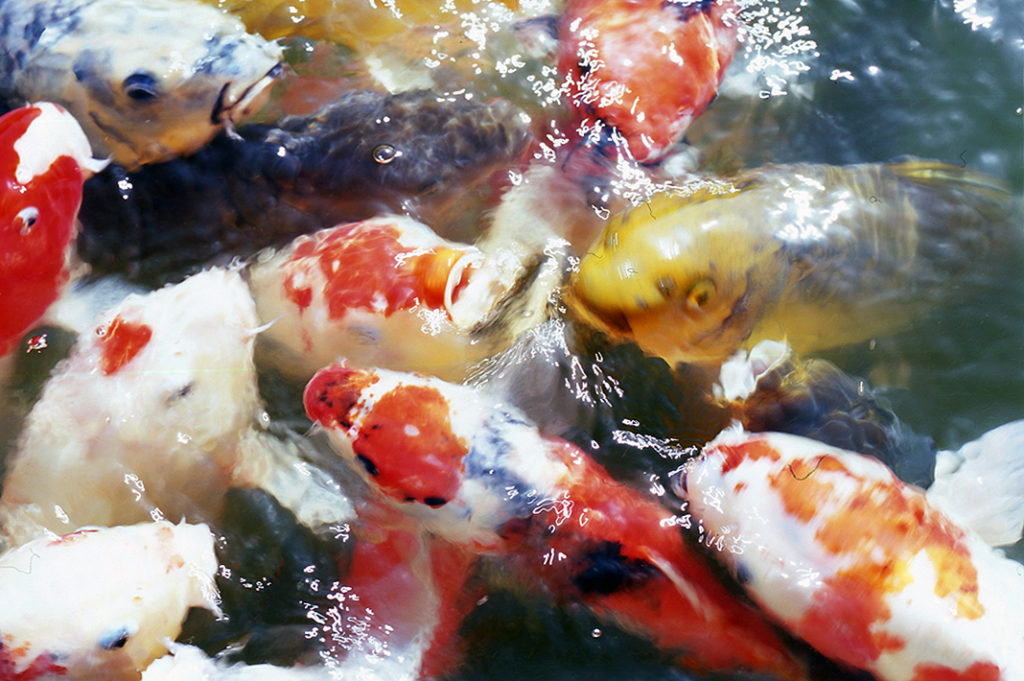 Deeper into Daruma.
Although Daruma dolls are brusquely cheerful in their appearance, their non-threatening roundness belies a darker story. 'Daruma' is the Japanese appropriation of Vedic word 'Dharma' – in reference to the Bodhidharma. Known in Japanese Buddhism as 'Daruma-Daishi', the man himself greatly influenced the spread of Mahayana Buddhism further east from India, Nepal and Tibet. He lived during the 5th-6th century A.D. and was known to be somewhat more extreme in his practices of asceticism than his contemporaries.
Daruma-Daishi's legend tells that he pursued a more uncommon path to enlightenment. Namely, that he cut off his eyelids before entering a nine year zazen (sitting meditation). He did not want to risk falling asleep during his meditation; nor did he intend to move his body at all. His arms and legs gradually atrophied and rotted away. Finally, he was as Daruma dolls appear to this day: bearded, limbless and cloaked in a red cloth.
The Daruma dolls remind us that the things we desire must be worked for, every single day. Because of this, people across Japan may purchase Daruma dolls to motivate them to strive and achieve. When making a wish, one eye of the Daruma doll is painted in. Only when the wish has been actualised through perseverance is the second eye completed.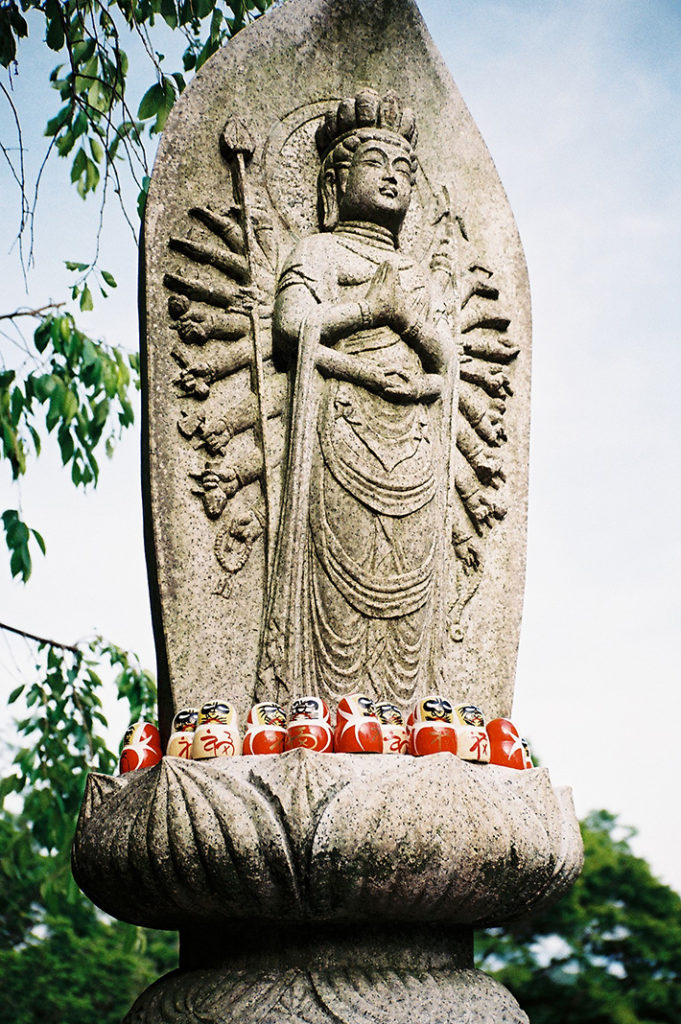 Upwards, onwards.
Katsuō-ji is expansive and covers a large portion of the mountainside. Wide, low steps meander around various sub-temples and newer buildings. There is a shrine to Fudō-myōō, [不動明王 – The Immovable King of Light] where visitors can offer incense sticks. This area is surrounded by walls of stacked Daruma dolls, donated by people who have achieved their wishes. Naturally, it's better luck to send your used Daruma to live at a temple than it is to simply throw him away.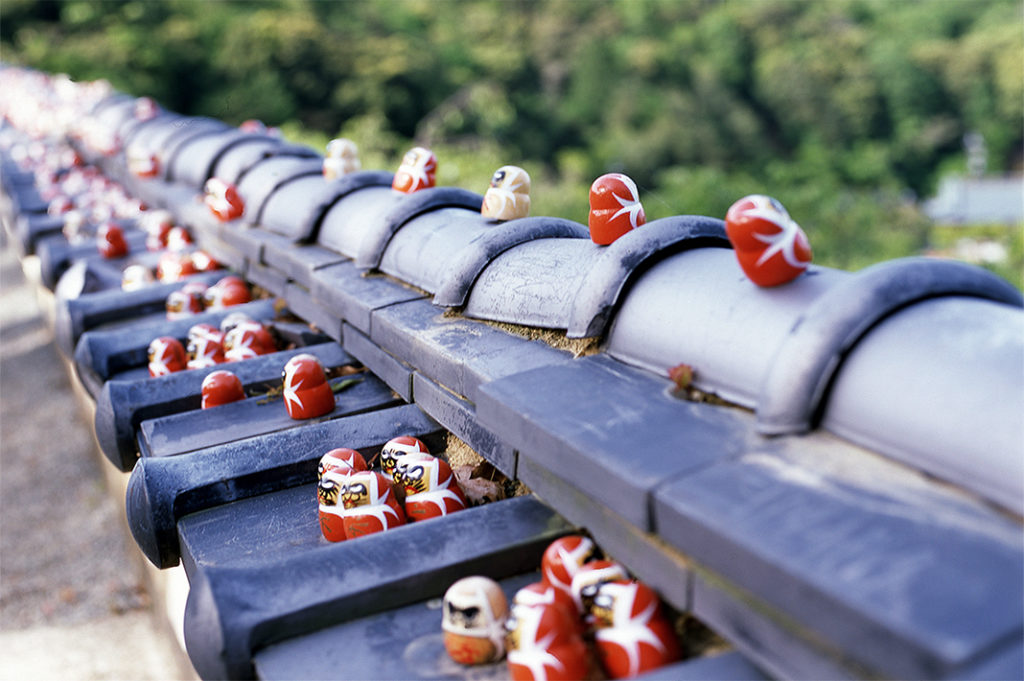 Fancy counting them?
While it may seem tempting to tally the number of Daruma both great and small, it would be an exercise in futility. Unlike the torii gates of Fushimi Inari Shrine, all of Katsuō-ji's visitors can place their Daruma at the temple. This could easily amount to several thousand new dolls every year!
The temple's main hall sits atop the mountainside, offering sweeping views of the surrounding forests. Additionally, it's the best place to purchase some of the 'mini' Daruma you'll see scattered throughout the grounds. These are 'omamori,' containing strips of paper inked with a person's fortune. Many people choose to leave the tiny Daruma at the temple, but visitors are entirely welcome to take them home as a keepsake. It's worth remembering, though, that taking a fortune home with you increases the likelihood of its foretellings becoming true. Tie the strip of paper to the provided string fence if you prefer the Daruma to the damnable.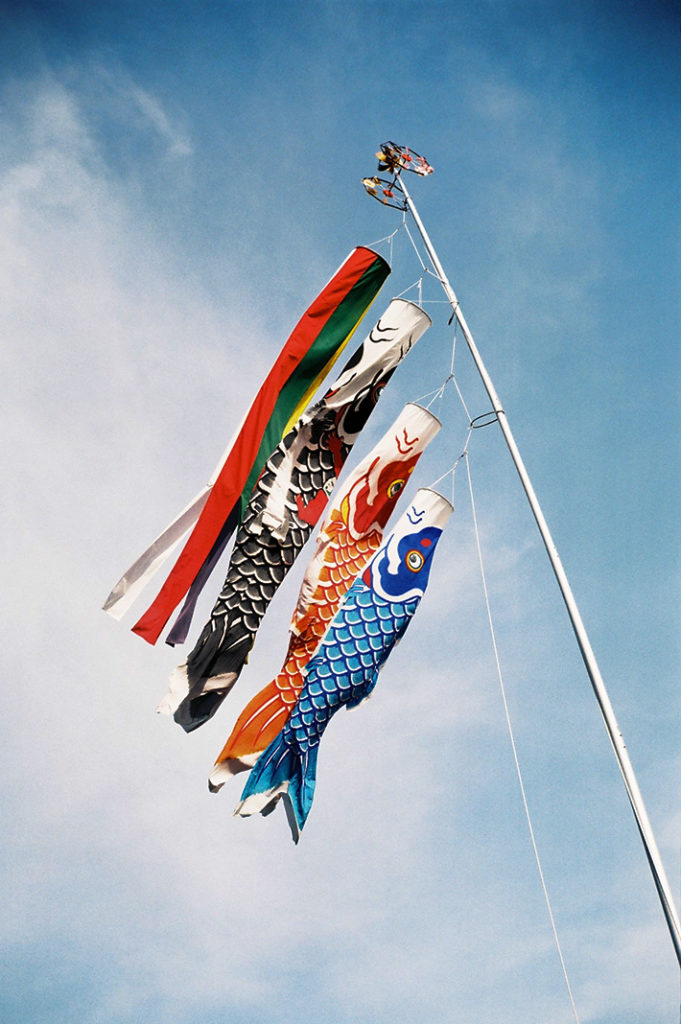 Access: nothing worth having comes easy.
Katsuō-ji offers visitors a chance to explore spacious and idyllic grounds in relative peace. Unfortunately, its 'out of the way' status can be deterring for some. Luckily, the trip is easier than it first seems, courtesy of Japan's friendly and efficient taxi drivers.
Wherever you are in Kyōto or Ōsaka, you'll be able to locate a Hankyu Line train station. Start early and travel to Hankyu Minō station. From here, you can begin and end a beautiful hike to Minō waterfall. As the falls have no closing time, be sure to visit Katsuō-ji first. A taxi rank adjoins the train station (and a nearby bakery sells some excellent snacks). Simply ask the taxi driver to take you to Katsuō-ji. The journey will take around 15 minutes and cost roughly ¥1500-2000, one way. It's crucial to note that you might need to book a return taxi by phone from the temple. However, it's also possible to catch arriving taxis before they return to Minō station. Avoid visiting the temple in the afternoon, as arriving taxis become few and far between.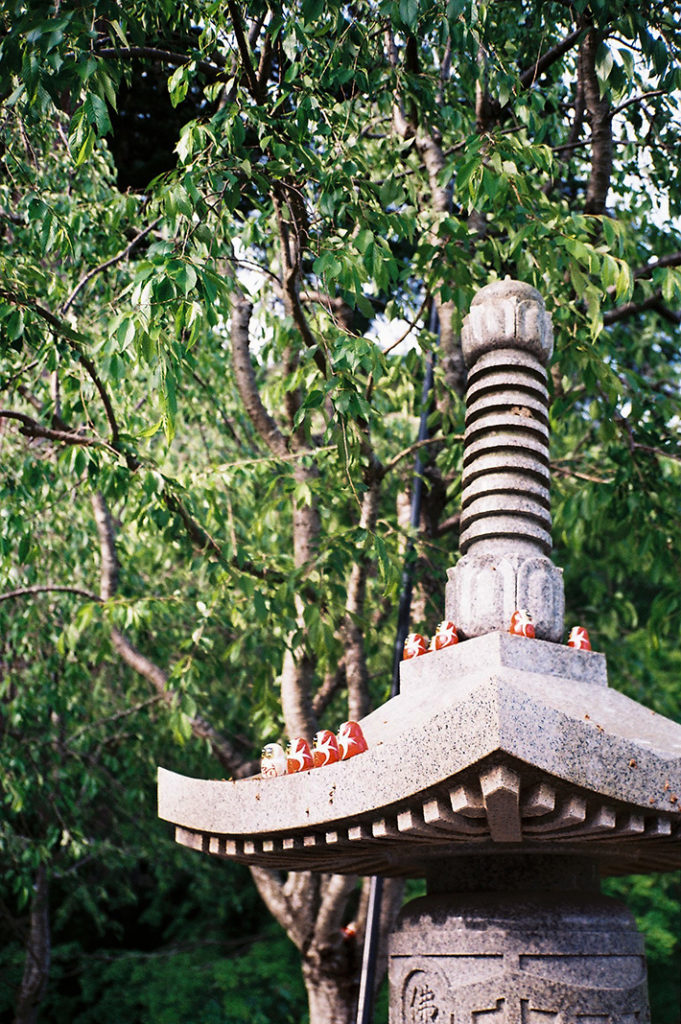 A perfect day out.
A morning of wandering through Katsuō-ji combined with a delicious lunch in picturesque Mino town is the perfect warm-up for a gentle hike through Mino park. If you're in Osaka and want to take a break from the buzz of Dotombori or simply want to avoid the well-trodden tourist route, this will be your perfect day.
Like most of Japan's Buddhist temples, Katsuō-ji is richly planted with maple trees. The Mino district is immensely popular with visitors during the red-hued autumn months of November and early December. Expect the temple grounds and Minō park to be very crowded during this season.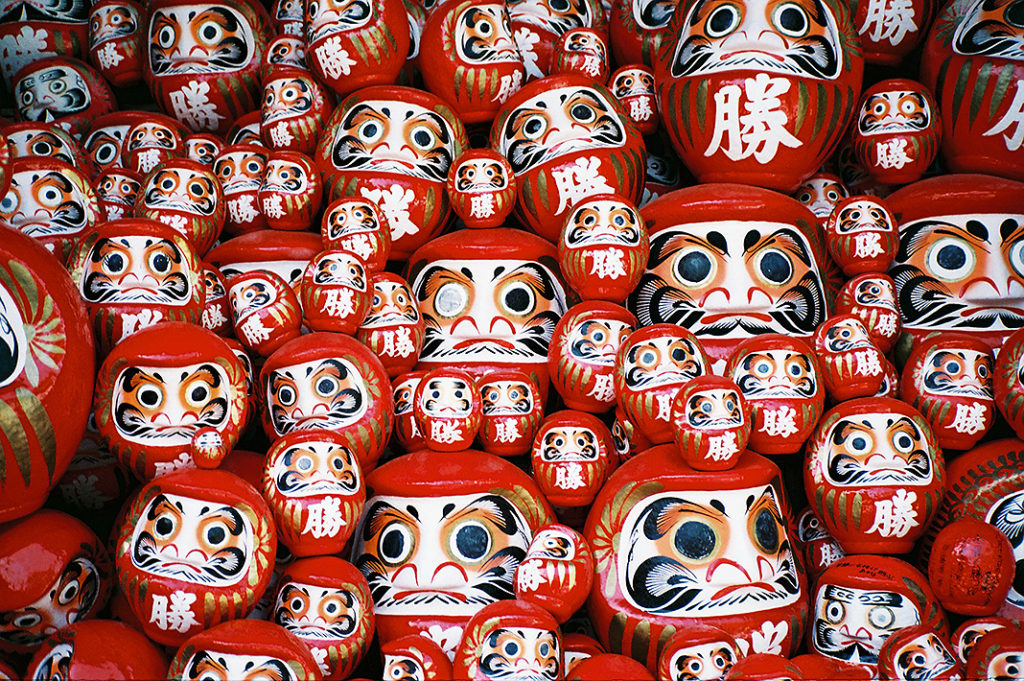 Post by Japan Journeys.
See more things to do in Osaka here.