Osaka is a vast, vivid, and vibrant city. Home to Japan's comedy scene, a roaring arena of bars and clubs, and some of the most photogenic neon-soaked streets, Osaka is the perfect weekend getaway. Big enough to keep you busy for two or three full days, but not half as overwhelming as Tokyo; Osaka is the ideal place in Japan to spend a fun-filled weekend. This Osaka weekend itinerary will cover everything from the best historic sites to the must-try food and where to eat it – all easily doable in a single weekend!
Osaka itinerary: Saturday
It's easy to spend your days and nights in Osaka in very different ways. During the day, the biggest sights are sitting patiently, waiting for you to visit and explore them. At night, the city shuffles with momentum and excitement. And a Saturday is the best day to enjoy both sides of Osaka to the fullest.
Morning: Osaka Castle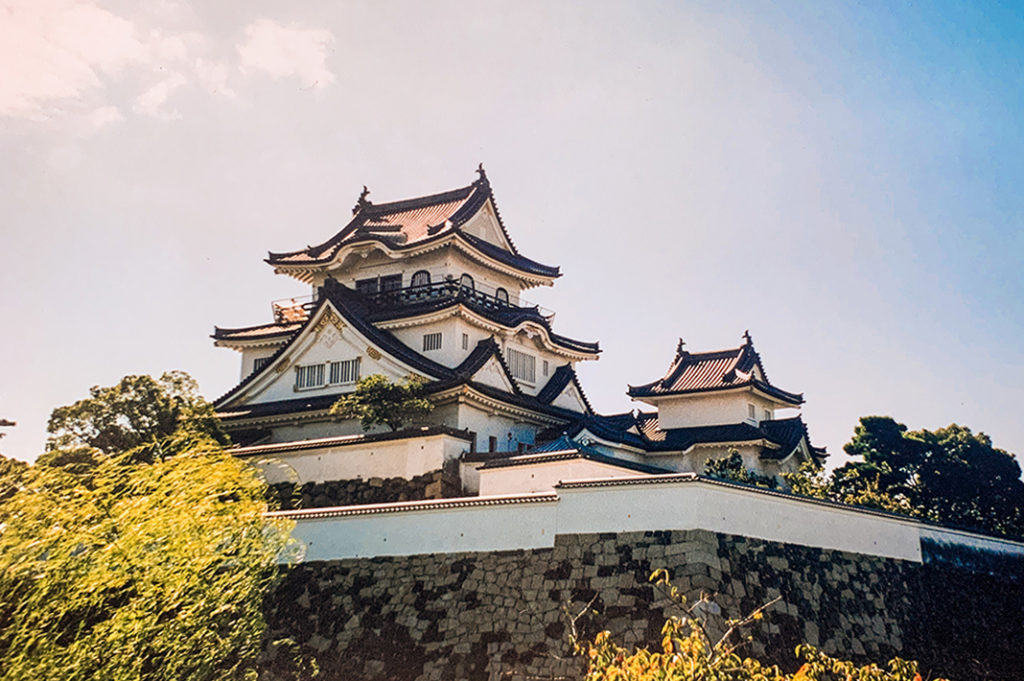 Begin your Osaka weekend itinerary with a trip to Osaka Castle, one of the city's most famous and impressive tourist destinations. The original Osaka Castle was built by order of Toyotomi Hideyoshi, the second great unifier of Japan (after Oda Nobunaga), before it was then sieged by the third great unifier: Tokugawa Ieyasu. The castle you can visit today is a reconstruction of the castle at its grandest moment, designed from the ground up to be a museum of local history and artefacts.
Osaka Castle is surrounded by walls, moats, and a park, all of which is walkable. On a Saturday morning, you'll find children playing and runners jogging in the park, as well as other tourists eating taiyaki from food stalls and taking photos of the castle from a thousand different angles. The energy in this part of the city is always fun and vibrant; it's a great way to begin your weekend in Osaka and really get a feel for the city's history.
Afternoon: Dotonbori and Hozenji Temple
The Dotonbori area of Osaka lies within the Namba District: Osaka's beating heart. Dotonbori is small, but it lines a canal on either side and is entirely illuminated by bright neon lights. One of these being the Gilco Running Man, Osaka's most iconic neon sign. In the afternoon, the sun won't be low enough to fully enjoy the neon, the food, and the bustle of Dotonbori so, first, head to Hozenji Temple.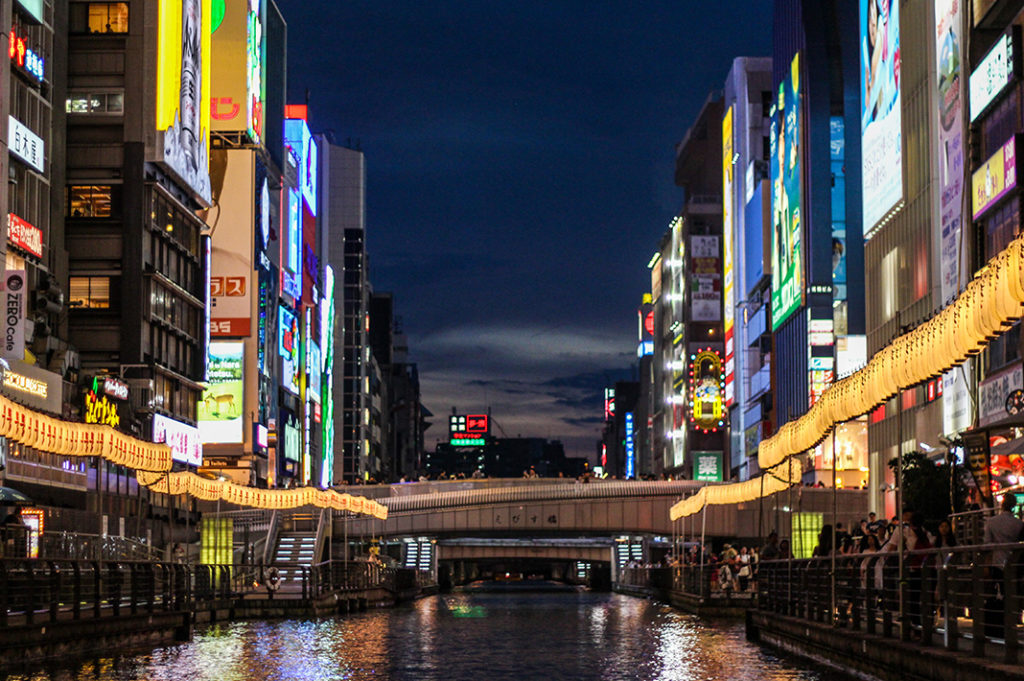 Hidden in the very core of the Namba District, with the canal of Dotonbori at its back, is Hozenji Temple. This temple is dedicated to the Buddhist deity of protection: Fudomyoo. What makes it unique among Osaka temples is how the statue of Fudomyoo is entirely encased in verdant green moss, thanks to the traditional method of prayer including tossing water over the statue. On any Osaka weekend itinerary, visiting Hozenji Temple is a vital and unique experience.
Once the sun has begun to set, spend your early evening exploring and eating in Dotonbori. The streets and arcades of the Namba district are lined with takoyaki sellers—a local delicacy that originated in Osaka. Takoyaki here are cheap and filling, and you can get a piping hot and fresh tray of six for a few hundred yen. If you'd rather a substantial meal or a few drinks, you'll find izakaya dotted around the area, including Hozenji Yokocho – the street which leads to Hozenji Temple.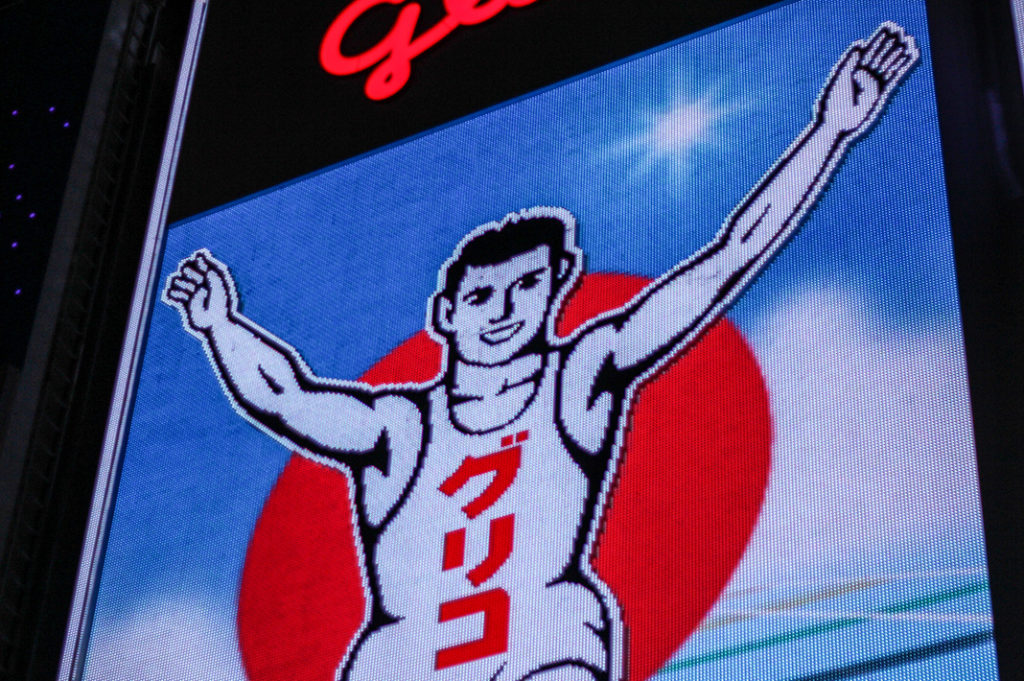 Evening: Comedy
When it comes to modern and popular culture, Osaka is perhaps best known for its comedy scene. Up-and-coming comedians from all around Japan move to Osaka in order to cut their teeth and prove their mettle. If you don't speak fluent Japanese, however, enjoying the comedy scene in Osaka can be tricky. That's where ROR comes in. ROR Comedy is an English only comedy club in Osaka which hosts big names in local and international comedy, and also offers open mic nights.
Osaka itinerary: Sunday
Sundays are for relaxing and enjoying a calm walk. The perfect day to see some of the more relaxed sights and neighbourhoods, and also to enjoy some more local Osaka food.
Morning: Shitennoji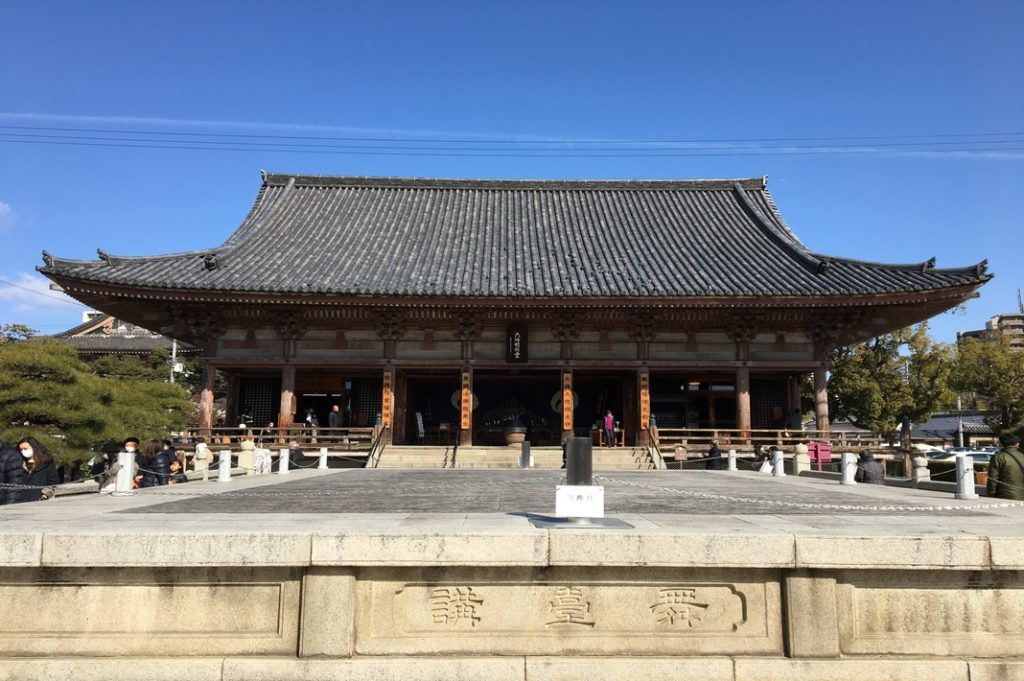 While Osaka is known for its comedy and nightlife, the city also happens to be home to Japan's oldest Buddhist temple. Shitennoji is still standing, after having been built by Korean monks in 593 CE, shortly after the original arrival of Buddhism to Japan from China and Korea. While it has undergone many renovations over the years, Shitennoji's doors have remained open for all these centuries – 1400 years and counting!
Lunch: Shinsekai
The Shinsekai (literally: new world) district of Osaka has something of a wild card reputation. This comes from the strange fact that almost no renovations have been done since before World War II, meaning that Shinsekai is one of the rare districts in all of Japan to have that unique and jumbled pre-war Japanese aesthetic. The most iconic sight in Shinsekai is the Tsutenkaku Tower, a fantastic but now vintage feat of local engineering.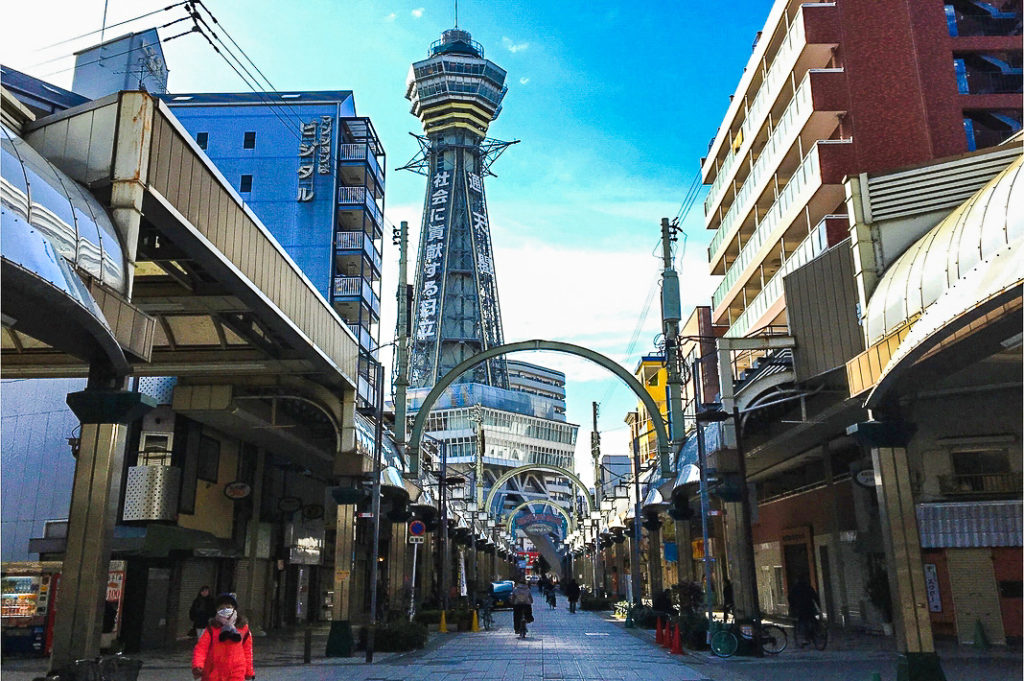 It's in the Shinsekai district where you can get some great local Osaka food. While it is forever debated where sushi originated (with many claiming it began in Tokyo), there are stories which link the origins of sushi to the Shinsekai district of Osaka. Here, you'll find tiny, family-run sushi bars, as well as places to try the local delicacies: kushikatsu and okonomiyaki.
Afternoon: Den Den Town
If one of the reasons you love Japan is the nation's modern pop culture – video games, anime, J-pop, and manga – then you don't have to visit Tokyo's Akihabara to get an eyeful of it. Osaka offers visitors its own version of Akihabara: a smaller, quieter, but no less exciting neighbourhood of anime and manga merch stores, as well as cosplay costume shops known by locals as Den Den Town.
Den Den Town is a collection of small city blocks, with almost every building in the neighbourhood dedicated to selling DVDs, books, merchandise, CDs, clothing, and costumes from your favourite anime, manga, and video games. An otaku's heaven, Den Den Town is a fantastic place for fans of Japan's pop culture to mingle, shop together, and enjoy a colourful atmosphere fed by the brightest aspects of Japanese pop culture. Read more about it here.
In conclusion
Perhaps more than big hitters like Tokyo and Kyoto, Osaka is a clash of old and new. Home to Japan's oldest Buddhist temple and its most electric, neon-soaked district; a place of comedy and vibrant nightlife, there's no shortage of fun to be had in Osaka. From Osaka Castle to Den Den Town, so much of Japan's traditional and popular culture is here to be enjoyed, as well as some mouth-watering local delicacies. A weekend in Osaka is a weekend well spent, which is guaranteed with this Osaka weekend itinerary.
Post by Japan Journeys.