Ever blown angrily into a game cartridge? Welcome home.
While many people will recognise Akihabara as Tokyo's centre for all things 'ōtaku', Osaka harbours its own, lesser known tech-geek paradise. With its home-grown and grassroots atmosphere, Den Den Town is the embodiment of the best of Osaka's Dirty South.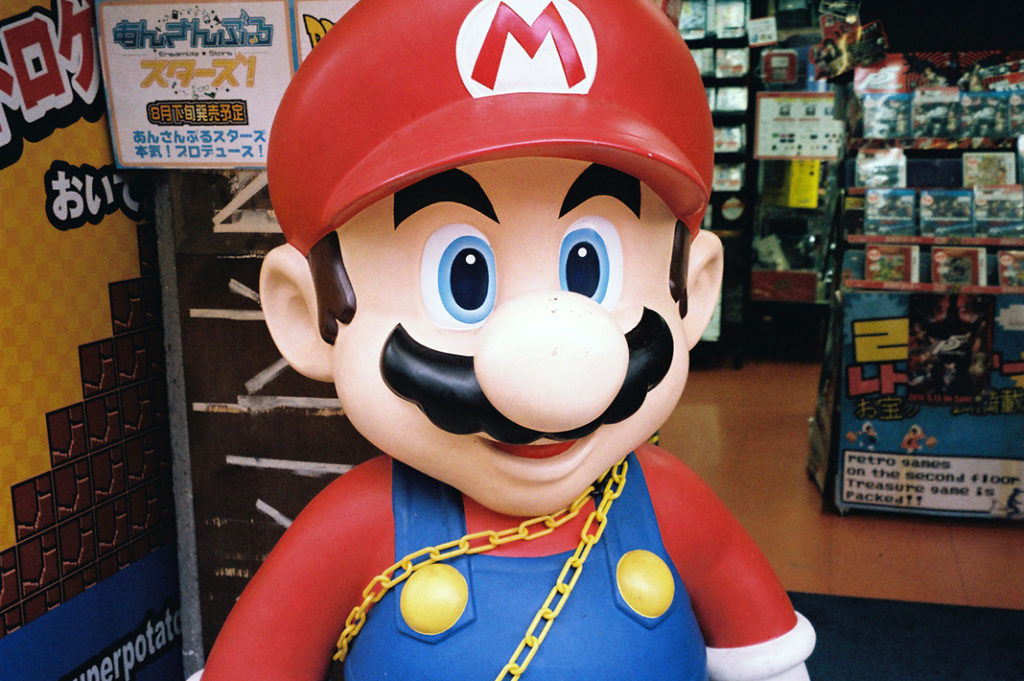 Den Den Town? It's Mario's world – we're just living in it.
If you're reading this, there's a fair chance that Japan had some kind of influence on your youth; overt or otherwise. You might have spent your weekends playing MarioKart64 with your friends, or the Legend of Zelda alone. Perhaps your religiously waited for English-language airings of Gundam Wing and Sailor Moon, or cut your trader's teeth hustling Pokemon cards in the school playground.
But surely, those days are long gone? Aren't we all irreparably lost in a world of social media and eternally hostile MMORPGS? If you're tired of always-connected digital modernity, head to Osaka city's Den Den Town – where sixty-four bits are the most you'll ever need.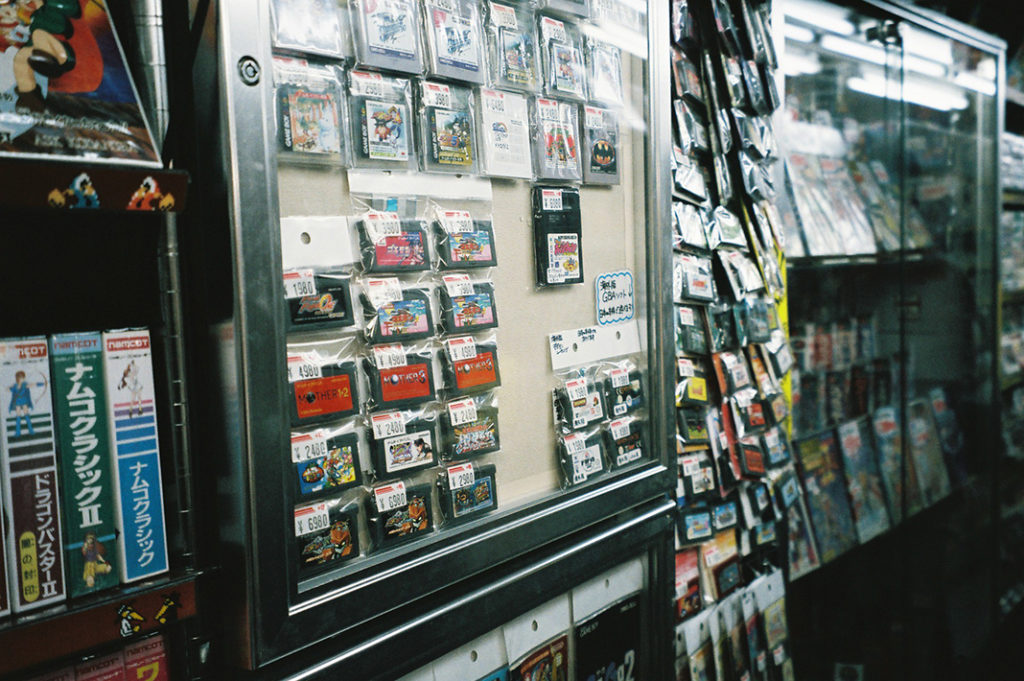 A safe space in a wild world.
The Japan of the 1990s was another world entirely. Outrageous, uninhibited, exciting and precarious. An enormous economic collapse did little to dampen the spirit of Japanese youth and pop culture, from the animé-otaku to the Ganguro clans of Harajuku. We in the West could only watch in amazement, hoarding errant copies of FRUiTs magazine and attempting to buy whatever J-ephemera could be hungrily tracked down on eBay.
The sheer joy of Den Den Town is that it delivers you immediately and completely back to this time. The wide, traffic-free streets frame the hectic open-fronted shops, stacked high with chaotic shelves. Windowless multi-story buildings each contain levels of ever more whimsical (and dubious) merchandise. You'll find everything from complete collections of manga and animé to models, figurines and games.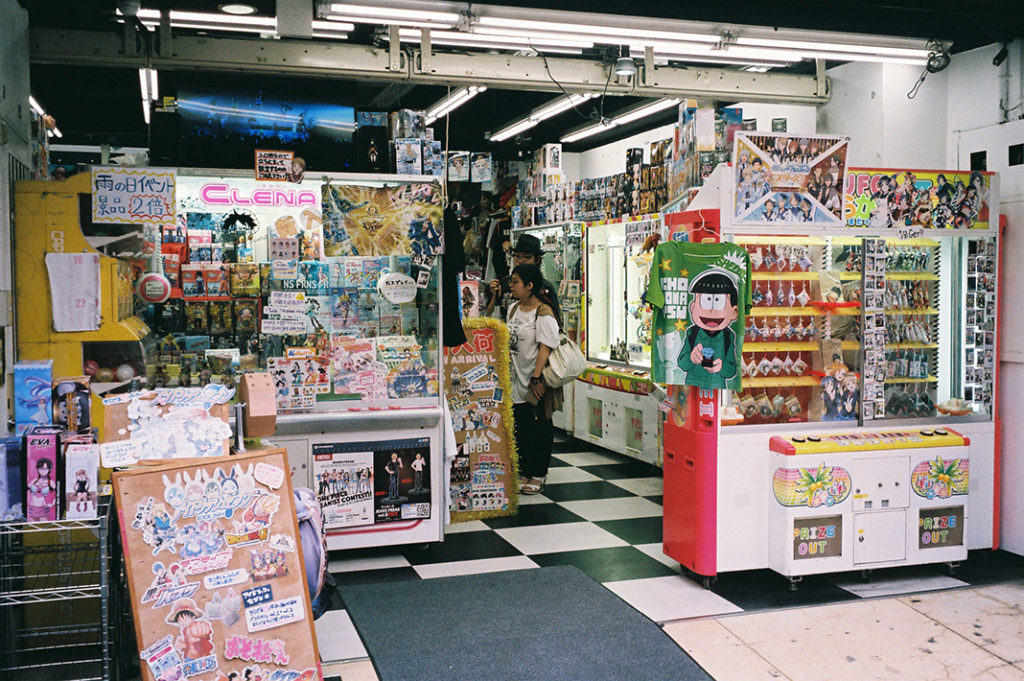 Den Den Town: are you game?
Unique to Den Den Town is a healthy collection of stores which specialise in gaming goods from the late 1980s and early 1990s. Their shelves are stacked high with obscure wonders such as Famicom units, limited-run GameBoys and every game that has ever been programmed onto a cartridge. Of course, this includes those rare 'Japan-only' releases that you agonised over in your youth.
If you're looking to revisit your childhood gaming experiences, you'll be able to source the goods from Den Den Town. Amazingly, you'll even find obscure objects such as thermal printers and cameras designed to be attached to your GameBoy. Whatever you're looking for, know that Den Den Town operates entirely on a cash basis. Fortunately, it's entirely normal to carry large amounts of cash on your person in Japan; even ¥10,000 notes will be happily accepted for purchases of a couple of hundred yen.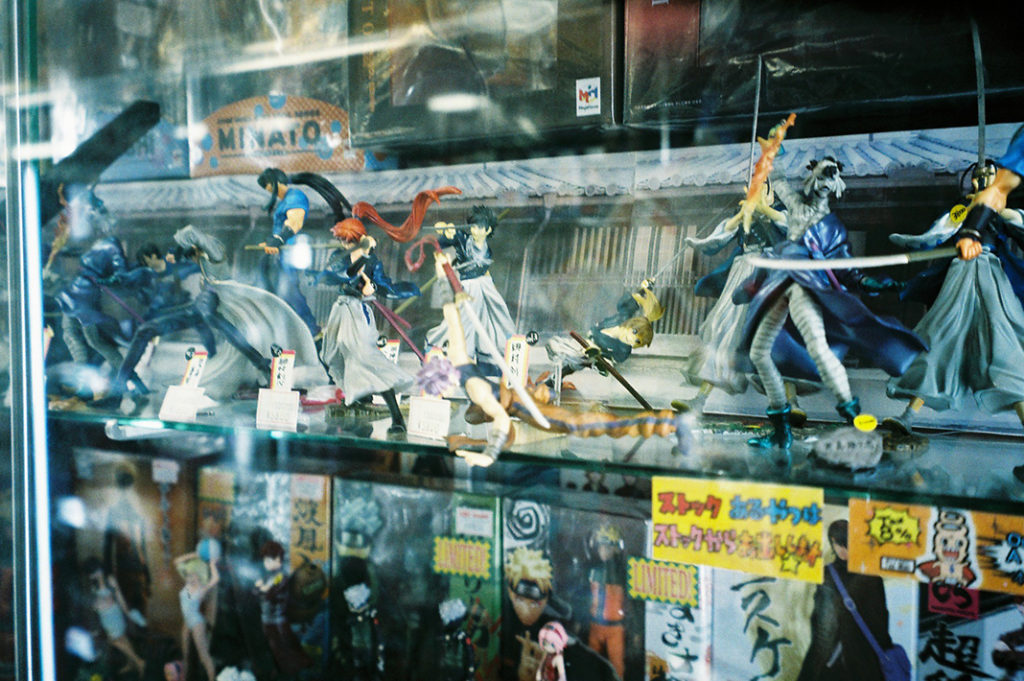 Southern Osaka: a new world for old souls.
The district's main strip exists in the 'Nippombashi' (日本橋) district of southern Osaka. Luckily, you can walk there from Namba's Midosuji subway station, or from the Nippombashi subway station. The central avenue itself is huge, focusing as much on Japanese electronics as ōtaku merchandise stores. The electronics stores mostly stock items made for the Japanese domestic market, and may seem something of an anathema to foreign visitors. However, if you're looking for some serious VHS editing technology, you'll find it here.
However, the real magic of Den Den Town lies in its many alleyways and backstreets. These unassuming offshoots lead to the pedestrianised parts of the district, lined with every type of independent game and 'resell' store imaginable. These smaller streets are the beating heart of southern Osaka. The locals refer to the area simply as 'Minami', meaning 'The South.' Beyond this, there are plenty of 'mom and pop' type stores which haven't changed since the mid-90s – a living museum of authentic Japanese life during the Shōwa-Heisei transition (1989-1990).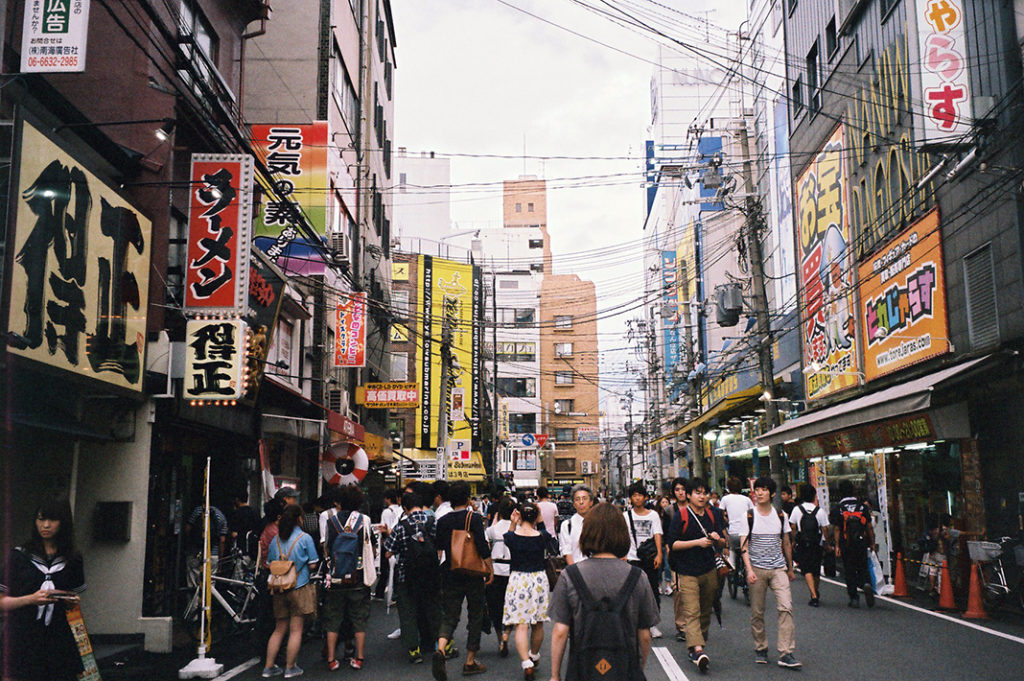 Everything else and all that's in between.
Beyond the amazing curation of electronic gaming history, Den Den Town is also home to multiple merchandise and figurine sellers. Dauntingly, these shops hide their wares from the uninformed passerby; you'll likely need to climb a few flights of winding stairs to find the most interesting collections. Figurines and models come in every state imaginable: brand new, pre-owned, assembly kits, pre-assembled, painted, and unpainted. You'll find characters from immensely popular animé series like One Piece, Mobile Suit Gundam and Neon Genesis Evangelion, as well as obscure figurines that exist independently of any storylines. Stores selling all manner of Ball Jointed Doll parts and ephemera also exist, sandwiched in between figurines and cosplay outfits.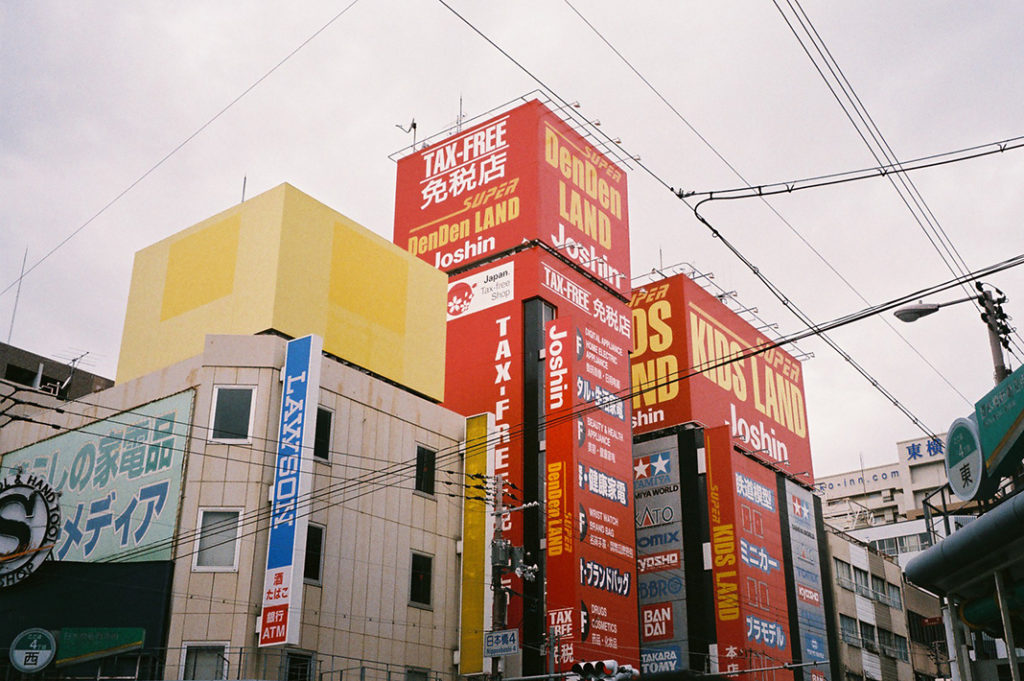 Games! Cartoons! Fun for the whole family… right?
If you're a parent to young kids, Den Den Town will seem like the ideal place to introduce them to the magic of Japanese pop culture that influenced your childhood. However, while much of the district revolves around games and cartoons, it is without doubt a place created for adult consumers. Unfortunately, it's possible that you'll find some very unsettling adult material sharing shelves with Pokémon plushies.
Furthermore, teenage girls in maid costumes or middle-school uniforms are commonly present on many street corners, welcoming middle aged men into their cafés. There's a fair chance you'll develop a headache trying explain this to your kids, and so Den Den Town can be swapped for the nearby Taito Game Station. Taito is a huge multi-storey gaming arcade which is far more child-friendly, but still retains the chaos and charm of Den Den's ōtaku spirit.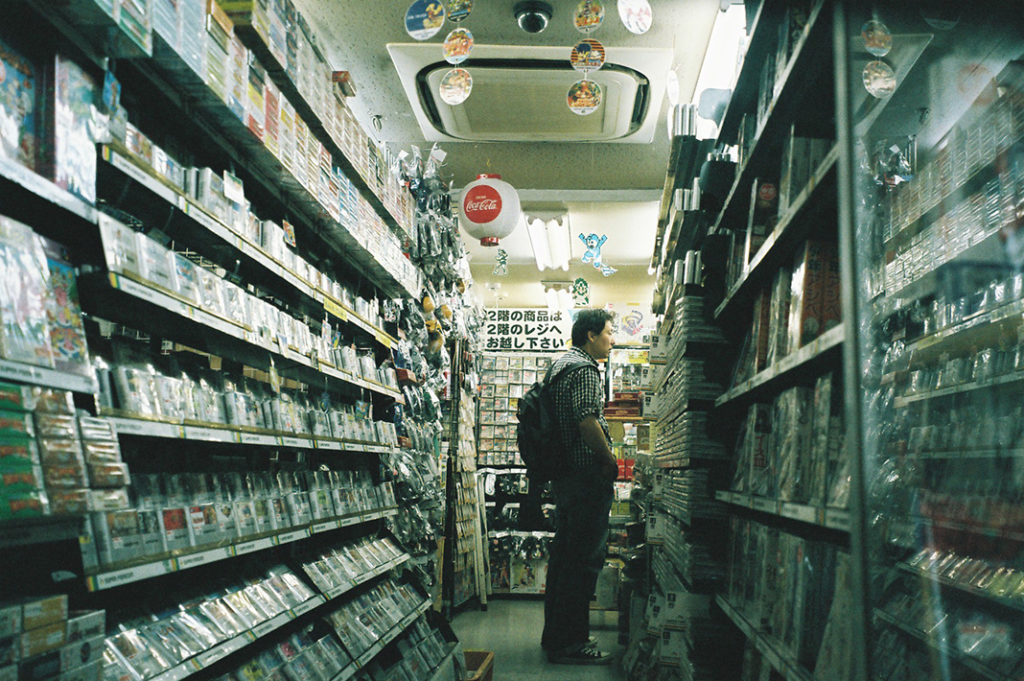 Post by Japan Journeys.