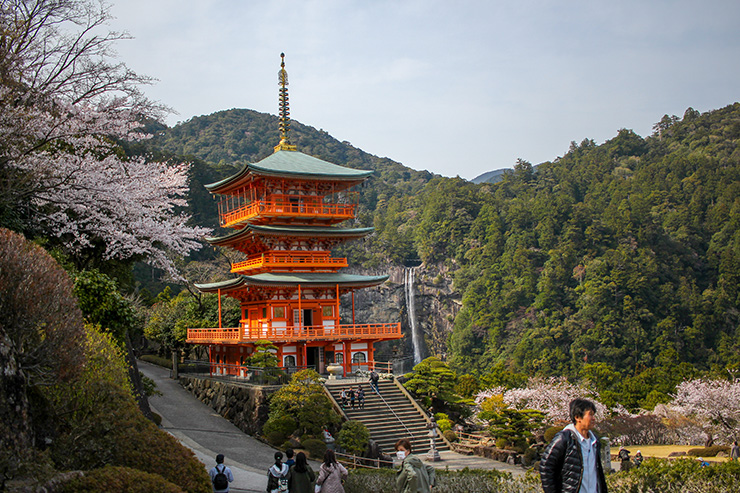 While there are many religions in Japan, the two main contenders are Shintoism and Buddhism. Shintoism is Japan's indigenous religion which involves worshipping elements of nature, such as mountains and waterfalls. Followers have travelled around on spiritual pilgrimages for thousands of years to pay their respects to these natural gods. Buddhism was introduced into Japan in the 6th Century via Korea, and the two religions eventually came to coexist despite their differences. Wakayama prefecture's Kumano region is known for their fusion of Shinto and Buddhist shrines. Here, 350m above sea level lies a rather special place called Nachisan. In this town, Shinto and Buddhist shrines are located side-by-side and have operated as one site for many years.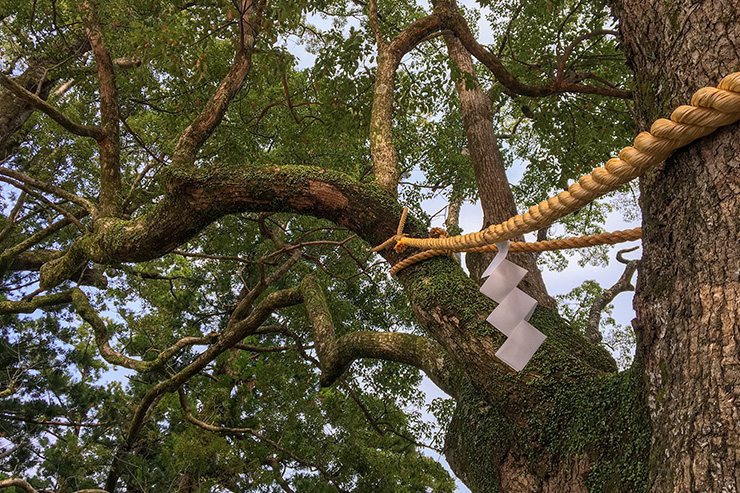 Nachisan
Nachisan marks the finishing point of the Kumano Kodo pilgrimage, as three routes converge here. Few sights manage to take your breath away, but after emerging from a 5-day forest hike, the sights of Nachisan certainly do so. To your left, a three-storied pagoda and towering waterfall, ahead of you an observation area where the ground drops away below and to your right, a Shinto shrine, Buddhist temple and ancient camphor tree. The winding streets are lined with cafes and souvenir stores. This mountainous town is truly a treat for the eyes and the soul.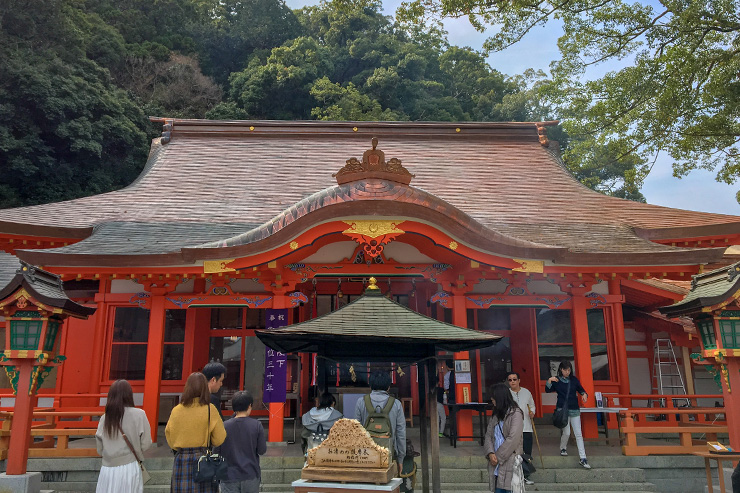 The Shrines
The Kumano Nachi Taisha is one of the three grand shrines of Kumano, which are collectively named the Kumano Sanzan and have UNESCO listing. The focus of the Kumano Kodo pilgrimage is to worship at all three of these Grand Shrines. This one is particularly gorgeous, with an ancient camphor tree twisting its limbs across the grounds. Seigantoji Temple sits directly next door, though it feels like one site; both great places to pay your respects.
Kumano Nachi Taisha Shrine grounds are always open, but the treasure house is open 8:00 to 16:00 with a small admission fee.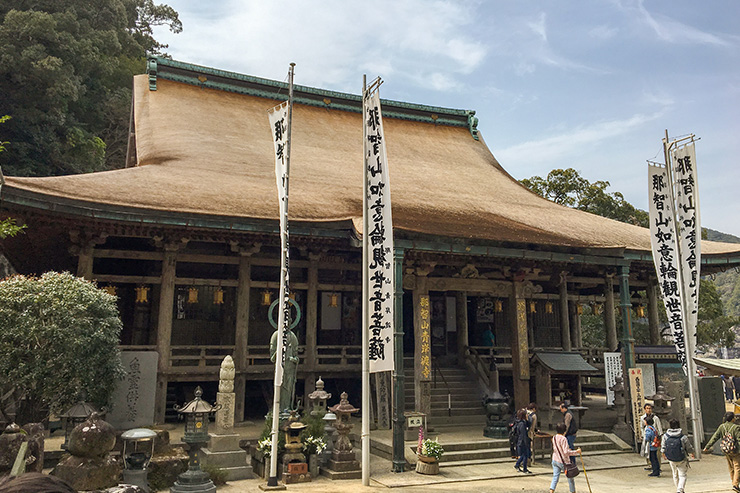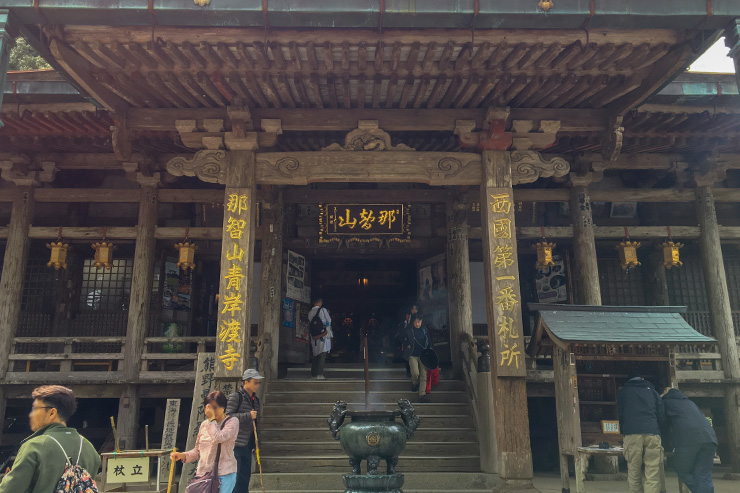 Nachi Falls
Nachi Falls (Nachi no Taki) is the tallest waterfall in Japan with an 'uninterrupted drop' of 133 meters. It has been worshipped in Shintoism from way back, in fact, the Nachi shrine is dedicated to the spirit of the waterfall. You can view it from the observation platform near Seigantoji Temple and many other points around the area, or traverse down to the base. There are great free views, or you can pay a small fee for the observation platform.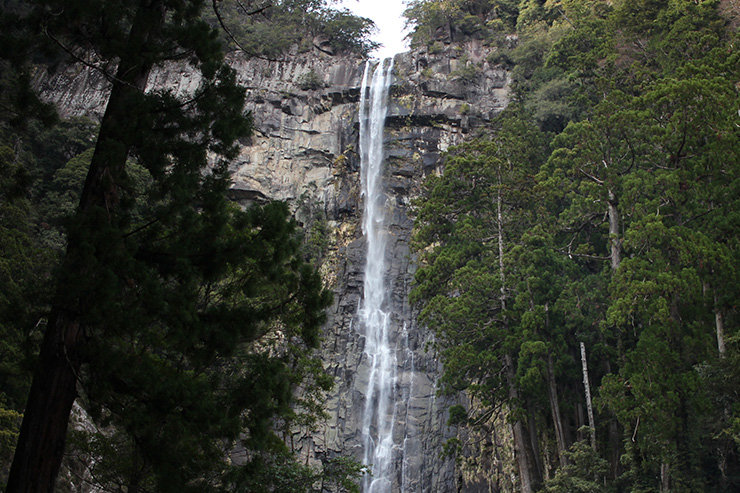 Three Tiered Pagoda
The most iconic building in town is the three-tiered pagoda. It adorns all the postcards in the gift stores for good reason: it's beautiful. Luckily you can snap a photo of the pagoda and waterfall together at various points around town. If a closer view is what you're after, you can go inside for a small fee. We should mention that, like many buildings in Japan, this is not the original. For various reasons including earthquake, fire, war etc. many buildings are replicas. This was re-built in 1971, though it doesn't change the fact that it is an impressive structure.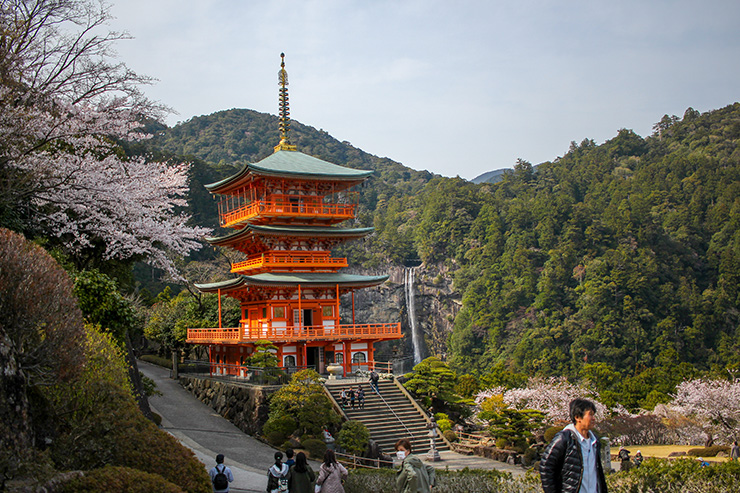 How to get to Nachi Taisha Shrine
You can reach Nachi on foot via the Kumano Kodo trail, but if you're short on time or hiking isn't your thing, there are other methods. You can reach Kumano Nachi Taisha Shrine by bus from Kii-Katsuura Station and Nachi Station and get off at the waterfall (taki-mae) or up near the shrine (Nachi-san).
If you're feeling energetic and want a taste of the Kumano Kodo pilgrimage, you can even depart the bus at the 'Daimonzaka' bus stop which will put you at the base of the Daimonzaka trail—a 600m trek to the action.
Be warned, there are quite a few sets of stairs involved in getting around this mountainous region. If you're not feeling up to it, there are taxis around. Or you could always just grab a plum ice cream and take in the views.
Post by Japan Journeys.