Yakitori has to be one of my favourite meals in Japan. It's an honest, down-home style of cooking that involves skewering meats and vegetables and grilling them over charcoal until they are lightly charred and delightfully smoky. It's so simple yet always satisfying. And while there are plenty of chain restaurants at which to grab cheap sticks, I'll occasionally treat myself to a more refined experience. And if I'm in the Roppongi area, it's gotta be Ganchan.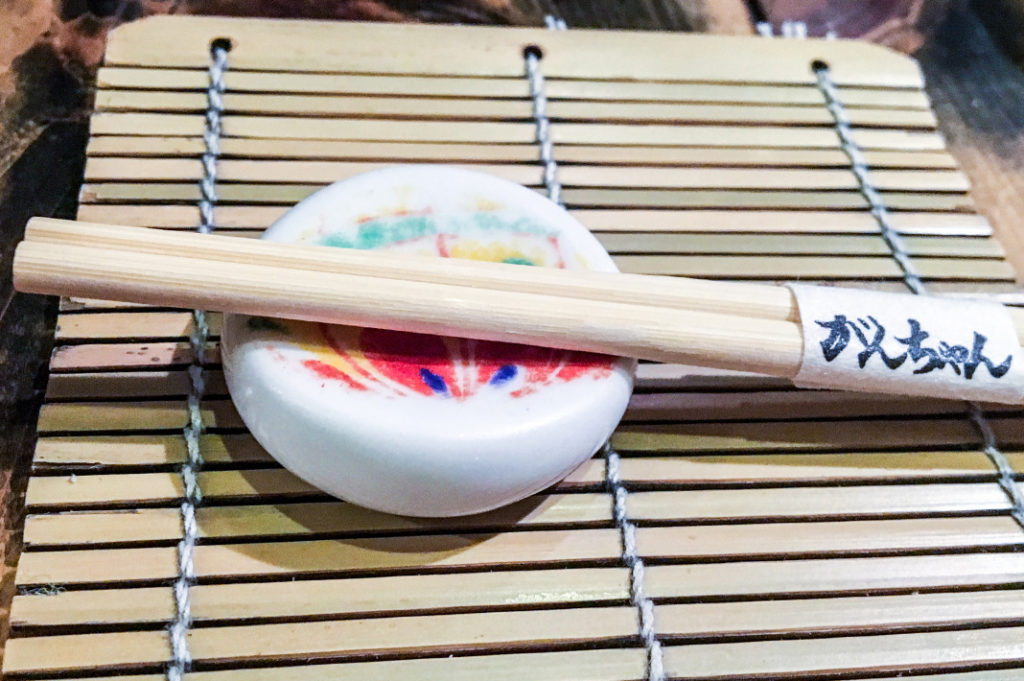 Located in Roppongi, Ganchan is a fantastic yet unpretentious yakitori joint frequented by local Japanese and expats alike. And it's not hard to see why. The interior is traditional, warm and cosy; the staff are friendly, speak some English and can help with recommendations; the ingredients are of exceptional quality; and there is even an English menu. The price may be a little higher than your average yakitori place, simply because this isn't your average yakitori place.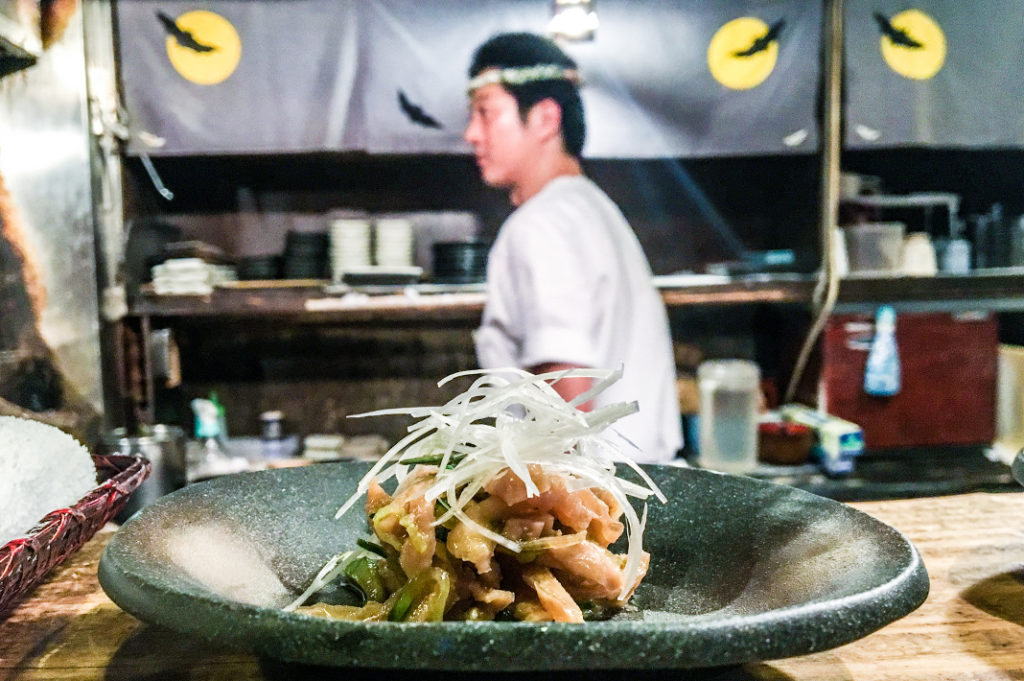 A warm and inviting Kushiyaki kitchen
Ganchan is the perfect place for solo diners or small parties. It's a cosy little restaurant with mostly counter seats and fits about twenty. There are rustic wooden surfaces everywhere, hanging noren curtains and smiling chefs ready to serve. We should point out that a ¥600 table charge applies per person which includes an otoshi (compulsory appetiser). Order yourself a drink before you peruse the menu.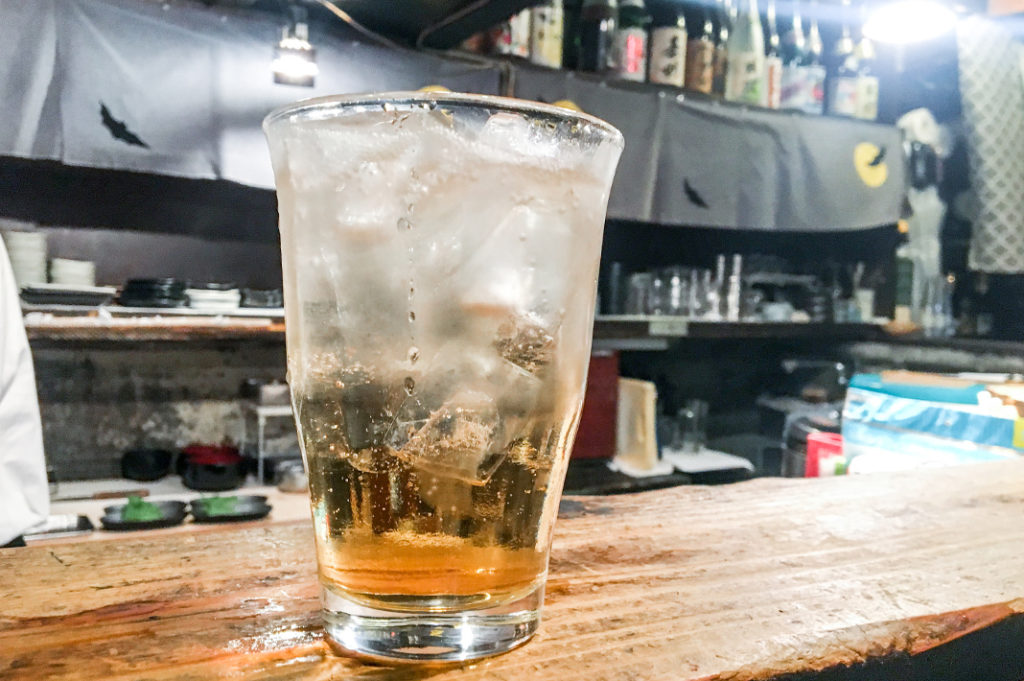 English menu: course or a la carte?
Ganchan's English menu makes ordering a breeze. The first thing you'll notice is the choice between a la carte or course menu. It really depends on your mood and appetite. If you go the course route, you can expect a selection of the chef's pride and joy. This takes the pressure out of choosing and gives you a bit of variety. The 'International' course is similar to the 'Japanese' course but excludes some items that foreigners may not appreciate, such as raw egg. 
Chicken and shishito (green peppers)

Ginn Nann (roasted gingko nuts)

Grilled minced chicken and sesame over rice.

Chicken thigh and leek
If you like a little more control over your food, go for a la carte. On the menu you'll find a selection of skewered vegetables (mushrooms, peppers, leek, tomato etc.), chicken cuts (wing, breast, thigh, innards), a few other meats (duck, beef) as well as other small dishes. 
My recommedations
While everything on the menu has proved delicious, under no circumstances should you leave without trying the 'Japanese beef grilled with garlic' skewer. It's fairly exorbitant at ¥1,100 per skewer, but it is such high quality beef and so mouth wateringly good that you won't regret it.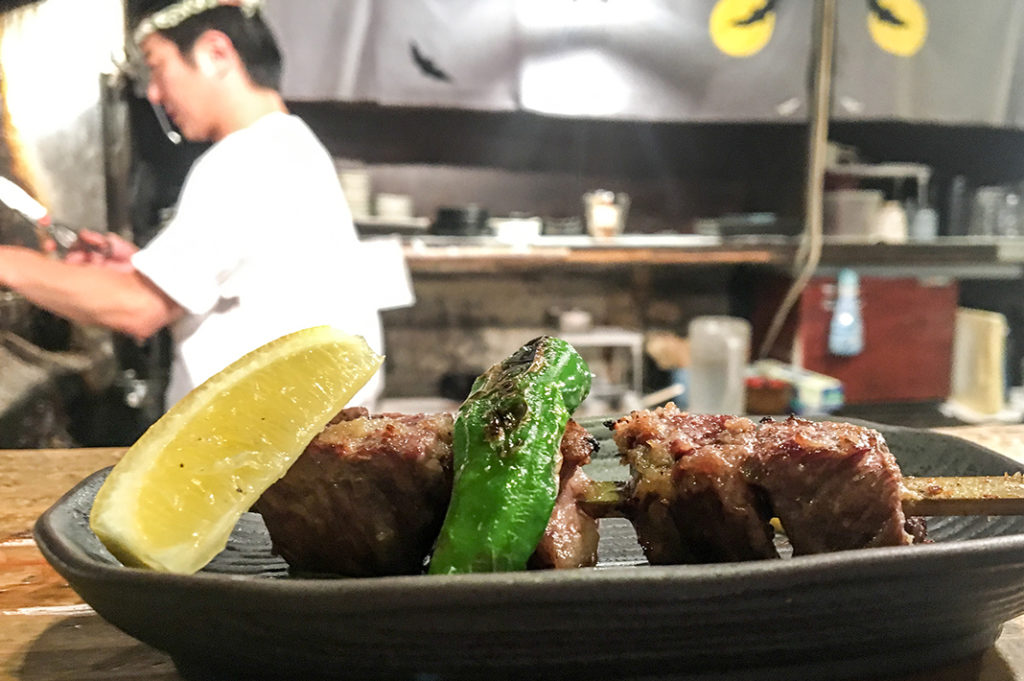 Another favourite is the jagabata (baked Hokkaido potato with butter). I'm a sucker for anything potato-related, so I order this every time. It comes to your table still bubbling and with a warning not to touch the dish. As the butter melts over the crispy top, pour over some of the accompanying soy sauce for a baked tatty like no other.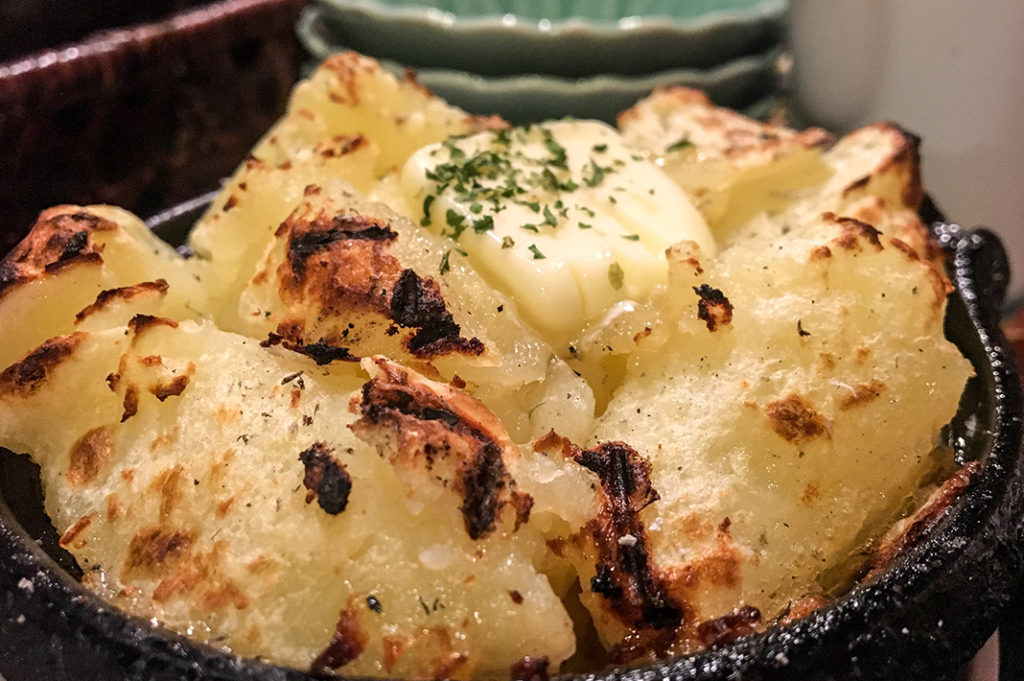 The yaki onigiri (grilled rice ball) is another creature comfort of mine. It's the convenience store rice ball on a whole new level. Fluffy rice inside with a crunchy, smoky, grilled exterior. On top sits a herbaceous shiso leaf (Japanese perilla), a whole pickled sour plum and a dollop of fresh-grated wasabi. The flavour combination is everything.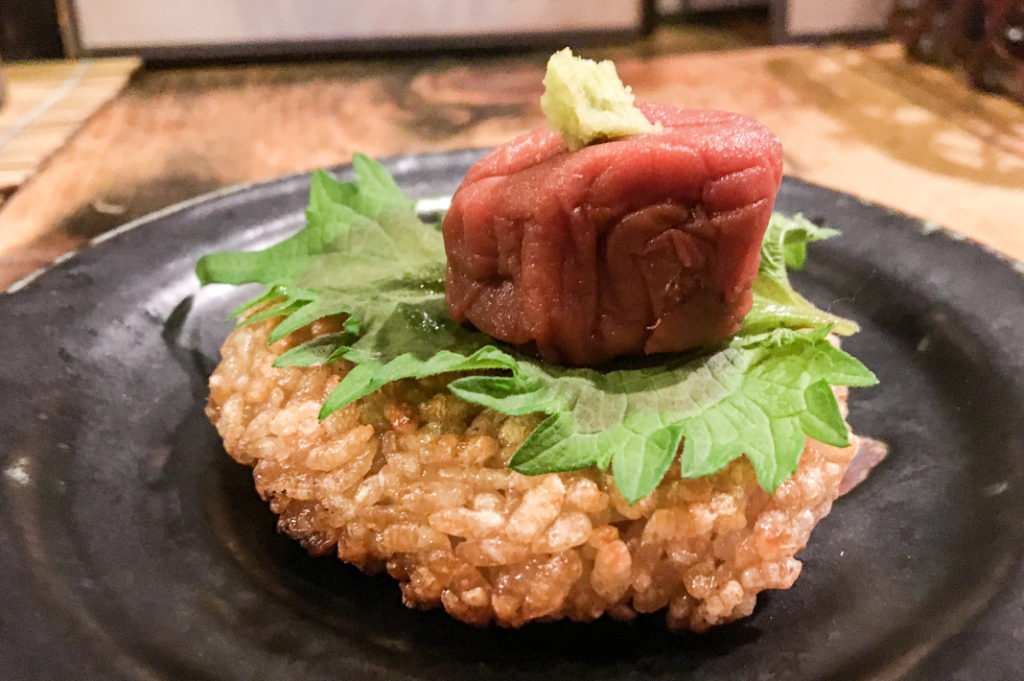 So if you're looking for a high quality yet laid back meal and don't mind paying for the privilege, head to Ganchan.
How to get to Ganchan 
Ganchan is located between Roppongi and Azabu Juban Stations and is a 5 minute and 9 minute walk respectively. It's worth noting that it can get pretty packed at times so it's best to book ahead if you can. 
Name: Ganchan 
Address: 6 Chome-8-23 Roppongi, Minato City, Tokyo 106-0032
Google Maps link: https://goo.gl/maps/PDgdJ2D4q22SwSMk8
Open:  Monday–Saturday 5:30pm–1:30am, Sunday 5:30pm–midnight
Post by Japan Journeys.